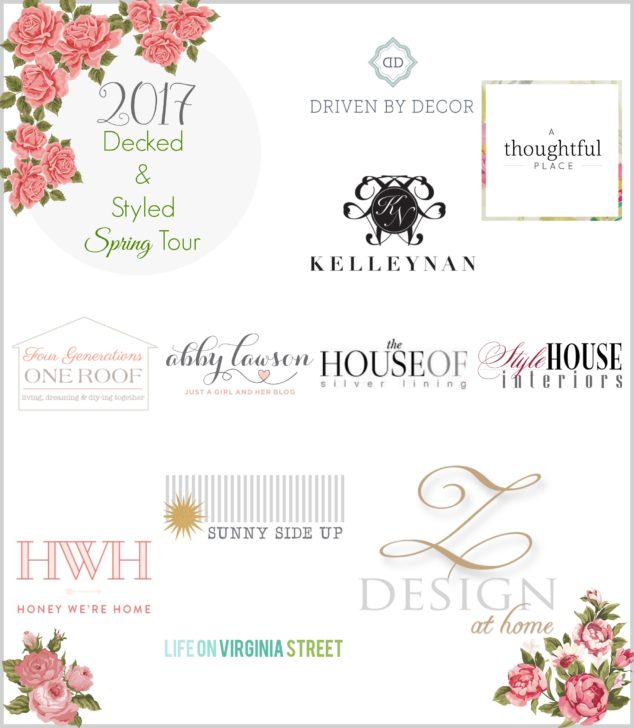 Hello hello friends!  Welcome to the Decked and Styled Spring Tour hosted by Bree at ZDesign!  If you are visiting from Just a Girl and Her Blog (or any of the other fun blogs on this tour) I'm so happy to have you here!  Bree and Abby are both close friends of mine and aside from loving them to pieces I also love their blogs!  I'm so happy to be joining the two of them along with other talented friends to bring you more ideas for Spring decorating this year.  YEA.  Such a fun time of year to spruce up our homes, isn't it!?  (Check here for some fun Spring updates I added to my kitchen if you missed my last post!)
*affiliate links used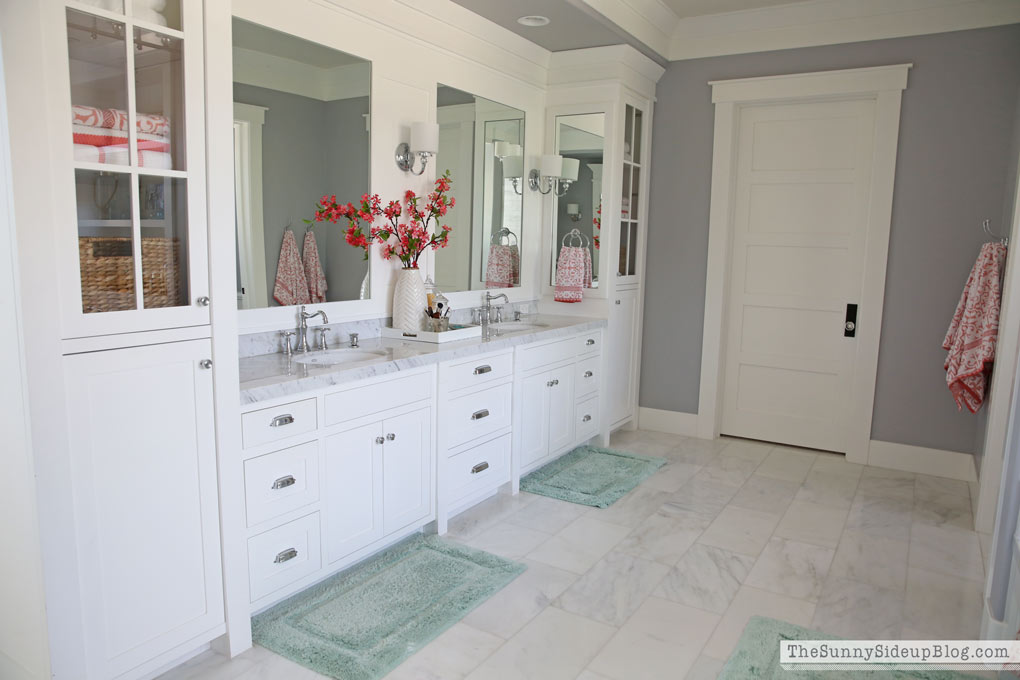 Today I'm finally sharing my master bathroom with you all.  What's the occasion?  Our white master bathroom is ready for Spring of course. :)
When we built our home I knew I wanted lots of storage in our master bathroom (mostly to make up for all the years I lived in small places without enough bathroom storage!). ;)  I designed some tall cabinets on each side of our vanity and decided to make the top half of them glass to store pretty things and add some color to this mostly white space.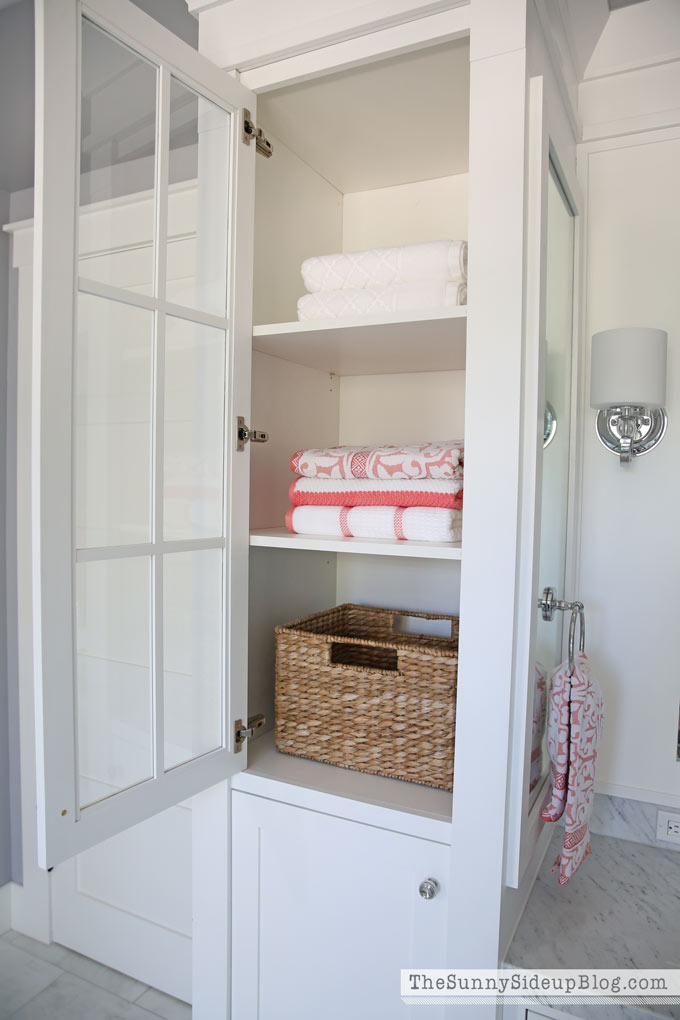 I just recently added some of my favorite baskets (the large size) to these cabinets and some new favorite towels above them.  I'm sure I'll add more to these cabinets at some point, but I recently organized my bathroom and am loving having very little on these shelves (and nothing in the baskets at the moment!).  The basket ads some texture and warmth and the towels add a small pop of color.  Mission accomplished. :)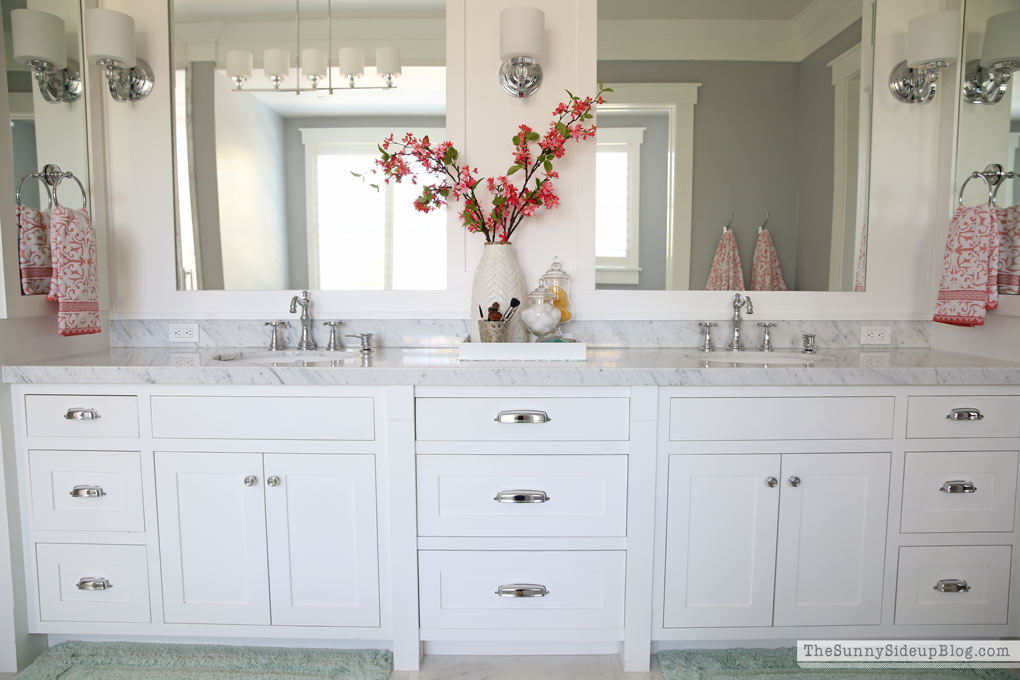 Bathrooms are some of my favorite spaces to add seasonal decor because it doesn't take much to transform them.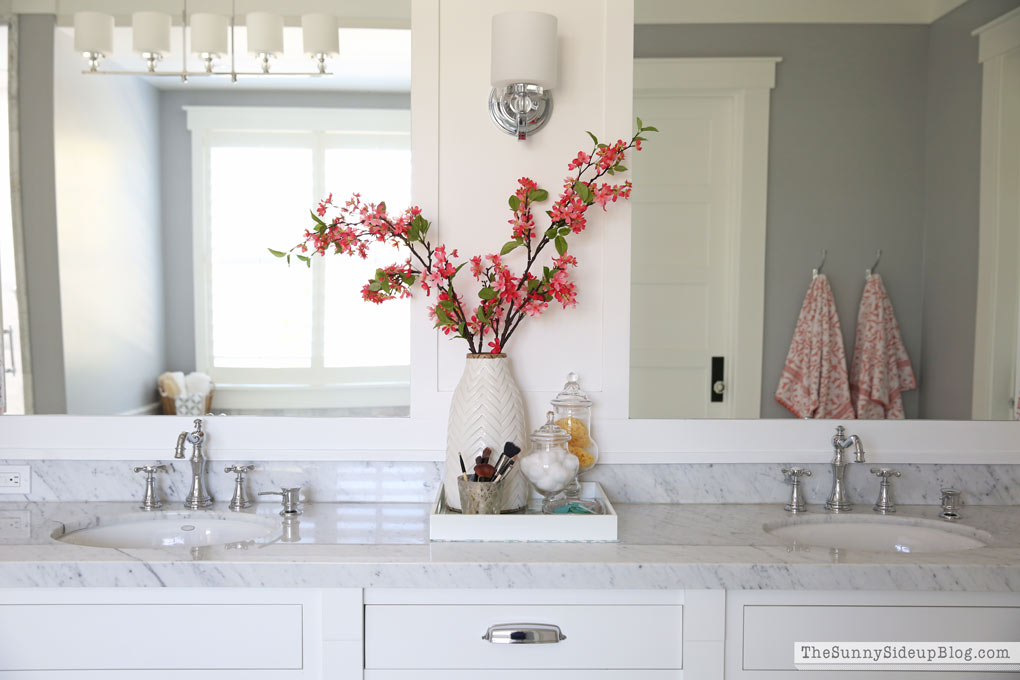 I recently brought my favorite Chevron vase and apple blossom stems (you might remember them from my living room Spring tour last year!) into my bathroom and that along with my new towels made the whole room feel like Spring time.
I kept my bathtub shelves the same aside from adding a few new hand towels and my small dough bowl to hold sponges.  That dough bowl looks good in every room in my house!  I want three more so I don't have to keep moving it around. :)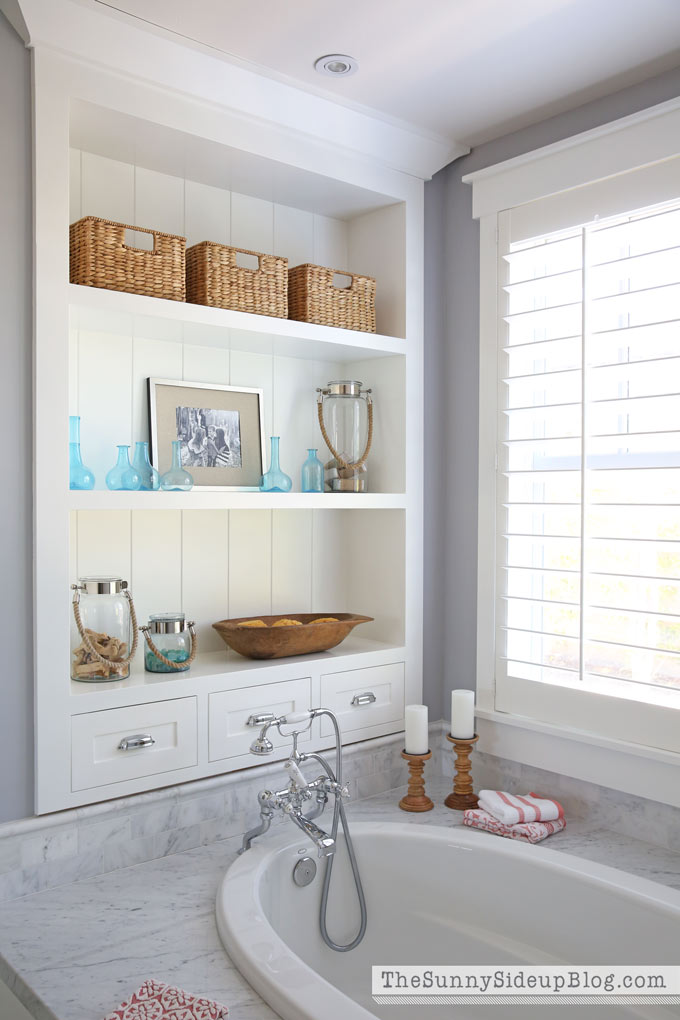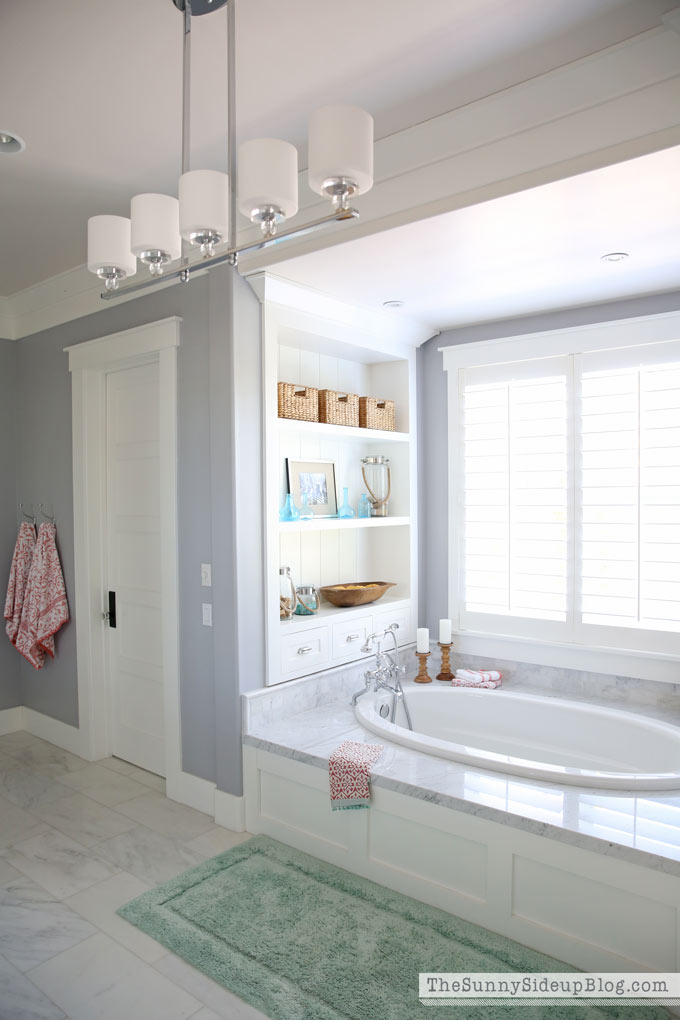 I have a huge crush on coral.. did you know that?  :)
Thought I'd show you behind the door next to the towels in case you were wondering what's there. ;)  The door on the other side of the towels is my closet.  A post for another day!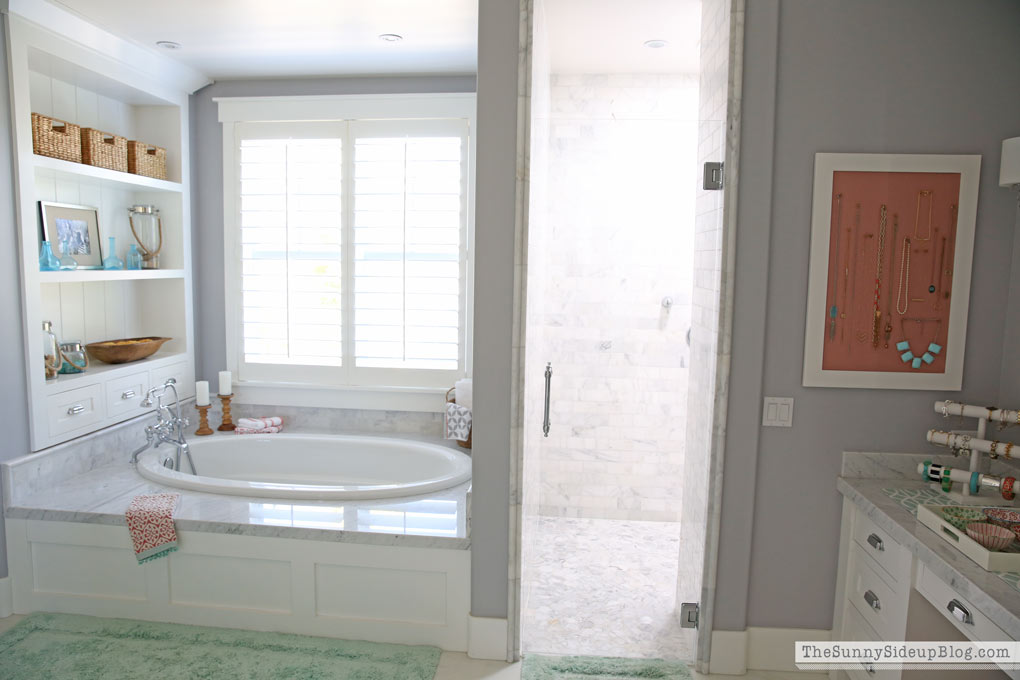 When you walk into my bathroom you see my shower.  One thing I really wanted was a private shower because our kids are in and out of our bathroom all the time!  The shower looks skinny at first glance, but if you go inside the door it actually wraps around..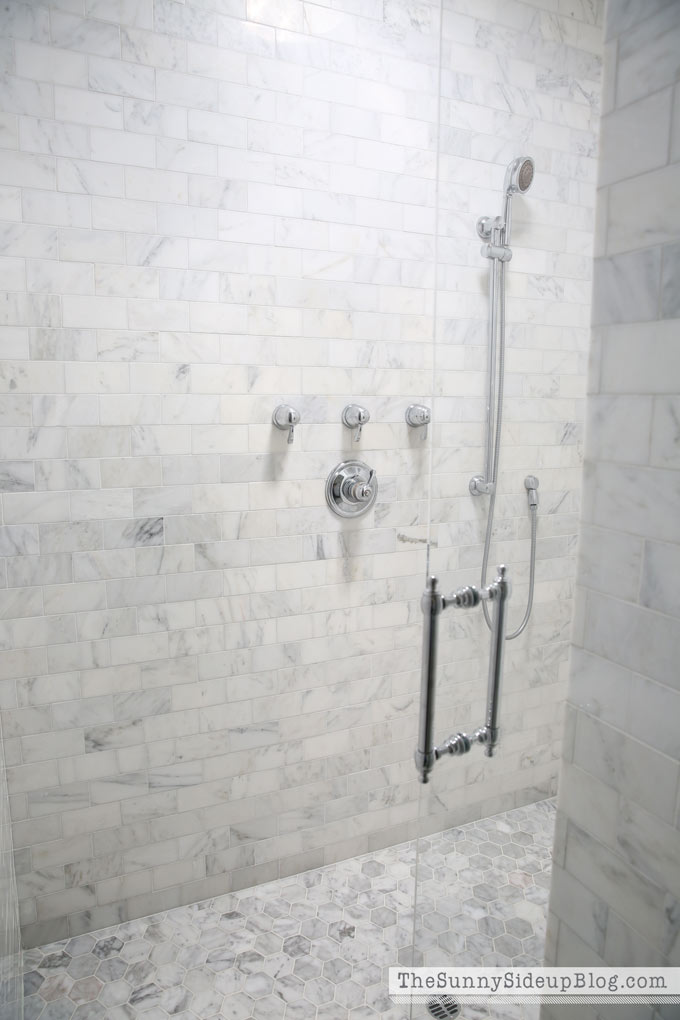 I didn't get a picture of all of it, but you can see how it goes back around that wall.  Marble for days!  My favorite. :)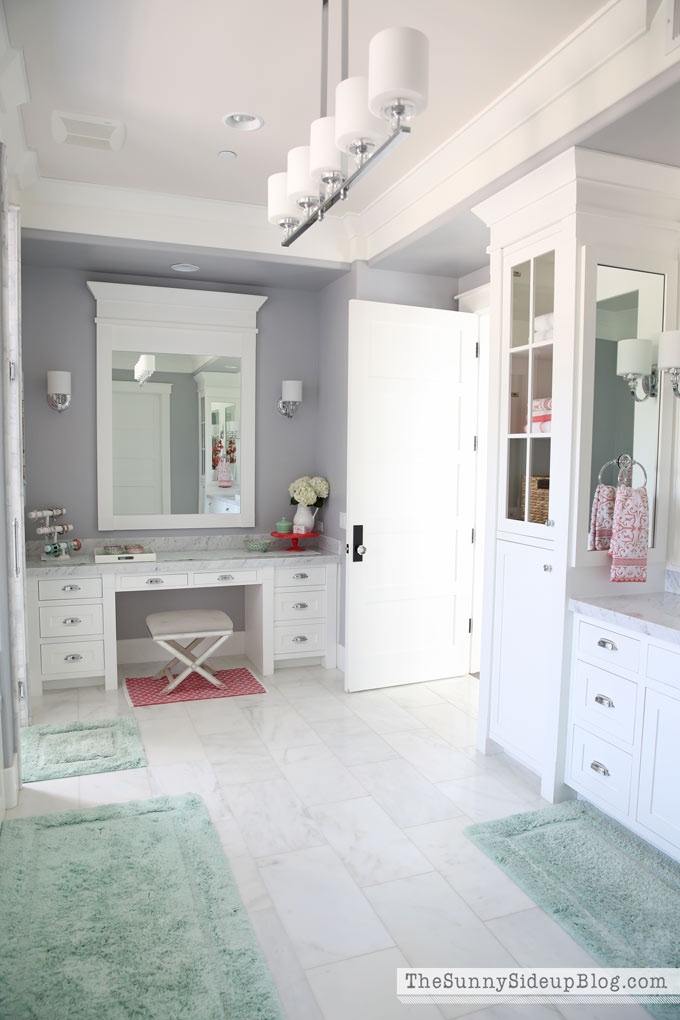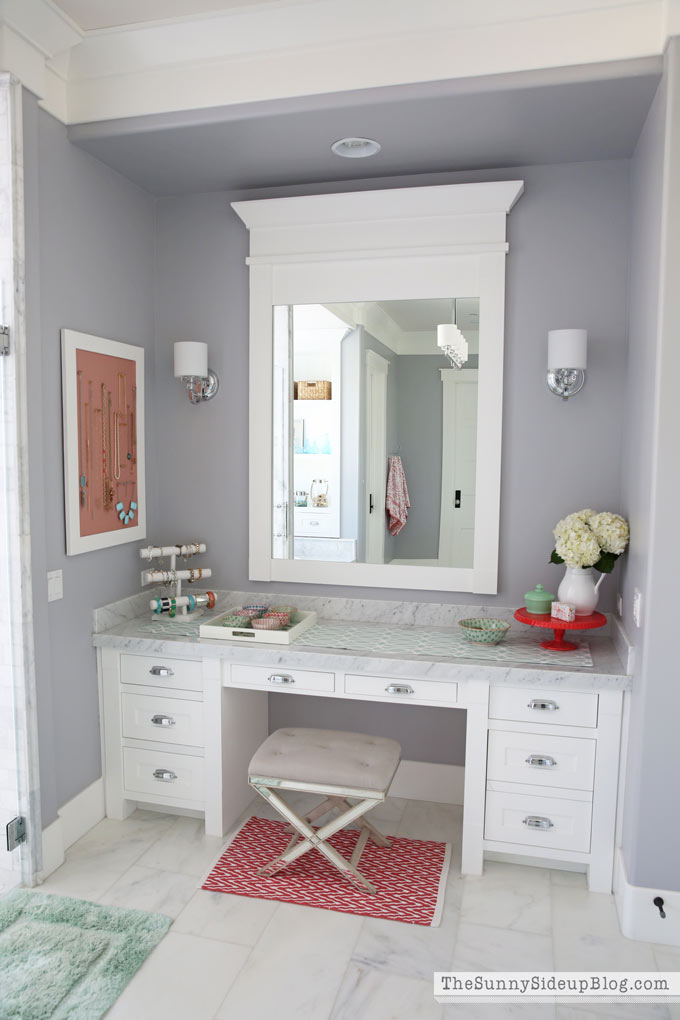 Next to the shower is my vanity where I have all of my organized jewelry.  The cute little stool is a new addition!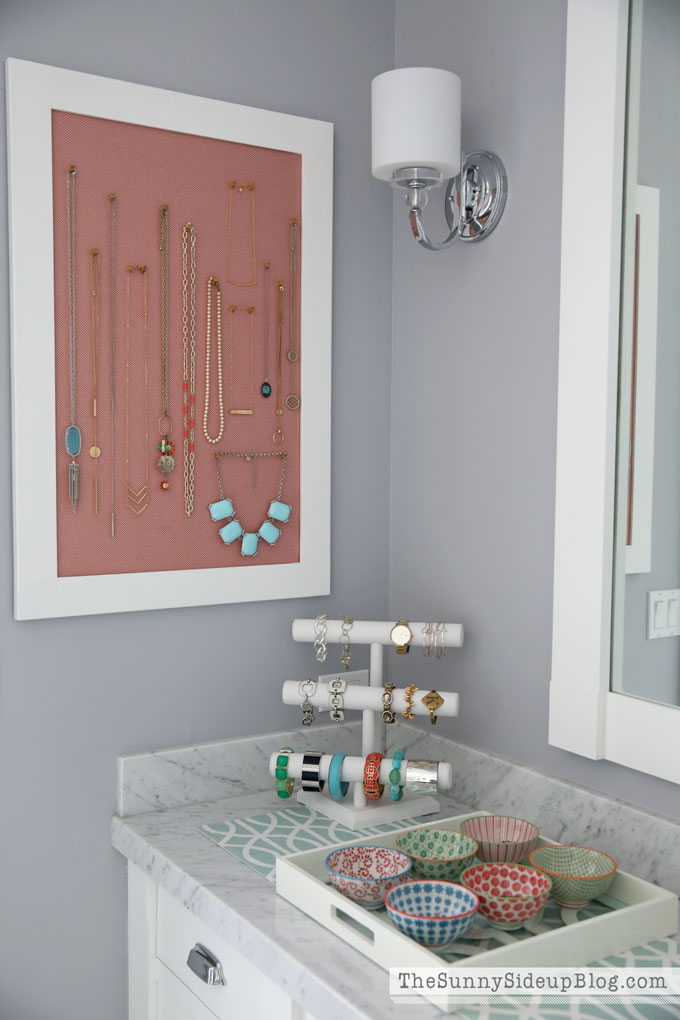 You can read details on how my jewelry organization came together in this post.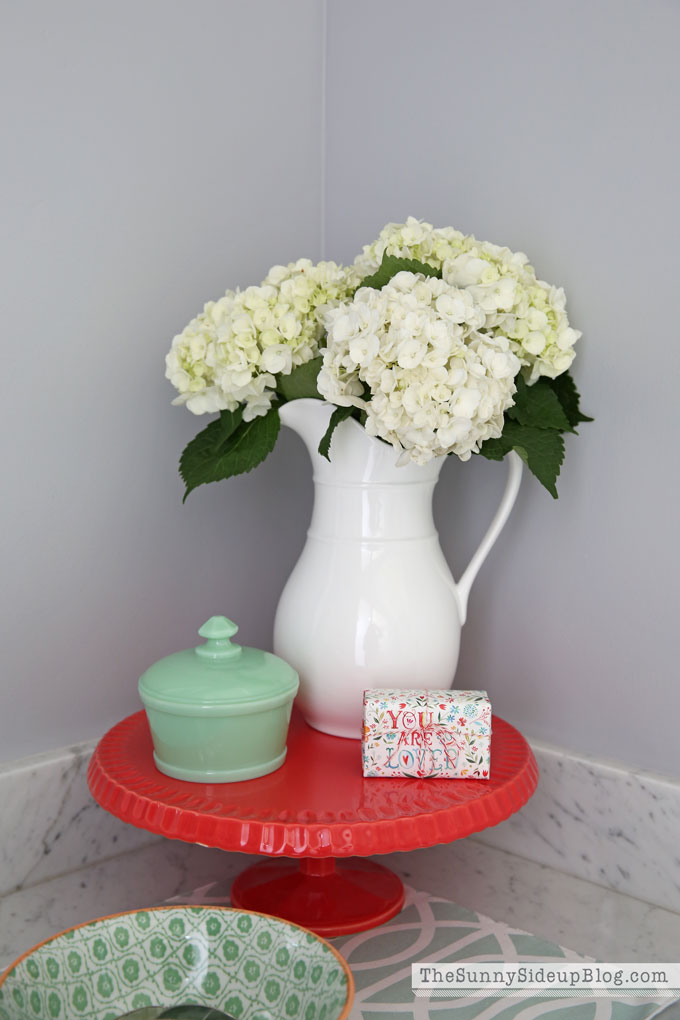 My favorite colors!  Mint and coral greet me every day in this bathroom and instantly put a smile on my face.  So do fresh hydrangeas.  :)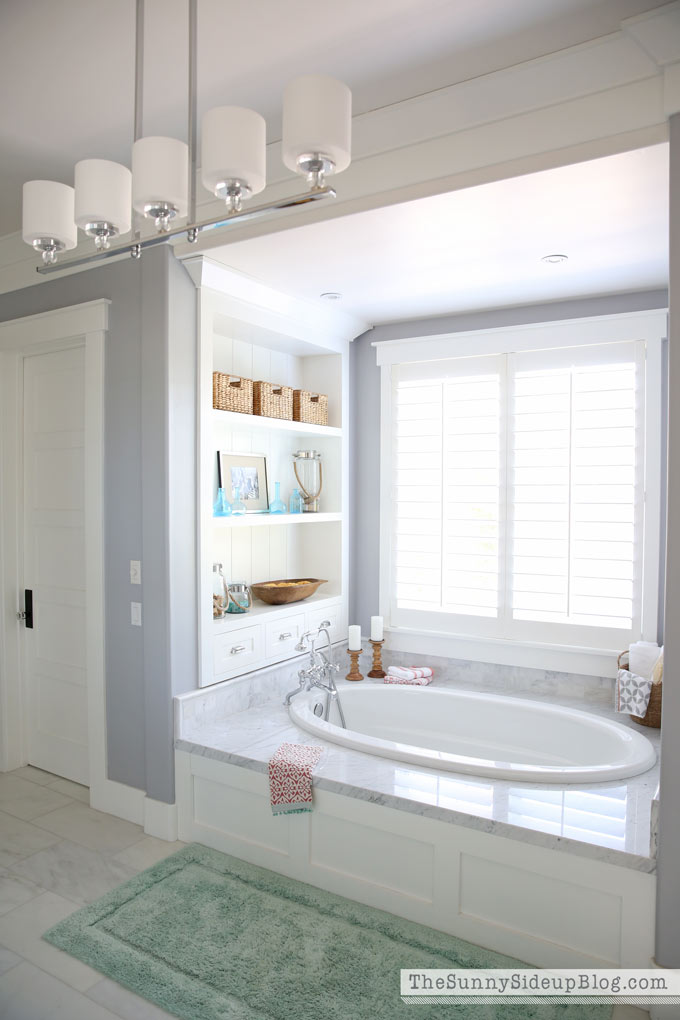 Here are 4 simple ways to add a touch of Spring to your bathrooms…
1- Give your bathrooms a good cleaning and organize the drawers.  This is the best way to get your bathroom ready for Spring!  (I'll be sharing how I've organized mine at some point to give you a few ideas.) :)
2- Add natural elements to bring in texture.  (Things like baskets and wooden bowls and sponges are my favorite!)
3- Buy a few new colorful towels.  Even just a couple of new inexpensive hand towels in a bright color can add a lot to a bathroom!
4- Add some flowers!  Real or faux or both like I did.  Flowers always represent Spring and bring life to any space.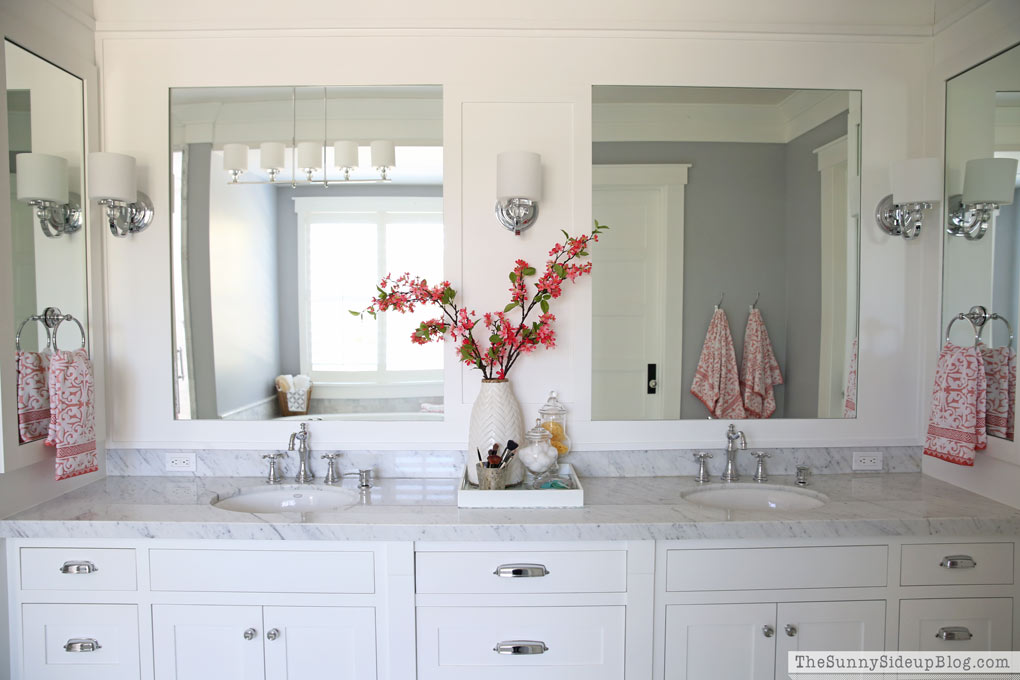 I always do those 4 things to our bathrooms around this time of year to welcome Spring.  It's an instant upper to walk into a clean and decorated bathroom. :)  I'll be sharing other bathrooms in our home with you this Spring along with how I organize them all so stay tuned!  Coming soon to a blog near you. ;)
Here are sources for almost everything in my bathroom! (Or something similar if what I have is sold out.)
*Paint color is ICI paint "Silver Trophy"  




Next up on the tour is my darling friend Shauna at the House of Silver Lining.  Shauna is so much fun and her home is beautiful!  Plus she just made a fun announcement on her blog!  Make sure to check it out along with the rest of my friend's Decked and Styled Spring Tours!  Inspiration galore.
I never get tired of saying that.. ;)
xoxo, Erin