{All porch sources at the bottom of this post – affiliate links used}
Happy 4th of July weekend everyone!  Or 4th of July week?  Whatever it is when you read this!  Do you all love my over the top holiday decor this year?  I know.. I know.  I really need to dial it back a bit, but I just couldn't help myself.  Ha. :)
Truth be told I wasn't going to decorate for the 4th at all until I made a quick grocery store run with my little buddy and he BEGGED me for some flags.  He wanted two for himself and two for me.  Mine went in the front porch planters and we called it a day.  It's what I like to call "2 dollar and 2 minute decorating."  A new trend I'm starting. ;)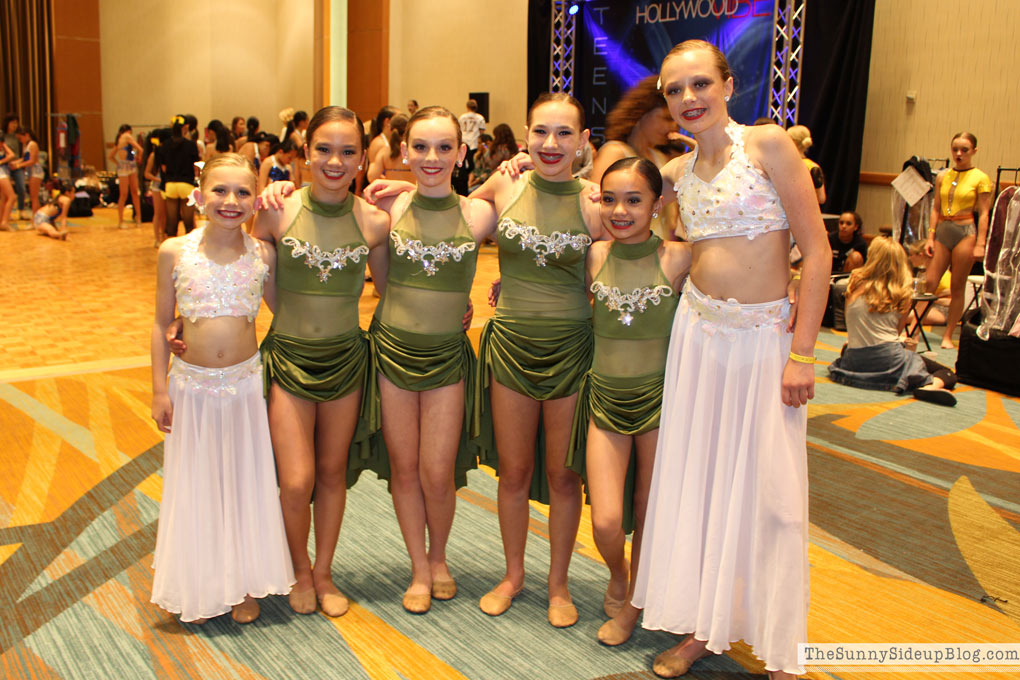 I've never done much decorating for the 4th because we are always traveling so much during this time of year and this year has been no exception!  I was home from Maui for one day – just enough time for some laundry and a quick pull the swim suits out of the suitcase and pop in the dance competition shirts.  Then off to LA for El's National Dance Competition for a week!  The competition was supposed to be in Palm Springs but was canceled at the last minute (LONG story there.. I got off the plane ride home from Maui and my phone was exploding with messages).  El's dance instructor booked the team at a different competition in LA so we were all scrambling to change travel plans and hotel rooms and make the switch.  Everything worked out, the girls danced beautifully!  And we had a great week.  So proud of these girls and the rest of their team!
A picture of just some of the moms.  This picture makes me smile because it was taken right after some serious cheers and high fives for helping our girls make one of the fastest costume changes of all time.  They had 12 MINUTES to get off stage and from one costume into the next with hair completely re-done (from a tight bun with 20 bobby pins to dutch braids!). Good thing I watched those You Tube videos and practiced. ;)  We had their costumes laid out and ready, chairs set up for the braiding, moms assigned to different tasks.. we were running like a well oiled machine and I could just hear the Rocky music playing in the background.  We had those girls changed and ready 3 minutes early!  Whew!  It was intense. :)  At this point it was also late at night and the girls had been dancing for 3 days straight and we were all SO tired.  GO MOMS!  I've seriously loved getting to know all of these amazing women this year and had such a fun trip with everyone.
Hanging out at the hotel with one of my cute dance mom friends who also reads my blog and loves the fashion posts!  Can you tell!? :)  I was so excited when she showed up in my favorite Anthro joggers!  Aren't they darling on her!?  We had so much fun being twins for a day. :)  Oh and I kept the black Rayos wedge sandals!  Tough decision between the black and nude leather but at the end of the day I just knew I'd wear these more because I wear a lot of black.  I've loved them.  I was on my feet in them all day (looking several inches taller than I am I might add!) and totally comfortable.  Another fun thing at the competition was meeting some of you!  Hello to my new friends from Chicago and Arizona!  And my new friend from Cali that I met in Maui!  I seriously LOVE it when I get to meet blog readers.  We have an instant connection – like we're already friends who just don't know each other face to face yet.  Whenever I'm out and about and get recognized I just want to give the person a huge hug and say "So!  Tell me a little about YOU." ;)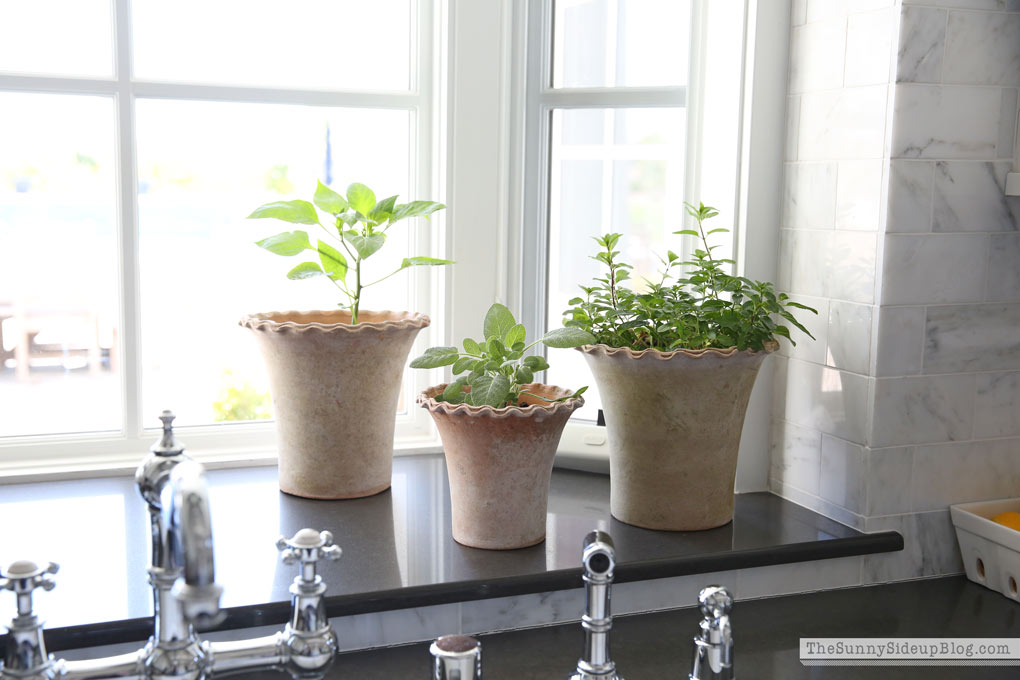 I got home from LA just in time to take the dance mom clothes out of my suitcase and pack some red white and blue for our annual Utah trip for the 4th of July!  Yes.  More travel!  My husband was so happy I was back.  He tried to work from home all week with Ad and Kole.  They each had a summer camp but just for a few hours.  He told me he would be working from home with the kids all week.  I told him good luck with that.  Ha.  Turns out he didn't get much work done.  Shocker. ;)  He said to me "I know I say this every time you travel but seriously – what you do all day is WAY harder than what I do all day.  How do you ever get anything done!?  I'm elated that you're home."  Feeling great about that.  Especially since he only had two of our three kids, a slower paced schedule and didn't do much laundry or cleaning or managing of half of the things I normally manage in a week.  One tiny example?  Above is my lovely herbs I put in pots in my kitchen window in February.  Want to see what they look like now?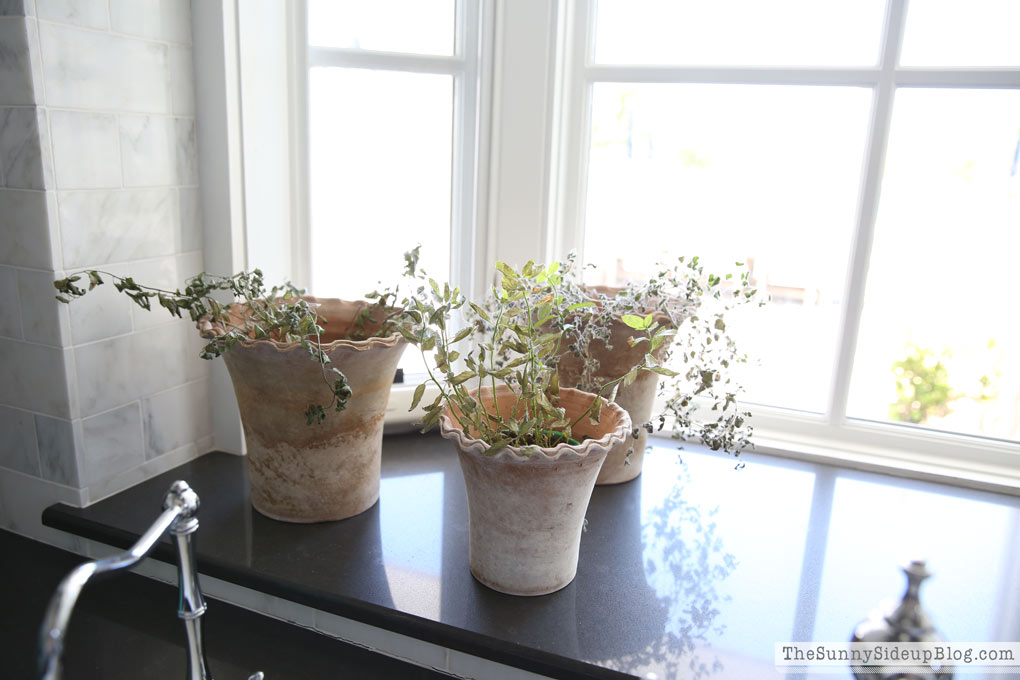 Yup.  Dad was in charge.  Ha ha..   Totally giving my husband a hard time!  He's great and does so many other things that I don't do well.  Some guys just don't have that "nesting" instinct and my husband is one of them.  ;)  But while the plants didn't survive, he survived and the kids survived (on peanut butter and pancakes).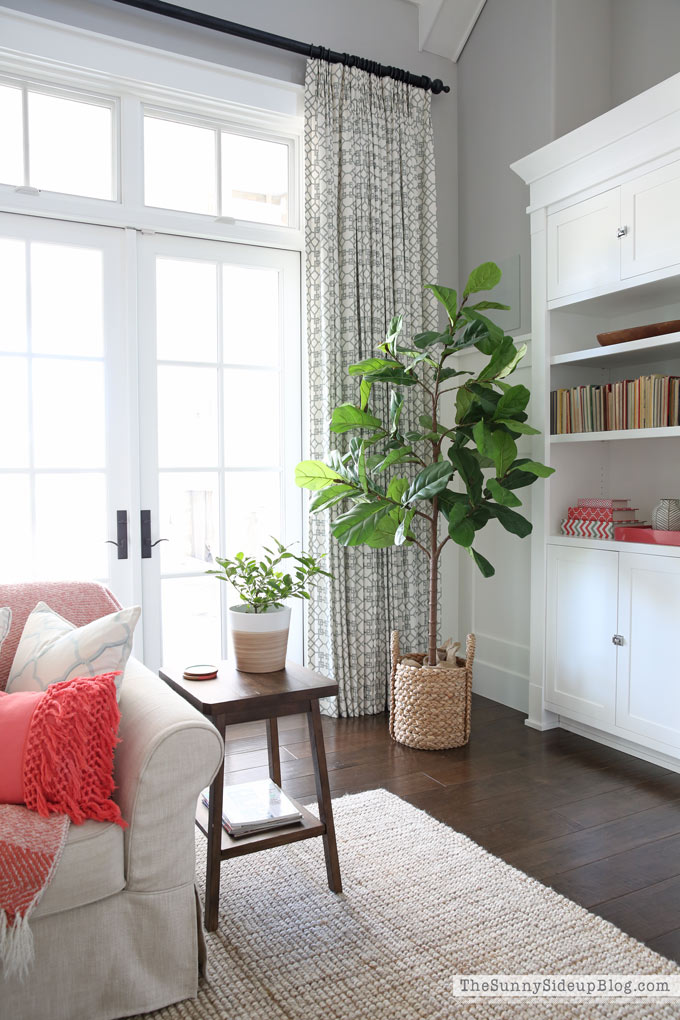 Now I'm back in the driver's seat of all things HOME.  And seriously thinking about replacing every single real plant I have with something fake!  My fiddle leaf fig looked as fabulous as ever when I got back.  I seriously love this faux plant.  Do any of you know a source for some faux small herbs or plants that look real?  I haven't been able to find much when it comes to small faux house plants.
K – I'm rambling!  Time for the point of this post!  If I ever really have a clear point. ;)  I wanted to share a little outdoor project we have in the works right now!
It has to do with our Outdoor Entertaining Area.  (More pics and sources for this space here.)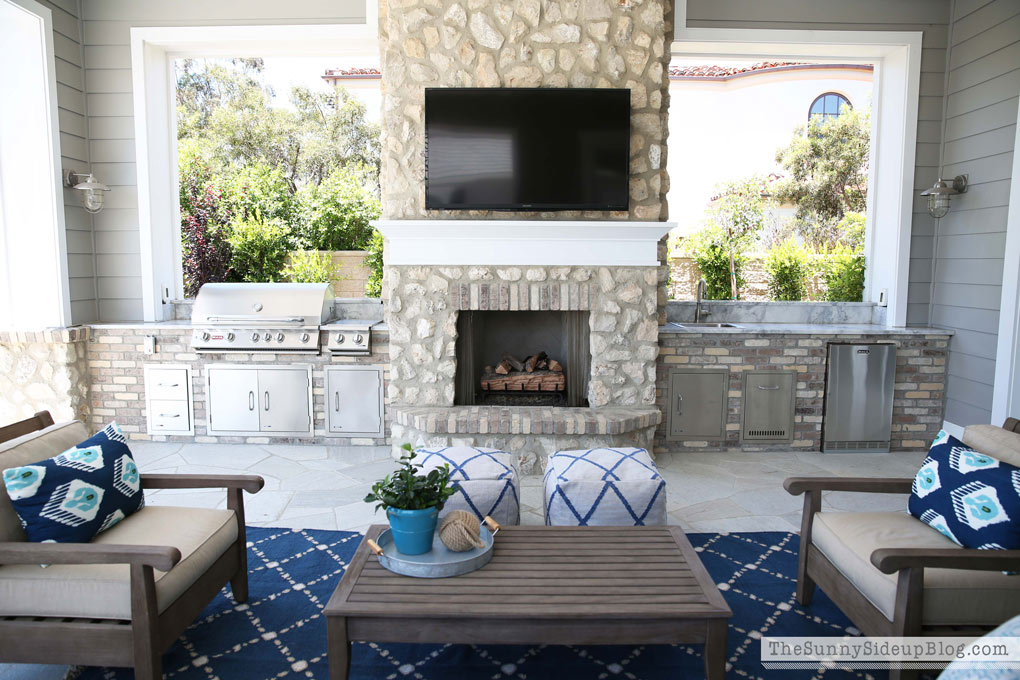 You might remember that we put a TV in this space.  Which if I'm being totally honest, I don't know if I'd do again if I had it to do over because we've hardly watched it.  Maybe three times since we moved in?
But it's there and we might use it more in the future.  It's fine.  But I do have a minor issue with it!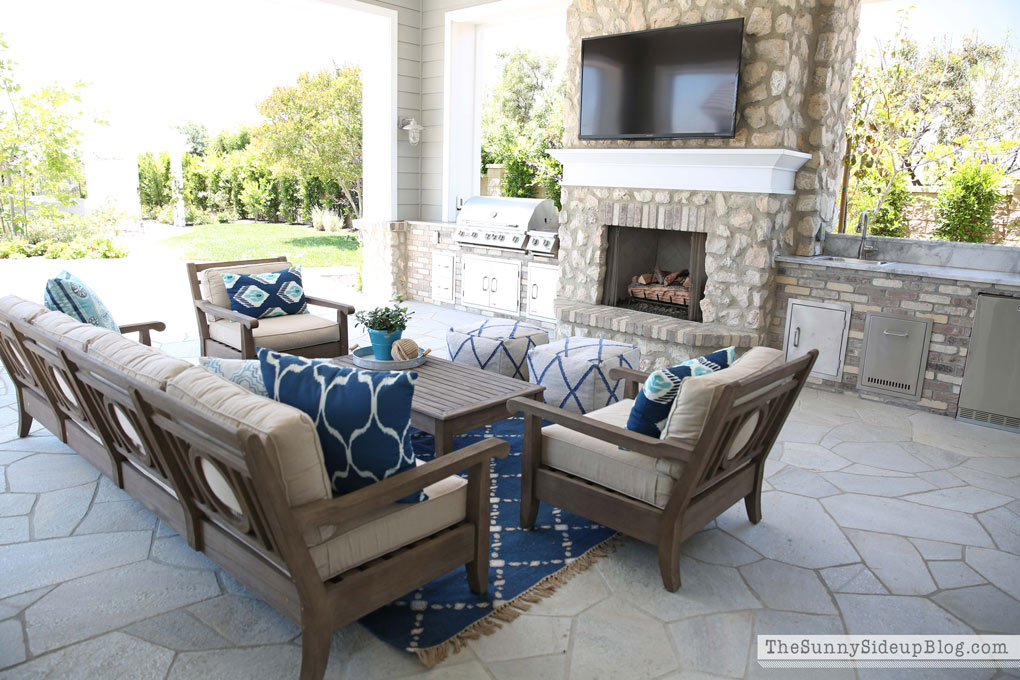 It looks great when we're using it (which is hardly ever).
But when we're not using it (most of the time) we have to cover it to make sure it doesn't get dirty/scratched/ruined.  I don't love the look of that ugly TV cover!  This area is what I look at every day out of my family room french doors and that cover has bugged me since we moved in.  So I finally decided to do something about it. :)
First things first.. I called our carpenter Chuck.  Because of course I did. ;)  I told him my plan and gave him a sketch and we brainstormed and he set up shop in my yard.
This was a quick sample he did just so I could get an idea of what it would look like.  I wasn't totally sure I wanted to do this at first because we are covering up rock!  (Ignore my kids pool towels and "Pinky" who isn't looking so hot in the corner.  This was just before she retired in Addison's room. ;)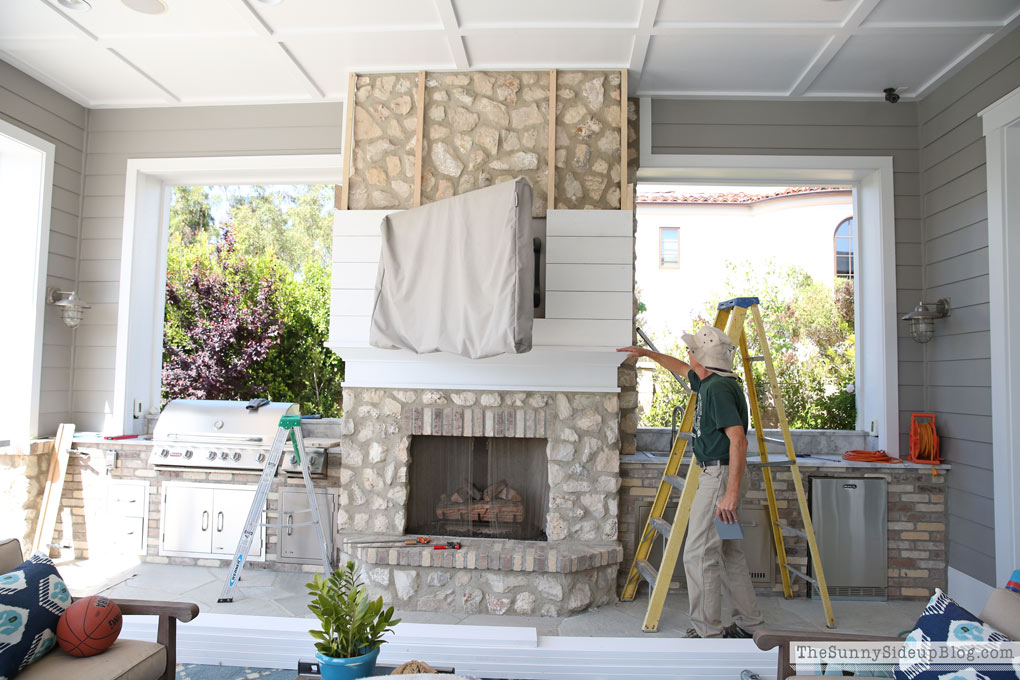 I liked the sample and decided to go for it!  Basically I want to plank the upper part of the fireplace and have a TV cover made that looks better instead of worse when the TV isn't in use.  Which is most of the time.  See where I'm going with this?  :)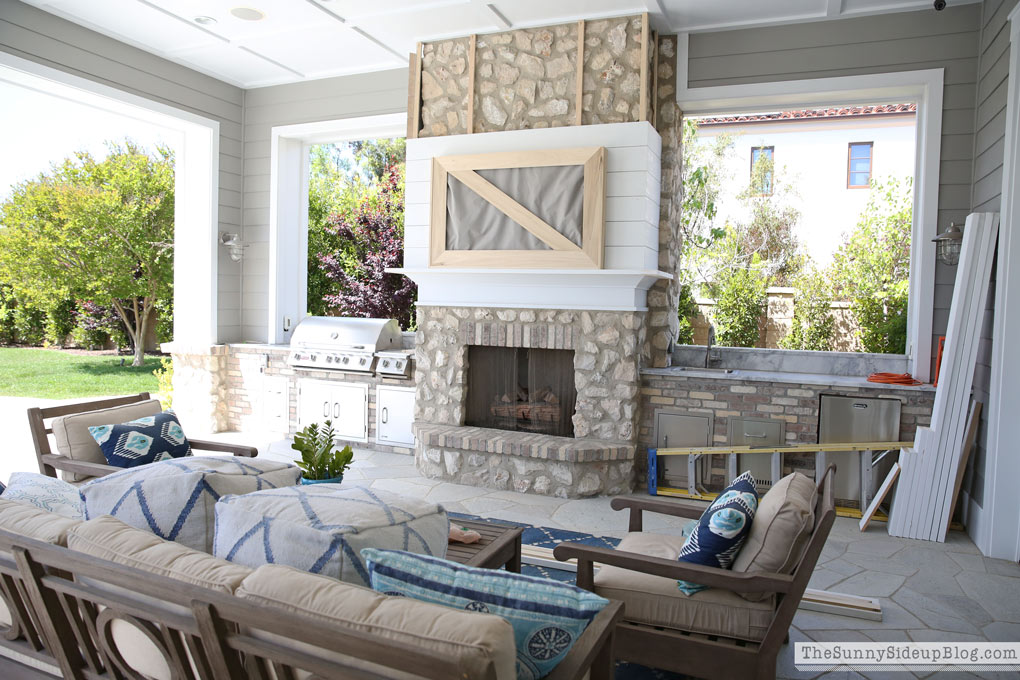 For the tv cover I wanted something like barn doors that would slide to the side to open, but we didn't have enough room for the cover to open that way.
So we're going up!  This project has been so funny.  Chuck and I are totally MacGyvering this.  We don't exactly know how it's going to turn out and work at this point.. ha!  But we'll figure something out!  And I'll show you all when it's done.  Progress is moving slow because he's also working with me on a bigger project inside our house that I'll share soon.  Because of course he is. ;)  The two of us have so much fun working on things like this together.  He wants to just work for me full time and I keep telling me that I'm going to run out of projects for him to do so then we start brainstorming about fun things we'll do in the next house I build.
But we don't tell Kennny about those conversations. ;)
Do you all have fun plans for the 4th!?  My kids want to make our annual Holiday Pretzel Hugs!  The same hugs we also make at Christmas and Valentine's Day.  Because we're tricky like that.
Easy recipe is here (from way back in 2009!) if you want to make them too. :)
I'm sure I'll also be making my favorite fruit dip!  I always get assigned fruit salads or fruit trays at BBQ's because everyone knows I don't like to cook/bake.  So I'm the go to fruit girl.  Which means I need a go to fruit dip.  Good thing I have one. ;)  I've shared this before also but here it is again for those of you who missed it..
Whip together:
8 oz cream cheese (softened)
7 oz jar of marshmallow creme
2 teaspoons of Maraschino cherry juice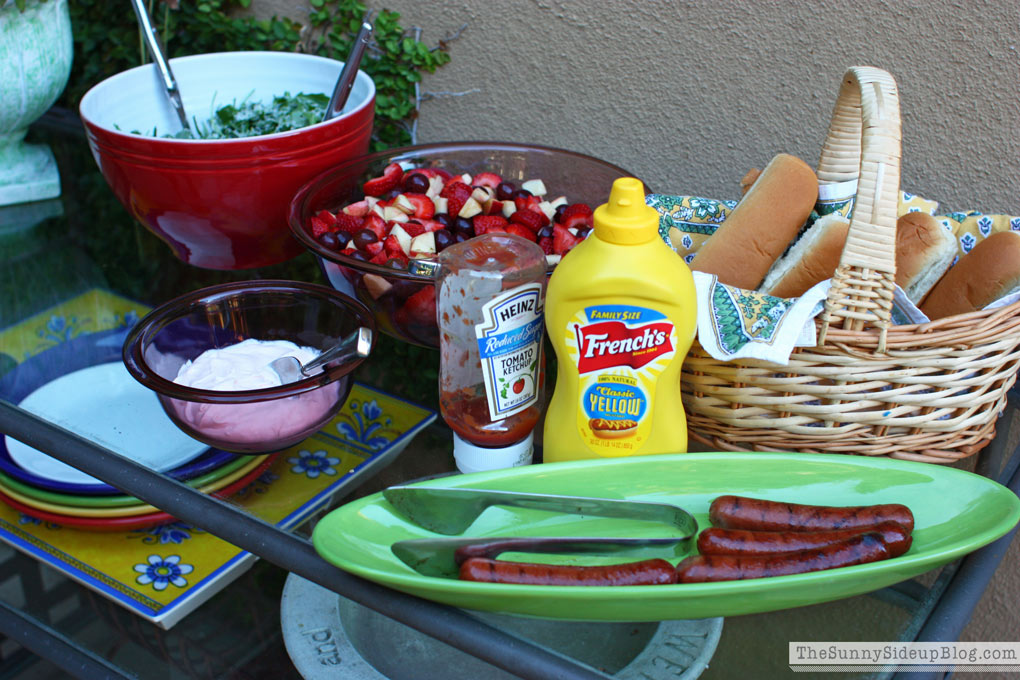 It's simple but SO tasty.  Perfect little side treat for your fruit salad.  Because we wouldn't want to be too healthy now would we?  It is the 4th of July after all.
Have you all seen the fun sales going on this weekend!?  I'm trying so hard to be good because the Nordstrom Anniversary Sale is around the corner and I need to save my shopping energy (and funds!) for that.. but wow.  A lot of amazing deals this weekend!  I don't know how strong I can be. ;)  My liberty jogger pants are just over $20!  The cute sweatshirt that goes with them is also on sale and how darling are these USA joggers!?  Ordering them.  I think they are cute for every day wear, not just during the 4th.  I bought this cute shirt to wear Tuesday and will wear it all summer.  It fits darling.  Who says we can't be patriotic all year?  Also thinking of buying this while PB is doing their "buy more save more" to decorate with next year.  It would make a good addition to my over the top porch right? ;)
My favorite Rugby stripe tee is also marked down and don't these pj's look SO cute and comfy!?  Seems I'm gravitating to all things lounge wear.  So nothing new over here. ;)  There are also some darling purses on sale and shoes!  Fun sneakers and I'm loving sneakers right now.  So many cute styles.  A lot of favorites you've seen in my home are on sale so I added links to those things at the bottom of this post along with my other favorite sale picks for this holiday weekend.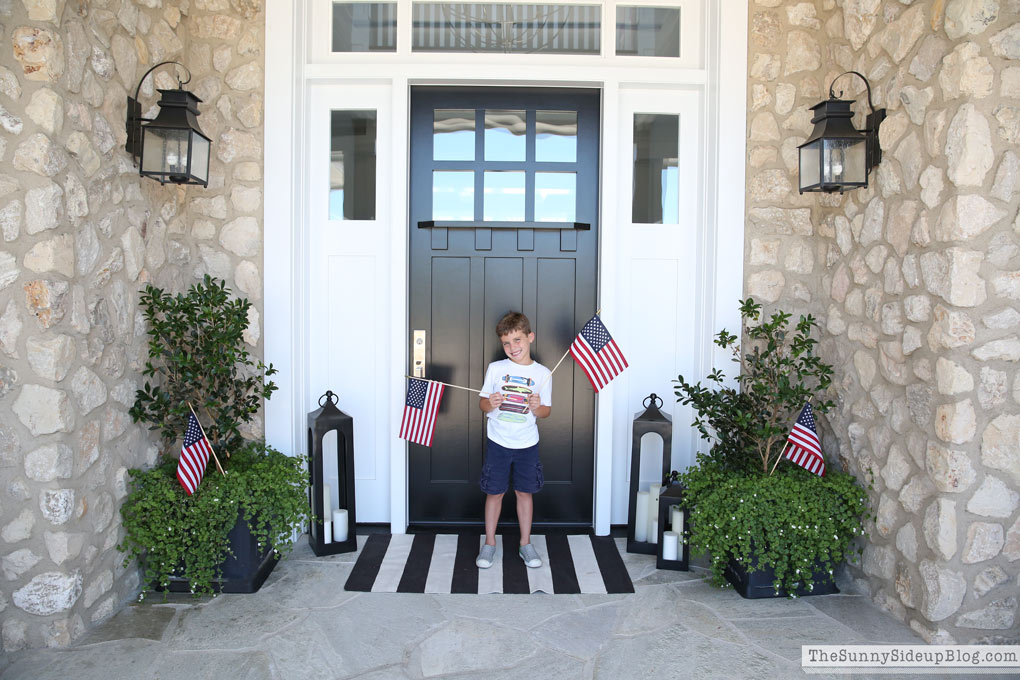 Enjoy the 4th everyone!  I hope you are all able to spend this special holiday with those you love!
And maybe with some fruit dip on the side.
:)
FAVORITES ON SALE:








xoxo, Erin