I'm so excited to be sharing some of my organized kitchen with you all today!  I'm also sharing my best tips on how you can keep your kitchen clean and organized too!  We all know that kitchens are the hub of the home.  It's where everyone wants to hang out and one of the hardest spaces to continually keep clean!  One thing I've learned about myself is that a clean kitchen is absolutely essential for my sanity.  When my kitchen is a mess so is my head!  It's really hard for me to focus on anything else when my kitchen is a mess which is why I've always worked hard to have a clean kitchen.  My kitchen drawers and cupboards for the most part stay organized, but every so often they need a little re-fresh!  I knew as soon as my kids got out of school and things slowed down a bit it was time to tackle some kitchen cupboards and drawers.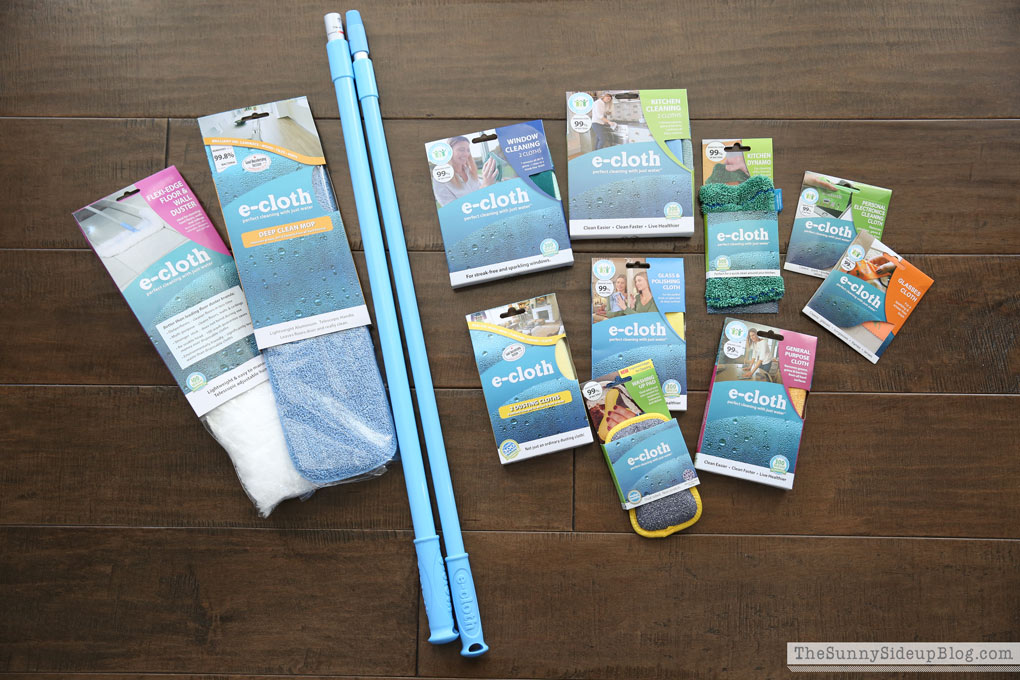 Ace Hardware reached out to see if I would be interested in trying out their e-cloths.  I'll be honest, I don't accept many sponsored posts like this, but I have a soft spot for Ace!  We have one near our house so it has become our go to hardware store (I swear my husband is there once a week at least).  The guys who work at our store are so friendly and Ace always has whatever we need when it comes to house projects.  Plus at Christmas time they put up a huge train around the top ceiling of the store and my son could spend hours at the store watching it!  He begs to go every December.  So good memories with Ace. :)  I was also excited to work with them on this post because the more I learned about this new product they are carrying, the e-cloth, the more excited I was to try this product line.  You all know I LOVE a good cleaning product!  I'm all about anything that can make my life easier when it comes to cleaning.  You guys – I've been using these e-cloths for a while now and love them!  They are chemical free, extremely effective and you simply add water to clean with them – they last for up to 300 washes!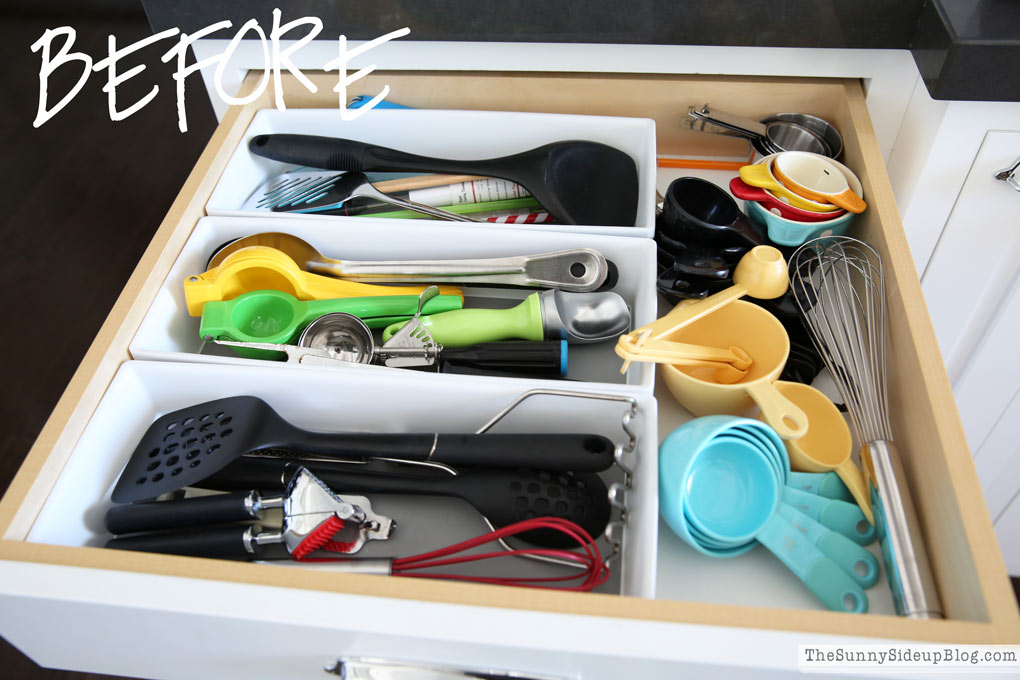 Like I said, my "befores" weren't awful, but things were starting to get messy and kitchen drawers tend to get crumbs in them and just need a good clean out from time to time.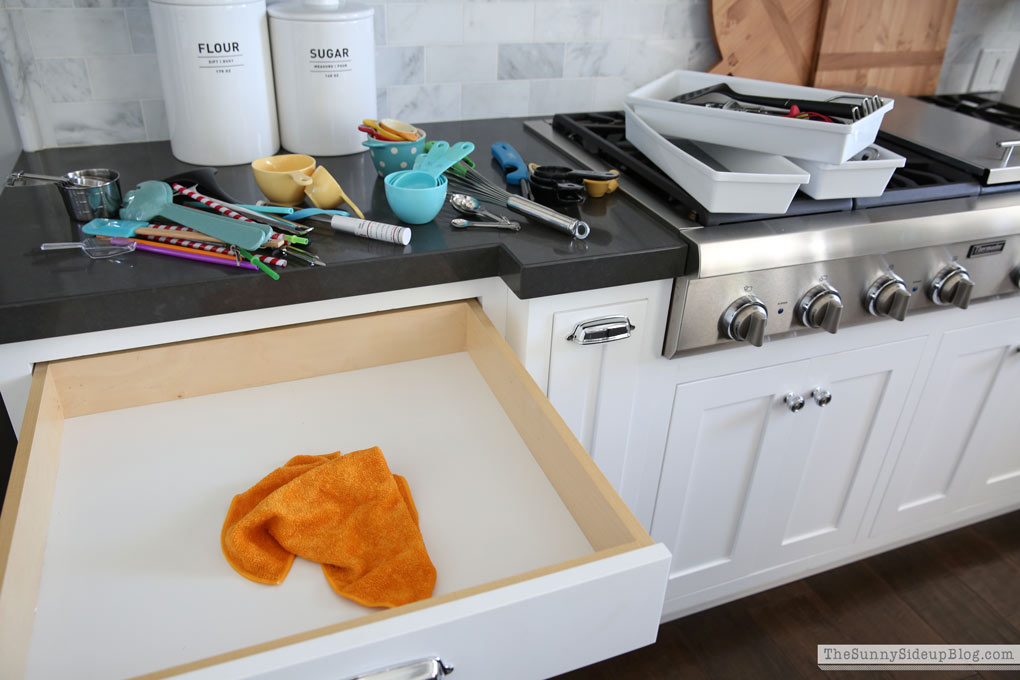 When I'm organizing kitchen cupboards/drawers I always take everything out.  I used the e-cloth cleaning cloth to wipe out all of my drawers and clean out the organizers.  Love this cloth.. it's so absorbent.  It always bothers me when I buy dish cloths and they don't absorb anything!  After the drawer was sparkling clean I made sure to only keep and put back what I really use!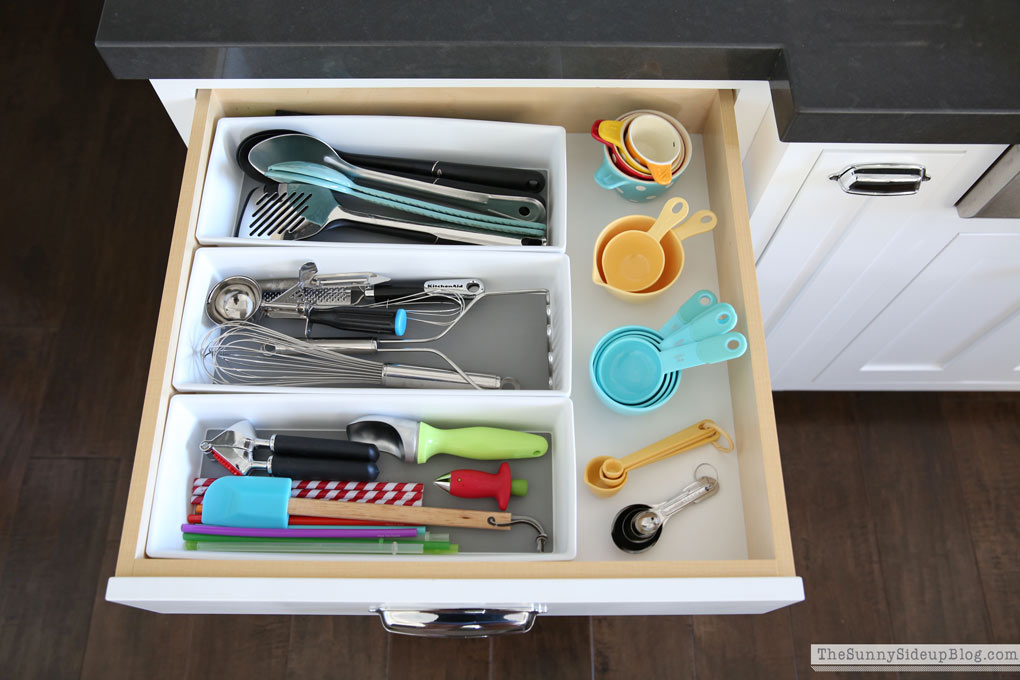 So much better!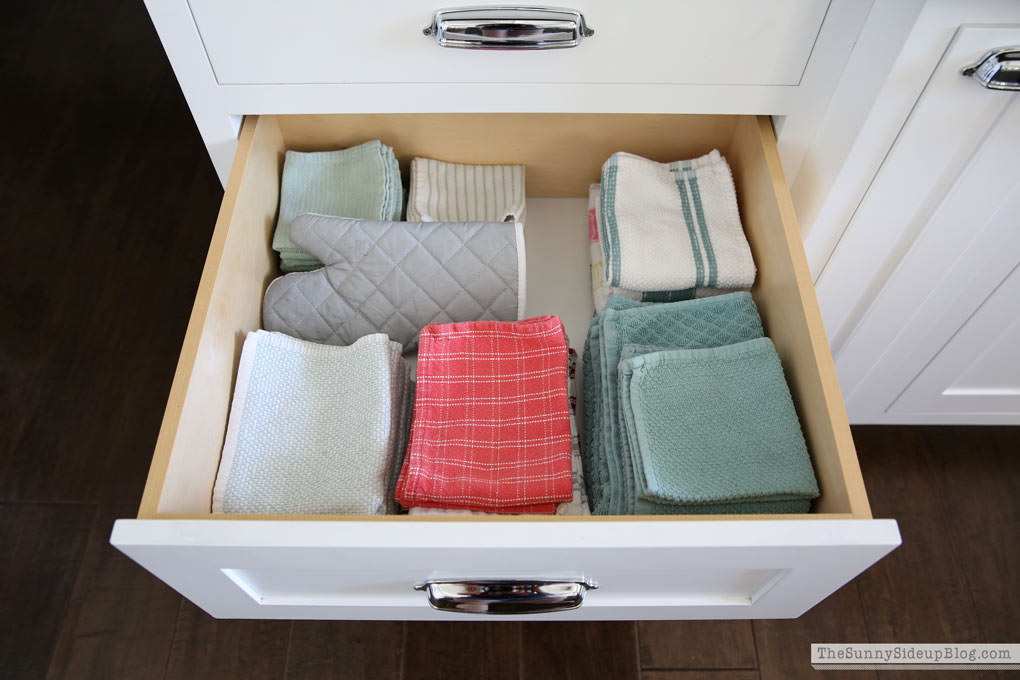 Below our kitchen utensils I keep our dish towels.  This drawer stays clean but needed a good wipe down!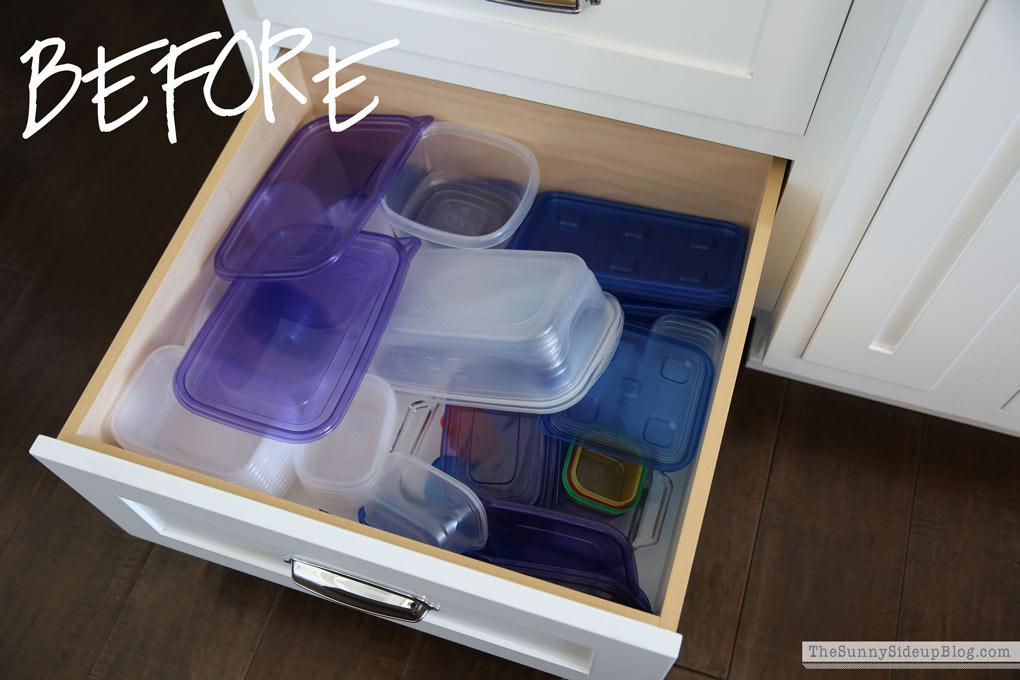 Then our clear storage containers are below that.  This drawer always ends up a mess!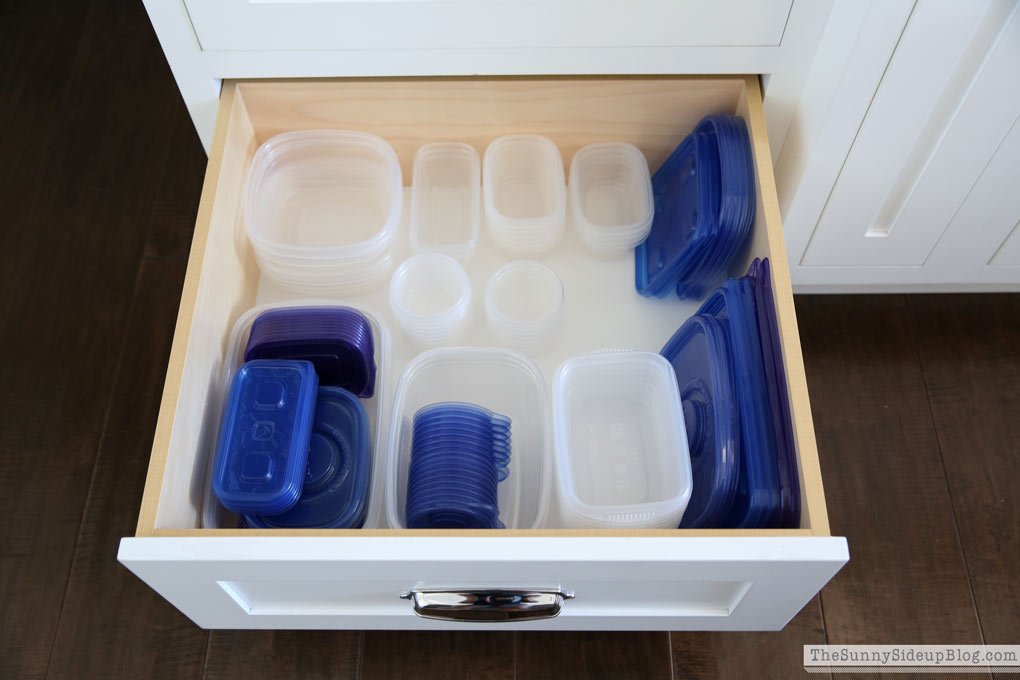 Much better!  But I have to say that this drawer is getting re-organized again because I came up with a better way to do it that will help me keep it clean.  Does anyone else lay in bed at night trying to come up with new ways to organize your kitchen containers?  Ha!  Just me?  I can live with that.. ;)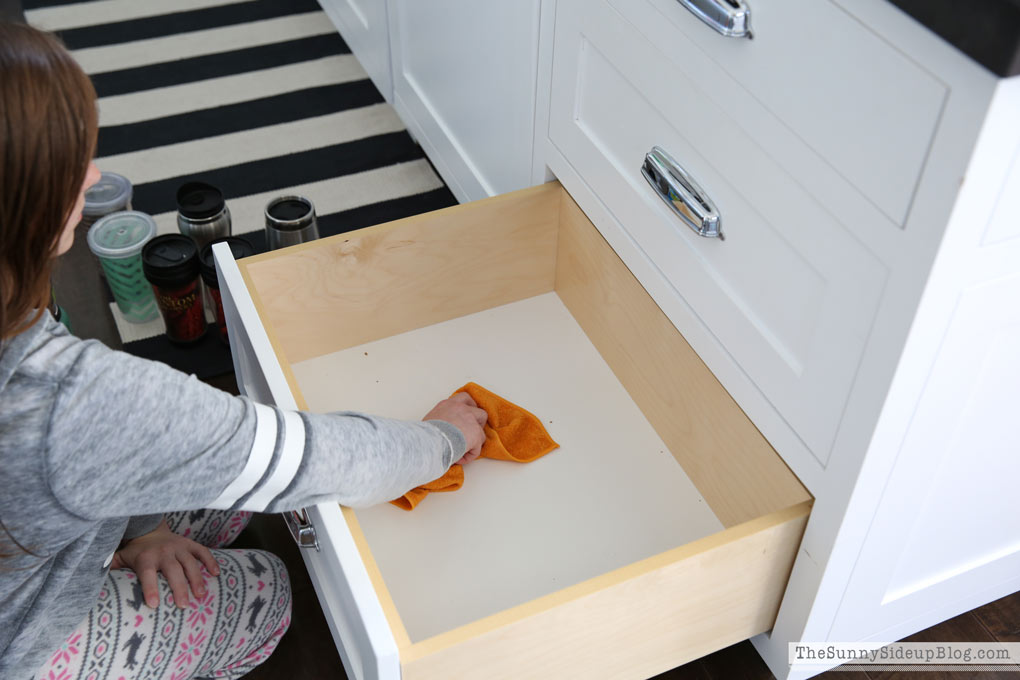 I handed El an e-cloth and put her to work on the other side of the kitchen.  She would empty drawers and wipe them down cleaning out all the crumbs and dust and then I'd come by and toss things we didn't need and put it all back organized.  Because these cloths are chemical free it makes them perfect for cleaning out drawers that hold items for eating and drinking.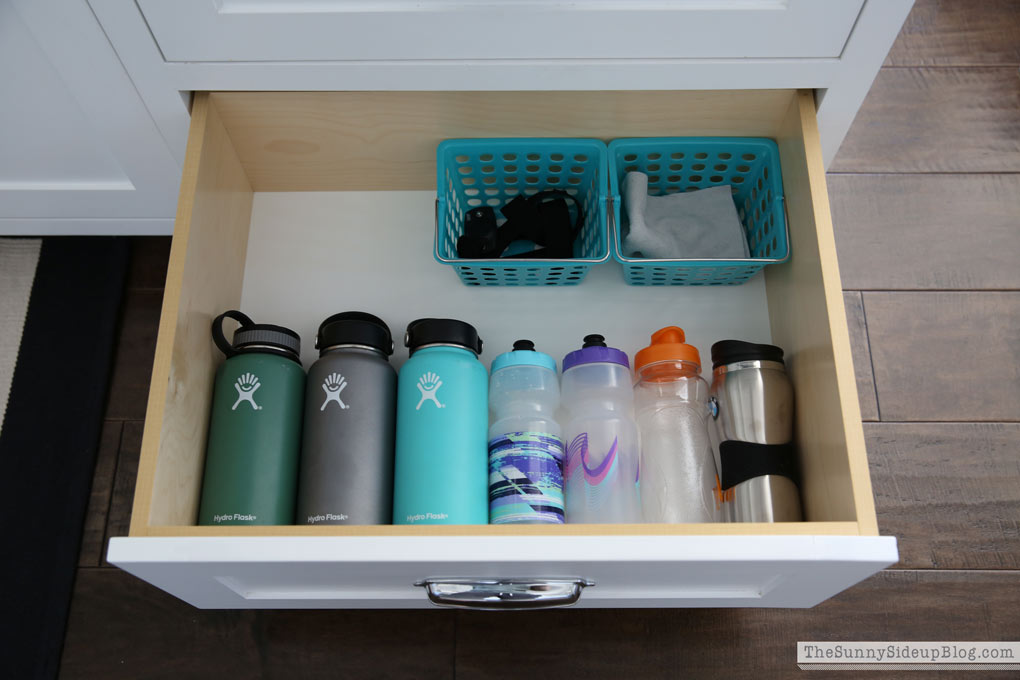 This bottom drawer holds our water bottles.  My husband and I always take our heart rate band/monitor and a sweat towel to our gym, so I added containers to hold those in this drawer also.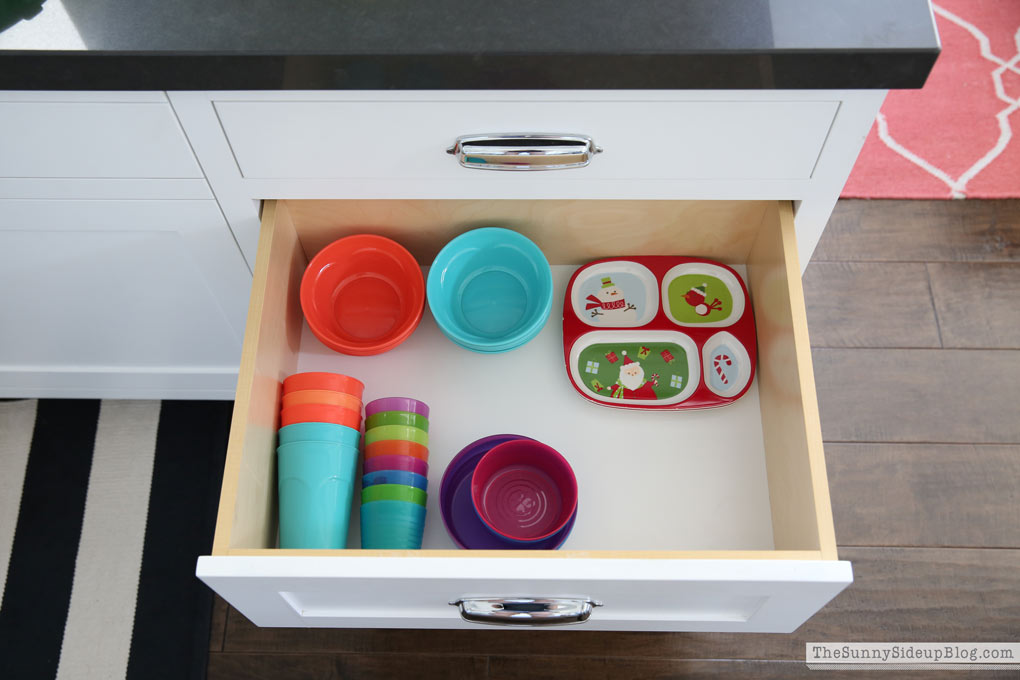 Above that is the plastic bowls/cups that the kids use daily.  And yes.. Christmas plates stay in this drawer all year because they are Kole's favorite.  He asks every day for a "4 plate" which means he wants 4 different things on his Christmas plate. I love 7 year olds. :)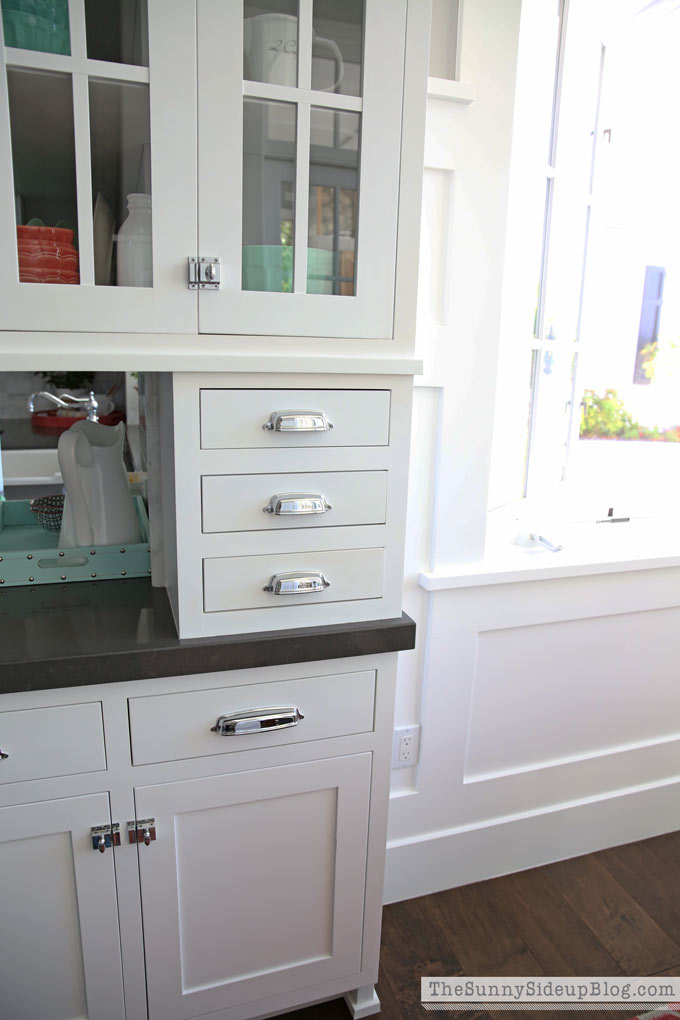 Lots of good organization going on in the fun little drawers near our nook!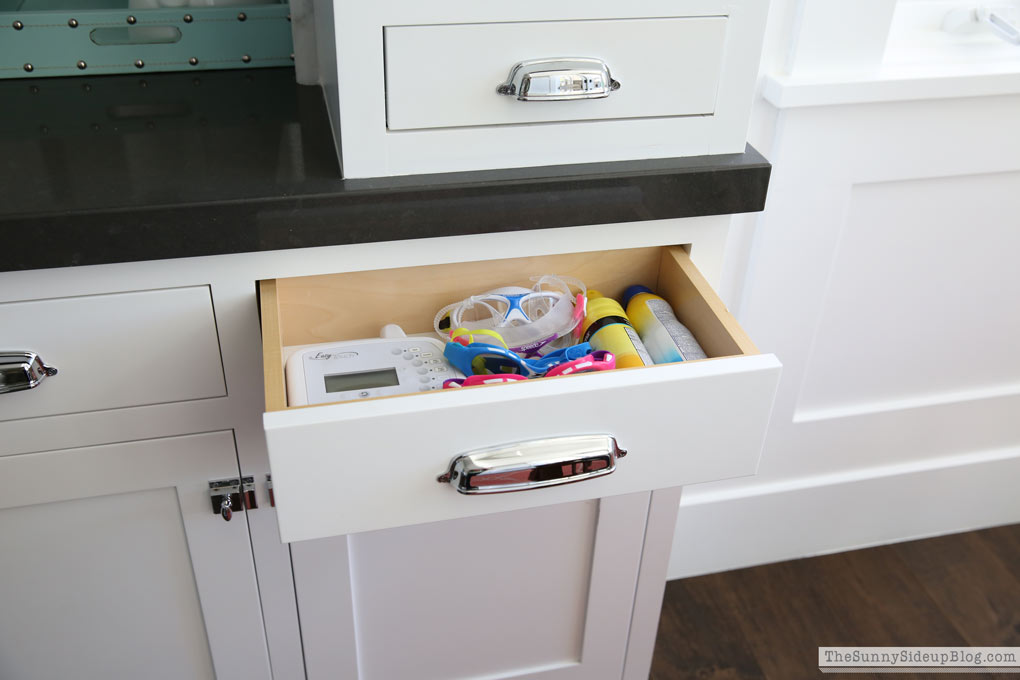 This time of year the larger drawer in the middle holds stuff for the pool!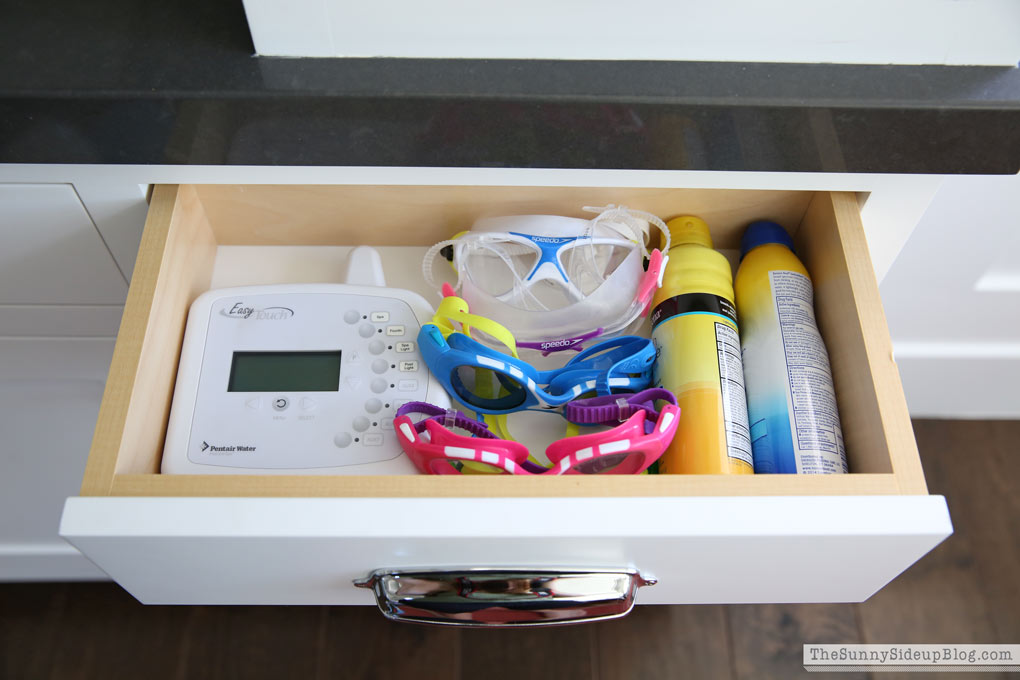 The pool controller, googles and sunscreen.  All we need to ensure a good summer around here.  And popsicles!  Can't forget the popsicles. :)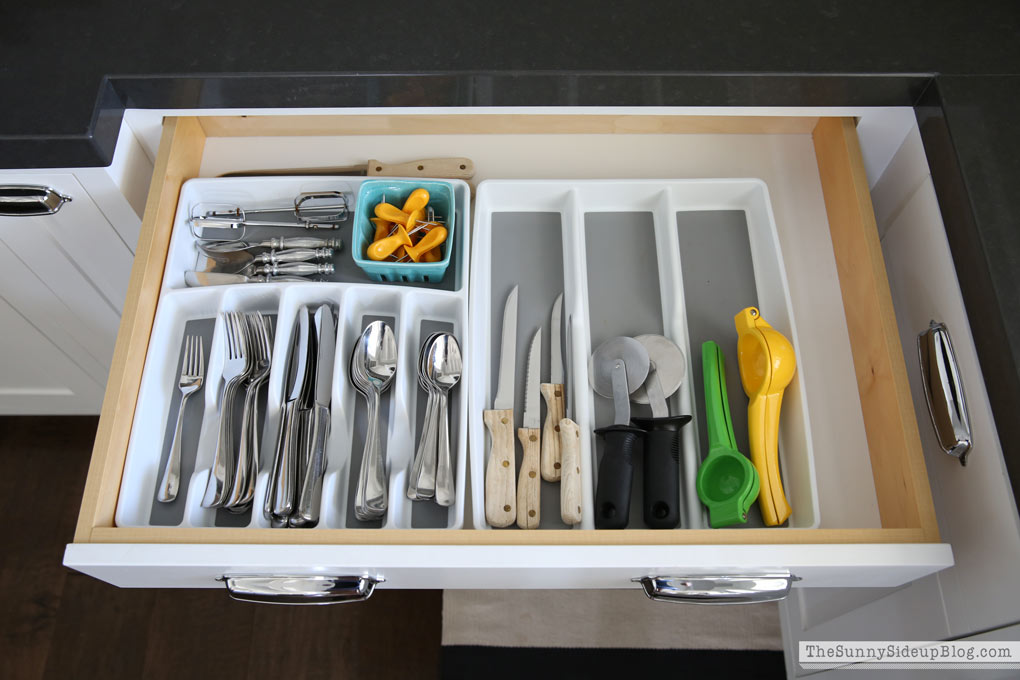 Our silverware drawer got a good wipe down too.  The e-cloth was perfect to clean out all the crumbs!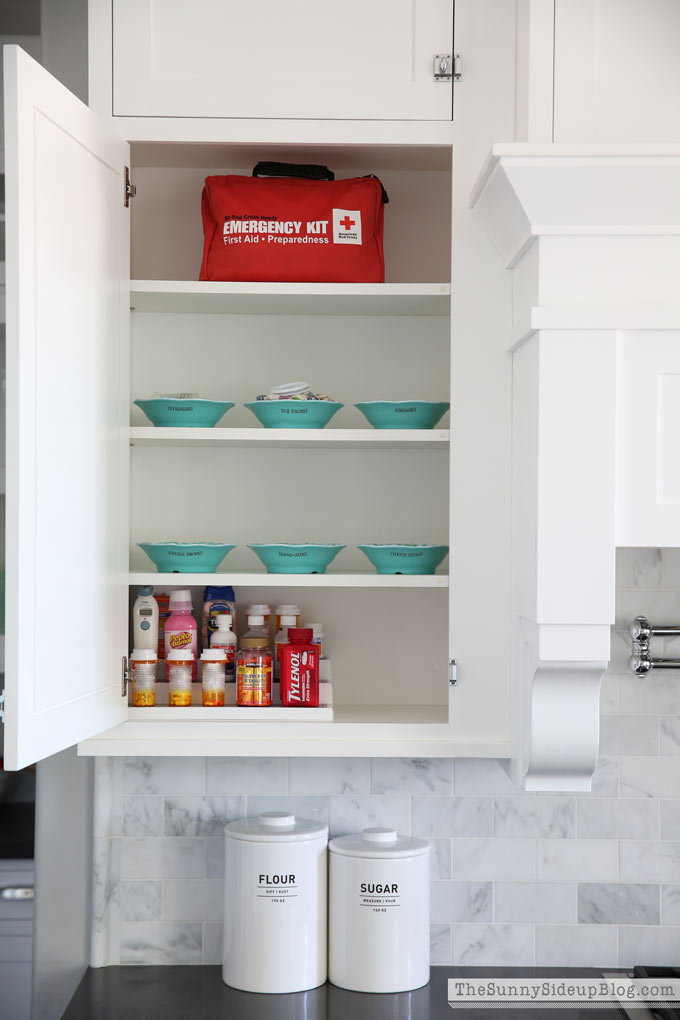 The top cupboard to the left of the stove holds our medicine (just shared how and why I re-organized this space in this post).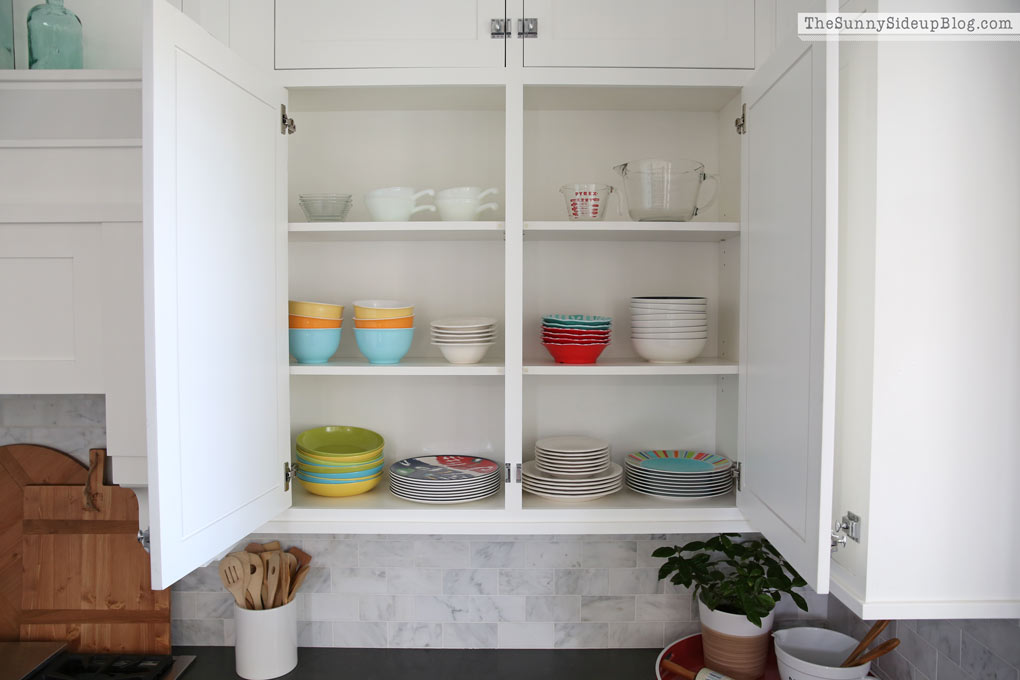 And the top cupboard to the right of our stove holds our every day plates and bowls.  I forgot to photograph the cupboard to the right that holds our cups!  Next time. :)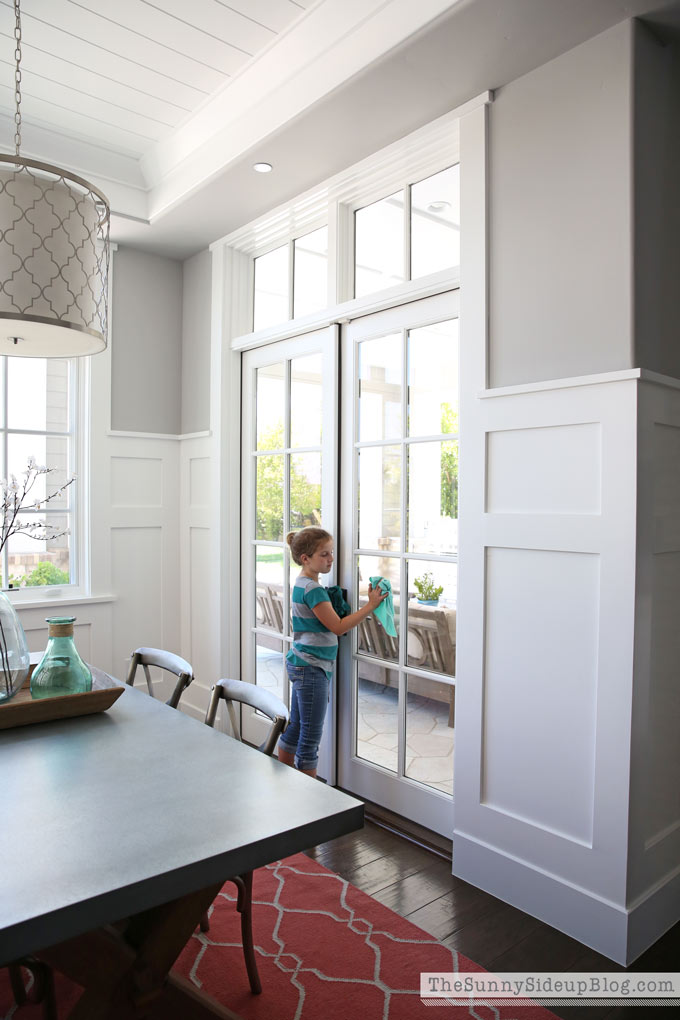 While El and I were busy cleaning and organizing the kitchen drawers I put my other two helpers to work on our french doors and windows!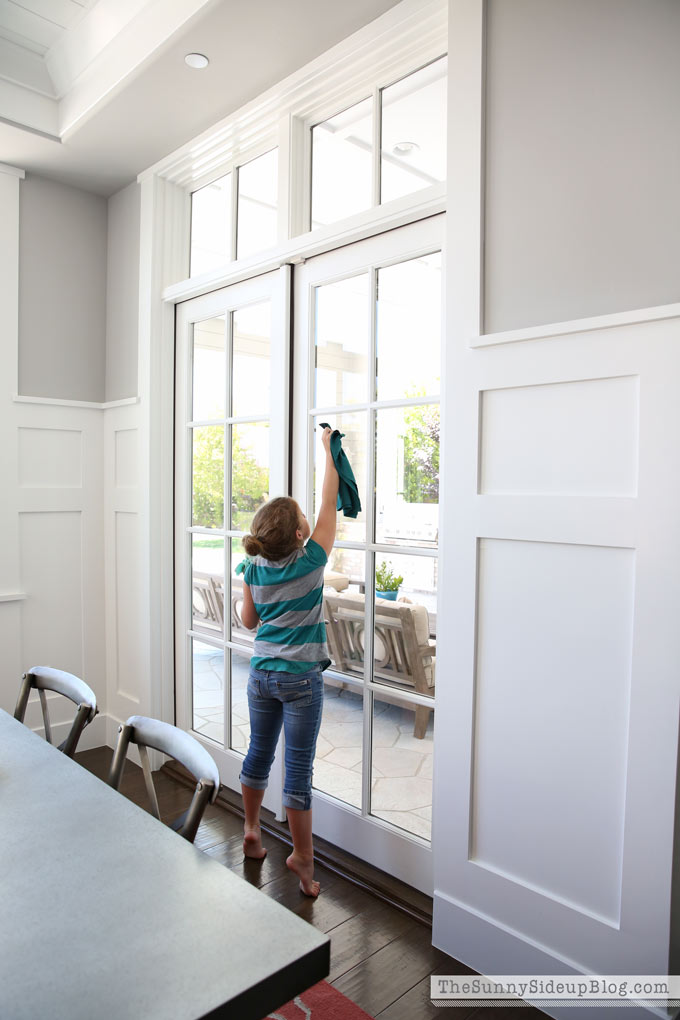 LOVE the e-cloth window cleaning cloth!  It came with two cloths in the package.  One you add water to and clean the windows with, the second cloth you use to dry the window after.  These are my favorite!  SO easy to clean the windows and doors completely streak free!  I also love that they are chemical free making them so safe for my kids to use.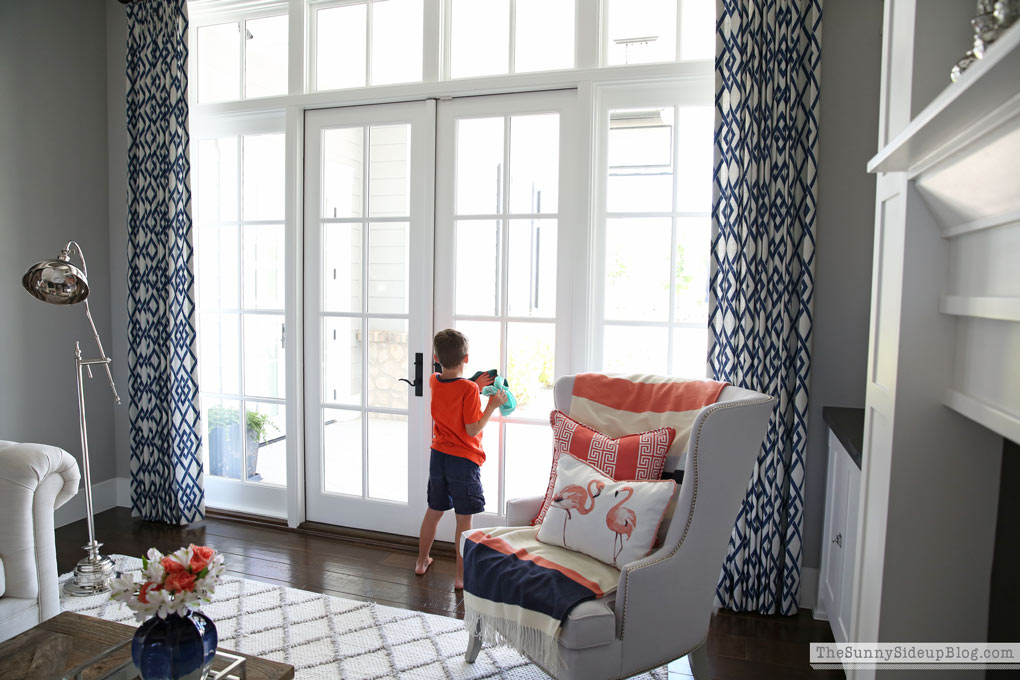 Plus the kids loved them.  Kole was having so much fun I kept him going on the french doors in our living room.  Because I'm tricky like that. :)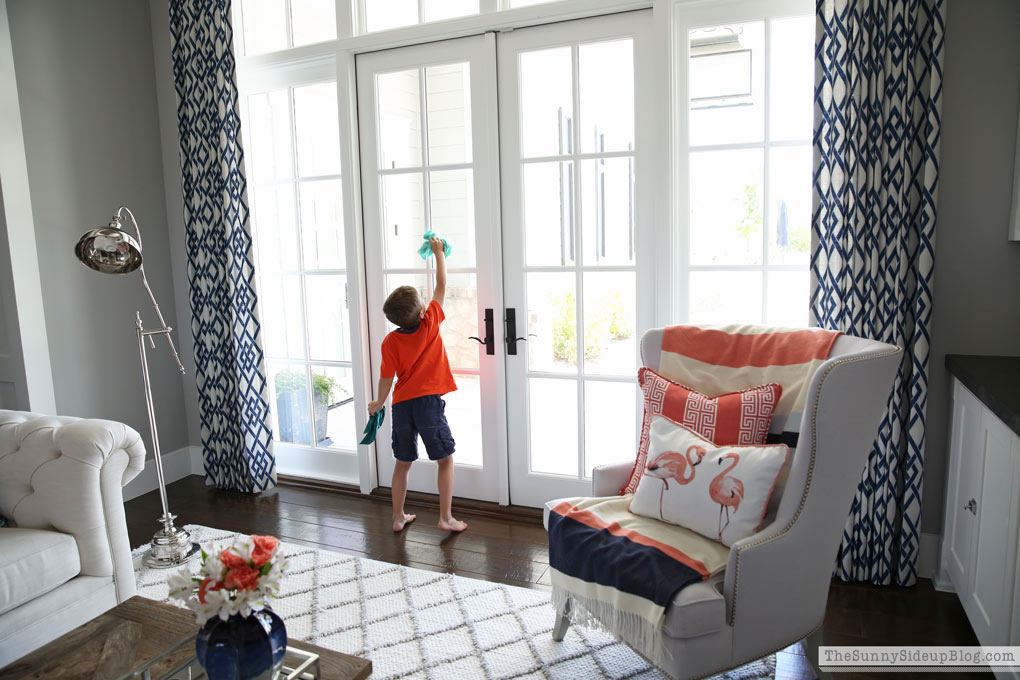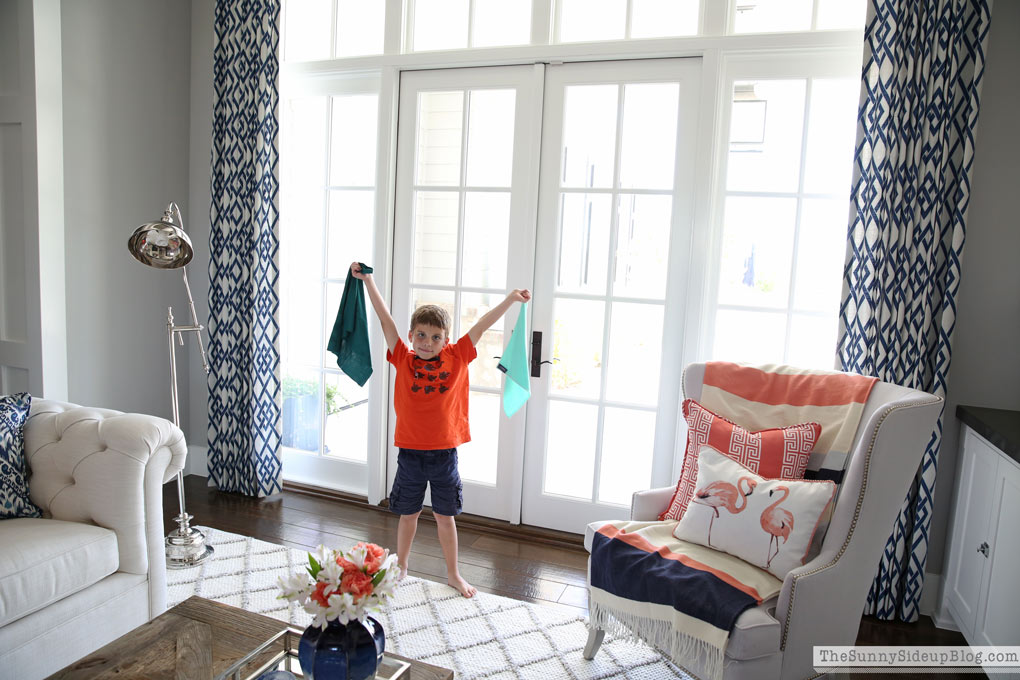 These will be new staples in our house for sure!  I asked Kole this morning to clean up his toys and he said "can I please just wash the windows again instead!?"  Ha!  His new favorite chore.  I have a feeling my french doors are going to stay pretty clean this summer. :)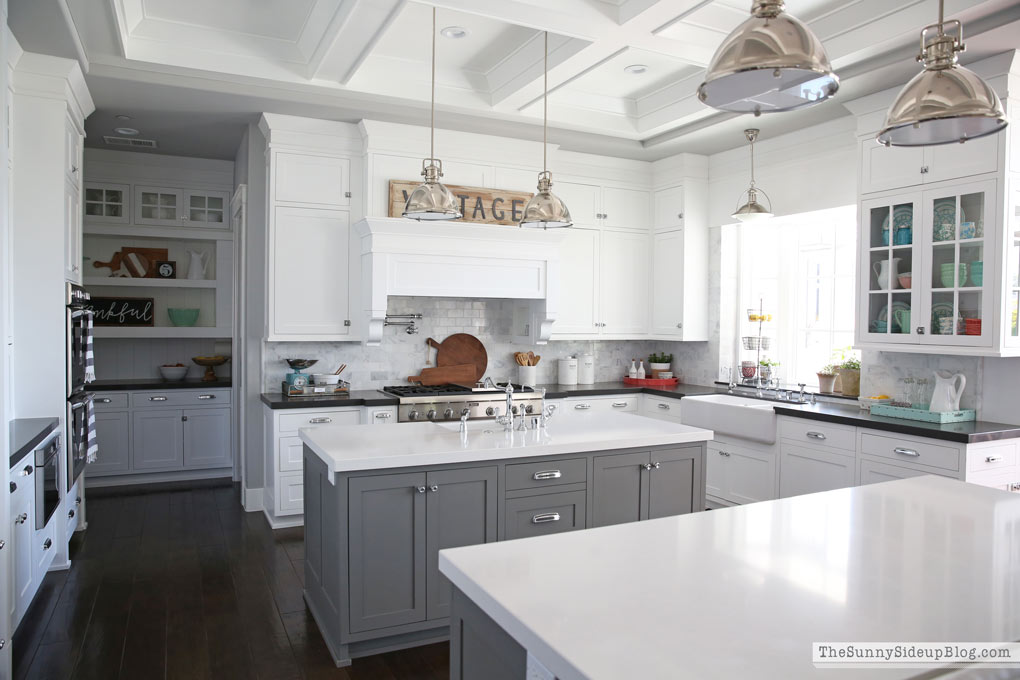 Like I mentioned before, keeping the kitchen clean and organized is a must for me!  The good news is that if you establish a few simple habits it's not that hard to always have a clean kitchen (despite your kids' constant efforts to mess it up!). ;)  Here are my best tips for keeping your kitchen clean and organized!
5 TIPS FOR KEEPING YOUR KITCHEN CLEAN AND ORGANIZED
1 – Declutter drawers and keep only the essential!  This is the key to keeping your home organized and it's no different in the kitchen!  It's a good goal to have some space in your fridge, cupboards and drawers.  Less is more!  Create a home for each item and teach your kids/family where everything belongs.
2 – Keep everything off the kitchen counter!  This is hard I know!  Kitchen counters can easily become the dumping ground for anything and everything.  Don't let it happen!  Establish zones in other areas of your home for all paper, purses, kids' backpacks, etc. so that the kitchen counter doesn't become a catch all.  It's also a good idea to use minimal home decor in the kitchen so that things don't get cluttered and you have plenty of space for cooking and eating.
3 – Wipe the stove, counter and sink after each use.  The e-cloth kitchen cleaning cloth is perfect to use on your appliances!  If you get in the habit of immediately cleaning up kitchen messes and spills right after they happen you'll do it without thinking!  It never pays to put off washing dirty dishes or scrubbing the stove.  The mess hangs over your head and just smells worse when you get to it later.  Remind yourself to do it immediately until it becomes a habit and you don't have to remind yourself anymore.
4 – Do a mini fridge/pantry tidy each time you buy groceries.  One thing I'm in the habit of doing is a mini clean-out of my fridge and pantry each time I bring home groceries.  It honestly only takes 5 minutes!  I wipe off the fridge shelves, toss anything that's bad and put the new groceries back.  In the pantry I toss bulky boxes and straighten anything that's messy and then put the new food away.  This way our fridge and pantry always stay clean and organized and I never have to do a major overhaul on them.
5- Involve the kids!  You will never be able to stay on top of keeping your kitchen clean if the kids aren't on board.  They certainly help make the mess and need to be involved cleaning it up!  This can be hard – as moms we want things done fast and right so it's tempting to just do it ourselves, but by doing that our kids never learn how to really clean and how important it is to pitch in and help around the house.  During the school year it can sometimes be hard to have your kids do a lot of chores also because they are so busy with activities and homework.  Summer is the perfect time to get your kids involved cleaning!  I know my three kids are on major kitchen duty this summer.  Lucky aren't they!? :)  They know they always have chores to complete before we get to do something fun.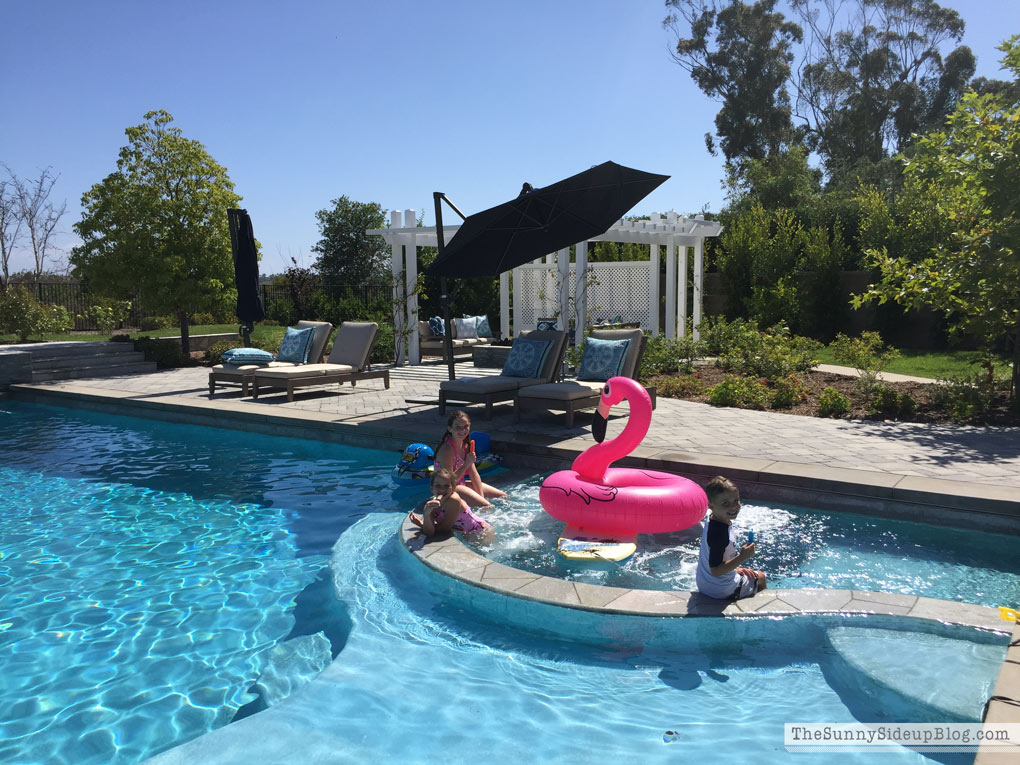 Lucky for them "fun" is never far behind. :)
Thank you to Ace Hardware for introducing me to e-cloths and for sponsoring this post!  Ace has a sale on e-cloths from now until July 4th – head to your local Ace and you can get the e-cloth stainless steel or window cleaning cloth for $11.99 each.
(This post is sponsored by Ace Hardware. All thoughts and opinions are my own and do not necessarily reflect those of Ace Hardware.)  
xoxo, Erin