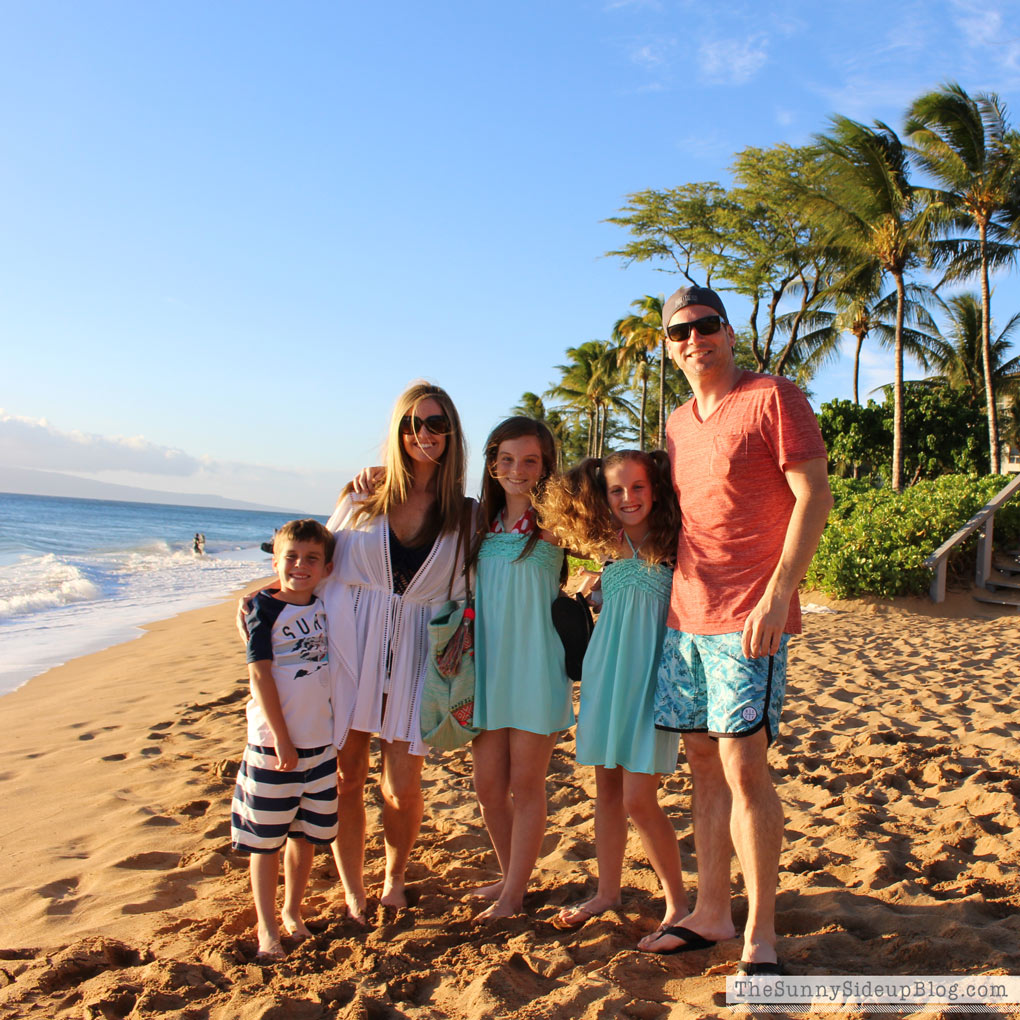 {swimsuit/cover-up/beach bag/sunglasses}
(affiliate links used)
Aloha friends!  Popping in from Maui to say hello and I hope you all had a great week!  We have officially become one with this island and never want to leave!  We've had such a great family trip – one of our best yet – and I'm incredibly bummed that our time in Maui is winding down.  It's never easy to leave this beautiful island!  I've been getting lots of questions on Insta and e-mails asking about our favorite things to do when we vacation here so I'm working on a post that will share our Maui favorites!  If you have a favorite Maui activity or restaurant let me know in the post comments or on IG!  I'll try to include your suggestions along with mine.
(Details on what I packed for this trip in my last fashion post here.)
So.. like I said.. more on Maui later. :)  Today I want to share my organized medicine cabinet.  Take 2!
You might remember the first time I organized this medicine cabinet.  So organized!  So beautiful!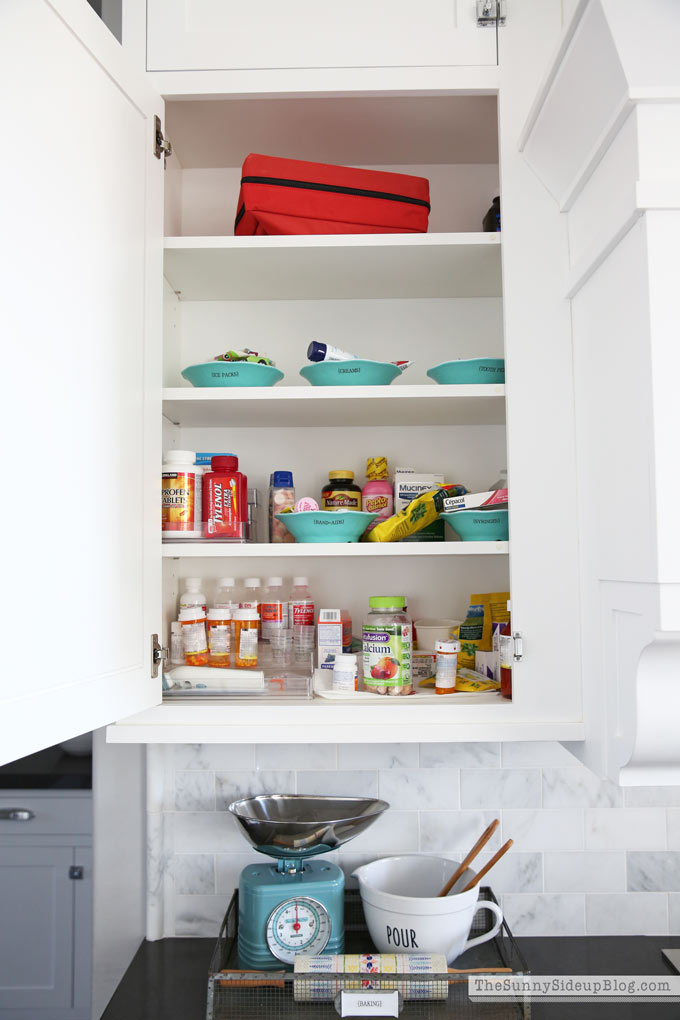 So NOT functional.  Ha!  This is what my beautifully organized medicine cabinet looked like 6 months later.  I shared these pictures in what might be one of my favorite organization posts ever – 5 Reasons You Can't Stay Organized and How to Fix It!  I talked in that post about how sometimes we don't recognize and fix systems that aren't working for us.  This medicine cabinet organization was clearly not working for us!  So I analyzed what the main problem was.  Clearly I had organized neatly what we had at the time, but I didn't think ahead about where I would put new medicine when it was added.  When everyone got sick last winter and we started accumulating more medicine there was no space for it!  So I gave up on trying to keep things in order and just started stashing things.  Happens to the best of us. ;)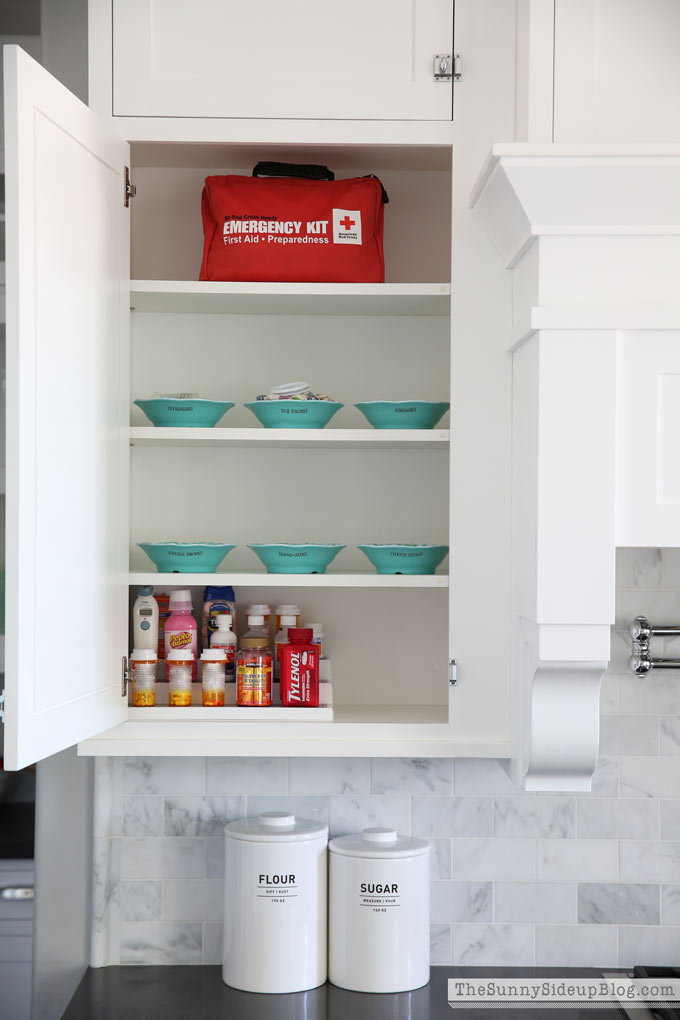 This is what my medicine cabinet looks like today!  Ahhh.  So organized!  So beautiful!  And so very FUNCTIONAL.  Now I know it doesn't look that much different than the first organized medicine cabinet, but I'll tell you the simple changes I made that will make all the difference and ensure that I can keep this baby clean.
First things first.. First Aid. :)  I moved our First Aid kit to the top cupboard.  I'm happy we have it for emergencies, but it's not used often so it was silly to have it taking up prime lower cabinet space.  Moving it up to the top gave me more room to work with.
The labeled bowls were actually working well so I kept them and just added one more bowl labeled "cough drops" so I could toss all of the cough drop packages in the trash that were taking up too much room. I plan to toss these cough drops each season and buy a new pack to refill the bowl.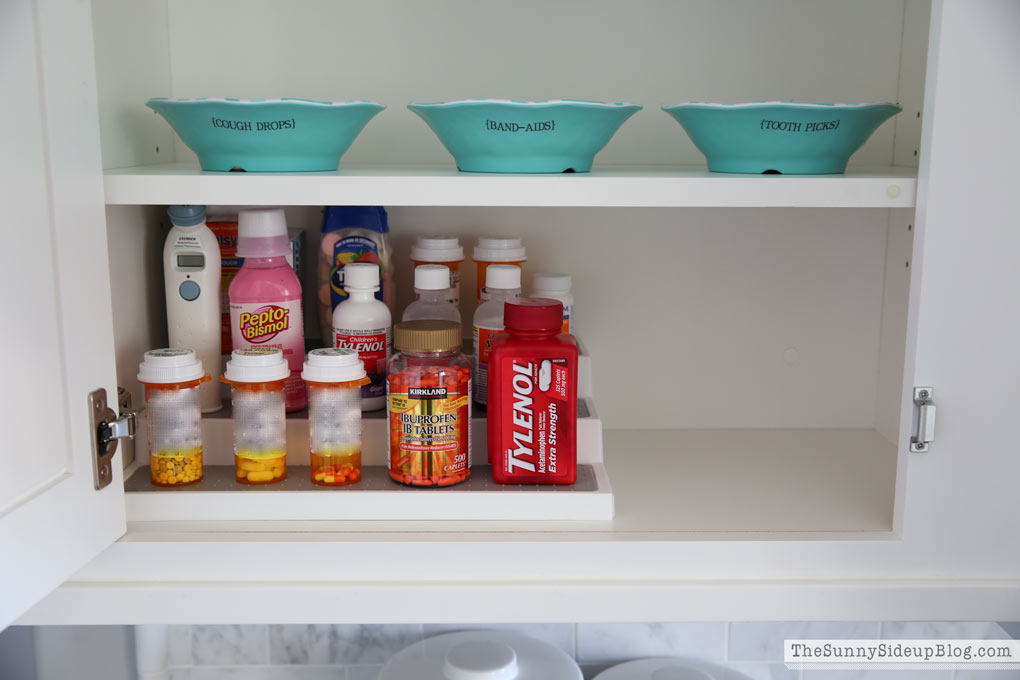 I cleaned out everything that had expired (which was a lot – a good reminder to go though this cupboard more often!) and then made my biggest change.  I bought this fabulous Expandable Shelf Organizer to hold all of our medicine.  Right now I don't need it expanded.  But when I do..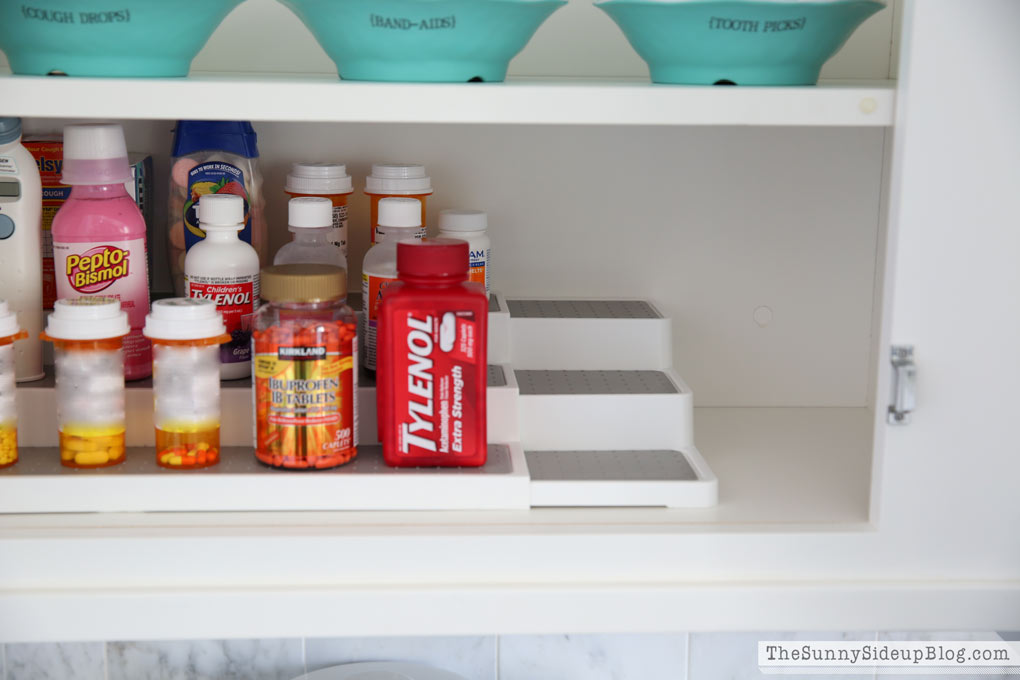 I can pull it out further to accommodate more medicine.
If needed I can pull it out to fit the size of the entire cabinet!  Plenty of room for any and all new medicine and NO excuse to let this cabinet get so messy again.
I'm happy to say that I think I've fixed this broken system and am on my way to enjoying an 'easy to keep organized medicine cabinet' from now on.  YEA!  Puts a smile on my face. :)
Really simple changes that make all the difference.  A lot of times that's all it takes to create spaces in our home that are easy to keep clean and organized.  As soon as I get home from summer trips (I'm out of town again next week with El for a dance competition!) I plan on working on all of my paper systems.  I really want to get on top of all things paper before a new school year starts.  You too?  Let's plan on talking paper systems together sometime this summer for sure. :)
Below are sources from this post!  I'm also including links to a few of my favorite things that are on MAJOR sale this weekend!  Like all of PB's outdoor umbrellas!  And my favorite rug is at an all time low!  And so are the lamps in my master bedroom and my favorite summer drink dispenser that's perfect for entertaining.
I also found a few cute things on sale to wear that I own and love (like this darling metallic tee – I have it in gold and silver!) and a couple of things I'm debating ordering (like this cute white dress I've had my eye on) so I'll share links to those too.
Have a great weekend friends!  Off to enjoy our last day in Maui with my crew. :)




xoxo, Erin