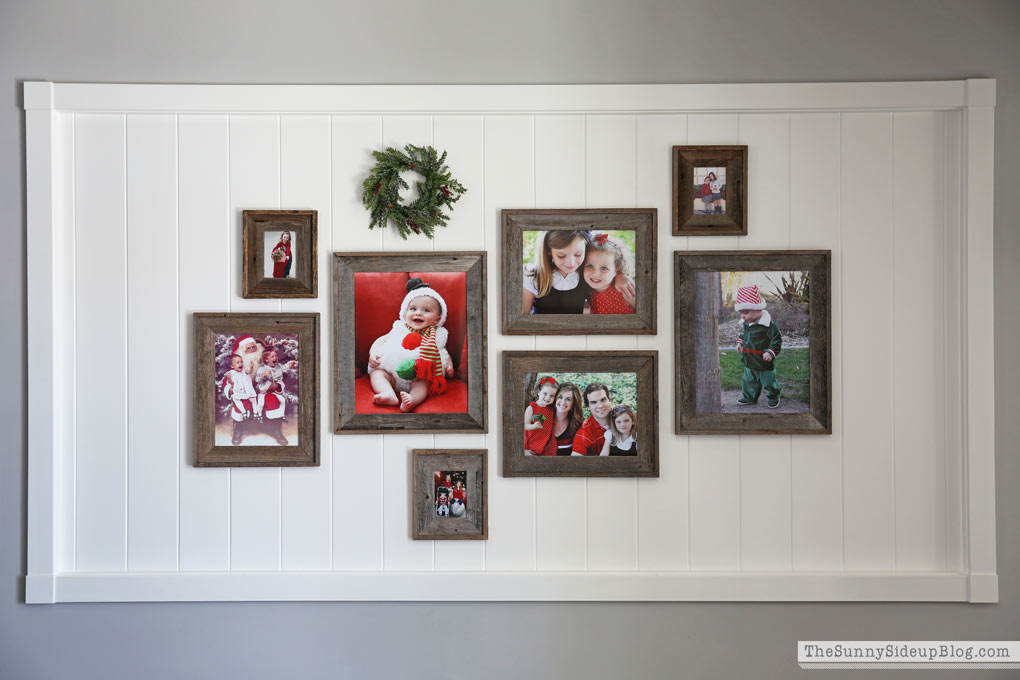 No.. it's not time to deck the halls.  Although I could totally go for a little Christmas decor right now.. and always.  ;)  Today I'm sharing my Summer gallery wall along with a few tips for how you can create your own coordinated gallery wall.  The last time I shared the gallery wall in my formal living room it looked like this…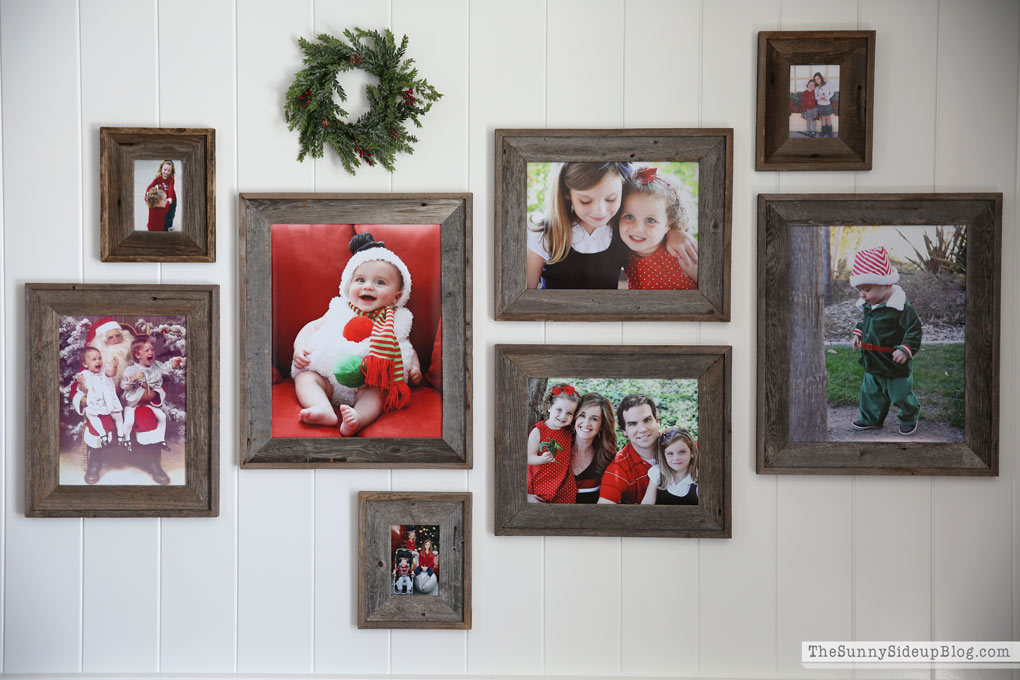 Lots of red and green and full of Christmas cheer.  I have to be honest and admit that this gallery wall stayed with lots of red and green and full of Christmas cheer well past Christmas.  Maybe even well past St. Patricks Day.. {sigh}.  Life!  It has a way of getting in the way of well planned projects, doesn't it!?  But finally one Spring day I got to work switching out the pictures and this is how my coordinated gallery wall looks today…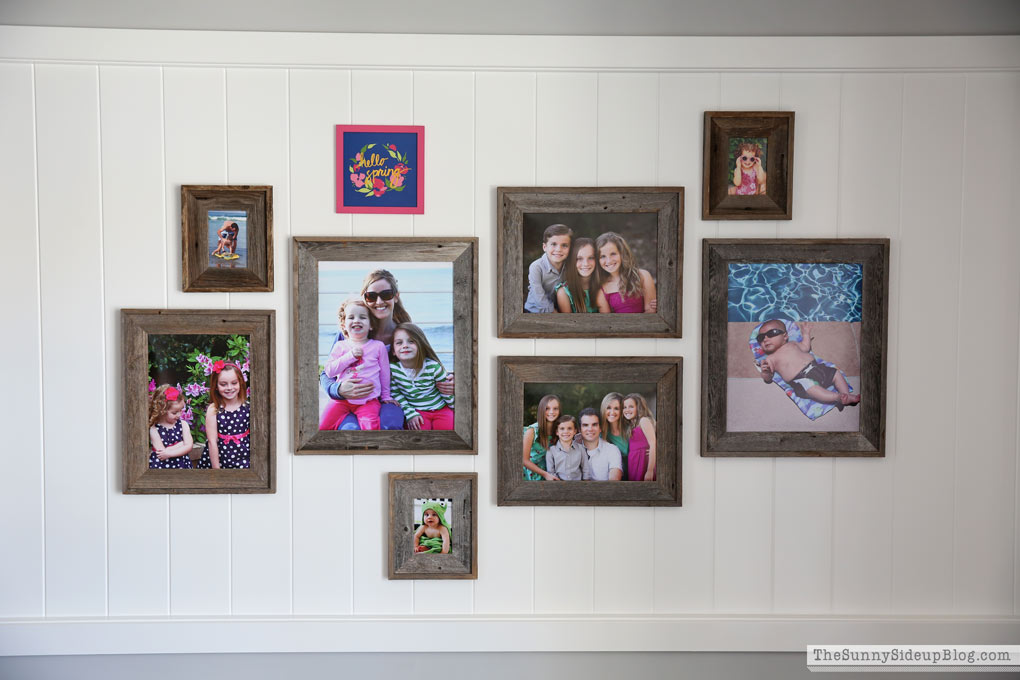 Traded in the red and green for pinks and blues and navy and green and all things Spring and Summer!  Love this time of year too. :)  Putting together a gallery wall full of pictures that coordinate and work together is no small task!  I'm starting to figure out a process that works for me so I thought I'd share it in case any of you have struggled with something similar.
I knew for this gallery wall I wanted to be able to always use colorful family pictures.  That's why I chose to use the same frames in different sizes.  Because the frames are cohesive, the pictures can all be different and it still works.  (I found my reclaimed wooden frames at a local store on the coast, but these frames are very similar.)
-affiliate link used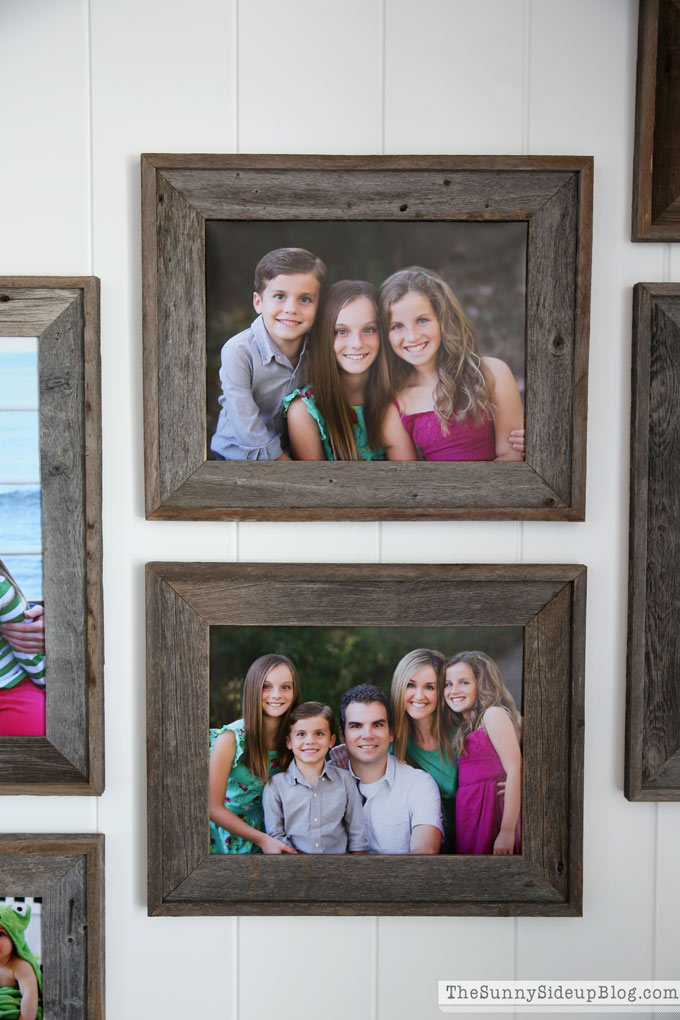 My first step is to always pick one or two pictures that I love and definitely want to use.  For this season it was our most recent family picture and the picture of my three kids.  They took up the two large horizontal frames and gave me my new color scheme.  I actually put these two pictures in and then the rest of the frames sat empty for a few weeks until I had time to find other pictures that worked.  No shame in taking your time with house projects!  Clearly that's the underlying motto around here. ;)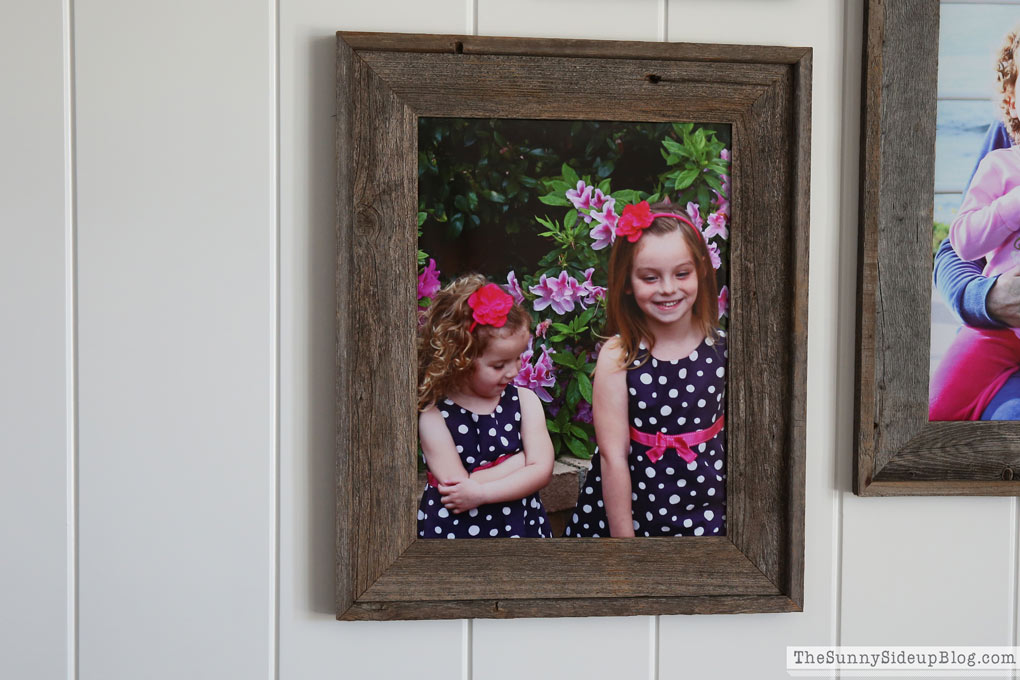 Now I knew the colors I wanted to use so I started looking through old pictures to find 3 things: pictures that included similar colors to my original pictures, pictures that screamed Spring and Summer, and pictures that bring me joy.  This picture of my girls in their past Easter dresses was perfect!  And while the color navy isn't in my original two pictures, I have a lot of navy in my living room so it worked.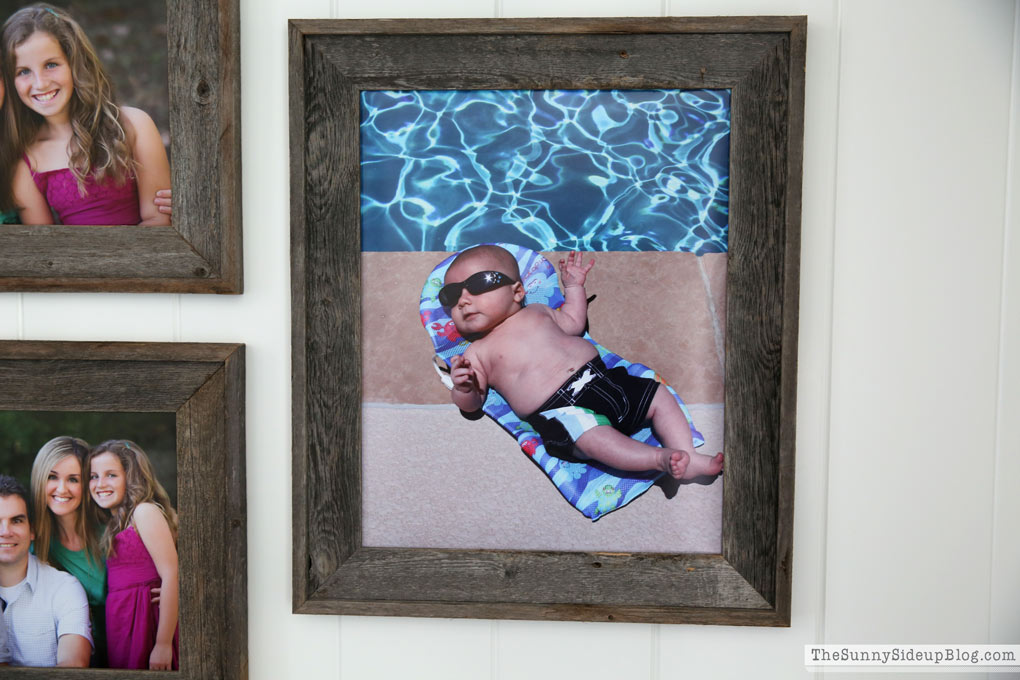 So I had a picture of my girls.. now I just needed one of my little buddy.  Hmmm.. a picture of Kole that screams Summer?  That one was an easy, obvious choice and one of my all time favorite pictures.  Such a cool little dude.  Even at 2 months old. ;)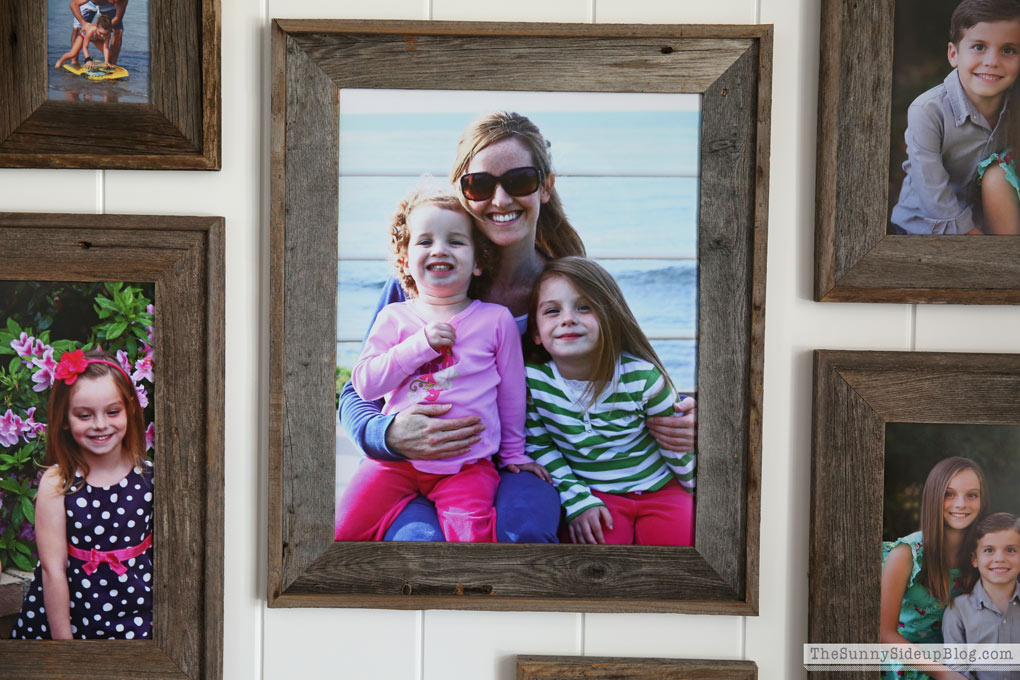 For this last large vertical picture I had several options, but kept coming back to this picture of me and my girls.  It's not a favorite picture of me (at all), but I will always remember this day.  We were at the Cove (one of our favorite hang outs) watching the seals, playing tag on the grass, wading in the ocean, just spending time together as a family.  I clearly remember feeling so full of gratitude for my two little girls that day.  For some reason this day always stands out in my mind.  It does for my husband too and he has always loved this picture.  Bonus that our clothes are pink, blue and green.  Fits all criteria! :)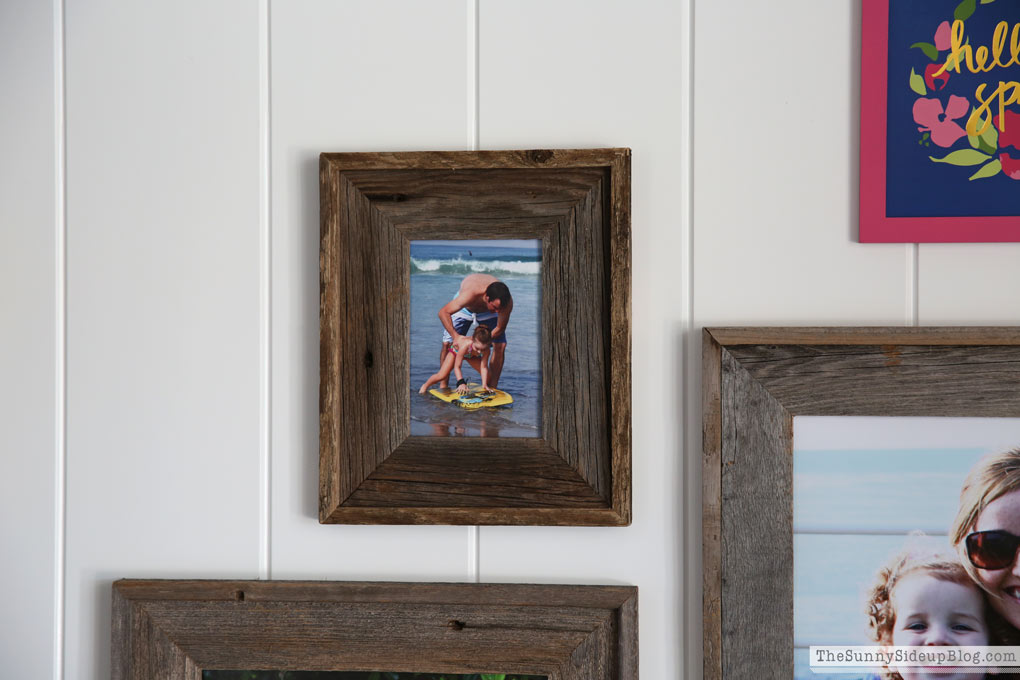 I then had three small frames left to fill so I knew I wanted one of each of my three kids.  I just went through pictures and found a few that were taken during the Summer that brought back fun memories.  El with her dad at the beach.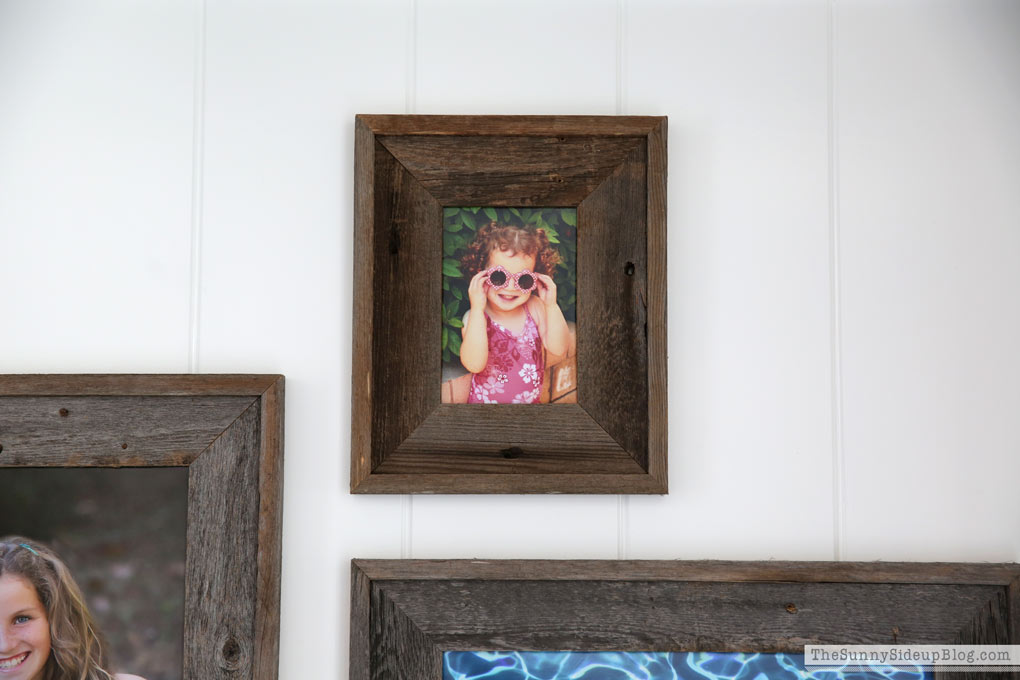 Ad in a favorite swimsuit.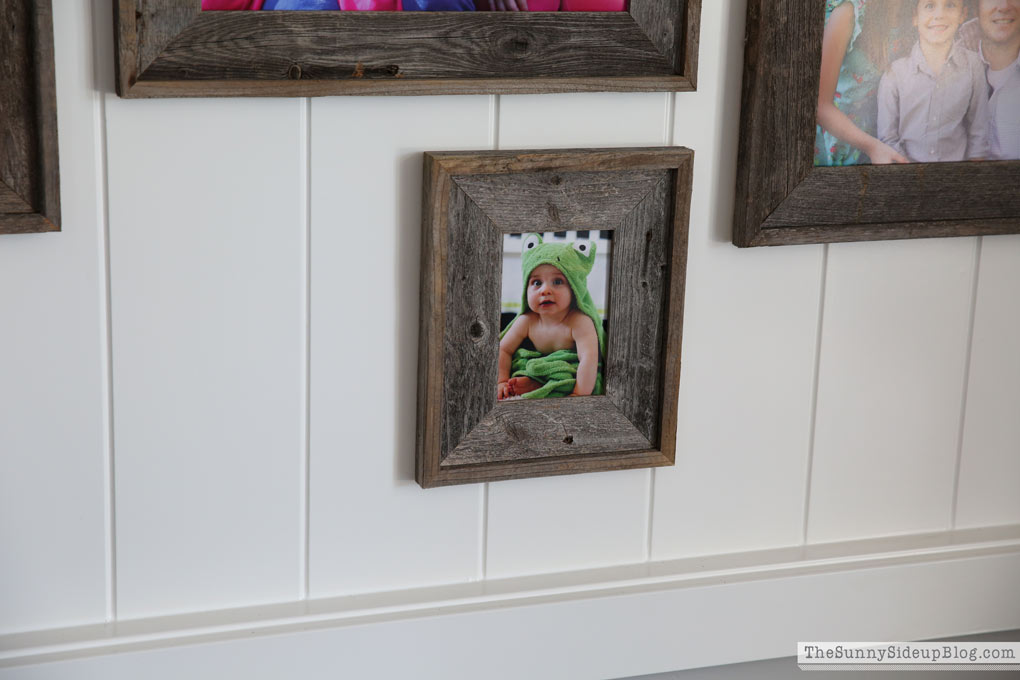 And my little frog.  I loved bathing my babies and this picture takes me right back to those days. :)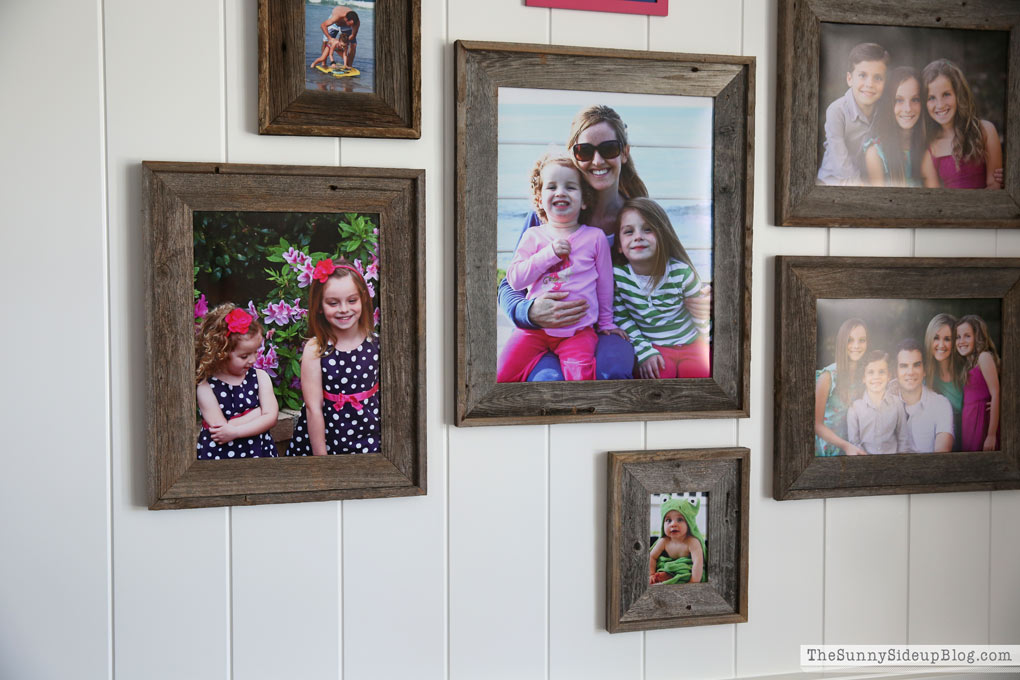 I ended up pulling in more of the color green than I planned but I love it!  A great color for this time of year.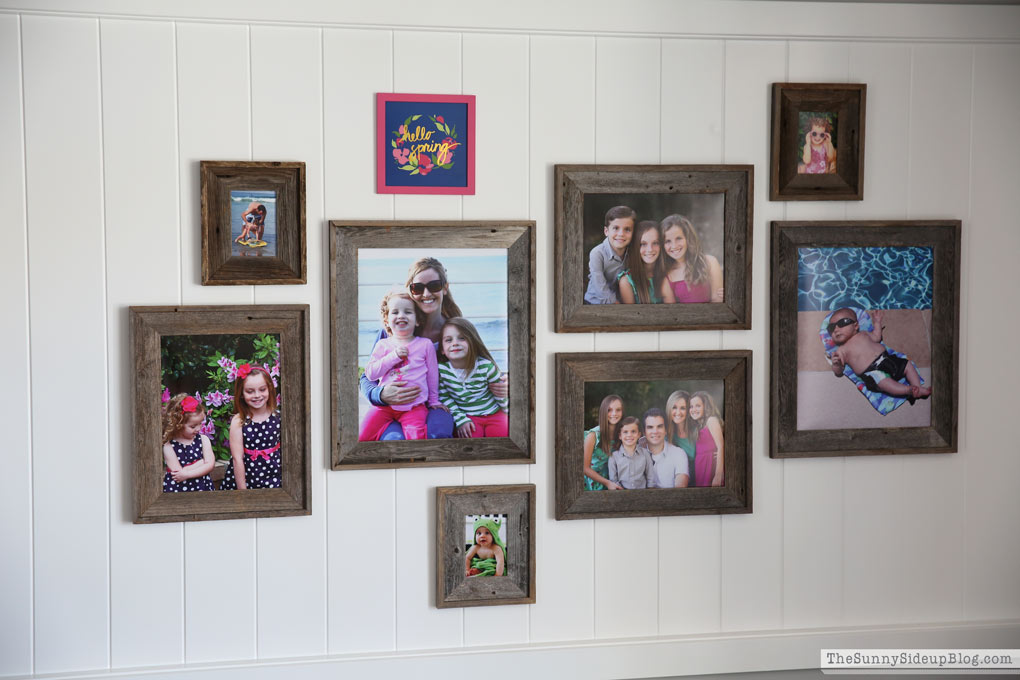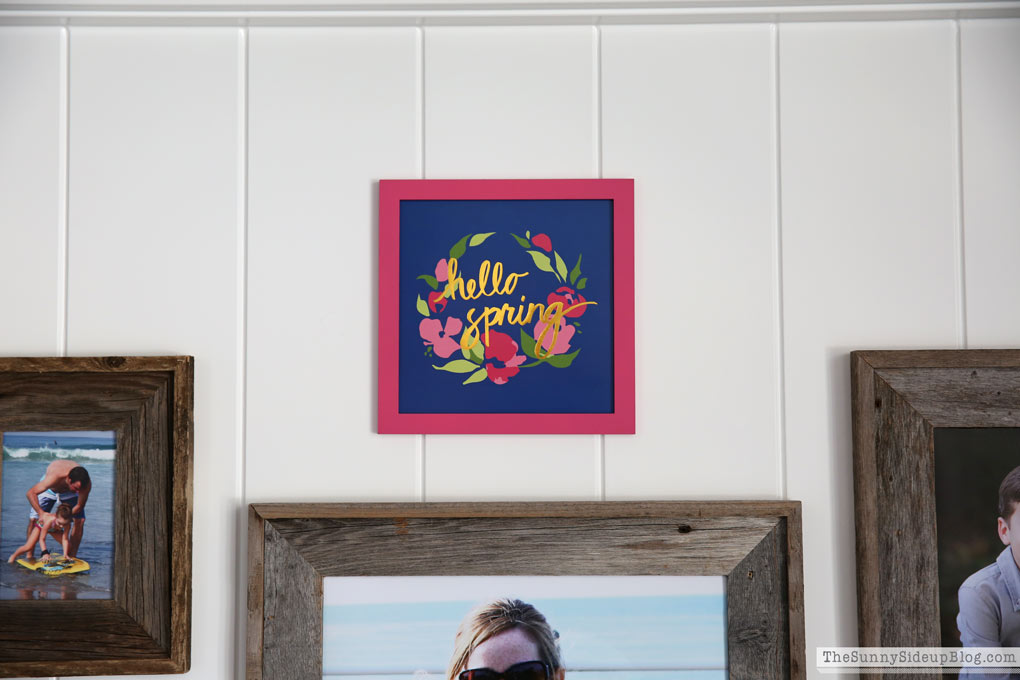 For the random object/frame/whatever I can find to put at the top I really wanted something in a circle or a different shape to break up all of the rectangle frames, but I couldn't find anything that looked right.  This hello Spring sign I had bought at Target for Ad's room but decided to try it here and the colors were perfect.  I'm still on the hunt for something that fits the space a little better, but it will do until then!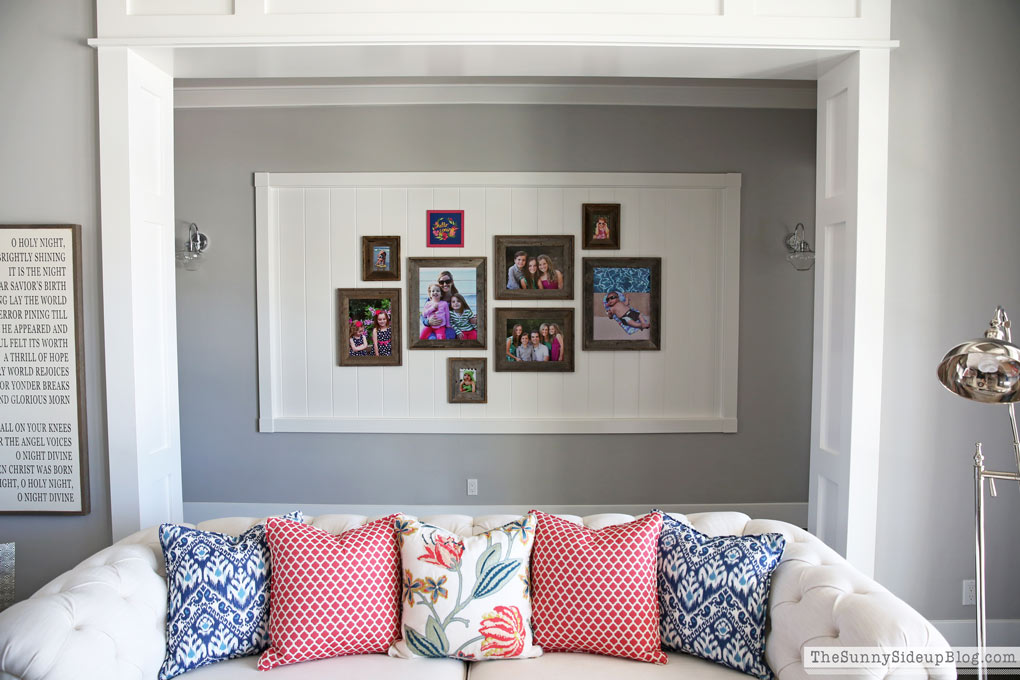 So to recap a few tips for creating a gallery wall that works:  
1 – Choose a picture or two to start with that you love.  These original pictures (and the colors in the room) set the color scheme for your gallery wall.
2 – Look for pictures/objects that have similar colors, fit in with the season (if you are decorating seasonally) and that bring you joy.
3 – Face end pictures inward.  You'll notice that the large picture of Kole is on the far right so that he is facing in towards my gallery wall.  The large picture of the girls in navy dresses is on the far left so they are also looking inward.  For some reason this always looks better than if people in the pictures are looking out away from the gallery wall.  That takes your eyes away from the pictures.  Just a little observation I've made!  We are looking straight ahead in the picture of me and the girls together so that one went in the middle.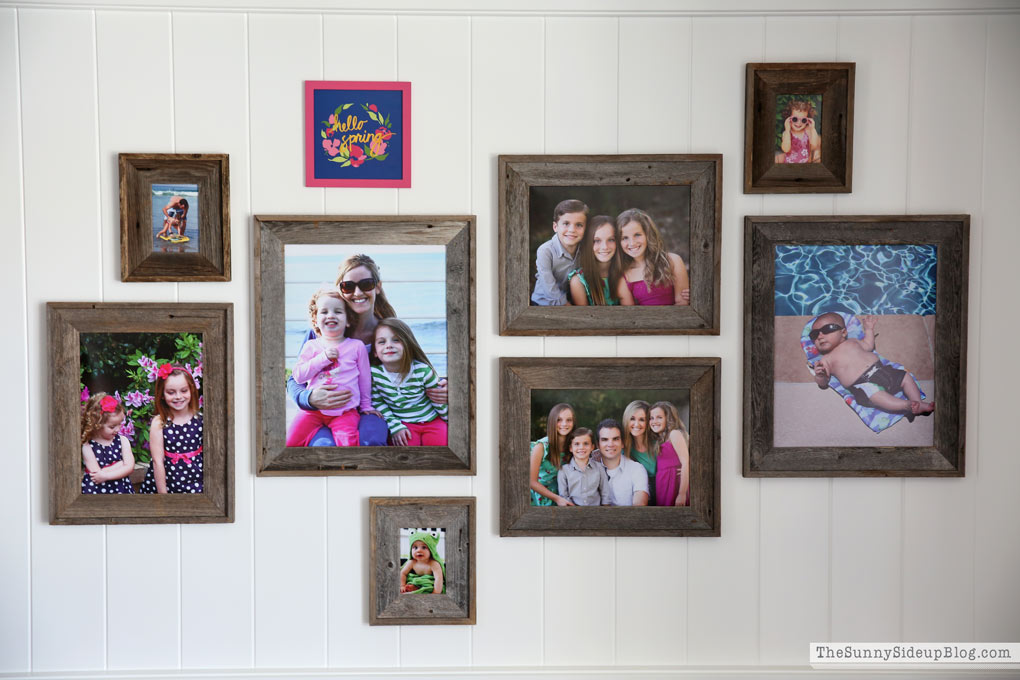 So nice to have this coordinated gallery wall updated for Summer!  Now we can focus on making more memories for next year's wall.
:)
*You can find more pics of my living room and all sources in this post.
xoxo, Erin