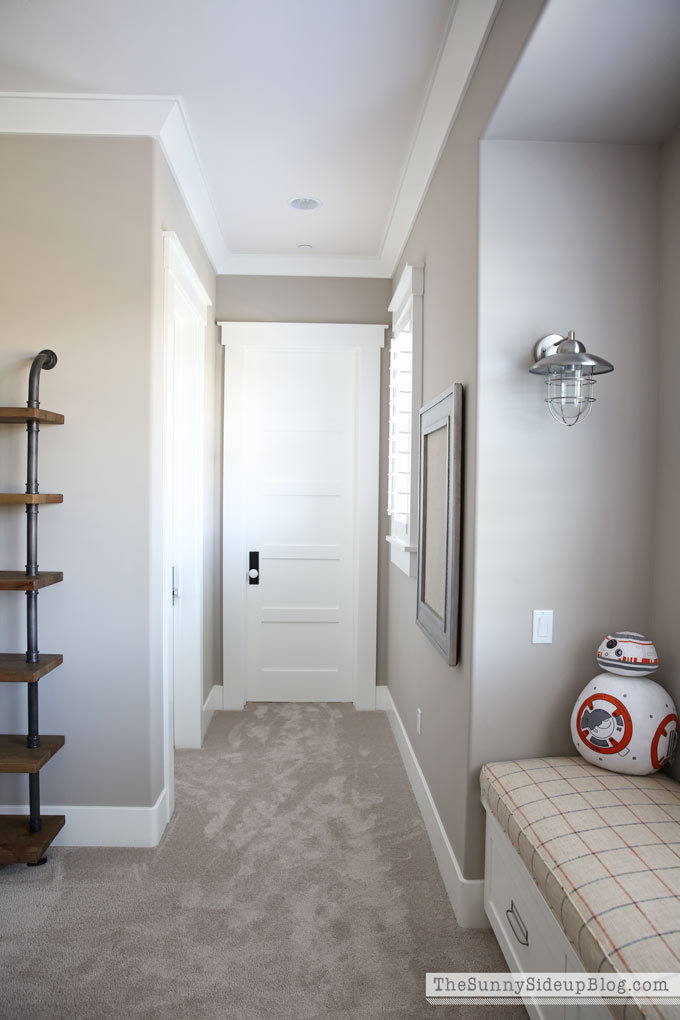 Happy Wednesday friends!  I hope you all had a nice long weekend!  Back in the swing of things right!?  I'll admit I was moving a bit slow today.  My brain is beyond ready to click into summer mode!  It doesn't want to think so hard anymore. ;)  Almost there!
Since I finally shared progress in my little buddy's bedroom a couple of weeks ago I thought I'd share pictures of his bathroom with you all today.  There's a little hallway in his bedroom with his closet on the left and his bathroom straight ahead.  I'm calling his bathroom a Nautical Modern Boy's Bathroom because.. well.. it's a bit modern and a bit nautical and to be honest I have no clue what else to call it!  I didn't really have a plan when I designed his bathroom and I had a harder time pulling this space together when we were building.  Despite all of that, here's how it turned out!
(affiliate links used)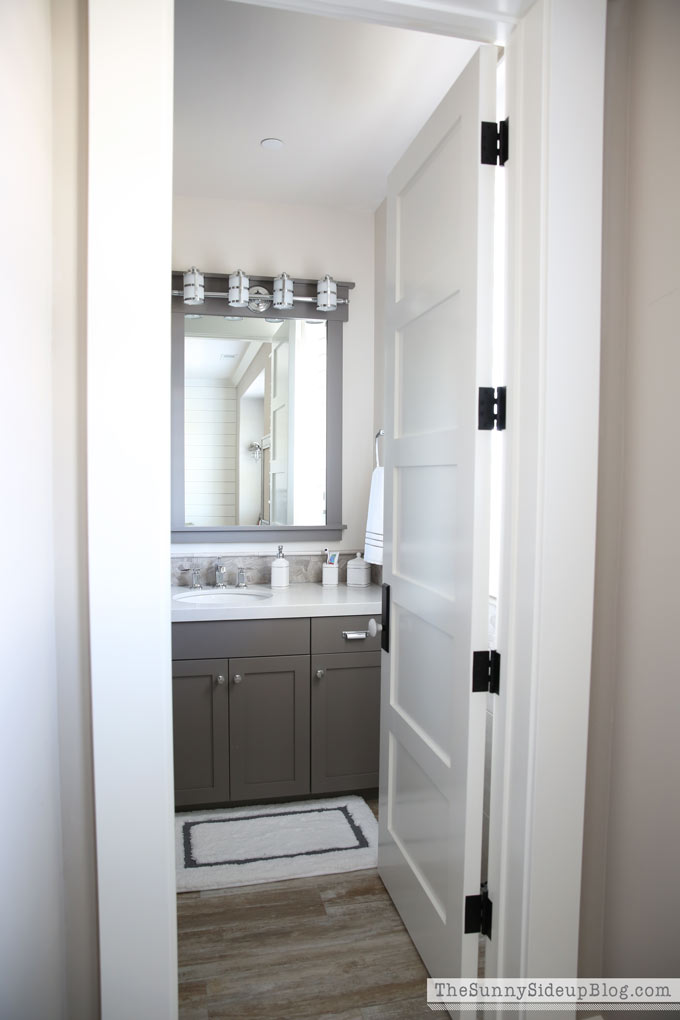 I tried really hard to get a decent picture of this bathroom and finally realized that I just couldn't do it..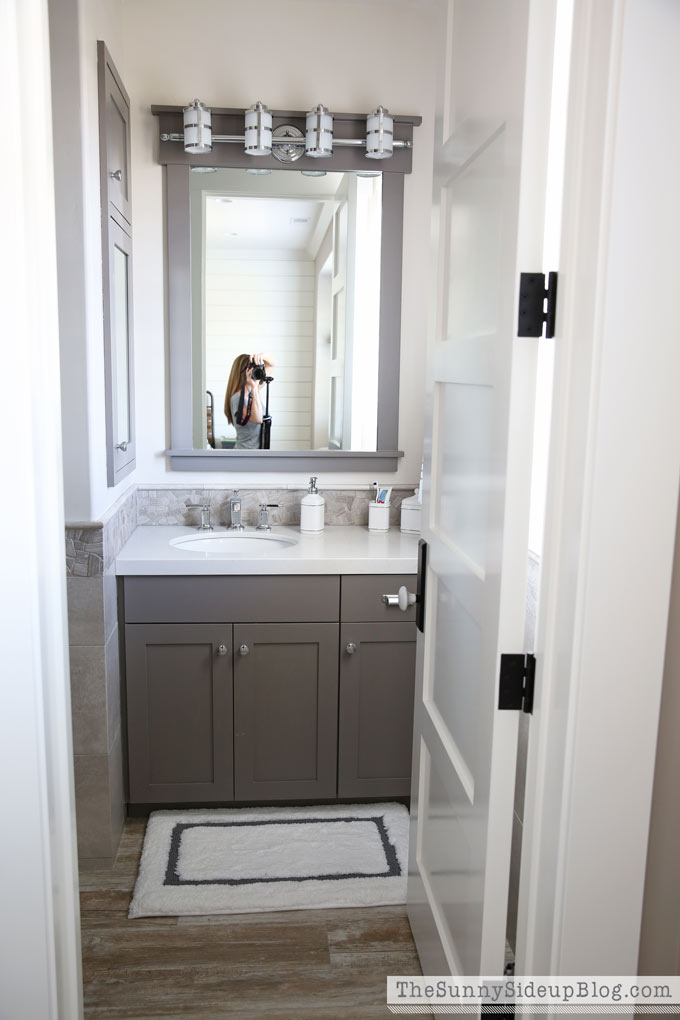 without having me smack in the middle of the mirror.  So hello!  Don't mind me and my tripod and my sweats staring back at you.  Ha!  But at least you can now check out Kole's bathroom.  :)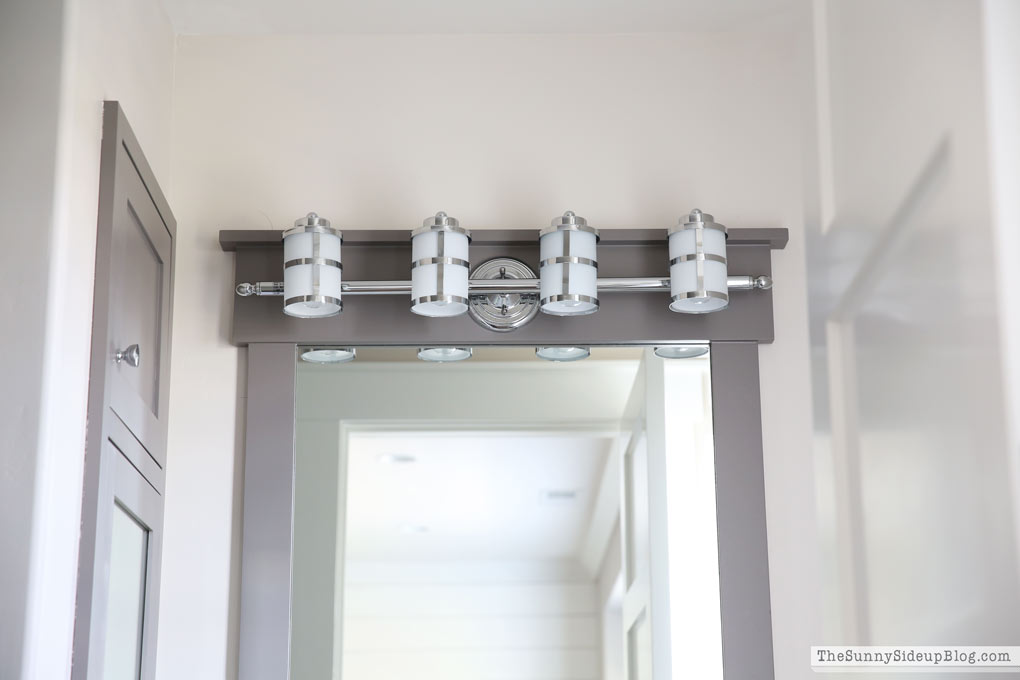 You might recognize the lights and mirror!  I had similar custom mirrors made in my girls' bathroom and I used the same light fixture that I used in their bathroom too.  Unfortunately they don't sell this fixture anymore!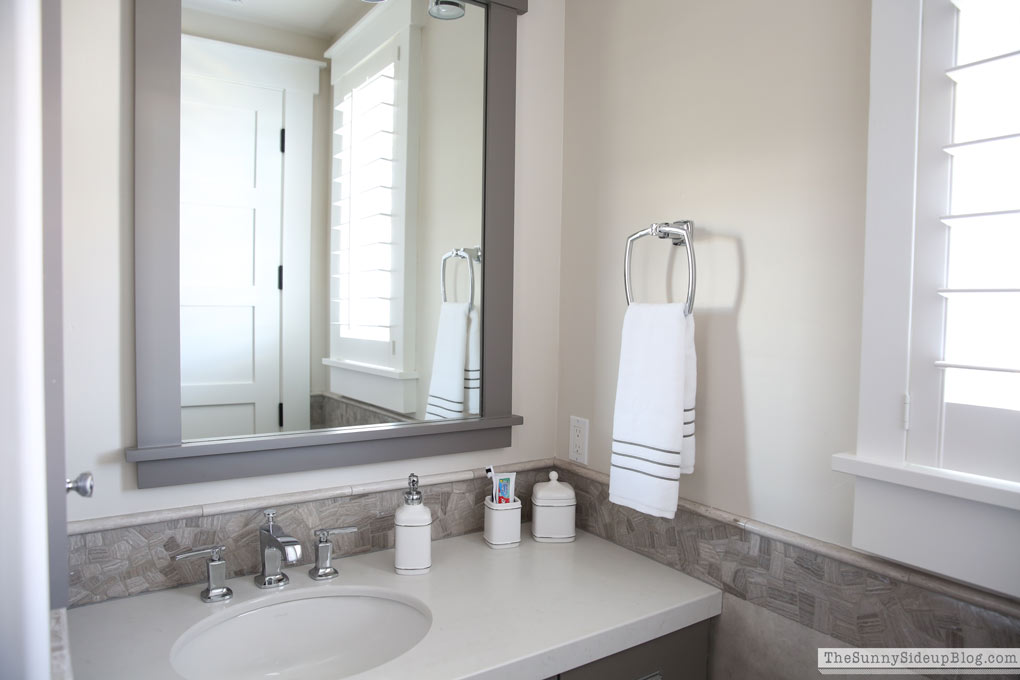 I went with a white Quartz countertop (similar to what we used in other rooms in the house) and simple, modern chrome hardware.  I also added a fun rock tile border.  The neutral paint in this bathroom is "Crisp Muslin" by Dunn Edwards.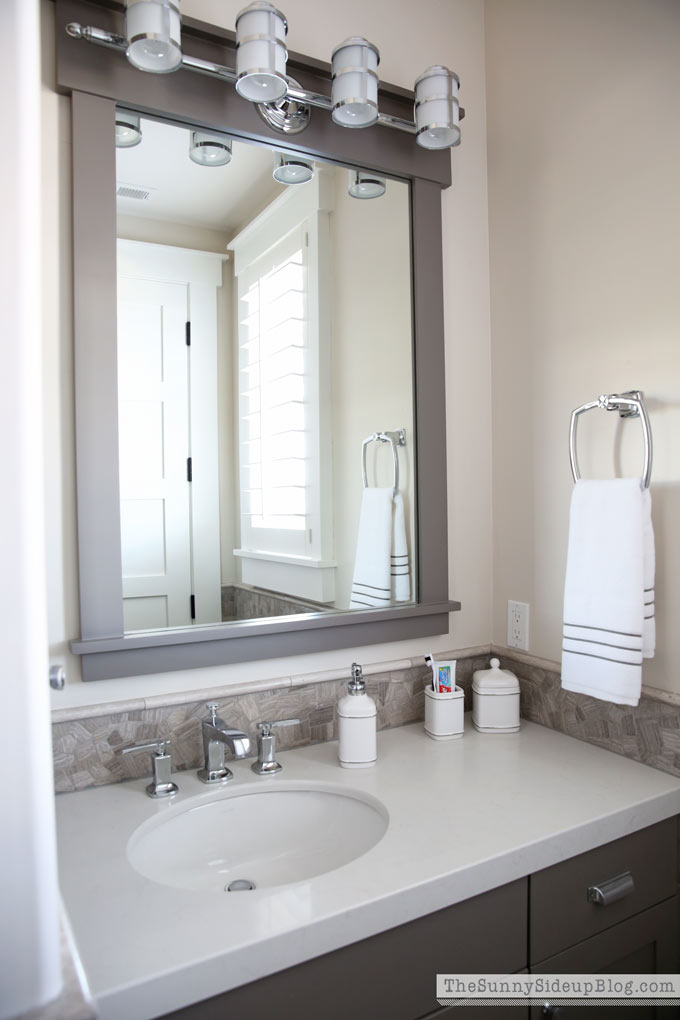 The white hand soap and toothbrush jars were a Home Goods find (similar jars here).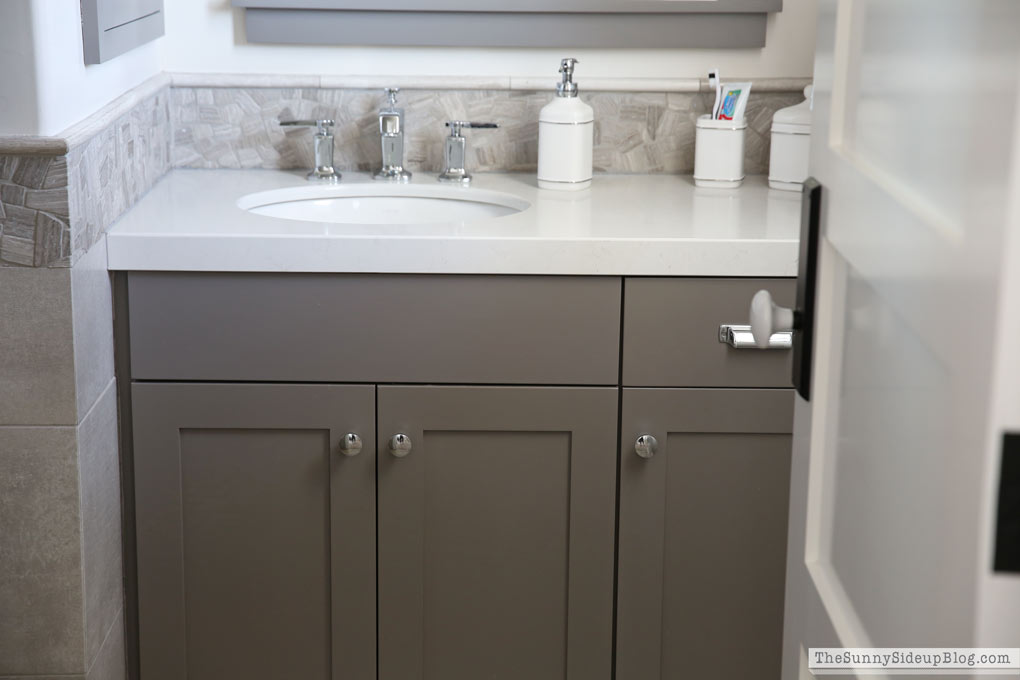 I don't know the exact gray color I used on the cabinets because it was a custom gray/brown mix that I kept tweaking until it looked just right.  Sorry I'm not more help on that one!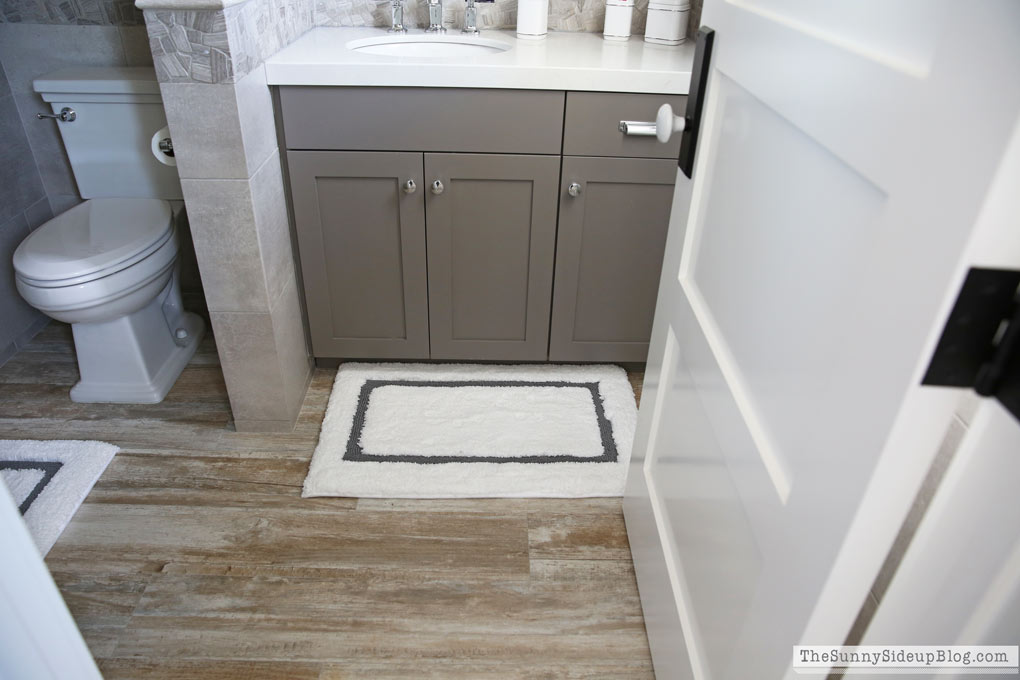 One of my favorite things in this bathroom is the floor!  It looks like wood but is actually tile.  It has been such a great bathroom floor.  It's soft, but not too slippery, easy to keep clean and I love the distressed wood look!  (I added links to similar wood/tile floors below.)  The rugs I bought for this bathroom are my all time favorite bathroom rugs.  They are PB's Morgan Memory Foam Bath rug and you won't find a softer rug out there!  This gray border is "flagstone."  I have the same flagstone rug and also the "twilight" navy rug in the larger size that I rotate in my powder bathroom.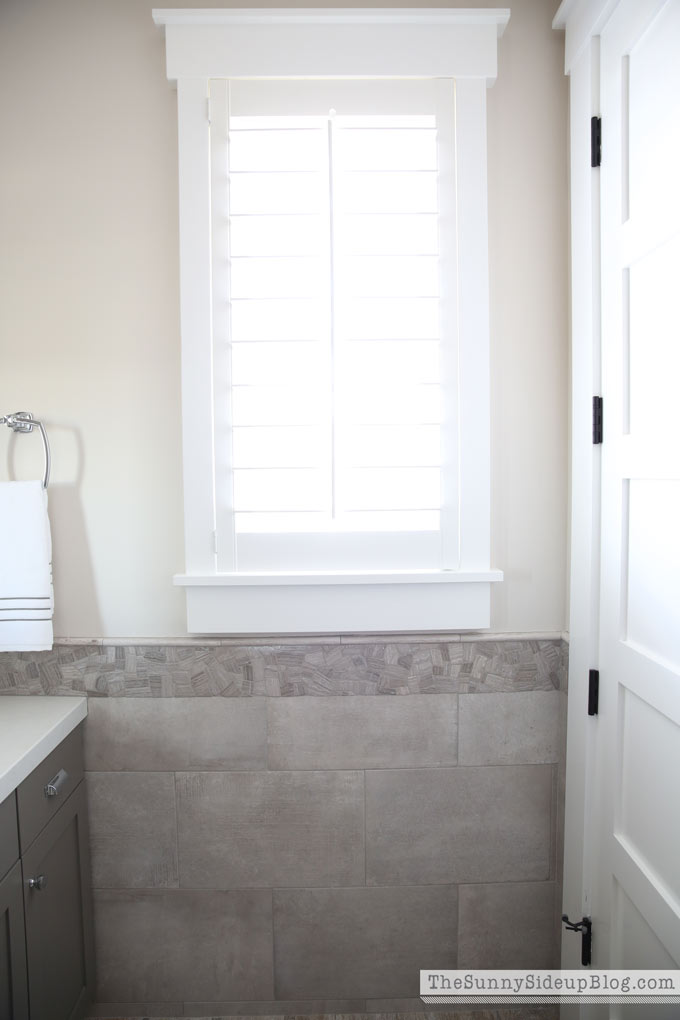 Ok!  This bathroom isn't large so it was a bit tricky to take pictures.  I'll try to take you on a little tour!  To the right of the counter and sink is a window and I added large gray rectangle tiles below it around the bottom half of the room.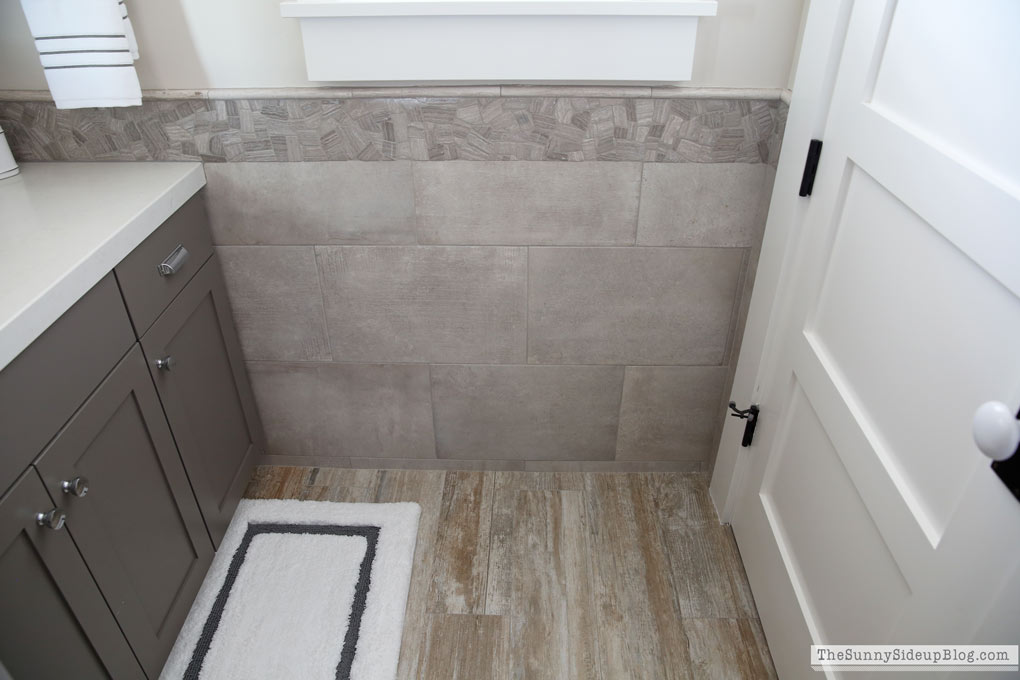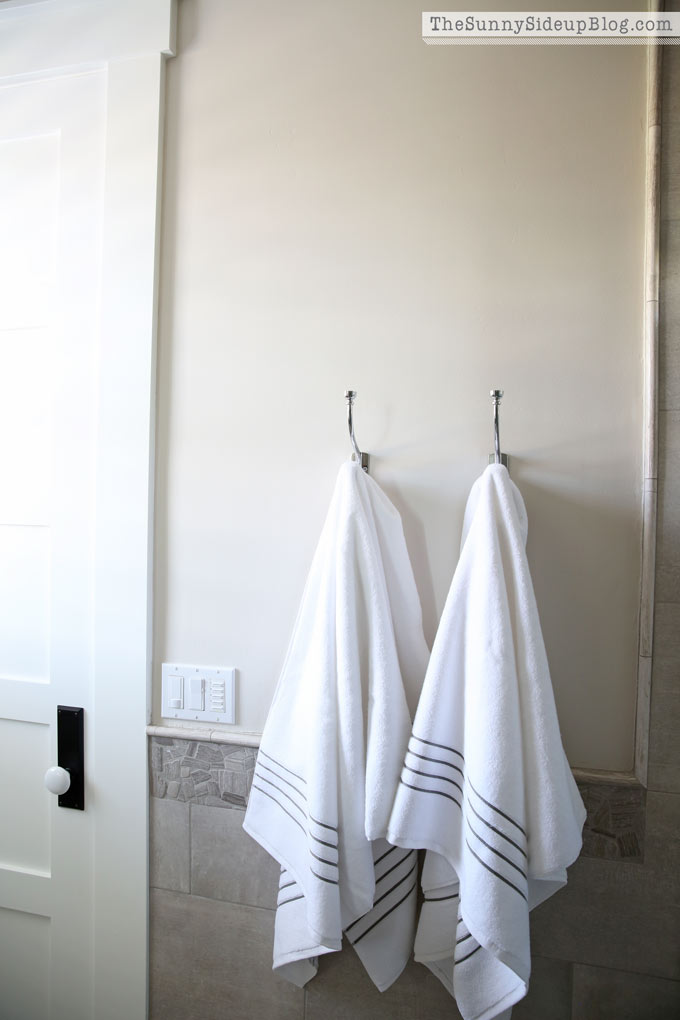 To the right of his door I added some hooks for towels!  These fun towels with gray strips are from Target.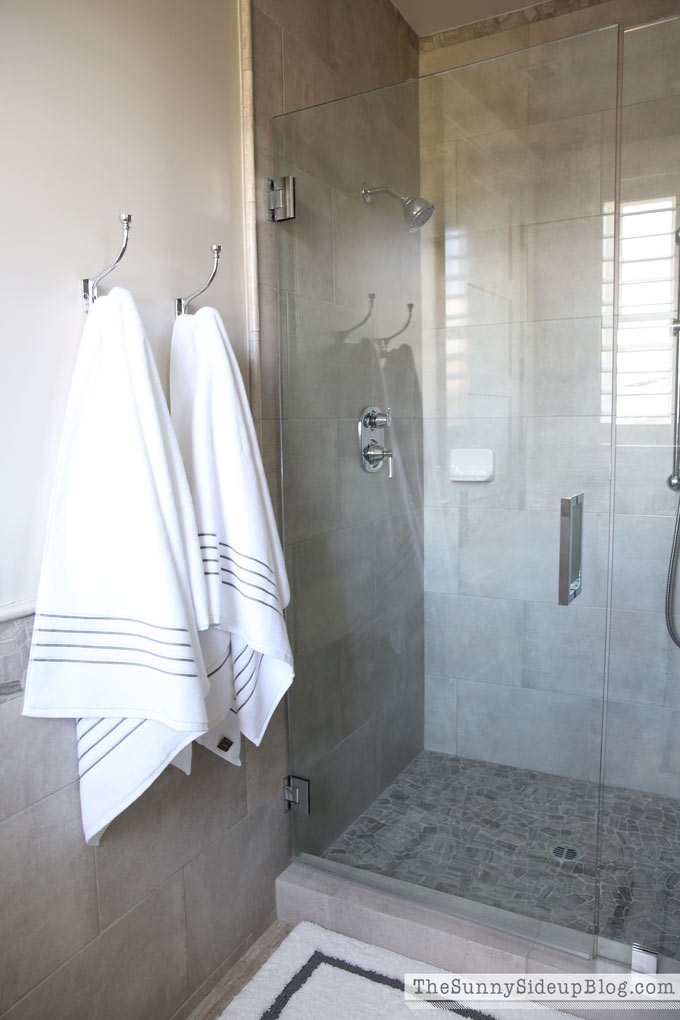 Next to the towels is his shower.  I went back on forth on whether I should add a tub in this bathroom.  When we moved in Kole was still little and was taking baths.  But we have a bath tub in the guest bathroom he has been using the past few years and I knew once he got a bit older he would mostly just use a shower.  We decided to just put a shower in this bathroom which allowed us to make it a larger, nice sized shower.  I figured he'd appreciate that some day. :)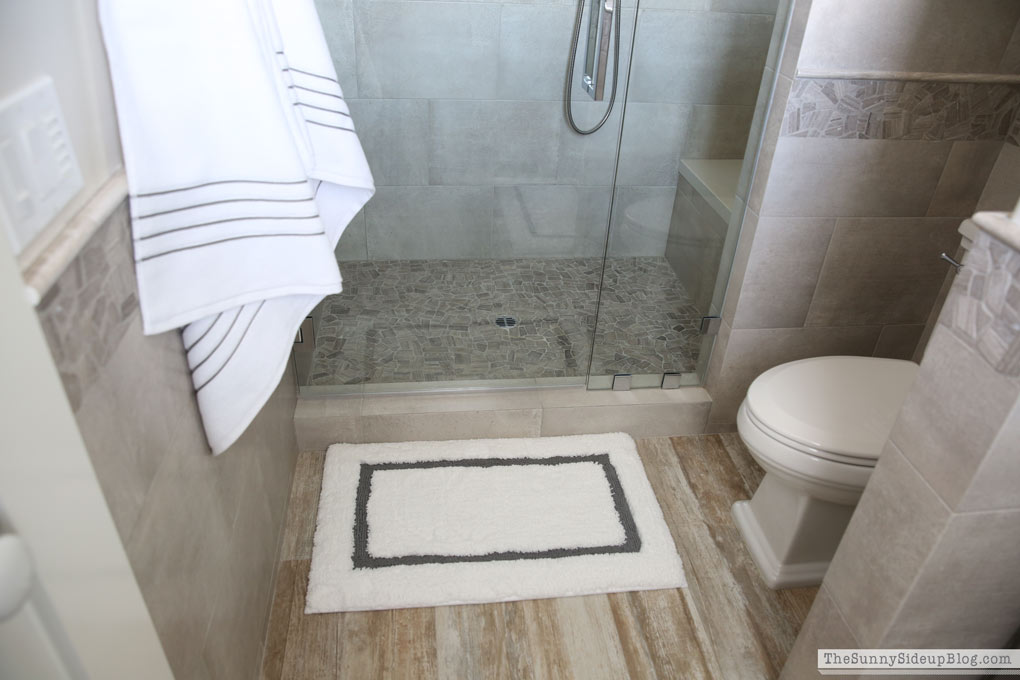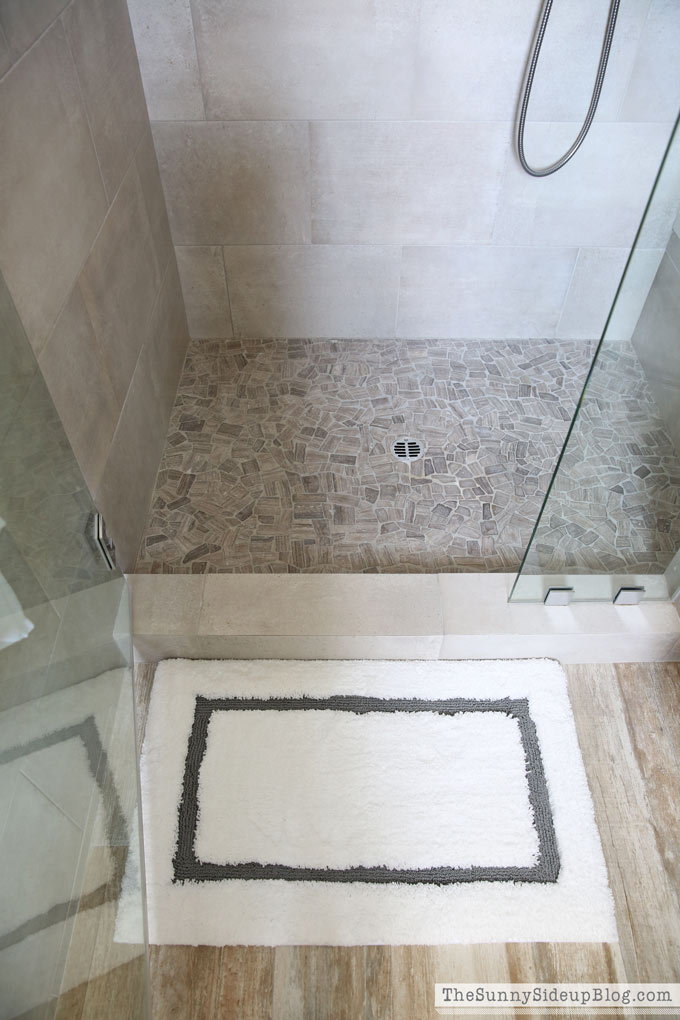 I added the flat rock tile on the shower floor.  It's so soft to stand on!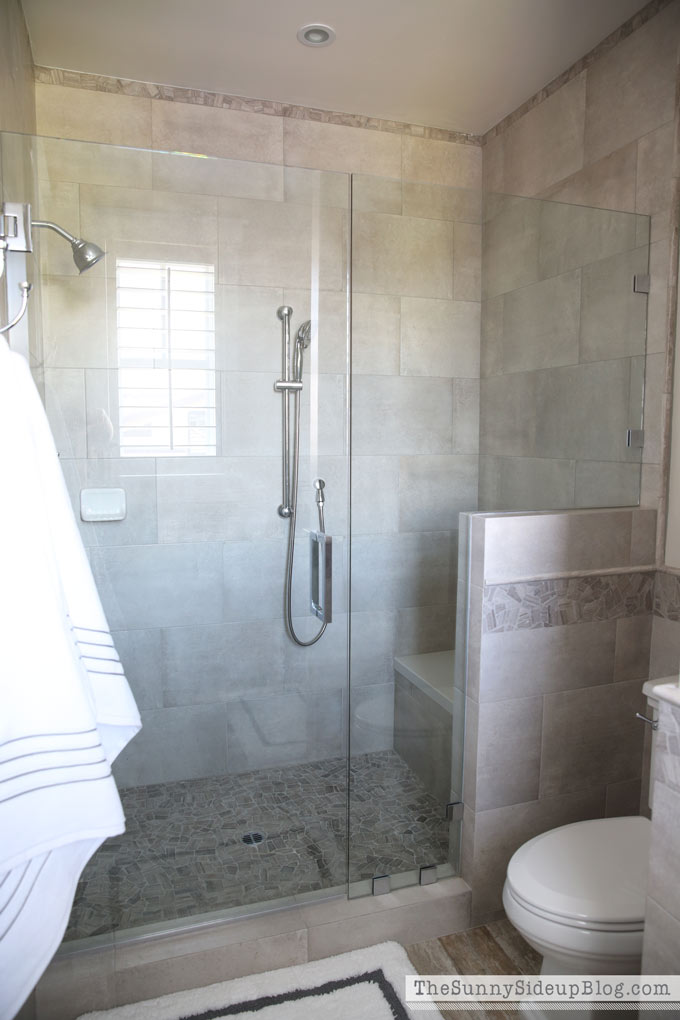 Before we moved Kole into this room and bathroom we used it as a guest space.  My dad loves this shower!  He gets excited to come and stay with us just so he can use it.  So yeah.. he's not too happy about Kole reclaiming this space.  Ha!  But my 7 year old little buddy is using it now and showering all on his own.  I have to be there still to encourage him to keep moving along or he'd play in the water for an hour!  But he scrubs and washes his hair all by himself and it's pretty cute seeing how proud he is that he can do everything independently.  Sorry dad. ;)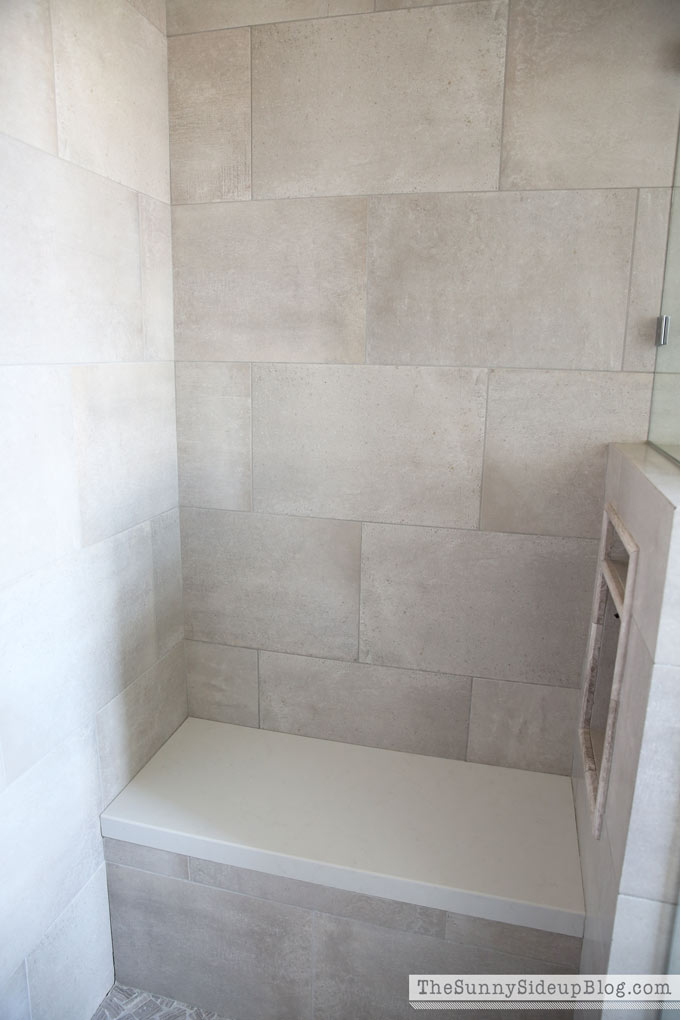 I kept the inside of the shower simple and used large gray modern tiles.  I was trying to pick something that would work as Kole grew older and wouldn't date too quickly.  I added a quartz bench.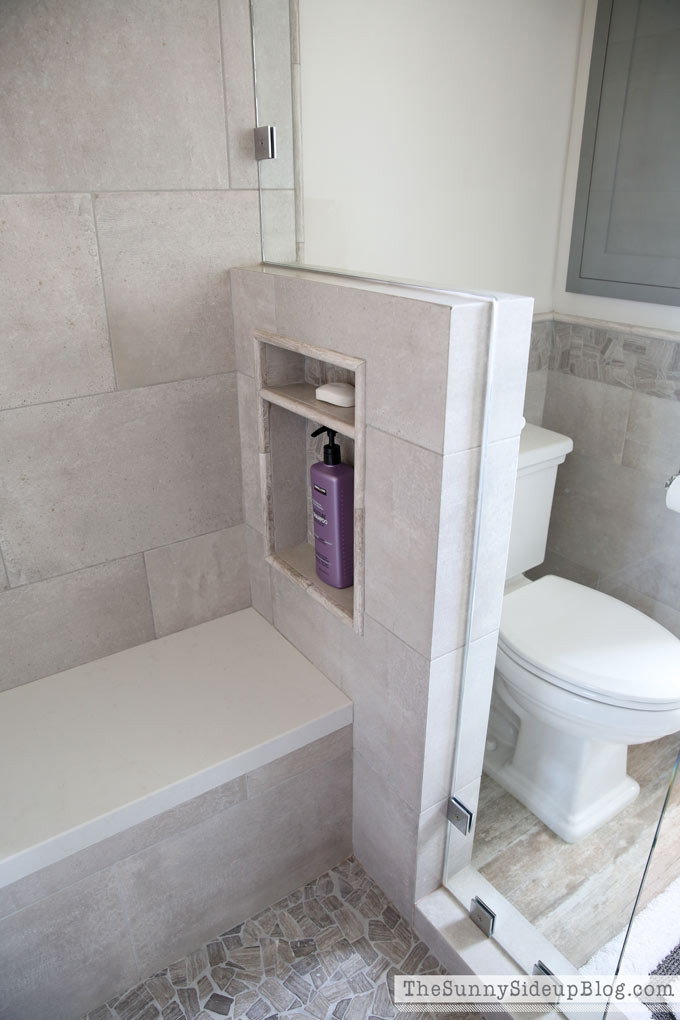 And a little nook for soap and shampoo. :)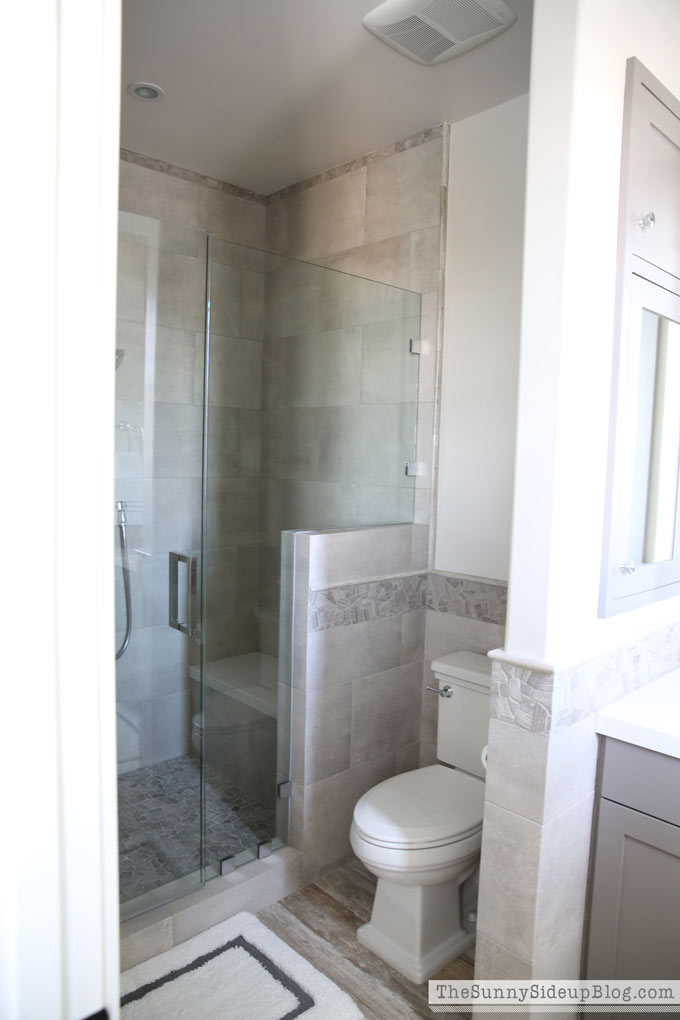 I also tried to sort of enclose the toilet so it felt a bit more private.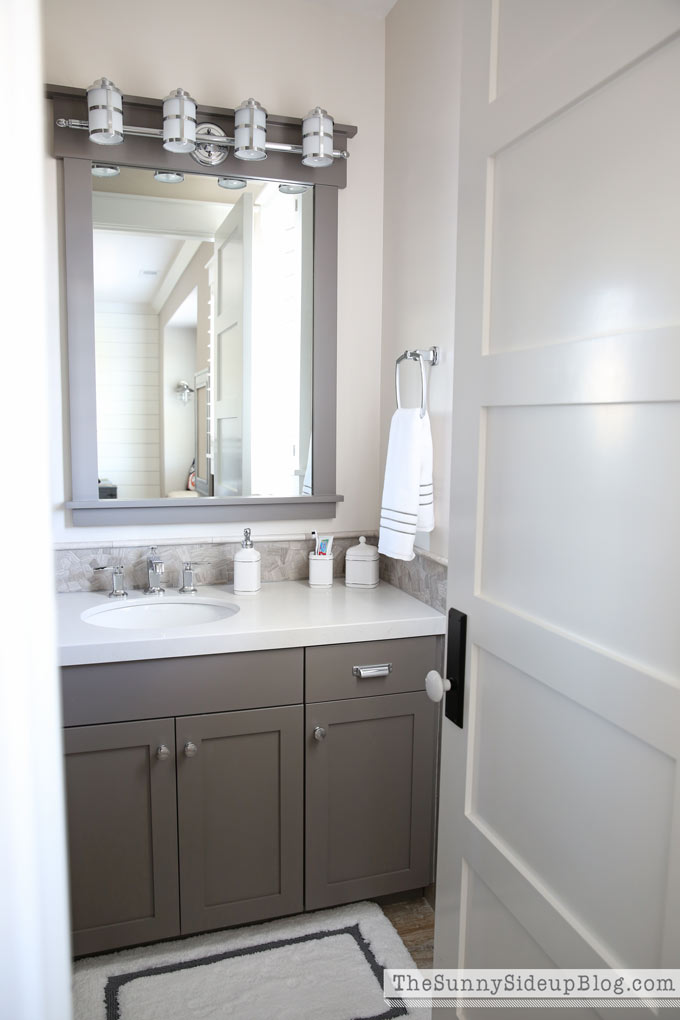 That's a wrap on Koles modern nautical bathroom!  Designing this bathroom was definitely a learning process for me!  But I'm happy with how it turned out and my little buddy seems to like it too.
Not that he's too hard to please. ;)
p.s.  I shared a sneak peek of the light we just added in the guest bedroom in my insta stories today and had a lot of questions about where the fixture was from!  I added it to my "shop my favorites" page so you can check it out there!  It's so beautiful you guys!  I can't wait to give you another guest room update!  :)  I also added some cute things I ordered from the Nordstrom sale that ends this weekend so you can check that out on my favorites page too.  And so sorry btw that my master bedroom post has been pushed back!  I need at least two solid hours to go in and photograph everything (at the right time of day with good lighting) and it just isn't happening this month!  I knew if I didn't get that room photographed and posted before May hit I'd be in trouble.  This month has been insane!  It will be a priority once school ends and we get in a good summer routine. :)
Ok friends.  Bathroom sources and similar items are below!  And as always, thanks for stopping by. :)



xoxo, Erin