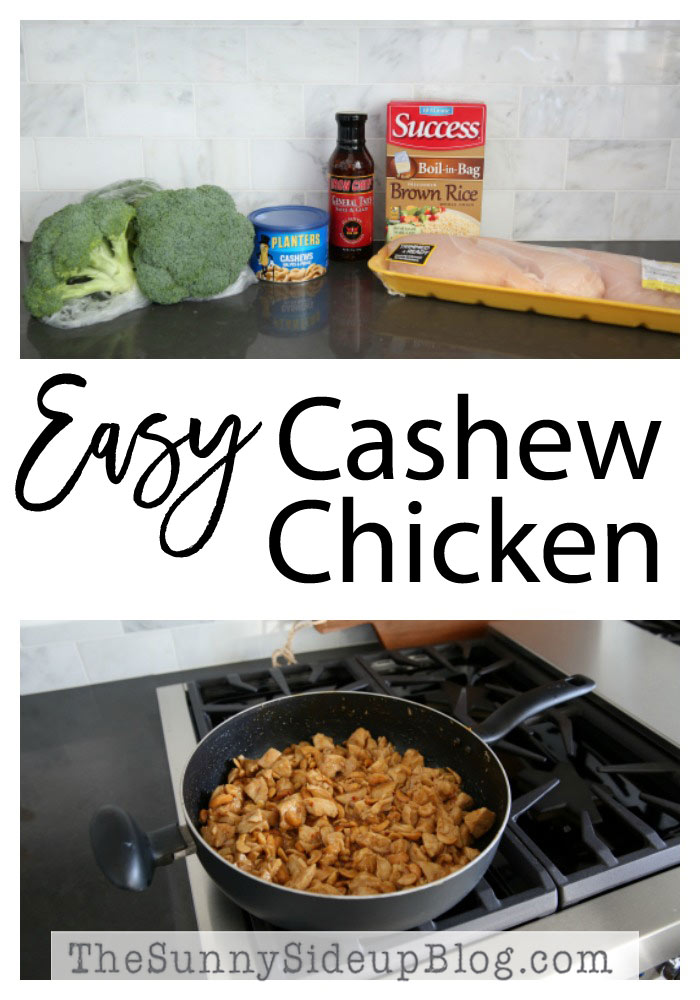 Happy Monday friends!  I'm switching gears just for today and going totally out of my comfort zone to share a recipe with you all.  That's right.  I cooked.  At least a time or two last month.  And we all know that when I cook it has to be documented.  Try to contain your excitement for what's to come. ;)  This easy Cashew Chicken is actually a recipe I shared years ago on my blog.  It's one of our family go-to meals because everyone loves it and it's SO easy to make.  Definitely worth sharing again!
*affiliate links used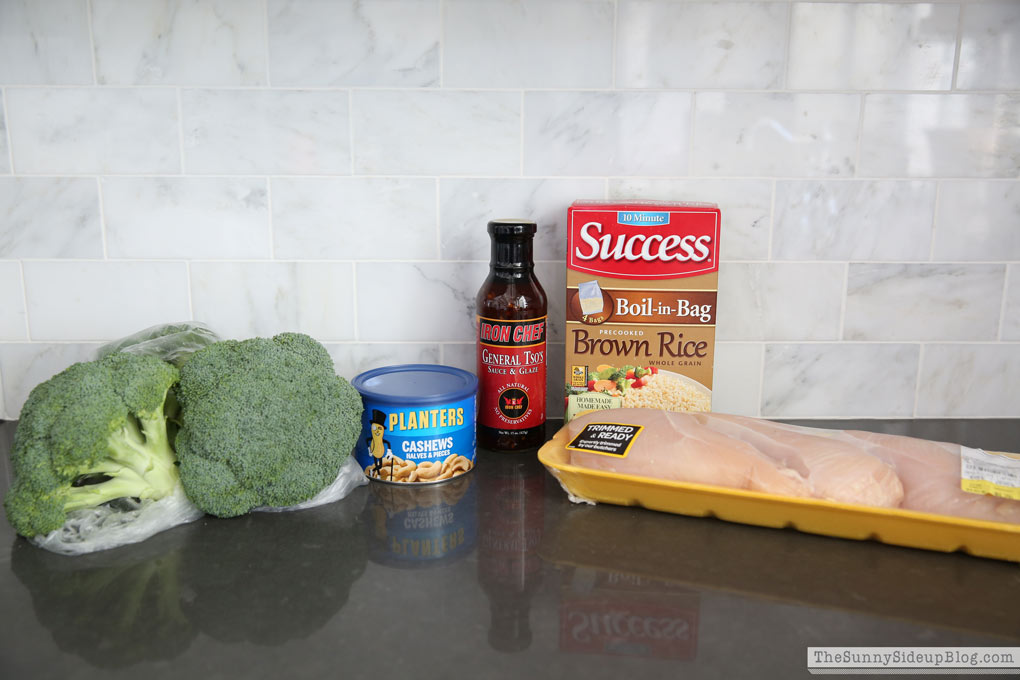 This is all you need!  Chicken, broccoli, cashew halves, rice and the secret ingredient – General Tso's Sauce and Glaze.  Can you see why I like this recipe?  5 items.  That's about my max.
A close friend told me about this General Tso sauce and it's delicious!  My grocery store stopped selling it a few years ago so now I order it on Amazon.  I always order this pack of six for a great price and then I can make this meal every 3-4 weeks.
Ok – quick disclaimer before I share how to make this.  I take pictures of food about as good as I cook.  Maybe even worse (if that's actually possible) so let's please remember before viewing these pictures that I am NOT a food blogger and aside from making cool pyramids with my sauce jars like I'm in the 5th grade, I know nothing about styling food.  Or taking pictures of it.  
Thank you and carrying on now..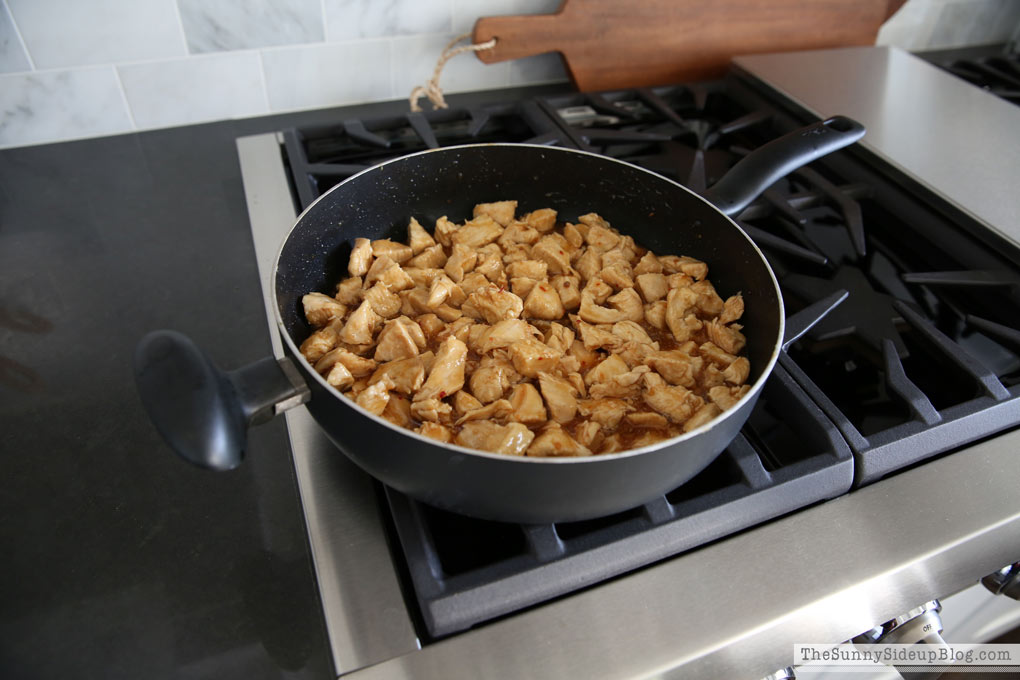 Step 1 – Cut the chicken in pieces and cook it.  I cook as many chicken breasts as I can fit in this pan which is usually 4-5.  (This is my least favorite step that I'm always happy to have behind me.)
Step 2 – When the chicken is cooked, pour a bottle of General Tso's sauce on it and stir.  (I like this step.. suddenly without much effort on my part the chicken is starting to look and smell fancy.)
Step 3 – Set aside some of the chicken if you have a family member with nut allergies.  (I love you and you're welcome Addison.)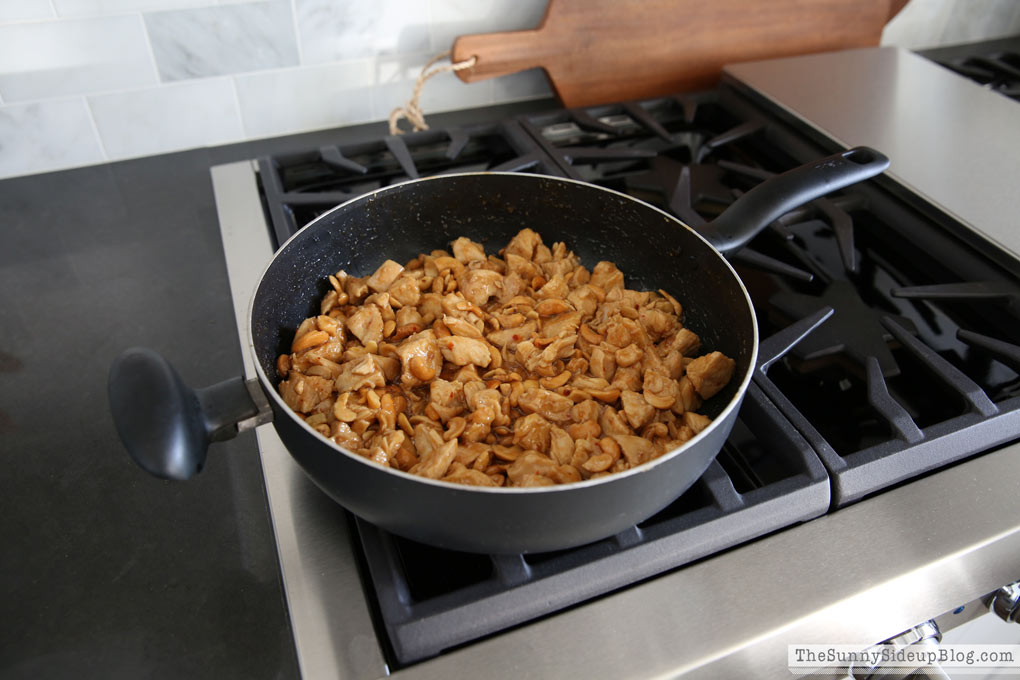 Step 4 – Pour in the can of cashew halves and stir.  As many as you like!  (This step is my favorite because the chicken now looks and smells really fancy.  Your mouth will start watering and you might start thinking about sneaking off into the pantry and closing the door and eating the whole pan yourself instead of sharing at this point.  Not that those thoughts ever cross my mind.)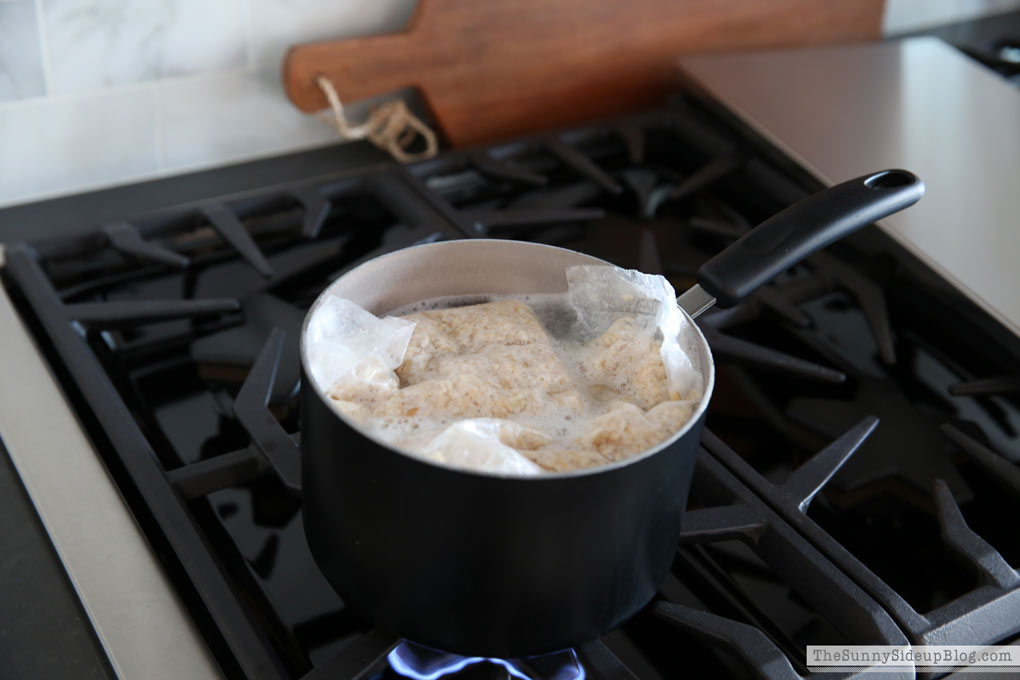 Step 5 – Boil some rice.  I prefer Boil-in-Bag brown rice.  You pop a few bags of rice right in the pan and they only take 10 minutes to cook.  Plus there's no mess!  Brilliant.
Step 6 – Boil some broccoli. 
Step 7 – Place everything on a plate, take a lousy picture of your easy Cashew Chicken in bad lighting with blurry rice and over cooked broccoli (I over cook my broccoli every time) and then serve!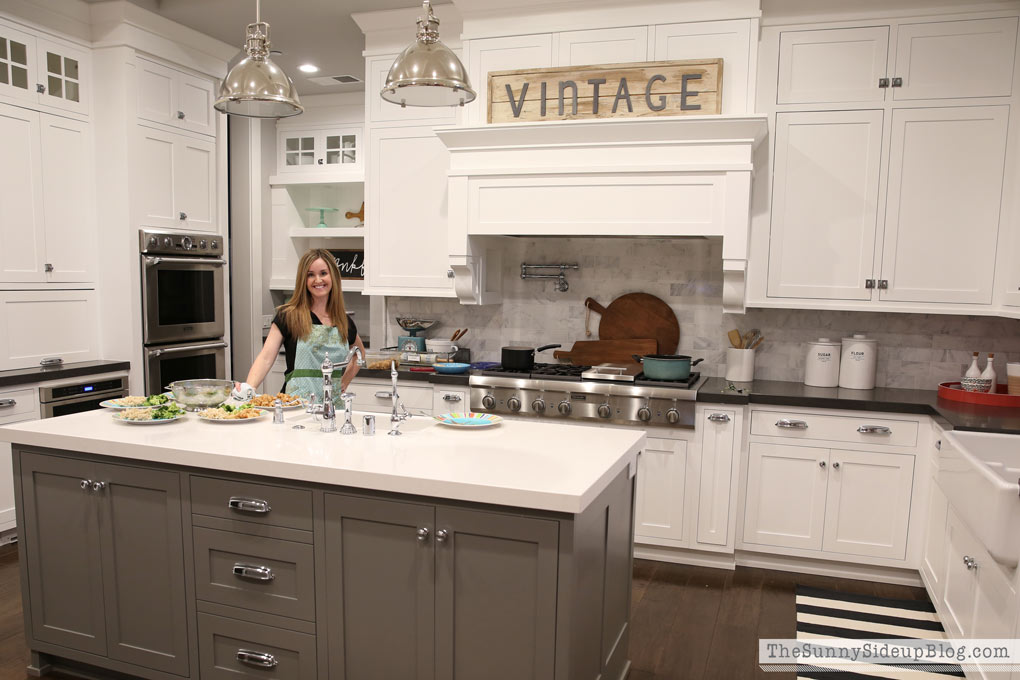 Step 8 – Have your husband snap a picture to document an evening when nothing was burned.
I look so happy in this picture don't I?  That's because the cooking is done.  And with leftovers plus a gourmet grilled cheese sandwich night or two, I'm off the hook for a while. :)
I hope you enjoy this Easy Cashew Chicken as much as we do!  I'll be back to chat with you all tomorrow.  About home decor, not chicken.
Whew!  Looking forward to that.
:)
p.s. Getting questions about the pans I use! You all know I'm no chef so there might be something better out there, but I have used these pans for YEARS and love them. :) I linked to sources below!

xoxo, Erin