Earlier in September Kenny and I celebrated 20 years of marriage together. I know.. we're so old.  But happy. ;)  (You can read my post on 10 ways we keep our marriage strong here.)  Last year he asked me where I wanted to go to celebrate and said he'd take me anywhere.  Spain?  Ireland?  Bora Bora?  I chose Colorado. Ha. :)  Two reasons why: 1) We are in such a busy stage of life with our kids right now that I really wanted a relaxing vacation vs. a go go go and see all you can type of vacation.  I love exploring new places, but usually come home from trips like that craving a vacation after the vacation! 2) My only complaint about living in San Diego is that we don't have a Fall.  I love cool weather and Fall leaves and miss this beloved season so much!  Because the trip would be at the end of September I wanted to be one with the leaves. :)  Colorado sounded perfect.  Then not long after I decided Colorado was my destination of choice I was chosen as a Better Homes and Gardens Style Maker for 2017 and invited to an event in New York during our vacation week.  Very exciting and such an honor!  So we decided our trip would start in Colorado and end in New York City.
As the trip grew near, that week we had planned to be gone was looking busier and busier for the kids.  Then Kenny broke his ankle and had to have surgery.  (Seriously!?)  We thought about bagging it all together and then decided we were crazy.  When is it a good time to go on vacation when you have three kids?  There isn't a good time!  We just had to do it!  RUN while we could and never look back! ;)  My parents came to watch the kids (bless them!) and after 7 pages of notes and many discussions about who needed to be where when each day and ALL the things that go into daily life with kids we took off.  With me yelling out the window as we pulled out.. "and don't forget Kole has chess Tuesday.. and make sure you take this freeway to get the girls to school, but the other freeway on your way home to avoid traffic.. and Wed. El has to go to dance early… and Ad needs her inhaler for her class trip.. !!!"  It's hard to break away!  But we did it.  And we had a great trip.  Here is a re-cap along with what I wore.  Lots of pics so grab a snack!
(affiliate links used)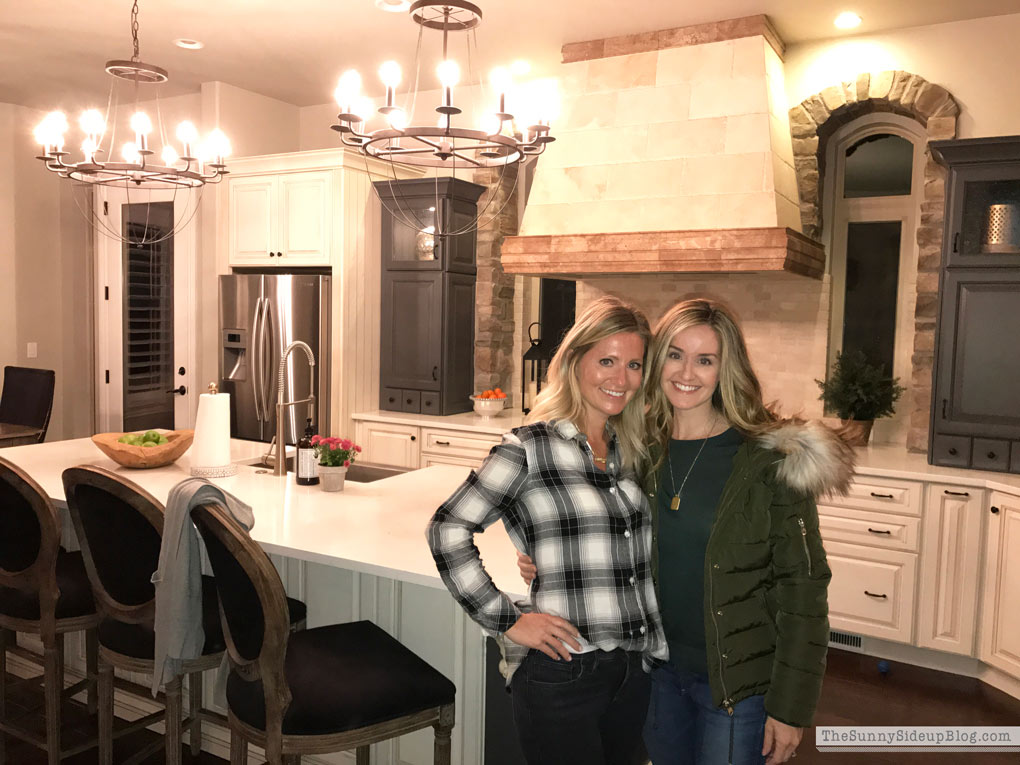 I couldn't go to Colorado without visiting my sweet friend Shauna.  Who is building a house right now and was in need of a major therapy session. ;)  So we went straight from the airport to her beautiful home!  Stunning kitchen right!?  I loved seeing both homes and loved catching up with her.  She teased me about bringing my winter coat but it felt freezing to me!  I hardly took it off. :)  I had lots of people asking on IG stories for a link to this coat.  It was from last year and isn't in stock anymore, but here are some coats that are similar!  And so cute.  Love the way this coat cinches in the back!  (Necklace)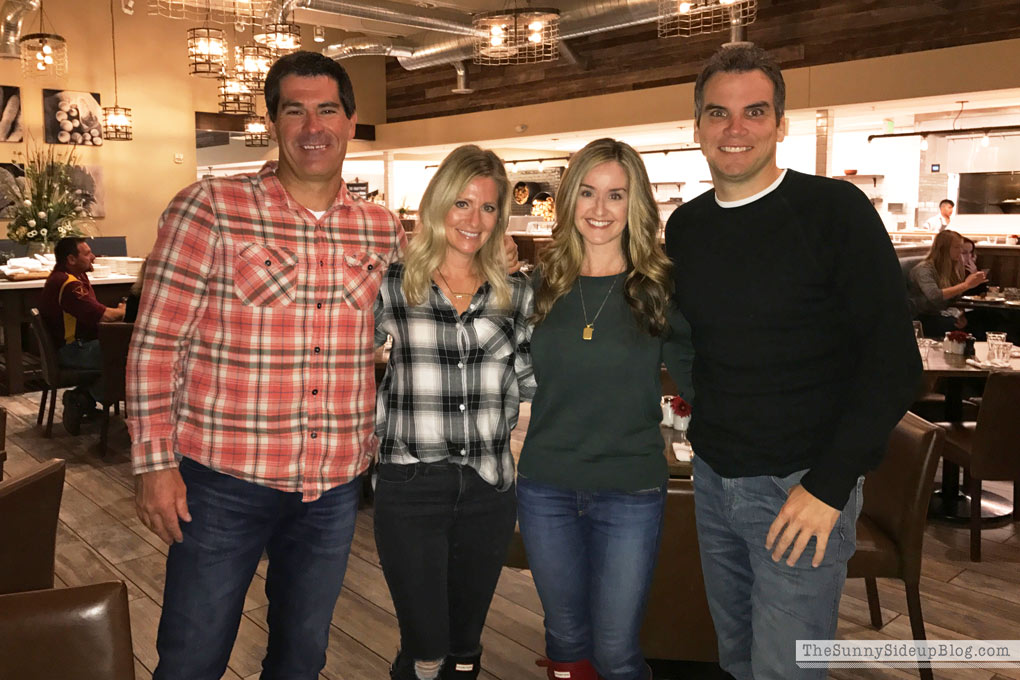 We also thought it was about time our husbands met.  They were destined to be besties and just didn't know it. ;)  My sweater has cute ruffle sleeves you can't see in this pic and I had on Shauna's red Hunters because we had been at her lot before dinner.  I felt like Christmas in my red and green which made me instantly happy.  I think it's time to buy my own red boots. :)
Similar ruffle sleeve sweaters: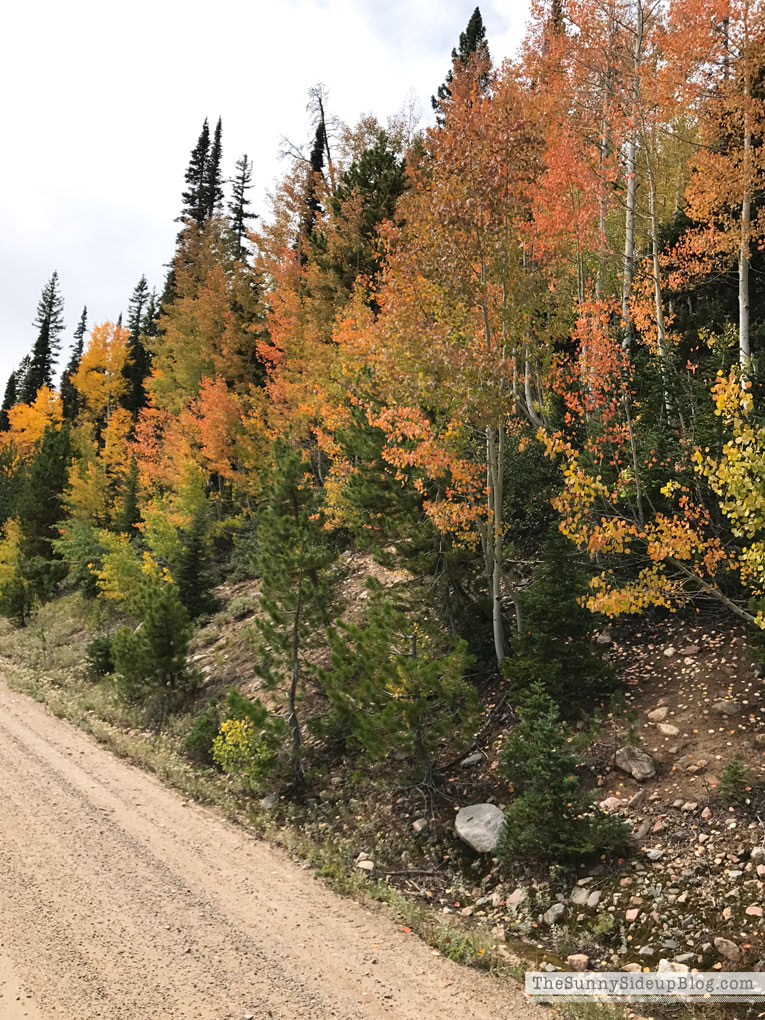 After visiting Shauna we headed to our destination which was a darling town called Steamboat Springs.  I snapped this picture out of my window while we were driving there.  SO beautiful!  Nothing like being in the mountains.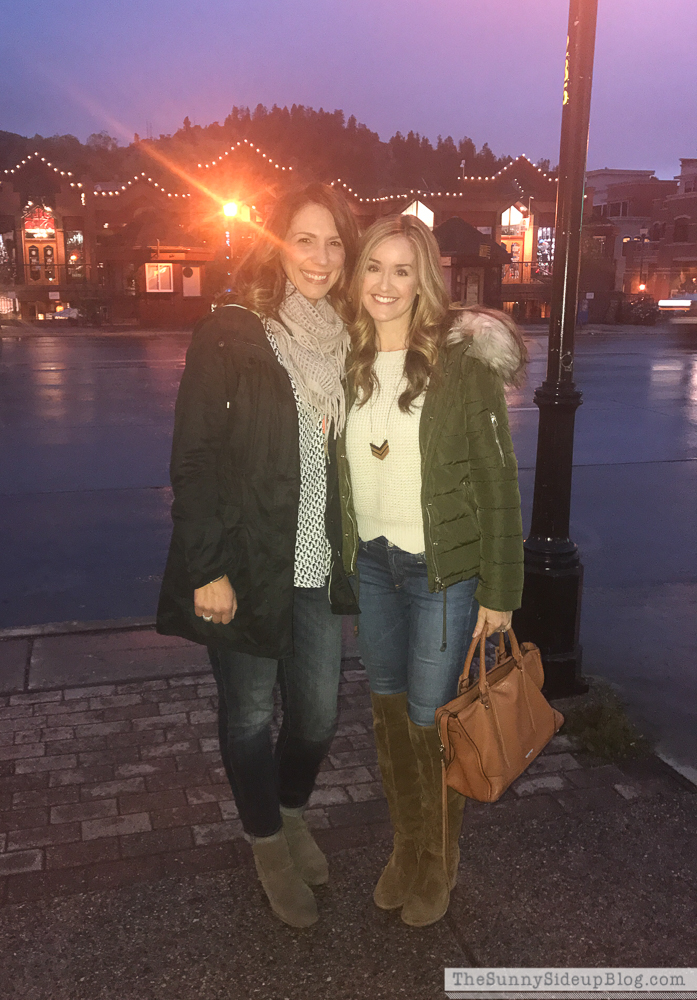 My close friend Gina and her husband also had their wedding anniversary in September so they met us there.  Loved spending time with them!  I have missed her so much since she moved from San Diego to Nebraska.  I also loved wearing this favorite sweater.  Perfect for this chilly but charming town!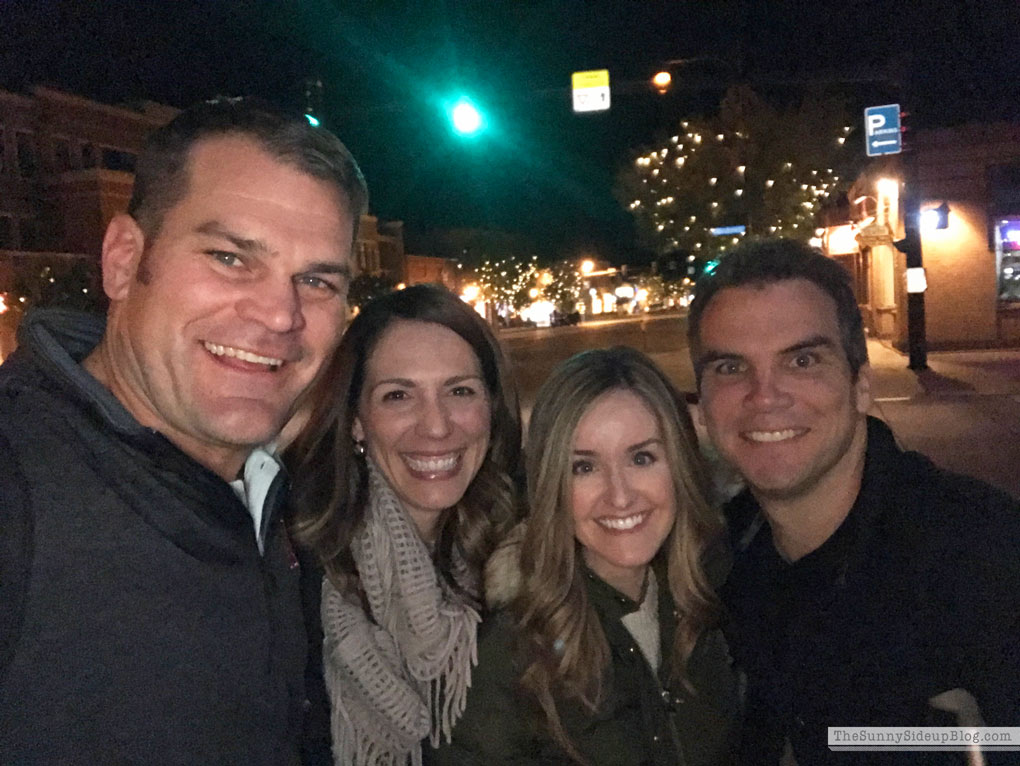 Reunited and it feels so good. :)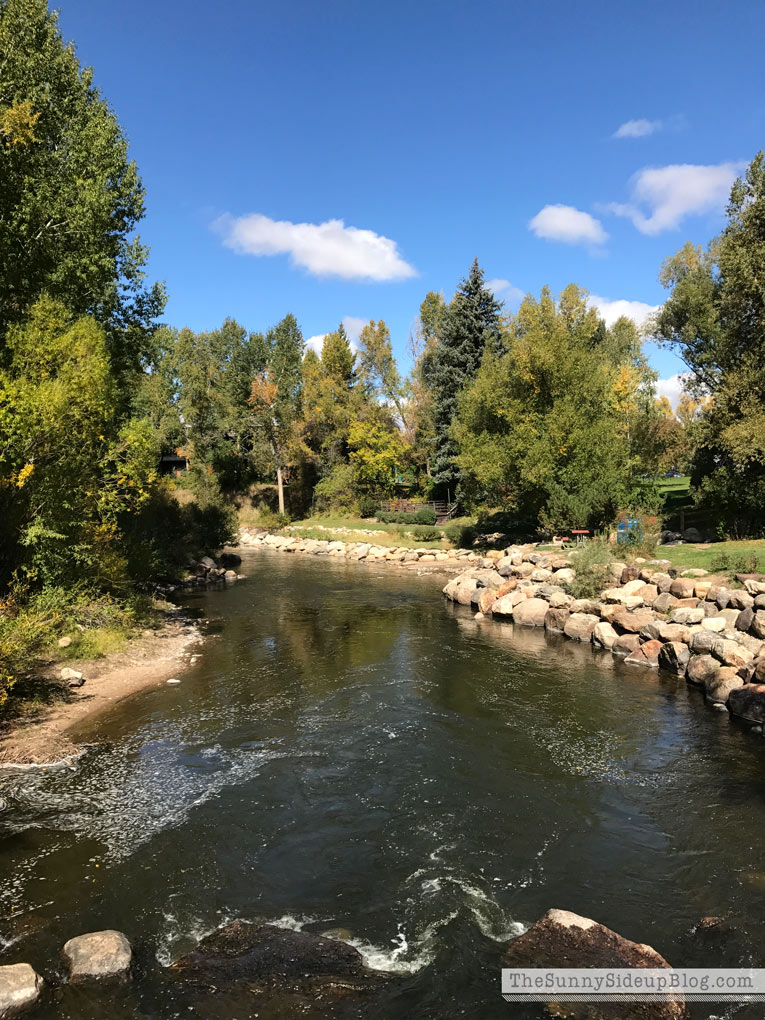 Colorado didn't disappoint!  It was absolutely beautiful and we took full advantage by spending as much time outdoors as possible.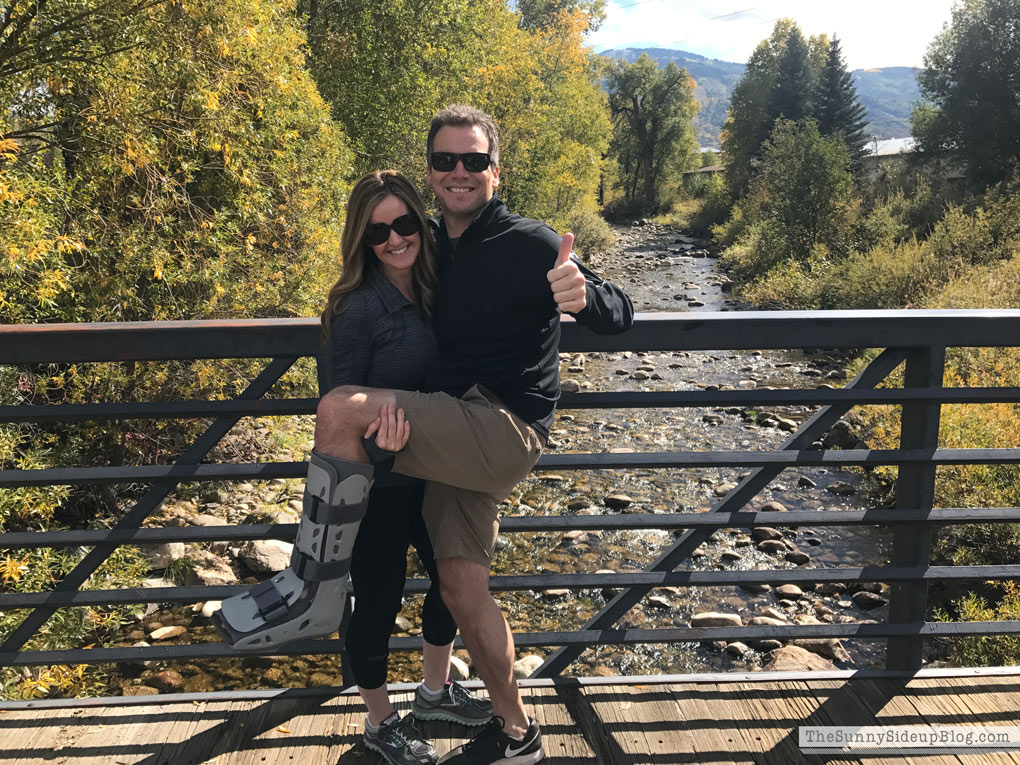 We took long walks in the mornings.  Well.. three of us walked.  (Favorite Zella leggings) 
One of us scooted. :)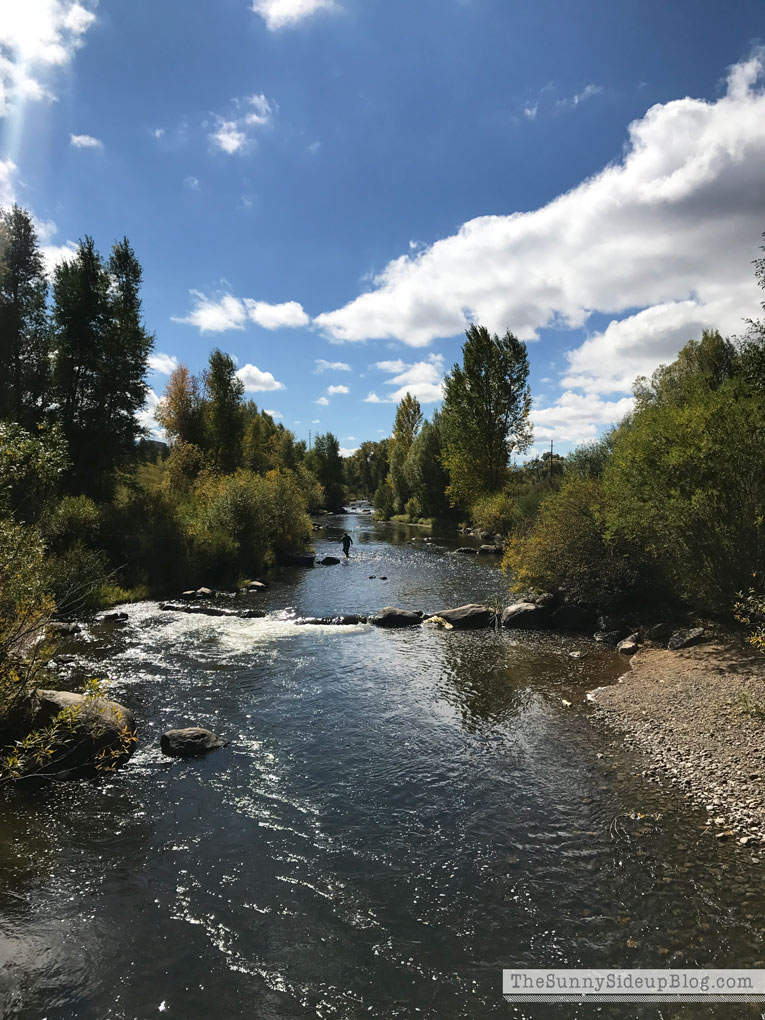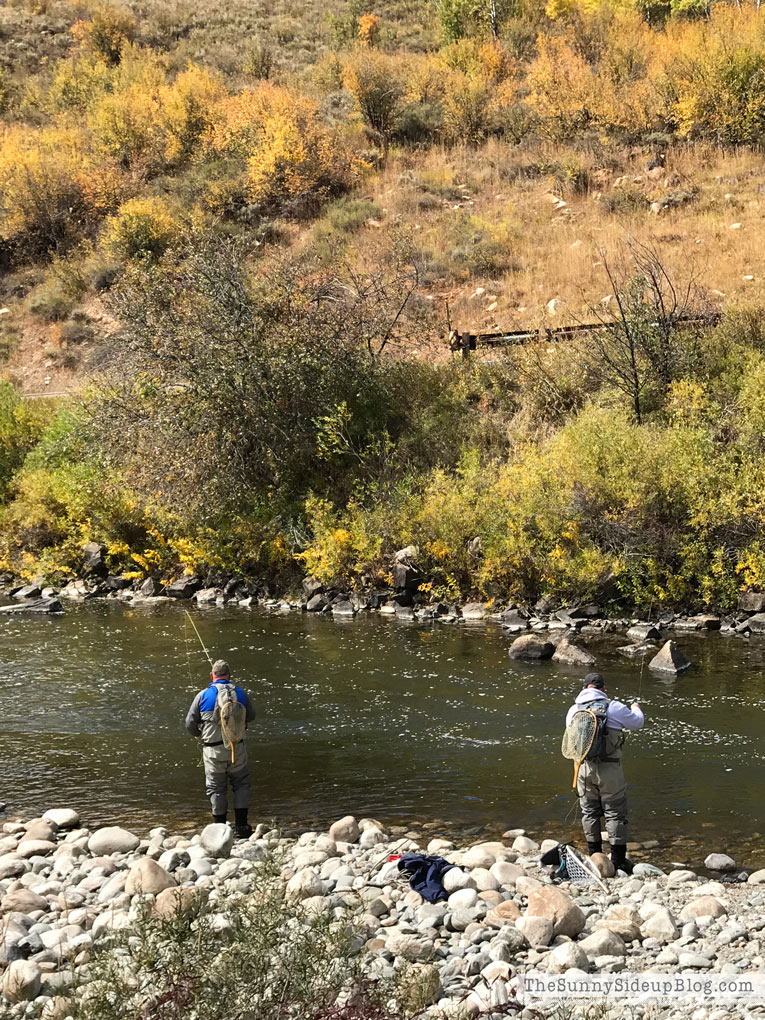 I had to text my dad pics of all the fly fishermen we saw along the rivers.  He would have fit right in.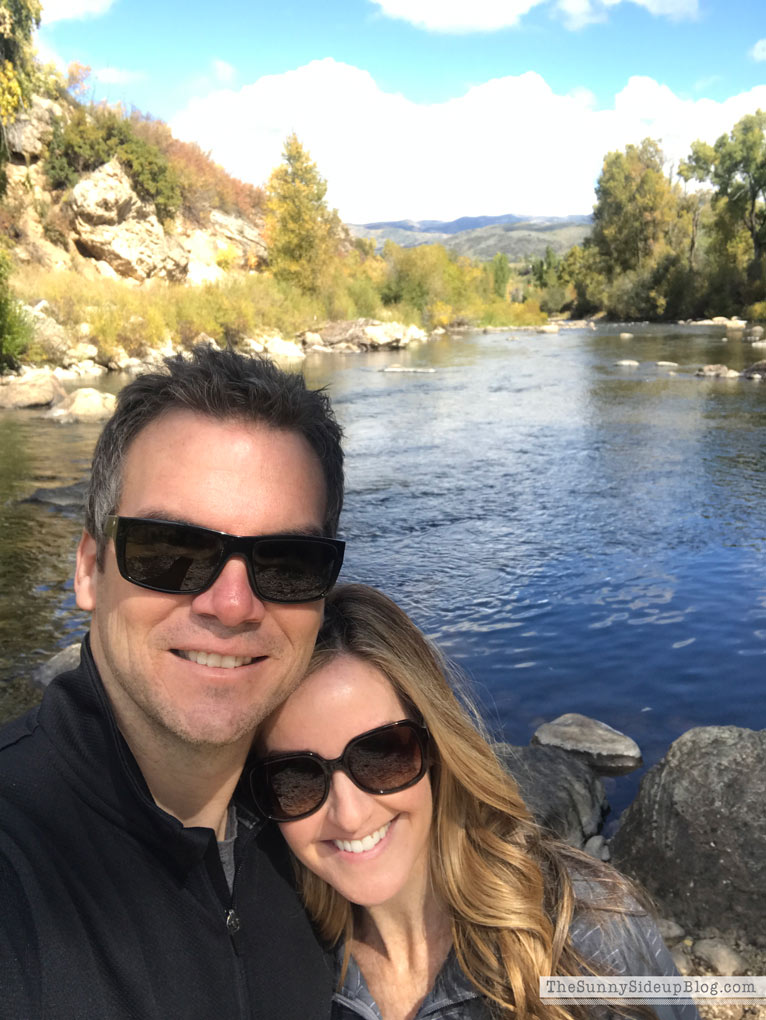 Love the mountains.  Love him.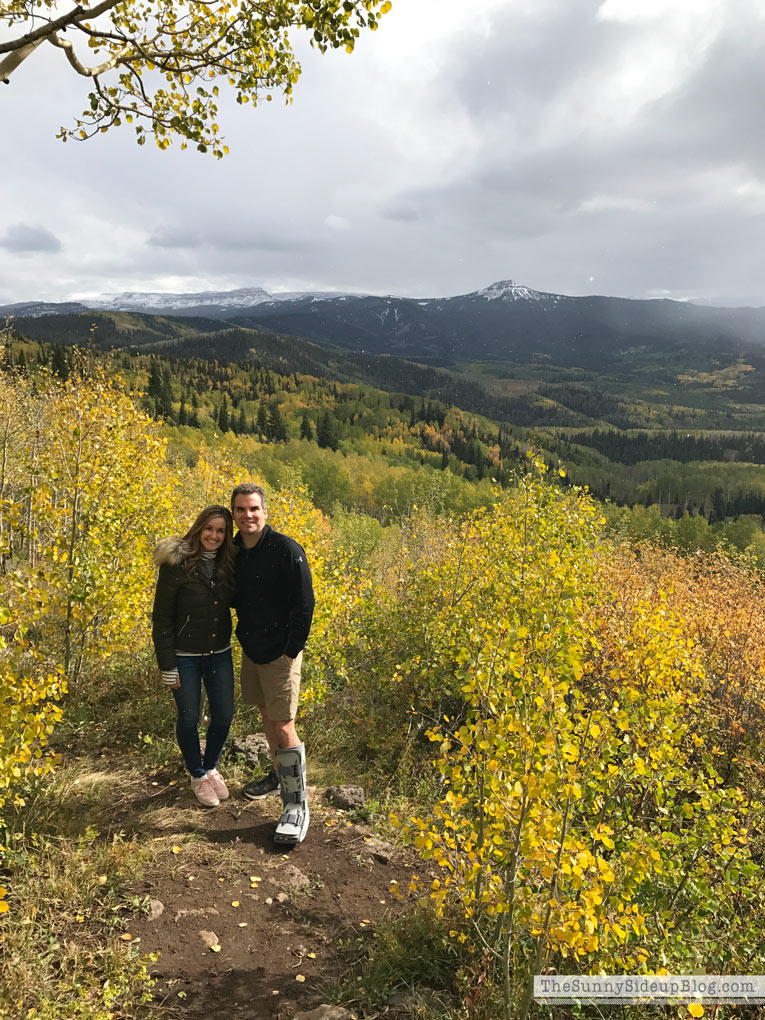 We also went on long drives through the most gorgeous scenery.  Drives took the place of hikes because of my husbands foot situation. We improvised. :)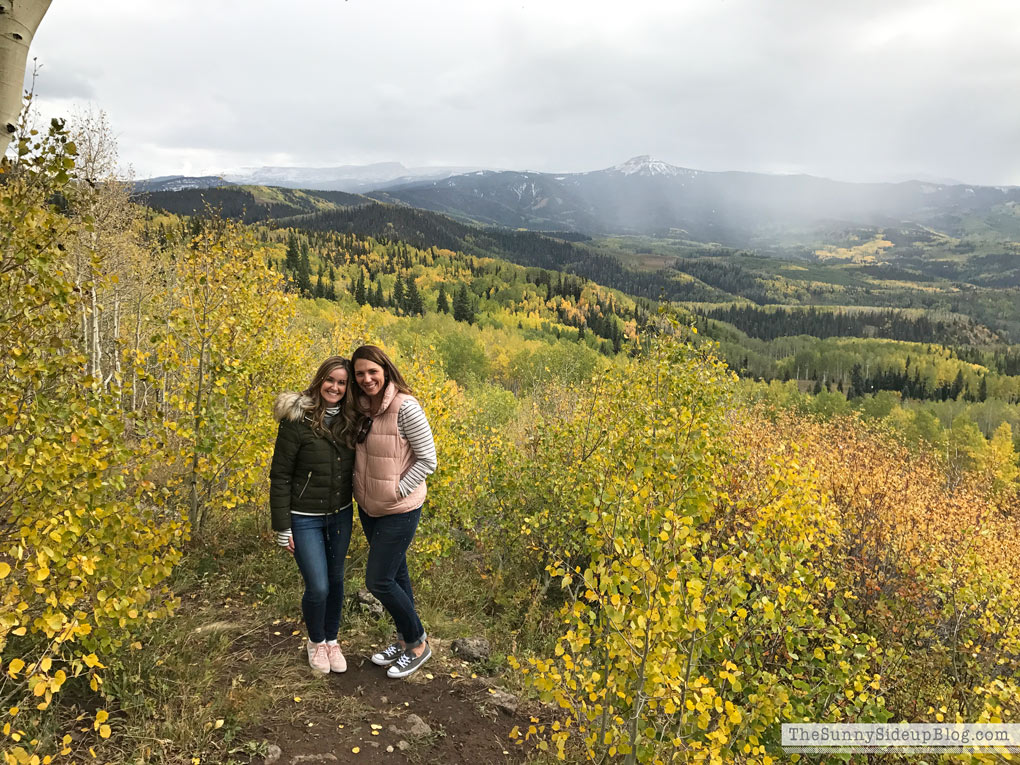 The day we took these pics it started snowing!  So cold.  But absolutely breathtaking!  Gina and I didn't plan on matching in stripes and pink.. but we didn't complain either. :)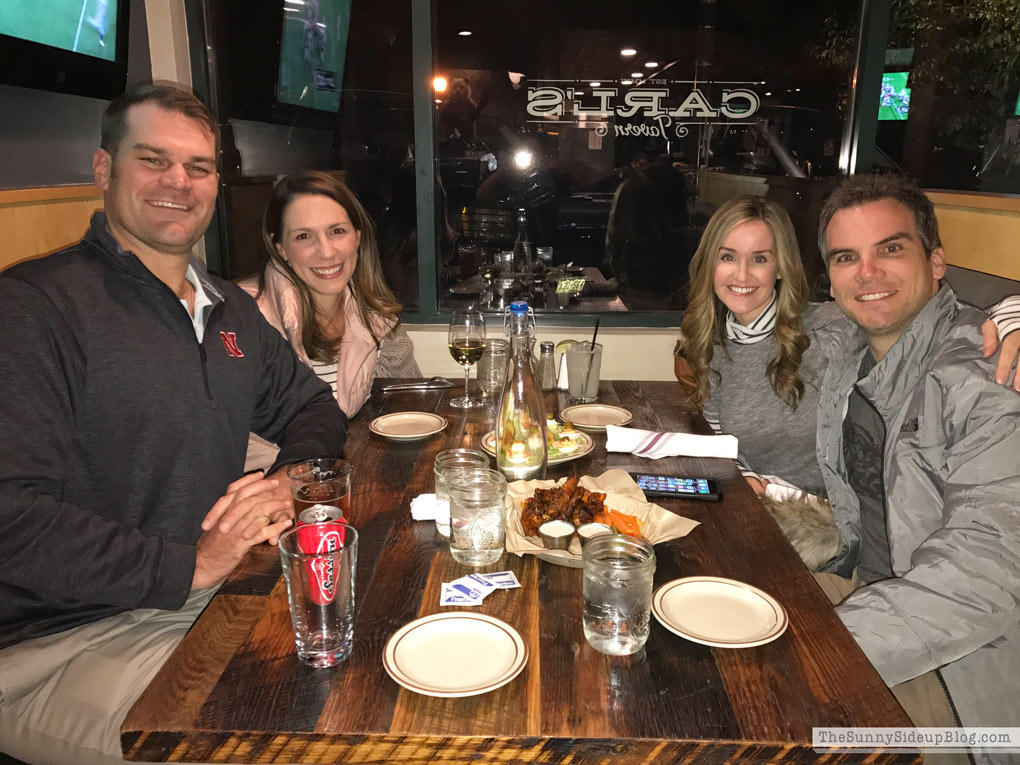 Steamboat honestly had some of the best restaurants!  Or maybe everything just tastes better in the mountains.  Probably a little of both. :)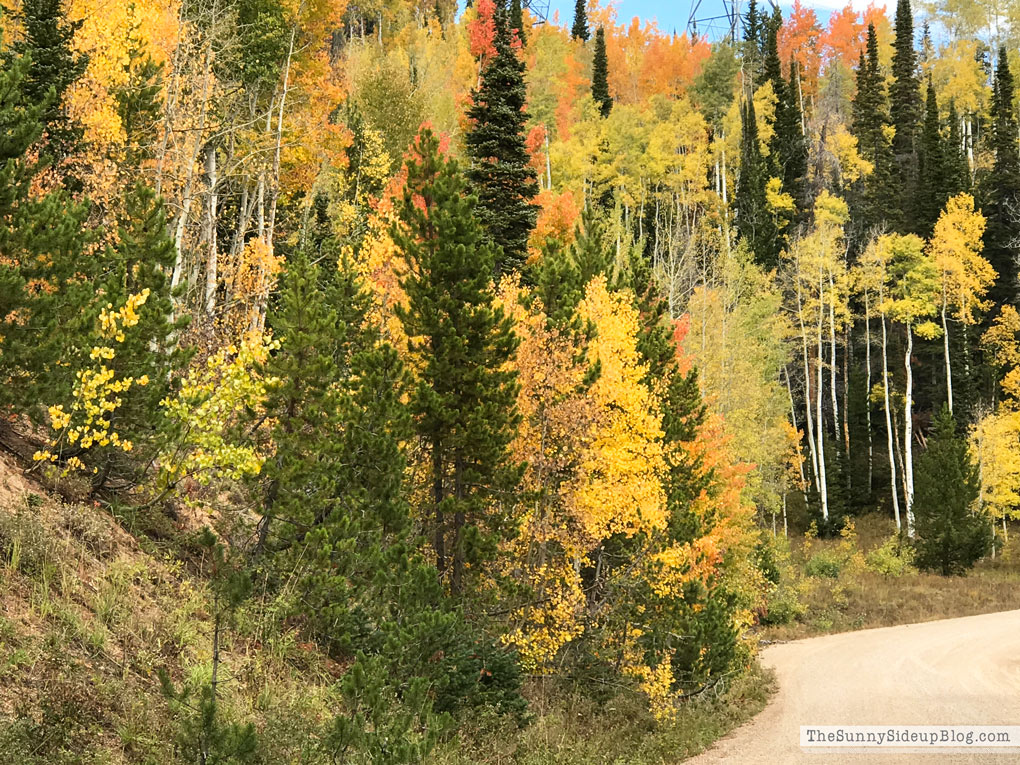 Another picture I snapped with my phone out my window while we were driving.  Isn't it gorgeous!?  I want to move to Steamboat Springs!  And then move back to San Diego in November when this place is buried in 8 feet of snow.  :)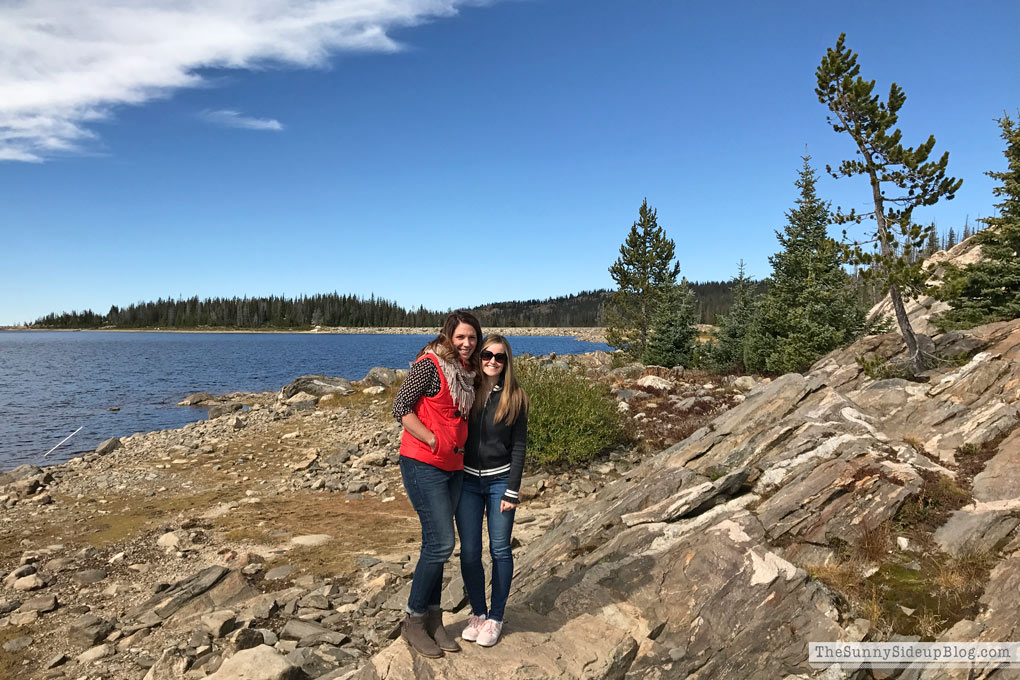 Teeth were chattering in this pic!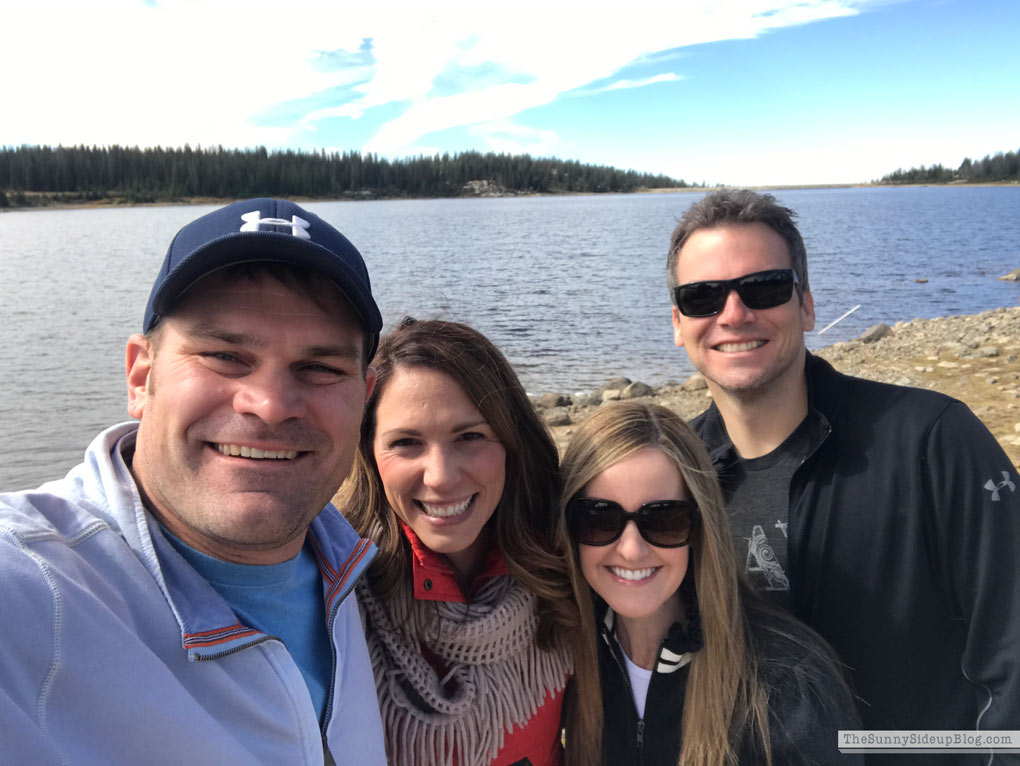 We spent time all together, time alone as couples, and then Gina and I had a couple of afternoons of shopping and girl time.  We soaked in all things Fall and laughed so hard every day.  It was one of the best vacations I've ever been on and we all loved it so much we decided it needs to be a yearly tradition.  I'm so glad we made this trip a priority even though it was hard to pull off.  Parents need time to take a break from parenting every once in a while.  :)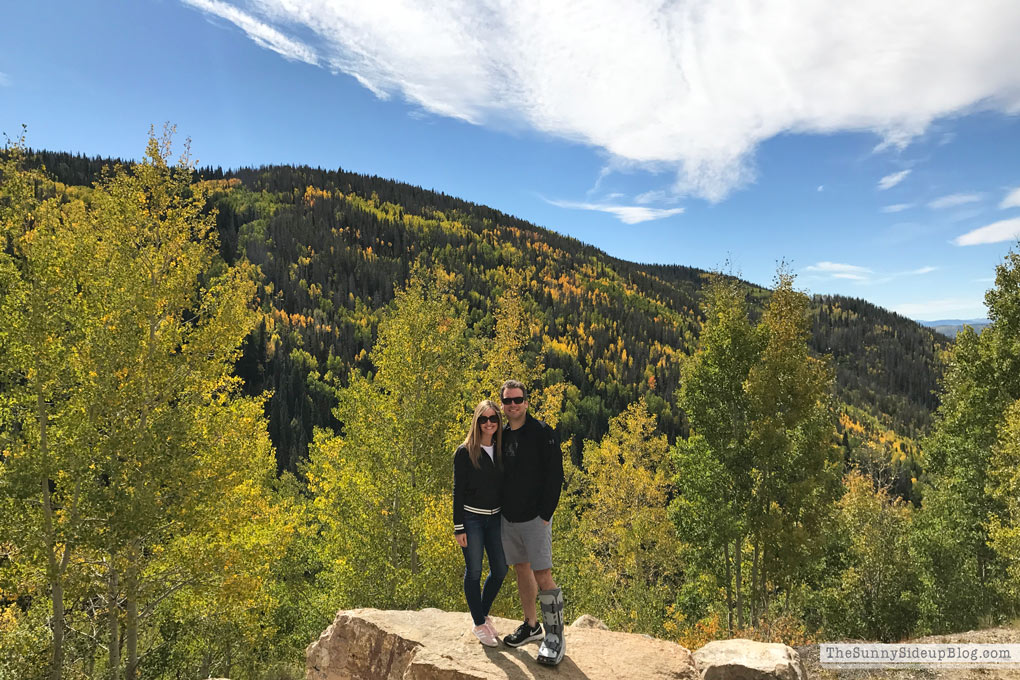 Grateful for the past 20 years.  I can't imagine growing up and growing old with anyone else.  I tell him that all the time.  Because it's true. :)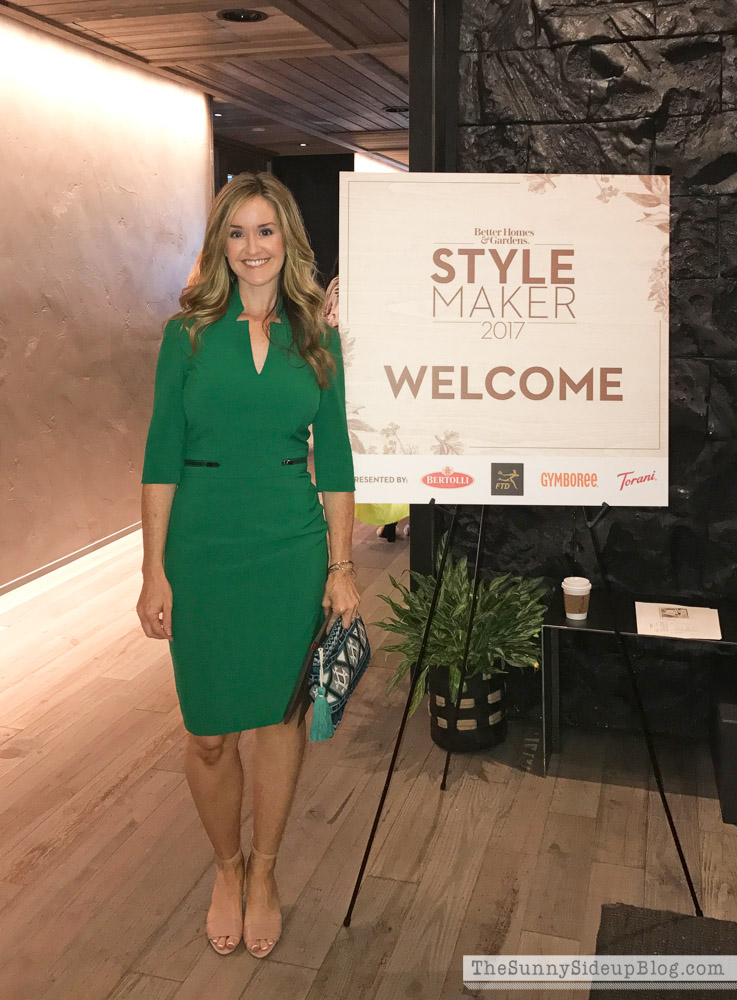 We said good-bye to beautiful Colorado and our sweet friends and headed to NYC!  The Stylemaker Event was held in Brooklyn and I think I tried on at least 15 dresses before I found the two I bought for the event!  It's always a little stressful figuring out what to wear to these things – dresses are hard for me!  A lot of my blog friends love dressing up – I'd rather be in jeans and a cute sweater any day. :)  But everyone always looks so amazing at events like this so I knew I needed to step it up. :)  I loved this green dress the second I tried it on.  The stretch fabric is so comfortable and the waist line is so flattering!  It comes in 5 colors and I adore the green.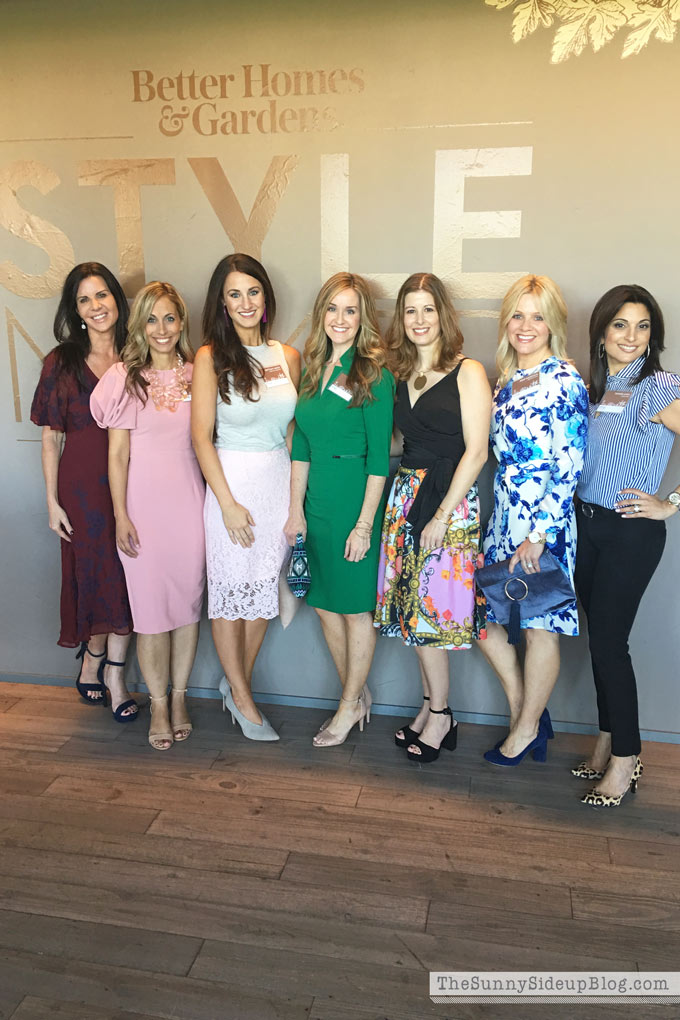 (Jen @ Decor Gold/Haneen @ Haneens Haven/Brittany @ Addison's Wonderland/me :)/Kris @ Driven by Decor/Bree @ ZDesign/Tamara @ Citrineliving)
So fun meeting some of my blogging besties at this event!  Love them so much and we always have the best time together.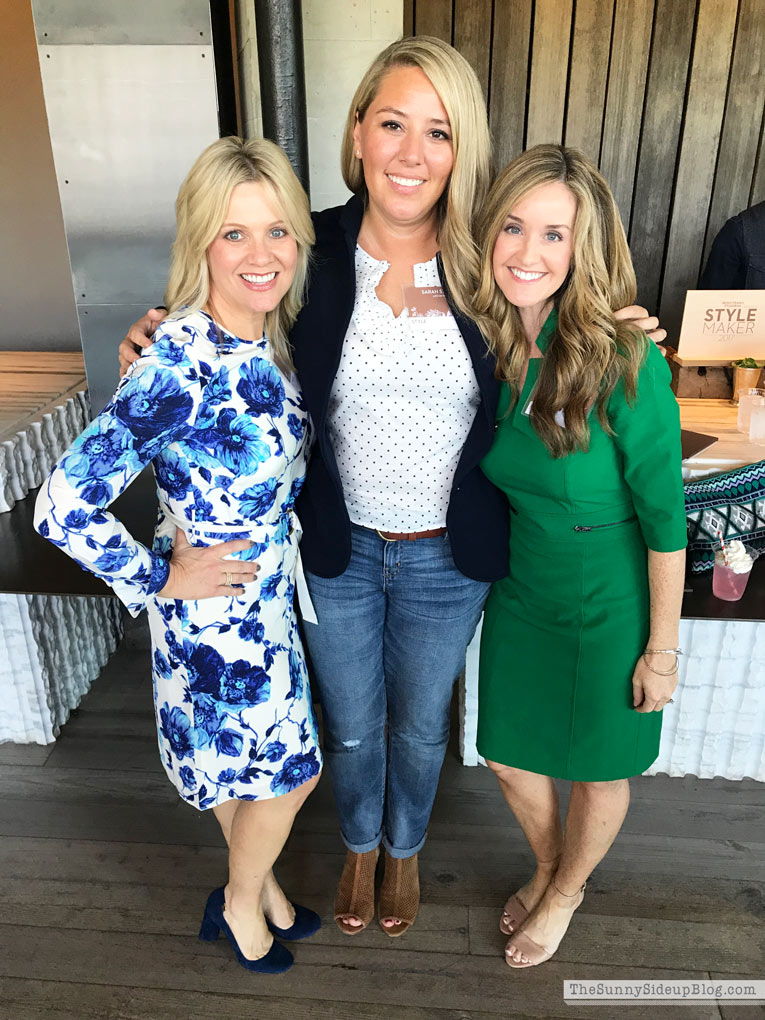 Me and Bree with Sarah @ Life on Virginia Street.
I was able to catch up with so many fun blogging friends and wasn't able to get pics with everyone.  The event flew by so quickly!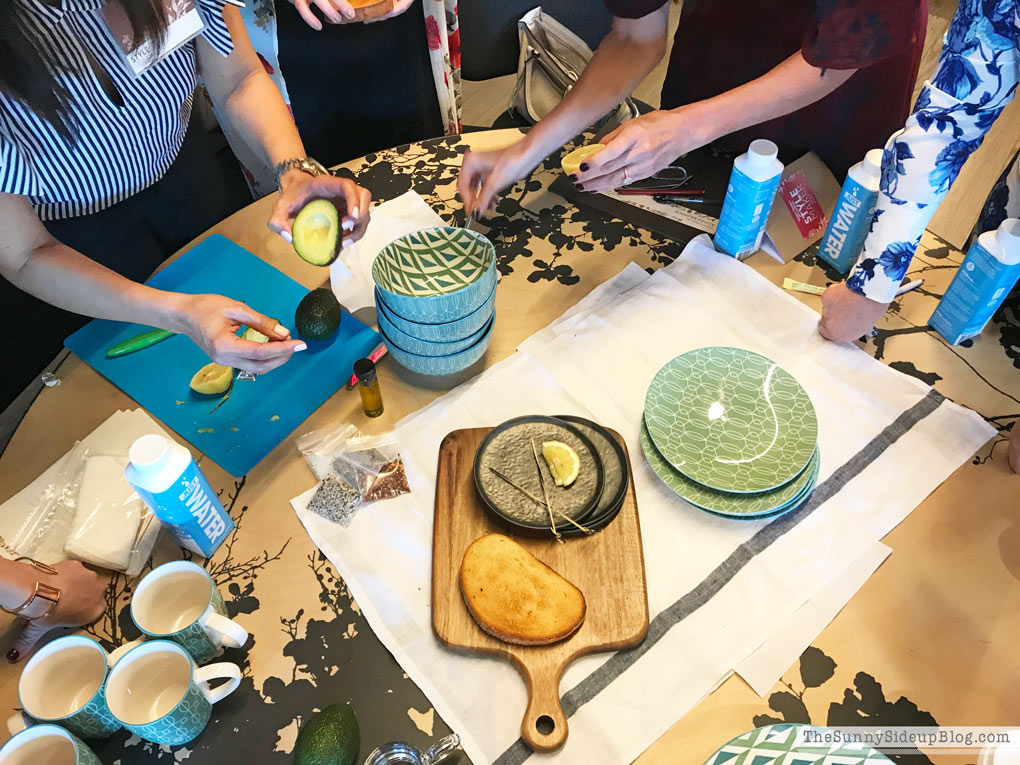 We had some great classes.  One was on food styling which just made me laugh.  Right up my alley. ;)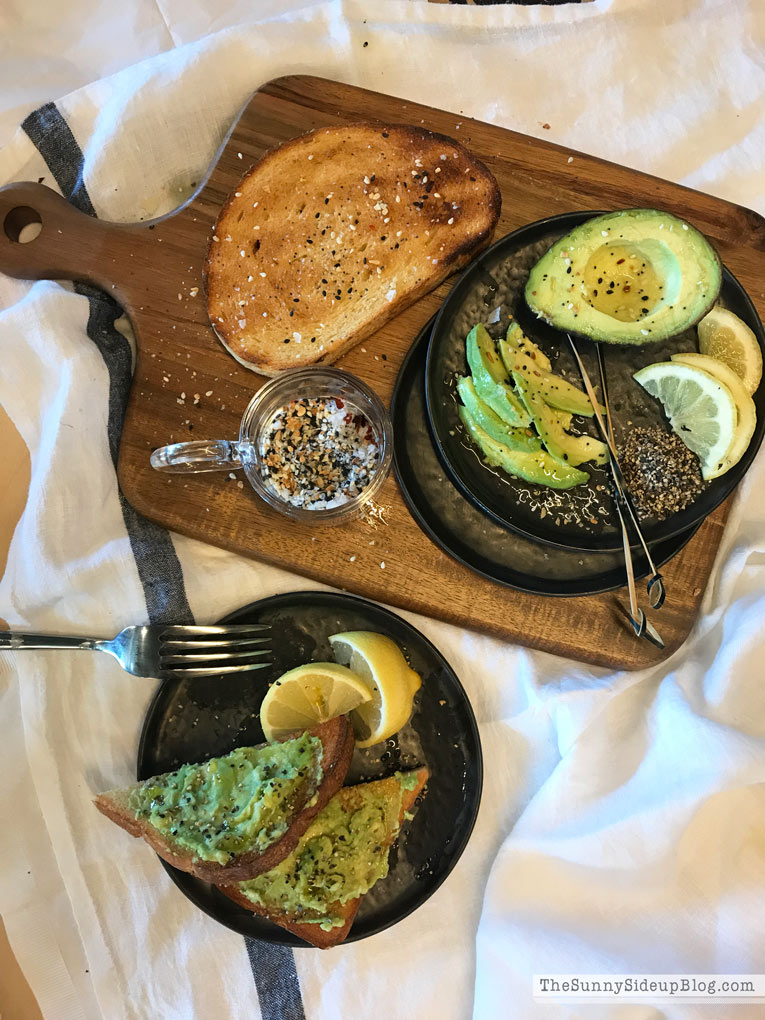 Now I'll be able to style my kids' peanut butter sandwiches and chicken nuggets like no one's business.  Ha. :)  We were able to listen to some great speakers and then had an hour break to change for the evening part of the event.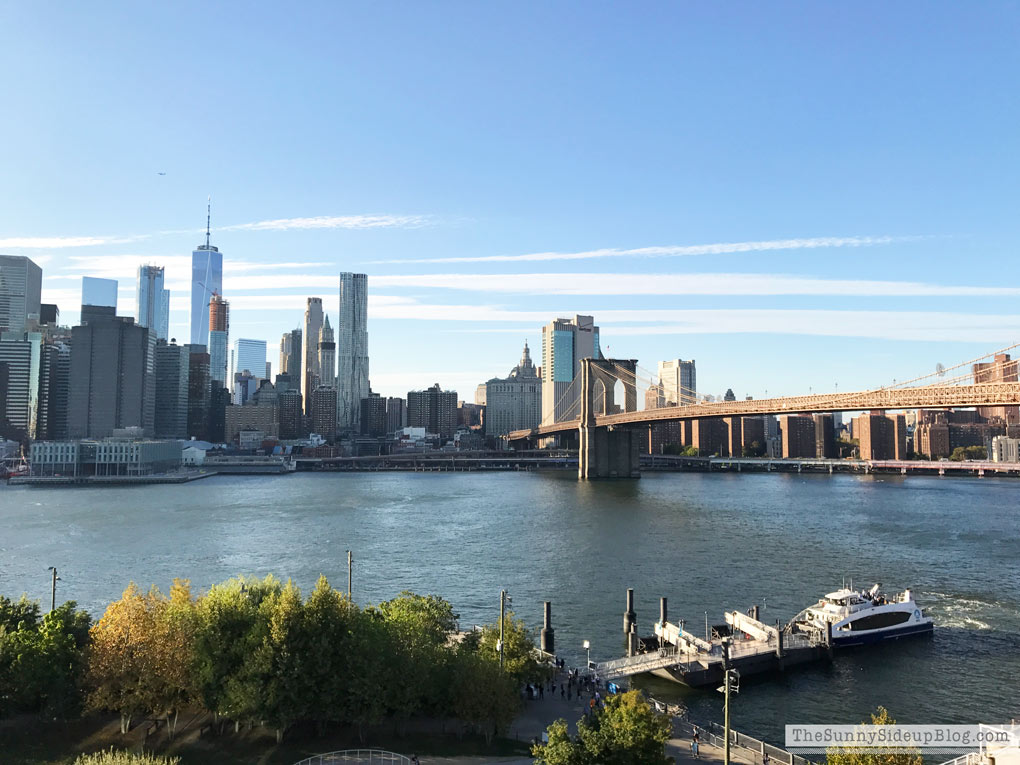 Kenny caught up on work in our hotel room while I was at the event all day and enjoyed this beautiful view out of our room window.  Made me not feel too bad for him! ;)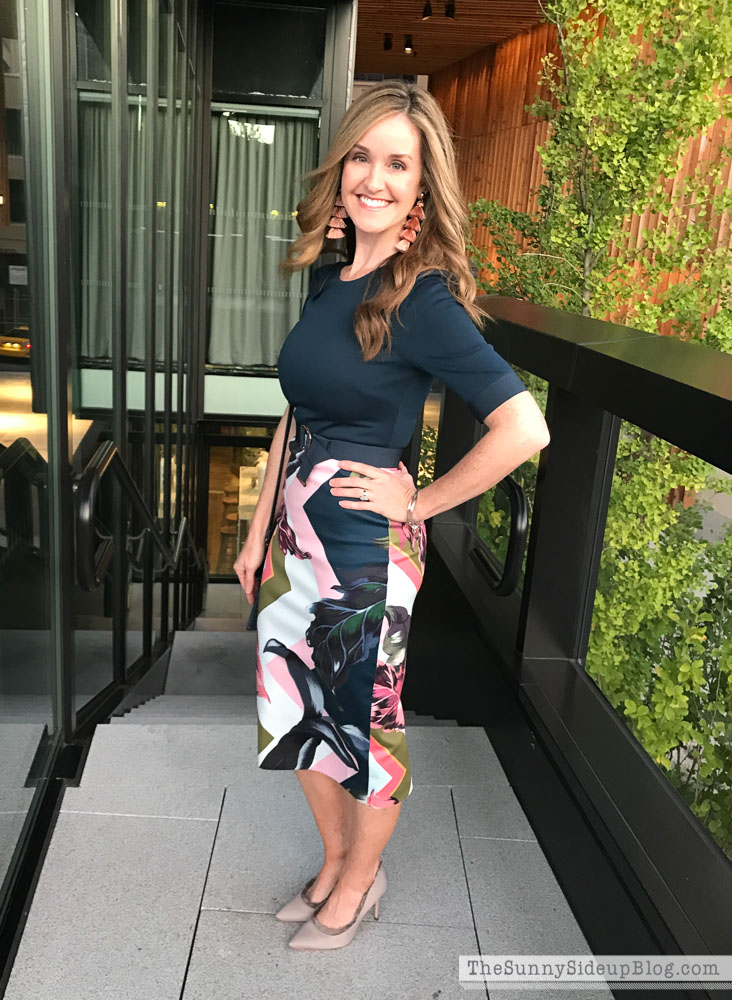 Evening wear!  I seriously splurged on this dress.  Like I spent more on this dress than I've ever spent on a dress before!  I kept debating it back and forth because of the price but it was just hands down my favorite.  Kenny told me to go ahead and splurge for our 20th.. and wondered what my issue was since I seem to have no problem dropping serious cash on a console table or rug.. ha. :)  So I bought the dress!  And will now wear it every other day.. to the grocery store and the park. ;)  I really will wear this dress a lot because it's an all time favorite.  I love the fit, the colors, the flattering way it cinches high above the waist.  It's a keeper!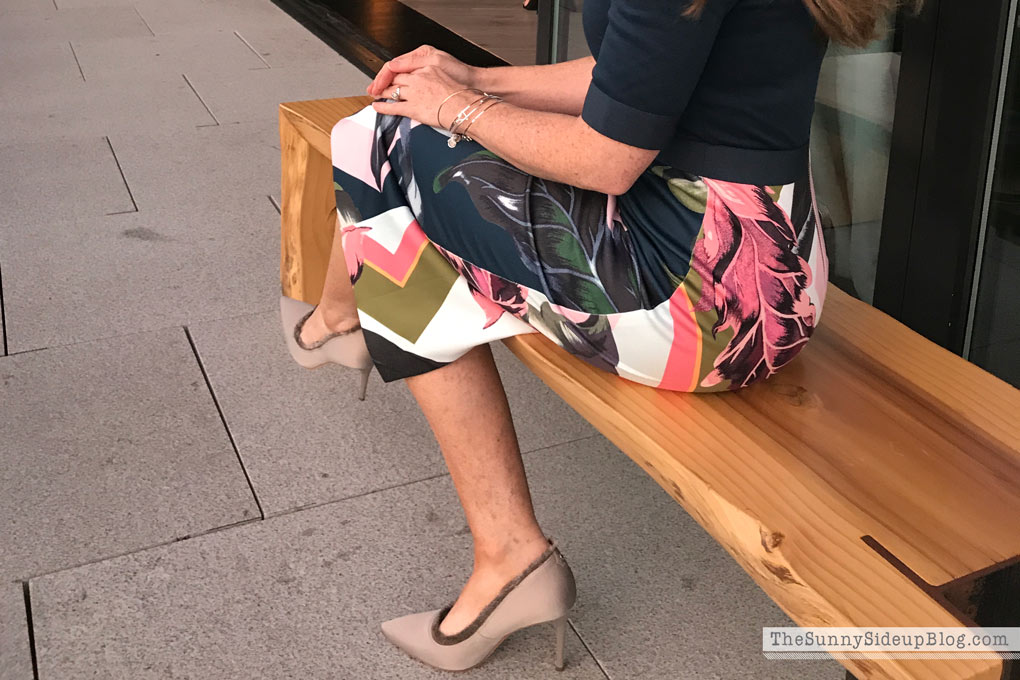 And these shoes!  With the frayed fringe at the top!  Love them.  Beautiful neutrals that will go with any and everything.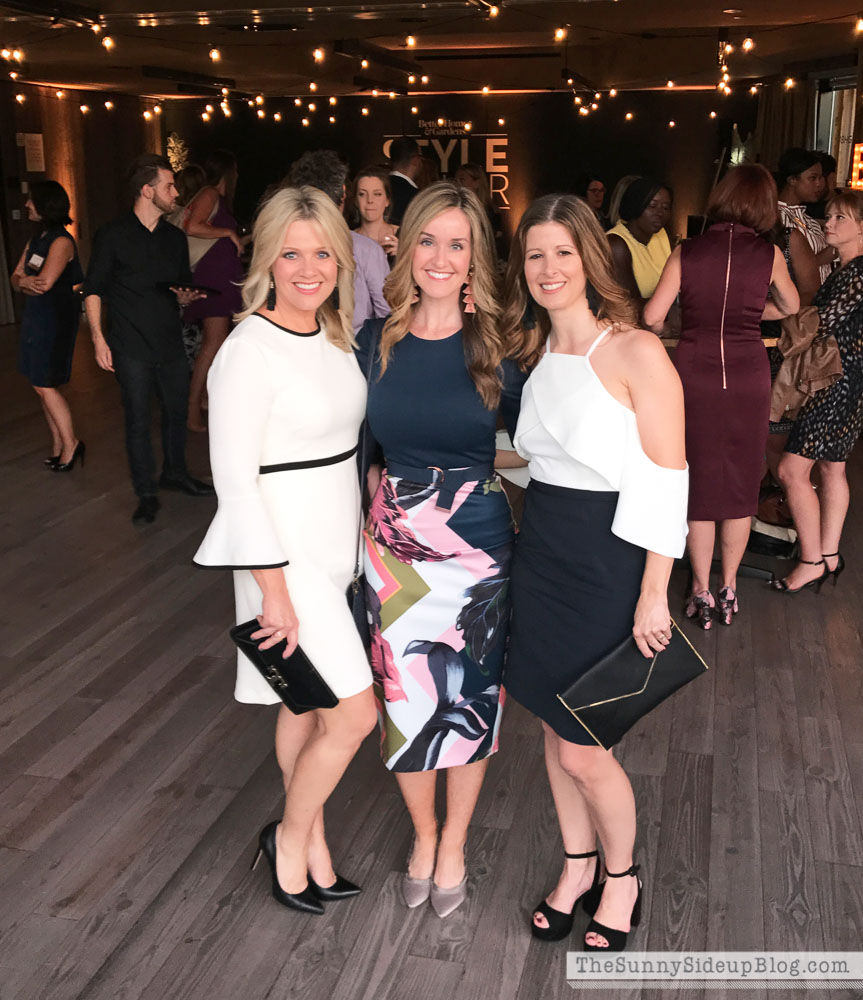 A special dress for a special night.  Loved being the pop of color between these two black and white beauties.  They are my usual roomies at events like this so since I was rooming with Kenny this trip I stayed up all hours of the night talking and laughing with them in their room to stick with our usual blog event routine. :)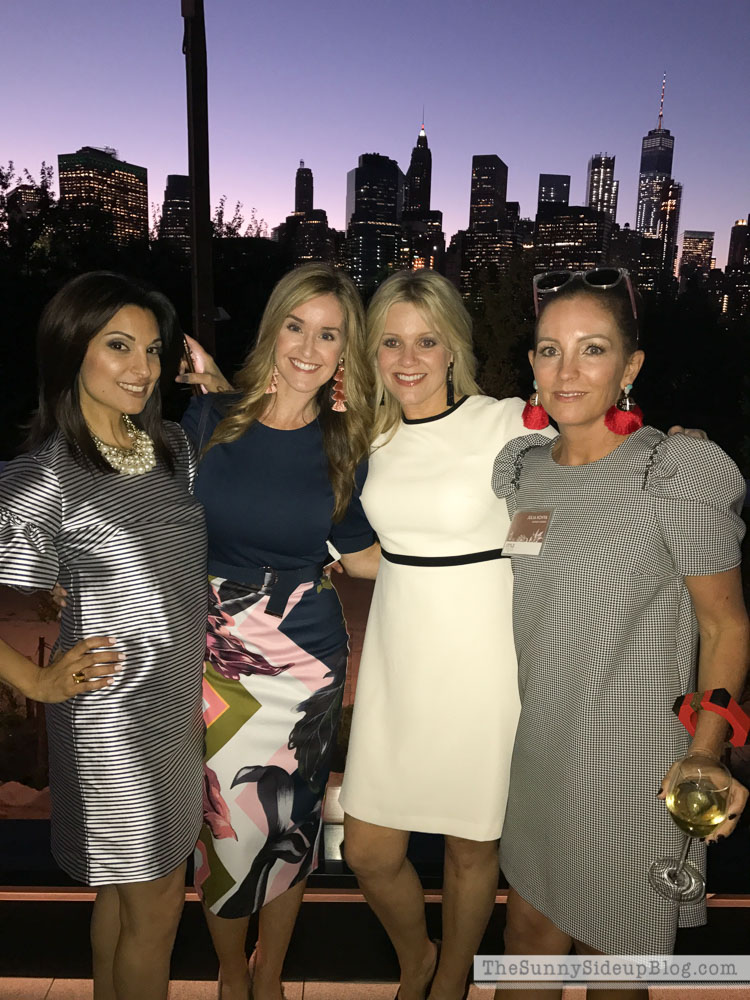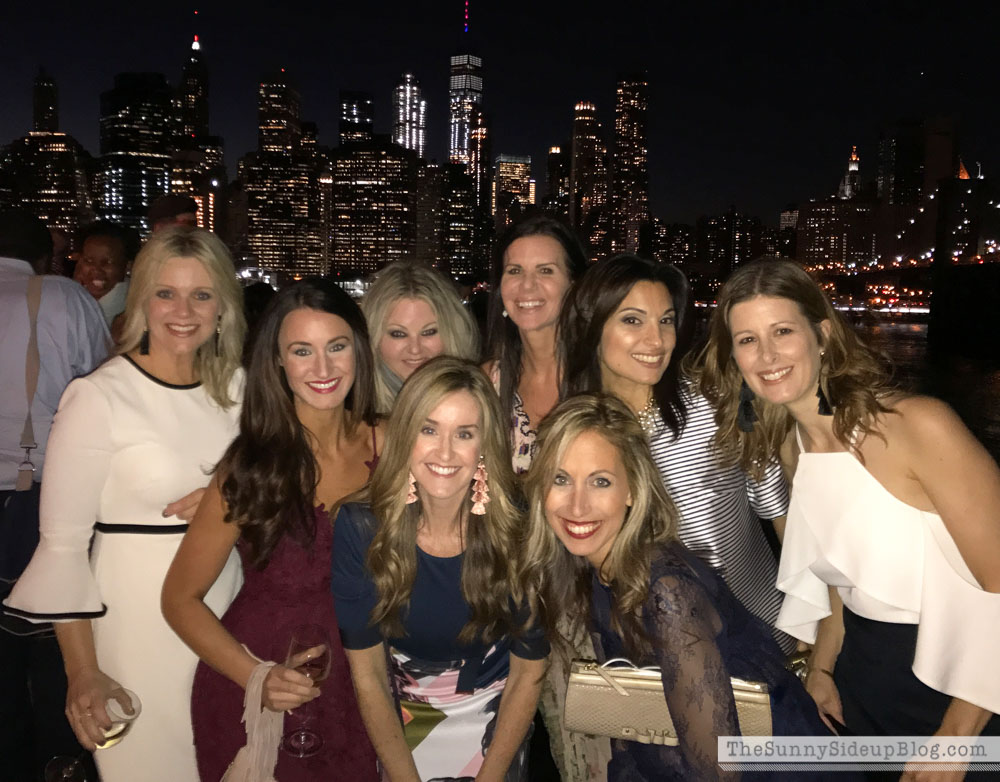 More late night fun with friends!  It was such a treat to attend the Better Homes and Gardens Style Maker event.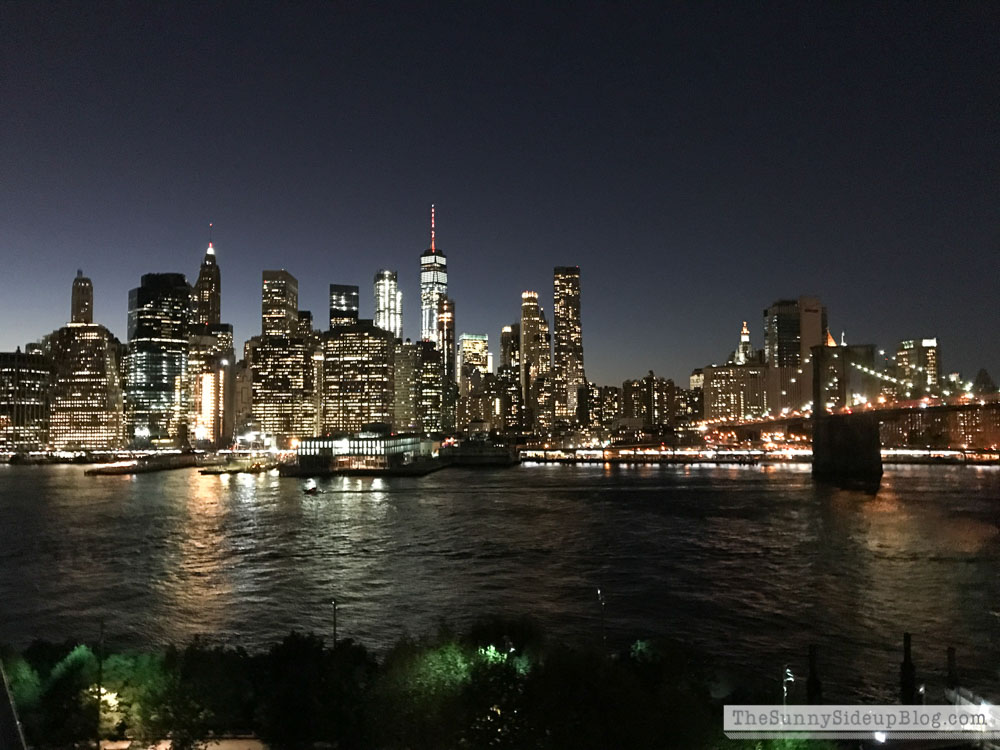 The night time view from our hotel room.  Stunning!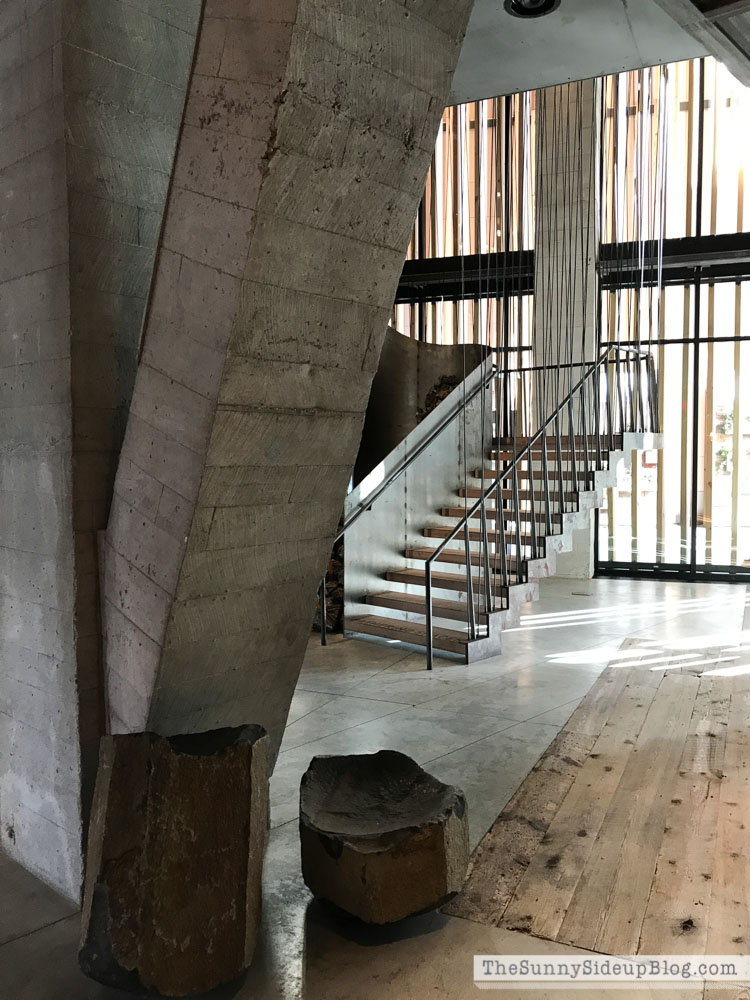 The hotel itself (1 Hotel Brooklyn Bridge) was so modern and cool!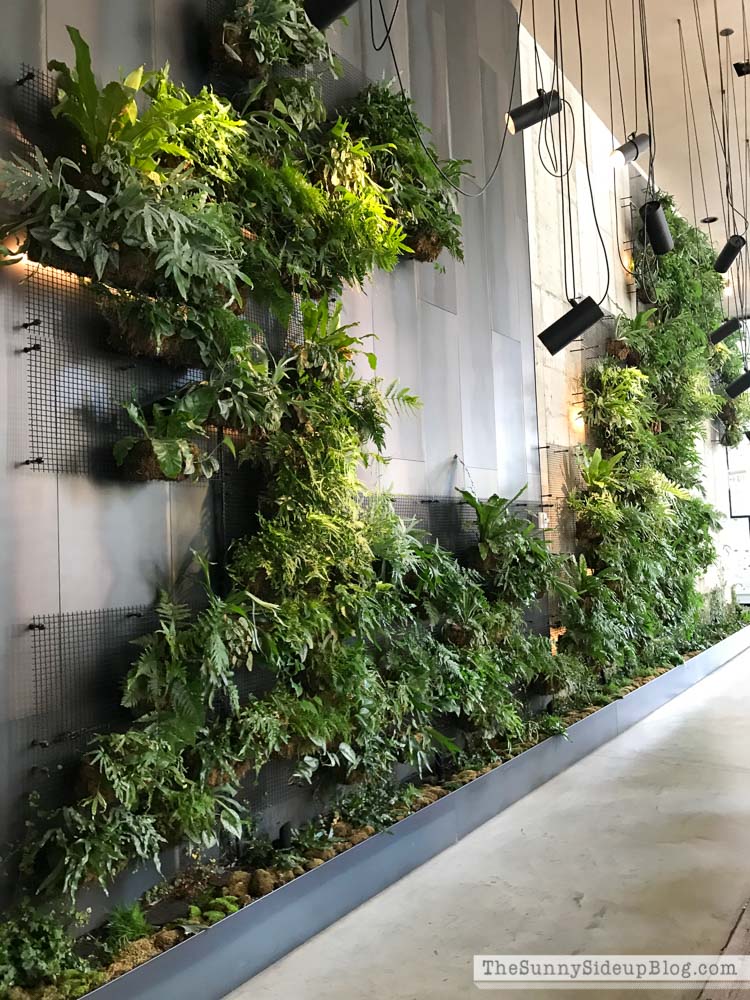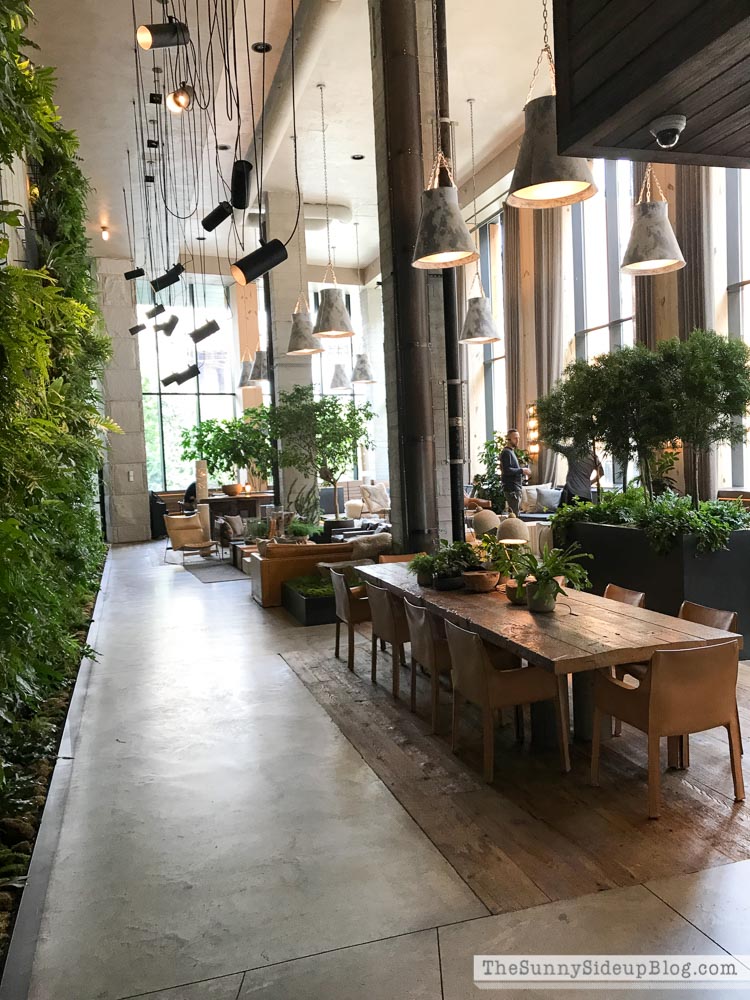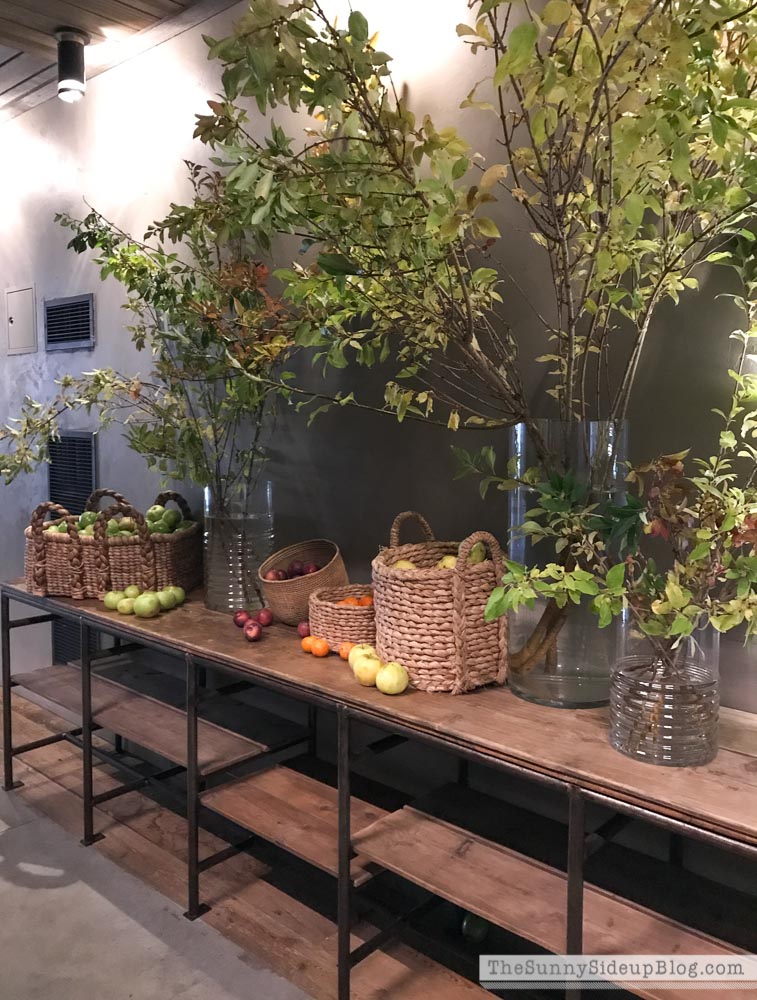 I loved this Fall table display in the hallway that looks an awful lot like the console table and baskets in my family room!  Maybe I need to add some fruit. :)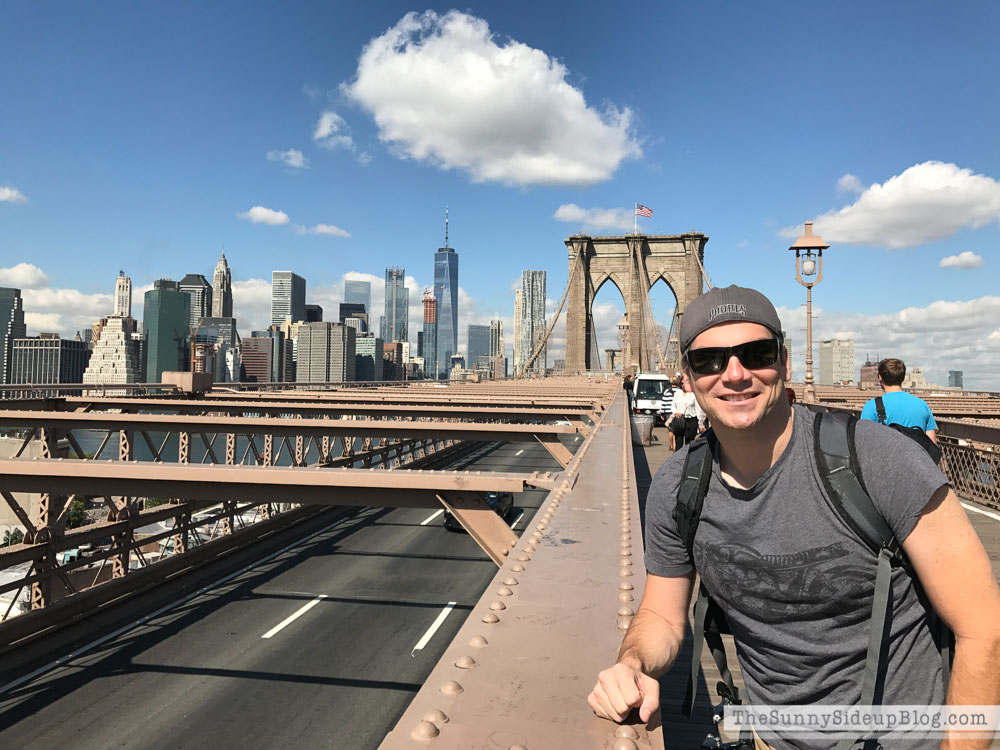 The day after the Better Homes and Gardens Event Kenny and I explored the city and walked the Brooklyn Bridge.  Well.. I walked.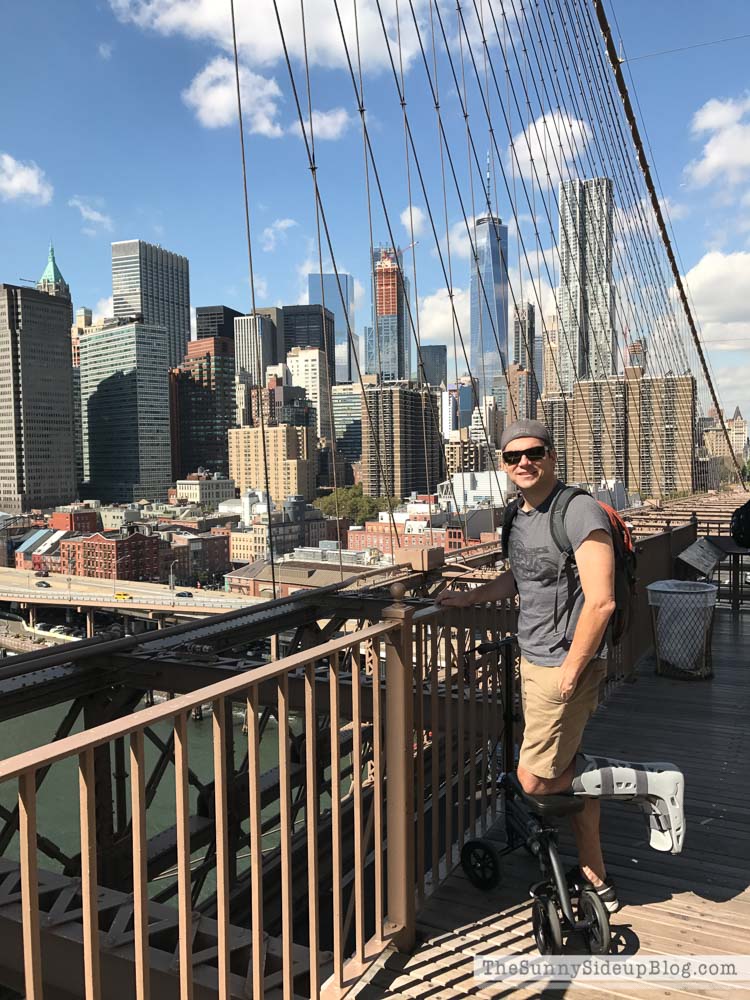 He scooted. :)  He was seriously such a trooper this trip!  I couldn't believe how well he got around the city with that boot on.  I was wishing I had my own scooter half of the time. :)  We had a fun lunch in the city and then went back to the room to clean up for the last night of our trip.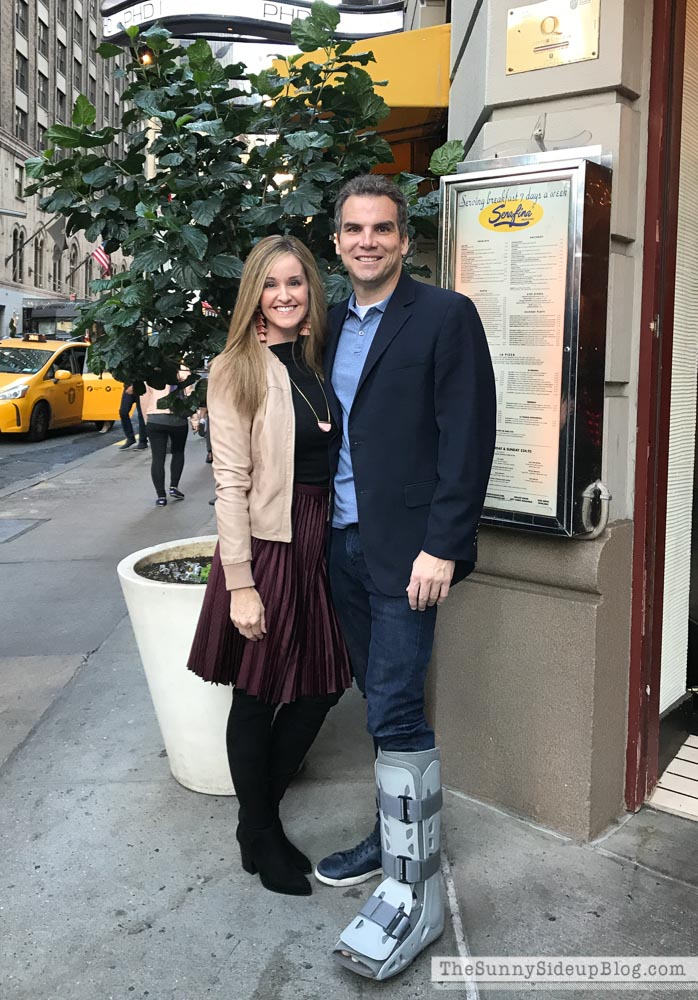 This maroon pleated skirt is one of my favorite finds this season!  I wore it with this bell sleeve tee and these comfortable over the knee boots that carried me all over the streets of NYC. :)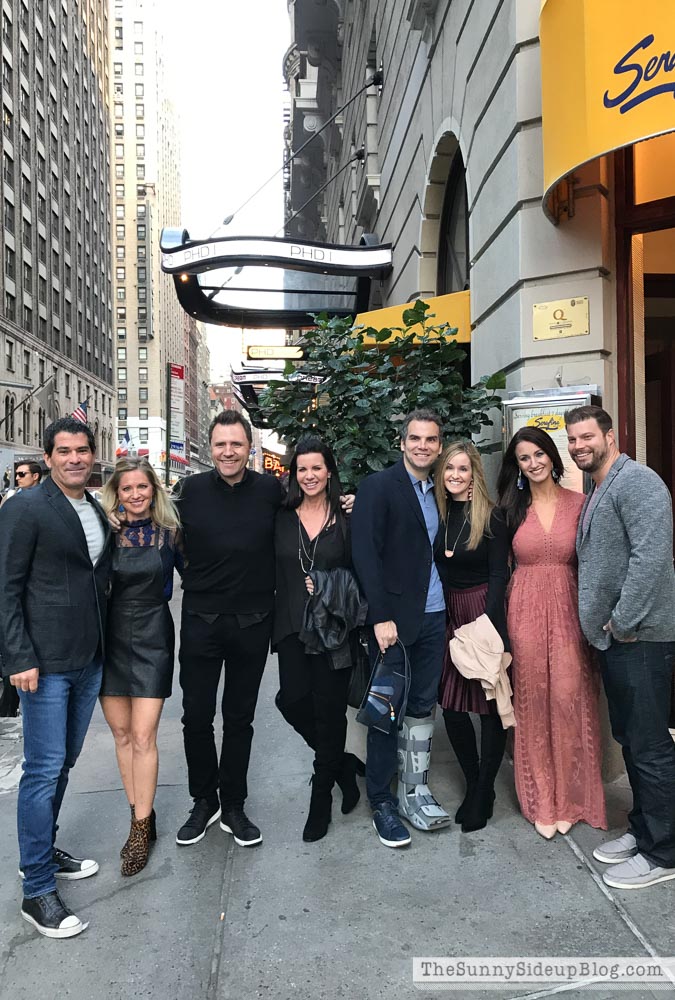 Dinner with four of my friends and their husbands!  We had the best time getting our husbands together this trip!  They were all so much fun.  Jen's cute husband made a toast at dinner "to our blogging wives and our blogging lives…"   Made us laugh.  These guys definitely put up with a lot!  Keepers for sure. :)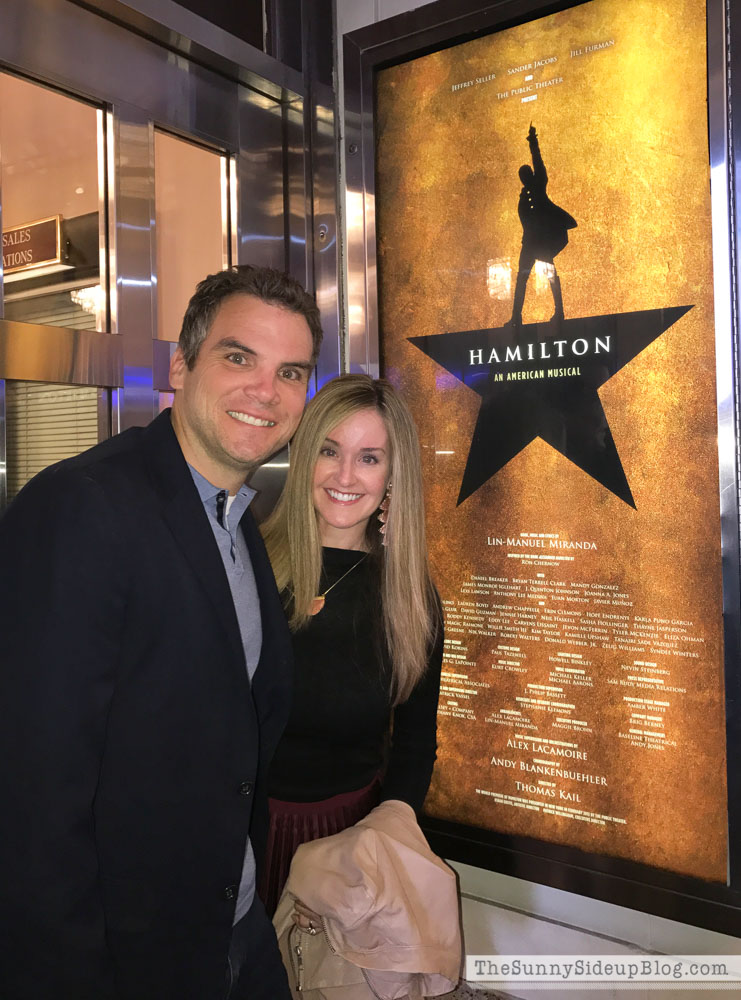 Kenny and I hugged our friends good-bye after dinner and headed straight to the show.. seeing Hamilton was our 20th anniversary gift to each other!  We have both been dying to see it and it was as amazing as everyone says it is!  We took this pic after the show and you can tell I had been crying,  It was just SO good!
We came home Saturday to my two cute parents who were barely standing!  My mom was cracking me up!  Telling me over and over that I'm amazing and how do I do it because she and my dad tag teamed all week and could barely keep up and that I HAVE to stay alive because she could raise my kids if she had to but she really doesn't have the energy and desire to be anything more than grandma and how do I keep my kitchen so clean all the time… Ha ha.. :)  Needless to say they had a great week with lots of special bonding time with my kids but were worn out and ready to pass the baton back over to mom and dad.  We were ready to take it back. :)  So grateful that they were able to watch the kids!  (Can't thank you enough mom and dad!)  We definitely needed the break.
Later the next day when they were back home in Utah my mom called to tell me that my dad wandered into their kitchen and said "I just keep feeling like I need to be picking someone up from somewhere.."
I know the feeling dad.  I know it well.
:)
{CLOTHES SOURCES}







xoxo, Erin