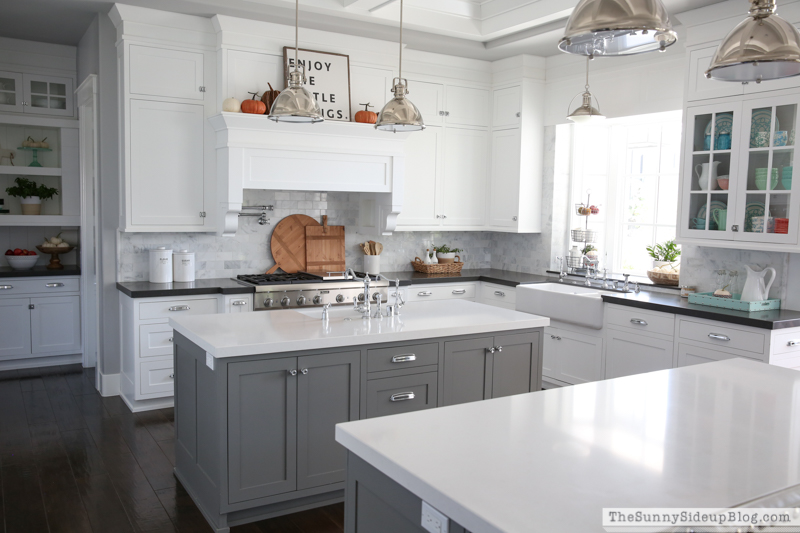 Happy Friday friends!  Made it to the weekend!  YEA.  Today I'm sharing my Fall kitchen decor although I have to warn you.. it's pretty simple.  Hence the title of this post – Simple Fall kitchen decor.  I know.. so much creativity happening already.  We better slow things down. ;)
One reason I keep my holiday kitchen decor so simple is because the kitchen can get so messy throughout the day – and full of other things.  When you have meals and backpacks and mail and all sorts of randomness all over your counter there isn't much room for pumpkins.
So I put my pumpkins up high.  Just a few.  Little things – to enjoy. ;)  The white pumpkins are real, the orange pumpkins are these from PB (they look real!) and the wicker pumpkins are from Home Goods.
Baskets feel cozy and perfect for Fall, don't they?  They will always be one of my favorite things to decorate (and organize!) with.  So much texture.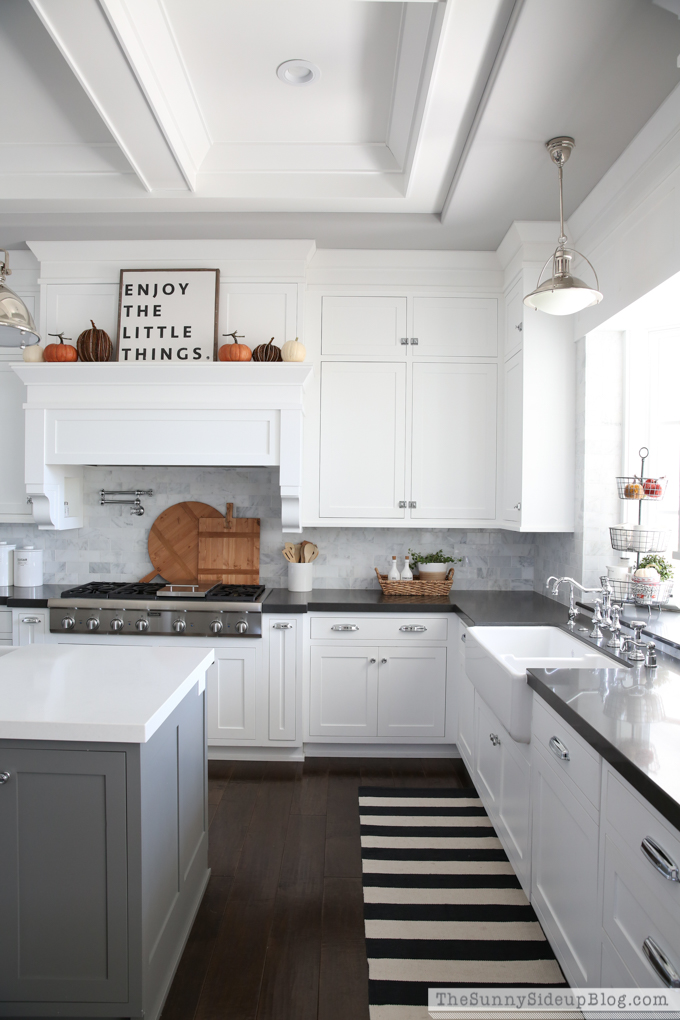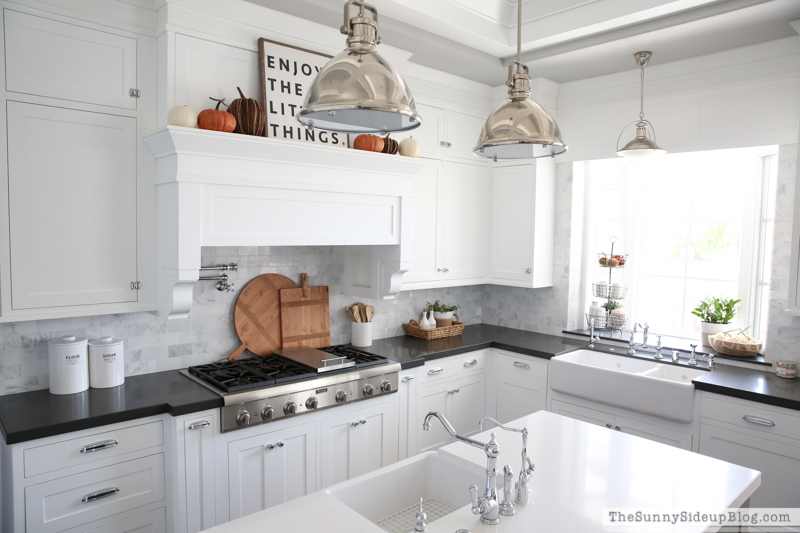 Mini white pumpkins in a wooden bowl?  YES.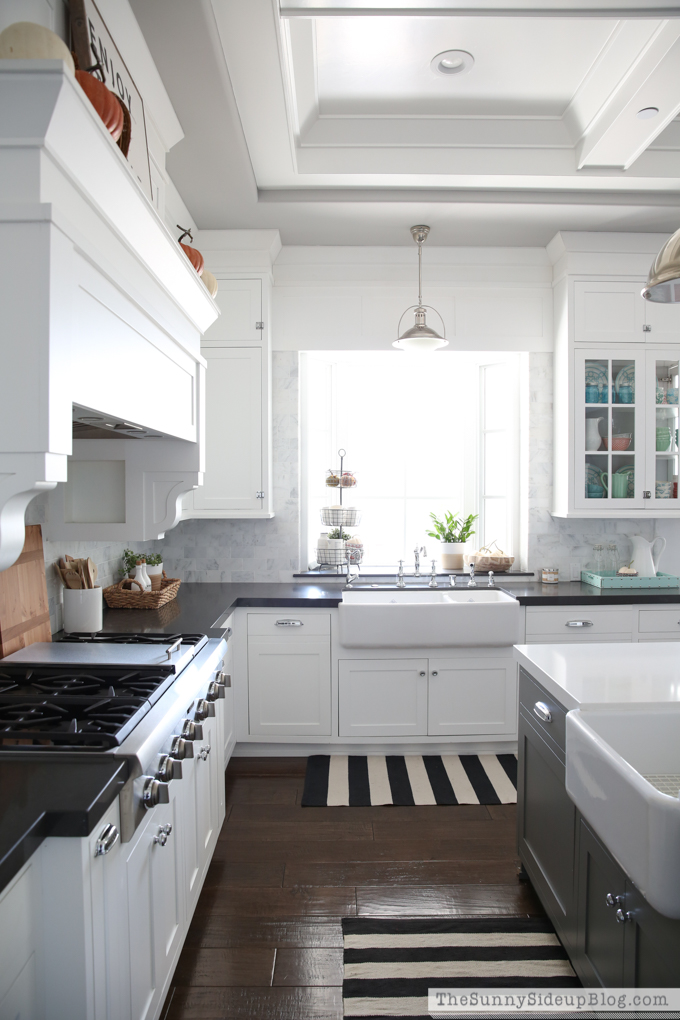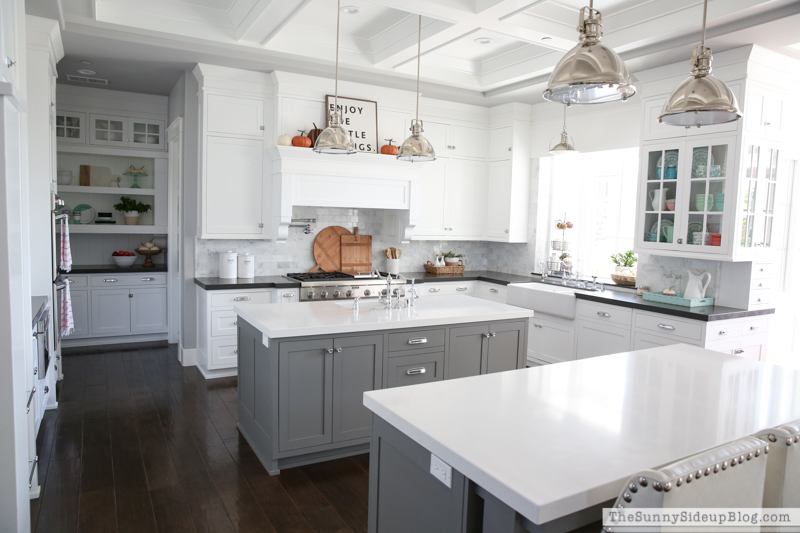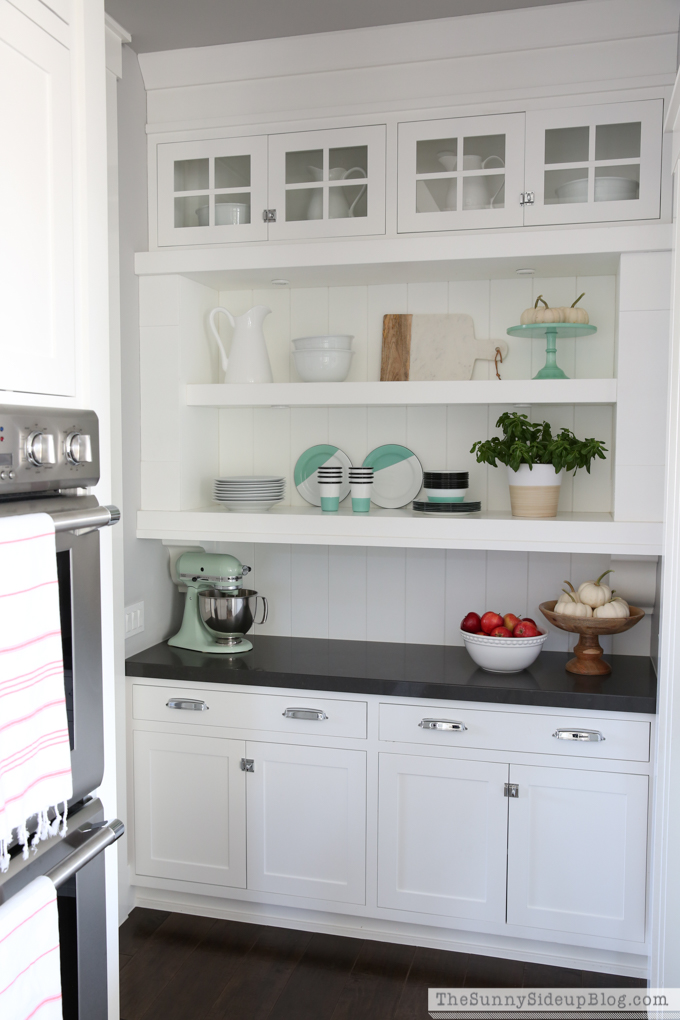 Mini white pumpkins in the butler's pantry?  YES again.  :)  We use our Barn Light Electric dishes a lot so I wasn't quite ready to switch those out.  My plant next to them amuses me.  Regardless of where I put this plant in my house and regardless of how much I water and baby it, it seems to just do whatever it wants.  So moody!  One minute it's happy and vibrant and full of life and the next minute it's drooping and sad.
Kinda like a certain 13 year old I know. ;)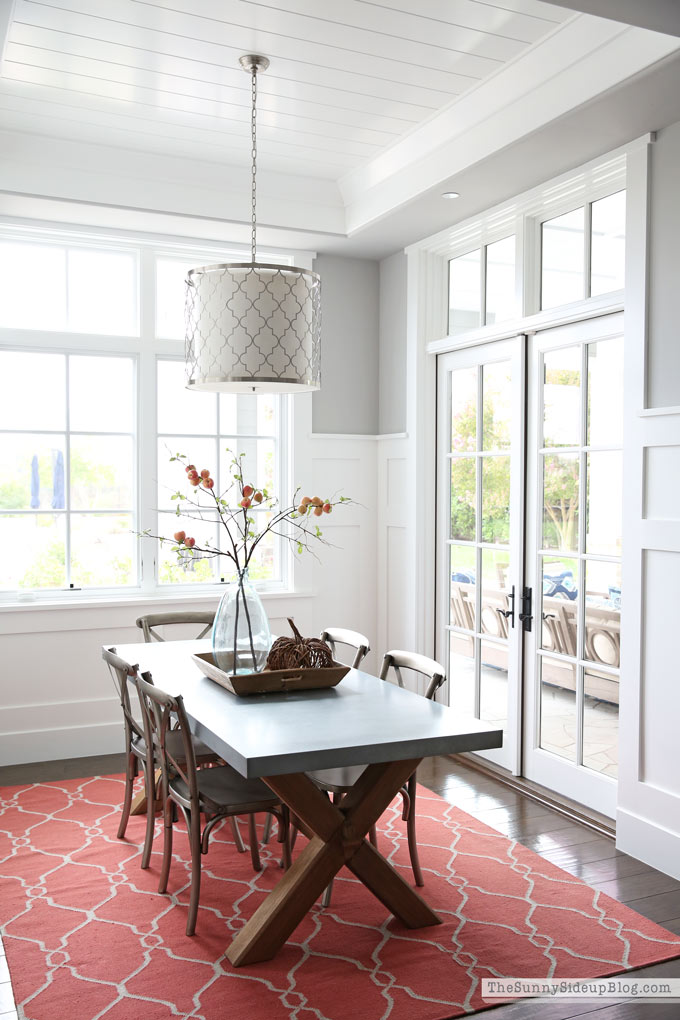 Simple faux branches in the dining nook.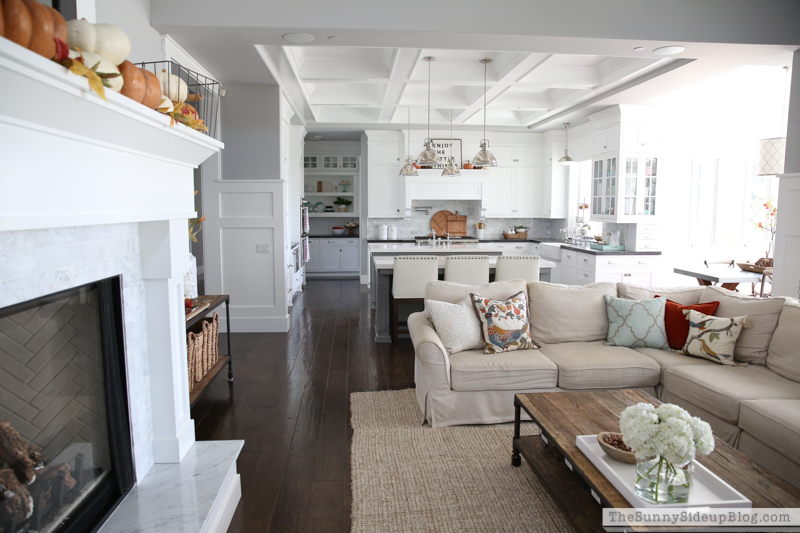 View from the family room.
I've had so many questions about the pumpkins on my family room fireplace mantel – whether they are real or fake.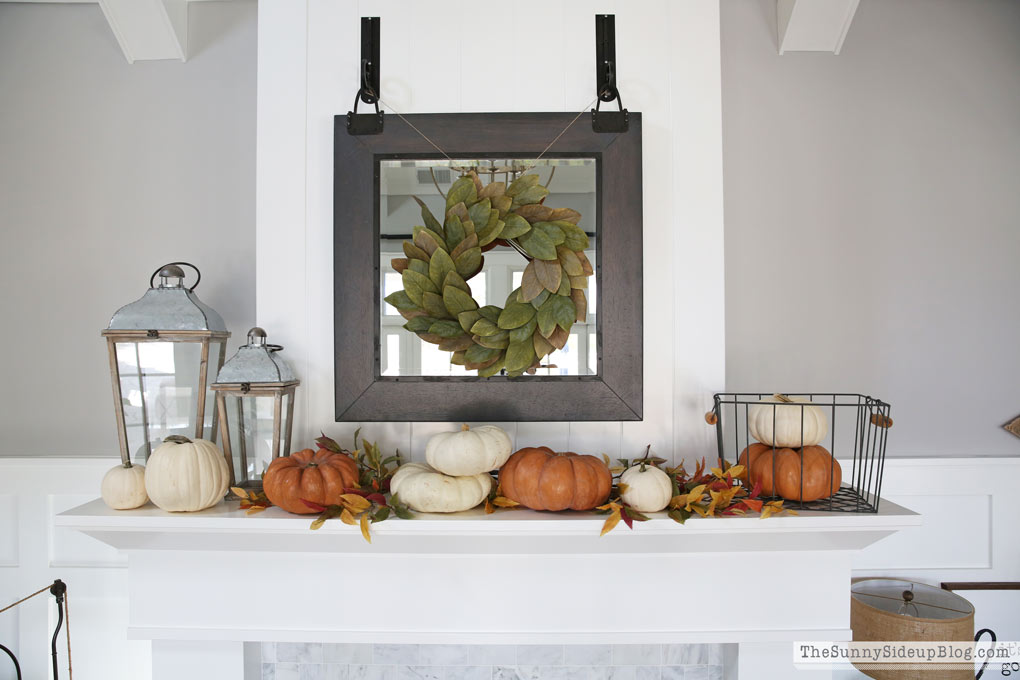 All real pumpkins on the mantel!  With faux leaves around them (similar here).   I use a mix of real and faux this time of year to decorate (just like I do with flowers) and I've found that if you do that everything starts to look real.  It's quite a trick. There I go with all that creativity again. ;)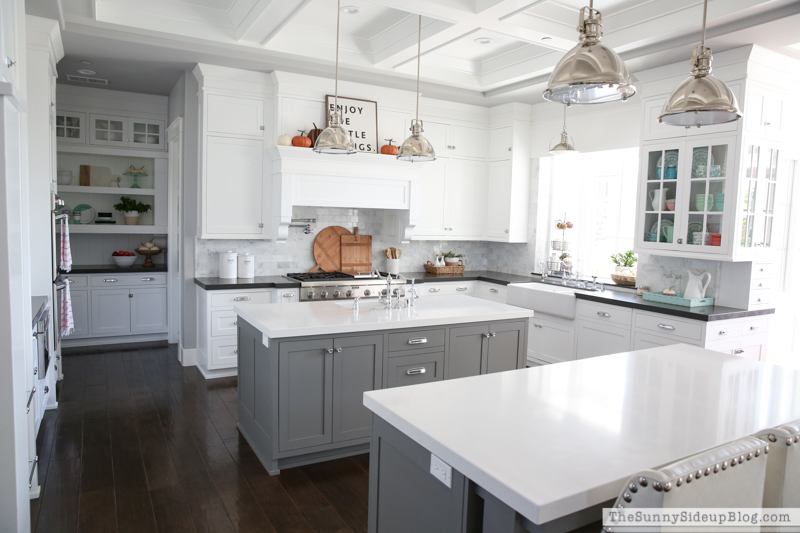 Simple Fall kitchen decor.
I really love this time of year.  It kind of feels like the calm before the storm, doesn't it?  Peaceful and serene, even though something is brewing just below the surface.  ;)  Don't get me wrong.  I love that storm.  I look forward  to it all year.  The great big crazy Christmas storm.
But the calm before the storm is pretty nice too.  Inviting and cozy.  Like a lived in, well worn couch.
I'm soaking it up as much as possible.  And hope that you are too.
:)
{KITCHEN SOURCES} – affiliate links used






xoxo, Erin