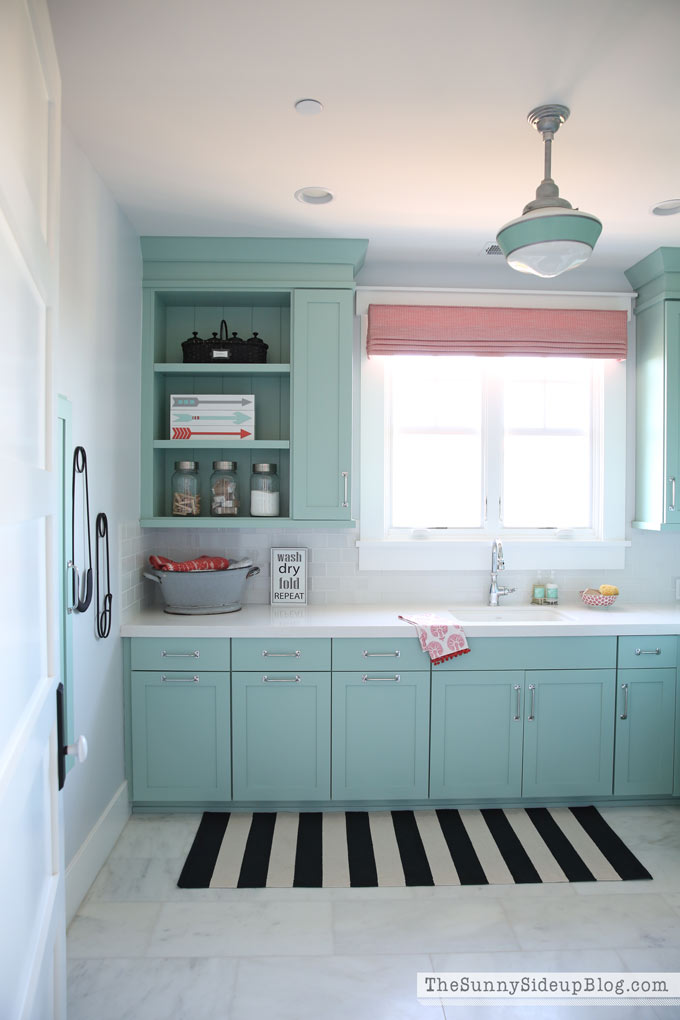 Happy Monday friends!  Remember my upstairs laundry room?  And how in my first post about this space I told you all how excited I was when I found my light fixture on-line?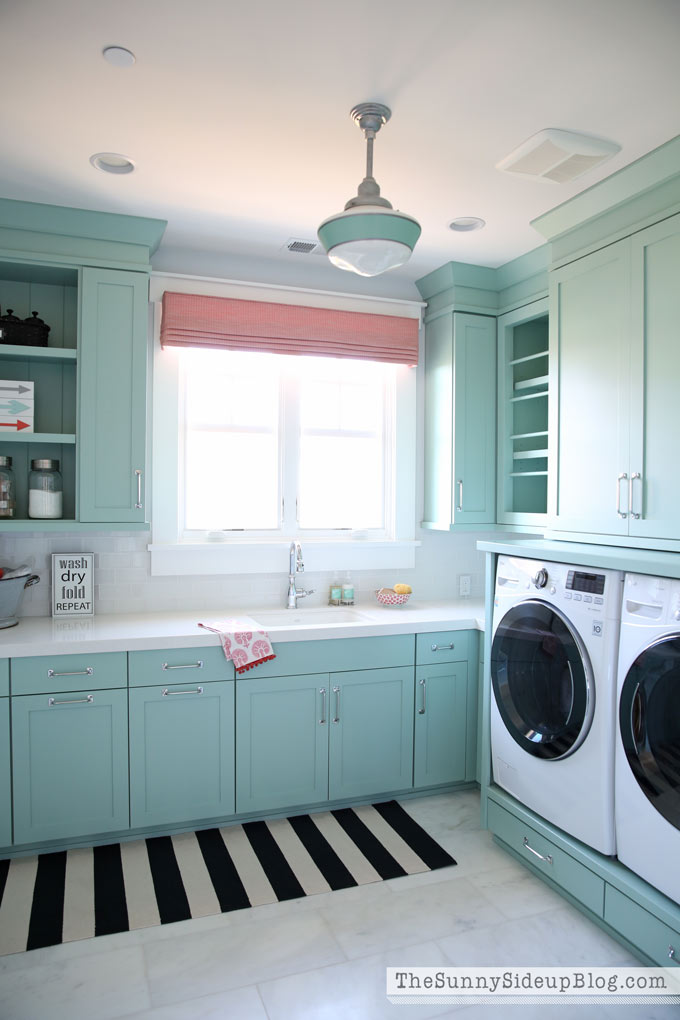 I went on and on about the fun schoolhouse pendant that not only gave me the look I wanted in this space but also came in the exact shade of green that matched my cabinet paint perfectly.  The day this light fixture arrived at my house was a very happy day. :)  I ordered this light from an on-line store I've loved for years called Barn Light Electric and couldn't be more excited about partnering with them on this post!  When they reached out to me to collaborate I had a major pinch me moment because I seriously LOVE their products.  Their Primary School House Stem Light in my laundry room has always been my favorite part of that room.  I was able to pick out a couple of fun things for my house from their website (like I said.. pinch me!) and I'm excited to show you what I chose and how I'm using it in my house!
Does it surprise you I headed right to my favorite color combo again? :)  I can't get enough Jadeite in my life.  And white with a black stripe?  Perfection.  Barn Light Electric started carrying Porcelain, Enamel and Copper Dinnerware a while ago and I've been eyeing this Dipped Enamel Breakfast Set for so long!
Major upgrade from the plastic Target dishes we've been using for breakfast since my girls were toddlers. :)  I love that they are enamel because aside from their fun vintage look, they won't break!  My kids are older now, but I still try to avoid glass dishes in the kitchen when I can.  Plus my dad always had an enamel set of dishes in our camper we camped in as kids growing up so they bring back fun memories for me.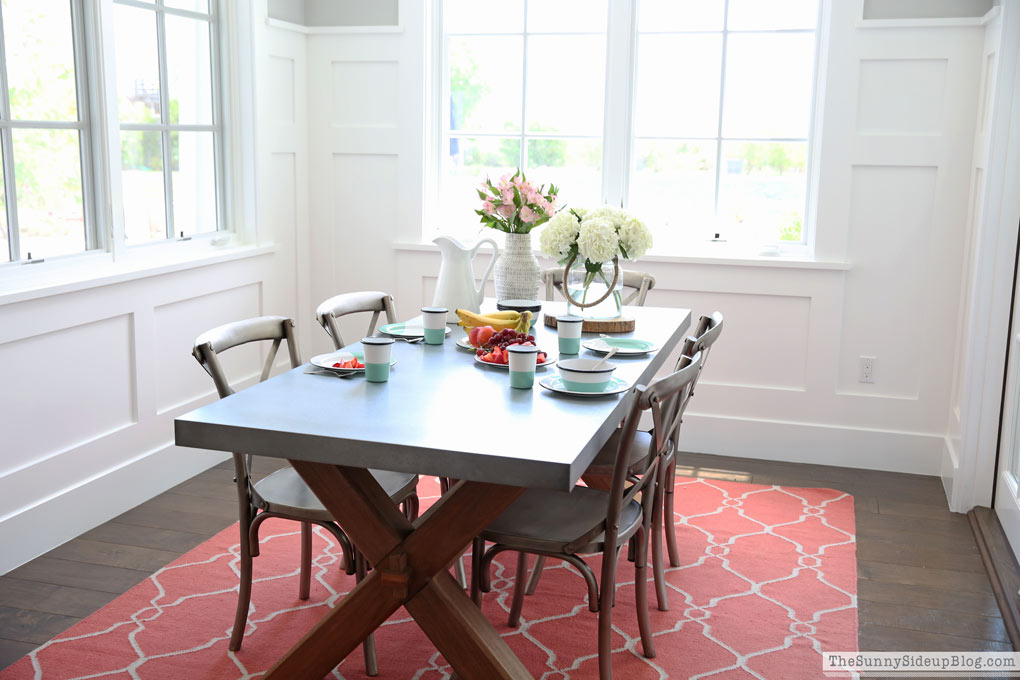 We've been using them for breakfast this summer and have loved them.  This is a typical look at breakfast at our house most mornings.  Except for all of the flowers that are usually in my family room.  I brought them in for all of you. ;)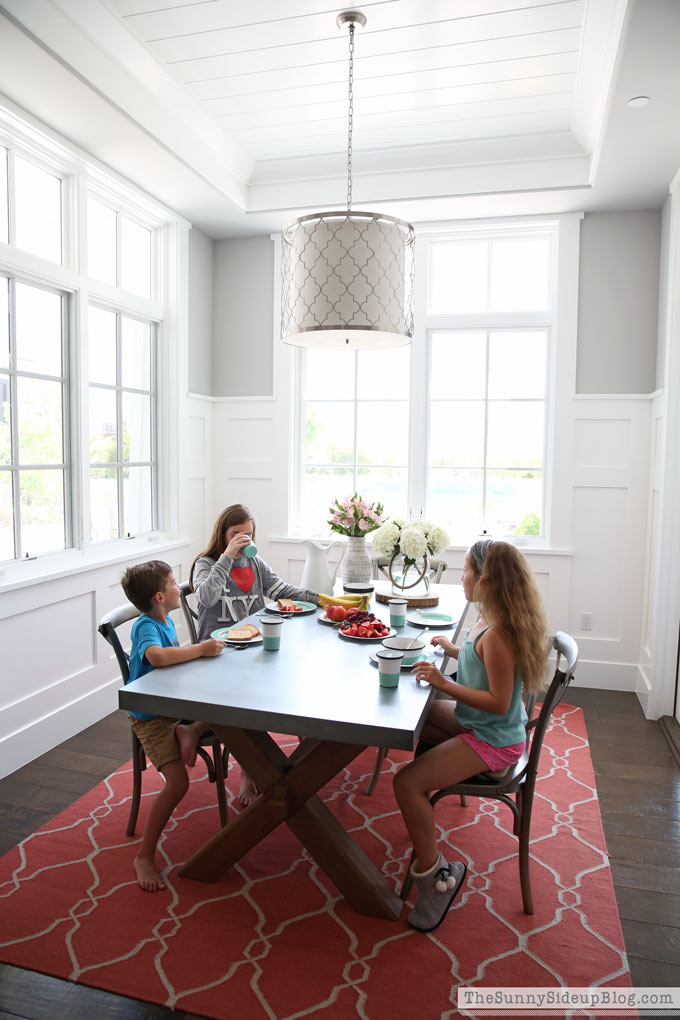 El and Kole always want fruit and toast (Kole's with cinnamon!).  Ad is my cereal girl.  Some mornings if my husband has time he makes scrambled eggs or pancakes.  Once in a while I attempt scrambled eggs or pancakes, but that usually ends with pancakes that are too doughy or scrambled eggs that are half burned so when I'm in charge I often stick to cutting up fruit and toasting the bread.  On cute new enamel dishes.  ;)
When I started snapping these pictures I told my kids "ignore me and just eat your food.. act like you usually do at the breakfast table."
So they did.
What I should have said was "ignore me and just eat your food.. but instead of acting like you usually do at the breakfast table, sit up and pretend like you have manners."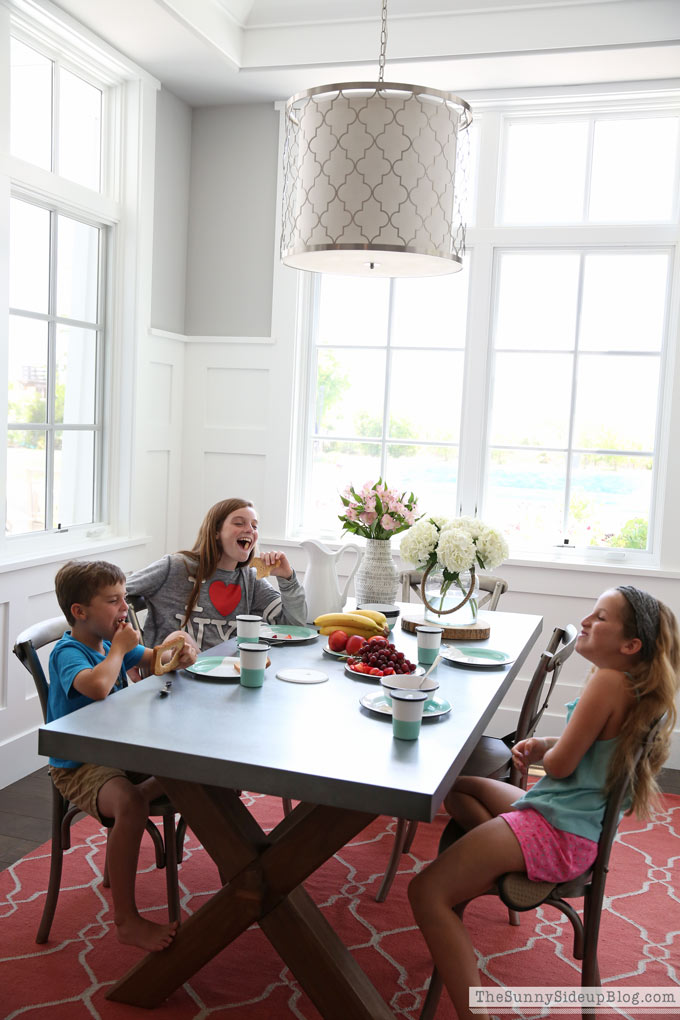 Manners?  You mean like not putting elbows on the table and chewing with mouths open and cutting out shapes in our bread (because heaven forbid we eat the crust!) and laughing hysterically at who knows what.
Yeah.. bad plan to tell them to act normal for these pictures.  Ha!  They don't know it yet but after sorting through 20 pictures that look just like these I've decided we're starting table etiquette 101 at breakfast tomorrow morning.  Thank goodness my teaching skills are better than my cooking skills.  There's no hope for my doughy pancakes but there's still hope that these three will turn out ok. ;)
While using my new dishes for breakfast every morning has been fun, what I really love is how cute they look styled on my butler's pantry shelf!  I wanted to re-style these shelves for summer and they make perfect accessories.  So fresh and clean and I love just pulling them off this shelf to use each morning.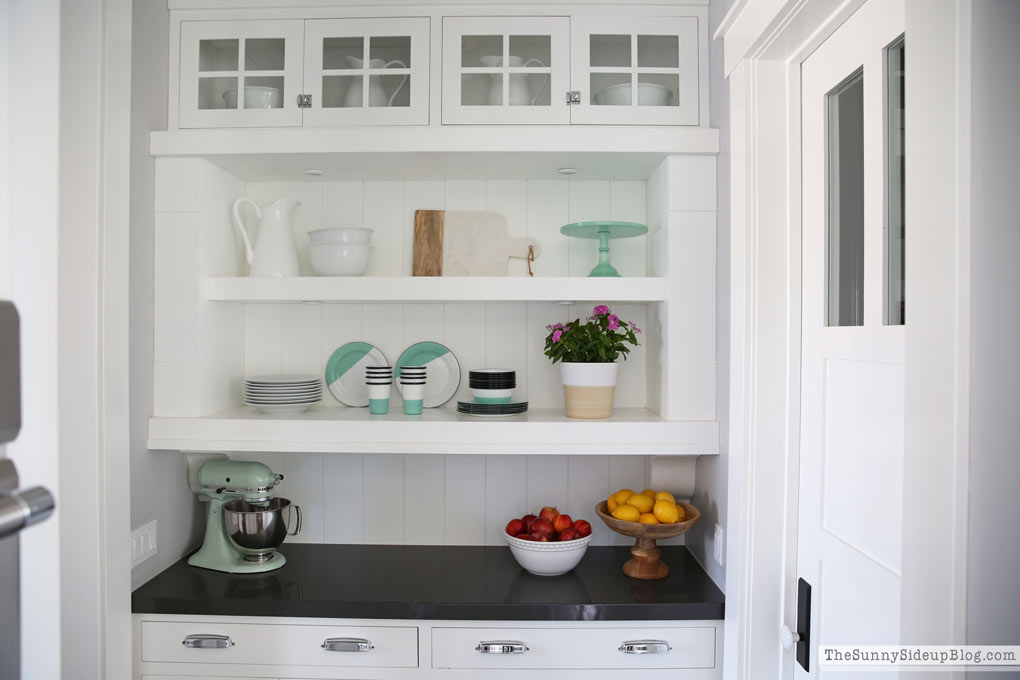 I kept the rest of my shelf decor simple.  Lots of white and a fun plant for summer.  Lemons always. :)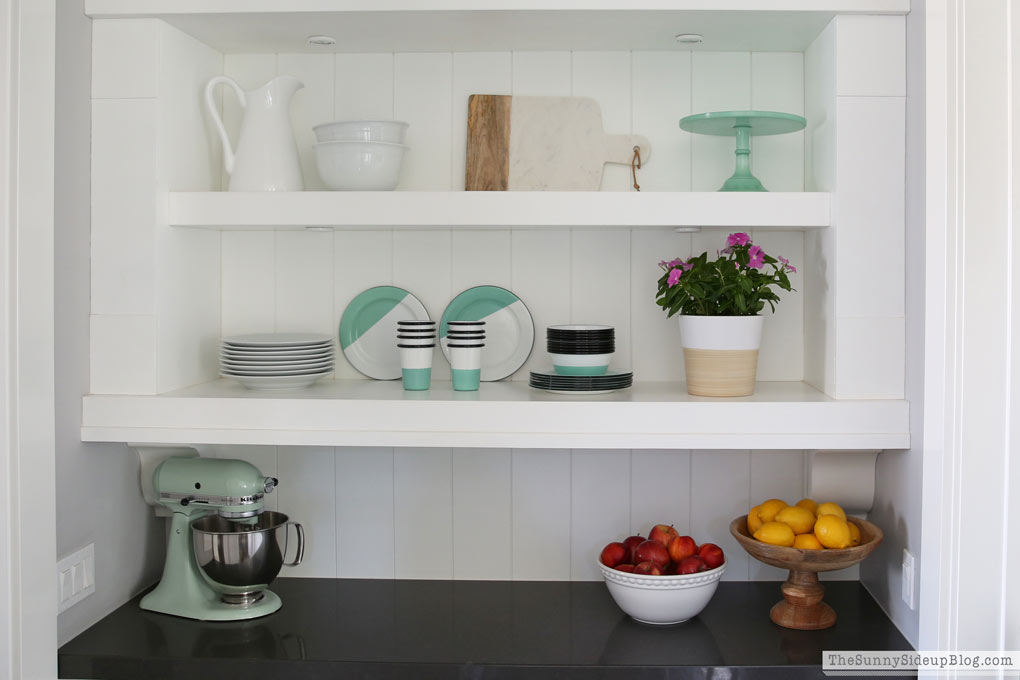 I wanted the jadeite set to match the other jadeite in my kitchen but these dishes come in so many colors!  That's one thing I love about everything Barn Light Electric sells.  Most items come in a large variety of colors so you can get a custom look for your home.
Want to see what else I picked out that I'm so excited about!?
Lamps for Kole's room!  Oh my word.  I couldn't love these lamps more!  I actually knew I wanted lamps from Barn Light Electric for his room from day one before I even started decorating this space, but I kept debating color and style and just hadn't pulled the trigger on ordering anything.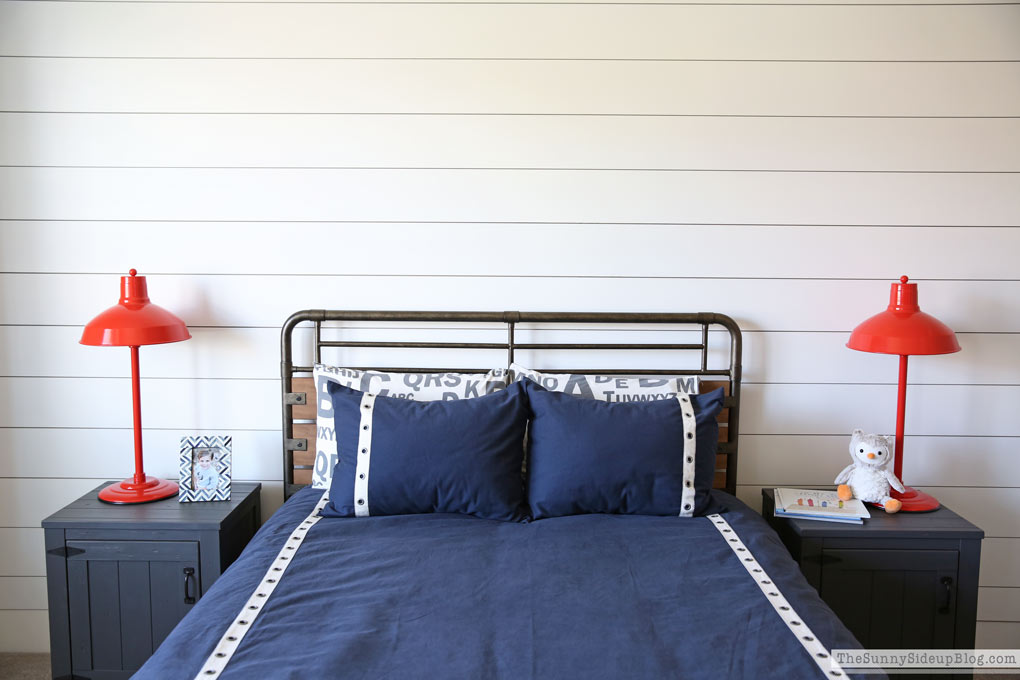 Once I decided his room would be navy and gray with pops of orange I knew the direction I wanted to go with the lamps.  This collaboration couldn't have come at a better time because I've just started accessorizing his room and was ready to order!  I chose two Drake Retro Desk Lamps in orange.  I was a little worried about the orange being too red of an orange so they sent me a sample of the color (they have amazing customer service!) and then I could tell it was perfect.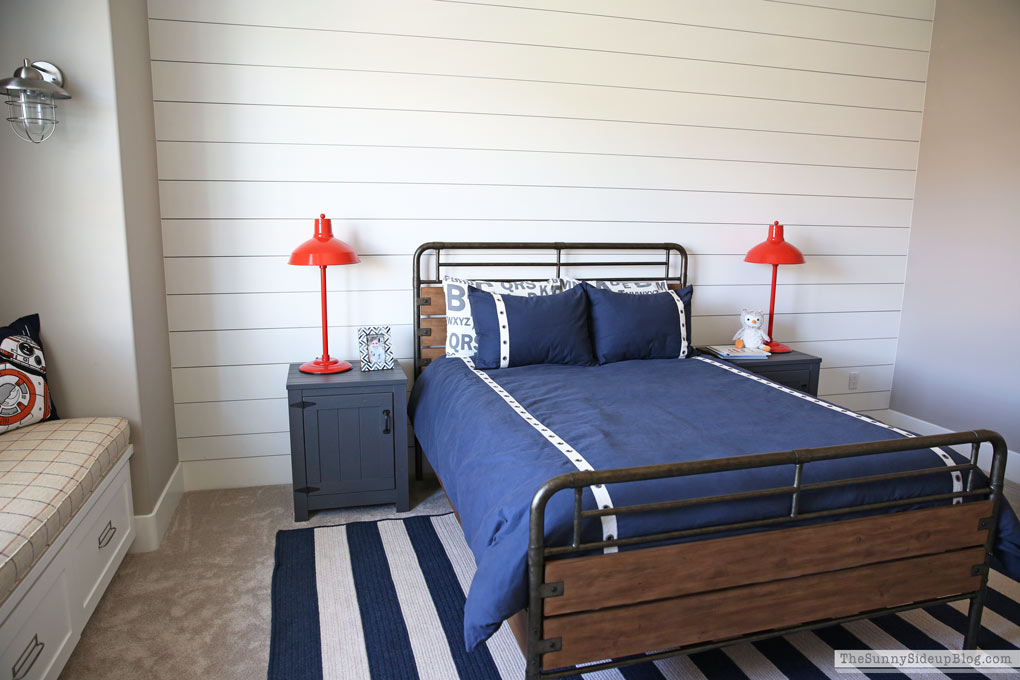 You can really customize these lamps.  I ordered the largest stem and the largest shade because I wanted the lamps to stand out and I knew I had plenty of wall space, but you can get them in a smaller size.
They are huge in person!  And amazing quality.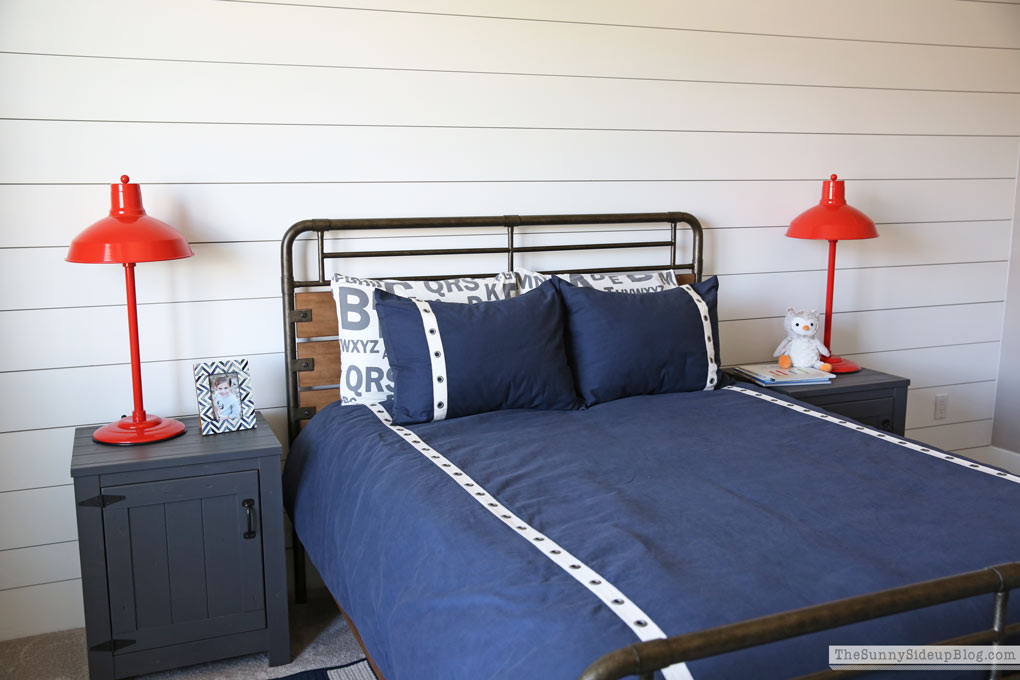 I honestly couldn't love them more.  They give Kole's room such a fun pop of color.  Exactly what this space needed!  Kole loves them too.  We have been reading The Magic Treehouse series together every night with his new lamps on. :)

I have a few more fun things I'm adding to his room soon so I'll keep you posted on progress!  You can see my first post on his room with sources here.
Huge HUGE thank you to Barn Light Electric for sponsoring this post!  I just couldn't love their products more.  You have to check out their wall sconces (I've got a major crush on this copper gooseneck light at the moment!) and all of their ceiling lights.  Too much fun.
Alright.. signing off for now!  I need to get some rest since I have a serious date with my kids in the am at the breakfast table.
;)
*This post was sponsored by Barn Light Electric but all opinions and thoughts expressed are my own!  Love them. :)    
xoxo, Erin