Hello friends!  How is your week going so far?  Good I hope.  Summer is moving right along isn't it!?  Part of me wants it to slow down and then there's another part of me that is getting excited to have a little structure back in my life.  That part of me usually hits around 7:00 pm after a full day of entertaining kids when everyone is tired from fun in the sun and Ad and Kole start arguing over who started their previous argument first.  Ha.  Good times. :)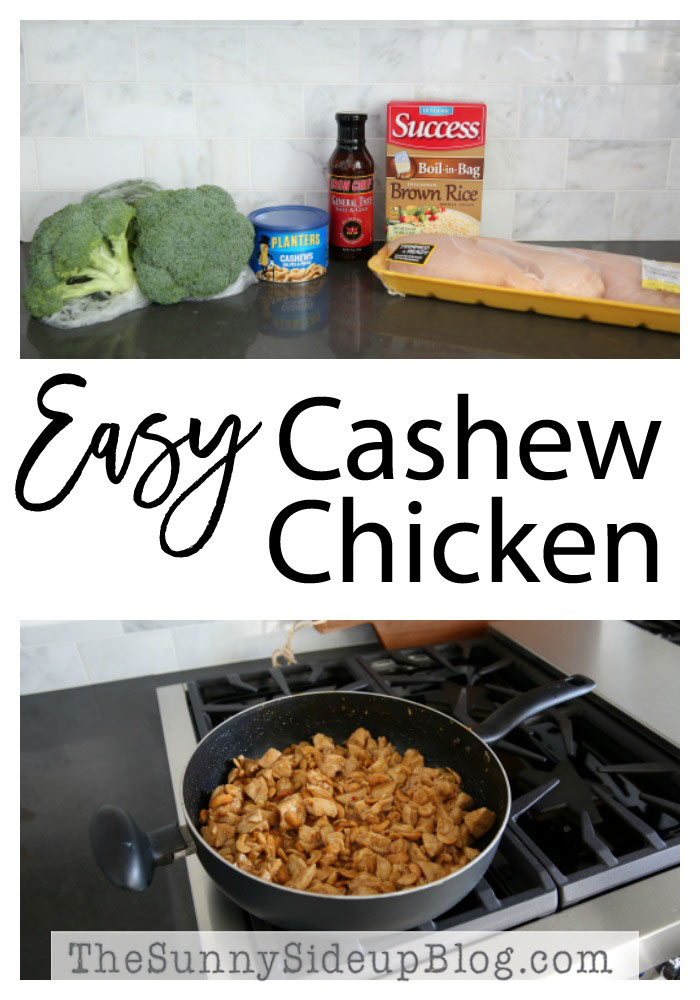 Last month I shared a favorite recipe with you all (our Easy Cashew Chicken) and you were so sweet!  E-mails came pouring in from so many of you who have tried it and love it and are adding it to your family's favorite recipes.  Seriously that made me so happy to hear!  That a non-chef like me could make dinner time just a tad easier for someone. ;)  So I'm going to try to share more favorites like that with you all.. maybe one a month?  By the end of the year I'll have shared everything I know how to cook.. ha. Kidding!  Kind of. :)
When we were in SLC over the 4th a few weeks ago, aside from acting like a dork with my husband.. (seriously what is this pose!?), my sister and I cooked up a huge feast.
Well.. I shouldn't say my sister and I cooked.  She and her husband cooked up a huge feast and I assisted as is usually the case with family get togethers.  I always get the "chop this Erin" or "stir this Erin" or "entertain the kids while we cook Erin" types of jobs.  And they work just fine for me. :)  This year I begged my sister to make the Feta dip she makes every year when we are all together over Christmas.  I was craving it!  It's SO good you guys.  And so easy to make.  I snapped some pictures along the way to show you all how to make it too.  If you haven't had this yet you have to try it!  Btw.. my mom snapped this picture of us looking so triumphant just before we broke into a laughing fit over something like we usually do.  Isn't my sister's kitchen cute!?  Her home is so modern and fun.  I shared some other pics of her house in this post if you want to check it out.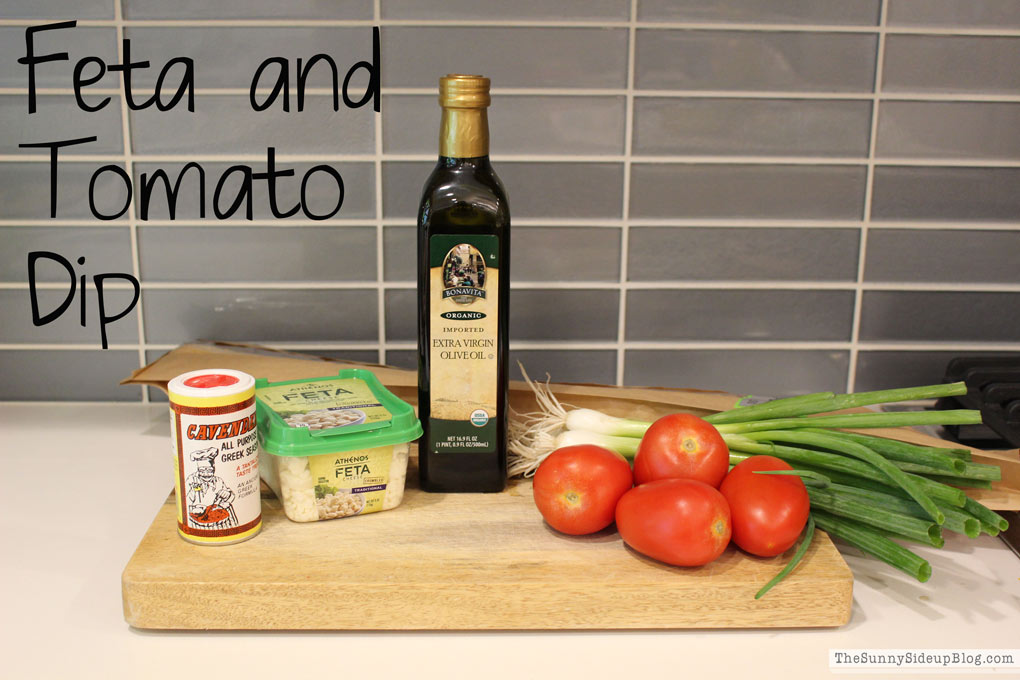 Ok.. I'm calling this Feta and Tomato Dip for obvious reasons.  All you need is Olive Oil, Feta Cheese, Roma Tomatoes, Green Onions, Greek Seasoning and a fresh Baguette.  My sister has been making this every December for over 10 years but found it on-line so we didn't invent this!  We just love it. :)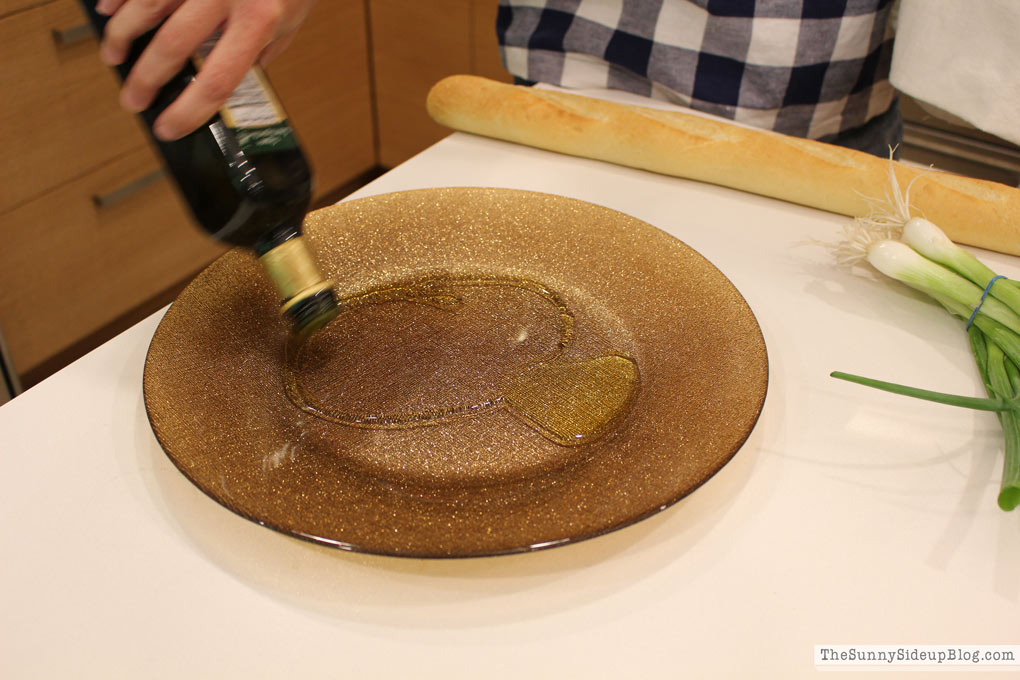 I'll show you how to make it step by step since that's how I need to see all things recipe related. :)  First!  Pour some Olive Oil onto a platter.
Then chop your tomatoes.
And put them on top.
Dice the green onions..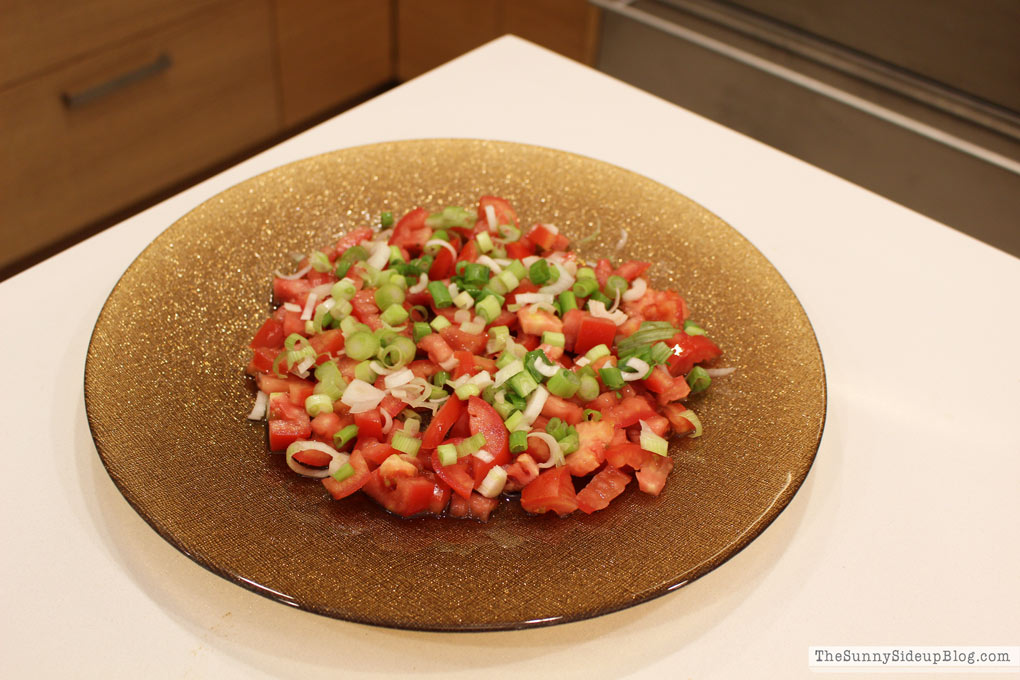 And add those too.
Stop and take a quick picture of your cute niece because whew!  A lot of cooking has been going on and we need a break to do something fun.. like photography.  ;)
Add the crumbled Feta and then sprinkle the Greek Seasoning on top.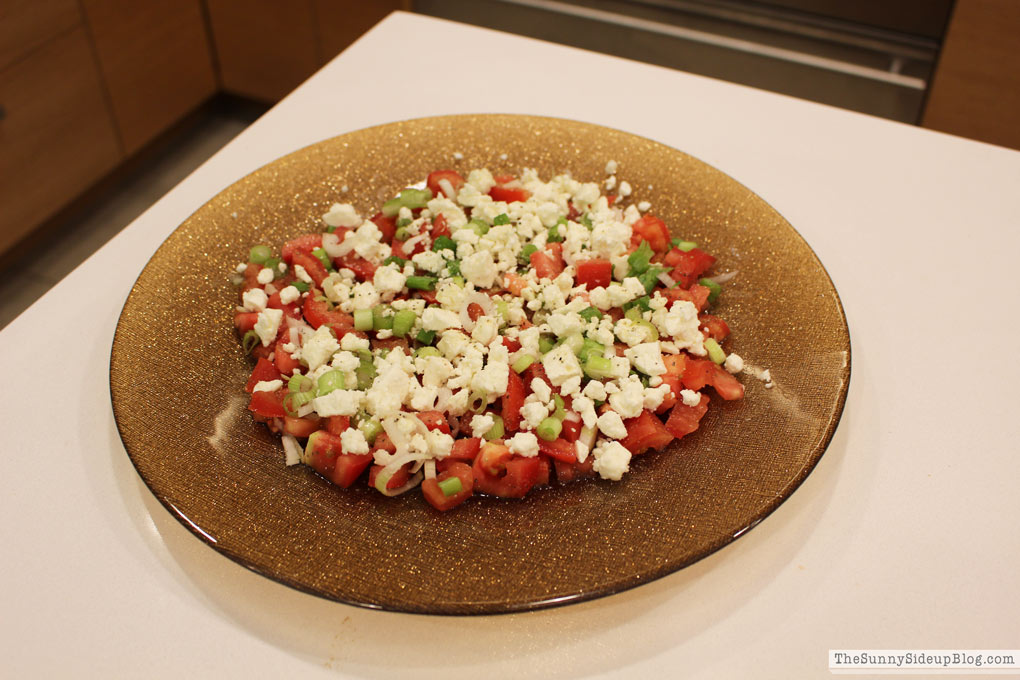 That's it!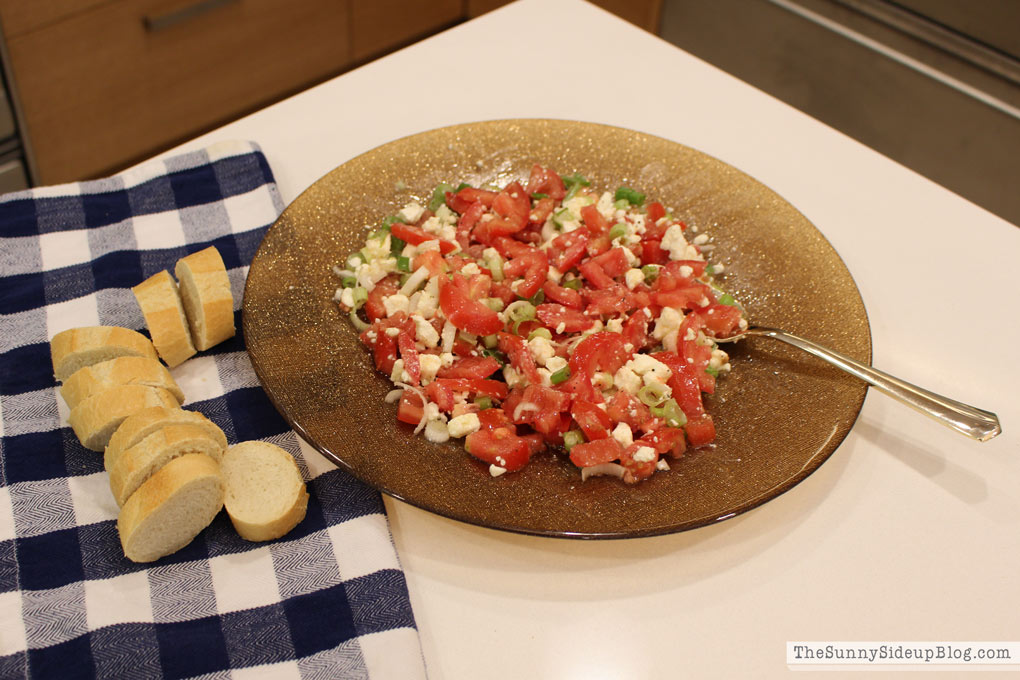 Stir it up and serve with slices of fresh bread.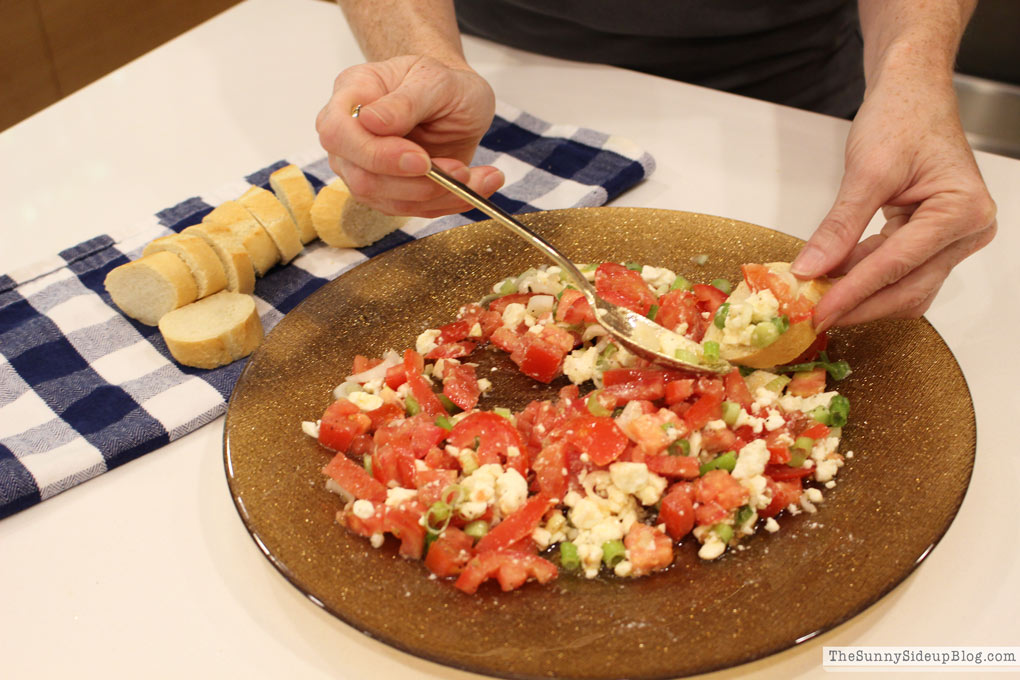 Is your mouth watering yet!?  It's SO delicious you guys!  And I don't even love tomatoes.  But I LOVE this dip.  I could eat it all day long.
If this is a new recipe for you I hope you enjoy it too!  (Thanks for letting me share it Car!  And for making it every time we're together after I beg you to..) 
Now.. time to make breakfast for my kids.
Feta and Tomato Dip anyone?
:)
xoxo, Erin