Ahhh! Today's the big day my fashion loving friends! The Nordstrom Anniversary Sale is officially open to the public!  Everyone can shop the sale regardless of whether or not you have a Nordstrom card.  Oh happy day. :)  If you enjoy my organizing/home decor posts more than the fashion, fun stuff is coming next week!  But this is an exciting day for those of us who love a good peep toe bootie that's on major sale. ;)  Especially when it's new Fall stuff that's marked down!  Oh how I LOVE this sale!  I've already shared a lot of my favorites in this post and this post, but I have a few new things to show you and wanted to do a quick round-up of my favorites in each category to celebrate the official opening of the sale!  I hope this makes your shopping easier.  Remember that if something you love or the size you need is sold out to check back.  Things get re-stocked often during this sale.  I've already seen a few of my favorite items get re-stocked and then sell out again.  Crazy!  But fun crazy. :)  Here are my favorites from the 2017 Nordstrom Anniversary Sale!
(Huge thank you to Nordstrom for sponsoring this post!  Affiliate links used.)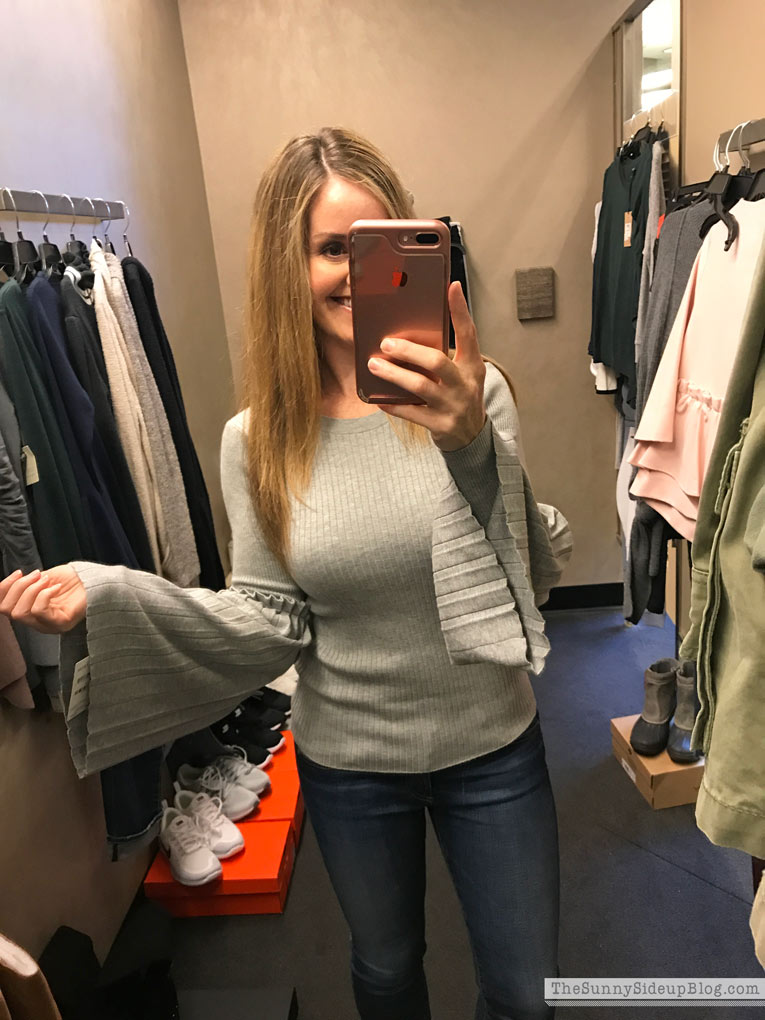 The sweaters this year were my all time FAVORITE!  Bell sleeves and ruffles are big for Fall.  I loved this Bell Sleeve sweater so much I came home with it in gray and navy!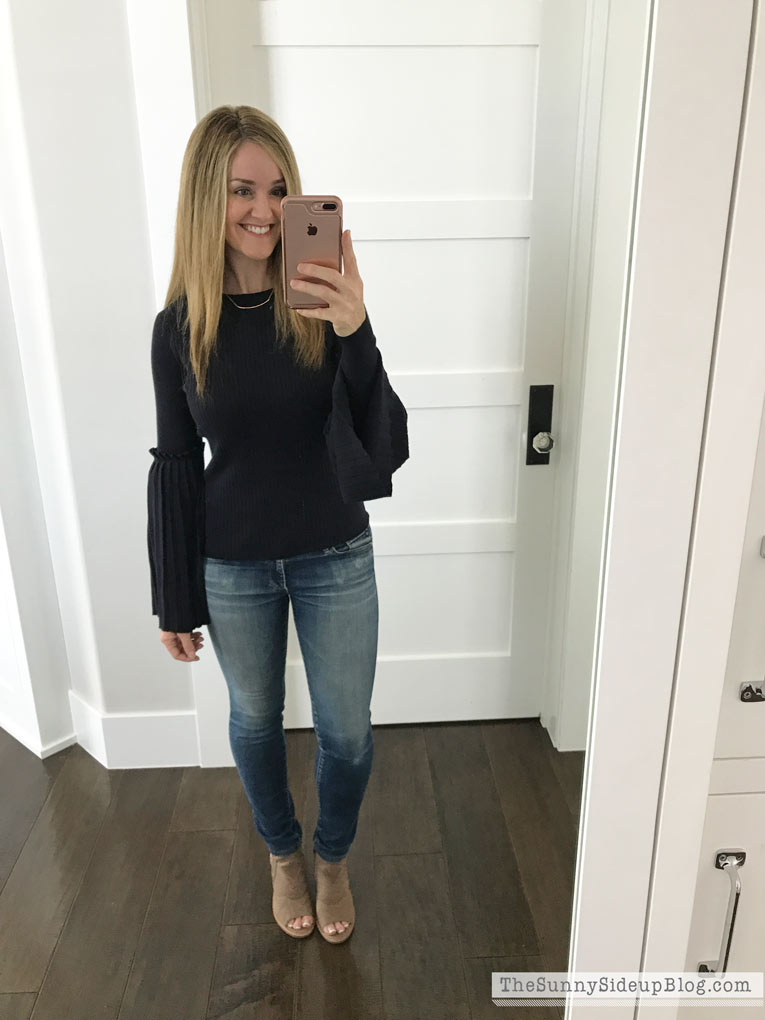 This is the navy.  I need to take one back and can't decide!  SO cute.  Whenever I'm debating 2 options during this sale I always buy both!  Returns are a breeze at Nordstrom and things sell out so fast it's better to just get what you want now and return later.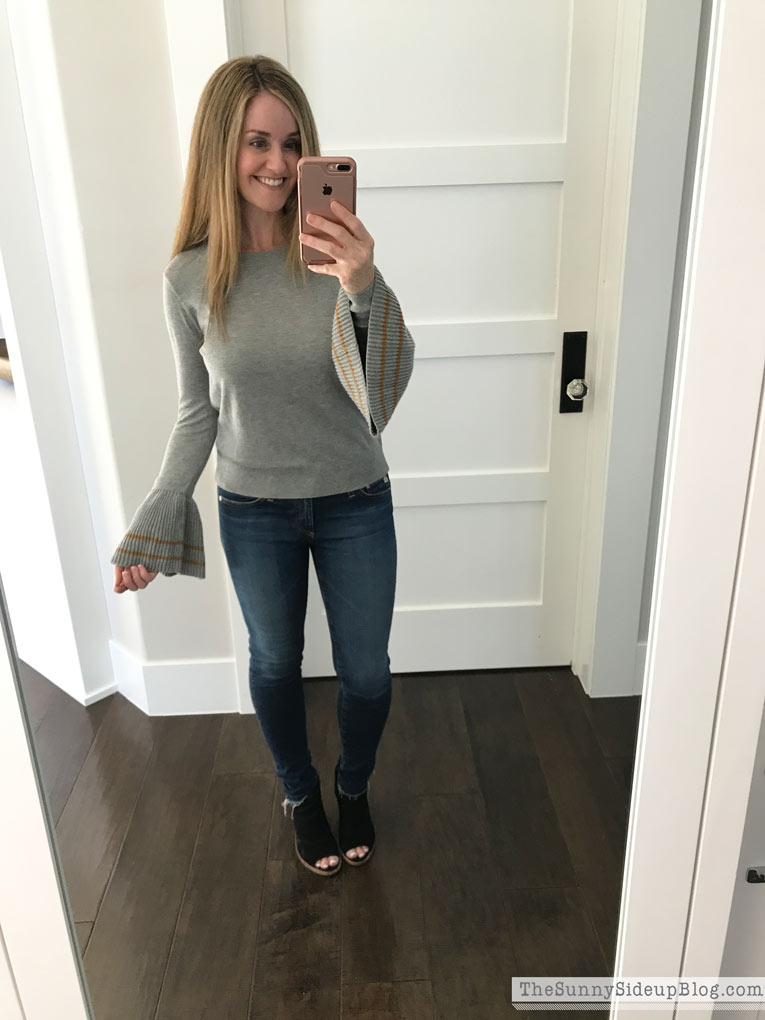 This Ruffle Bell Cuff Sweater is a favorite I came home with that I don't think I've shared yet.  It's just $31!  And so cute.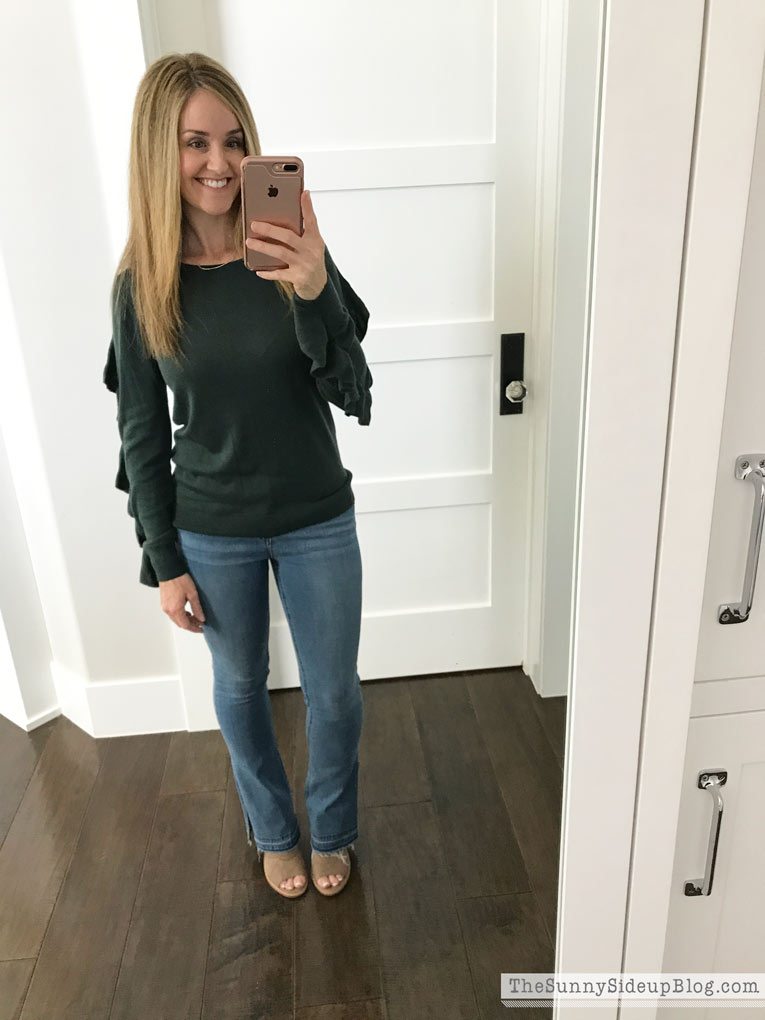 This Ruffle Sleeve sweater is one I know I will reach for over and over this Fall/Winter.  So comfortable!  Comes in lots of colors.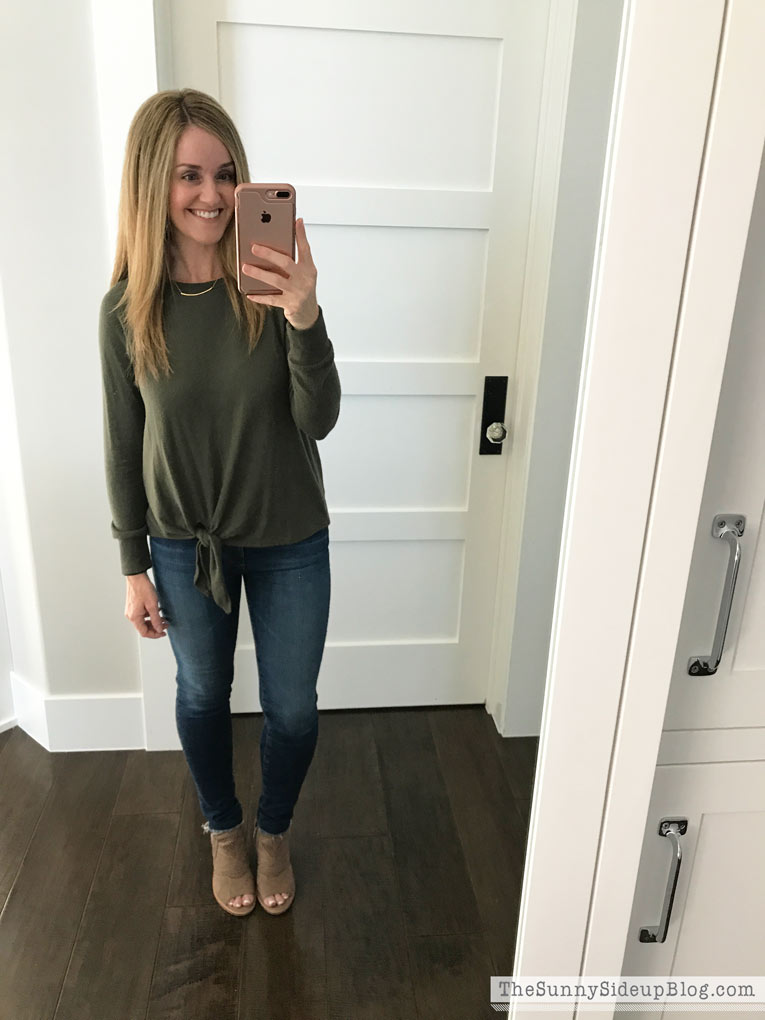 Same with this Tie Front Cozy Fleece Pullover.  (I'm clearly loving forest green at the moment!)  This sweater isn't as fitted which means it's prefect for dinner out.  Especially if Italian or Mexican is on the menu.
Now I'm hungry.
And sharing this Flare Sleeve sweater one more time because I just couldn't love it more.  These types of tops/sweasters are my favorite!  Simple, solid color with a little something extra that makes it look like you're fashionable and put yourself together when all you did was toss a sweater on. :)


Darling tops on sale this year – how cute is this ruffle top!?  Pink usually washes me out, but I'm ordering it to try anyway!  We still have many hot days in our future and this is perfect for summer.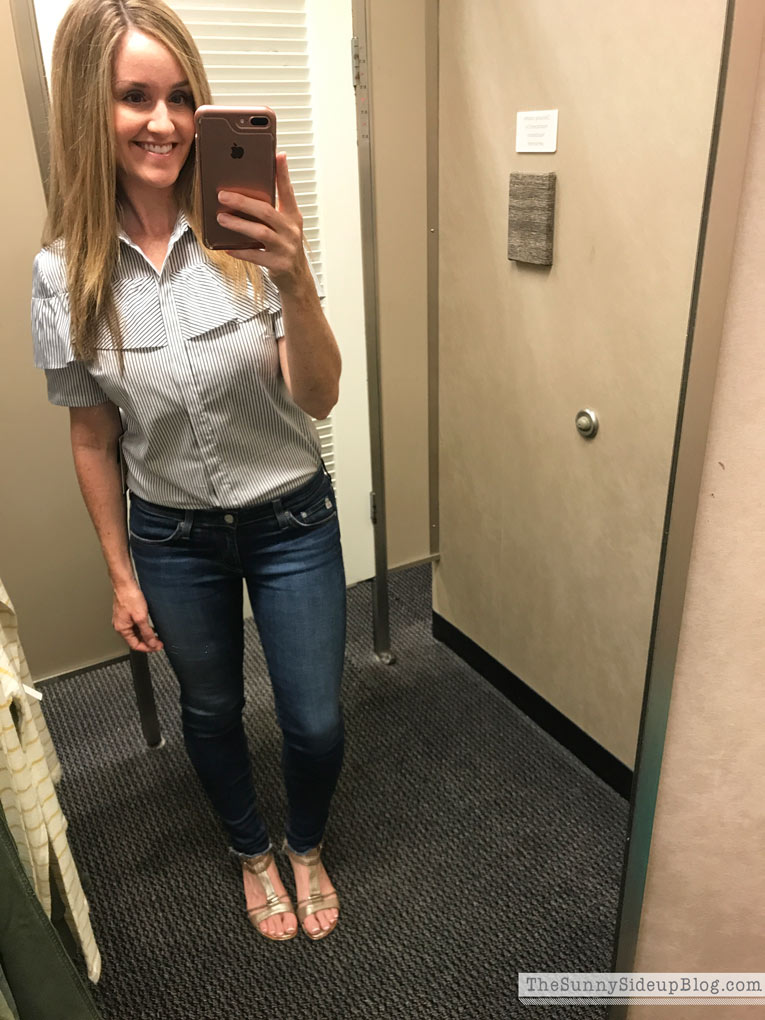 This Ruffle Front Poplin top is also darling.  I love it out and tucked in.  If you work out of your home this would look so cute for work with a skirt or slacks!  A little dressy for my every day office (hello couch and laptop.. I'm back). ;)  It also comes in a black and white stripe.
Speaking of stripes.. how could I pass up this Rounded V-neck Tee when it's so comfortable and such a good price!?  I LOVE a good, simple tee.  This comes in other colors too.  It runs big so order down!  (I'm wearing an xxs and you can see it's still plenty long!)  These green Slim Utility Pants are also darling and a great fit.  (True to size.)  I didn't come home with them because I already have a few pairs of pants/capris that are so similar.  And yes.. I already have striped tops too, but stripes surpass all rules in my fashion book. ;)
I actually just wore this top yesterday. :)

.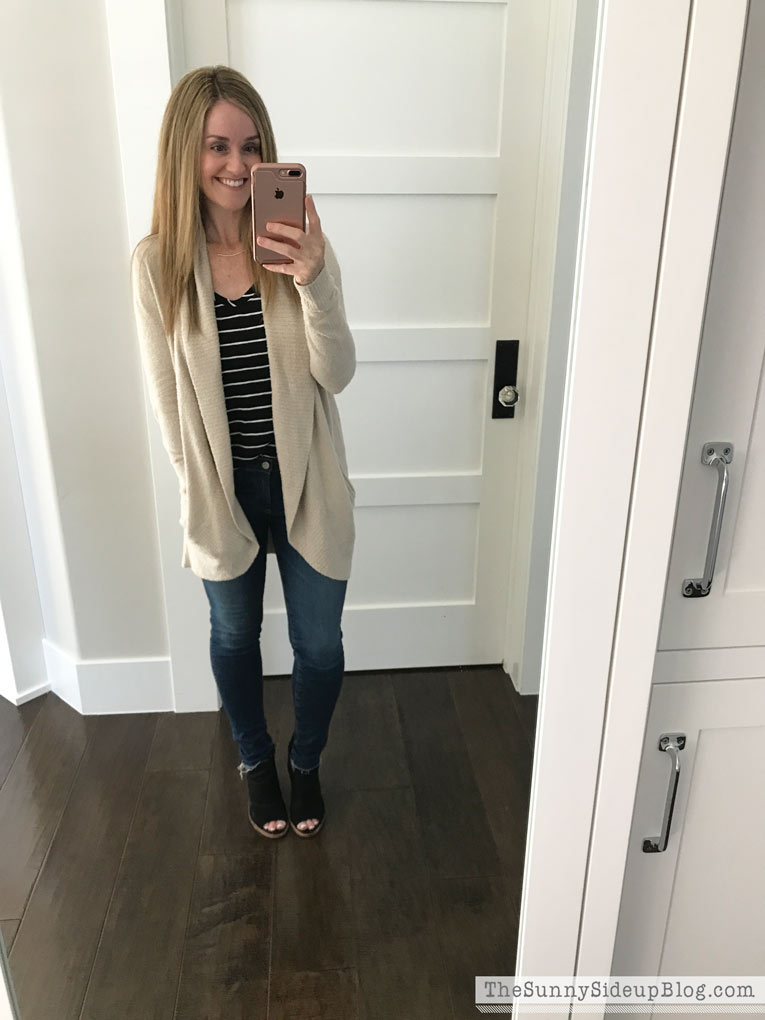 It's great for summer but will also be fun to layer when it's cooler with a cute cardigan!  SO many cute cardigans on sale right now!  I came home with 3 so I'm gearing up to hear lots of Mr. Rogers jokes this Fall.  At least my husband thinks he's funny.

.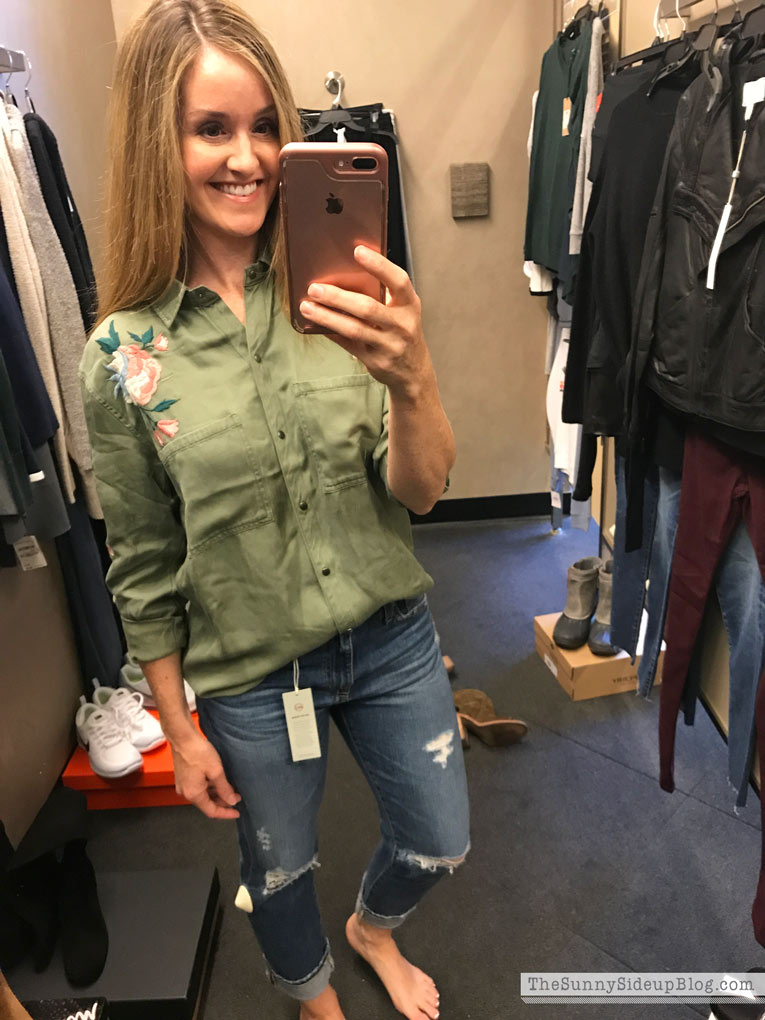 You know my all time favorite jeans are AG so I was thrilled when I saw so many of my favorite pairs on sale!  I scooped up the one style I didn't already have (these boyfriend jeans that were just re-stocked!).  I love them with this Embroidered Military Shirt.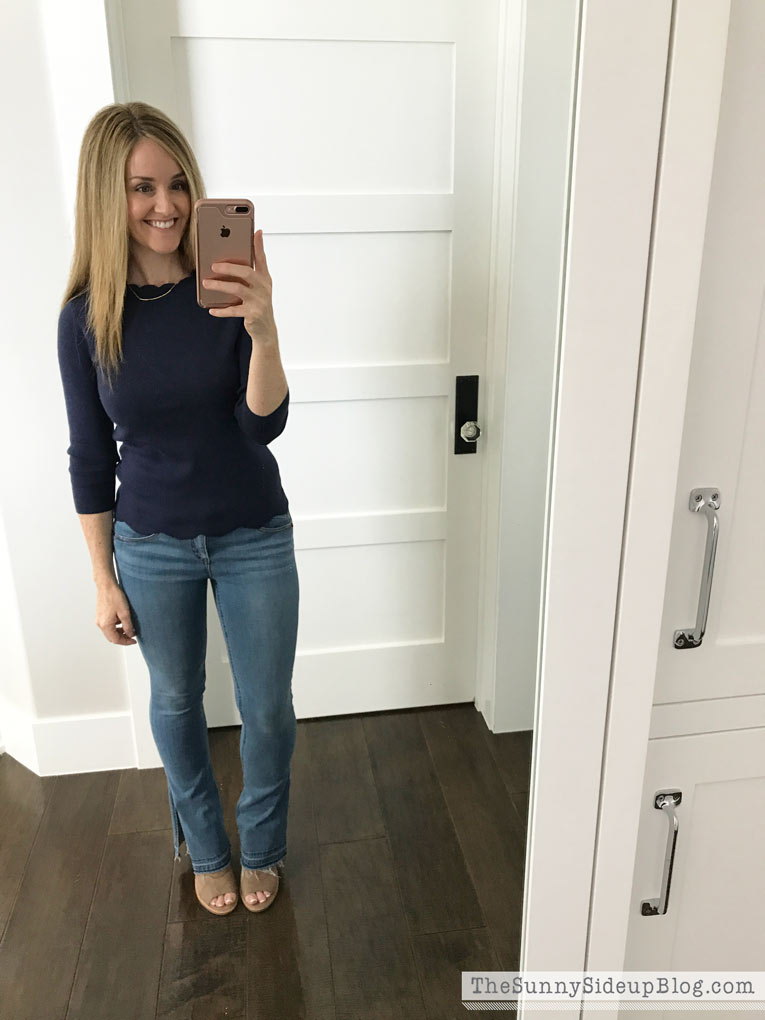 Another fun pair of jeans I've shared that I came home with.

.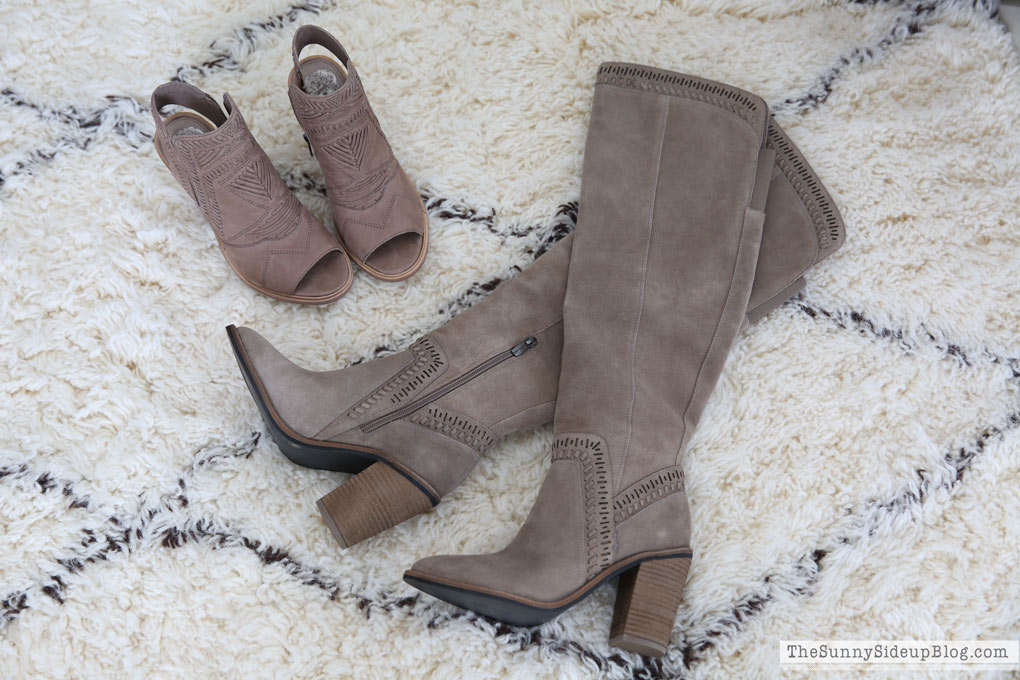 I was talking to a friend the other day and she was telling me how she always hits the shoes very first during this sale.  I get it!  The shoes are SO cute this year.  Initially I just came home with these Peep Toes, these Over the Knee Boots and these Running Shoes.
But I kept thinking about these Block Heel Booties I had seen!  Perfect for dressier occasions and such a great price for this shoe!  So I ordered them on-line.  Can't wait to get them.  I have a similar bootie that I've worn for years and they are starting to look really worn.  I think I just found their replacement. :)
Date night with my babe.  This picture is from last summer but the Laurel Peep Toe Booties I have on and have had for years are on sale too!   I love the slouchy look of these shoes.  They are beautiful but I'll warn you.. they aren't as comfortable as the Vince Camuto peep toe booties.  They are perfect for dinner out, but not all day.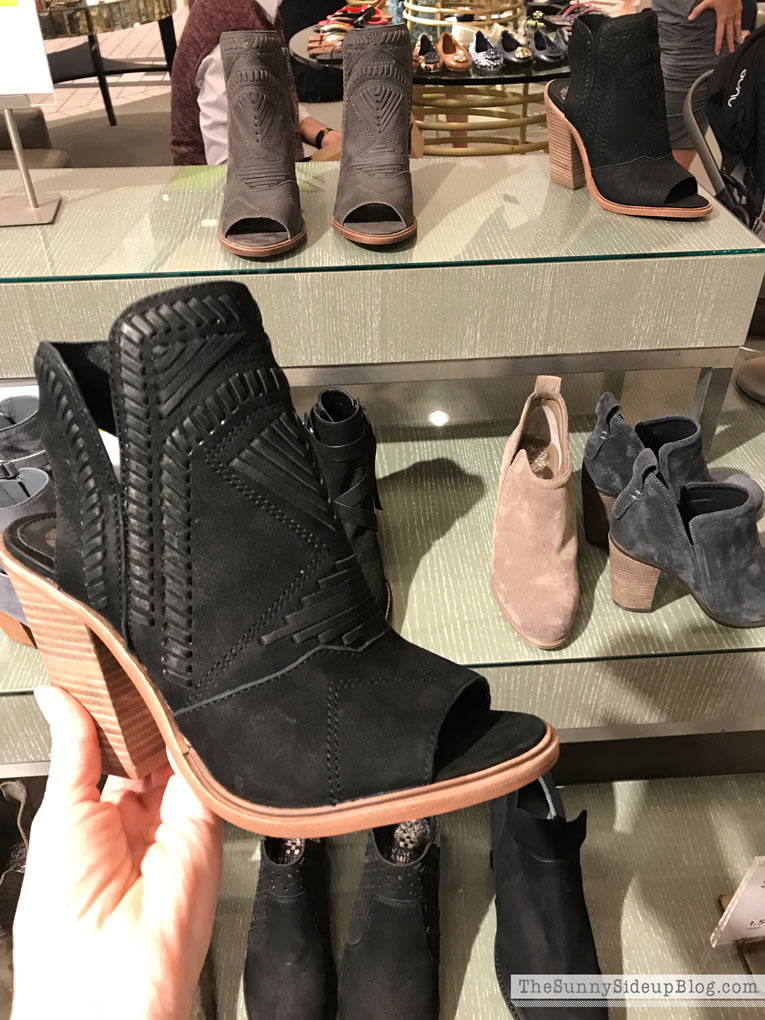 The Vince Camuto booties are my very favorite!  So comfortable and stylish.  They go with everything.  If I had to recommend one shoe for everyone it would be this Vince Camuto peep toe bootie in black.  I bought mine at this sale last year and am still wearing them 4-5 days a week!   But you see what I'm wearing most days so you already knew that. ;)
There are also a lot of fun Converse shoes on sale!  Love my Converse. :)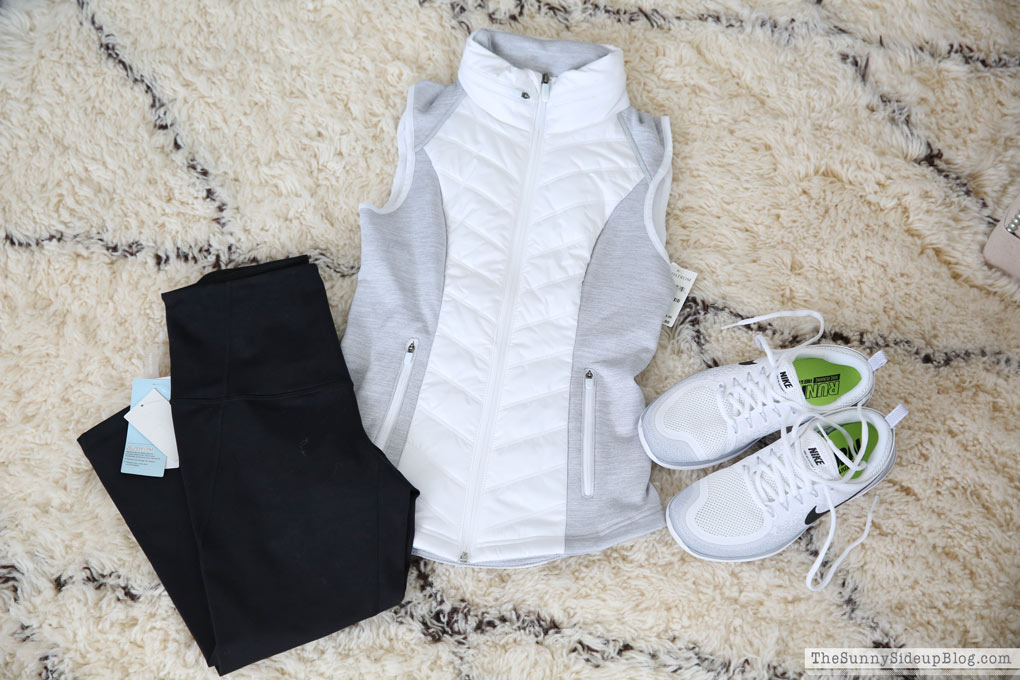 I love stocking up on favorite workout clothes during this sale!  Darling vests on sale too.
This picture was from last year wearing my Quilted Vest that's on sale again.  I always end up with a new vest and plaid top from this sale!

.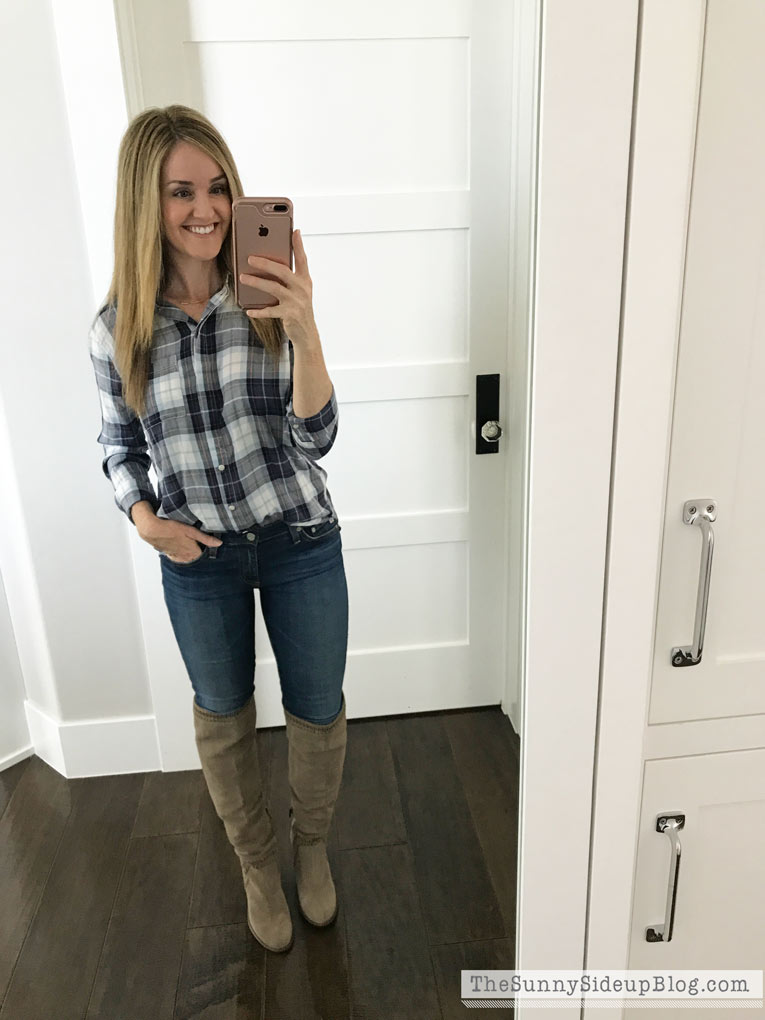 There are so many darling plaid shirts on sale this year!  I came home with this Classic Plaid Shirt but also love this Plaid Cotton Blend.  And have you noticed the new thing is to tuck half of your shirt in and leave half of it out like the picture above?  What do you think?  Kind of funny looking but I like it. :)

.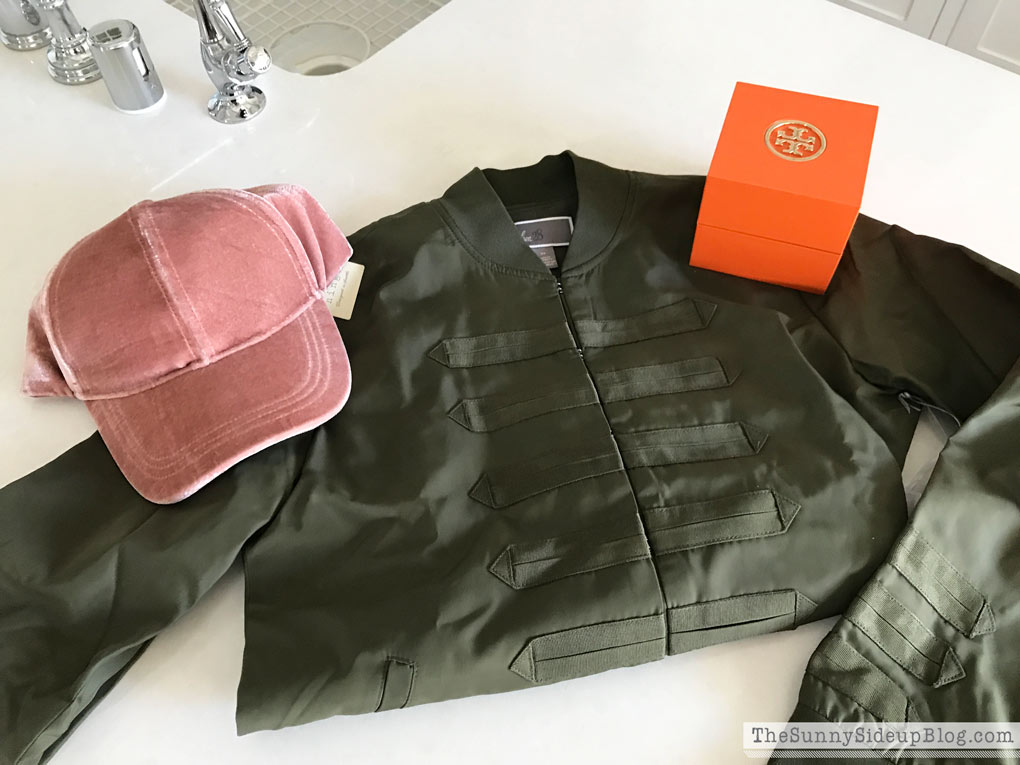 Let's talk jackets!  These three things landed on my doorstep as I was typing this post!  I haven't tried this Military Bomber Jacket on but can't wait to tomorrow.  So cute.  So me. :)  I also got a watch I've had my eye on for months that's on sale and this cute pink Velvet Baseball Cap for days I don't want to do my hair.  I'll let you know if they are keepers!
This Ruffle Trim Track Jacket is another sale item at the top of my list.  I'll probably wear it just as much as a top!  It's so soft you can bag wearing something under it and just zip it up for days that aren't cold enough for a second layer.
And my all time favorite jacket maybe EVER that I've shared with you all!?  This Shrunken Leather Bomber Jacket.  So flattering!  So soft!  So warm!
I've already worn it twice this week!  (It's always cool enough for a jacket in the evening in San Diego – even in the summer.)  We went on such a fun mom/daughter date with friends a few nights ago.  First dinner at the Cheesecake Factory.
Then we saw the play Guys and Dolls.  Love these darling girls!  And their moms. :)  Kenny and Kole watched The Lego Batman movie and had their own party. ;)

.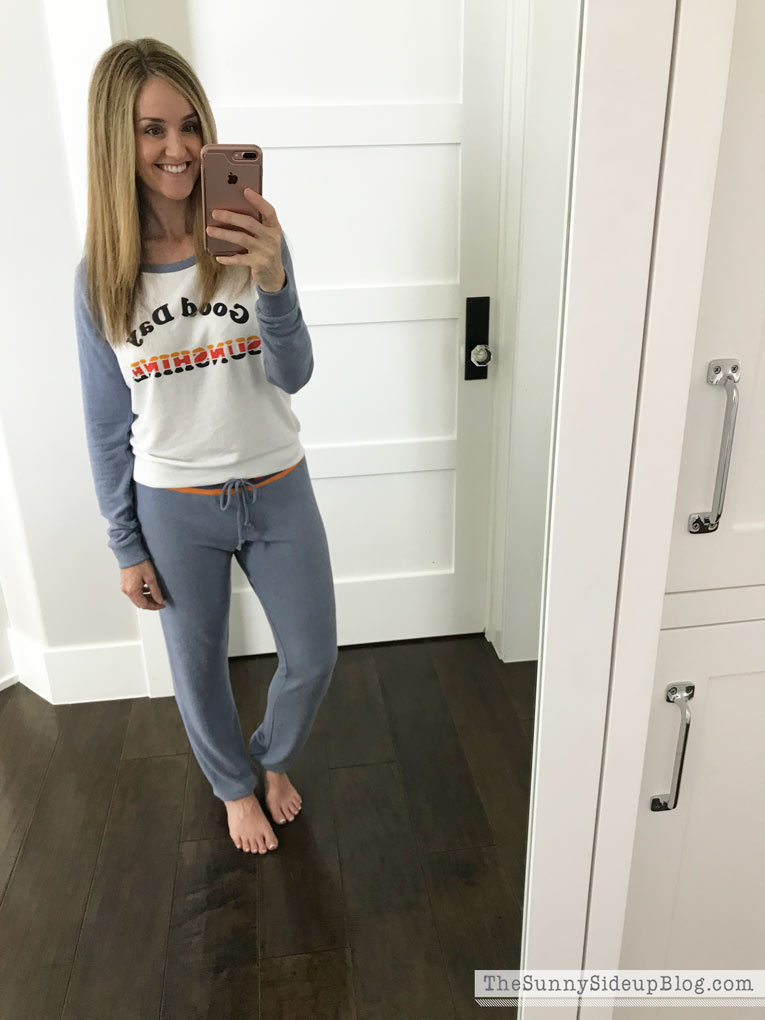 We can't talk favorites without mentioning lounge wear!  My favorite of all the favorites. :)  I've already shared details/pictures in
this post
but here are my favorites for lounging one more time!  My family will see me in these clothes LOTS this upcoming year. :)

.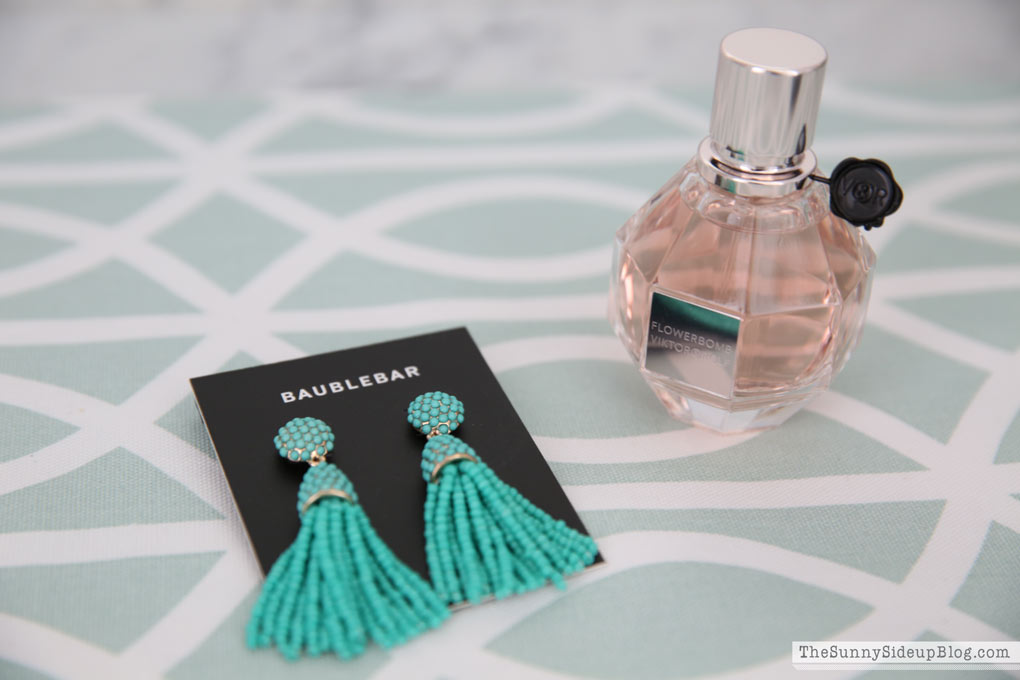 There are also a lot of amazing deals on beauty products and jewelry!  
My favorite perfume
is on sale!
And I just bought this darling Initial Necklace that's on sale for a close friend's birthday.  She loved it!  :)



.
Whew!  Well now.  That was a workout. :)  Like I said, I hope that my favorites give you some fun ideas and help with your sale shopping!  Nordstrom and this Anniversary sale are my favorite.  So many fun new things marked down!
May you have more strength than I've had this year.
;)
xoxo, Erin