**Honored to partner with Ferguson Bath, Kitchen & Lighting Gallery for this post! They provided our theatre room appliances for my honest review of my experience working with them over the years!  They are a long time favorite of ours. :)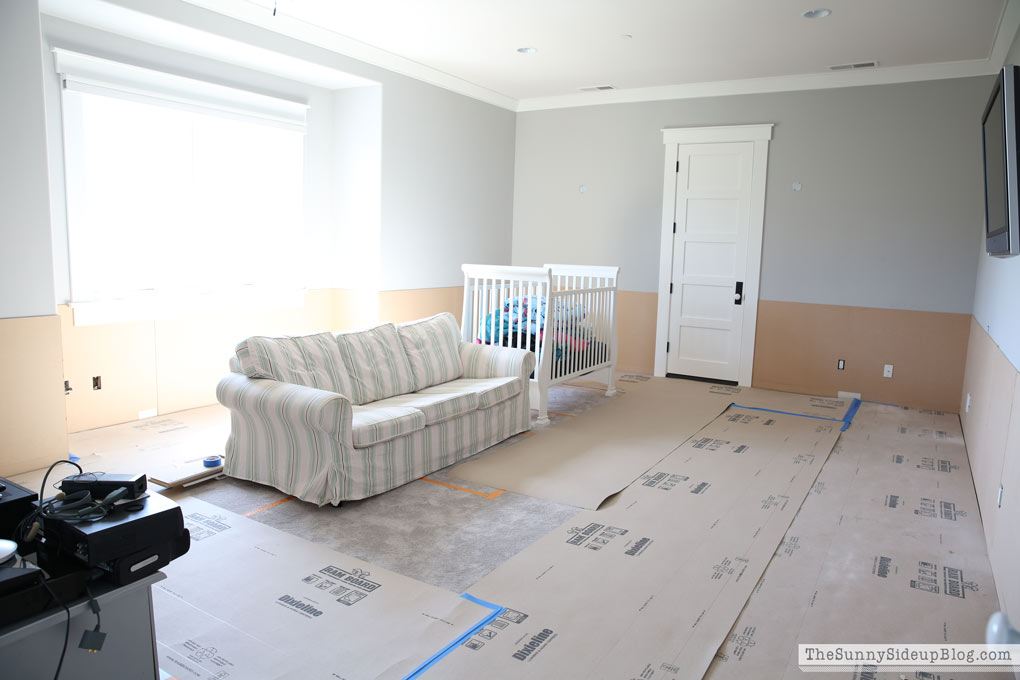 Sharing a theatre room progress update today!  Things are moving along!  Not as quickly as I'd like (hello summer project that is dragging into Fall and most likely won't be done until winter..) but I do have some progress to share.  We now have grey paint and appliances!  It's finally starting to come together. :)  When we started working on this room it was a blank slate.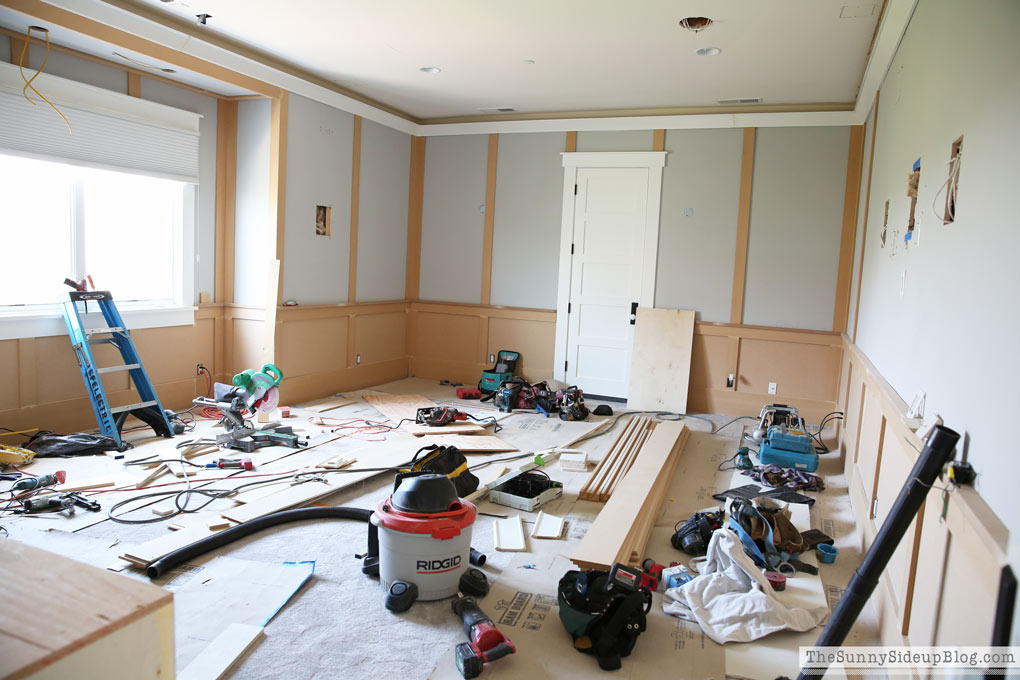 Carpenters took over and added all of the wood work!  I shared my first progress post about this space and other projects I'm working on here.  And now..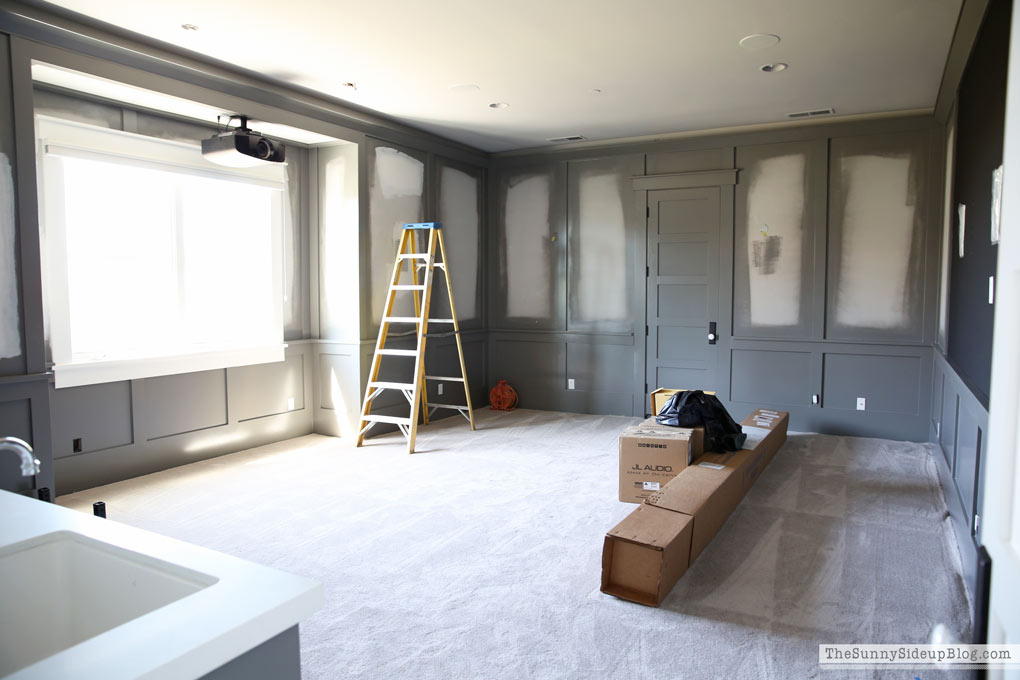 We have paint!  I wanted to keep this room cohesive with the rest of our house so I used the same grey paint I chose for other rooms in our home (you can find all of my house paint colors here).  So many of you have asked for more details on my paint since Frazee switched to Sherwin Williams and it's all on my paint printable!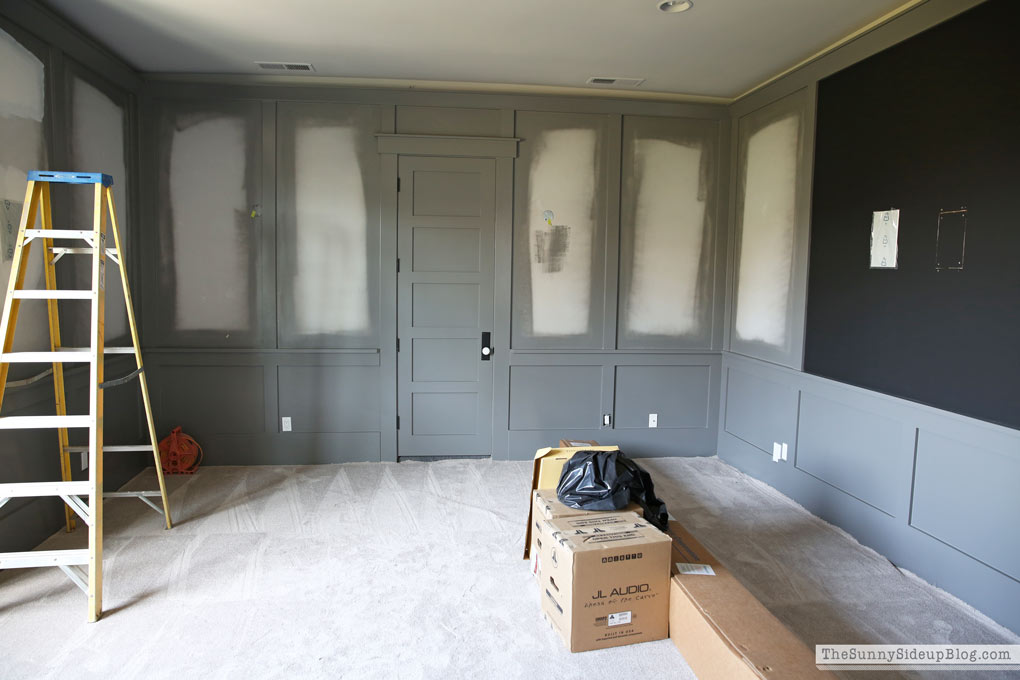 This room needed to be dark so we had the doors painted grey too.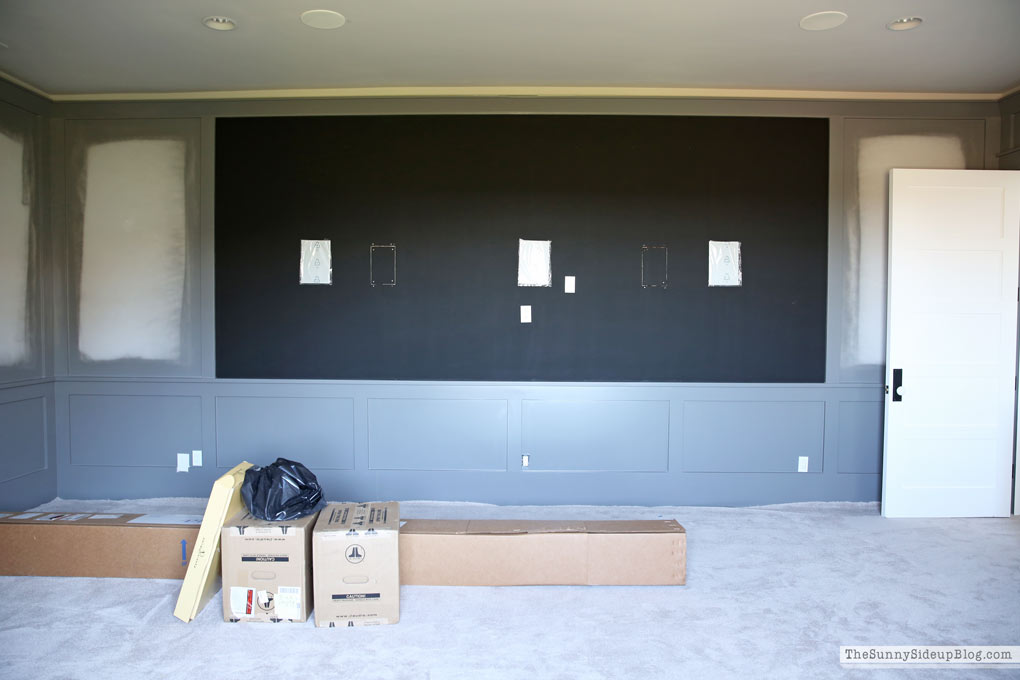 Black paint behind where the screen will go!  Yes it's big.  Yes my husband is excited.  (This screen is his doing, not mine.  It's his only contribution to this space.)  He's so anxious to get this room finished before football season ends.  And I have to admit, every time I think about sending him and the kids up to this room and having a quiet, clean kitchen and family room all to myself once in a while I get pretty excited too. ;)  #theatreroomgoals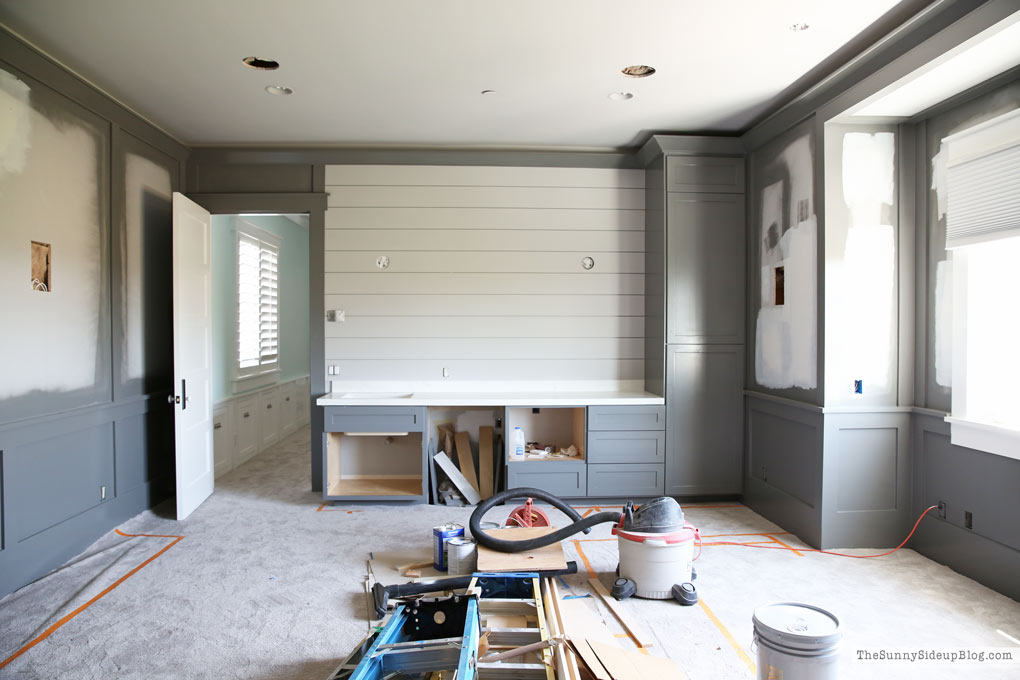 The wall above our counter space was blank so I decided to add some shiplap for a fun focal wall.  Because.. shiplap. :)  But the most exciting news for me at this stage!?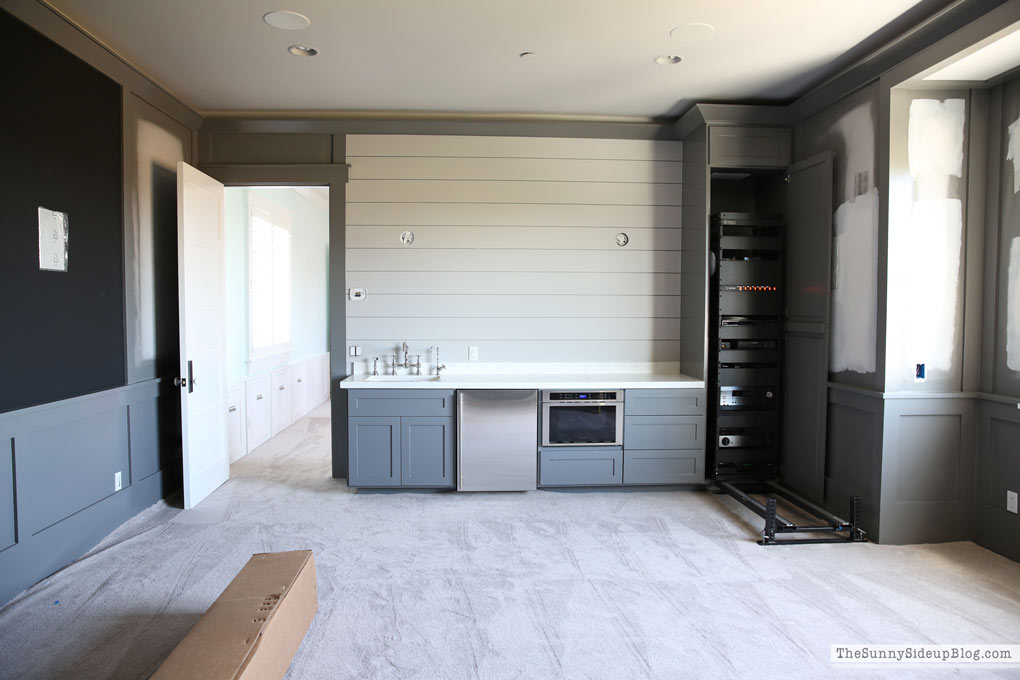 We now have appliances!  As soon as the appliances were installed it felt like a real room to me!  I get asked questions all the time about where I bought my appliances when we were building our house.  I got every single appliance throughout my home (along with every single sink, faucet, bathtub and shower) from Ferguson Bath, Kitchen & Lighting Gallery.
We worked with a lot of people and a lot of companies building our house and to be honest, there are quite a few I wouldn't recommend!  But the people at Ferguson Bath, Kitchen & Lighting Gallery were honestly some of our favorite people to work with.  I visited their showroom in Utah and two of their showrooms in California multiple times when I was picking everything out for our home and every time I visited someone was right there to answer questions and help me with anything I needed.  They didn't even kick me out of the store when I took hours examining and carefully selecting slow close toilet lids.  Ha!  (True story.. I hate the lids that slam.)  Really though.. I spent a lot of time with these people when we were building and they were so kind and patient with me!  They have a huge selection of amazing brands and products and their customer service is the best.   I truly can't say enough about what a great company they are to work with.  Plus it was so nice to be able to get everything we needed for our kitchen and bathrooms in one place!  They have become my go-to people for any and all kitchen/bathroom appliances, fixtures, etc. which is why I reached out to them to see if they wanted to collaborate on this post.  I knew I was going to gush about them regardless. :)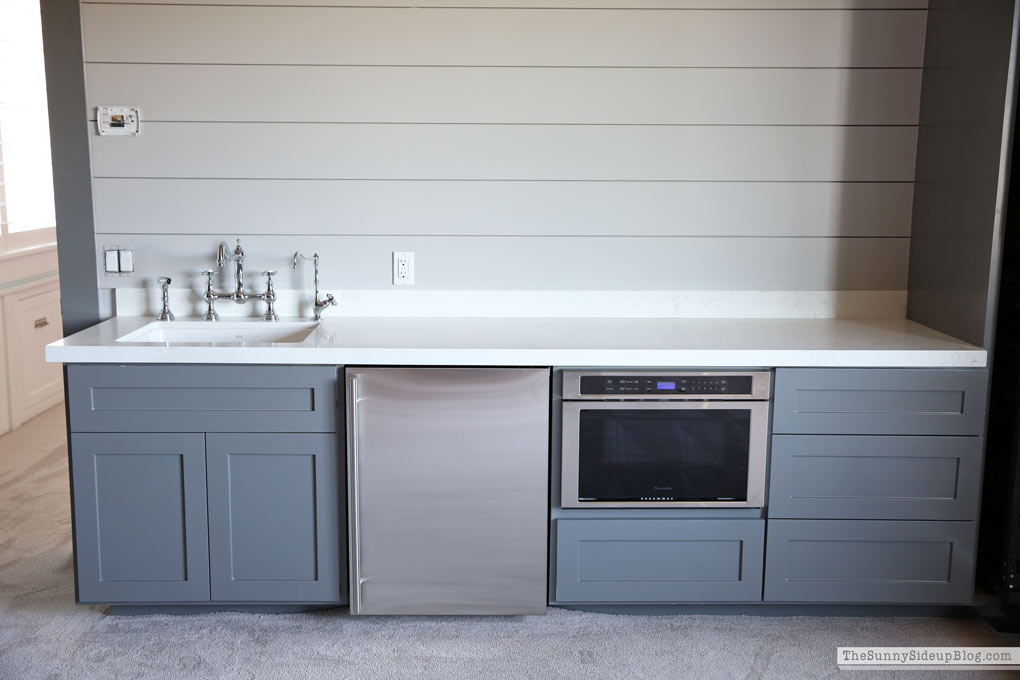 The goal for our theatre room was to have a place to keep the essentials when movie watching.. drinks and popcorn. :)  I designed this little counter area with a sink, mini fridge and microwave drawer.  Aside from my husband's movie and football marathons, this will mostly be a space for the kids – we want the teens to be at our house as much as possible! (#helicopterparents)  So we went with a quartz countertop just like we did in our kitchen.  I love quartz!  It's so durable.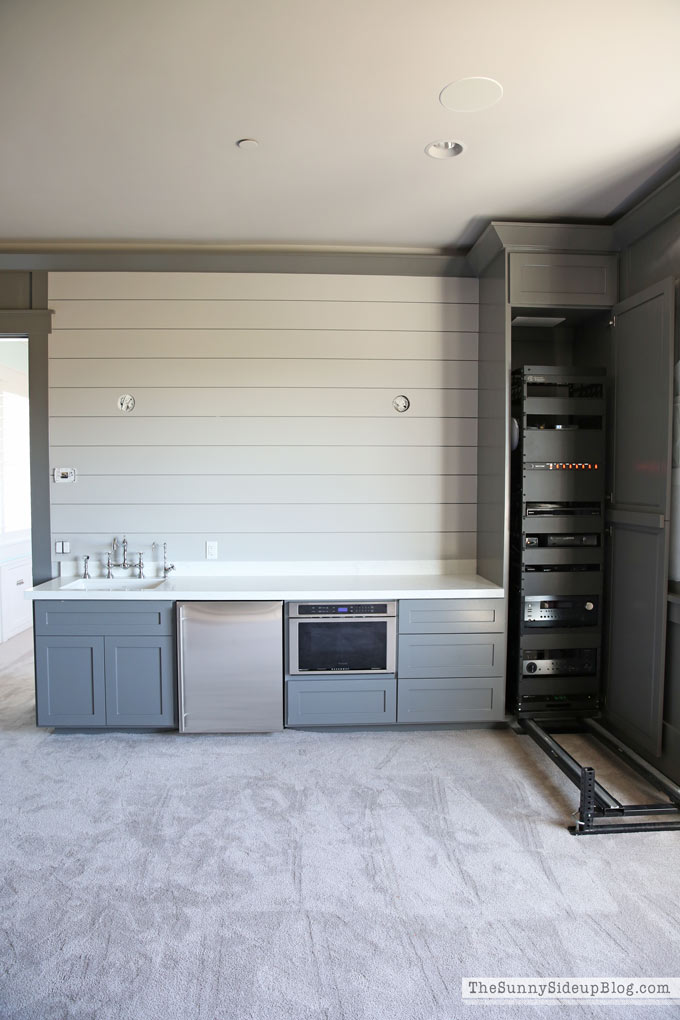 Drawers for storage and all of the audio equipment will be stored in the tall cabinet on the right.  They have it on a slider right now because they are still tweaking things.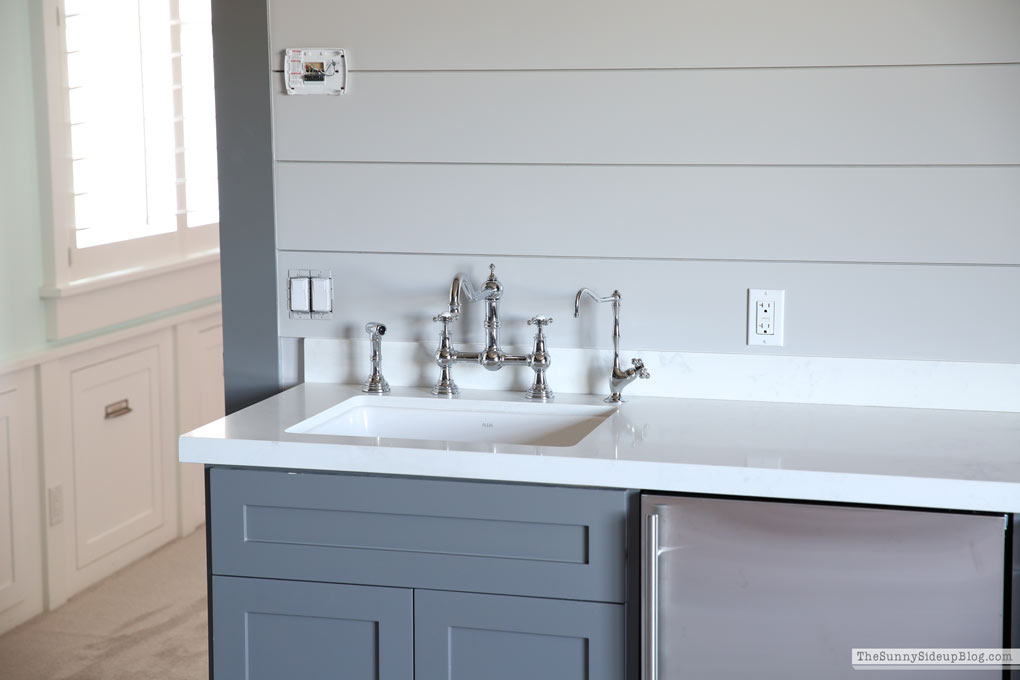 Picking out appliances for this room was my favorite part of putting it together!  I always get excited about the small details that make a space come to life.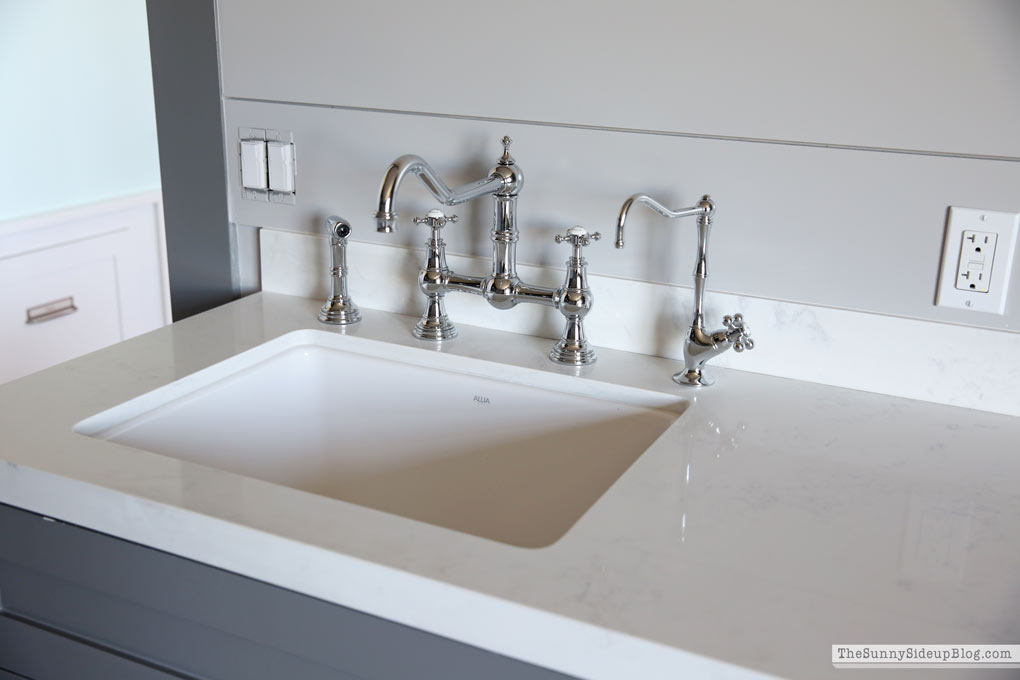 Rohl is a favorite brand of mine and this two handle Rohl faucet makes my heart skip a beat!
It's the same faucet I used in my kitchen. :)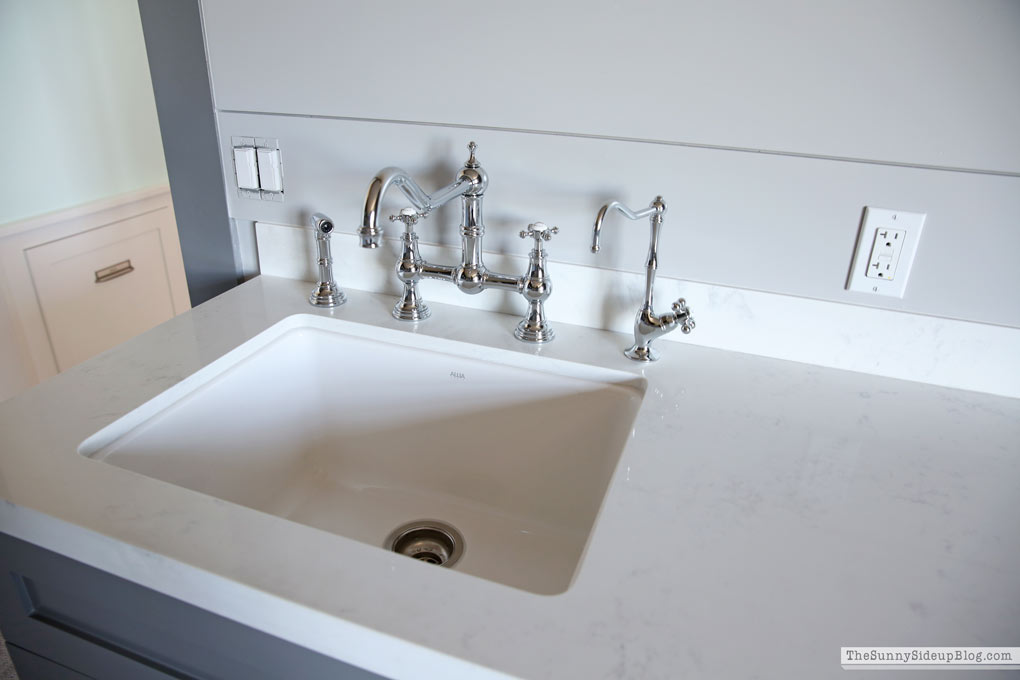 I just wanted a simple white sink so I chose this beautiful Rohl undermount in white.  When it was delivered and still in the box Kenny thought it was for sure going to be too big for our counter with the bridge faucet.  He has such little faith!  I just shook my head.  Step aside babe.  This isn't my first rodeo…  The sink is a perfect fit!  Ha.  :)  (Although I have to admit that I made SO many mistakes like that when we were building.. it's no surprise he worries..) ;)
I had a harder time picking out a mini fridge for this space because so many of them have wine storage!  Kid space means wine storage isn't necessary. ;)  The lady from Ferguson who helped me this time around was so sweet and helpful and recommended the brand Uline.  I did some research and decided on this fridge.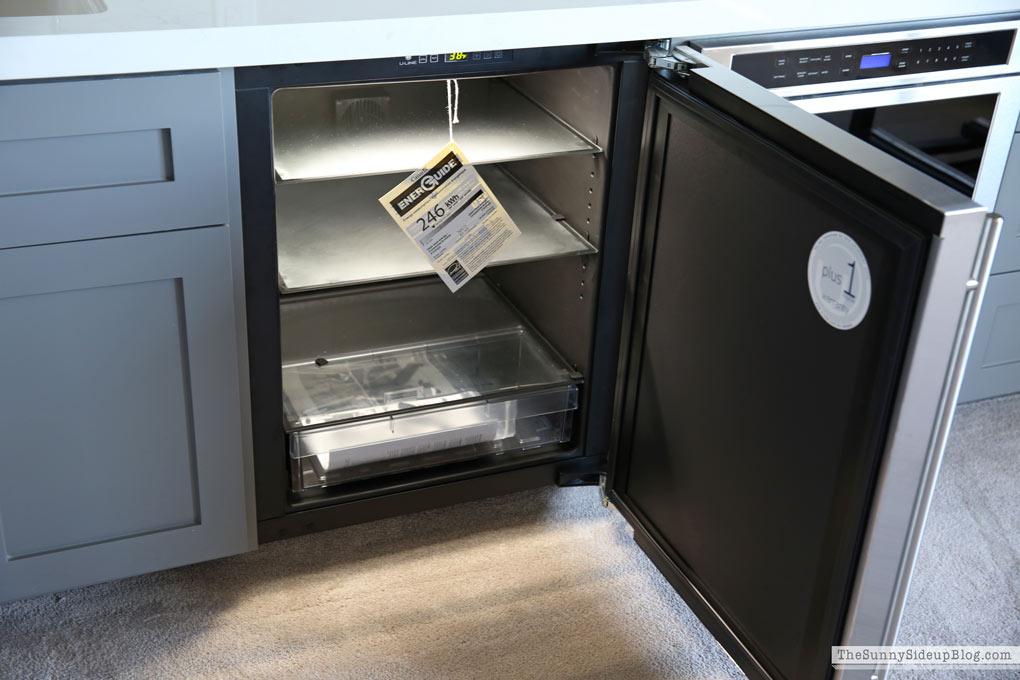 Here is a peek inside.  Perfect for drinks and cold snacks!  Adjustable shelves are always a must for me so that I can organize things exactly how I want them. :)
The microwave drawer was an easy choice for me.  We have LOVED the Thermador microwave drawer in our kitchen so I picked up another one just like it for the Theatre room!  We all know how to use it and it has been great for our family.  I love microwave drawers!  They are perfect for kids and I microwave a lot of things that need to be stirred.. so nice to reach down instead of up.  Plus I'm short.. so there's that. ;)
Bring on the popcorn!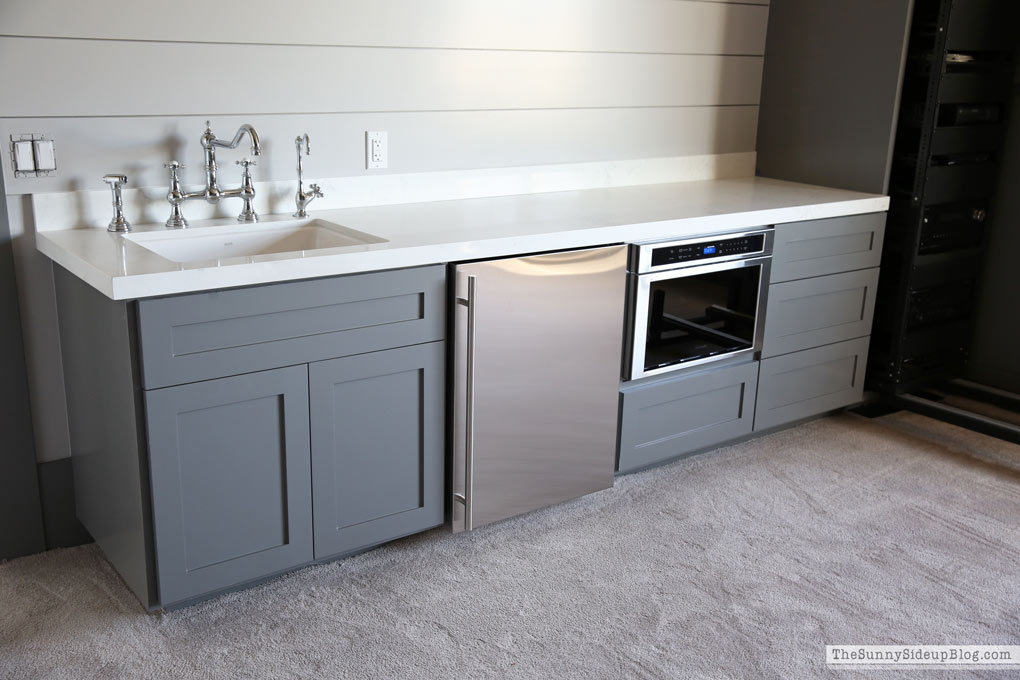 Aren't the appliances pretty!?  Huge thank you to Ferguson Bath, Kitchen & Lighting Gallery for years of helping me with kitchen/bathroom decisions!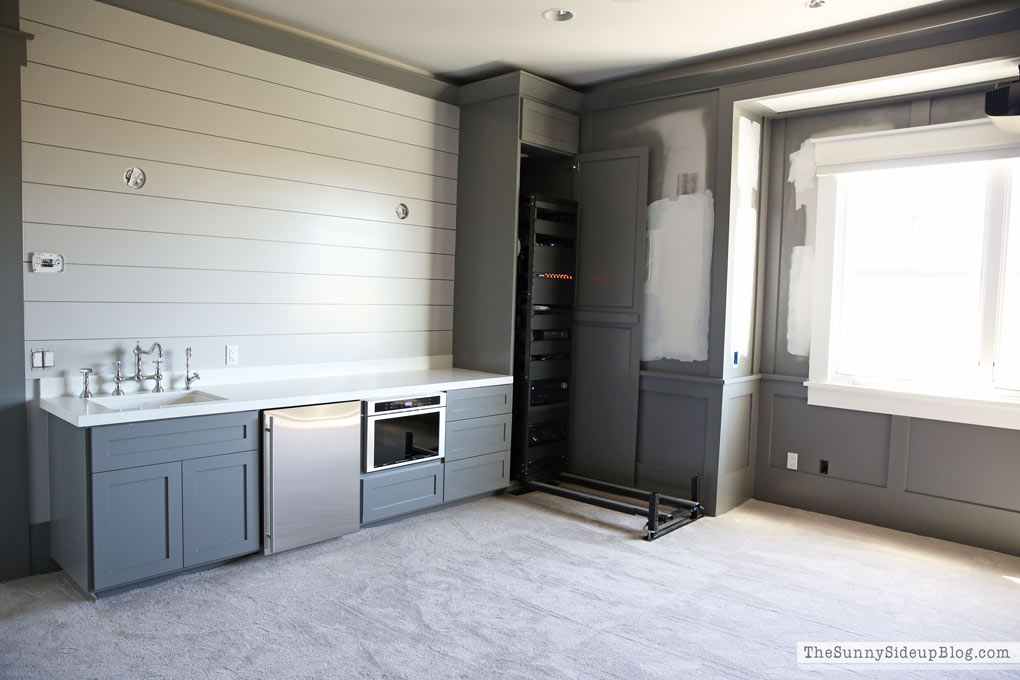 A few more pics I took of our progress in this room..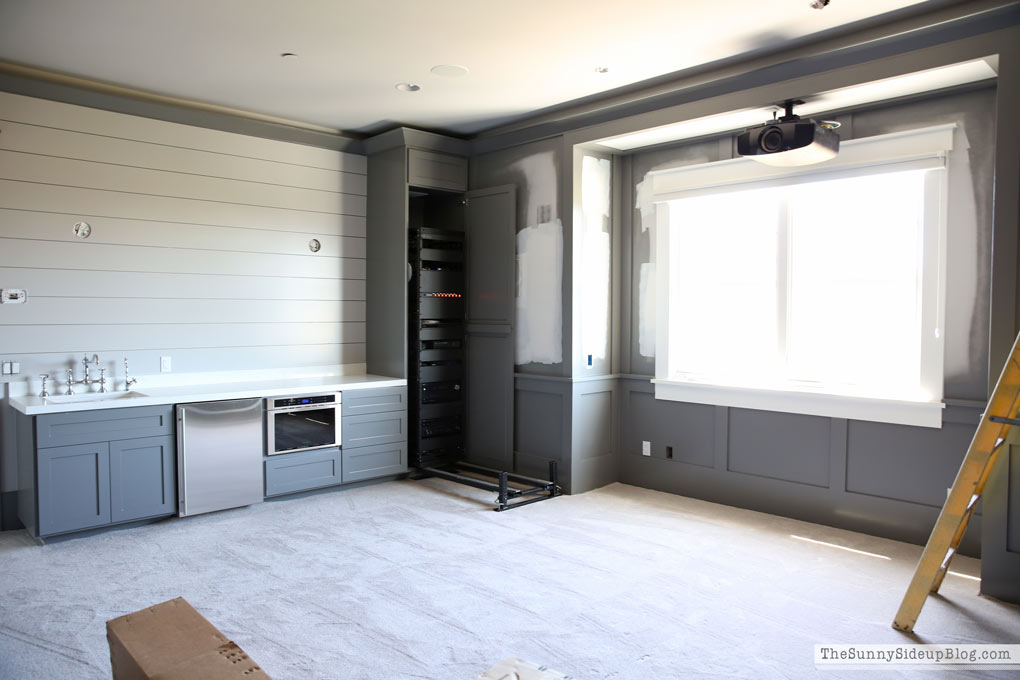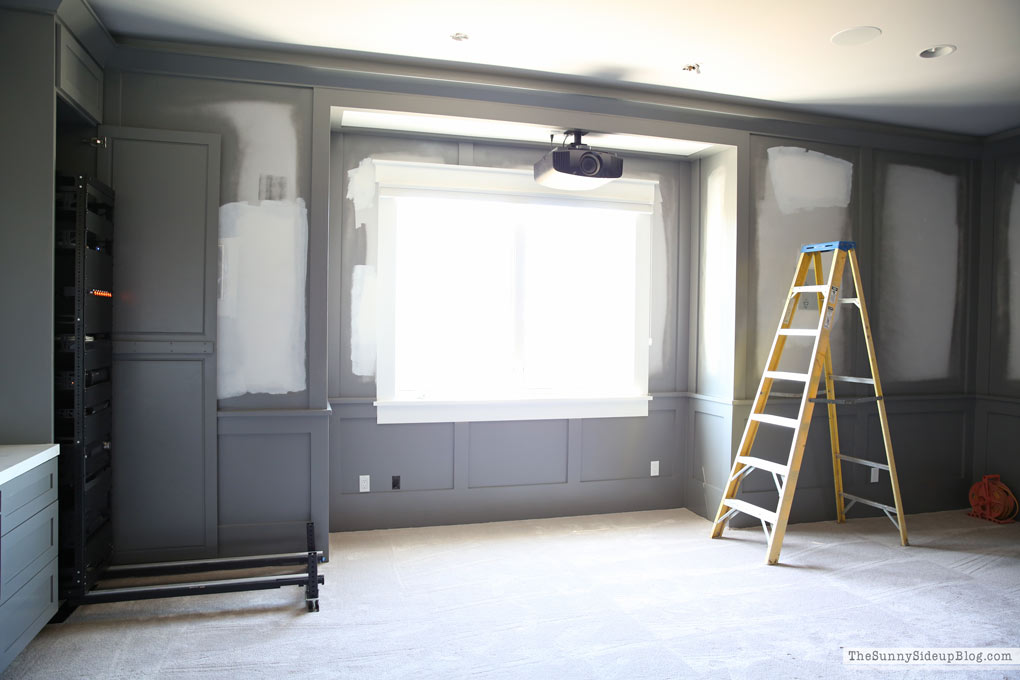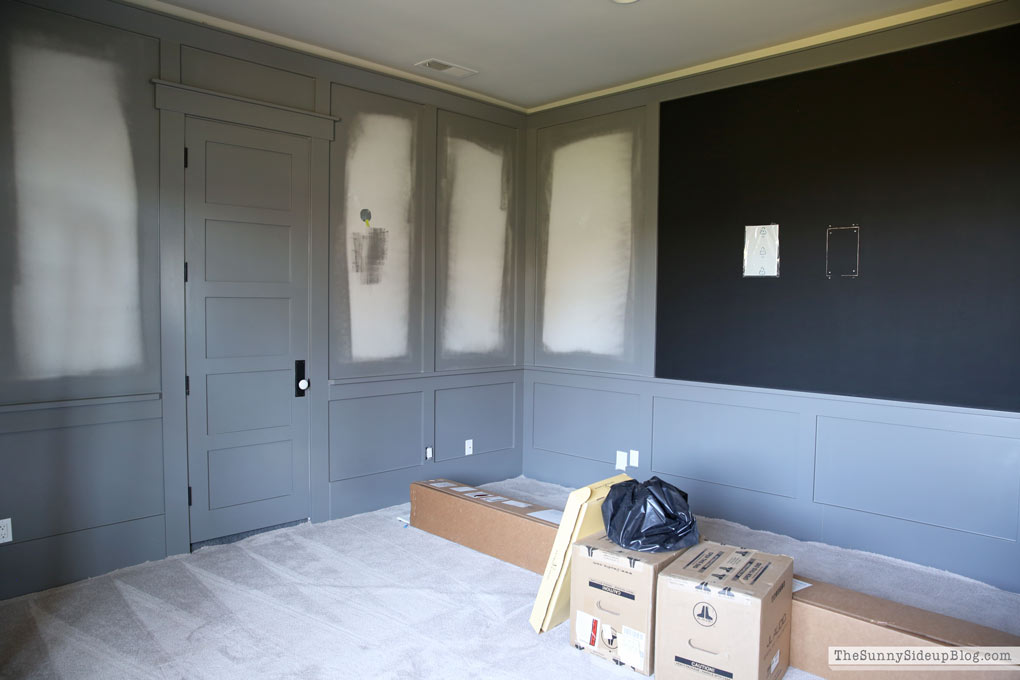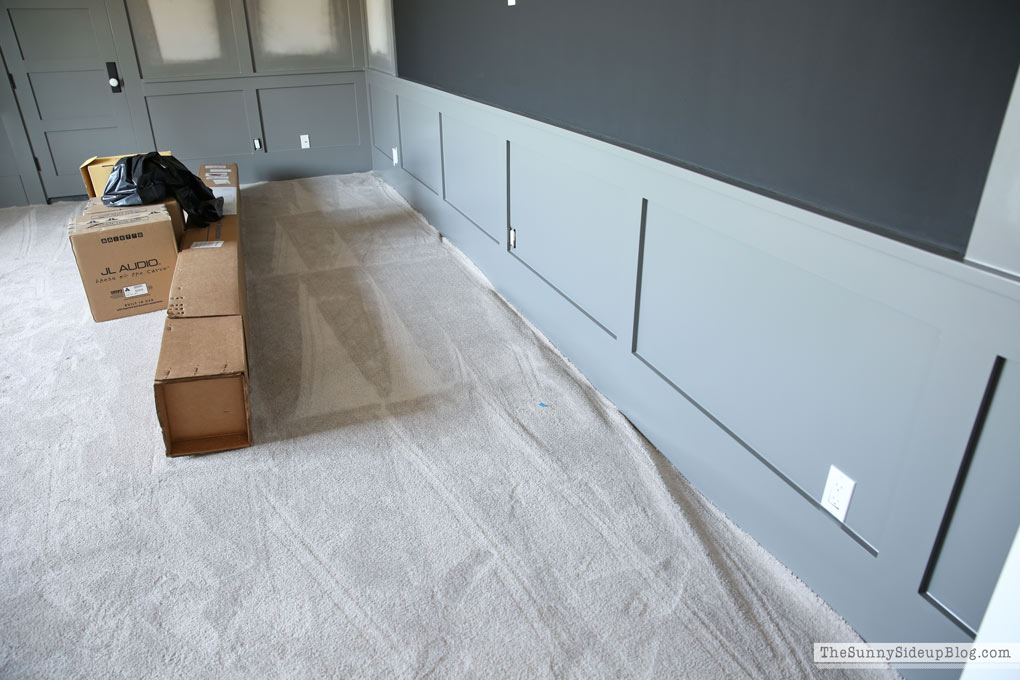 Still left to do:  Get the carpet back in place and have it cleaned.  Buy and install the sconces and cabinet hardware, get the fabric up on the walls (it's being shipped tomorrow!), get the theatre screen installed (need the fabric up first), electricians need to finish lighting, painters will have minor touch-ups, and then.. THEN I will get to have the couch delivered and decorate.  Can't wait!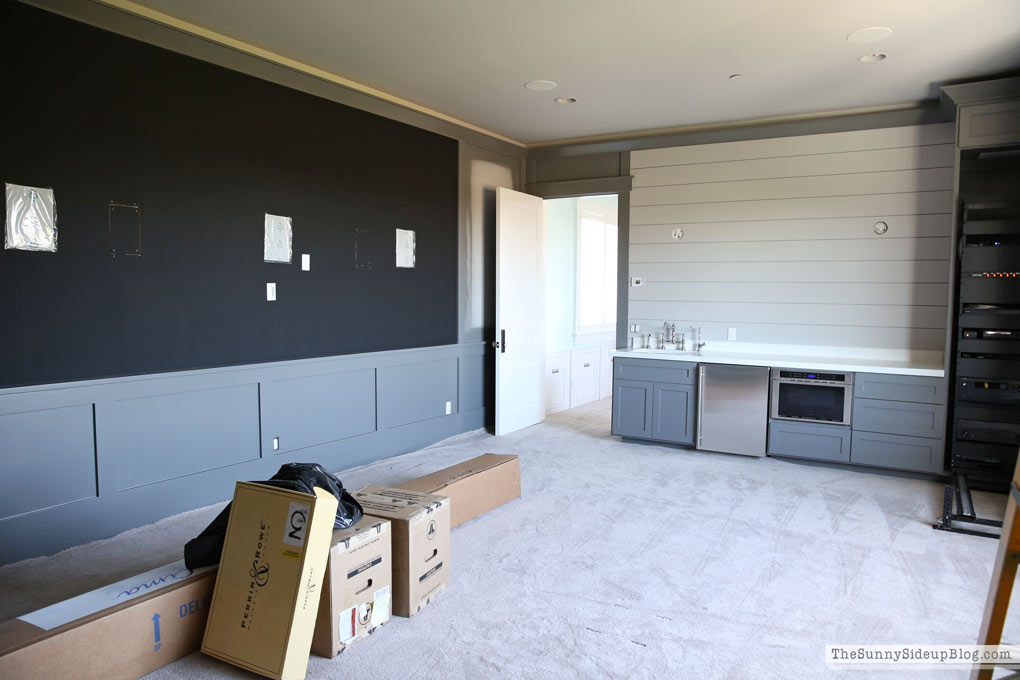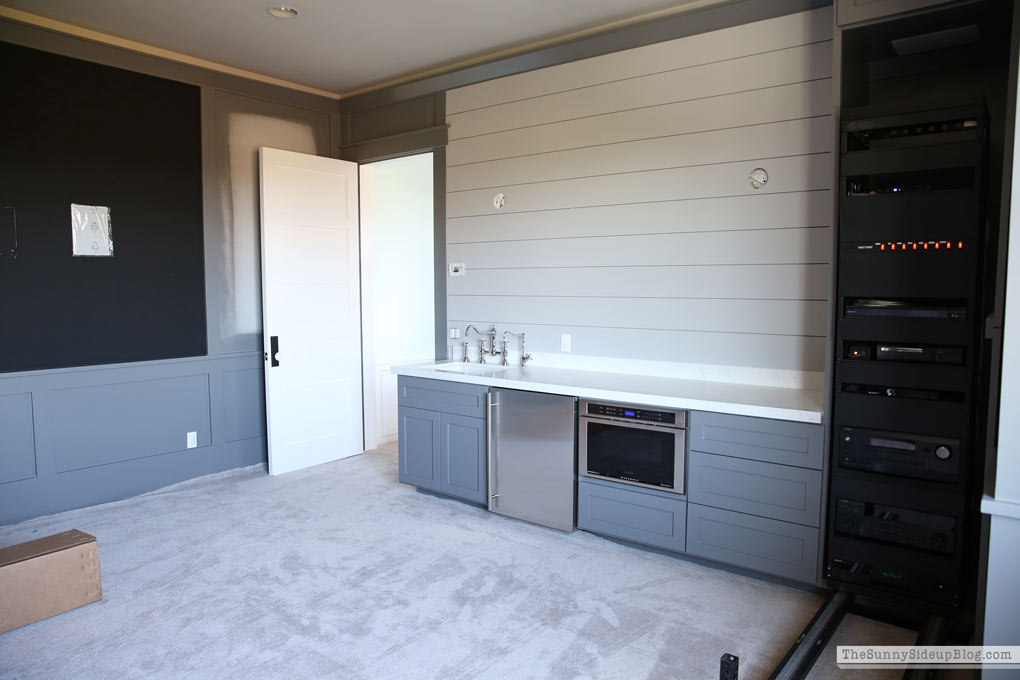 Excited to have a cozy spot for football, movie parties and relaxing with family and friends.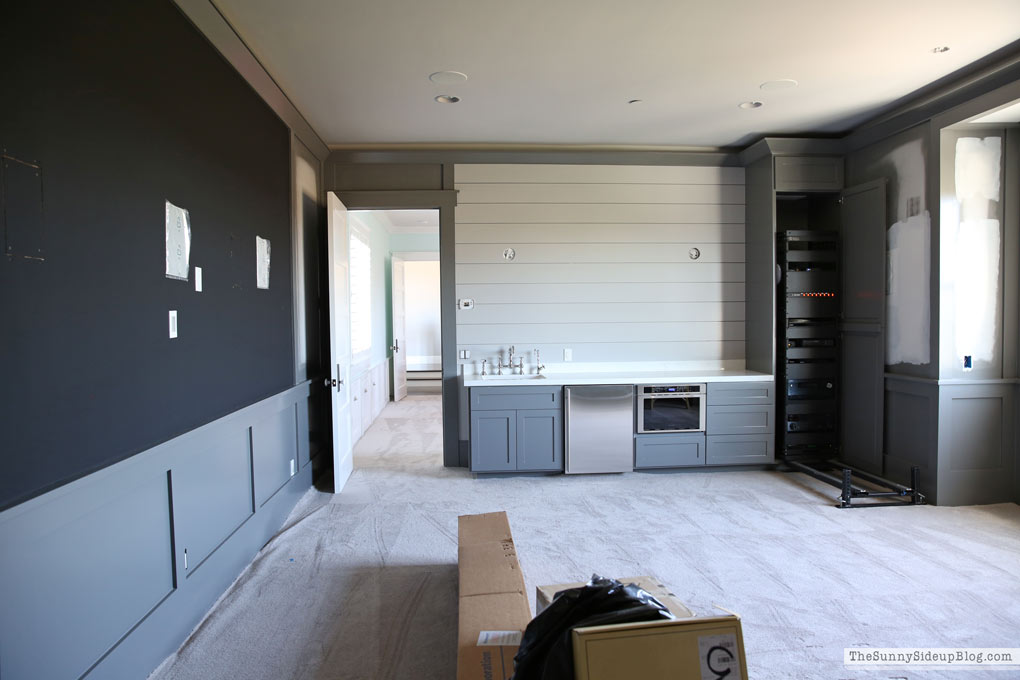 As well as a cozy spot to send everyone when I need some quiet time to relax myself.  ;)
xoxo, Erin