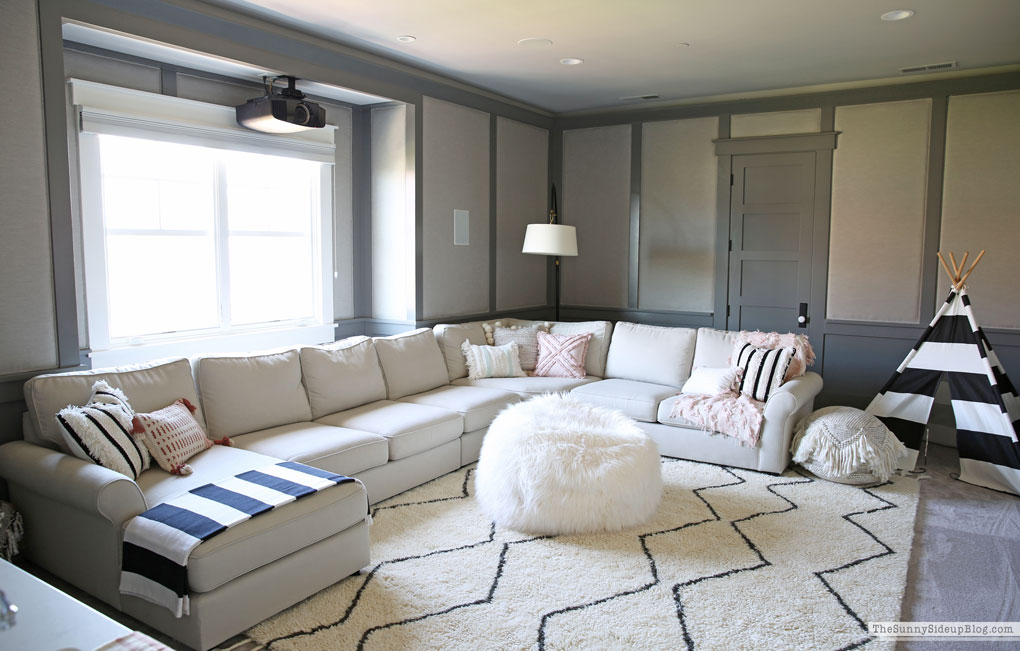 Hello everyone!  I hope your week is off to a good start!  Our air felt a touch cooler this morning taking my kids to school and it made me want to bust out my favorite cardigans.  My house is decked for Fall and I'm so excited to share pictures soon!  I took way too many (of course) and need some time to sort through them all so I thought we'd chat more about the theatre room while I'm working on them!  Theatre room organization to be exact. :)  I also wanted to answer the questions I got about this space so I'll do that at the end of this post!
If you missed my theatre room reveal post that took me WAY too long to finally share (ha) you can catch up here.  I shared all of the room sources in that post too if you have any questions about decor!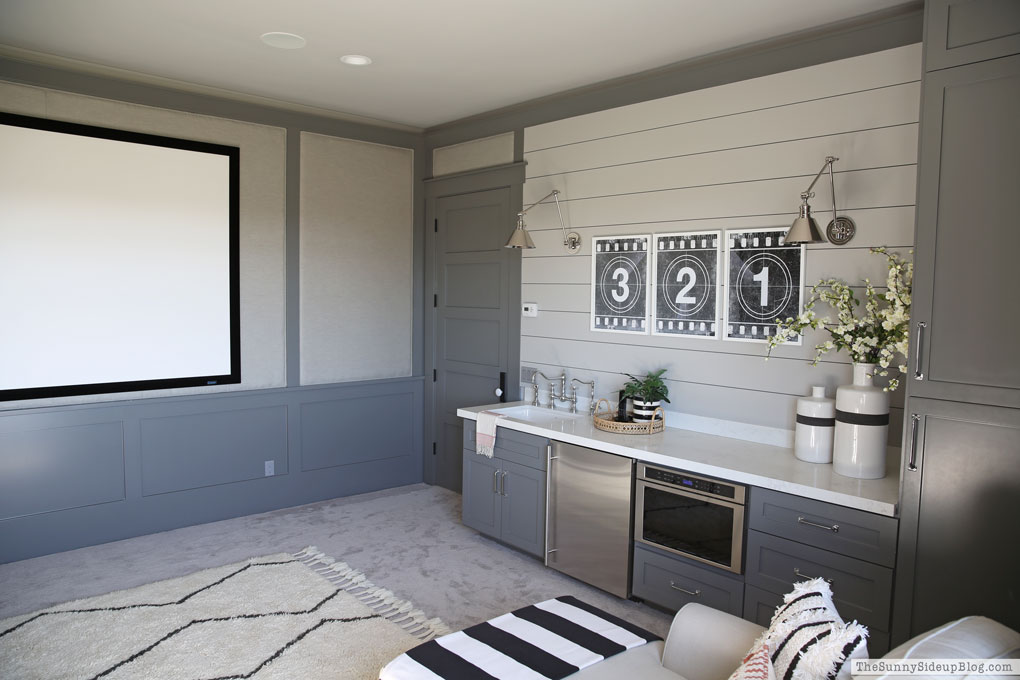 If you've been following along you know that this room was empty when we first built our home and moved in, but we knew that we might want to turn this space into a theatre room someday so we had the wall next to the entrance door plumbed so that we could later add a sink and fridge if we wanted to.  I had it plumbed for shiplap too. ;)
I designed these built-ins to hold miscellaneous items I knew we'd want in this space so let's take a look inside these drawers..  starting with the left side and moving to the right.
(*affiliate links used)
Not much under the sink except a cute striped trash can and paper towels.
We've only used the mini fridge for drinks so far!  We try to use reusable water bottles in our home as much as possible but when lots of kids are over that gets a little tricky so in the theatre room we keep these water bottles stocked.  And Coke Zero for adults.. my drink of choice.  That I'm trying to cut back on!  I used to be so good at drinking water all day, but this fun stage of having teenagers has caused a lot of leaning on diet drinks.  Send help.
Or more Coke Zeros. ;)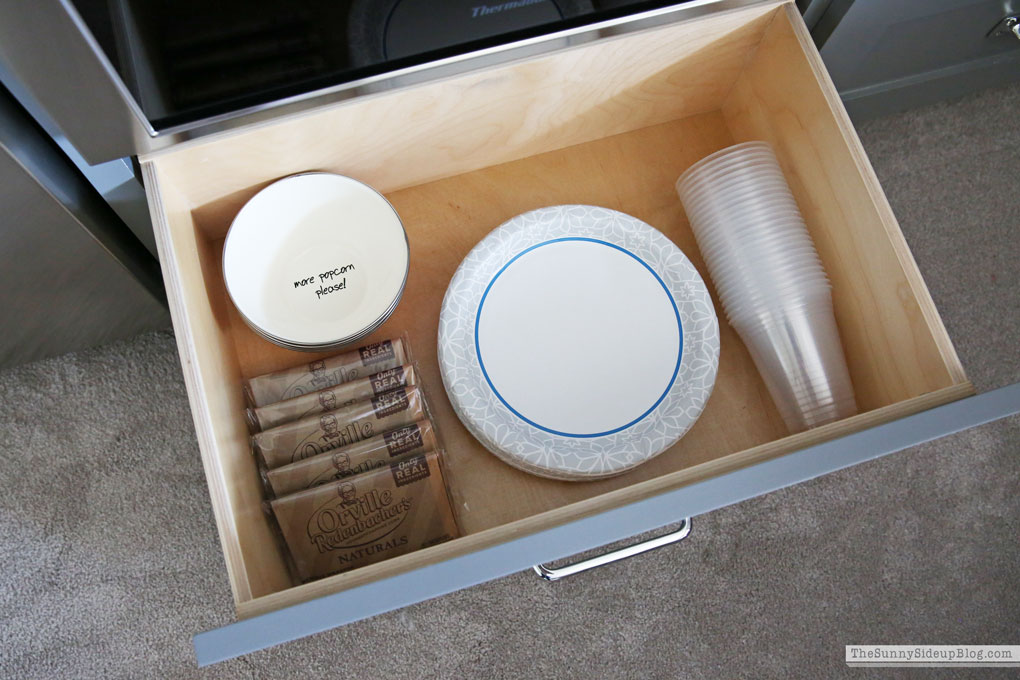 Next to the fridge is our micro drawer (that I LOVE and talked about more in this post.)  I use the drawer below it to hold paper plates, cups, a few popcorn bowls and popcorn.
Now time to check out the three drawers to the right of the micro drawer.  My favorite!
We have everything programed to be on one remote that sits on the counter but of course have 15 extra remotes that control various individual things that no-one but my husband understands how to use.  I tossed in a couple of plastic bins I had on hand to hold them along with random video game controls and then put some extra DVD sleeves on the side.
Below that are all of our DVD's!  Remember when I shared my favorite solution for DVD organization and did the happiest dance ever for FINALLY having them contained and organized in a user friendly set up?  Such a good day!  I designed these drawers to fit them all.  I have to say though.. if you are holding on to old DVD's you aren't using anymore the best way to organize them is to just get rid of them!  Always pass on anything you aren't using.  My kids still use and love our DVD's.  Even with Netflix and all the easy ways to download and watch movies my kids still have so many childhood favorite DVD's that they pull out from time to time.  We use them when friends come over, when we travel, for family movie nights, etc.  For us it was worth investing in a good system to hold and organize everything.
The middle drawer holds all of our main DVD's A-Z.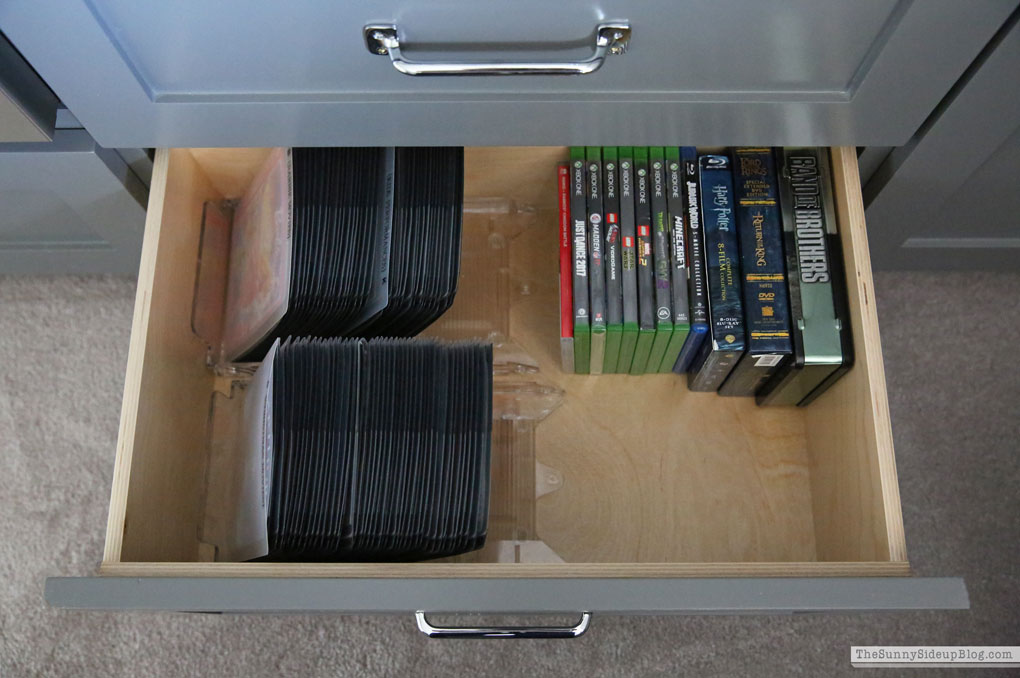 The bottom drawer holds Xbox games and some DVD series that I kept in their original cases.
This drawer also holds our "special" DVDs.  One section for all of our Christmas movies (can you believe it will be time to pull those out before we turn around!?), the kids' school performances and some Barbie movies my girls grew up with and weren't ready to stay good-bye to.  SO nice having all of this tucked away and easy for the kids to use when friends come over.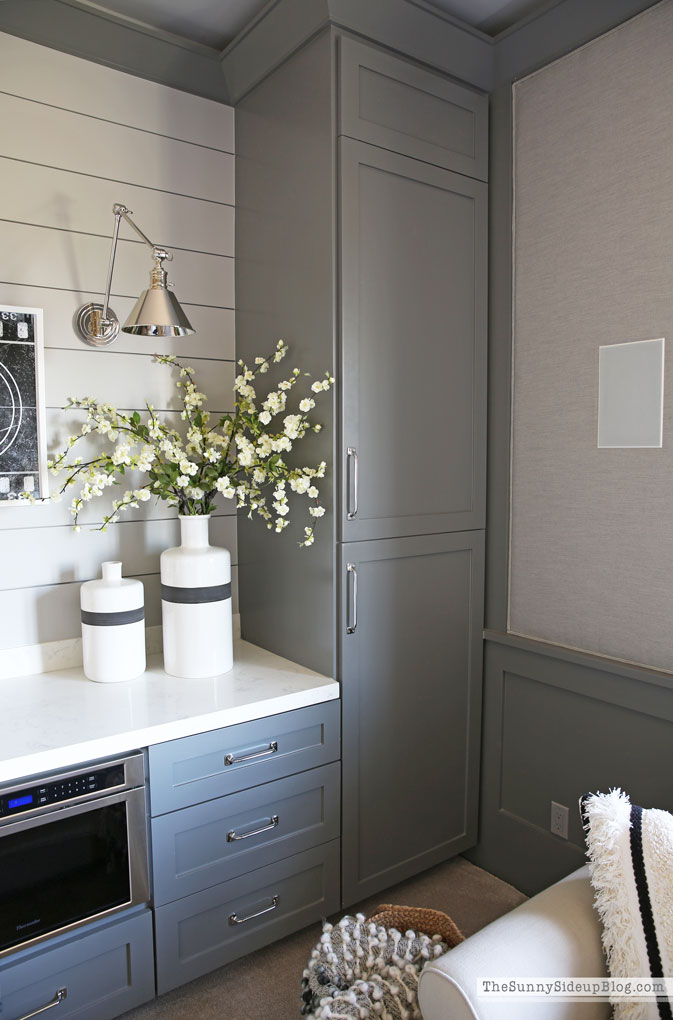 Ok.. tall cabinet on the right!  I'm a huge fan of hiding ALL of the messy TV compartments so I designed this tall cabinet to do just that!  It looks like it has two doors..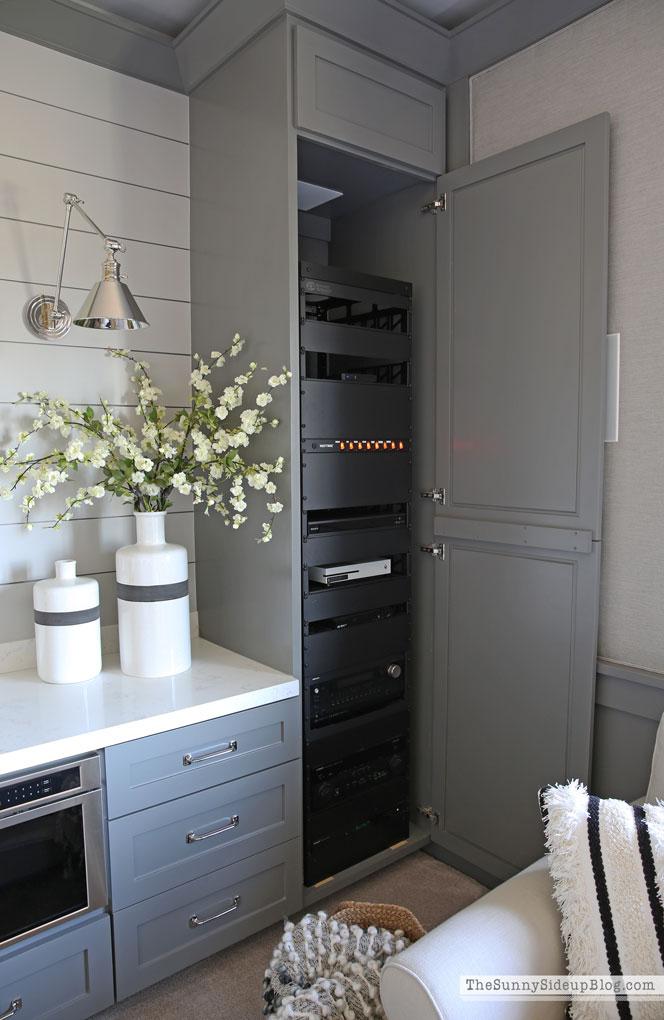 But the whole thing actually opens up as one.  (I did this in my kitchen in a couple of spots I'll have to share too.. places where it looks like I have multiple drawers but it's actually just one tall cabinet.  Great way to get the visual/design exactly how you want even when you need a different set up for storage.)
It's so nice having ALL of the equipment here together!  This also holds all of our playroom TV equipment.  If you've seen that room and wondered where all of the cords and DVD player/X box, etc. live for that room.. it's also inside of this cabinet.
Ok.. that wraps up the tour of my theatre room built-ins!  Why did that quick tour make me so happy?  Most likely because it included organization and popcorn.  My two greatest loves together in one spot.  Plus Coke Zero.  But I'm quitting that.
Tomorrow. :)
Here are answers to a few questions some of you had about the theatre room!
Where do people set their drinks/popcorn?
I went back and forth on having a coffee table in this room and someday might add one, but for now.. my kids just use the floor too much!  This is where all the kids sleep when we have sleepovers and during movies we always have kids laying on the floor (which is also why a really soft rug was a priority!).  But that means there isn't a great spot to set food and drinks so for now the kids just hold their popcorn bowl or have it on the couch/floor and set their drinks on the counter above the fridge.  I really try to not stress about this room.  We designed it with kids in mind and I know there will be spills.  I bought easy to care for couch fabric and I have kids take their shoes off, but I really want people to feel comfortable and relaxed in this room and not worry about messes or spills.
We have this opening behind our couch where our window pops out (I just snapped this with my phone quick to show you) and I'm on the hunt for a console table that fits this space so that when you're sitting on the couch you can also set your drink behind you.
What is the size of the room?  What is the distance from the couch to the screen?  
Our theatre room is 15 1/2 x 23 feet.  If you include the pop out for the window which is 2 1/2 feet deep, it's 18 x 23 feet deep.  It is about 12 feet from the couch to the screen.
Can you share details on your black out blind?
It's a Hunter Douglass black out blind.  Most of our window coverings are plantation shutters so when we first moved into our house and had all of those installed we put in this black out blind thinking we would probably end up making this space some sort of TV room.  To be honest, I wish we would have just waited on a widow covering for this space because when I was designing the room (and researching theatre rooms more) I was wishing I would have put in a different window covering that we could open and close with a remote control.  We could still add that later, but we'd have to cut into the fabric next to our window (where our electricians prepped the wall to make it work) so I doubt we ever will!
Can you share details on the screen/sound system/projector you chose? 
This is definitely more of my husband's area of expertise and he picked all of this out, but this is what I do know..
The receiver is Integra.  The projector we chose is a high end Sony.  And we use the Savant Smart Home system to control it all.  The Savant remote controls everything, but we can also control everything with our cell phones.  It's so easy to use!  I can be downstairs and quickly turn everything on for kids heading upstairs.
What did you use for sound insulation?
We added acoustic panels in-between our fabric and walls to enhance the sound.  Our fabric installer also installed our acoustic panels and I remember the day he came and talked to me about two different types.  He had one that he recommended so I just told him to go with that!  Sorry that's not more help!
Where did you get your drawer hardware?
I matched our theatre room hardware with what I used for a lot of drawers/cabinets throughout our home.  All of the drawer/cabinet hardware in my home is from Restoration Hardware and (because I get this question so much) all of my door hardware is from Emtek.
Are the bean bags working?
They are!  My kids love using these beanbags and always pull them out when friends are over.  I think they are a great option for extra seating for kids.
Did you consider a popcorn machine?
I did!  I actually almost bought one to give our kids last year for Christmas when I was working on this room, but then decided to wait and see if we had space for one.  The microwave popcorn usually works great, but every once in a while we have a lot of kids over and I wish I had one because it takes longer to pop smaller bags for lots of people.  Something we might add in the future!  I've seen some that are smaller and sit on the the counter which is probably what I would buy if we decide to get one.
What were some of the trials you mentioned when you were working on this room?
Oh my word.. like I said, I could write an entire post on this alone.  (I'll try to keep this semi short!)  When I first started this room I got several bids from theatre room contractors who would take over and do the entire project for me.  I knew what I wanted design wise, but obviously there is so much complexity in a home theatre room between the electronics, lighting, sound.. I didn't want to have to manage everything and I knew I didn't have time to manage everything.  But the bids all came back SO high. Crazy high!  And I knew I could do it for a lot less so I talked to Chuck (my carpenter and bff who's now part of the family) and we decided we could do it on our own.  I would design it and pay him to do all of the wood work and manage everything else with contacts we both had through building.  We started off great with Chuck taking off with my vision and managing everything and then.. Chuck had an accident and fell off of a two story home he was working on and ended up in the hospital in critical condition.  Some of you might remember me mentioning this in a post.  DEVASTATING.  We were worried sick about him and obviously the theatre room came to a screeching halt.  We were so grateful to learn he was going to be ok but eventually realized that he couldn't finish the job so guess who became the new general contractor?  Me.  With NO theatre room experience, three busy kids to take care of and a my own little blog business I run.  Which to my surprise has become more than a full time job in and of itself. ;)
I did the best I could picking up where Chuck left off but there were some communication issues with me thinking he had done things he hadn't yet.  (One example was that we moved the crown molding down to add lighting around the ceiling and I thought he had explained it all to the electricians but he hadn't so things weren't wired correctly, etc.)  We had a lot of issues with installing the sound system.  They got everything hooked up and then we'd turn on the TV and the screen would be off or the voices were off or the sound was off or the remote was turning on the wrong thing.  Our installers were good to work with, but we had to have them back SO many times to fix things.  It just always took so much time out of my day to deal with that I had to space out appointments so that pushed everything back further.  We had issues with the fabric.  The first order didn't come with enough.  I went to order more and it was sold out!  (Panic set in because I had already bought so much!)  Then it came back in stock but was backordered so we had to wait for it.  Then when it finally came in I set up a meeting with the fabric installer and the screen installer so that they could get placement right (the fabric was so expensive that I had ordered just enough to sit inside each side of the screen instead of filling the entire wall).  I went over measurements with them individually (size of screen and how far the fabric had to come in to be covered).. then they met together to go over meausrements..  Then I called them after they had met just to make sure we were all on the same page with placement.  (I communicated it all so well because after building a home I knew this was the type of thing that could get messed up!)  And they got it wrong!  Even after all of that communication and double checking!  Our fabric guy installed the fabric, the screen guy installed the screen and there was a small space between the screen and fabric on the right side.  AHHHH.  This is the stuff you deal with so much when you're building or remodeling.  In the big scheme of things obviously these are first world problems that you are grateful to have, but they are the frustrating details that make projects always take longer than you think they will.  Mistakes like this happen so often when you're building or remodeling and can cause you time and money and stress.  They are the reason some couples don't survive building a home together!
(I shared more on this in my post: The 10 Most Important Things I Learned Building a House)
Anyway.. my fabric guy blamed the screen guy and the screen guy blamed the fabric guy and guess who ended up paying for a whole wall of new fabric.  Yours truly.  Good times. :)  My fabric guy was so sweet to work with and felt so bad that he did give me a discount on installation.  There were more little hiccups like this that popped up right and left which is why when I finally got to the fun part of the project (decorating) I was so burned out I didn't want to find the perfect rug.  I just wanted to close the door and forget about the room altogether!  (Anyone else know that feeling?)
What are your tips for putting together a room like this?
Hire someone to do it all for you.  And if you don't take my advice and decide to take in on by yourself.. don't call me for back up.  Ha.
Really at the end of the day it all came together and the issues were all things that could be worked out.  We are so grateful for this space and I love how it turned out even though it took so much longer to put together than I anticipated.  I'm just grateful that Chuck is ok and that I survived being a theatre room general contractor.  Something I can say I've done but hope to never do again. ;)
{THEATRE ROOM SOURCES}





xoxo, Erin