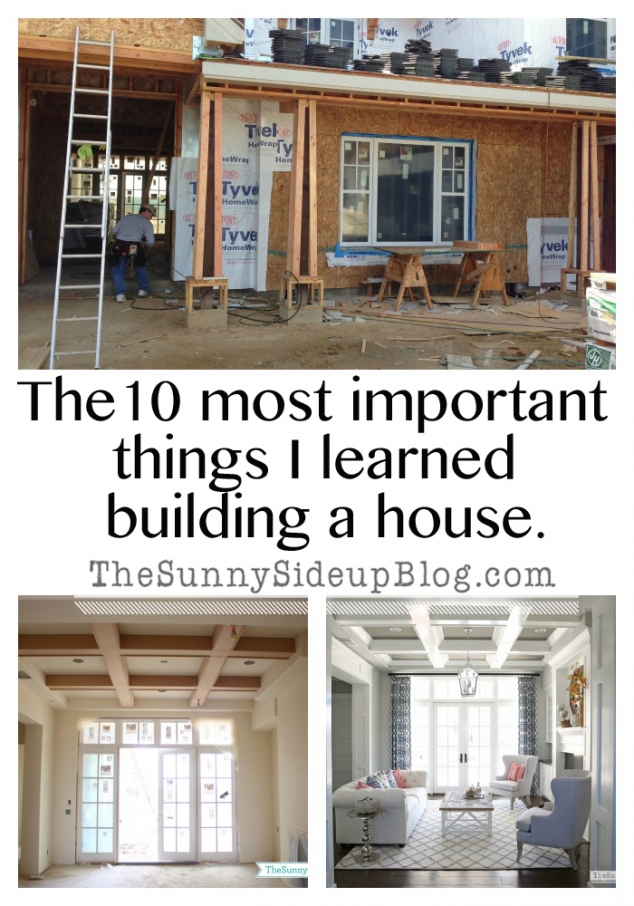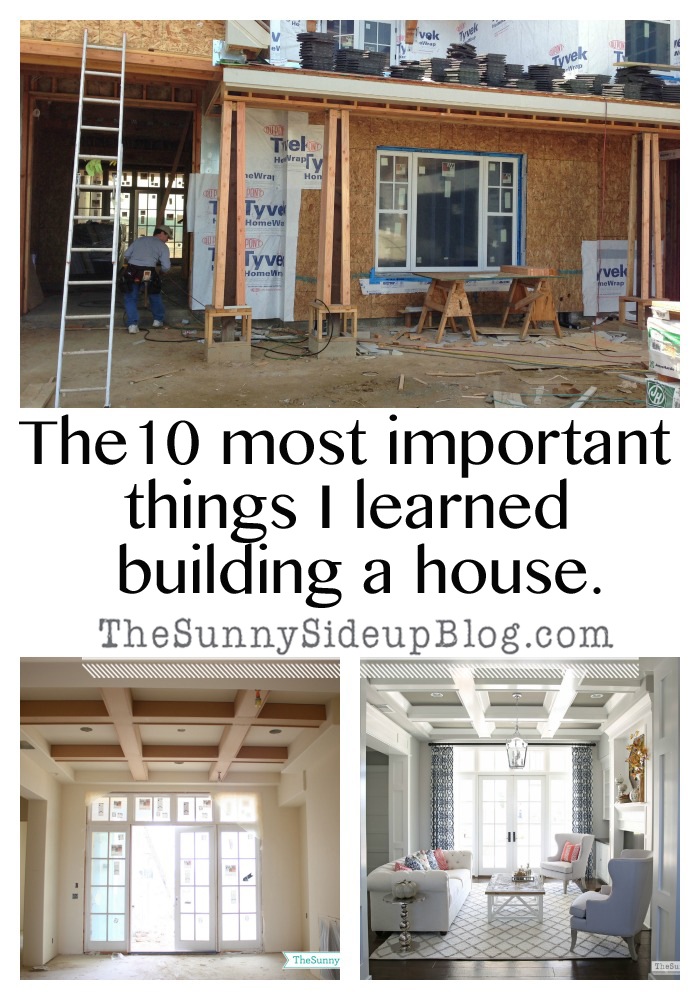 Alright friends.  Let's talk building!  Most of you know that after a couple of years of looking at houses in our area my husband and I finally took the plunge and decided to build a custom home. I have always loved home design and decorating and had a good idea of what I wanted for our future house, but other than that we had zero experience with building.  We spent six months designing our home with an architect, months waiting with our plans in the city (this process is long in San Diego!) and then a little over a year building.  The whole process was two years total and wow – we learned a lot!  After sharing our before and after pictures of our new home I'm finally going to share the ten most important things I learned building a house.  While most of these tips are centered around building a custom home because that's the route we went, they can also be applied if you are building a semi-custom home or remodeling your existing home.  So find a comfy place to sit and grab a snack!  This is a long one friends.  :)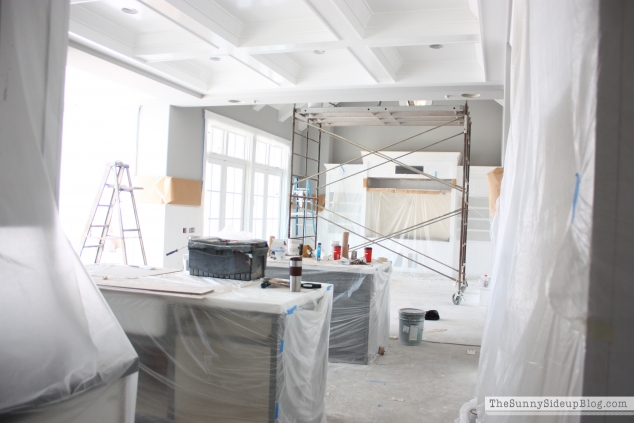 1) Know what you are getting into.  I don't want to scare you if you've decided to build.  In fact, for the most part I really enjoyed our building process.  That being said, there are a lot of things you need to consider before you take on building a house.  The first one being the massive time commitment building is.  If you are building a custom home like we did it is easily at least a part time job (some weeks full time!).  We knew it would be time consuming, but had no idea just how time consuming.  The early stages of designing the home weren't quite as busy, but once the house was framed and construction was moving, it got crazy quickly.  If you are in a situation where you are already overwhelmed with work and kids and life commitments, it might not be the best time to build.  You'll want to spend a lot of time at the house making sure things are getting done correctly so factor that into your decision.  This was the most difficult part for us!  Which leads me to my next warning.  Building is hard on a marriage.  Money flies when you are building so there is financial stress.  If you are like most people you've worked incredibly hard and saved money for years to be able to build a home (15 years for us!).  Stressing about finances always causes strain on a marriage and costs always end up being higher than you think they will be when you build.  It can also be stressful when you don't agree on design decisions.  That wasn't an issue for us because my husband didn't care what the house looked like so I had free reign on all things design, but if you both care and have strong opinions that will be a challenge.  For us the most difficult part was that we were both just so overwhelmed and exhausted from how much work it was that we sometimes took it out on each other.  Months after we moved in and things had settled down I remember my husband and I joking about how we had decided we liked each other again. ;)  Like I said before, I'm not telling you these things to scare you.  I just think knowing what you are getting into and possibly talking to your significant other about how you will deal with these issues when they come up is a good thing!
2)  Hire the right people.  I really can't stress this enough.  Especially if like us, you have no previous experience building.  This is the single most important decision you will make because you will be working so closely with your builder/architect throughout the process and your overall building experience is largely determined by your relationship with them. Do your homework before you make your decision.  Interview and meet with lots of builders and ask for referrals.  It's also smart to ask for names and numbers of the last three people they worked for to get an accurate view of how people felt about their building experience with that builder.  Look for clues that tell you what they will be like to work with.  One builder we interviewed took a long time to get back to me every time I reached out to him with questions.  He didn't get the job.  One of the main reasons we hired the builder we did was because every time I'd send him a text or e-mail he would respond so quickly with helpful information.  I could tell he was organized and on top of things.  Also look for someone you connect with.  Like I said, you will be working closely with these people and are trusting them to help with one of the biggest financial commitments of your life.  One architect we spoke to seemed great on paper, but I could tell from his personality I would have a hard time connecting with him.  We just clicked with the architect we hired.  I could tell he understood my vision for the house and would work hard to make that happen.  We are still great friends to this day and I bring him banana bread muffins every fall.  :)  Take your time making the decision about who to hire and do your homework!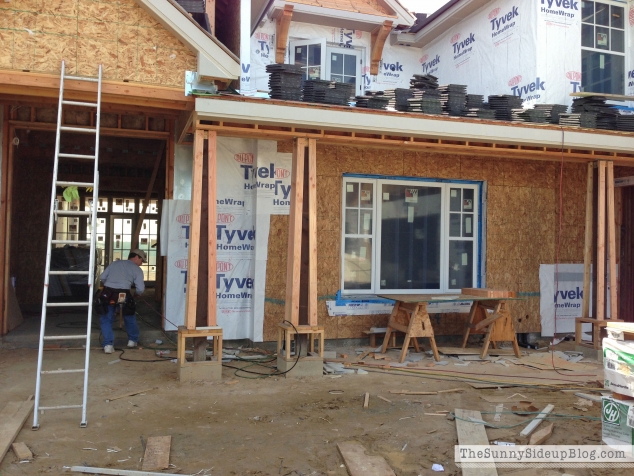 3)  Consider hiring a designer.  Whether you are remodeling your existing home or building a custom home like we did don't rule out hiring a designer.  If I had it to do over again this is the one thing I would do differently.  My husband suggested hiring a designer in the beginning of our building process but I didn't want to because I knew what I wanted for the house.  Why spend money on a designer when I could do it myself?  Well.  While I may have known the look, style and feel I was going for, I had no idea how many decisions I would have to make on a daily basis that I knew nothing about.  Designers speak the language of building.  (There is a building language that will be so foreign to you!)  Your builder can help with a lot of decisions, but he isn't looking at things from a design perspective.  He's thinking about logistics, not how a decision will affect the style of your home.  A lot of designers charge hourly so if you're worried about the expense you can just use them when needed.  Plus if you hire the right designer, he/she can actually end up saving you money because they know how to cut costs to help you get the look you want, keep your project moving, and keep you from making costly building mistakes.  Half way through the process I was so overwhelmed that we hired a designer.  He was a friend from my hometown and while he was a huge help with some things, he wasn't local so he couldn't be on site with me.  I ended up making most decisions myself and winging it a lot of the time!  Things worked out because so many nights I was up until 2:00 in the morning researching, but I would have saved a lot of overall time and stress if I would have just hired a local designer in the beginning.  This is a great post I read not long after we finished building on why you should hire a designer and I was nodding my head to every point made!  My advice is if you're going to spend the money to build or remodel, do it right and hire a designer.
4)  Think about cabinet and furniture placement early on in the design phase.  Whether you buy existing plans or create your own, it's important to think about how the furniture layout will work.  Where will your couch and chairs go?  Beds?  Is there really enough room to fit the furniture you want?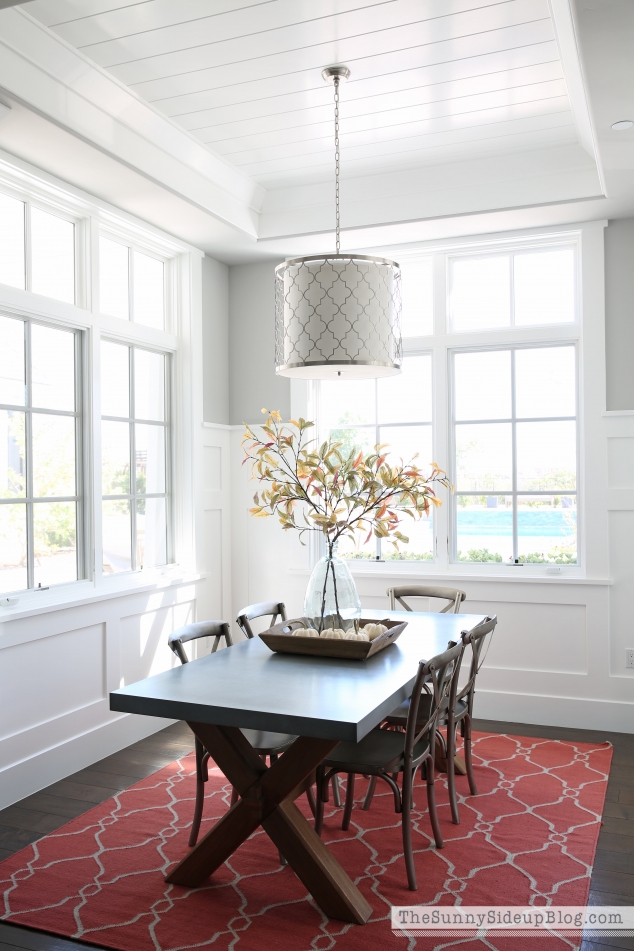 Think about how you will live in the space.  We measured our kitchen nook several times and ended up making it a bit bigger at the last minute because we were taking into account how much room we would need to be able to slide out chairs and still walk around them comfortably.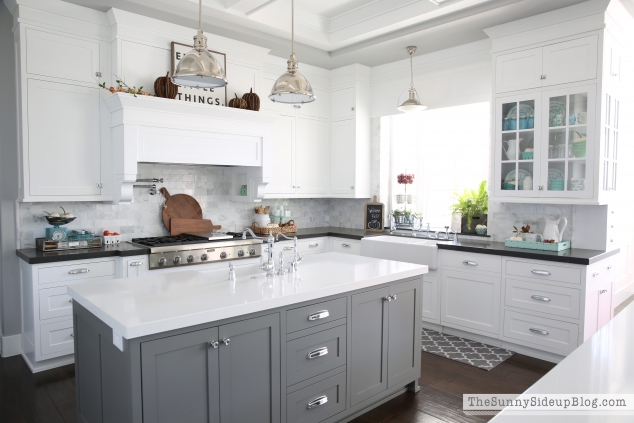 When our architect designed our kitchen we had an idea of where the fridge and stove would be, but other than that it was just the drawing of an empty box.  We sat down with our cabinet guy months later to design the kitchen and once I saw how the cabinets were laid out I was wishing I could have pushed a wall over further so the cabinets on the sides of my range were symmetrical.  We had already started framing at that point so it was too late to move walls.  Obviously not a big deal and it all worked out, but if I would have thought about cabinet design/layout earlier during the design phase I could have made adjustments I couldn't make because I had waited too long.  This is also where hiring a designer is so smart!  A designer will go over those things with you from the beginning so you can adjust your floor plan accordingly.  Early on BEFORE you begin building, plan your cabinet and furniture layout.  You will be happy you did!
5)  Plan, plan and plan some more.  I can't stress to you enough how much easier things will go if you have a good idea of what you want in your home before you start building.  Once things start moving it is a whirlwind of decisions being thrown at you daily.  Time is money when you are building a house and it is extremely stressful to have to slow things down because you just can't decide what tile you want in the kids' bathroom.  Pick out as much as you can before you start!  While we were working on our plans we were also researching appliances, flooring, counter tops, backsplashes, light fixtures etc.  I had a good idea of how I wanted each space to come together early on so when my builder would e-mail me and say "in a two weeks we need the tile for your master bathroom" I could say ok and order it and be ready.  (Of course I had also spent months saving magazine clippings and on-line pictures of things I loved as well.)  I learned how to be decisive quickly (a difficult thing for me!) because you just don't have time not to be when you are building a house.  Try to have as many details in place as possible before you start building.  
6)  Things look worse before they look better.  It's important to remember that things always look worse before they get better.  You can see a lot of evidence of this in my previous before and after posts.  This is an obvious statement, but a lot of times I would be so worried about how something looked and if I would have just waited a few weeks I would have saved a lot of stress because everything looks better when it's completed.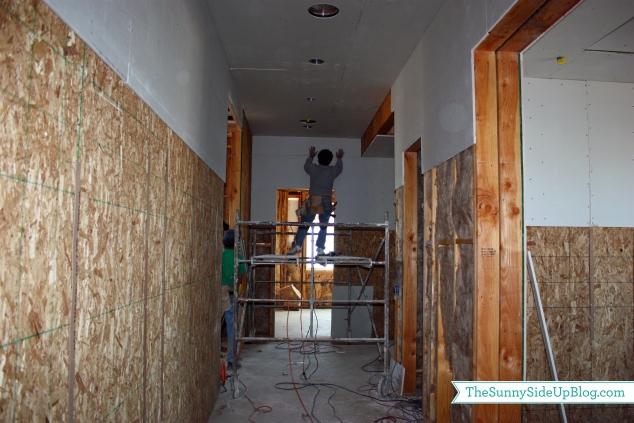 I remember once the drywall went up in this hallway I panicked that it was going to be too dark.  It was so much darker with drywall than it was framed.  I just knew I had messed it up and ruined everything! ;)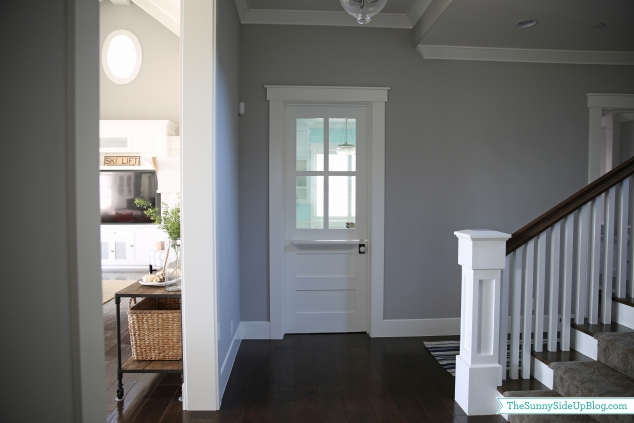 By the time the house was closer to being finished I could tell that all of the windows around it gave the hallway plenty of light.  I shouldn't have lost sleep over that one!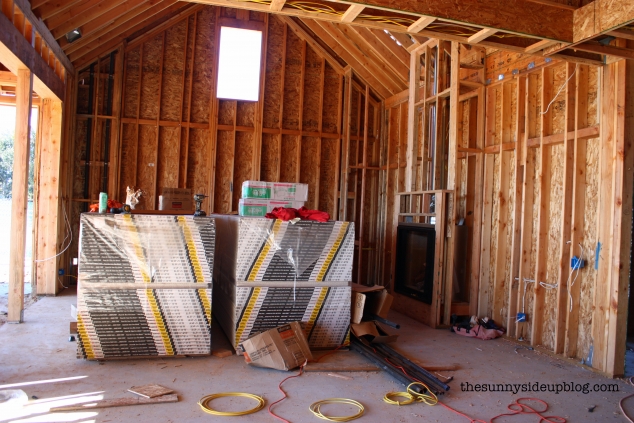 When the square was cut and our oval window was put in our family room I was sure it was too small.  I stressed about that for weeks!  It felt way too little in that great big room.  My builder kept telling me to wait and that it would be fine.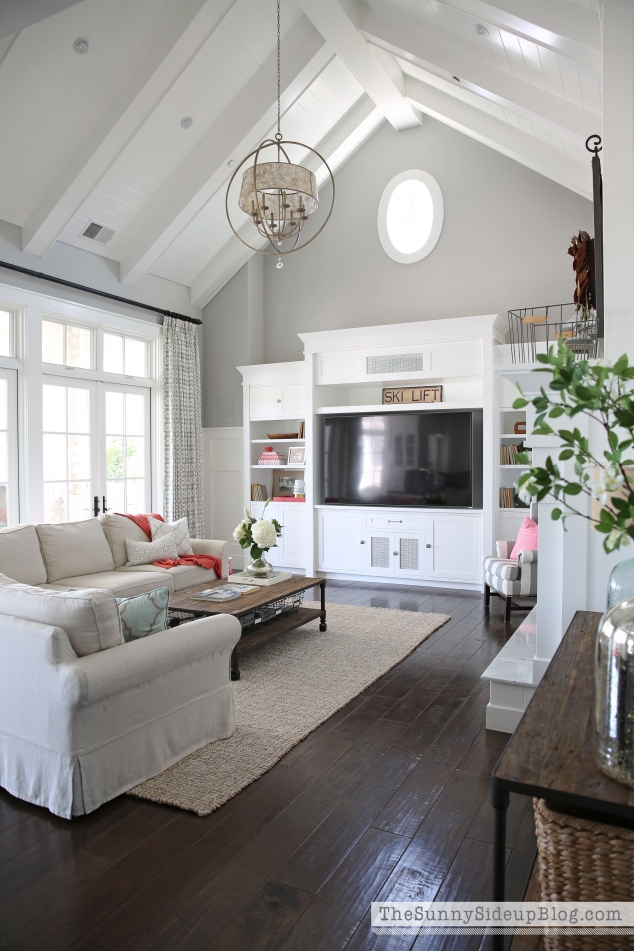 I was too inexperienced with building to take into account the space our built-ins would take up and how once all the finished details were in place (molding, paint, ceiling treatment) the window would look in porportion.  You are seeing a lot of "befores" during a build.  Try to not panic and assume the worst during the process and wait until you see the "after."  A lot of things have a way of working out just fine.  If you see the after and still hate it, then you can panic. ;)
7)  You'll make mistakes.  While some things do work out, just know that there are going to be a lot of mistakes made.  There just are!  There is no way to build a perfect house with everything going smoothly during the building process.  Building a house involves a lot of people and a lot of changing and moving parts.  Know that you aren't going to get everything exactly how you want it.  Some things will be a miss and you'll have to just move on.  That being said, other things will unexpectedly turn out a lot better than planned!  Some of my favorite details in my house are things that weren't even planned in the beginning.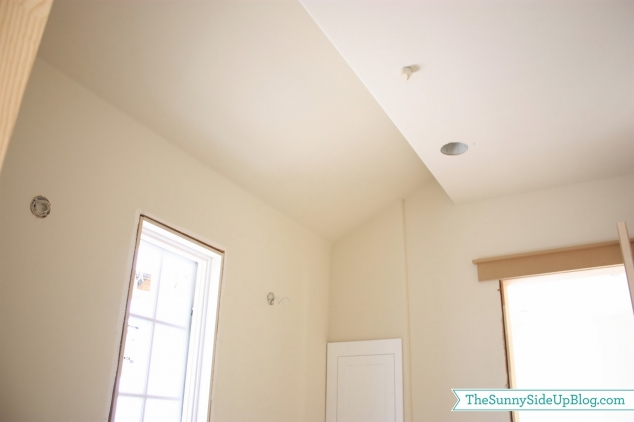 My girls bathroom ceiling is just one example.  It was supposed to just be a flat ceiling and when my builder saw the slant on it from our roof line he immediately assured me he'd fix it.  I decided to leave the slant and add some planks and it gave the room so much personality!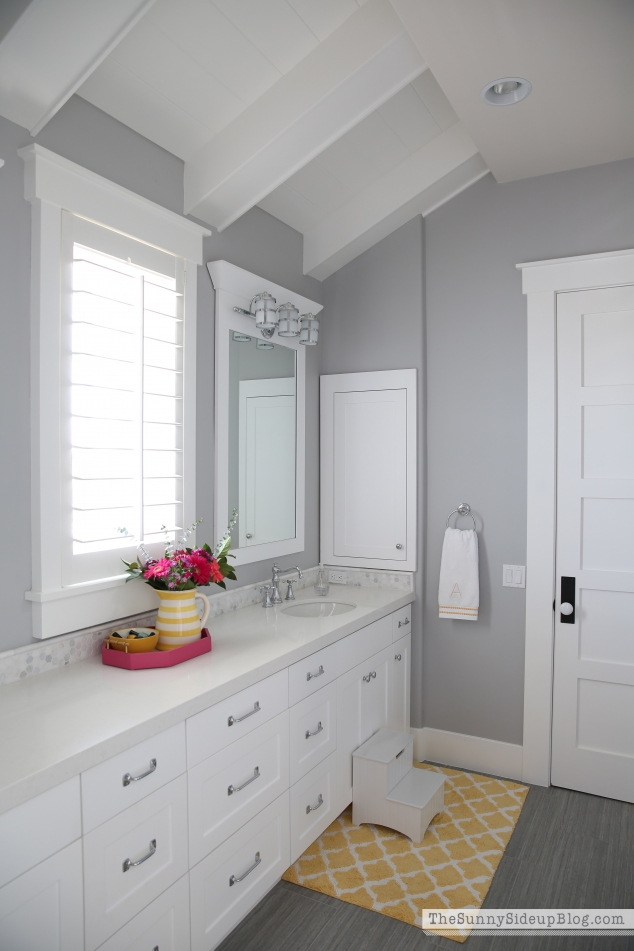 A happy mistake.  There are lots of them when you build!  And all of those mistakes that didn't turn out happy that I was SO stressed and sad about while we were building?  We've lived in our new house two years now and I hardly remember them anymore!  Building is so all consuming that while you are involved in the process you feel like that sink sprayer that is off centered is the most important, awful thing ever and it will haunt you every day for the rest of your life!  Remember to keep it all in perspective.  Once you are removed from the building process, living in the house and moving on with life, it's all just a drop in the bucket.  :)
8)  Communicate everything and don't assume anything.  While there is no way to avoid mistakes, you can minimize them by being specific and making it very clear what your expectations are.  SO many mistakes happen simply because of miscommunication.  I learned quickly that the more specific I could be describing how I wanted something to look (show or even draw a picture if needed) the smoother things would go.  Many mistakes were made because I "assumed" someone understood what I wanted.  Don't assume.  Explain it and show a picture and go over it again and then make sure you are at the new house often to catch mistakes early on so they can be fixed without too much time or money wasted.  Good communication is key when building or remodeling!
9) Be kind to everyone involved in your building process.  Framers, cement crew, drywall installers, electricians, painters, carpenters, etc. – we got to know them.  We made them feel welcome and appreciated.  You all know I made my banana bread muffins to share with the crew often.  :)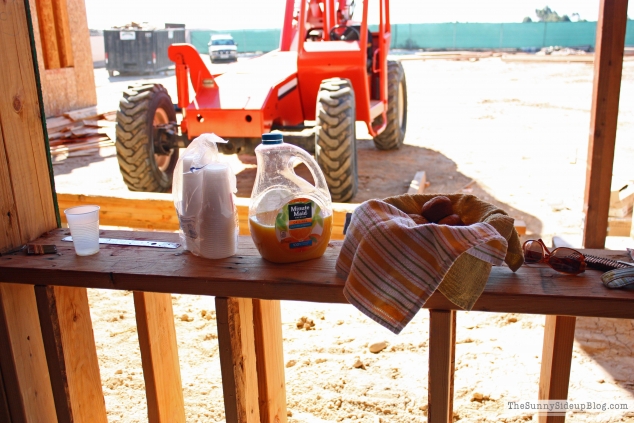 This is such an obvious thing, but the reason I mention it is because I was surprised by the reaction so many of our construction workers had.  I heard time and time again how much they appreciated the kindness.  I remember the guy who installed our siding saying "most of the time when we work on a job we don't even talk to the home owners.. they just tell the contractor if we've made a mistake.  With you guys we feel like part of the family."  That made me feel so good!  I'll never forget it.  You will work with these people closely and the better your relationship with them is, the smoother everything will go.  Many times when mistakes did happen our crew was so quick to fix things, work overtime and accommodate any needs we had.  I think a large part of this was simply because they liked us and appreciated our kindness.  Obviously we weren't kind for that reason, but it did make our building process much smoother.  Like I've said before, building can be stressful and it's important to keep your cool and remember that the people working on your house are doing their best too.  Show them the kindness and appreciation they deserve.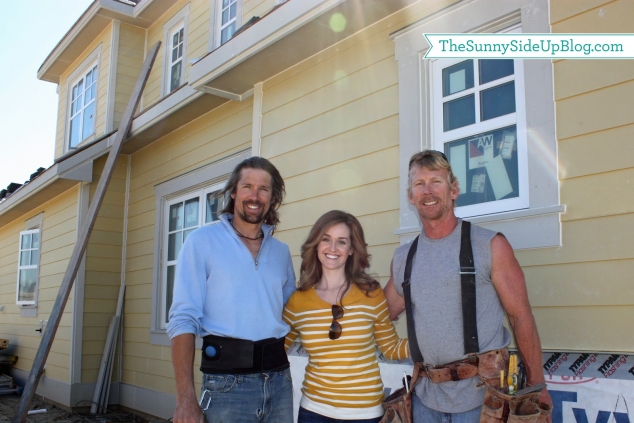 Something I wrote from one of my past posts during the build:  OK.  I know I keep saying how much I love hanging out with everyone working on the house and how amazing everyone has been but I have to say it one more time.  My siding guys are THE BEST.  So friendly.  And hilarious!  I knew the second I met them we were going to get along famously.  They are so happy and funny.  They sing.  And tell stories.  And we ponder and discuss life's mysteries.  And then I ohh and ahh at their work.  And offer to bring them food.  But they never let me.  Because they are so nice and hard working.  And funny.  Did I mention they are so funny!?  They really are.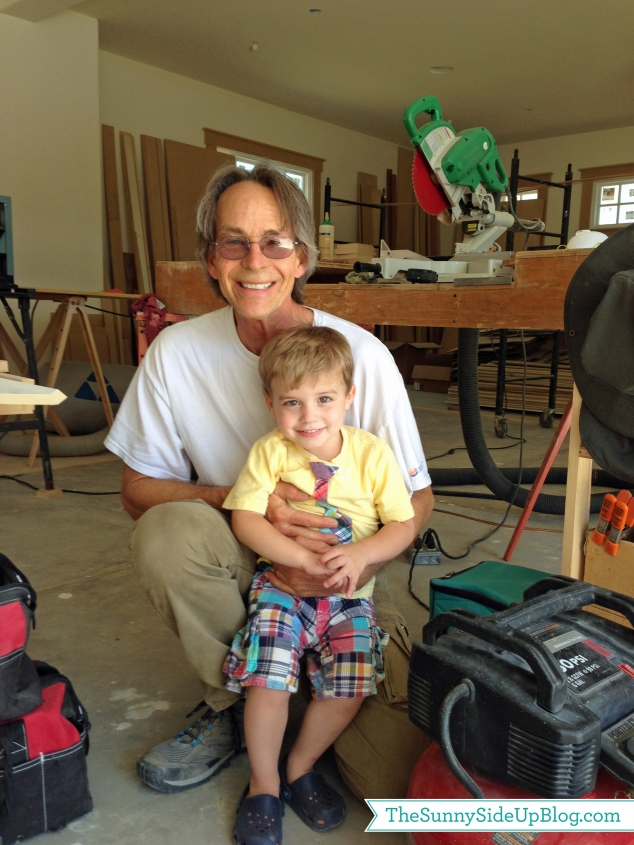 My little buddy with our carpenter.  You can see we became fast friends with most of the people who worked on our house.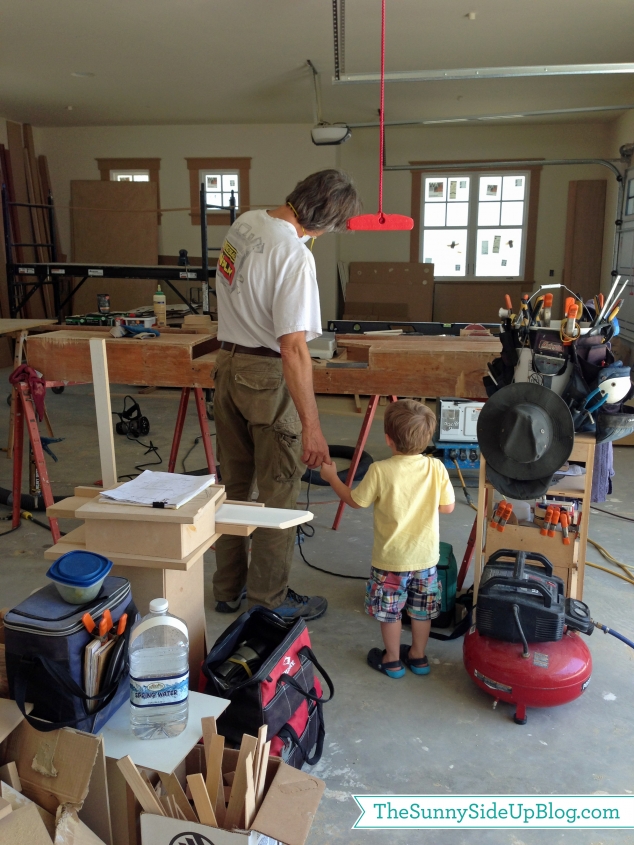 I framed these two pictures and gave them to our carpenter on his last day.  He is now a close family friend and is actually swinging by my house tomorrow to hang something large in my office for me.  Aside from making our building process go smoother, being kind to everyone involved also made the entire process much more fun!  And gave us a few life long friends in the process.  Always a good thing.  :)
10)  Listen to professionals but know when to trust your gut.  There will be so many things during your building process that you don't know and understand and that's when it's time to listen to the people you trust.  Your architect, contractor and (if you've hired one) your designer.  That being said, I think it is SO important to know when to trust your gut.  That little voice inside of you who knows what you really want but might be afraid to say it because you're intimidated, unsure or so overwhelmed with everything going on around you.  I remember one of the cabinet guys we considered working with didn't think I should put farmhouse sinks in my kitchen.  He tried so hard to convince me that they weren't a smart idea.  He said they don't drain as well and scratch easily.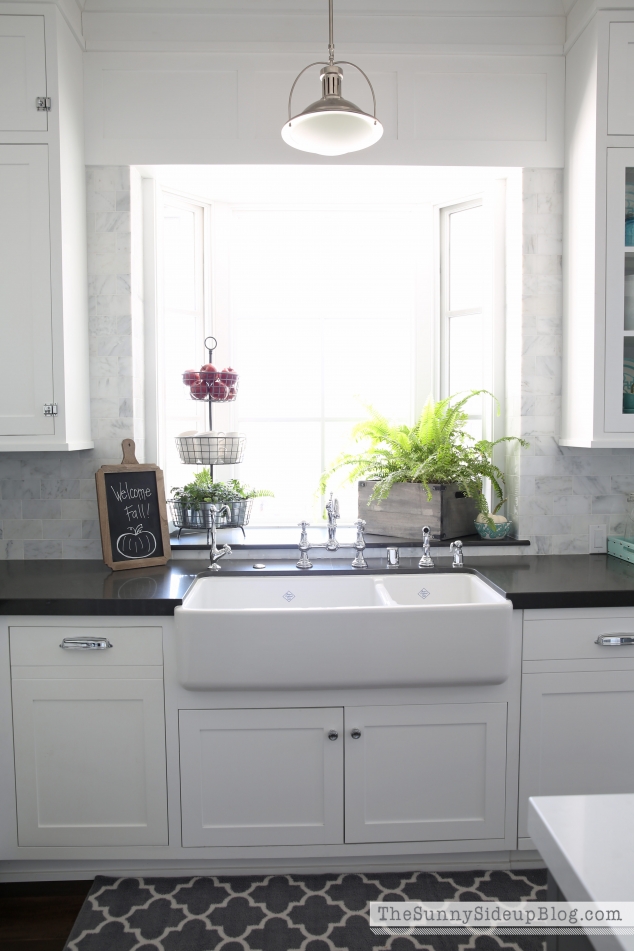 Farmhouse sinks were one of the things I was most excited to put in my new house!  I had dreamed about owning one for years.  I knew myself well enough to know that even though they might not drain as well and could possibly get scratched it was worth it to me to have that look in my kitchen!  So glad I trusted my gut on that one.  My farmhouse sinks make me happy every single day.  :)  There were lots of times people had an opinion about something and it wasn't what I felt like was right.  Remember that at the end of the day it is YOU who will be waking up in this house each day.  YOU who will actually live with all of the decisions made.  All of the people helping will move on to other houses.  If your gut is telling you to go this way instead of that.. trust it!  You'll be happy with your decision in the end.  Even if everyone else thinks you're crazy.  :)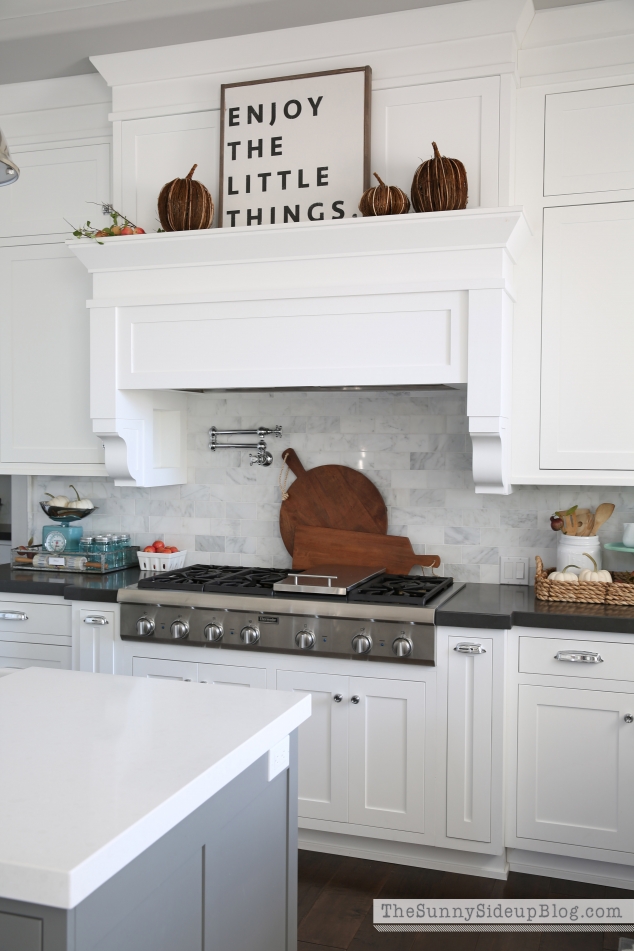 My last bit of advice in this already too long post is to try to enjoy the process as much as possible!  While there will be mistakes made and stressful days, there will also be days of complete joy and excitement while you are building your house.  It is an amazing thing to see your vision come to life right in front of your eyes.  Remember how fortunate you are to have the opportunity to create this future home for you and your family and enjoy the little things during the process that make you happy.  There will be lots of them.
:)
**You can see pictures of our now finished home in my HOUSE TOUR or recent pictures of my house decorated for fall here.  If you're new here, you can also sign up to receive e-mails below so you don't miss a post.  Thanks for reading friends! xo
xoxo, Erin