Friends!  This is such a happy day for me!  And I hope for a lot of you too. :)  We moved into our new home over four years ago and ever since then I have been getting so many questions about my paint colors.  I wrote this post in 2016 sharing paint names of some rooms, but there were still a lot of paint questions because the main brand we used (Frazee) later joined with Sherwin Williams.  That made things tricky!  Some of you were having a hard time finding the exact color, some of you had questions about what sheen we used, some of you wanted info. on our white paint or our ceilings or on rooms I hadn't fully shared on the blog at that point.
SO!  Because I love you all. :)  I have spent hours getting everything figured out for you!  This involved a few trips to my local Sherwin Williams, several phone calls with my painter, and going back to where my mind was during building and painting our house which quite frankly is a place I didn't really want to return to.. ha. ;)  I then typed EVERYTHING up for you on a printable that you can print out and keep!  This printable includes ALL of my paint colors throughout our home (exterior and interior).  It also includes the brand and number that goes with each color.  A few of these rooms I haven't even shared on the blog yet!  But now you'll know the name of the paint color when I do. :)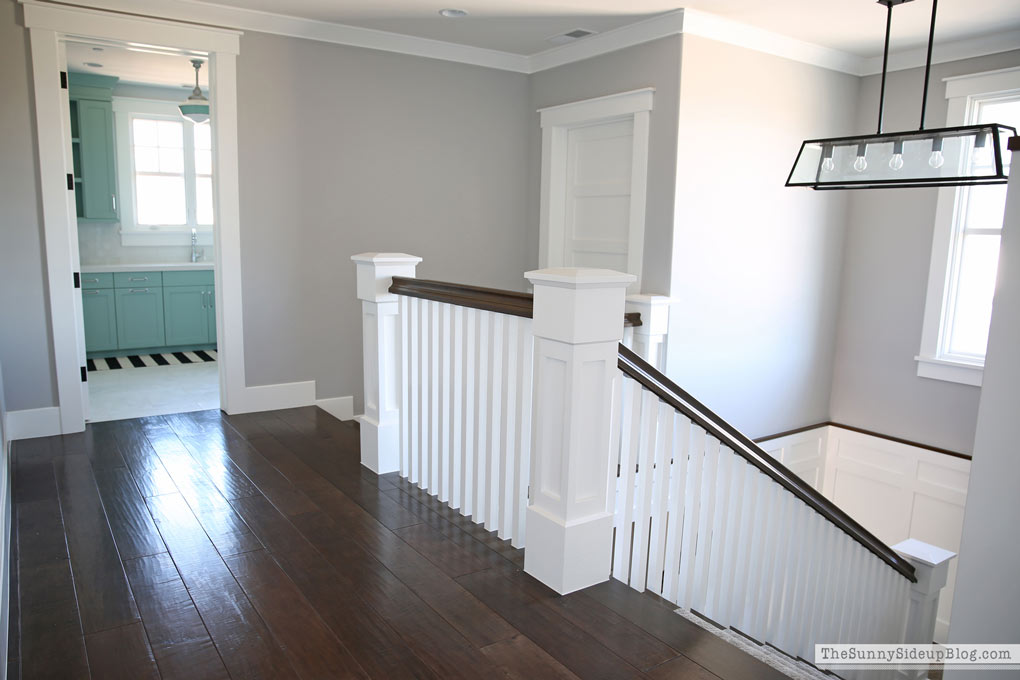 And for my main grey paint color that I get asked about daily?  I also included the exact formula and sheen we used in our home!  (If you want to use that same grey paint with a different sheen, just give someone at SW my color numbers and formula and they will be able to match it for you.)  
OK.. here's another reason it took me a while to get all of this figure out for you and why I'm so excited!  
I am obsessed with list making – as you all know. :)  I have always typed up my own printables to help me stay organized.  I have printables I use for projects like decorating a room, printables I use for organization, printables I use for blogging.  I have never shared them with all of you because that involves major tech work (setting up the library and making everything accessible to you on-line).  Most of you know that the tech side of blogging is not where I excel.  But I finally hired some help and now have a printable library all set up that I will be able to add printables too.  YEA!  If you subscribe to my blog you will have instant access to this library.  My paint printables and the printables I made to help with gift giving at Christmas are in the library now, but more are coming!  I'm so excited to show you a few things that have helped me stay organized and on track with my projects and time management!
If you are already a blog subscriber (thank you!) you can just enter your name and e-mail again to get the paint printable.  It won't double your e-mail. :)  If you are not signed up for my e-mails and are nervous about subscribing to my blog, don't be!  I totally understand wanting to keep your inbox clean.  I will never share your e-mail address with anyone and you'll only get a quick e-mail from me when a new post is up (on average twice a week).  Plus we have a good time around here so why not join the party!?  I've got lots of fun posts in store for you all. :)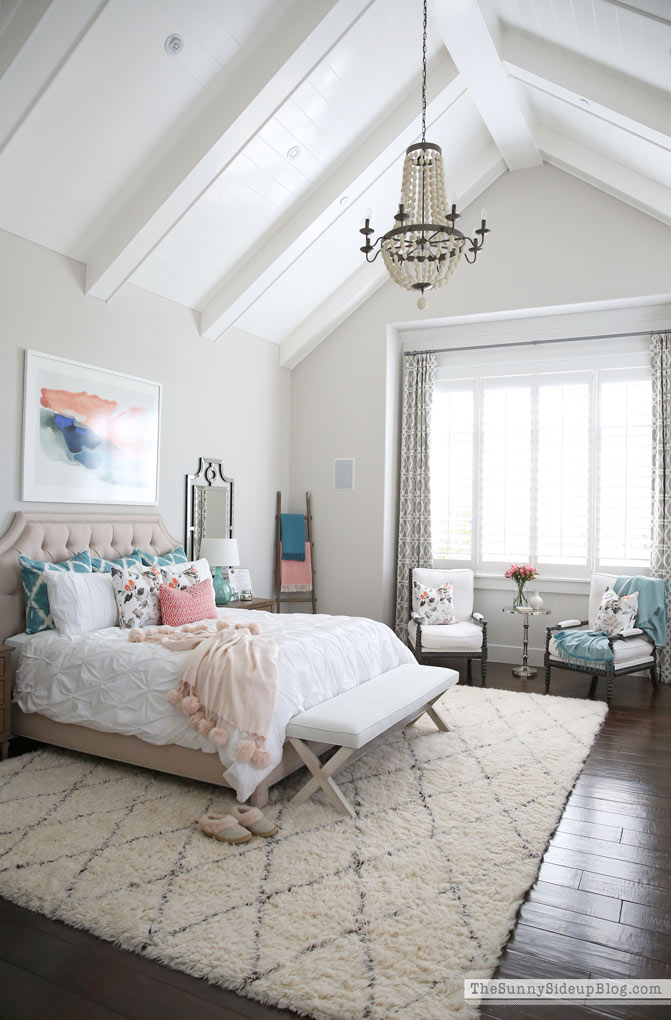 In other random news, I've been decorating for Spring (so fun!) and if you want a sneak peek of a few things I bought to refresh my home (and some clothes I'm loving lately) you can check out my updated favorites page.  This throw I have on the ladder in my master bedroom is so beautiful and went out of stock in most colors so quickly!  They just got it back in stock if you want something fun and pretty to toss over your chair or couch for Spring!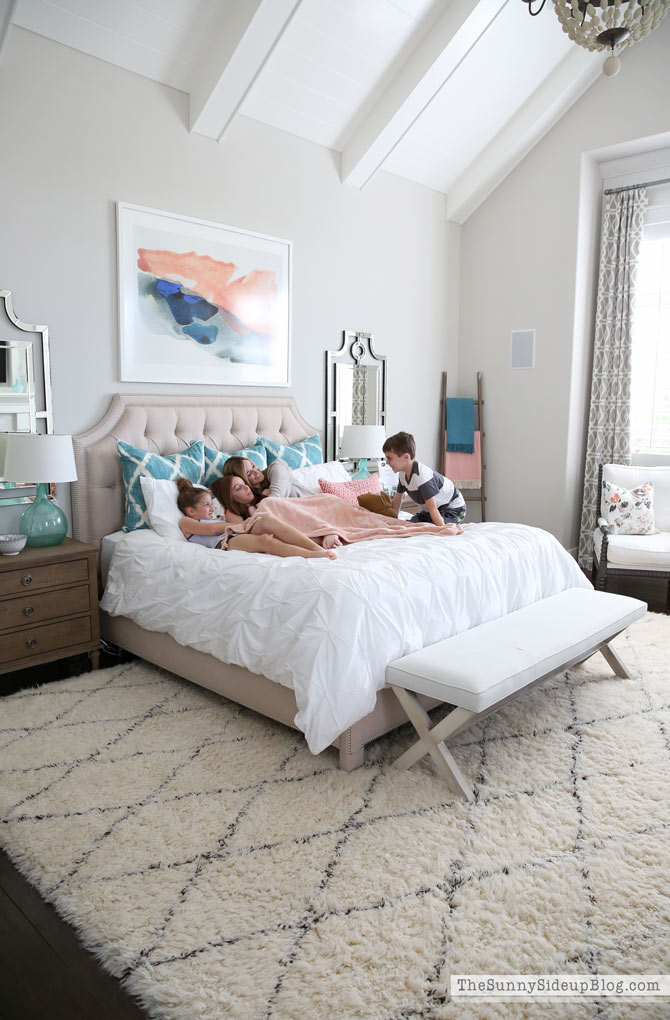 And speaking of my master bedroom, we just got a new mattress!  You guys.. I'm so excited about it!  The kids and I are always on this bed hanging out – even more so the past six weeks because of my knee surgery.  We got our kids all new mattresses after we moved into our house, but ours was 17 years old!  Yikes.  So when Mattress Firm reached out to me to collaborate and write a post on their blog I couldn't say yes fast enough.  We bought the kids' mattresses at Mattress Firm and knew they were good quality and that they had good customer service.  You can read the post I wrote about why we love king size beds and which mattress we picked out here.  They are having a huge sale right now if you've had your mattress for 17 years too!  (Please tell me I'm not the only one..)
Alright friends.. that's it for now because it's time for after school pick up, but I'll be back soon!  Enjoy your day!  :)
xoxo, Erin