I'm so excited about today's post!  Finally.  I'm finally sharing my organized pantry with you!  We've now lived in our new home over four years and this pantry was for the most part organized one month after we moved in.  WHY haven't I already shared this space!?  I honestly have no idea!  Ha.  But I guess it doesn't matter because I'm sharing it with you now. :)  What I have shared multiple times is this butler's pantry (the counter and open shelves in my kitchen that links my pantry and the formal dining room).  See that door to the right?  Let's go inside!
*affiliate links used
There is no window in my pantry so I'm sorry about the lighting.  A tricky spot to photograph!  (Maybe that's why I procrastinated so long on this post?  I'll be analyzing that one for a while…)
When I was working with our architect to design my pantry he kept trying to make it bigger.  I kept explaining that food/cooking wasn't really my thing and after living with my previous pantry, anything I could walk into would be plenty big and would feel like a dream!
A few things that were on my pantry wish list: regular drawers, pull out basket drawers, open shelving for food, open shelving for kitchen accessories, counter space and wall space to hang a few things.  Done and done!  I am so happy with how it turned out and feel grateful for this space every single day.
Even though I LOVE organization there are some spots in my home that I struggle to keep organized.  My pantry isn't one of them!  For some reason food pantries have always been my easiest spot to keep neat and organized.  I think it's because I really can't function when this space is a mess.  I just can't.  I am in and out of my pantry too many times a day.  I also have a long time habit of straightening things in my pantry every time I bring in new groceries which is pretty much every other day!  (I absolutely had to do this with my previous pantry because we were short on space).  So while other spots in my home can get out of control in no time, this pantry always stays nice and organized.  Just the way I like it. :)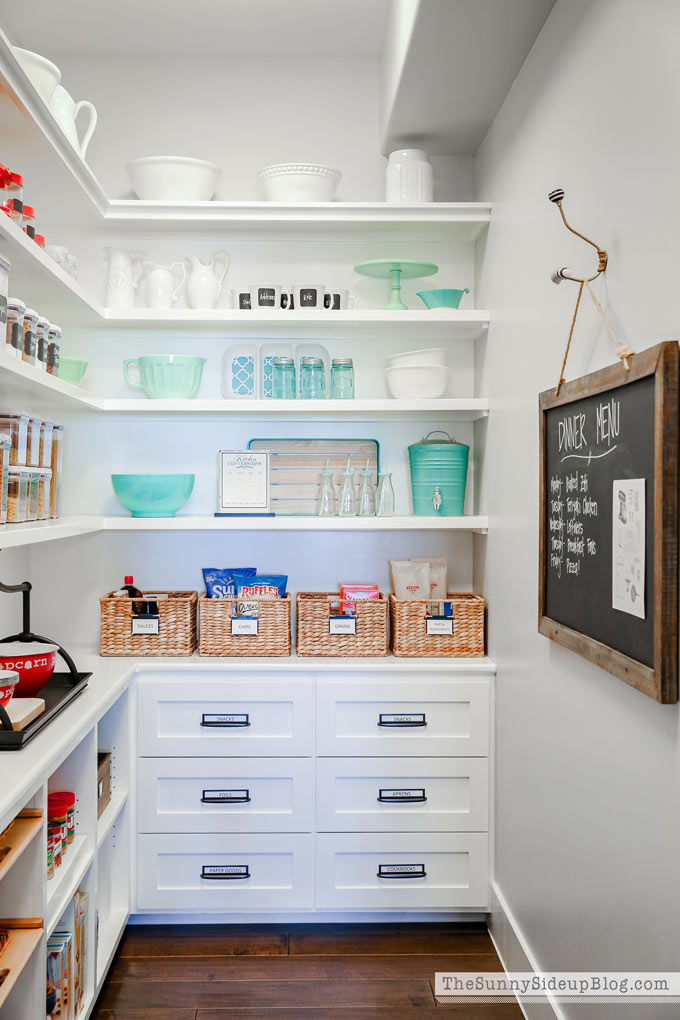 Now before I break things down for you I need to add a little disclaimer.  I am not a food blogger.  Or a nutritionist.  My pantry is not full of wheat/organic/tofu/all natural whatever.  I wish it was, but it's not.  You can usually count on some type of fruits and veggies cut up in my fridge, but my pantry is another story.  Just throwing that out there so there's no judging the food I have in this space.  Let's just focus on how it's organized mkay? :)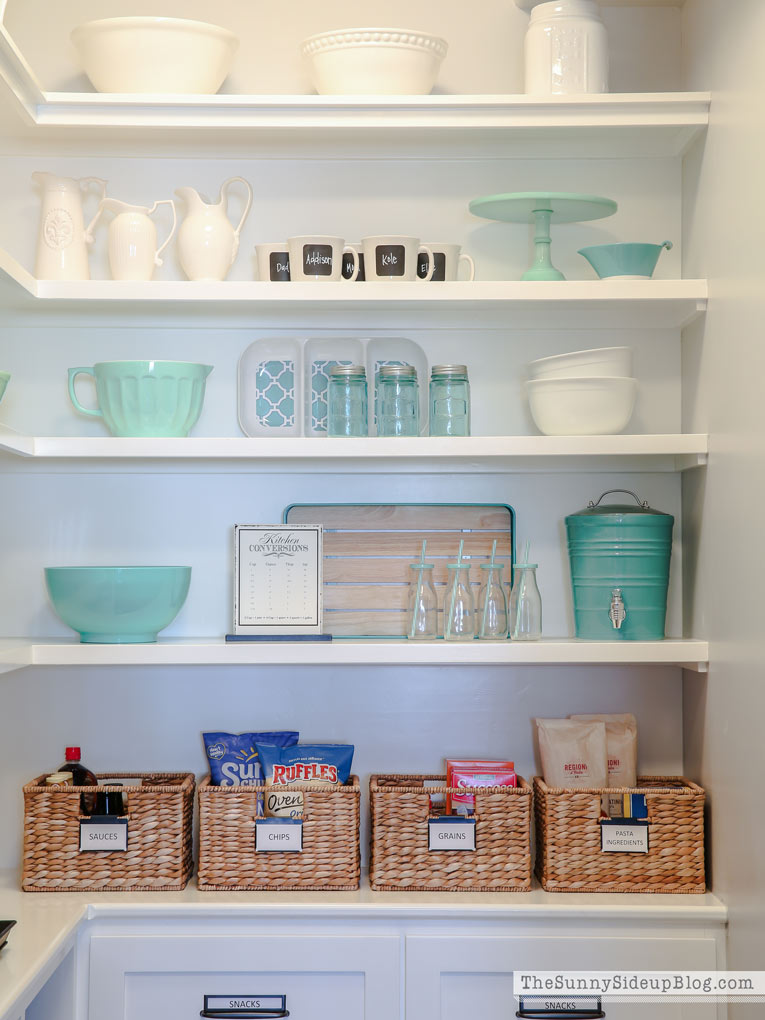 How about these open shelves I have for storing miscellaneous kitchen items when I'm not using them?  Pretty storage?  Now that I do. ;)
Below these shelves I have baskets I labeled SAUCES, CHIPS, GRAINS and PASTA INGREDIENTS because those are the things I seem to be reaching for most days.  The baskets are these Savannah Utility baskets – long time favorites!  I have them all over my house and love them for organizing!  You can see them in my master bathroom cupboards, on my tub shelves and I also have them in a few closets.  I took these pantry pics quite a while ago and since then have actually switched these smaller square baskets out for the Savannah Lidded baskets because they are longer front to back so I can store more food and utilize my counter space better (I'm not using the lids.)  My labels were just typed on the computer on white paper and cut to size to fit in these bin clip labels.  Easy to switch out if I ever ditch the chips and add the tofu.  (I don't think those labels are getting switched out any time soon.)  ;) 
This is a picture of my pantry soon after we moved in.  Initially I was going to keep the drawers open like this but then a few months later I decided I wanted to put drawer fronts on them.  Hardware and labels please!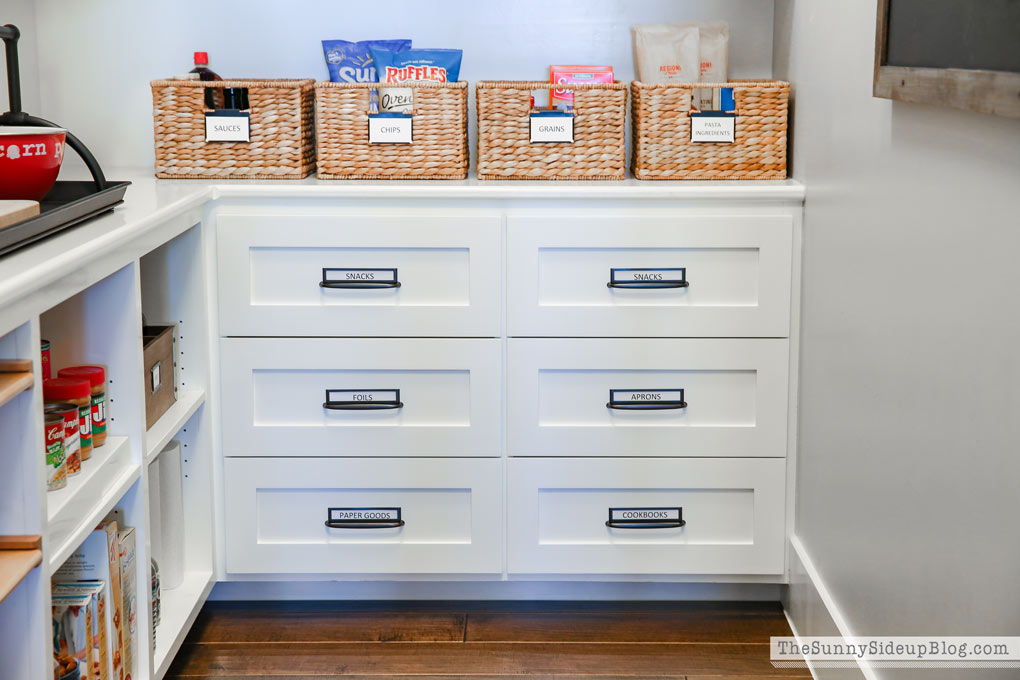 My carpenter made the drawer fronts and I found these label pulls at Pottery Barn. (They don't sell them anymore which is so sad because I love them!  I used them in our playroom and Kole's room for drawers too.)  I printed labels for SNACKS, FOILS, PAPER GOODS, APRONS, and COOKBOOKS.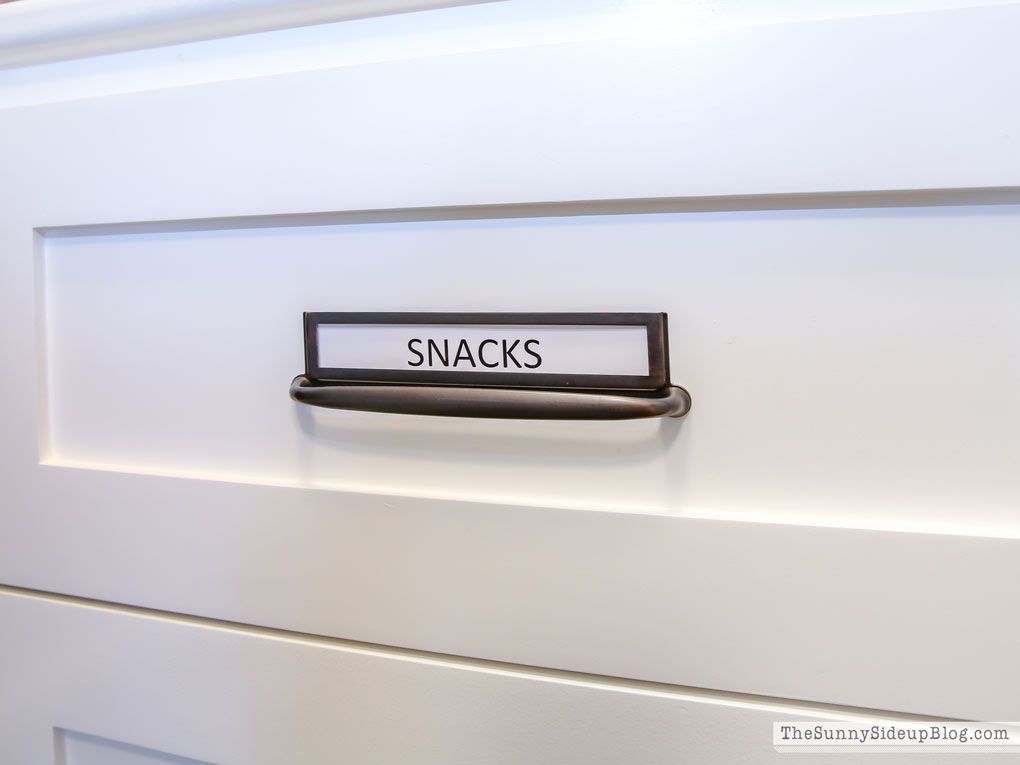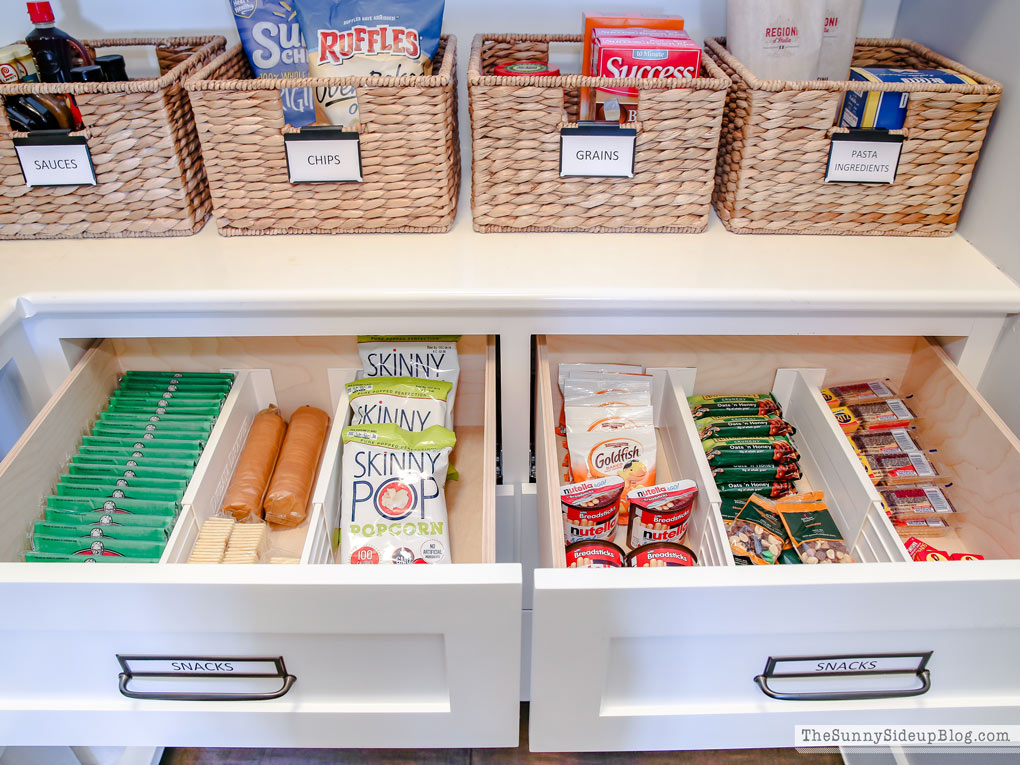 I keep snacks for the kids in the top two drawers.  This makes lunch packing and snack time a little easier.
I shouldn't say these drawers are just for the kids.  I'm the one who has always been popcorn obsessed.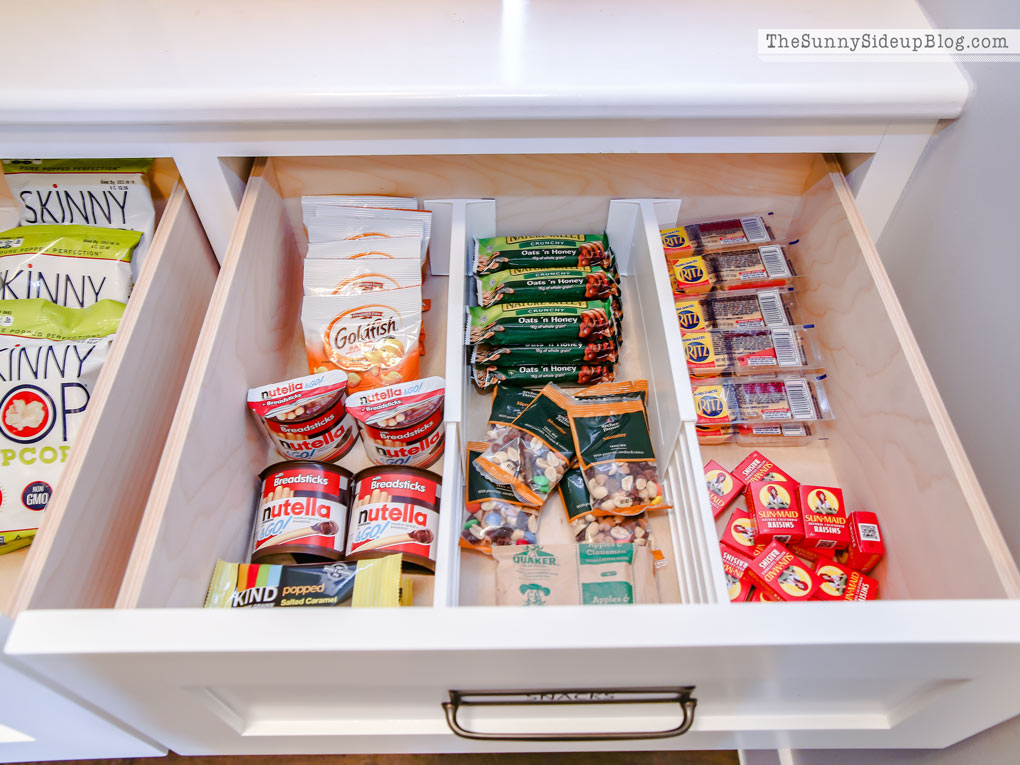 I use these Dream Drawer Dividers to organize our snacks.  LOVE these.  Another favorite organizer I have all over my house!  You can see how I use them in closets here.
This drawer holds foils and ziplock bags.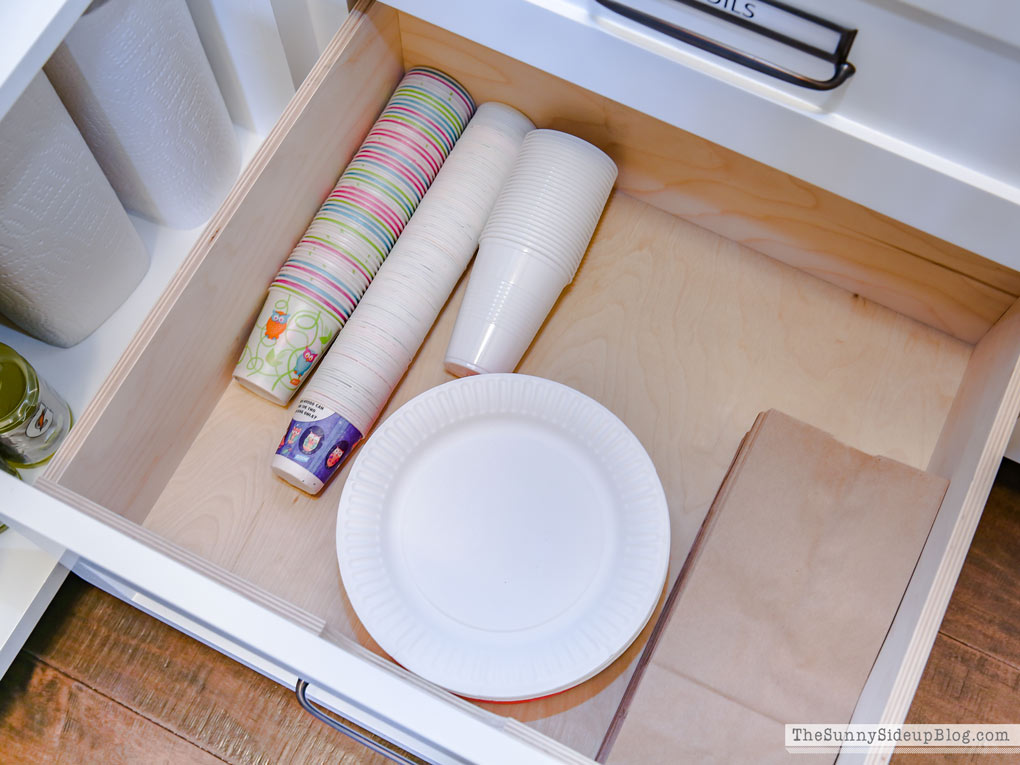 Paper goods are in the bottom left drawer and I didn't take a picture of our aprons and cookbooks on the other side.  (Those two drawers could probably use some dusting.) ;)
Moving to the left side of the pantry!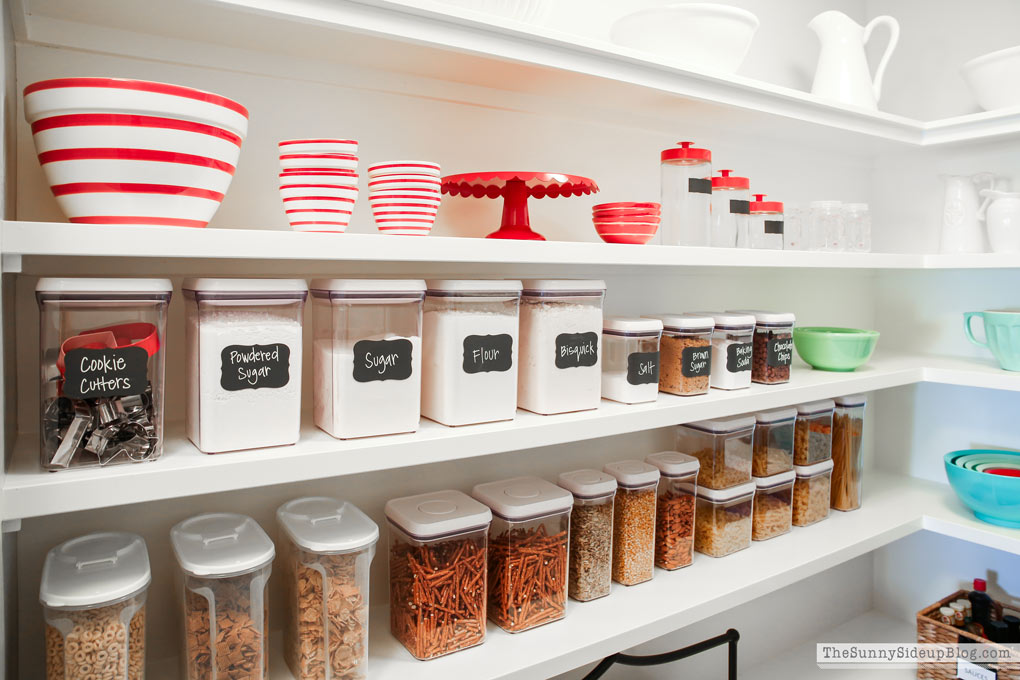 I use the top two shelves for more miscellaneous kitchen items (bowls and things I only use once in a while).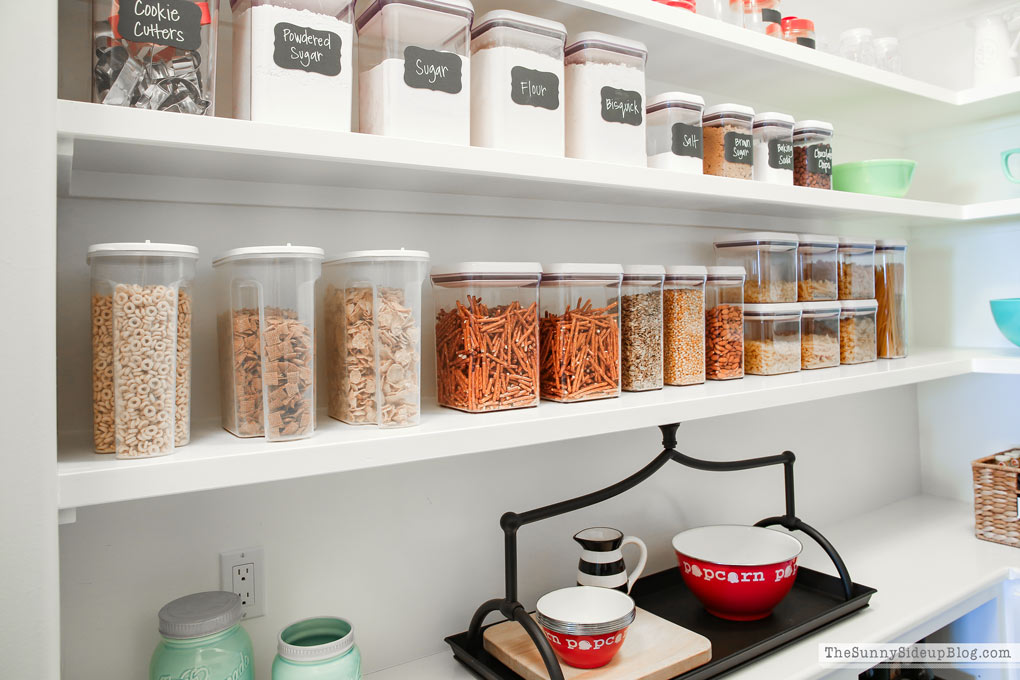 And the next two shelves for baking products and food we reach for often.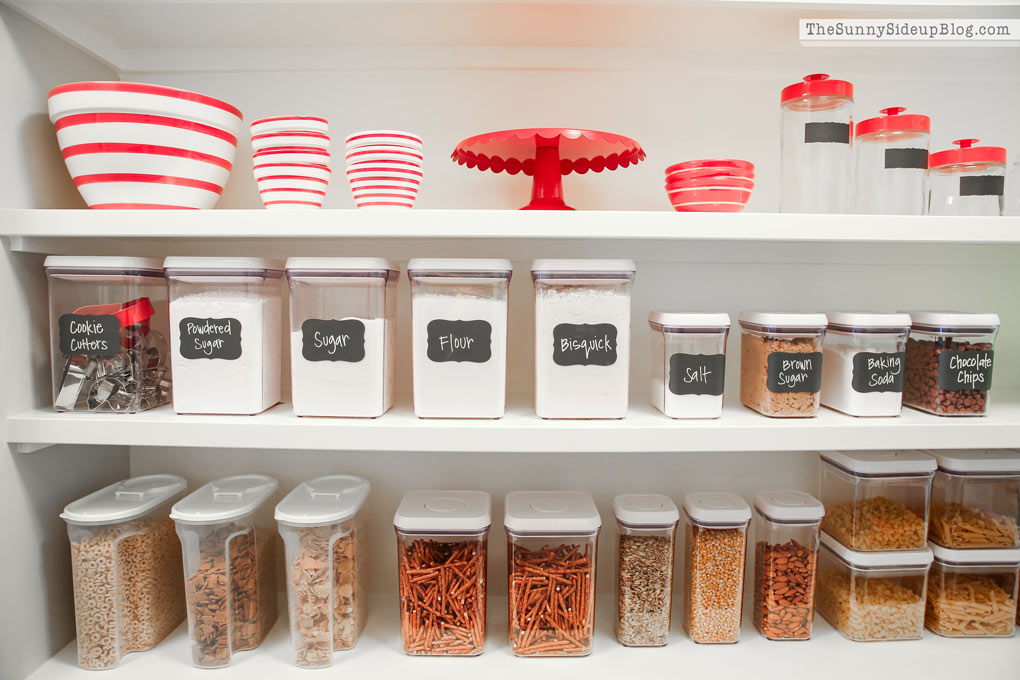 I use these Store and Pour containers for cereal and then the OXO Good Grips for everything else.  I like to keep my baking supplies labeled but I don't label the rest of the containers because you can easily tell what's inside of them and they are easier to wash without the labels on them.  And yes.. we eat a lot of pretzels and pasta at our house. :)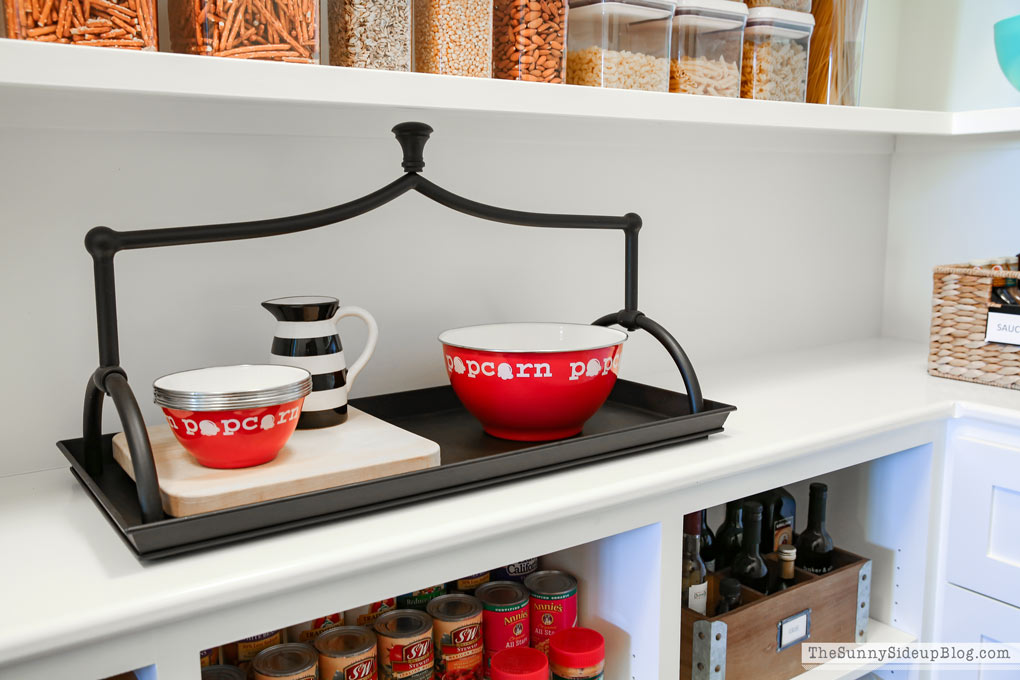 The counter in my pantry is one of my favorite things and has come in so handy!  I often have my black tray and our beloved popcorn bowls slid to the side.  Then I have a clear counter to set my grocery sacks and food on after a trip to the grocery store while I'm putting everything away.
I risked my life getting on a ladder to take some of these pics.  Am I forgiven yet for taking so long to share this space?  ;)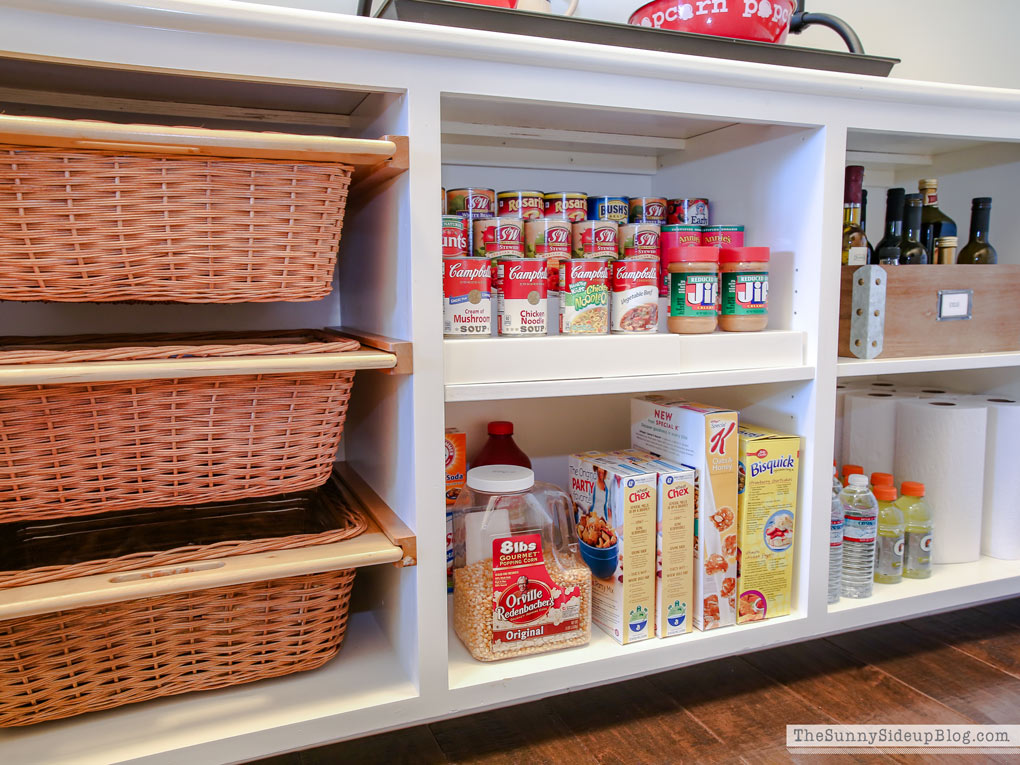 Let's talk about the magic happening below the counter.  SO nice having these open shelves for larger items.  I use this Expand a Shelf in the middle to store canned goods.  I love that you can adjust it to fit any space.
The bottom shelves are for any extras.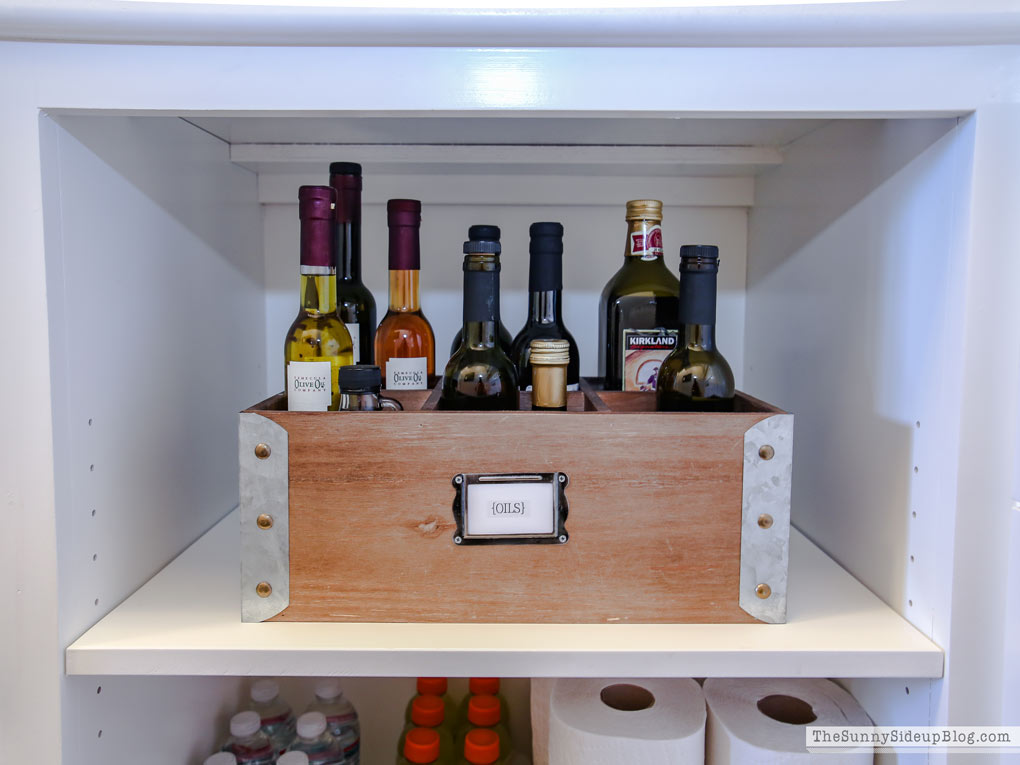 This wooden crate was a random Home Goods find and works perfectly to hold all of our oils.  They can get sticky so I always like having them in some sort of tray, basket, or crate.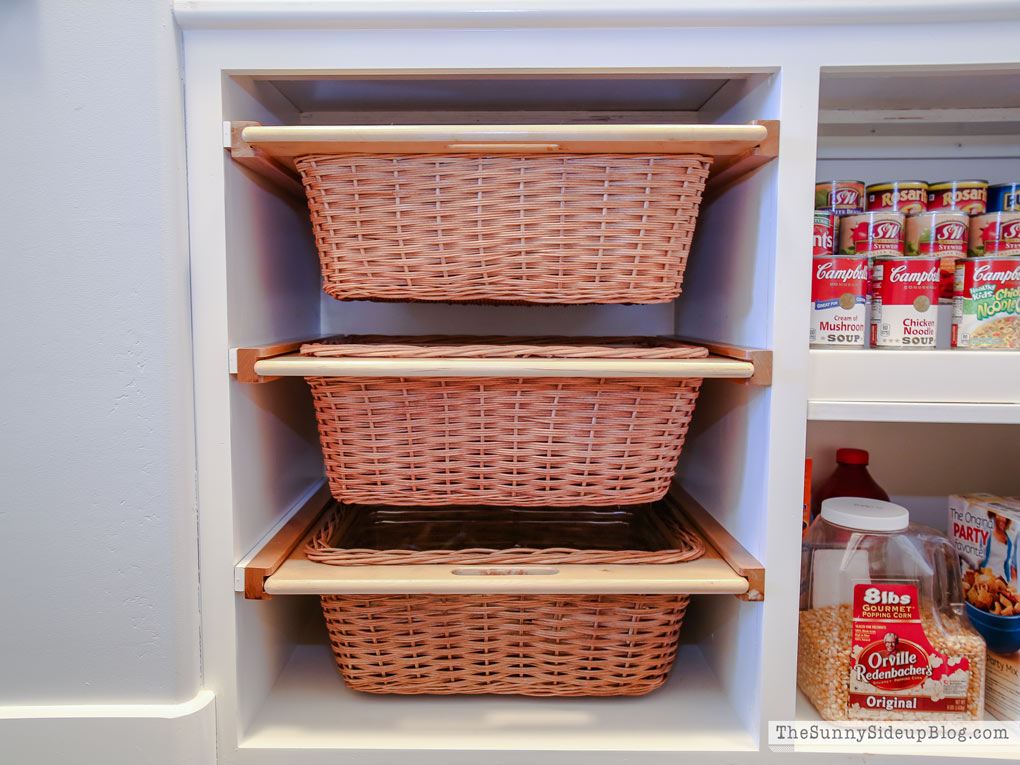 Then there's my pull out baskets.  I told my carpenter about these (I had seen something similar in a magazine) and it took him a while to find them but he finally did and built them into my pantry design.
They have a plastic lining on the inside so they are great to store food and wipe out.  I use the top drawer for bread and the bottom two for things like onions and potatoes.  And no.. we don't usually keep this many onions and potatoes on hand!  I filled them for the BHG photoshoot and then was trying to come up with creative ways to use them for quite a while.  Which basically just meant lots of potatoes with onions.  My culinary skills are impressive I tell ya.  Ha.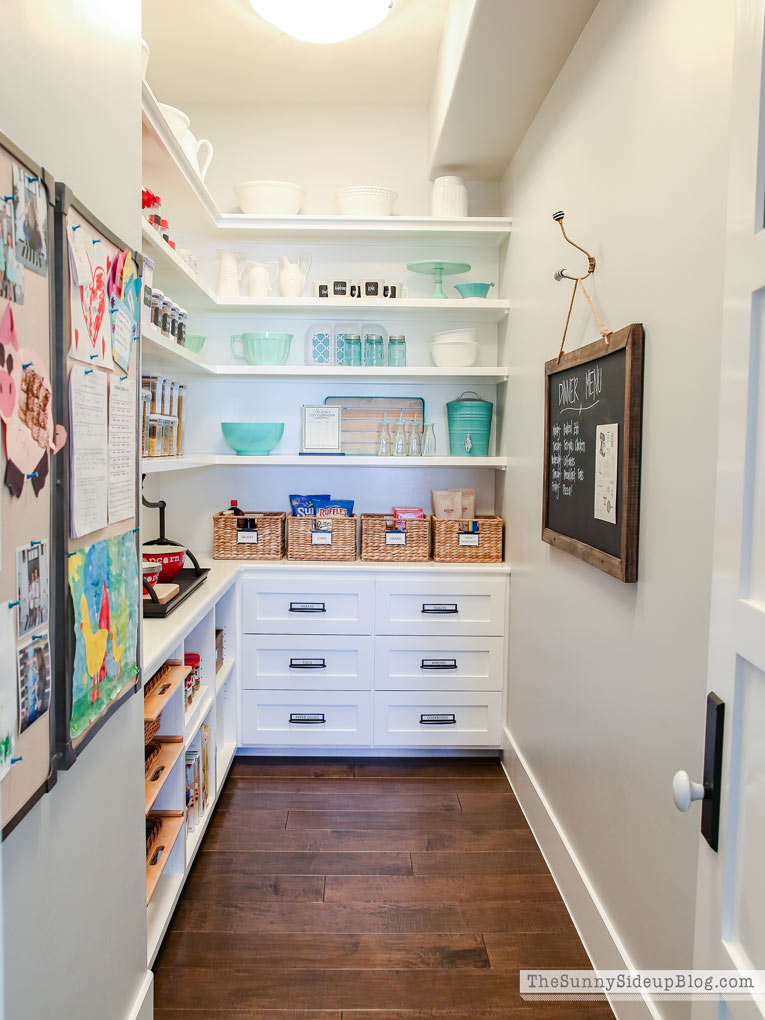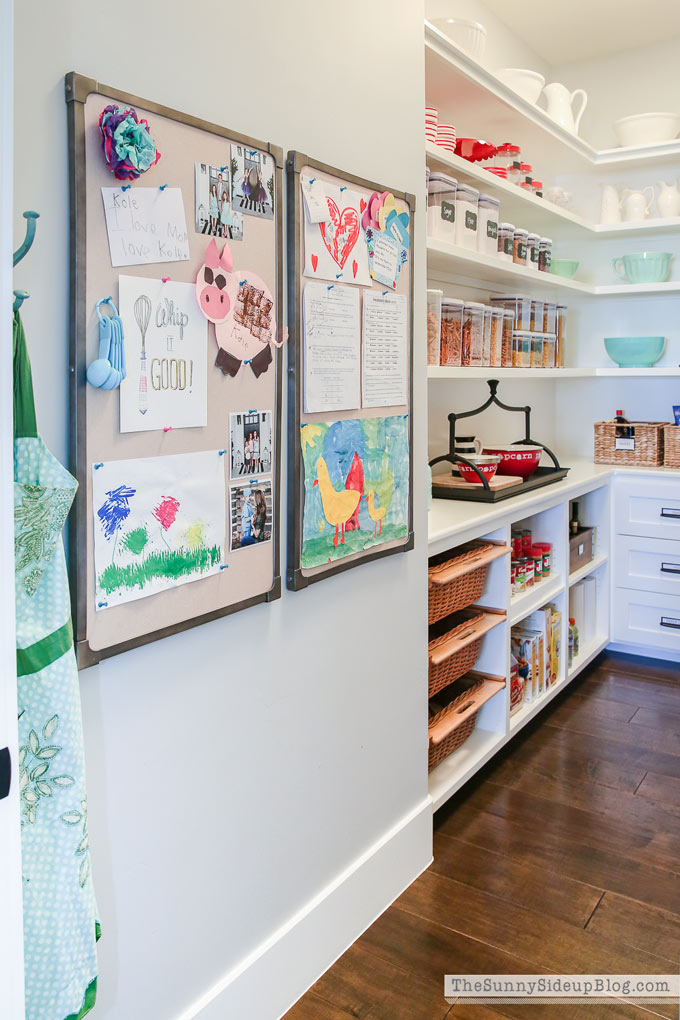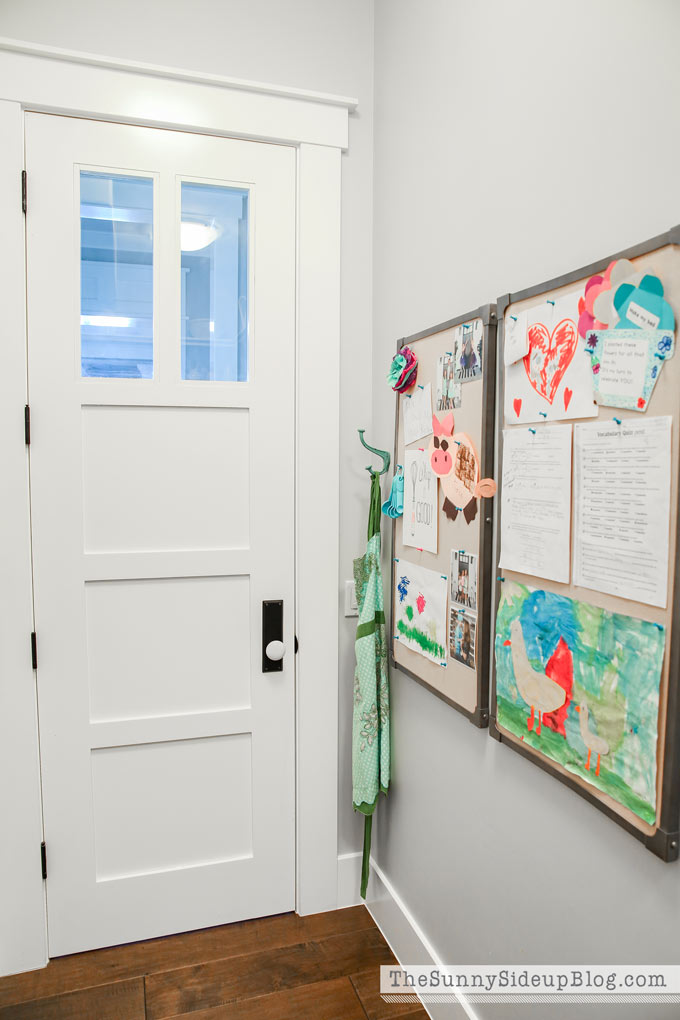 I knew I wanted some wall space in my pantry so that I could hang/display my kids' art/school work and random letters, announcements, etc. (You can find my kitchen art prints here.)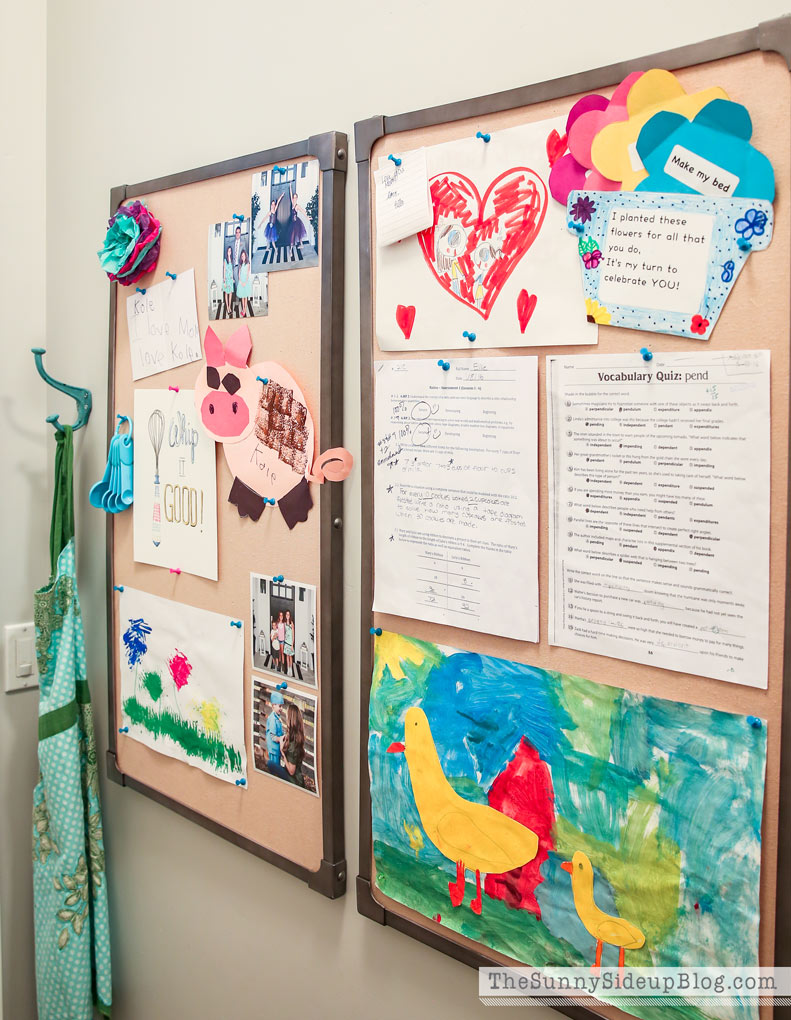 I bought these two pin boards from PB (they have similar options now I'll link below) and have loved them.  Perfect for swapping out every day life kinds of things. :)
When I bought a large chalkboard for my office I loved it so much I decided to put the same thing in my pantry.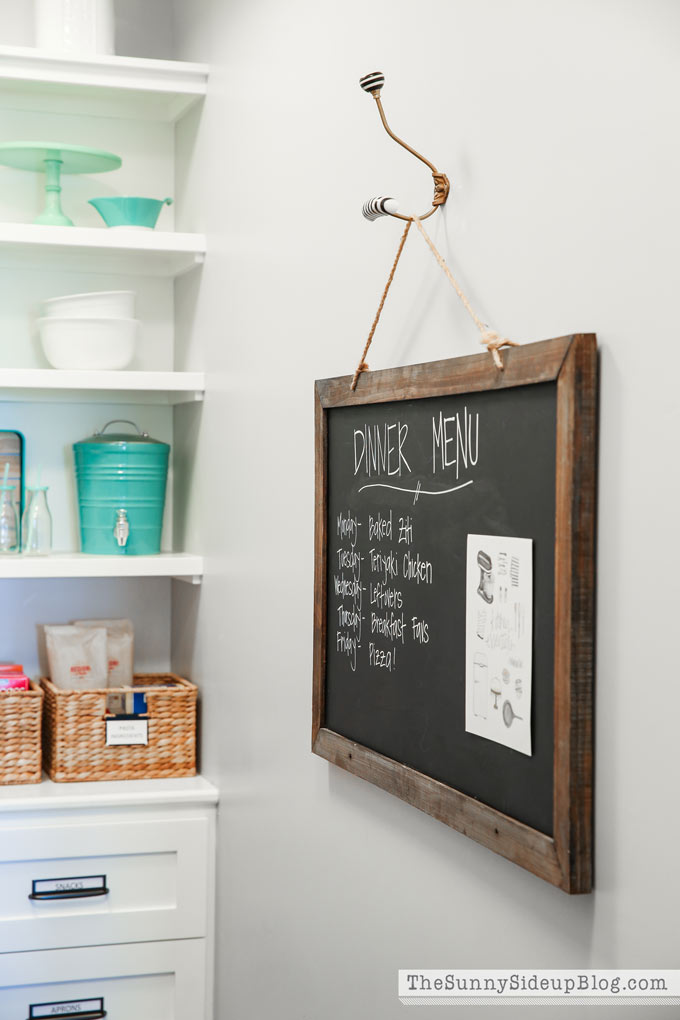 You guys.. I had such great plans for this chalkboard!  I was going to start meal planning and writing the week's menu on this chalkboard.  Every Sunday night!  I was going to be planning those meals.
Guess how often that happened?
When the BHG crew was here taking pics of this space they suggested some meals I could write on the chalkboard.  Some of the meals they suggested sounded so fancy and I seriously hadn't even heard of them before!  I laughed and told them there was NO way my blog readers would buy that I was cooking all that.  So they said ok.. just write what your family typically eats during a week.  So I wrote the menu above.
And then they laughed.
I didn't dare tell them that this was a good cooking week for us.  Baked Ziti AND Teriyaki Chicken the same week?  That's my A game.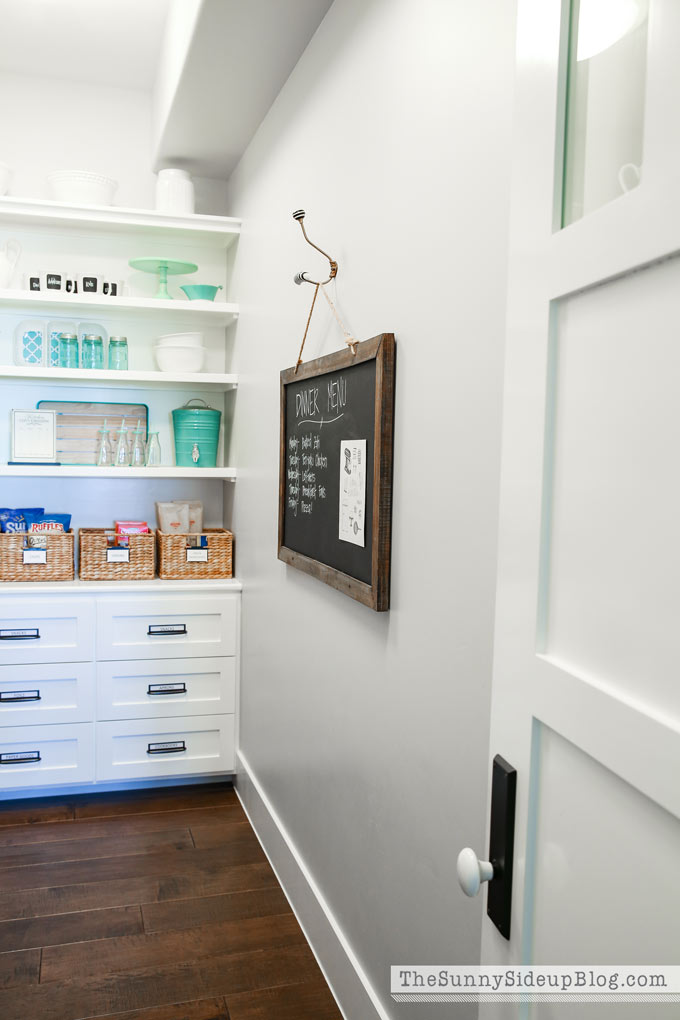 And I haven't touched this chalkboard since.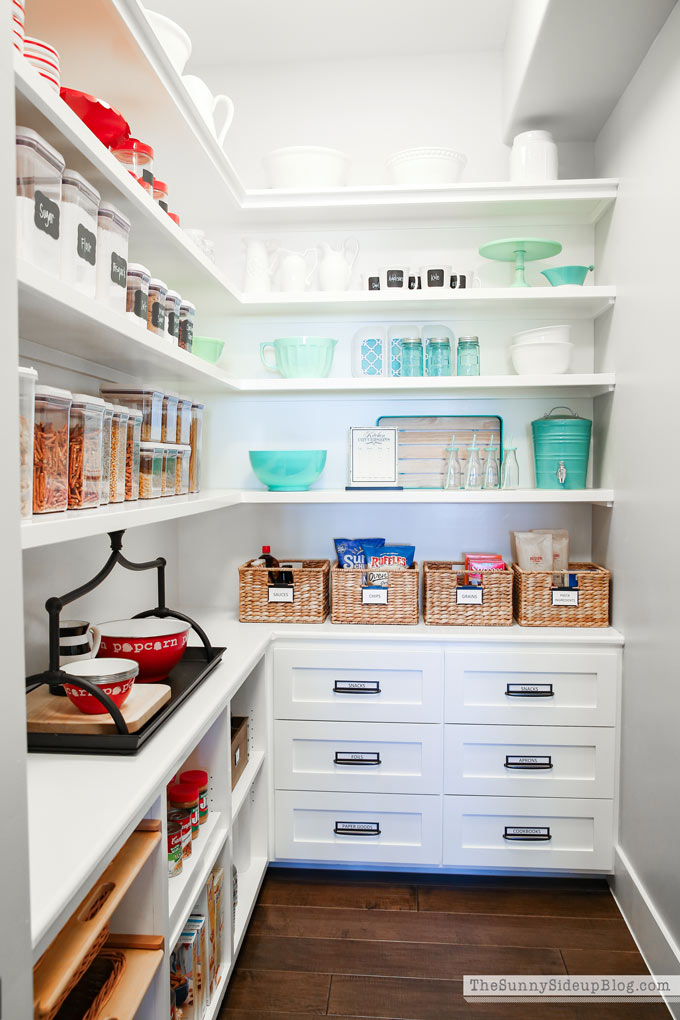 We may not always enjoy the finest of dinning around here, but this pantry has served us well and works great for our family.
Plus it is an organizer's dream!  And when you can have that.. who really cares what you're eating?  #priorities
;)
On a sidenote, if you are struggling with pantry organization I'm going to write a post that covers some tips I've learned over the years!  Let me know in the comments if you have anything you want me to address in that post.  All pantry sources are below!  Also below that I've added some links to all the fun things I'm scoping out that are on sale this weekend for President's Day.  So many great deals.  It's a good weekend to shop!  Or to organize your pantry!  Or both!  Or neither.
Whatever you do this weekend, I hope it's a good one. :)
{PANTRY SOURCES}




{WEEKEND SALES}

xoxo, Erin