So excited about today's post!  I re-organized my pantry.  Again.  I don't have a great "before" picture of everything looking awful like I usually do because my pantry is one area that always stays organized.  I'm in and out of it so many times during the day and it drives me crazy when it gets messy.  It used to look like this:
Like I said, not awful, but I knew it could be better so last summer I decided it was time to take this baby to a whole new level!  I started this little project in July, took my time and finished it in October.  Then I took pictures of everything in November and finally in December I'm ready to share it!  (Good thing I don't roll this way with all of my projects…)  Ready for the "new and improved taken to the new level" pantry?
Ta-da!  I'm now pretending I can hear oohs and aahs from all of you.  If you aren't oohing and aahing that's ok.  I'm going to pretend anyway.  That's the fun thing about having your own blog.  You get to  pretend what you want.
A view from the side.  Now I hear applause.  And what?  A standing ovation?
;)
I'll come back from fantasy land and break this baby down for all of you.
A few reasons I decided to re-do this pantry – first of all, it's so small and was always crowded with food.  I knew I wanted to get rid of bulky boxes that were taking up too much room.  Second of all, I live in a humid climate and if we don't close the tops of boxes/sacks tightly after use the food doesn't taste as fresh.  Nothing like semi-soggy crackers and cereal.  And third, well, I just wanted it to look prettier.  :)
I spent a long time deciding which containers to use.   I knew I didn't want glass.  Breakables get broken around here.  And I'm not just talking about the kids.  I'm incredibly clumsy and break things all the time.  I'm sure Kenny would love to elaborate on this little fact.  But that's the other nice thing about having my own blog.  No elaborating from Kenny.
The handles on the back and the attachable lids that easily pop up and down make them so easy to use.  Very kid friendly.  Very Erin friendly.
For the rest of our dry goods I decided to use the OXO Good Grips.  I can't begin to tell you how much I love these.  LOVE THEM.  Great variety of sizes, fantastic lids that seal when closed keeping your food oh so fresh, plus they're stackable.  The only problem is that they aren't cheap.  The rectangle size is the one I needed the most of (second one on the left) and those are around 17 bucks each.  That's why I took so long on this project.  I just bought one or two at a time.  I could have bought them all at once, but then Kenny would have seen hundreds being spent on plastic organizers and he may not have been impressed.  And I'm all about impressing my husband when Christmas is in our near future.  :)  I will say though that these are absolutely worth the investment.  Now I'll have these in our pantry forever and they really are a great way to organize and store your food.
For the flour, sugar, Bisquick labels I bought chalkboard labels and a chalk pen.  Love the look of chalk without the mess!  I wrote each one a few times and then realized that my handwriting wasn't magically going to change and they all looked the same so I picked one out and stuck it on!
They turned out great!
I attached the directions for waffles on the back of the Bisquick container just in case I forget.  Actually just in case Kenny forgets since he is on waffle duty every Saturday.
Frist I had the Bisquick placed on the left so I could see the all of the fun labels, but I quickly realized that wasn't the most practical way to organize everything.
I moved the cereal to the left because that is the easy to reach spot and we use those every day.  The Bisquick can be tucked in the top corner because we only pull it out once a week.  My best organizing advice is to set things up in a way that is the most practical for you and your family.  Make it function well for you and your needs.
In fact, that's why you don't see labels on everything else.  I didn't want to label the other containers because the contents are always changing.  One day one is filled with fishy crackers, the next day pasta, and when the pasta is gone it's full of cookies.  I didn't want to be tied down and have to put the same thing in each time.  Plus every few days when switching out the contents of the containers I like to rinse them off in the sink so they stay clean and I didn't want to have to keep taking off labels and putting them back on.  Function is key!
A better look at the lids.  Love the way they seal shut!
I mostly bought the square containers but did buy a tall one for pasta.  I was able to fill it with several packages of pasta and just left the wrapping on each of them.  So nice to have them all together!  The smaller container was the perfect size for Kenny's brown sugar he sprinkles on his oatmeal and fruit every morning.
Because life is about the little things.  :)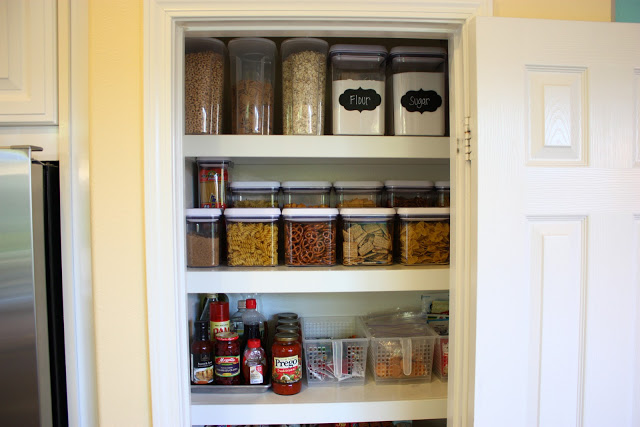 I still organize all of my "sticky" items on a baking sheet.  I've been doing this for years.  It's a great way to keep your pantry clean and those items all corralled together.  There was just enough room for my Prego stash in between the baking sheet and my clear baskets.  Love maximizing every ounce of space!
These clear baskets I also found at The Container Store (similar here).  They hold odds and ends like fruit snacks, packaged goods, and the middle one is for snacks I put in Ziploc bags so they are ready to go when we are heading out the door somewhere.  When I unload my groceries I fill my containers and if there is anything left over I put the contents in Ziploc bags.  I'm always glad I did when I am rushed making lunches or need to be somewhere quick and I know I'll need a snack for Kole.
I found these baskets at Target (similar here) and they are a great solution for things I didn't want to dump into clear containers.  Chips are on the left and random boxed items are on the right.  To the right of the boxes there is just enough room for a loaf of bread or two.  A place for everything and everything in its place.
:)
To the right I store paper plates and cups.  Easy location for me and the kids to grab at snack time.
Bottom is free for anything else that doesn't fit!  For now it's just our Costco popcorn.  I blog better when I'm munching on popcorn.
Honestly, this pantry organization has made my life so much easier.  Yes, it takes a minute after grocery shopping to empty everything and keep it looking this clean, but in the long run it saves me time and money because I can so easily see what we have and need.  I have SO much more room to store food because I toss all of those bulky boxes.  The kids know where they can find everything and everyone knows where to put things away.
Plus did I mention that it just makes me happy to look in it!?  I debated painting the inside (so many people are painting their pantries these days!) but as you know we are house hunting so I decided it wasn't worth the time it would take me.  I'm sure in my next house my pantry will not only be organized, but a fun color as well!
:)
*affiliate links used
xoxo, Erin