Last year
when I posted about a "Favorite Things" party I attended I received so many e-mails asking how the party works and what the favorites were so this year I'm going to share all of the details!  My cute friend Ann has always loved watching Oprah's Favorite Things every year at Christmas time and always loved getting so many fun gift ideas from her show, so she decided to host her own "Favorite Things" Christmas party each year.  The invites tell each person to pick a favorite item to share.  Something you just love or use all the time that costs between 10-15 dollars.  Then it says that we need to bring three of that same item (so the total amount spent is 30-45 dollars).  You can obviously make the price limit whatever you want!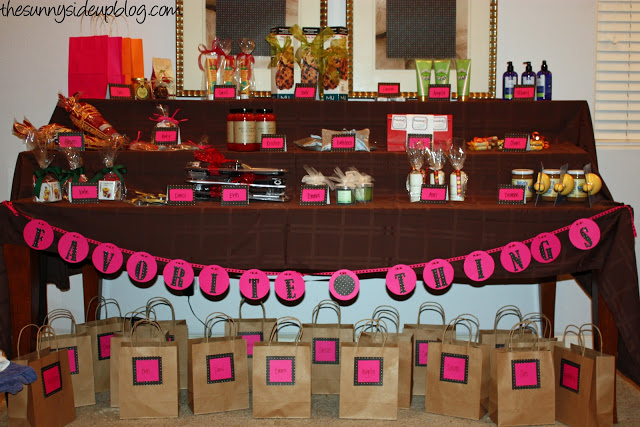 Ann set up a fun table with name cards so that when we arrive at the party there is a place for our favorite things.  This is last years' table and you can see my Conair curling iron on the front row.  :)  We don't wrap the gifts so that they are easy to see.  When we get to the party we spend the first hour chatting and eating and then the fun really starts!  Ann kicks things off by sharing the item she brought.  She tells each of us a little bit about it and why it's one of her favorite things.  Then one by one we go to the front of the room and share a little about our favorite item.  For example, when I got up last year I told everyone about how I used to use an expensive curling iron and then bought a cheap one that would plug into foreign outlets for our Italy trip.  I loved my cheap curling iron so much that I tossed the expensive one and have been using my cheap one ever since!  Then I show everyone my curling iron and they all ohhh and ahhh.  ;)
After each person has had a minute to share their favorites the shopping begins!  Now we all know what everyone brought and have an idea of something we'd love to take home.  We just start at one end of the room and one by one go to the table and pick an item.  (The bags under the table are for each of us to use to hold our new finds!)  After everyone has had a turn to pick one thing, we start at the other end of the room and each go pick something else.  Then we start in the middle of the room and pick our last item so each person goes home with three new favorite items.  Each person usually gets at least one thing they really want.  The best part of the party is that we all go home with so many fun gift ideas for the holidays!  My friend Katy told everyone that last year she didn't know what to get her mom and sisters for Christmas so she just bought several of the favorite items shared at the party and put them in a big basket for each of them.  She said the gift was a hit!  Chances are that if your friends love something, you will too!  It's so fun to share items we all love and discover new favorites ourselves.  This party has become a fun tradition that we all look forward to!
Here are some of the favorite items shared this year: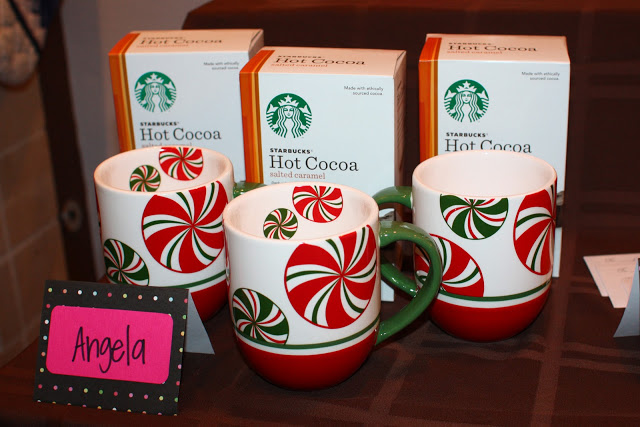 **Aren't the name tags Ann made cute?  She always has me write the names on everything because she likes my handwriting (which I've never understood because I like hers!).  It's my official contribution to the party every year.  My friends don't put me in charge of food, just the handwriting.  ;)
Starbucks Salted Carmel Hot Chocolate and these darling Christmas mugs from Pier One Imports.
OPI nail polish.  Colors Black Cherry Chutney and Manicurist of Seville.  The girl who shared this polish had fabulous nails!  And I love OPI – it's the best.
Another OPI favorite that was shared was their "top coat".  You put this top coat over your manicure or pedicure and your nails won't chip!  Best way to make that pedicure last as long as possible.
Key chain fob.  I have one of these and LOVE it!  I shared mine in this Fashion Friday post.  A perfect key chain for moms who always have their hands full!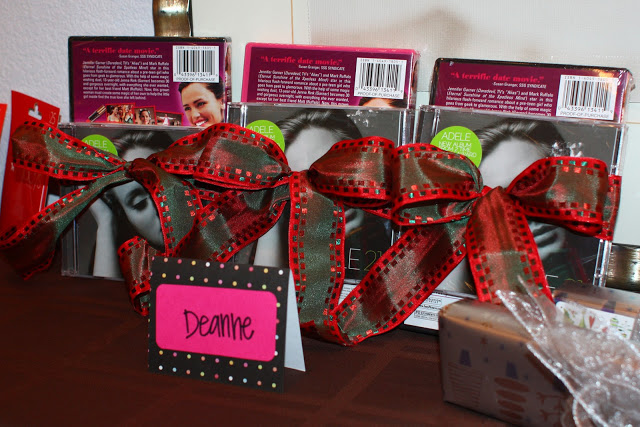 A favorite CD and movie.  Adele (Deanne said her kids love doing homework to this music – the whole album is great) and 13 going on 30.  Nothing like a good chick flick.  :)
Frontgate Torch Lighter.  I wanted this and didn't get it!  It was so cool.  Lights with just a little flip of the finger.  Unlike grocery store lighters that you are click click clicking for five minutes before you see a flame!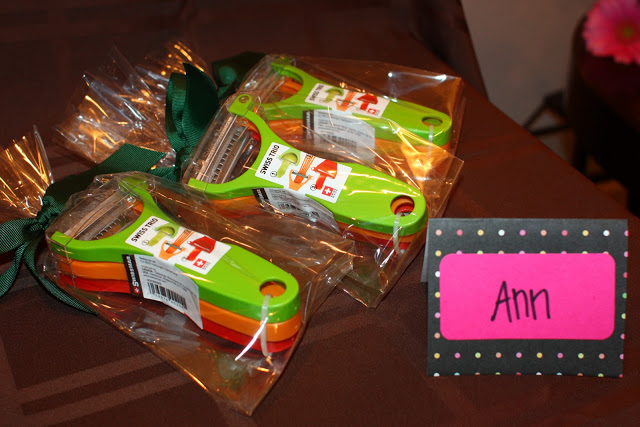 Set of three Swissmar peelers
from Williams Sonoma.  Not something I was all that interested in, but a great tool for all of you chefs out there!  ;)  Ann demonstrated these and they did look amazing to peel the skin off of a tomato, a carrot, cut cheese, etc.  Very easy to use!  Maybe I'll have to try them after all.
Lululemon Slipless Headband.  A great headband to wear to exercise in that won't slip!  It has a silicone strip inside it that holds it in place during your workout.  Genius!
Another Lululemon favorite was their no show ankle socks for exercising that like the headband, won't slip!  I need to check out Lululemon more often!
This is a favorite that I picked to take home!  It is the Fresh Balsam candle from Bath and Body Works.  It smells like a real Christmas tree which is perfect for people like me who love the real tree smell but prefer to decorate a fake one!  I have been LOVING this candle!  It makes my whole house smell heavenly.  I just bought several today to give to my girls' teachers for Christmas gifts.  A new favorite of mine for sure!
Another Bath and Body favorite was the Orange Ginger Body Wash.  A fabulous scent!
Venus Sensitive Skin disposable razors.  I have to agree that these are great razors.  I've been using them for years!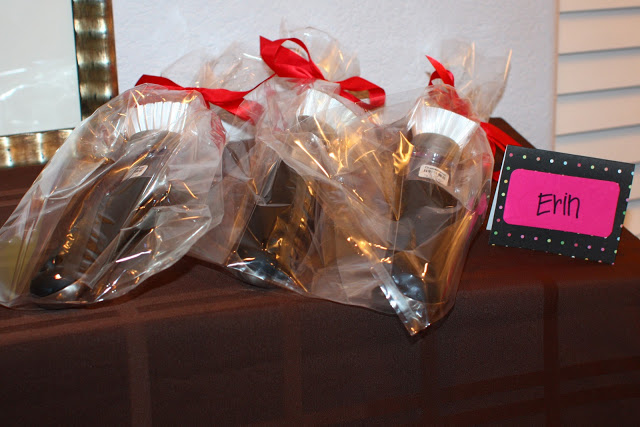 And here's what I brought to the party this year!  WOOT WOOT!  These are OXO steel soap squirting dish brushes and I can't live without mine!  I've been washing dishes with this baby for years and can't imagine using anything else.  There is a little thing you pop off on the handle so you can fill it with dish soap and then push the button to release the soap in the scrubber when you're ready to wash.  SO convenient.  You can toss it and buy a new one when it wears out or just replace the white scrubber on the end, but they last a long time before they are ready to toss!  Love my OXO scrubber!
The book Bikini Boot Camp!  A friend at the party said she loves this entire book but she and her family especially love the healthy recipes.  They have become family favorites!  The book also has yoga moves, weight exercises, stretches and lots of fun tips.
Sugar Lip Treatment by Fresh.  This chap stick or should I say "lip treatment" was the first thing to go this year!  It is supposed to be AMAZING.  Several girls at the party said that once you use it you will be hooked for life.  Makes your lips so moist.  It was listed in the Wall Street Journal one year as the best stocking stuffer.  It costs $22.50 but is supposed to be worth every penny!  I can't wait to try it.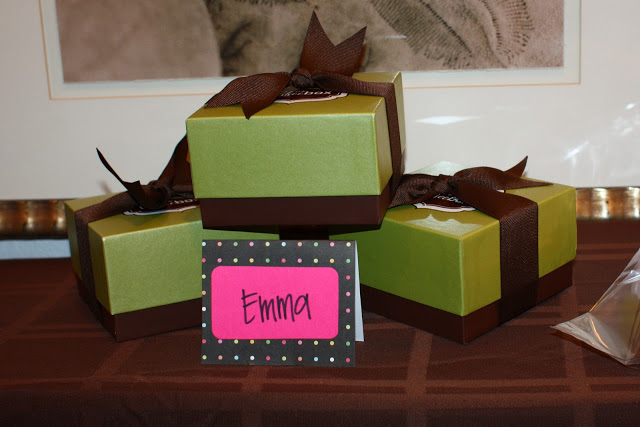 These cute little green boxes held toffee from The Toffee Box – a business that Emma's friend started right out of her own kitchen!  From kitchen to Rachel Ray to Williams Sonoma!  Such a fun story and the toffee is said to be amazing!
Zebra Popcorn.  This stuff is GOOD!  Someone brought it last year and we are all still raving about it!  Aside from on-line you can find it every once in a while at Costco.
Sleep Mask.  One of our friends swears by these!  She uses it to get her beauty sleep and says she sleeps so much better with one of these babies on!
Butter nail polish (color Yummy Mummy).  This nail polish stays on longer than normal and the colors are fun and pretty.  Another one of the favorites I picked!  Aside from Amazon, you can find it at Nordstroms.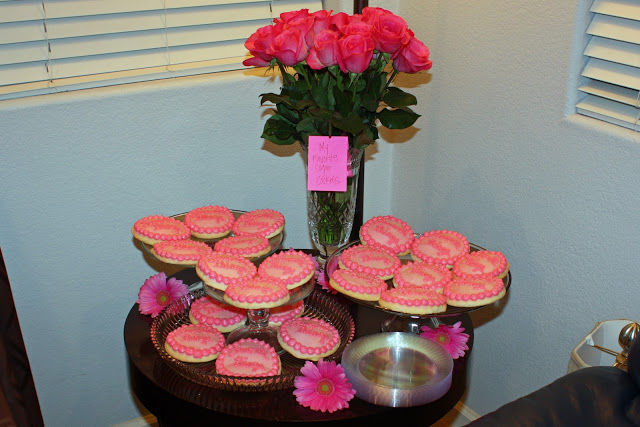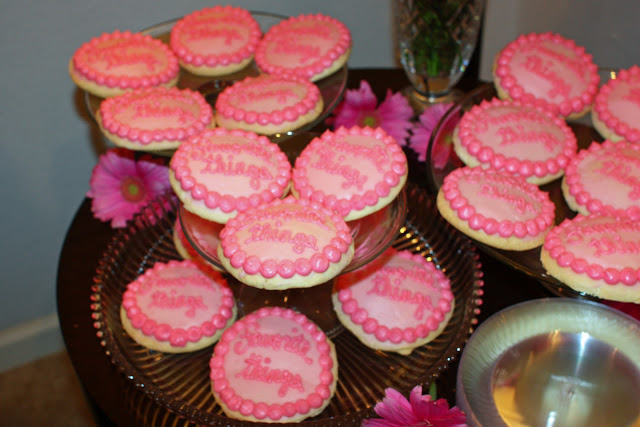 These are Ann's favorite sugar cookies from
Elizabethan Desserts
.  They were delicious!  At least Kenny told me they were because I brought mine home and he ate it all.  Guess I owed him for taking over bedtime with all three kids.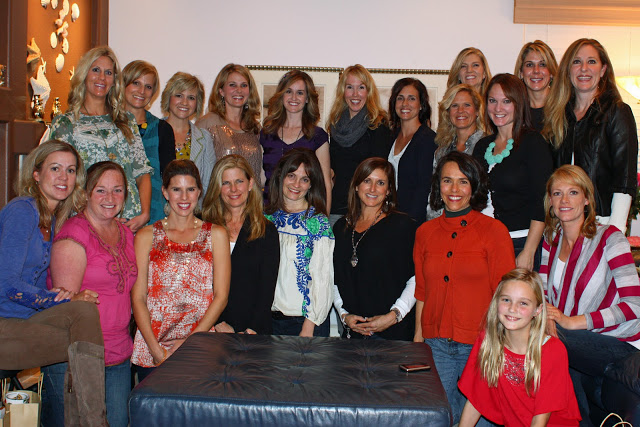 Such a fun night with friends!
I hope these favorites gave you some good gift ideas!  Or maybe inspired you to host your own favorites party next year!
I went shopping today and got so much done.  Kole fell asleep in the stroller and I didn't waste a minute!  I cruised through the mall buying one gift after another.  Made two trips to the car to unload my loot and headed back to the stores.  I could hear
Rocky music
playing in the background.  It was my moment.  ;)  I also found a really cute dress for Kenny's firm party this year.  YEA for a good shopping day!  YEA for a napping baby!  YEA for December!  I love this time of year.  It's a favorite.
:)
(affiliate links used)
xoxo, Erin