Only three weeks left to shop!  Is that little fact giving anyone else heart palpitations!?  Several of you have asked me about our favorite toys so I thought I'd share our favorites for those of you who (like me) still have plenty of shopping left to do!  I'm obviously not going to be much help if you are shopping for teenage boys.  But if you have young daughters, granddaughters, nieces, etc. to shop for this year, then I'm your girl.  :)  I've found most of these toys for you on Amazon so it will be easy for you to check out the details.  I'm all about on-line shopping this year!  Here are our favorite toys that get played with again and again in no particular order…
A toy that never gets old!  They have driven this thing all over the place and still get so excited when we pull out the jeep to ride.  Ellie is starting to get too big for it, but I know that before long a certain little boy will be hanging in the passenger seat.  Won't Kole look fabulous crusin' in the pink barbie jeep!  In one of Ellie's shirts no doubt.  ;)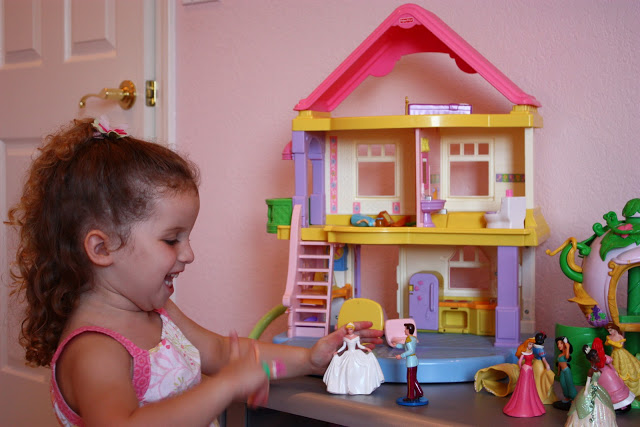 This is a toy I will never get rid of because it gives me the sweetest memories of my little girls playing for hours together.  My mom had to buy some new toys for various pre-schools she is in charge of and she called me to ask what toys to get.  My first thought was the Fisher Price doll house!   She bought several and the kids love them.  A perfect gift for a little girl.
If you've read my blog for a while then I'm sure you've seen plenty of My Little Ponies popping up all over our house.  My girls have always loved them and one of their favorite toys is the My Little Pony Ferris Wheel
Another toy I will never get rid of!  It entertained them when they were 2 and 4 and at ages 5 and 7 they are still loving it.  (Princess Celestia will be popping up Christmas morning this year!)
One of my favorite things I bought my girls was this little Nantucket Collection Table and Chairs.  They use it for everything from coloring/craft projects to tea parties.  Little kids need little tables and chairs.  :)
My girls LOVE playing games and I have to admit…for some reason I love buying them games!  So we have a lot.  :)  Here are some of our favorites that I would recommend:
Lucky Ducks (Kole is especially loving this one right now)
Let's Go Fishin'
Hungry Hippos (what a classic – only played when Kole isn't around – those marbles make me nervous!)
Candy Land (another classic must have)
Pretty Pretty Princess (the pieces to this game drive me nuts, but my girls LOVE it.  They play it all the time.  Amazon has the price high but I bet you can find it at Target for much cheaper!)
Operation
Jenga
Or a 2-7 year old.  :)
This is just a simple, Disney Princess Teapot set I bought years ago but I've been surprised how much my girls have played with it!  Nothing like a spot of tea.  Cheers!
Another beloved gift from Kenny's mom.  Every child needs a rocking horse, right?  (I couldn't find this exact one on Amazon.)  You'll notice hula hoops in the background.  My girls love to hula and they are good.  I taught them everything I know.  I'm not kidding about that.  I was a hula hoop champion back in the day.  It's my one claim to fame.  :)  Another fun, in-expensive gift idea.
What would Christmas for a little girl be without a doll?  And we all know nothing quite compares to the American Girl dolls.  Although, I have to say that my girls play with their less expensive Target dolls just as much.
Unfortunately so does their brother.
Doll clothes are something my girls love to see on Christmas morning.
Another Christmas favorite was this Princess Tent the girls got from Santa a few years ago.  It is darling and they have played in this SO many times.  They always beg me to have a sleepover in it and I'm sure at some point I'll cave and let them do it.  It's easy to pop up and down and it folds small and flat.  Love that!  I keep it behind my yellow hutch and then I can easily pull it out and pop it in place.  (I couldn't find the exact one on-line but found one similar that looks really cute!)
Another favorite for the little ones!  We bought this for Ellie's first Christmas (that's her on the left) and all three of my kids have adored this toy.  I can't say enough about it!  It's the Fisher Price Laugh and Learn Learning Home and it is THE BEST toy out there for 1-3 year olds.  In my humble opinion.  :)  It has two different modes (learning and music).  If you have the music on, everything makes music.  If you have the learning mode on, it's all about numbers and letters and learning.  It makes darling sounds and my kids love climbing on it and through the door.  It has kept all three of my kids entertained for hours.  Saving this one for the grandkids.  I really love it that much!
Of course we love reading and children's literature around here.  I always get my girls a few new books for Christmas.  Here are some of our favorites:
The Big Hungry Bear
The Fancy Nancy Books
The Empty Pot (a darling story about honesty)
Tops and Bottoms
If You Give a Mouse a Cookie (and the rest of that series)
Pinkalicious
Junie B. Jones (series – Ellie is reading them all for the second time now.)
Ramona Quimby (series – My favorites growing up.  I can't wait for my girls to read them!)
Little House on the Prairie (series)
Two of my favorite books for really little ones are The Wheels on the Bus Pop Up Book and Good Morning Good Night (so cute for bedtime).  These are both darling!  You just have to wait until your little one is old enough to not tear the book up.  Kole is obviously not there yet.  :)
Luggage is a fun gift!  My girls have loved these suitcases I bought them at Pottery Barn Kids and I have loved that they have their own little suitcase for all of our travels.  These were from PB's summer collection, but they have fun patterns to choose from now too.  I've been watching for a cute one to buy Kole.
And if your kids don't want to use their suitcases for trips, they make great doll cases.  ;)  These Disney Princess Toddler Dolls are also favorites around our house.
These next two toys are so simple, but they get played with again and again.  A simple broom (Kole's latest obsession) and a simple etch-a-sketch.
Nothing like a man with a broom.  :)
A few more toys my little man loves:
These Tickle Me Elmo's were given to the girls two different years for gifts and now Kole is loving them.  They sing, flip, fall down and say "Oops!  Can you help Elmo up please!?  We definitely got our money's worth out of these two!
Kole also loves this Fisher Price Laugh and Learn Learning Workbench that makes all sorts of sounds and music when you hammer the toys.
Nothing like camping in style.  :)  If you have girls that like to play with Barbies, then this will be a hit for sure.
So there you go!  I hope that gave some of you an idea or two!  A lot of toys have passed through this house and the ones I shared really are our favorites.  Happy shopping!  And just remember, if you still don't know what to buy your kids this year…
Never underestimate a simple clothes hamper.
:)
*affiliate links used
xoxo, Erin