Slowly getting back into the swing of things around here. Bags are still packed. And my house is a disaster. I wish you all could have witnessed my son at dinner time. That boy can toss food like no one's business. And scribble on doors. And tear up homework. He is trouble and I am tired. I had so much on my to-do list today and I didn't do any of it! Instead I spent the morning at Pottery Barn and the afternoon pulling out all of my Christmas decor. Much more appealing than my to-do list which included things like laundry and scrubbing bathrooms. No wonder I put it off.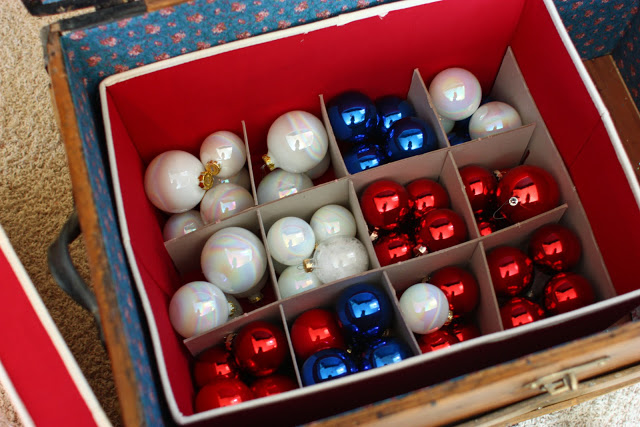 The girls and I decorated the tree. Our tree is quite a sight this year. No decorations on the bottom half – completely Kole proofed. And the top? Well. Since I knew our tree would look a little off this year anyway I just handed the decorations to my girls and told them to have at it! Ornaments are all clumped together. Toys somehow made their way onto the branches. Usually I let my girls decorate the tree and then spend the next week re-arranging everything so that it looks a little more put together. Not this year. I'm not even touching it! We are going with the flow around here and embracing the CRAZY stage that is our lives right now. Our tree seems to convey that message loud and clear. :)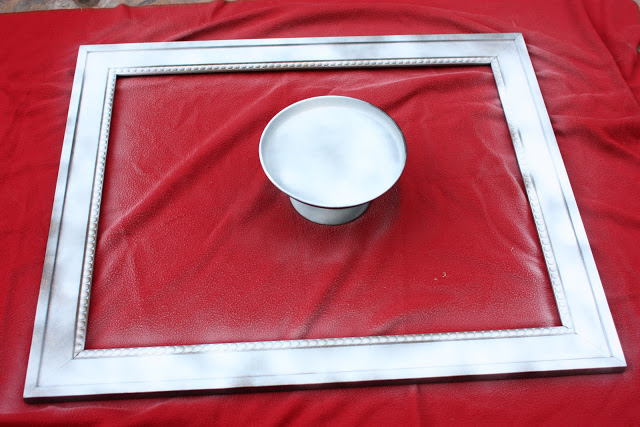 I am, however decorating a few spots in my house that are out of reach of little hands. Our situation with Kole is forcing me to think out of the box with my decorations and I'm excited about a few changes I'm making to our normal Christmas decor. Of course a little painting was in order to make some of the changes happen. Bet you can't guess what color these are going to be. :)
My mantel was my first priority today and I was in desperate need of the perfect candles to go on my aqua candlesticks. Hence the morning run to Pottery Barn!
Aren't these just beautiful!?
Pottery Barn's Basilica Pillar Candle
. They are perfect! Just what I needed to tie my mantel decor together! The only problem was the price. $13 for the short ones and $23.50 for the tall ones. And that's on sale! I thought ok – I can spend $30 on candles but $50!? That's a bit much. So I bought the short ones. And they are beautiful! And perfect! Except they need to be taller. Of course. Still debating if I can go back and buy the big ones and
slip this little purchase past Kenny
live with the fact that I spent such a crazy amount on candles.
————————————————————————————————————————
Speaking of shopping and sales… my mom bought me this adorable little zipper pouch a while back (I think it was $5 bucks at TJ Maxx).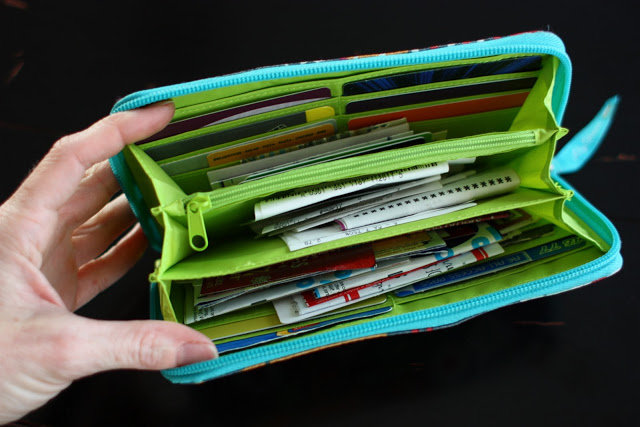 It has become such a perfect way to organize all of my "extras" that don't fit in my wallet. I know it looks like a mess, but it's actually quite organized. Coupons are in the front opening. SO many coupons this time of year! I'm normally not much of a coupon person, but when the good ones from places like Banana Republic, The Limited and Gap kids start rolling in I'm all over it! Receipts are in the middle. I save all of my receipts. Drives my mom crazy. But you never know if you might want to return something later on! I return about half of the stuff I buy. That also drives my mom crazy. Ok. Not half. But I have been known to return a thing or two when it doesn't work out. Like my too short Pottery Barn candles. Back to the organization. Gift cards are in the back opening and change/cash is in the zipper pouch. This has been so handy! It helps me keep my purse organized and my wallet from busting at the seams.
————————————————————————————————————————
Remember last year when I posted about my friend Ann's Favorite Things party? It was such a fun holiday party that we all decided it needed to be a tradition. This year's party is this week and I'm so excited! I got so many e-mails asking about this party and the items shared so I will take pictures and explain everything after the party this week. Such a fun way to get gift ideas and share favorites with everyone! Pretty easy to guess my favorite thing last year. See the Conair curling irons on the front row? Always a hit. :)
I was wanting to buy a little something new to wear to the party, but don't think I'll have time to shop much this week (and I may be spending my clothes money on candles instead – HA!). So instead of looking in my closet for what to wear, I looked back through all of my Fashion Friday posts! Those posts are coming in pretty handy after all. :) We are having a hot week so I narrowed it down to three appropriate options and can't decide. I'd love your opinion! Which one should I wear?
Thanks for your help! I love it when other people make my decisions for me. :)
Have a wonderful Tuesday!

Free printable of the paint colors throughout my home!
Enter your name and email address to get instant access to my paint colors along with other free organizing printables. More will be coming soon!
Exclusive to subscribers!