{Pink Pom Pom Throw/Rebecca Minkoff Paige Leather Satchel/Ugg Fleece Slipper Socks}
(*affiliate links used)
Happy Monday friends!  On Saturday I shared some recent fashion favorites with all of you (I'm going to be posting fast and furious to fit everything in during the next two months!) but I forgot to include a picture of this gorgeous pink pom pom throw!  So here it is.  To pretty to not share and I'm loving it in my bedroom.  It comes in 2 other colors and would be a beautiful gift for any home decor lover – like all of us. :)
Ok.. moving on to all things Christmas!  Have you started decorating yet?  Or do you like to wait until after Thanksgiving? I wish I could have Christmas decor up for half of the year.  I really do.  In fact last year I left one of my trees up through January.. ha! I wasn't ready to take it down after Christmas.  So I didn't. :)  My philosophy has always been to decorate for the holidays whenever and however you want!  Do what makes you happy.  Christmas decor makes me incredibly happy so I start early. :)   Today I'm sharing some of my favorite Christmas decor I started pulling out this weekend!  You'll see how I'm using a lot of these items in my home soon, but I'm sharing them early because unfortunately the good stuff always sells out FAST.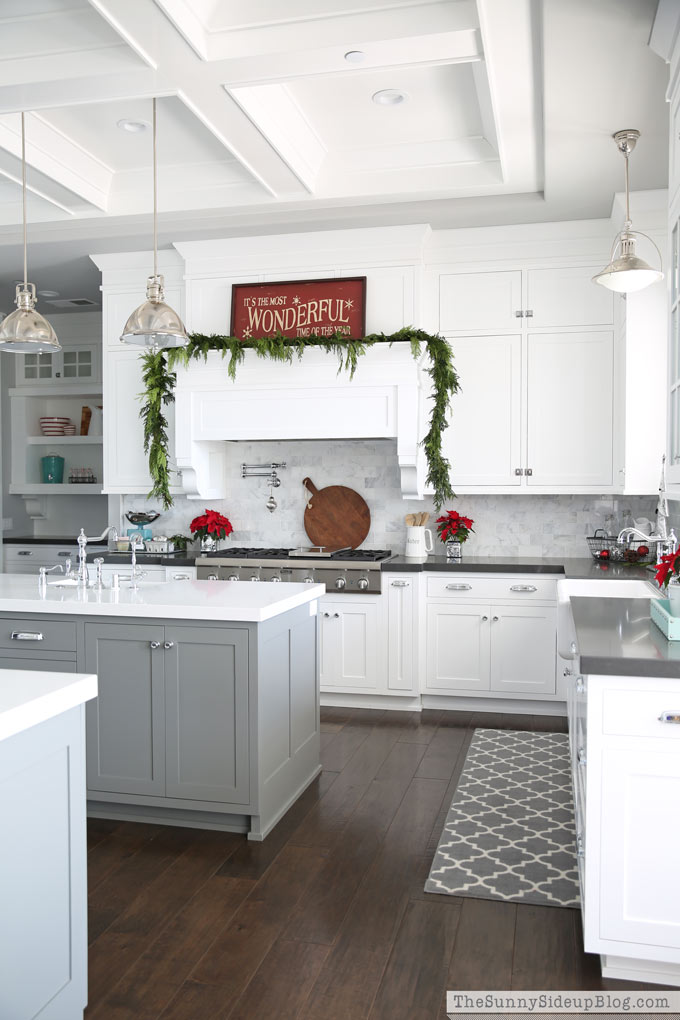 Like my red It's the Most Wonderful Time of the Year sign.  It came back in stock in October and had sold out before Halloween!  Crazy.  (It comes in a similar gray and gold that are still in stock.)
These are a few things I'm decorating with this year that I'm so excited about!  The pillows I've had for a year or two (merry/stag/plaid) but I needed a new tree skirt this year and just ordered this Alpaca faux fur tree skirt – it's so soft and beautiful!  It's the first tree skirt I've owned that isn't red!  And I've loved adding a new cute little deer to my collection each year.  They are adorable and look so cute on a table or tree or mantel.. anywhere you put them!  (big deer/small deer)
I ordered these lit glitter birch trees on-line and loved them even more when I saw them in person!  They are really nice quality trees and aren't the little lights beautiful!?  (They are battery operated and these two are the medium and small sizes.)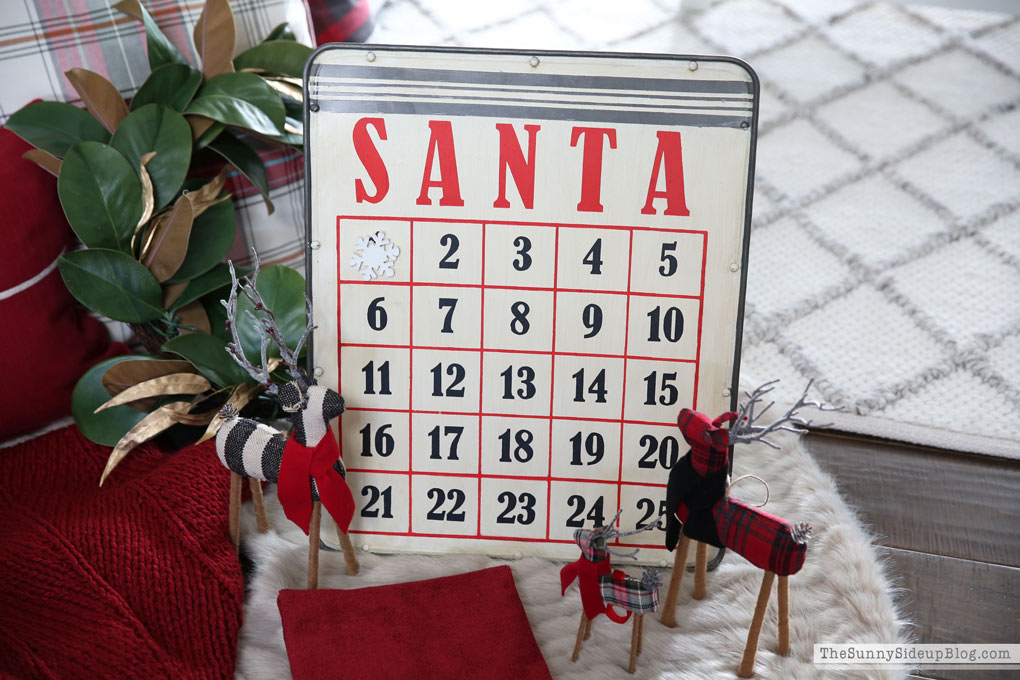 And this Santa Magnetic Advent Calendar!  I actually bought this at PB right after Christmas last year.  It was the only thing that wasn't marked down and I bought it anyway.. after getting all sorts of grief from my husband for shopping an after Christmas sale and coming home with the one item that wasn't on sale.  Ha.  And now it's actually on sale!  I should have just waited and got it this year.  Oh well!  I'm so in love and couldn't wait to pull it out of my attic!  The snowflake is magnetic – so fun to count down to the big day.  My kids will love it.
Almost as much as I do. :)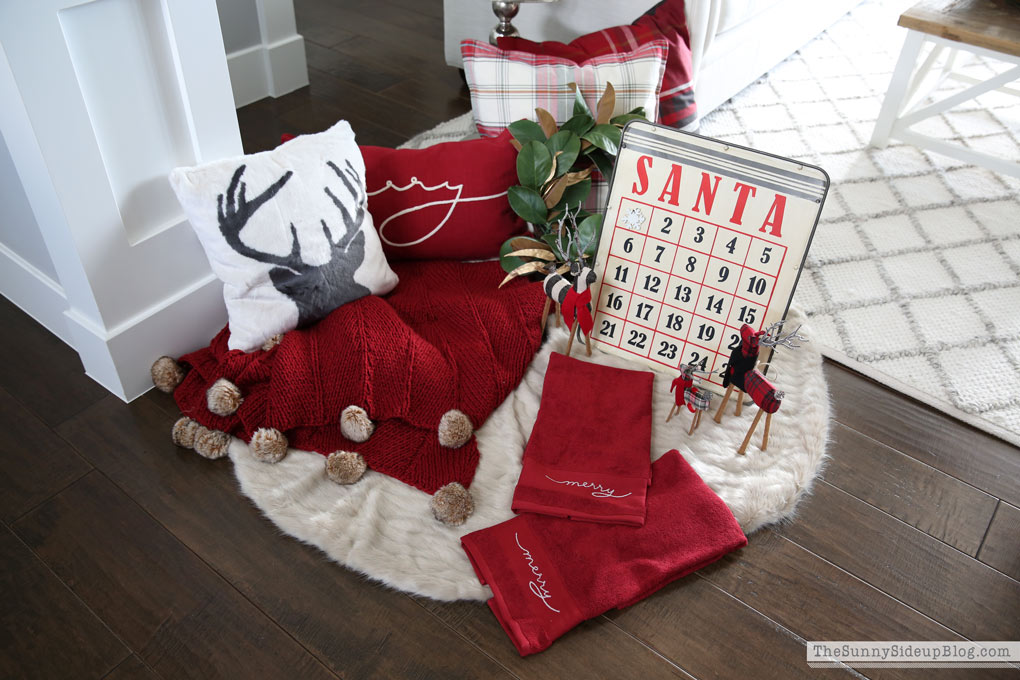 The merry towels are a new addition for the bathroom. :)
After years of messing with real garland (and the crazy mess it left after the holidays!) I finally splurged on this lit magnolia garland last year.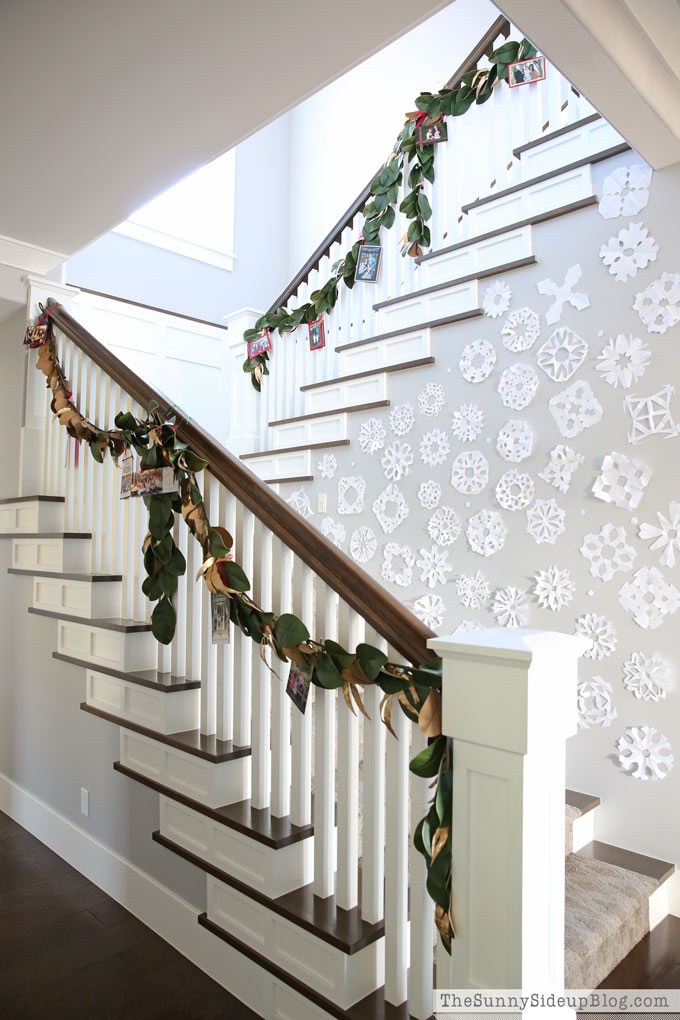 It lights up at night and looked so beautiful on my stairs!  And the best part.. no mess. :)  I got so many questions about this garland last year and it sold out fast.  Happy that they brought it back for any of you who wanted it!  My girls can't wait to get going on their snowflake wall again this year. :)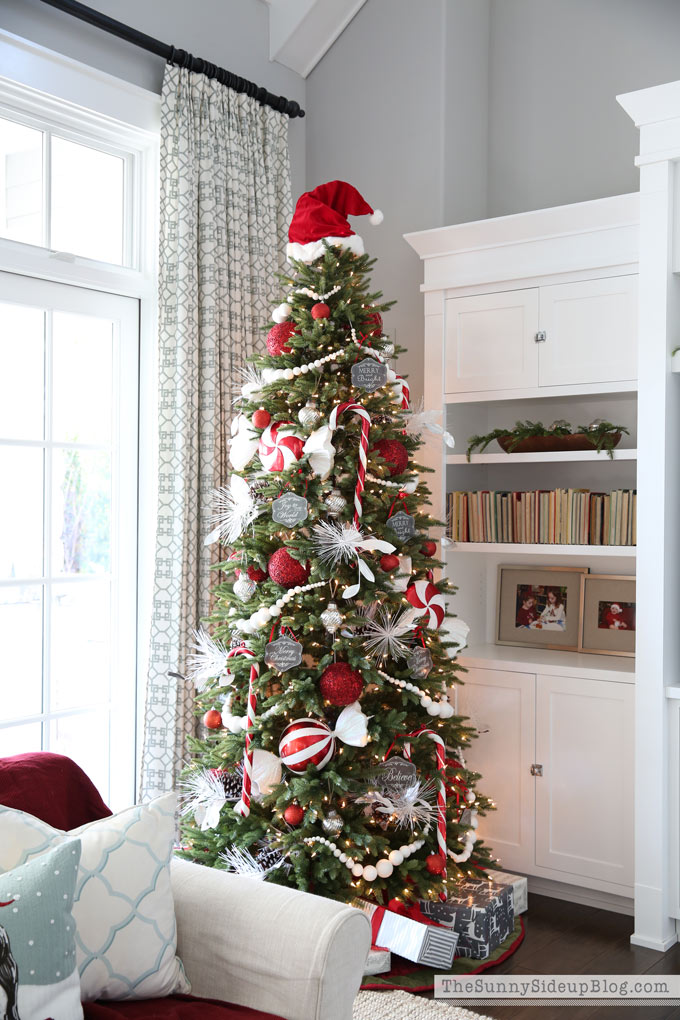 I always get lots of questions about this Santa hat tree topper and it also sells out quickly every year too so don't wait if you want it!  You could obviously use any Santa hat to top a tree, but this one has wire in it and sits just right without much effort.  My type of decor. ;)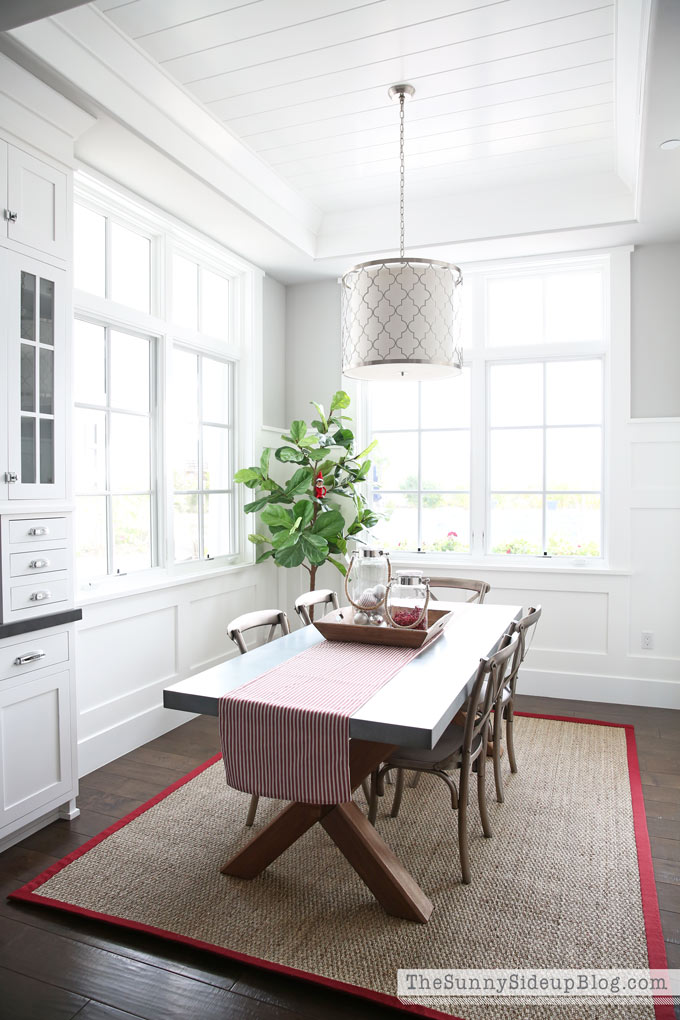 I was so excited to pull out my Christmas rug!  And this striped table runner I love and have had for years.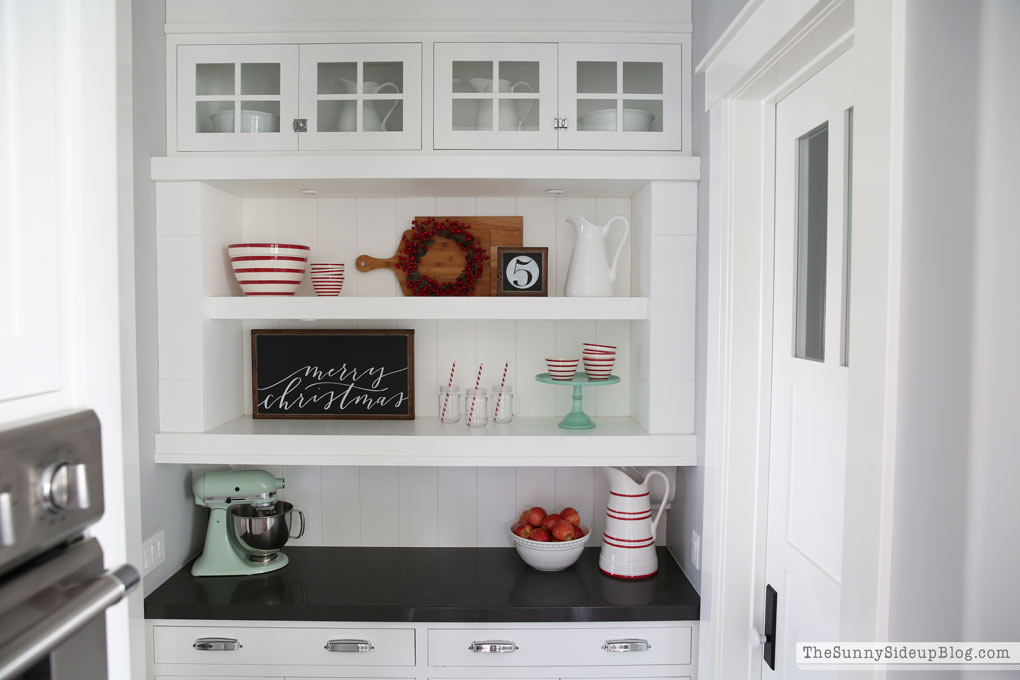 My red and white stripe bowls are long time favorites back in stock!
And my sleigh bell lumbar pillow is on sale!  Some of you know how long I've had this one..
Kole 7 years ago. :)  This pillow was his favorite when he was a baby because of the little red bells.  I had to sew one back on because he pulled it off when he was two.  Best part of Christmas isn't it?  The memories that come with all of the decorating and celebrating.
Our stockings come with all sorts of memories too.  I'd love to mix it up this year and do something different on this mantel..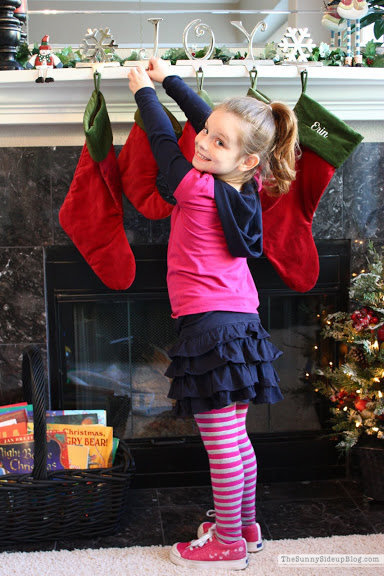 but these stockings are a long time tradition and I don't think this little Christmas elf will let me. :)
7 years ago and it feels like this was yesterday.  Can't wait to celebrate another Christmas with these three!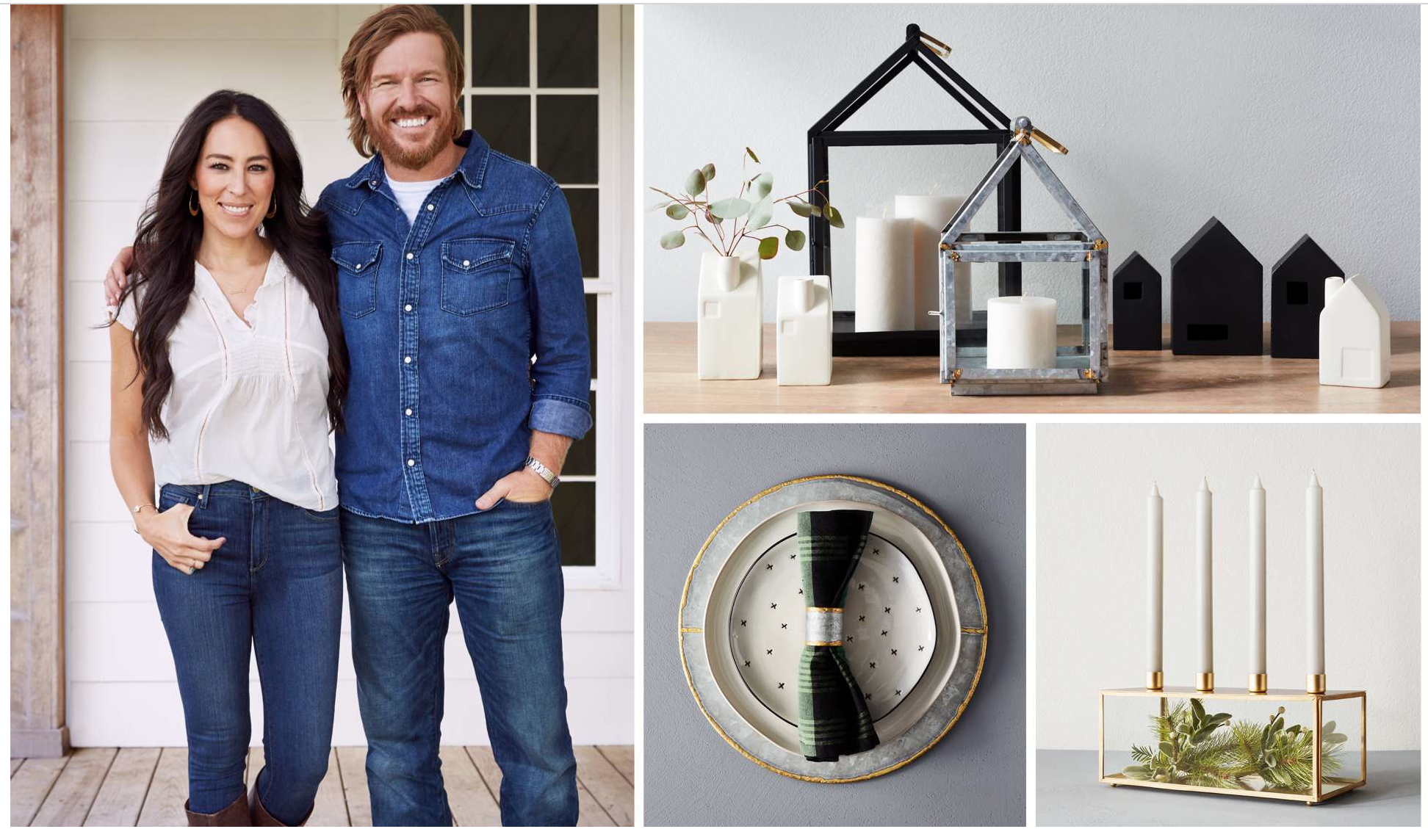 In other fun Christmas home decor news.. Chip and Jo's new line was released at Target this weekend!  Looks so good!  Did any of you get to check it out!?  I'm so hoping I can squeeze in a quick Target run this week.  I don't really have time.. but I might have to make time anyway. :)
Links are below to the Christmas decor I shared above along with other favorites that will be popping up in my home this season!  I hope that whenever you start your Christmas decorating.. you enjoy it immensely. :)  

xoxo, Erin