*This post was sponsored by Tapered Collection but you wouldn't be reading it if I didn't truly love their products. All opinions are my own! :)

Happy Friday friends!  We've had a busy week!  Lots going on with the kids outside of the house.. lots of decorating going on whenever I can steal a minute inside of the house. :)  I LOVE decorating for Christmas but you know what I don't love?  Fanning out the tree branches.  It's the only part of the whole Christmas decorating process I don't enjoy.  And I can't complain about it to my husband because then I get grief about "then why in the world are you putting up so many trees!?"  Ha ha.. we do have quite a few this year. :)  I can't help it.  I love them!  So I will continue to climb on ladders and fan branches until my fingers are about to fall off. {sigh}  Oh well.  Small price to pay. ;)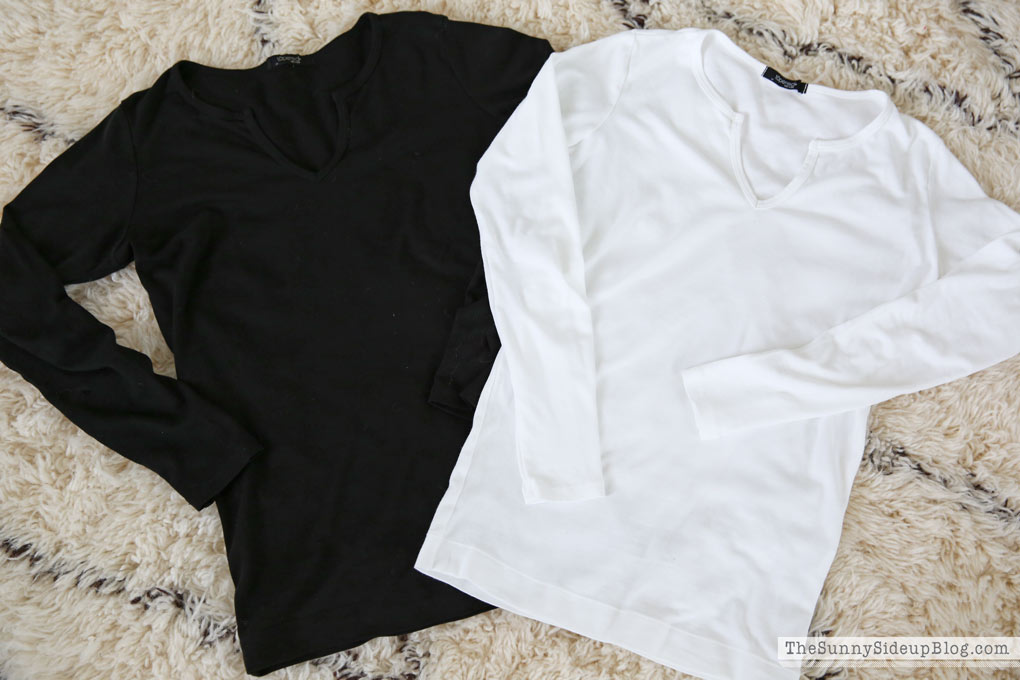 But before we get into all things Christmas decor, today I'm sharing something else I'm loving with you!  Friends.  I've found the perfect tee!  And you know how I feel about tees.  I'm so excited about these!  The founder of Tapered Collection reached out to me a while back to see if I wanted to partner on a post about her tees.  I did some research and read all about them and to be honest, they sounded too good to be true!  I told her to send me some to try out and I figured I'd wear one or two and just see if they met the hype.  Um.. let's just say that they exceeded my expectations so much that I've hardly taken them off this month!
Ok.. let me tell you about these tees and what makes them so special.  First of all.. I love the material.  They are thick and soft and comfortable and high quality and they DON'T shrink in the wash.  At all!  You can wash them, dry them, they wash beautifully.  They are also longer than some tees which I love (it drives me crazy when tees are so short I feel like I can't bend down!).  But the best part is that these tees are made for real women and are so flattering.  They have some give in the midsection!  If you've had kids or don't love your waist line you will definitely appreciate these tees. :)  This tee is the Long Sleeve Henley and I absolutely love the fun neckline!
So cute with my camos!  You can see how this tee is fitted at the top, drapes in a flattering way with some give around the mid section, and then is fitted at the bottom.  I so wish I would have discovered these after having my three kids.  This is the perfect tee to wear for months after having babies!  And years after that if necessary. ;)  (Btw.. they fit true to size and I'm wearing an xs)
I wore this Henley Tee last week to meet a super hot guy for lunch.  Don't tell my husband. ;)  Seriously though, we have had the hardest time prioritizing a date night because our weekends have been so busy so we've been trying to meet one afternoon during each week for lunch.  Just one quick hour of uninterrupted conversation that doesn't include any scheduling, the not so hot math score, friend drama, the upcoming science project or who's taking who to what birthday party.  It's an hour of conversation about us and our interests over pizza and I look forward to it every week!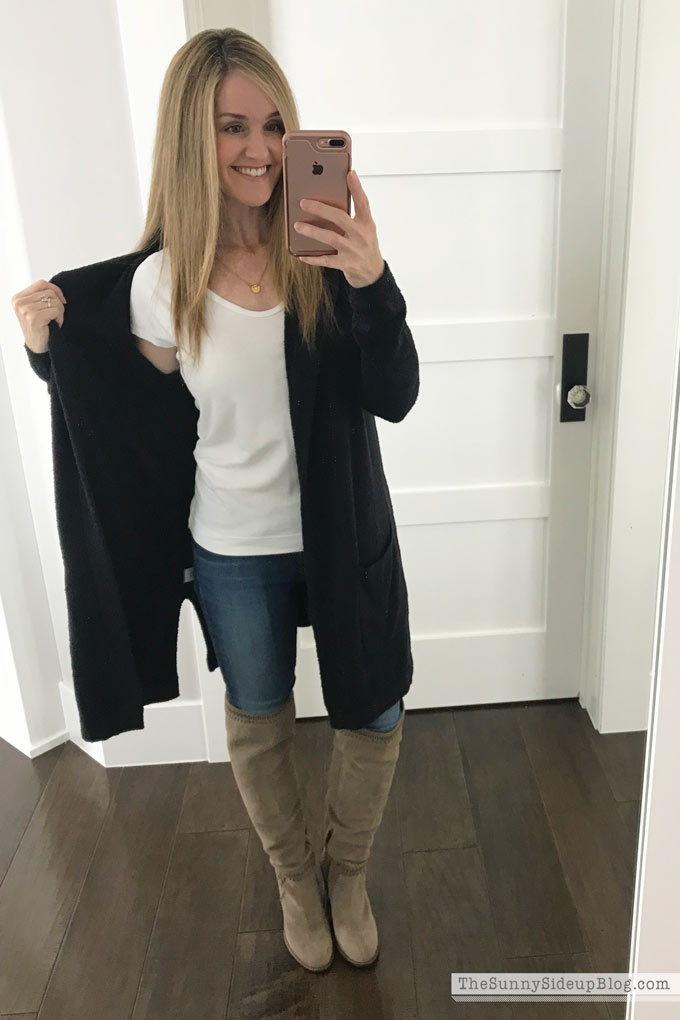 The Short Sleeved Tapered Tees are perfect for layering!  I've been wearing mine under all of my cardigans..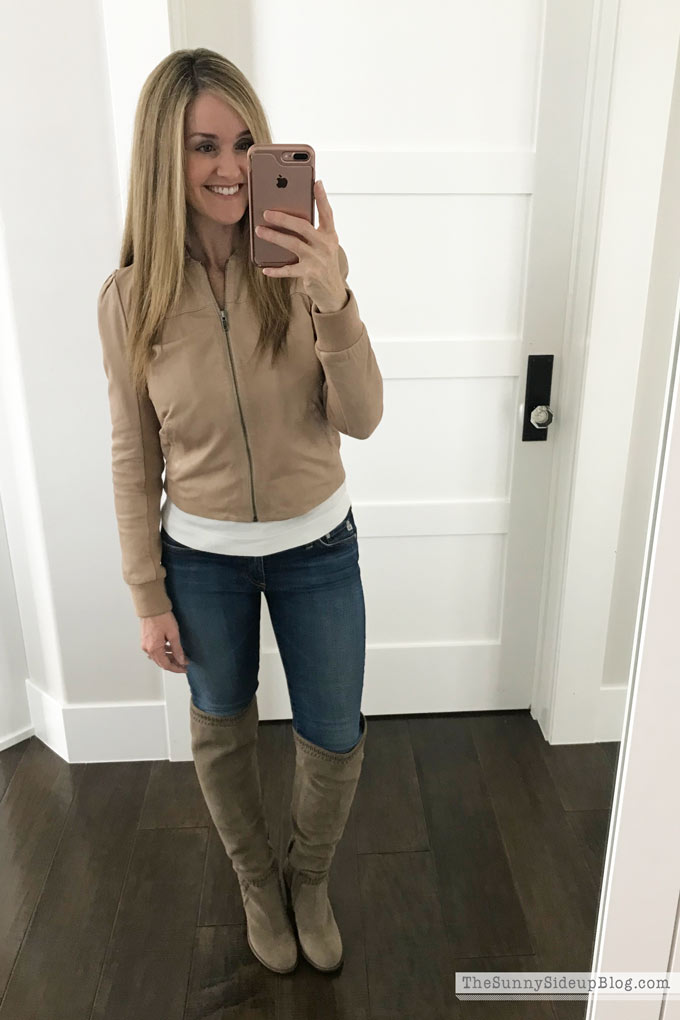 and jackets.
Another fun detail on all of the Tapered Tees is this wide, fitted band at the bottom.  Just gives your outfit a little something extra. :)
I wore the white Long Sleeve Henley to Ad's last play performance under my green military jacket.  She was the cutest little lioness I've ever seen!  So proud of her.
We all are. :)  And now we are officially taking a break from theatre productions until after the holidays!  This mom needs a break from at least one child's activites!
Ok.. I saved my most favorite tee for last!  It's the Three Quarter Tee and I am seriously going to LIVE in these.  Love that the white is opaque, not sheer!  I never like white tops that are see through and I've found that most are.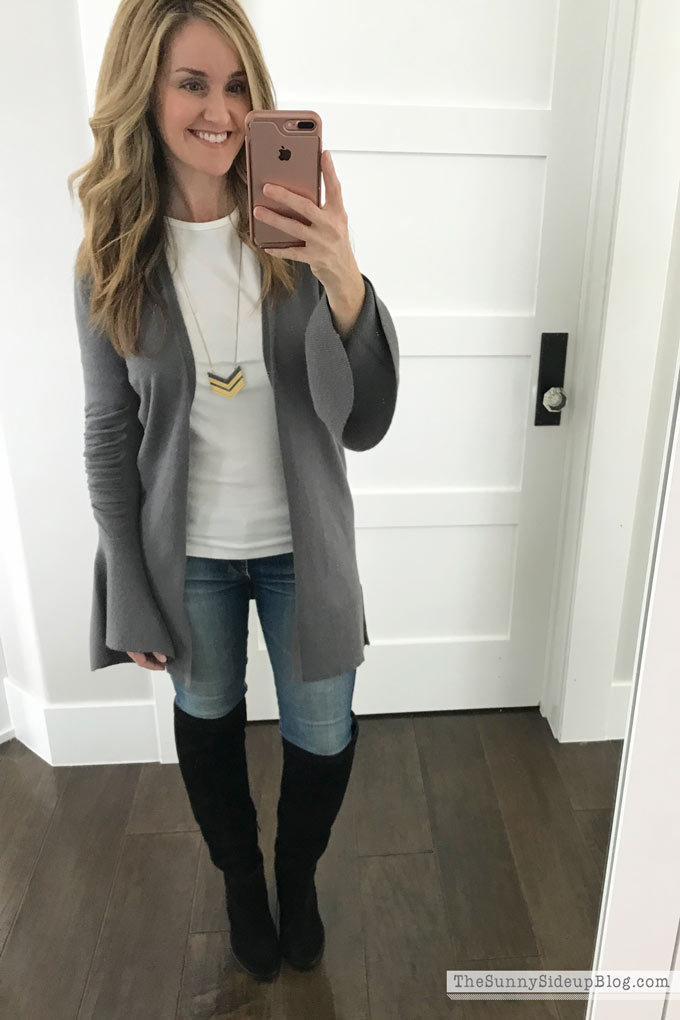 Like the short sleeve tee it's perfect for layering.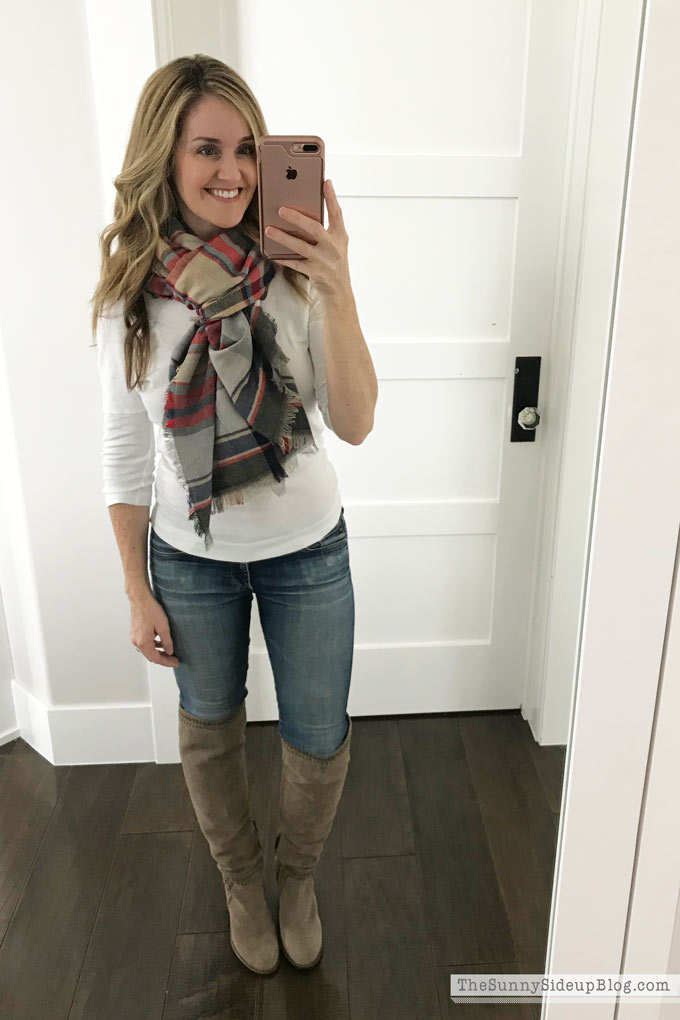 I even dressed the black Three Quarter Tee up a bit for church one Sunday. :)
Then I washed it and wore it again a few days later.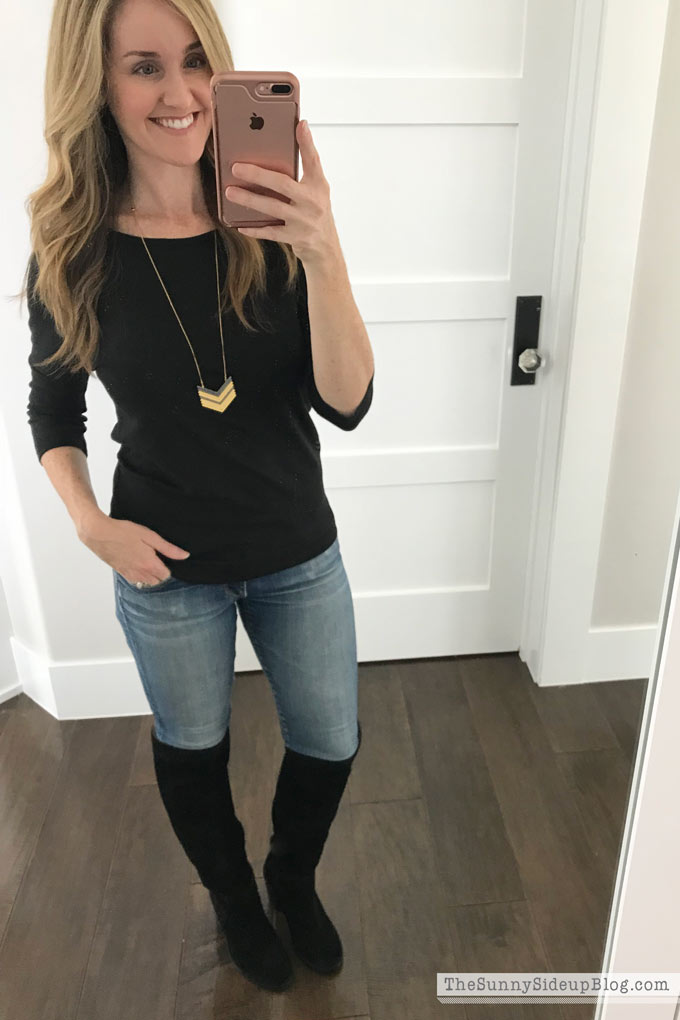 And then washed it and wore it again a few days after that. Ha. :)
But the best part about this tee?  When I come home at the end of the day and trade in my skirt or jeans for sweats, it works with them too.  Now that my friends.. is what we call a wardrobe staple. :)  Nothing like a good tee!
These tees cost a bit more than your regular tee, but they aren't like your regular tee!  They are such nice quality and with the way they fit and wash and all the ways you can dress them up or down they are worth it!  Especially if you live in tees like I do.  This weekend Tapered Collection is having their Friends and Family Sale and you can get 20% off of your purchase!  Click on MY LINK HERE to get the discount (or any of my links in this post and add FALLFRIEND at checkout).  Yea!  Awesome tees on sale for everyone!  (Yes mom.. I'm buying you some too.)  :)
And what do you know.. my favorite Three Quarter tee is perfect for fanning out tree branches!  Even if I'm not.  Addison took these pics and got me laughing so hard I almost fell off my ladder!
If any of you need me this weekend you know where I'll be!
And what I'll be wearing.
:)
xoxo, Erin