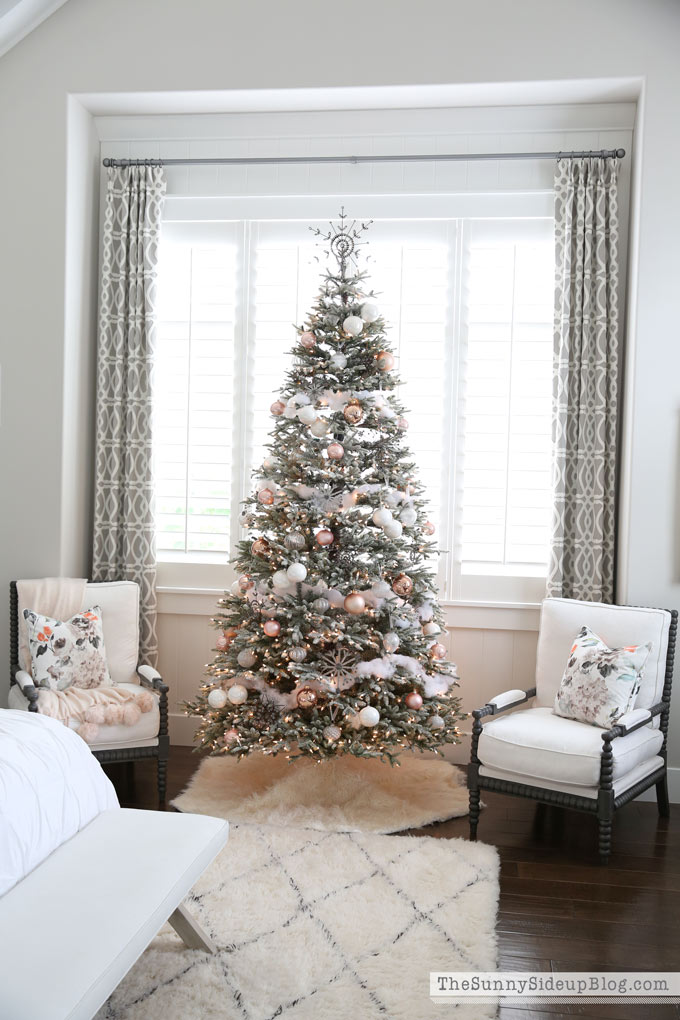 Friends!  I'm so excited to show you my new Frosted Christmas tree today!  I'm joining Balsam Hill's 12 Bloggers of Christmas and sharing my new tree along with a peek of my master bedroom.  I know.  I've been promising master bedroom pics for a while now and I'm so sorry that post hasn't happened yet!  (My head is hung in deep shame in case you can't see it..)  I actually tried to get that post up last week before I shared this tree, but after four hours of working on it and realizing I'd only made a small dent I knew it would have to wait until after the holidays.  So it's coming in the New Year!  Right now you're saying to yourself whatever Erin.. sure it is.  And at this point I don't believe me either.  Ha.  But it is!  I think.  We'll see. ;)  In the meantime, here are some of the windows in my master bedroom!  Windows just perfect for a frosted Christmas tree. :)
This is Balsam Hill's Frosted Frasier Fir 9′ with clear lights and oh my word.  To say I'm in love would be an understatement!  I've had my eye on this tree for years.  It's so beautiful and I love the frosted look!  It's my attempt to bring a touch of winter to San Diego.  Never mind the sunshine blaring through the windows.  I can close the blinds, turn on the fireplace, turn on the Christmas music, turn on the tree lights (maybe turn on the air conditioning to balance out the fireplace) and BAM.. I just turned on winter. :)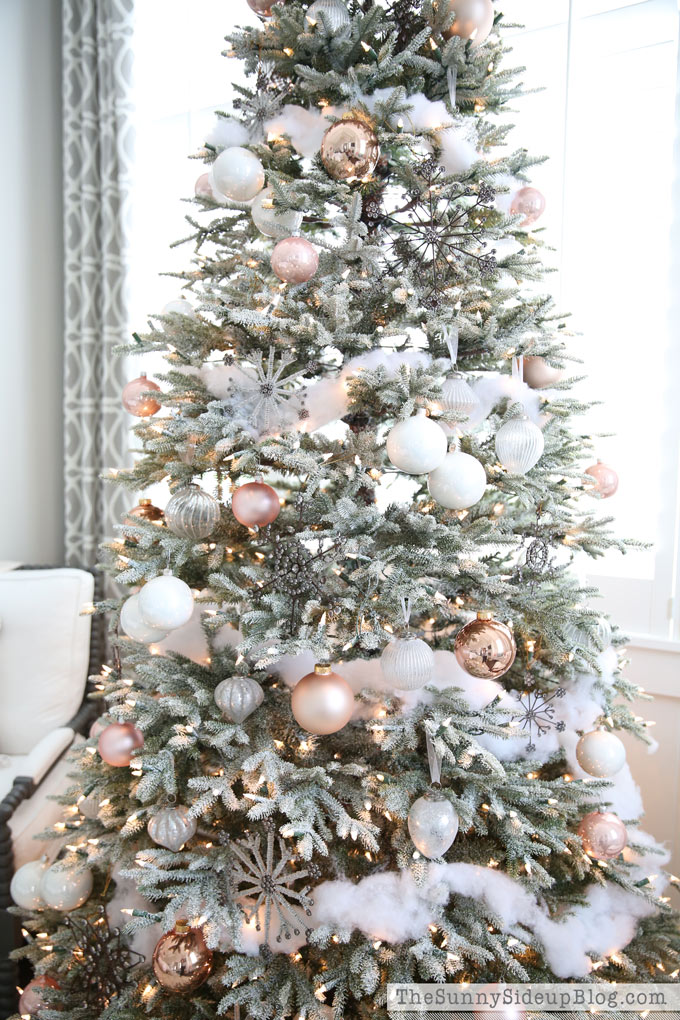 Now you know I'm all about RED during the holidays, but my bedroom color scheme is softer so I thought it would be fun to mix it up in just this one room and try something different.  I was thinking frosty glam!  Or something cool like that. :)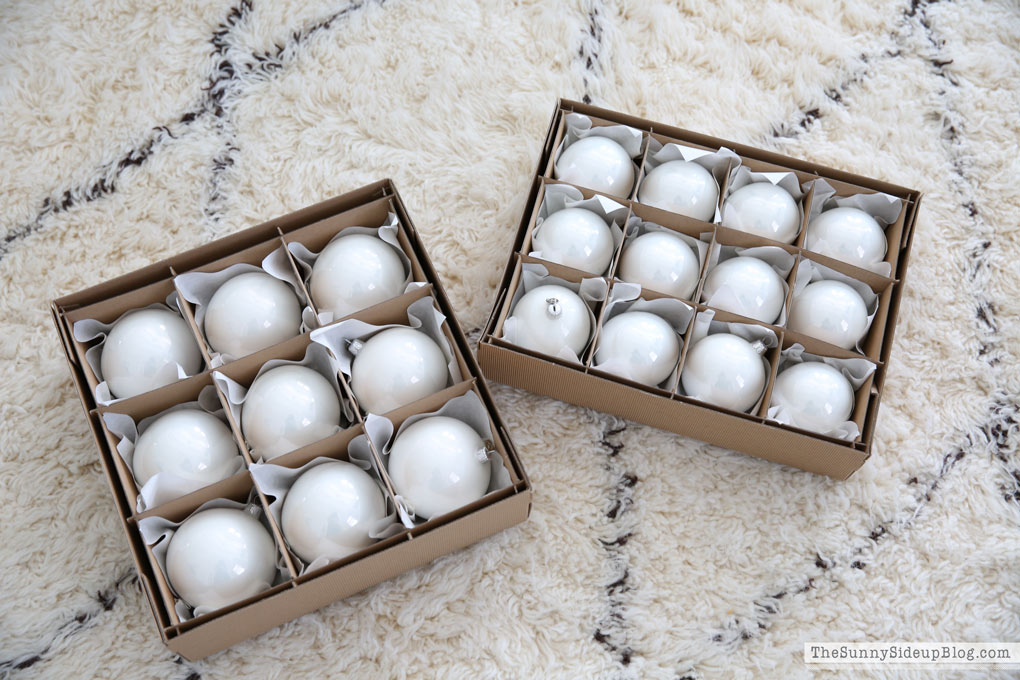 I used lots of Balsam's essential medium white glossy and essential medium small glossy ornaments.  They are such nice quality and I love their simplicity.  Plus check out the boxes they came in!  Perfect to store them in all year long.  The boxes were a happy little organizing surprise.  I get excited about things like that!  But you all knew that didn't you. :)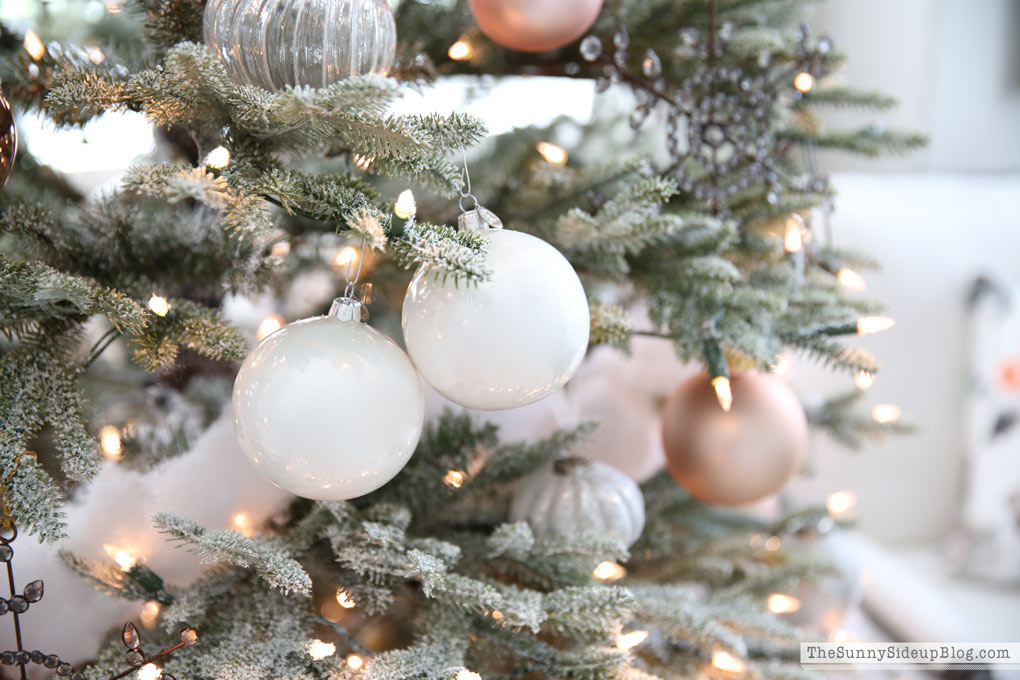 I placed some of the medium sized white ornaments close together in pairs.
Because I'm wild and crazy like that.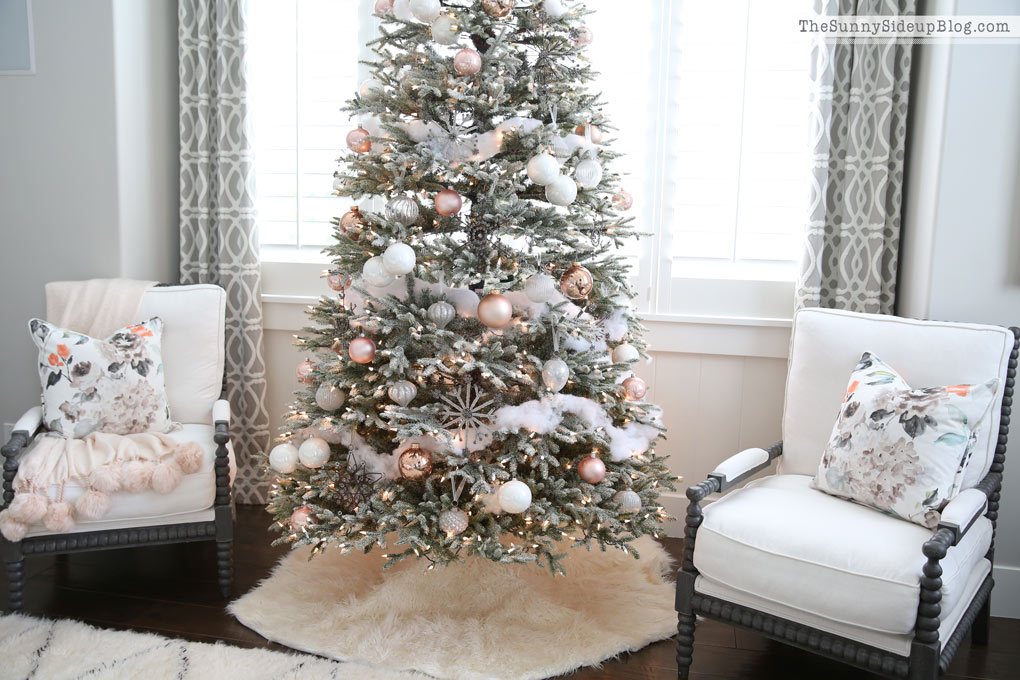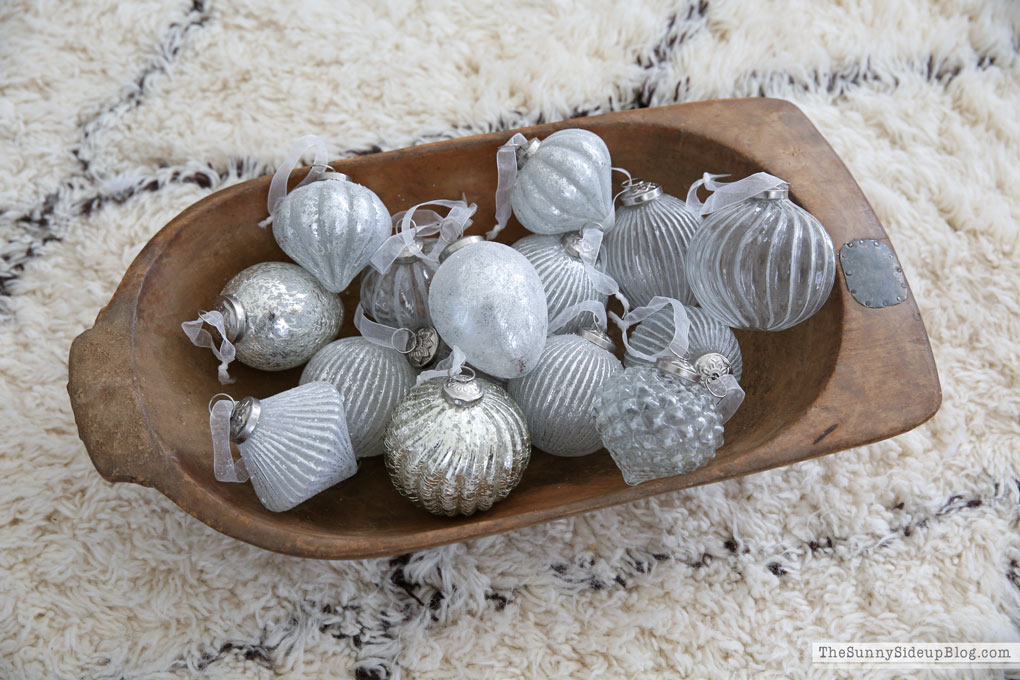 Then I went equally crazy with Balsam Hill's French Country Ornament Sets.  I've always LOVED this style of ornaments.  They are so beautiful.  I used the Etched, Crackle and Foil ornaments on this tree.  Next year I'd love to add some of the Ombre to the mix!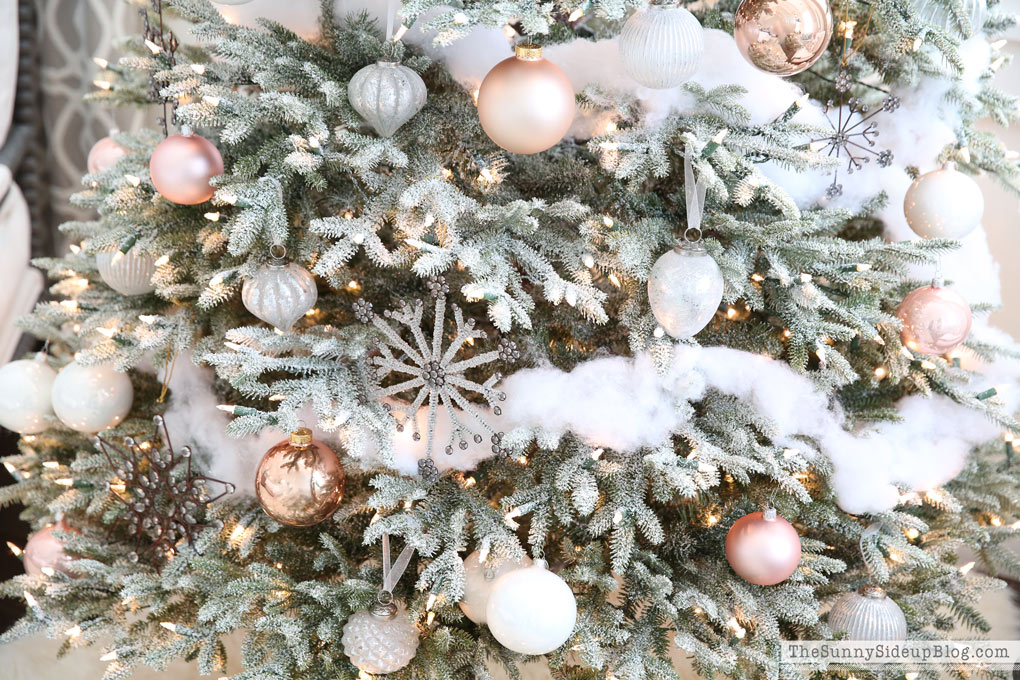 I also sprinkled in this beautiful Antiqued Snowflake Ornament Set.  I love how the snowflakes are so different and unique.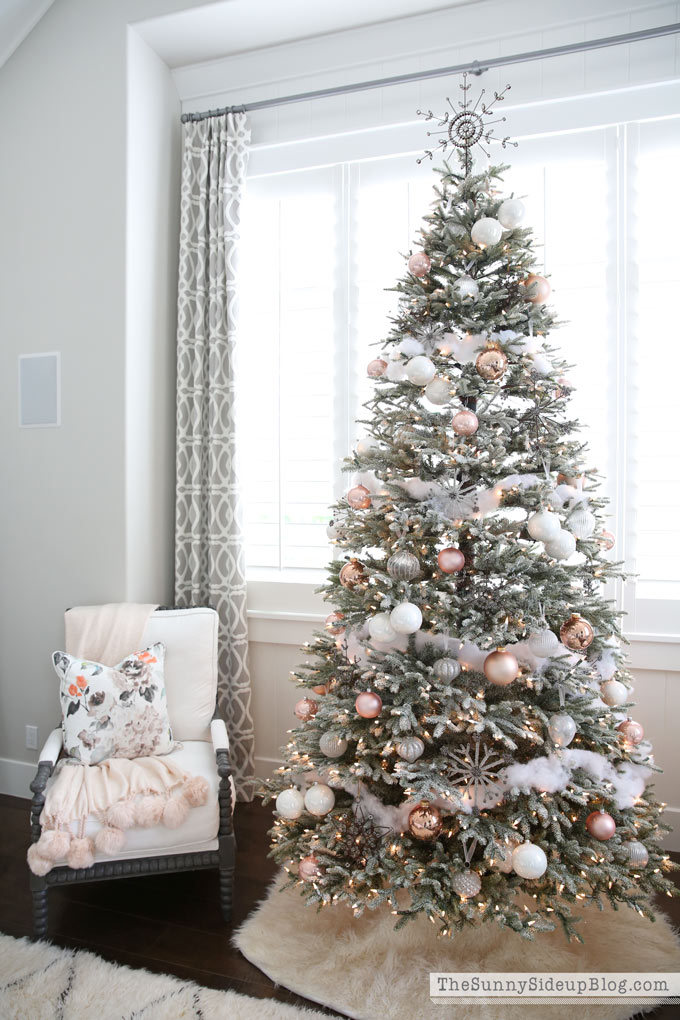 Then I used this stunning antiqued snowflake tree topper for the top.  I love the way it shines!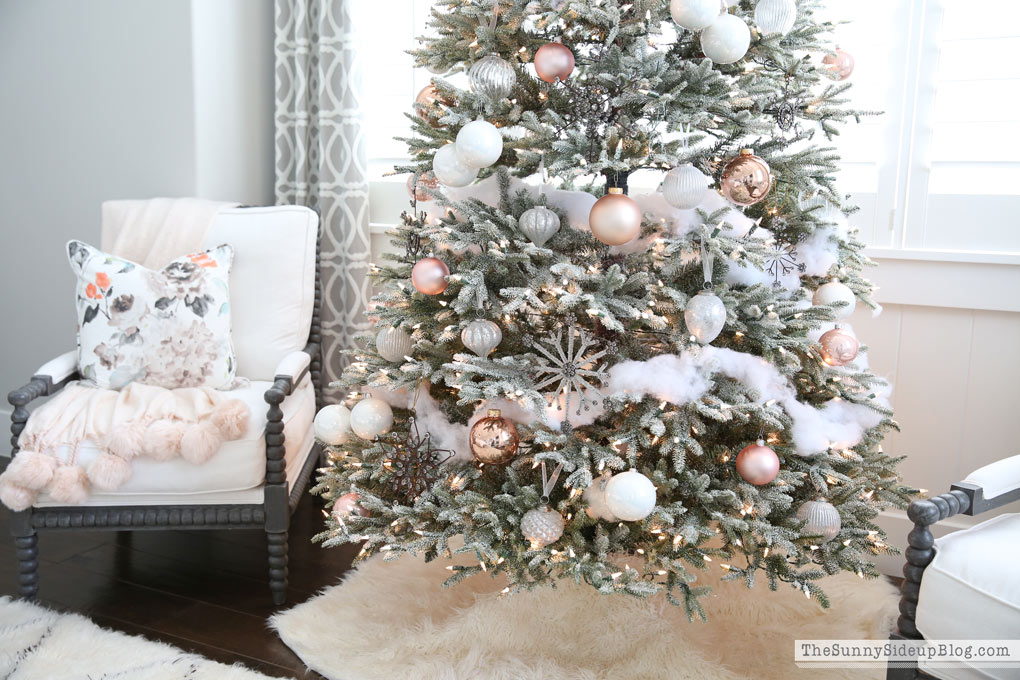 I added a little quilt batting to complete my frosty glam look and a few pink ornaments from the craft store.  A new favorite soft pink throw over my chair also adds a pretty touch.  (Throw source in this post with gift ideas for the whole family.)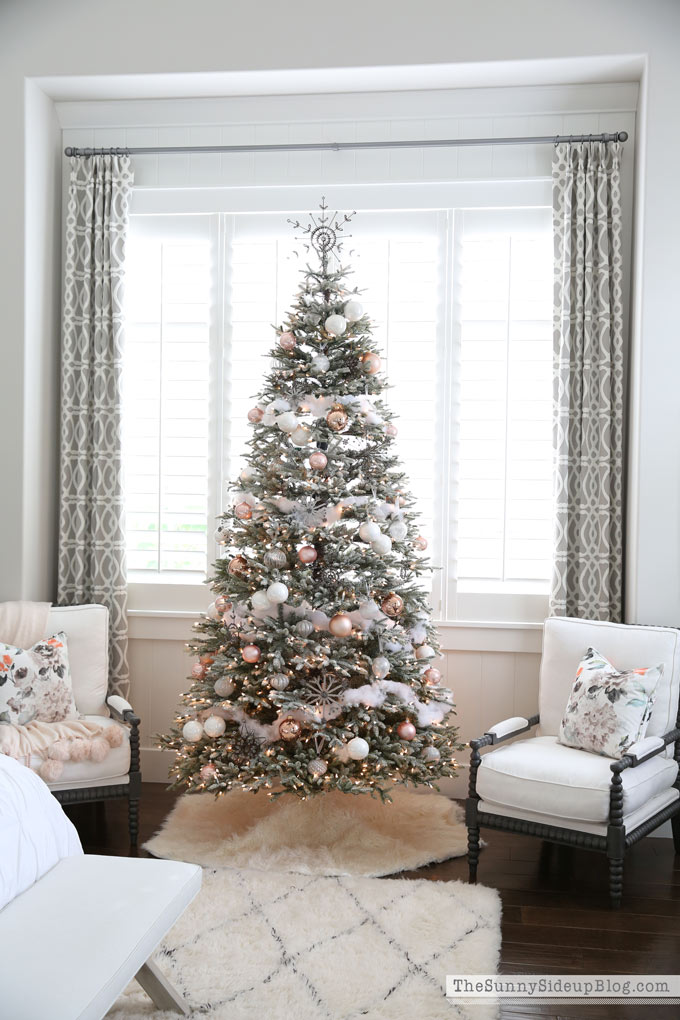 To complete the look I used Balsam's Mongolian Faux Fur Hexagon Tree Skirt.  It's so fuzzy and soft and blended right in with my rug.  I love that there is plenty of room for presents under the tree too!  Hopefully Kenny and Kole won't mind if some of their gifts have pink bows.  Ha.  I'm seriously wanting to bring the Christmas morning party to our bedroom I'm so in love with this tree!  And the best part?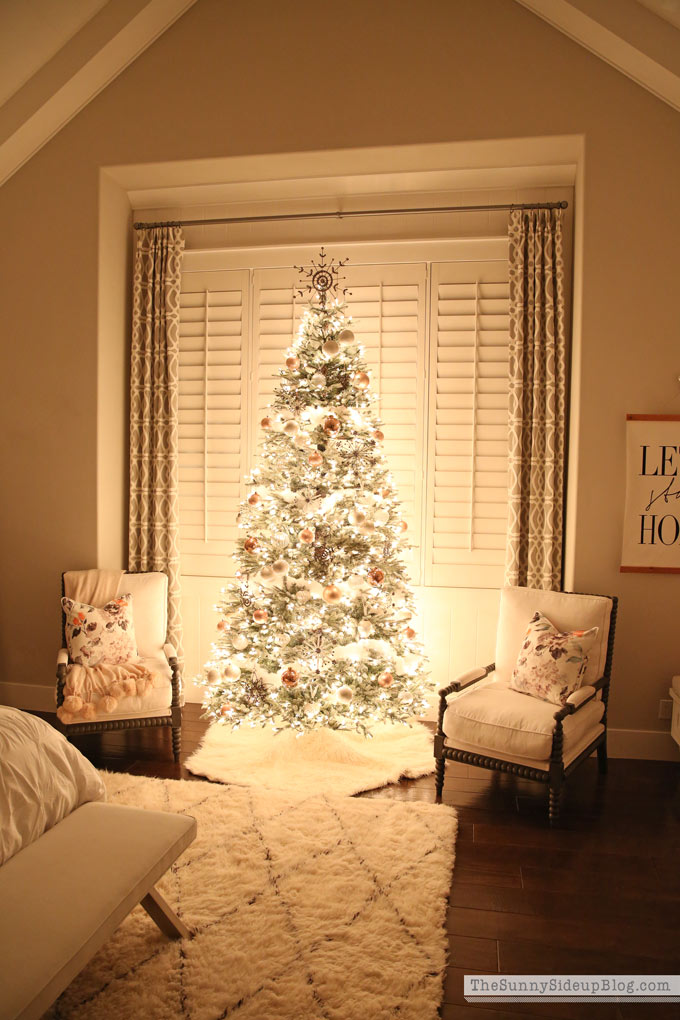 This frosted Christmas tree looks AMAZING at night!  Oh I so wish I could have you all over to see it in person!  My pictures don't do it justice.  All of those beautiful lights give off such a warm glow.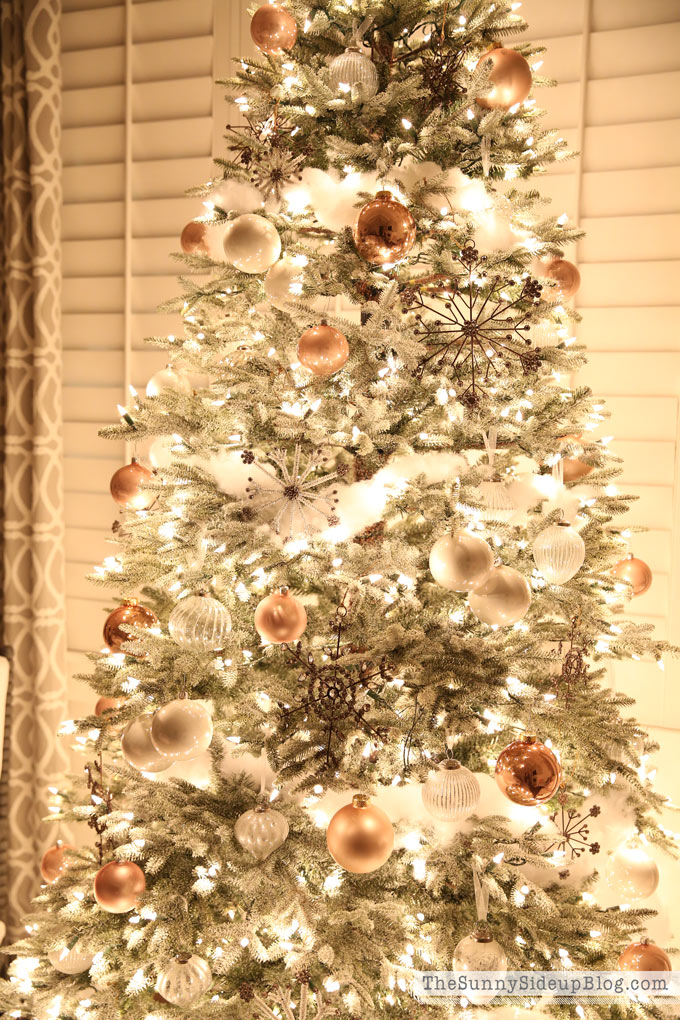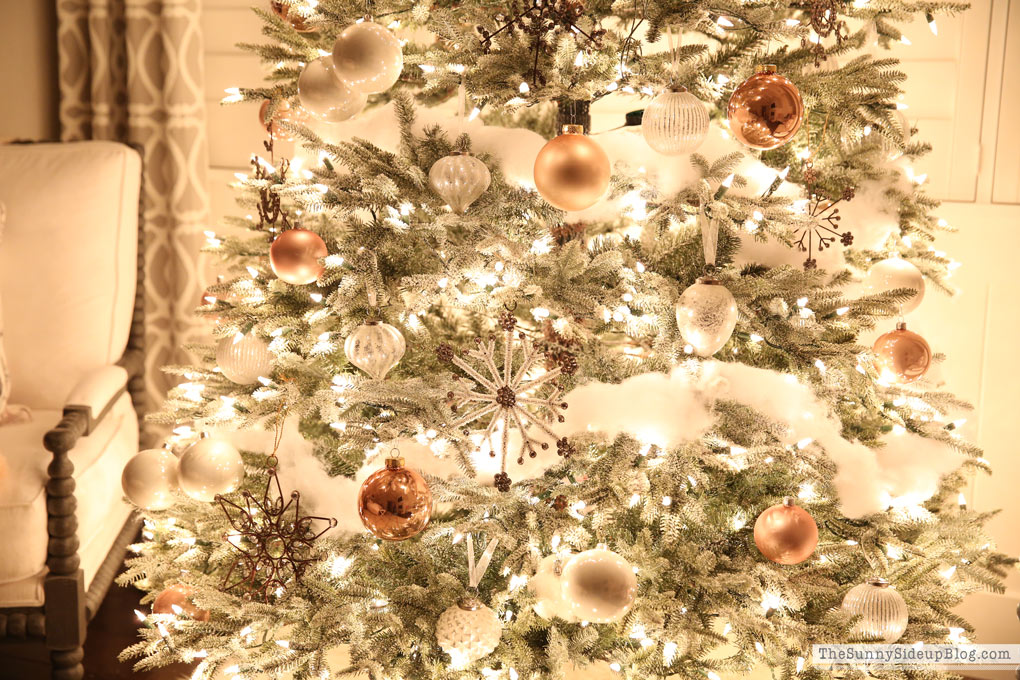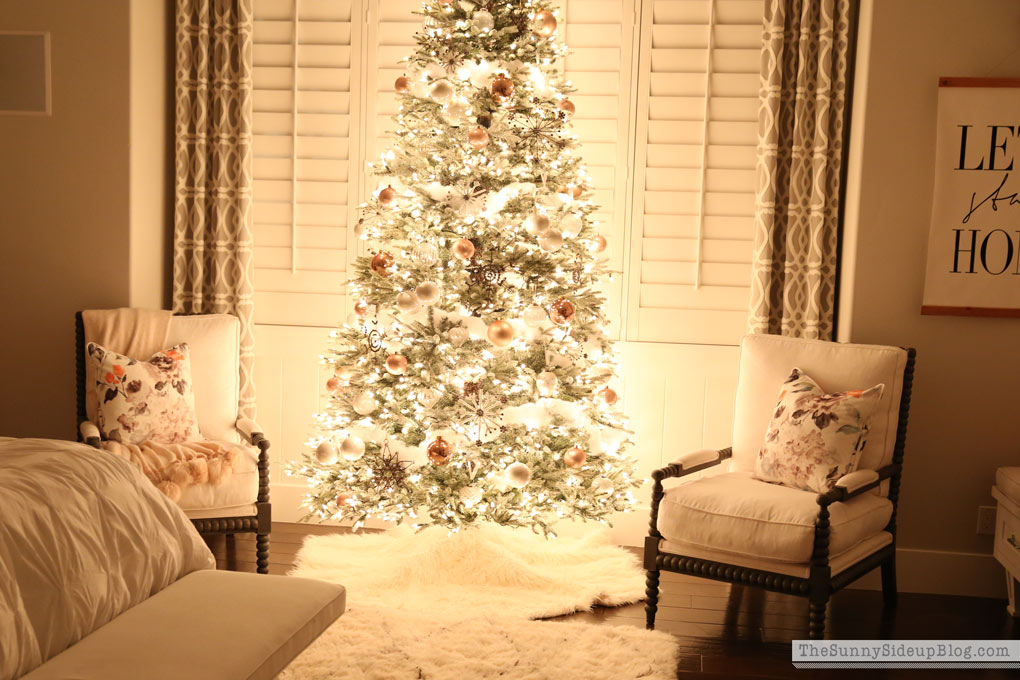 Christmas perfection.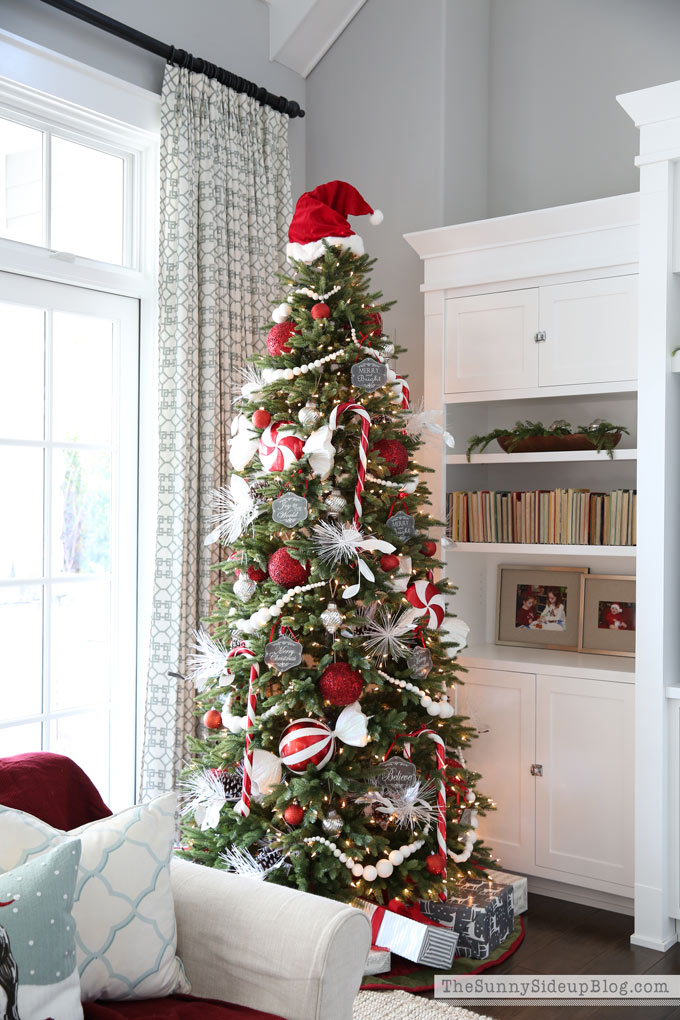 I always get lots of questions about this tree in our family room and it's also from Balsam Hill.  This is their Silverado Slim Tree.  Just like my Frosted Christmas tree it's also 9 feet with clear lights.  The Balsam trees are full of beautiful lights and are amazing quality.  Plus you can't beat their trees for easy set up!   I'm a fan.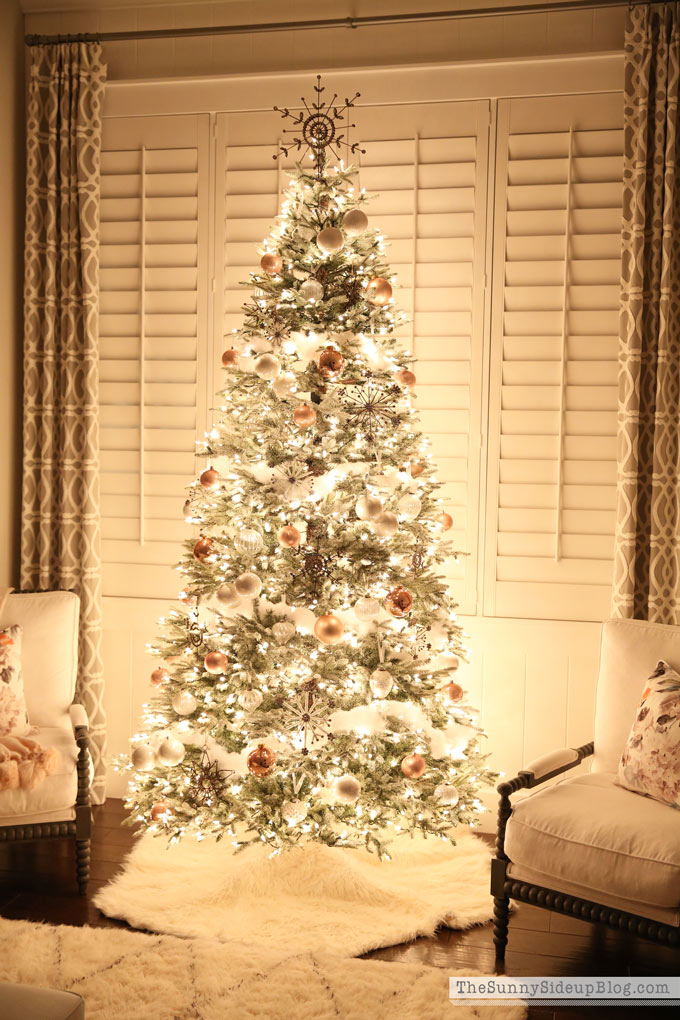 I have a feeling I'm going to be spending a lot more time in my bedroom this next month!  In fact I'm thinking it might become my new office for December.
Because I could stare at this pretty tree all day long.
And because I'm wild and crazy like that.
:)
Lost of Christmas tree inspiration is coming your way with the other 11 bloggers joining Balsam Hill's 12 Bloggers of Christmas!  What a party.  They will be sharing throughout November and I'll add links as their posts go up each day so make sure to check back to see them all!  Balsam Hill is also running a daily giveaway that you can enter if you'd like to HERE.  Huge thank you to Balsam Hill for partnering with me on this fun post!
Nest of Posies
Pink Peppermint Designs
Tidbits
Burst of Beautiful
11 Magnolia Lane
Love Grows Wild
Christinas Adventures
Inspired by Charm
Happy Christmas tree decorating friends!
It's the most wonderful time of the year. :)
xoxo, Erin