Alright friends.  Guest room!  Let's do this. :)  When I posted a reader survey at the beginning of 2017 most of you requested seeing more decorating/organizing progress posts.  This is definitely a progress post!  Small progress.. but progress none the less.  I'm working on a few spaces in our home this year and one of them is our guest bedroom.  A bit of background on this room…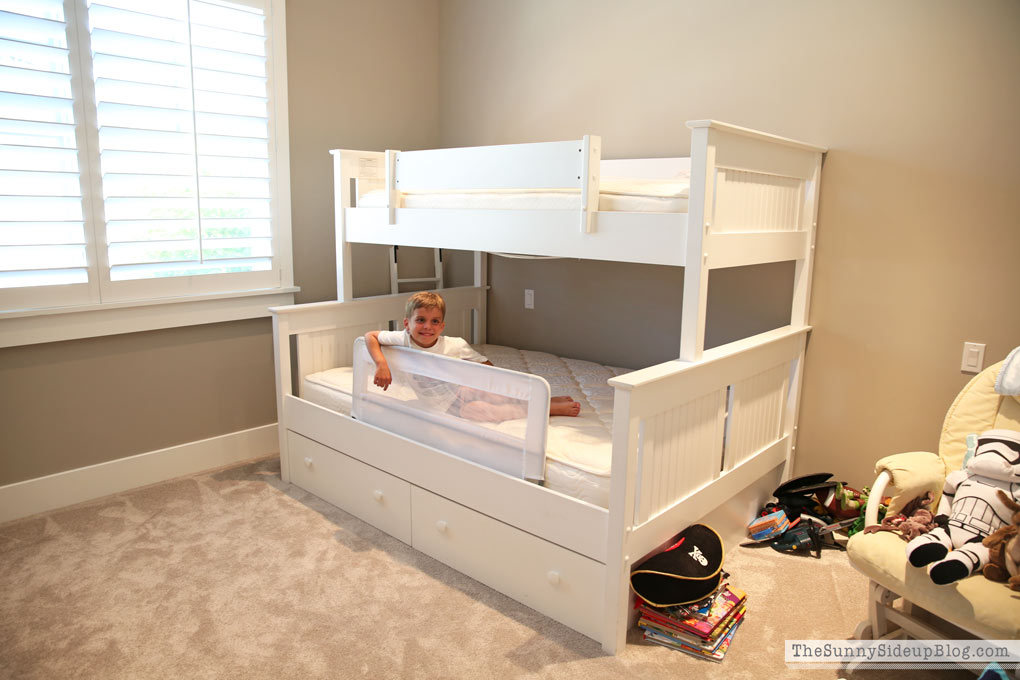 When we first moved into the new house 3 1/2 years ago Kole was 3 years old.  Still so little and he was just getting used to sleeping in a bed.  (You can see his nursery from our previous house that doubled as my office/craft room here.)  Our guest room is located just down the hallway from our master bedroom so we moved him into the guest room to keep him close to us at night knowing that at some point when he was a bit older we would move him into his real bedroom and make this space a guest room.  These bunk beds were in my girls' bedroom in our previous house so we put them in the guest room for Kole to sleep on temporarily.  We weren't sure if he would be in this room one year or five.  It ended up being three. :)  I didn't take a picture of what this room looked like before we started moving everything out, but it really wasn't decorated much more than this.  Some dinosaur bedding and random toys.  A temporary happy space for Kole since he doesn't seem to mind whether or not his room is coordinated. ;)
I took these pics when we were starting to move everything out of this room.  Still hanging on to the rocker from his nursery.  I need to get rid of it but am having a hard time letting go.  I rocked all three of my babies for countless hours in that chair.  It might have to hang around in the attic for a bit until I'm feeling stronger about parting with it. ;)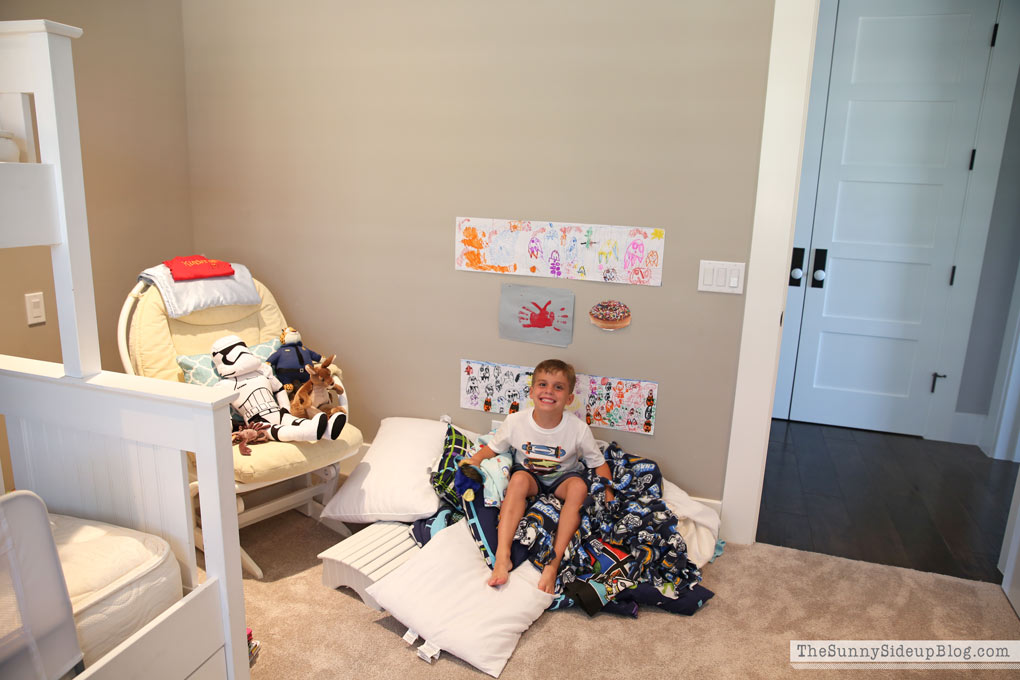 How is my baby 7!?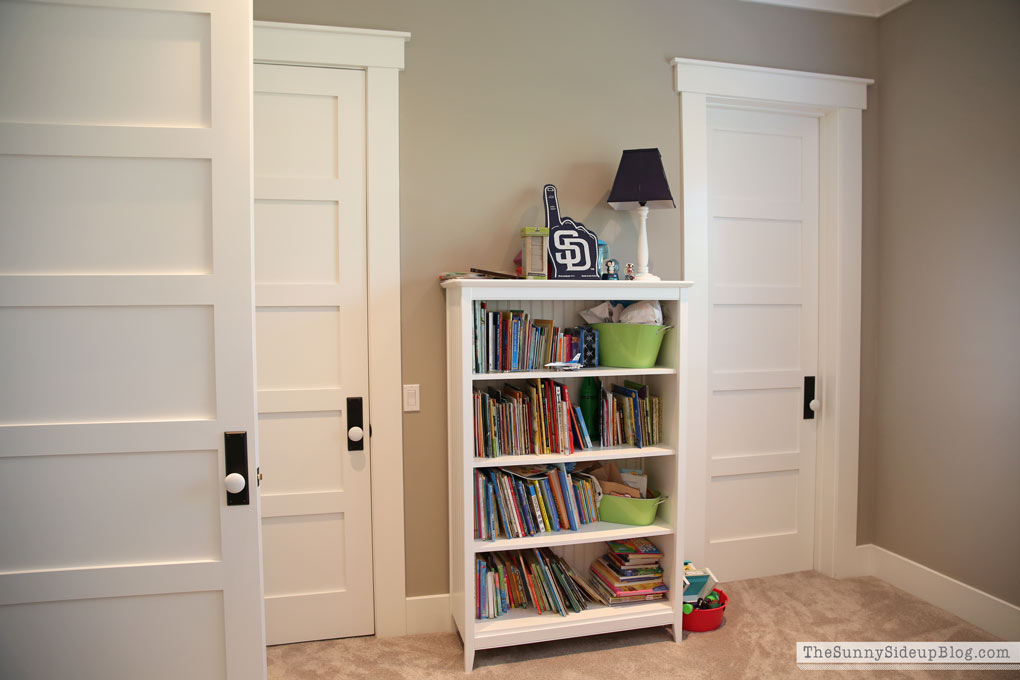 We cleared everything out of this room and brought in the guest bed (that was temporarily in Kole's room).  Then we tackled the bookshelf last.
We got rid of over half of his books and just kept favorites.  Kole was a huge help with the purging as always. ;)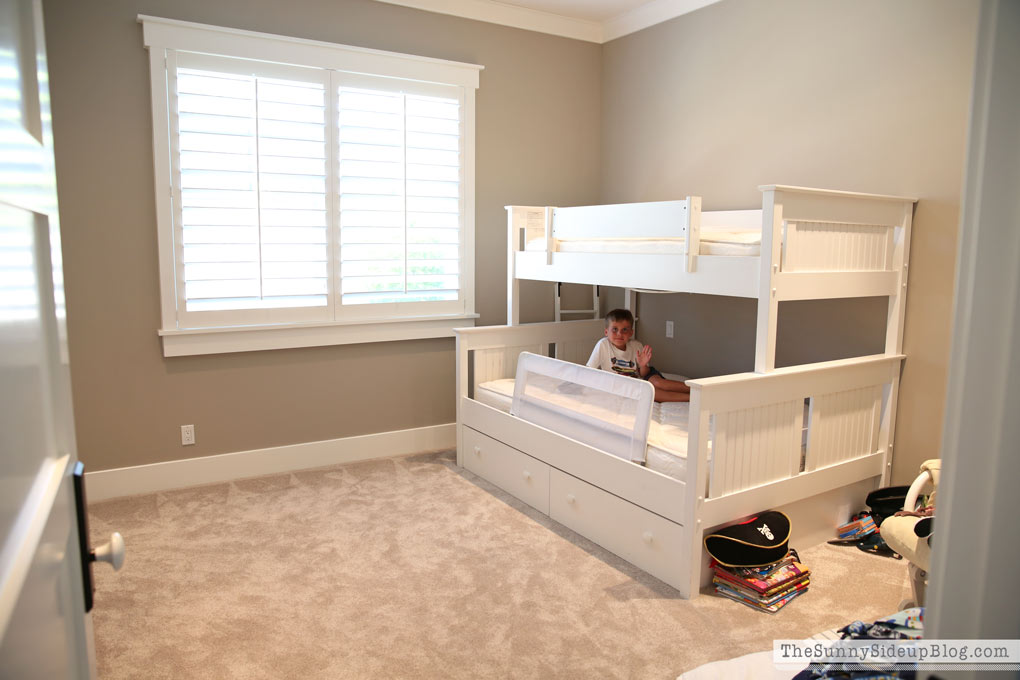 Good-bye bunk beds!  I had a hard time parting with those too, but they went to a good family so that made it easier. ;) You can see in this pic that the walls were a blank slate and I knew I wanted to do something fun for a focal wall when we turned this space into a guest room.  For quite a while I was planning on putting up some wall paper.
Then on a whim I decided I wanted to do a grid pattern with molding instead.  My carpenter and I sketched it out and two days later the wall was up!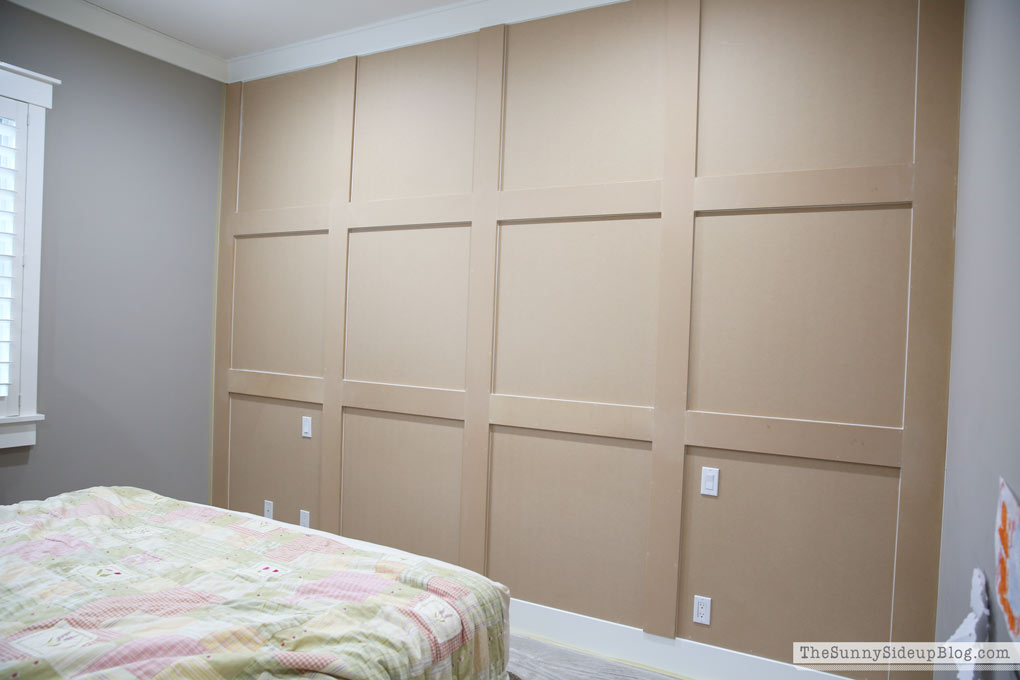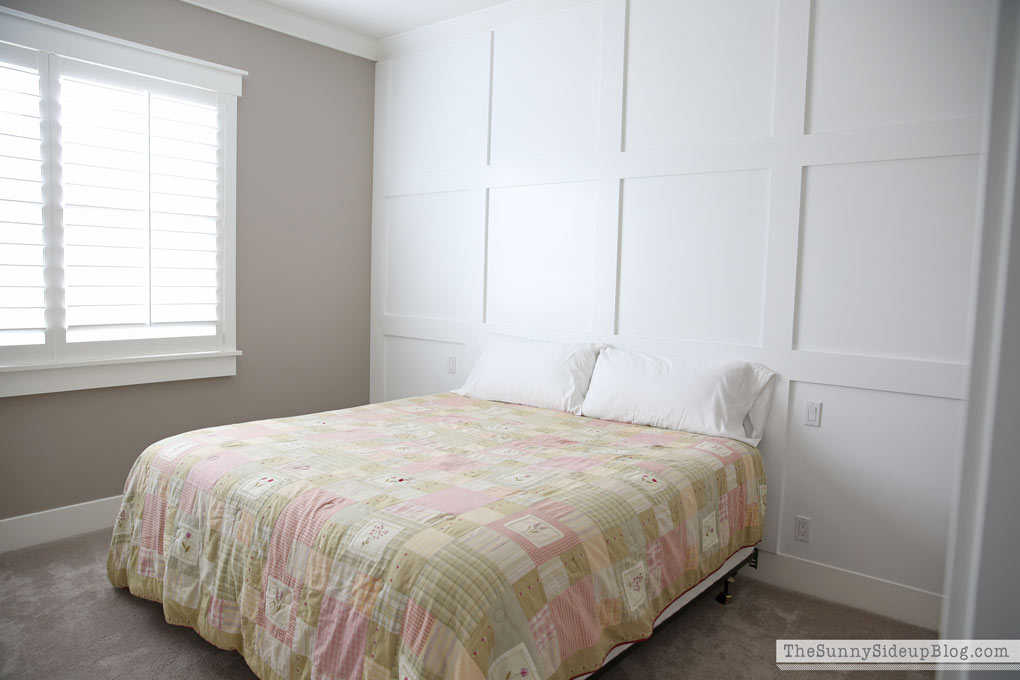 The next week I had it painted white.  I love the way it turned out!  It looks better in person (I snapped these pics so quickly and they aren't great!)
I'll take you on a quick tour of this room.  Lots of doors. :)  This guest room will be used by any guests who stay with us, but my parents will most likely use it the most and because of this my mom put in a request for a TV.  Ha!  She likes to stay up late watching the news in bed.  When we were designing the room I knew I had to fit a TV on this wall in-between the closet and bathroom door so we tried to make the space as big as we could!  As soon as the focal wall was finished we got a TV for my mom.  We're hoping it bribes her to come down more often. ;)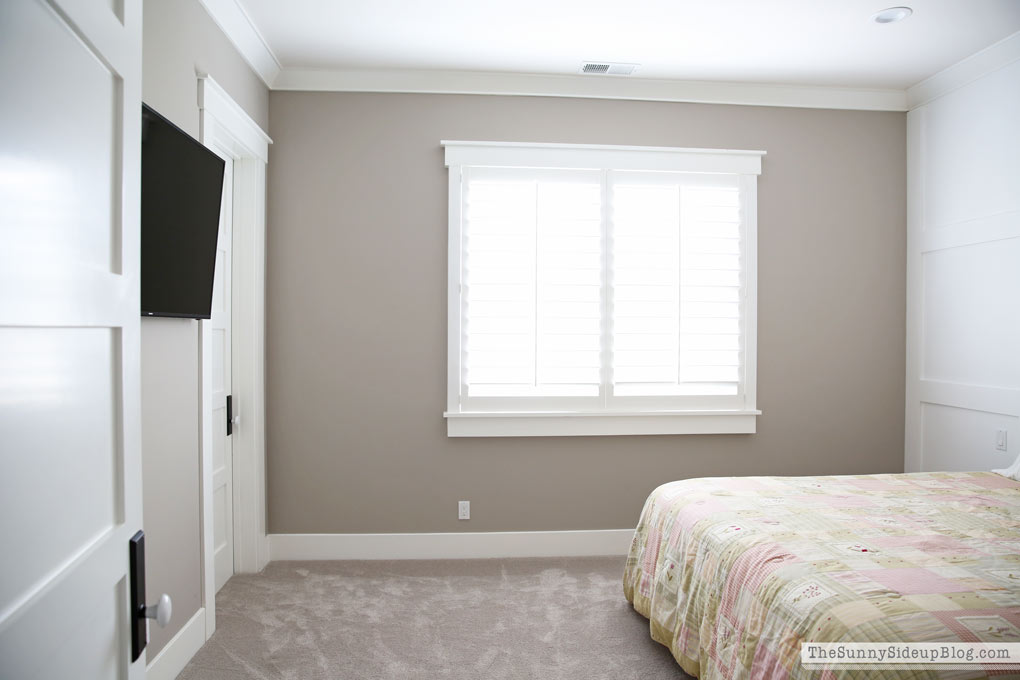 Window on this wall.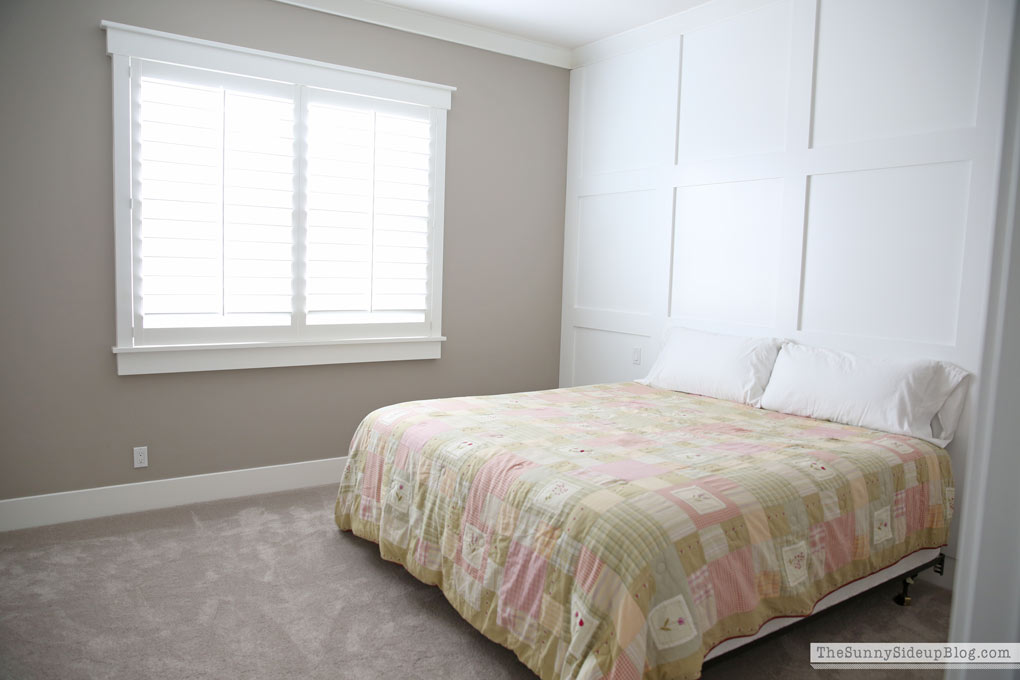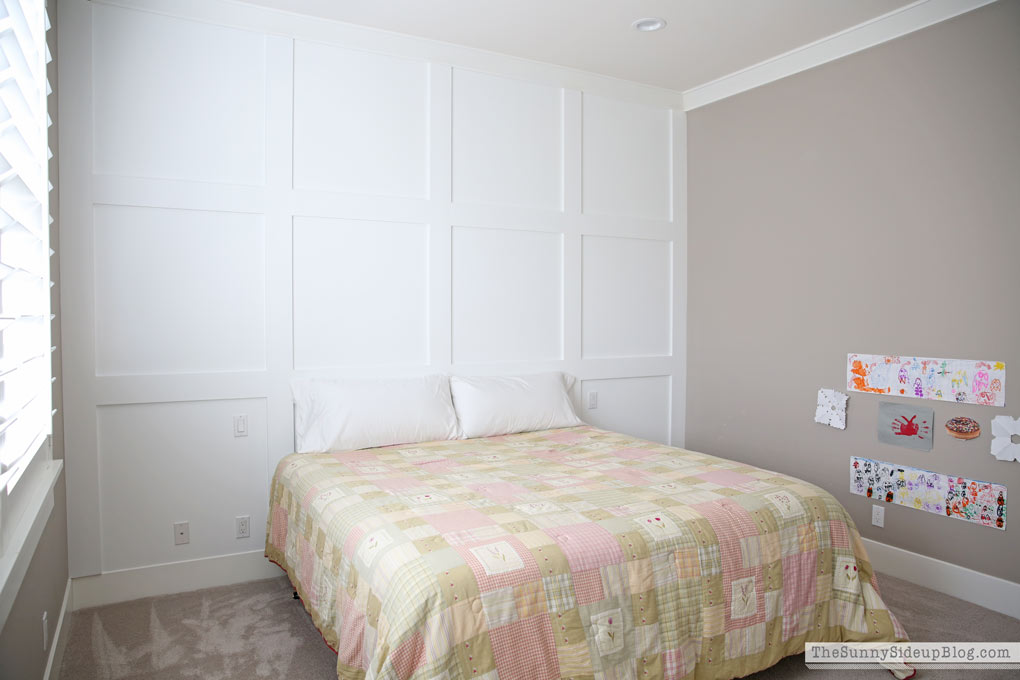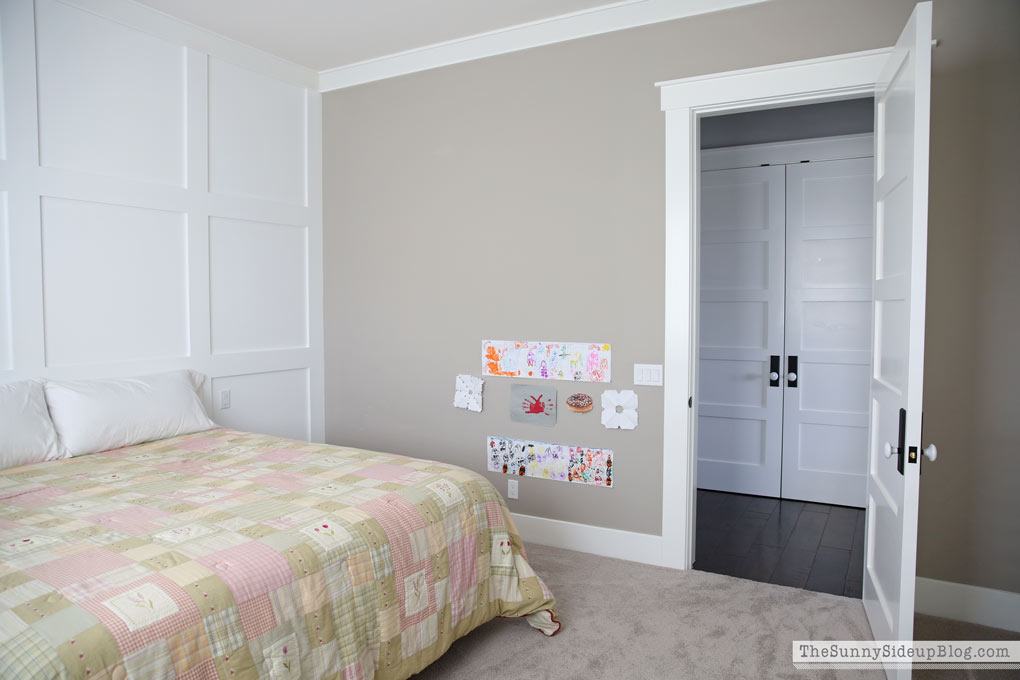 And a blank wall opposite the window just waiting to be decorated! :)  (The doors across the hall open up to my organized decor closet I shared a couple of months ago.)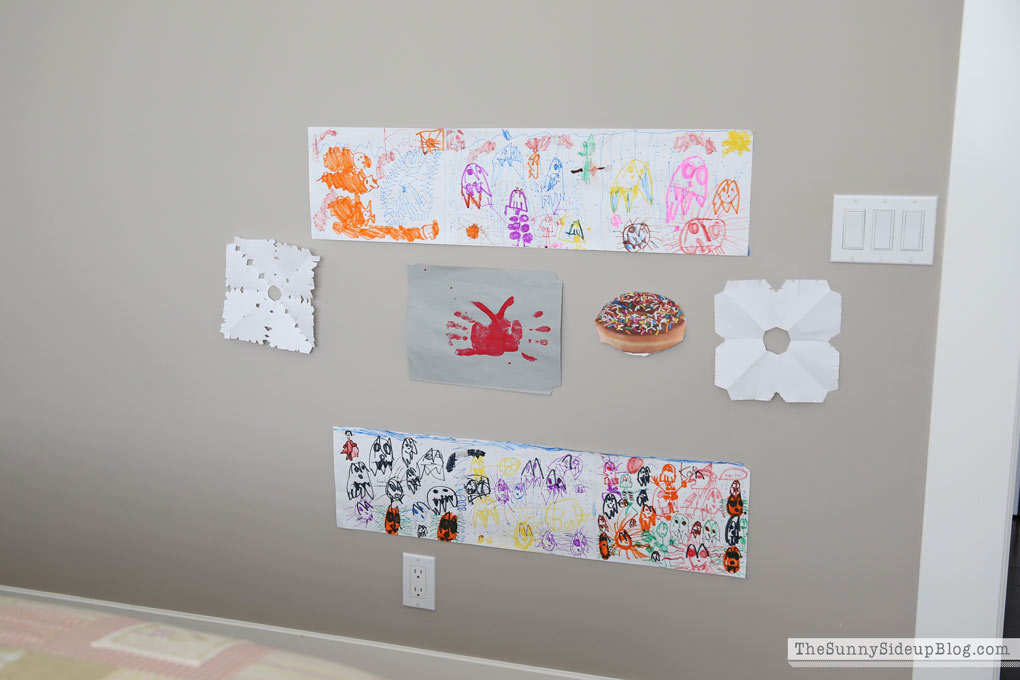 As soon as I take down the "art" Kole decorated with.  There's quite a story that goes along with the two long pictures.  All sorts of ghosts and monsters and good guys and bad guys are in a major battle.  Add a print out of a donut, some snowflakes and his handprints and we have quite a masterpiece.  On second thought maybe the decorating on this wall is taken care of. ;)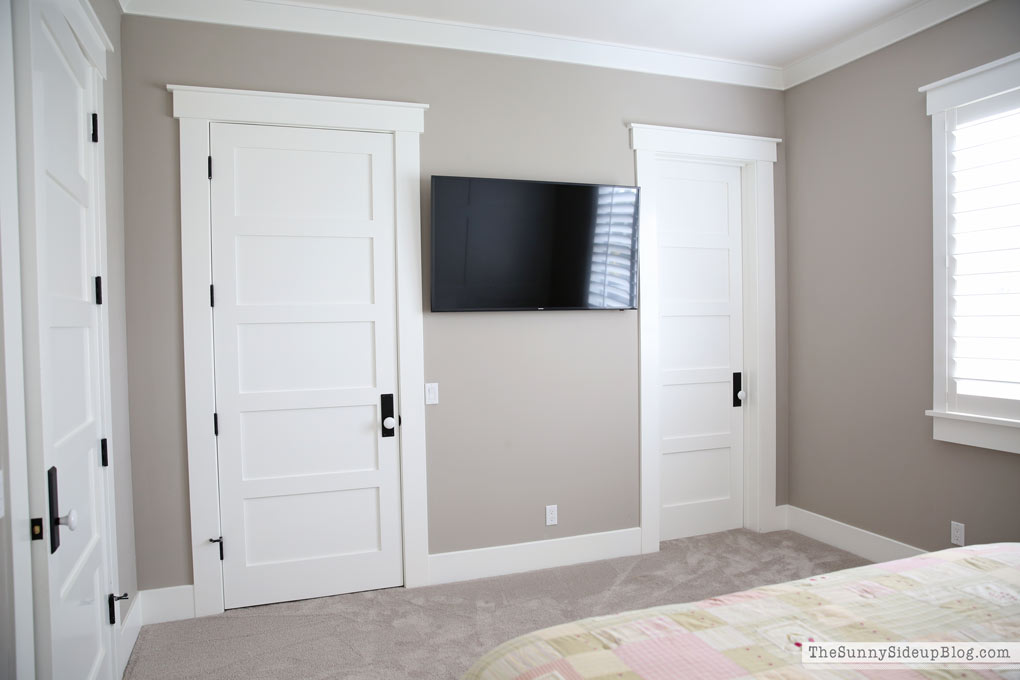 There really isn't much I need to do in this room and I've had a vision for what I want it to look like for a while now.  It should come together fairly quickly because I already have most of the furniture picked out.  In fact, the first of the new furniture just came last week!
These lacquered mint nightstands from Anthro were absolute LOVE at first sight!  The second I saw them I knew they would be perfect for this room.  Of course I'm a huge fan of mint everything, but I also love the gold hardware and that they have a bit of a filing cabinet vibe.  They make me think of organizing.. ha!  I know that's so nerdy but it's true.  You can see why they had to come home with me!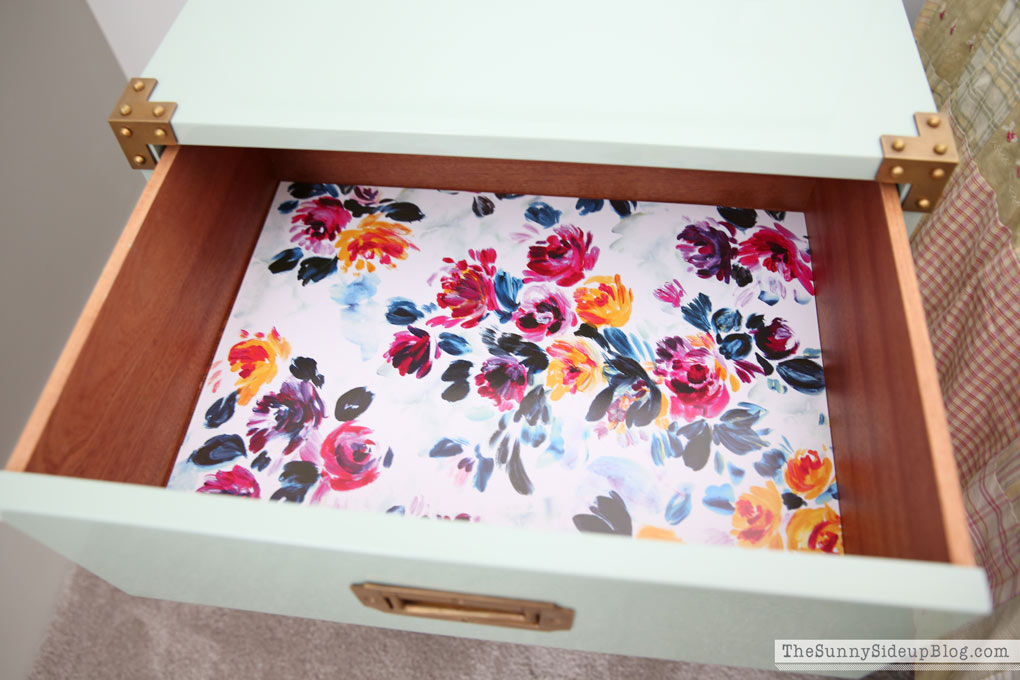 Also they are lined with flowered paper!  A fun surprise when they arrived.  Just when I thought I couldn't love them more. :)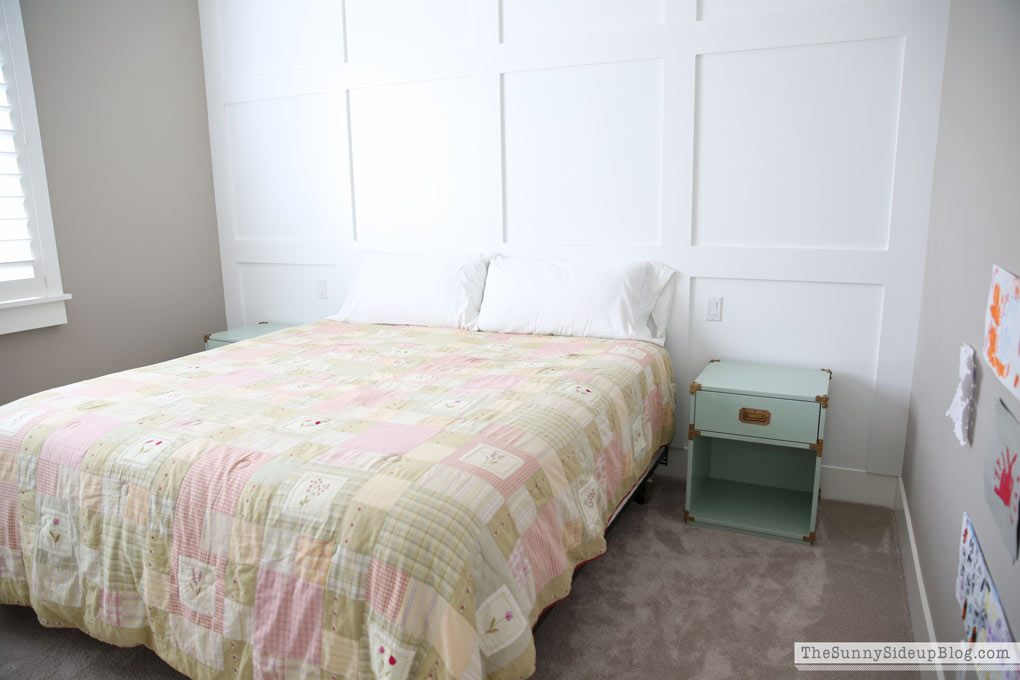 Obviously they don't work so well with the old quilt this bed is currently sporting. ;)  Next update post should have some new bedding!
These are a few of the pillows that will go on the bed (also from Anthro).  Colorful and fun with touches of mint.  I'm so in love with this room already!  More progress coming soon!
And mom.. your Diet Coke with lemon will feel right at home on the new mint nightstands.  Plus the TV is waiting..
:)
GUEST ROOM SOURCES: (rug is from my master bedroom)
(Affiliate links used)

xoxo, Erin