I'm so excited about today's post!  I have a few small kitchen appliances to share from eBay that are making my life in the kitchen so much easier and I am seriously obsessed.  They have so many fun things to get your kitchen holiday ready!  I've been shopping through eBay a lot more lately because most of their items are new (something a lot of people don't know!) and 69% of their items ship for free.  Love that.
*affiliate links used
First up.. this Copper Chef perfect egg maker.  You might remember from last year's "day in the life" post I mentioned that I boil an egg for breakfast every morning.  Many of you reached out to me after that post and mentioned using an egg maker so I did a little research and have been using this Electric Egg cooker to boil perfect eggs.  It's SO easy to use, makes up to 6 different types of eggs and they come out perfect every time!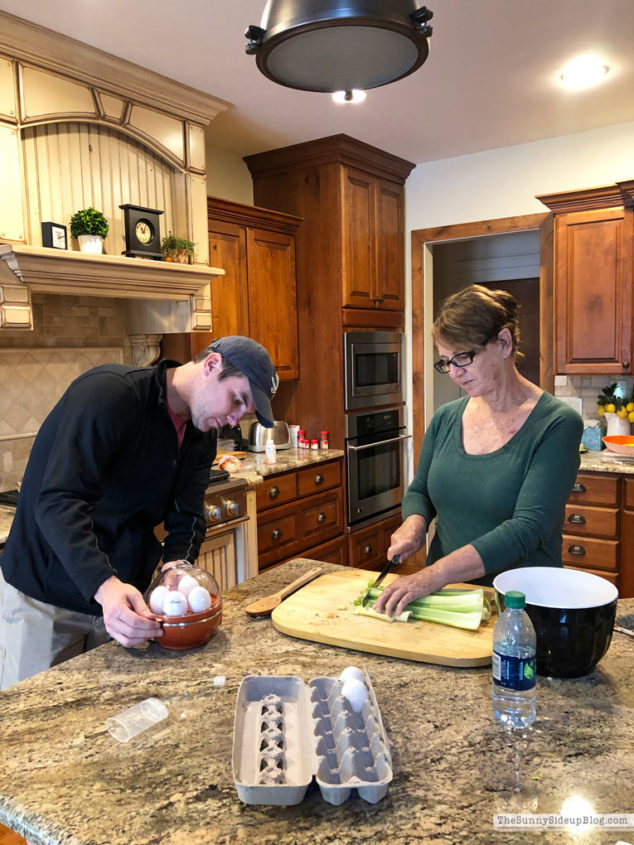 We took it to Utah because I knew my parents would love it too.  This pic was the morning of Thanksgiving (my mom was dicing celery for the stuffing). :)  Kenny used it to make hard boiled eggs for me and my mom for breakfast.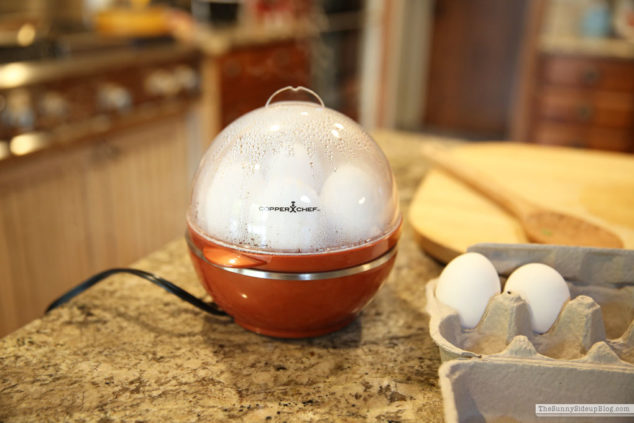 You can use it to make up to 14 eggs at a time (genius!) or less.  We usually only make 4-6 at a time.
Then he used it to make poached eggs for him and my dad.  He was so excited to show my parents how cool it is!  Now they want one too so we added that to their Christmas gifts this year.
We get pretty fancy for breakfast.. ha!  Nice plates were being used for Thanksgiving so paper plates for breakfast it it!  Seriously though.. the eggs were delicious!  It even makes omelettes.  Any type of egg you want.
I'll take mine Sunny Side Up please. ;)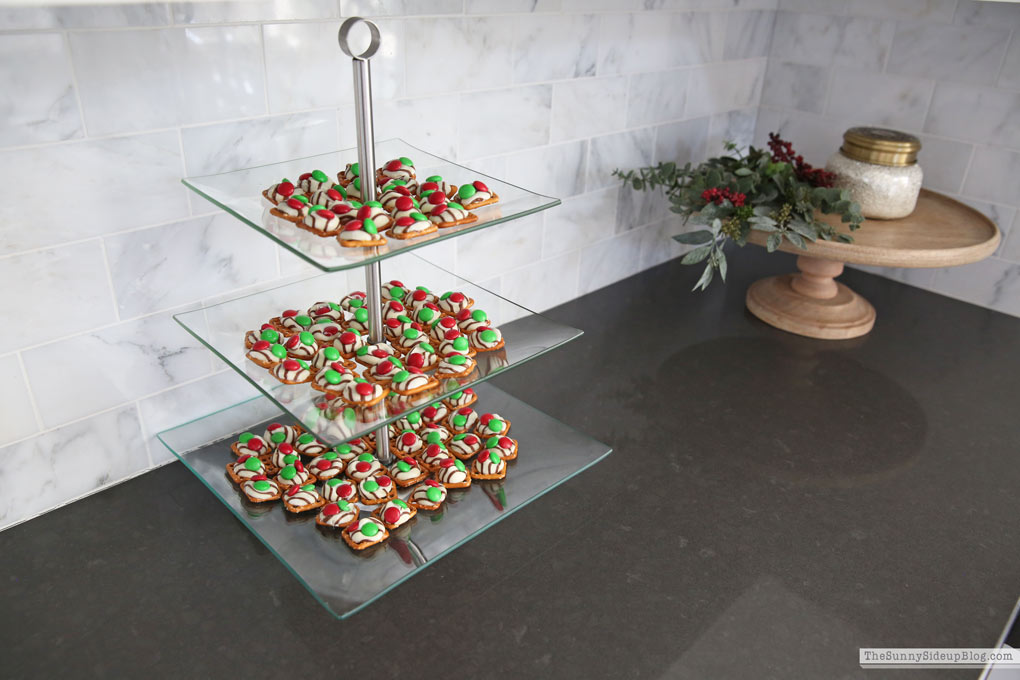 Second favorite from eBay is this beautiful three-tier dessert stand.  I'm so excited to have this for the holiday season!  I made our favorite pretzel hugs for my pajama party and loved having a fun way to display them.  This stand made it so easy for everyone to pick up a few to munch on!  Perfect for any holiday entertaining – cookies, cupcakes.. so many cute little treats you can display with this.
Plus I love the way it looks on my kitchen counter. :)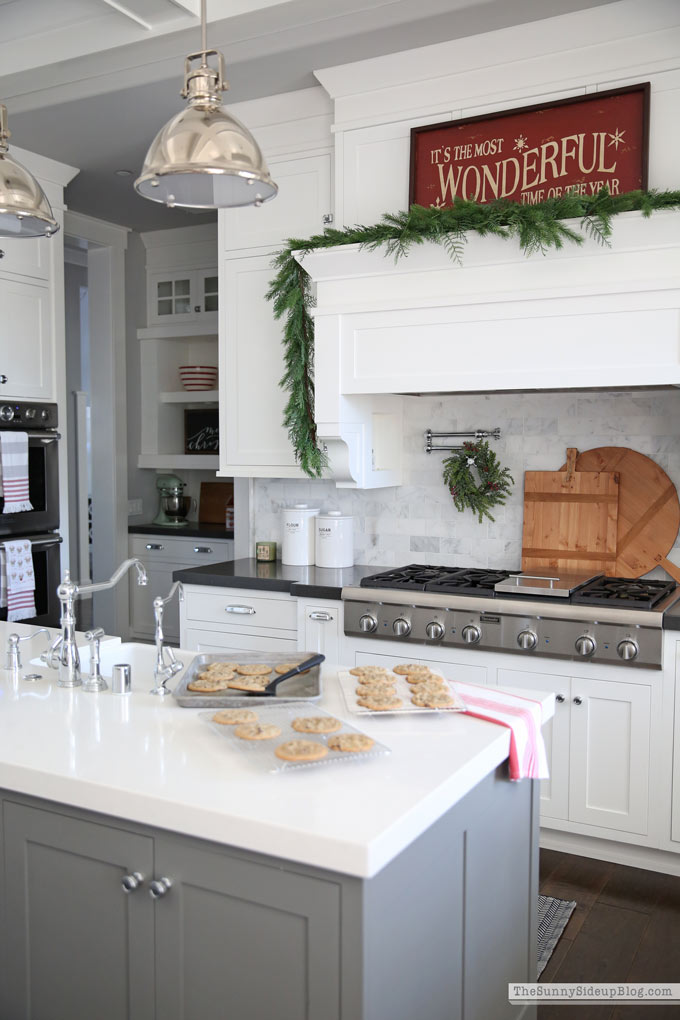 Little back story on my next favorite – When I was growing up my mom worked full time.  She taught Elementary school so most days we went home late with her or went home right after school with a sitter (I was the sitter as soon as I was old enough!).  But her school was on a track system so she would work a certain amount of weeks and then have three weeks off.  I LOVED it when she had those three weeks off.  I have the best memories of coming home from school to a clean house and cookies baking in the oven.  She was always in a good mood (time off will do that to you!) and she would ask me and my brother and sister about our day and we'd hang out in the kitchen chatting and eating cookies.  Not that things weren't great when she was teaching (I loved that she taught at our Elementary school), but the cookies didn't happen. ;)
So every now and then after I clean the kitchen, I bake cookies (usually easy pre-made cookies because I work from home.. ha) and I light a candle.  I pick up my kids from school and they are always so excited when they come home to a clean house and cookies.
It's the little things. :)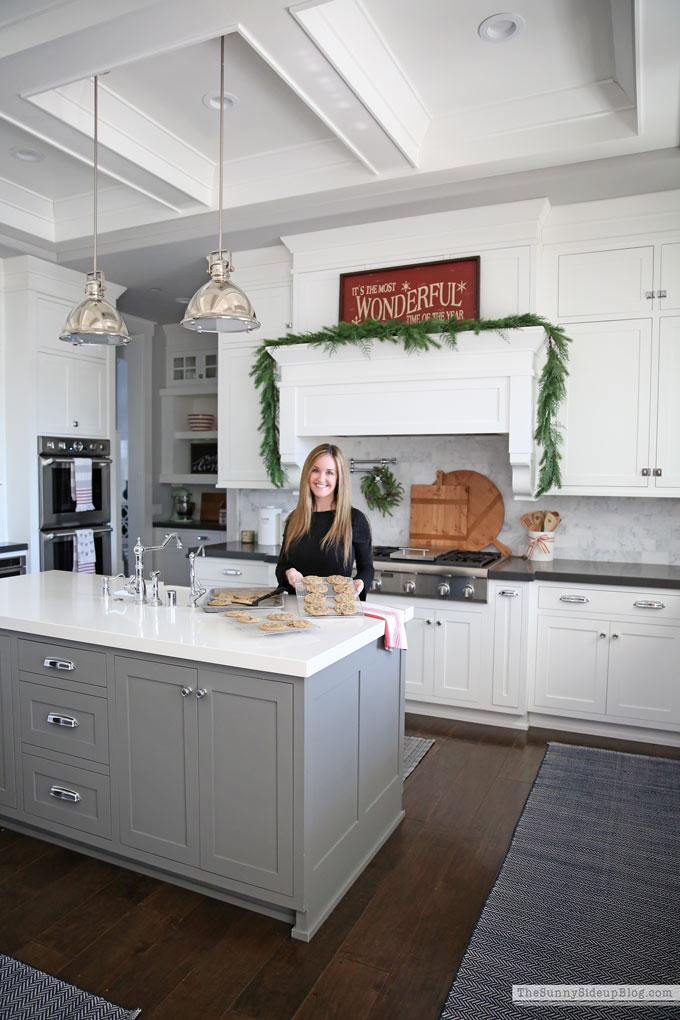 These stainless steel baking and cooling racks are long time favorites!  Perfect to hold cookies and other desserts while they cool off.  I'm giving some as gifts this season.  Tying a bow around them to give with our favorite homemade applesauce cookies.  :)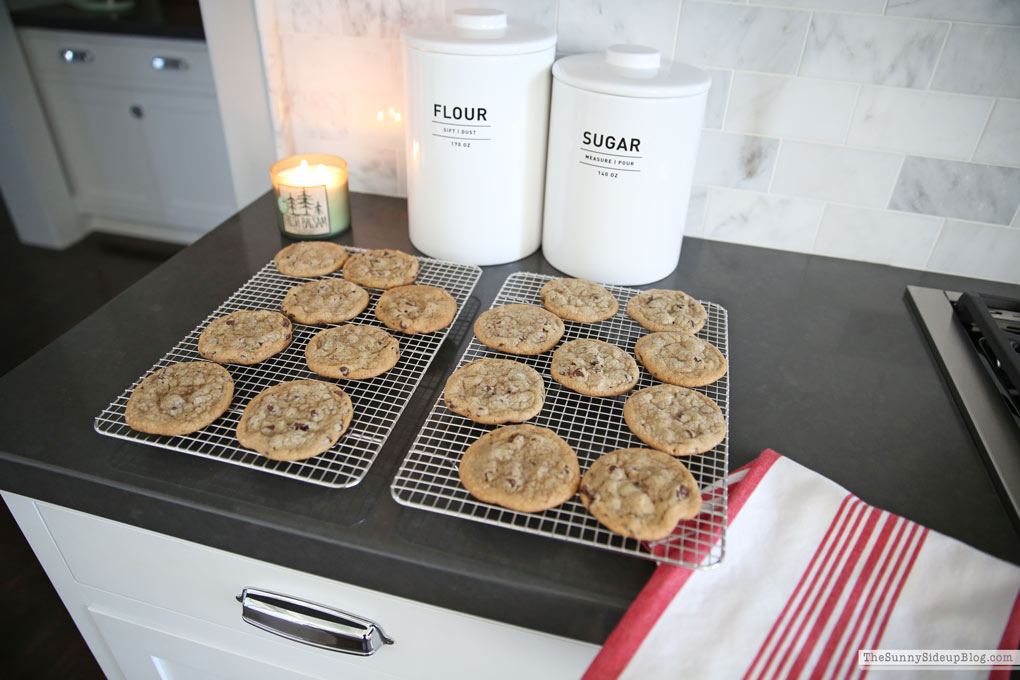 I feel like these racks are something everyone can use.. especially friends who love to bake!
Ok.. I'm most excited to share this next favorite eBay find with you all.  I mentioned a while ago that a friend of mine needed help with paint colors.  I introduced her to my favorite grey paint colors and to pay me back.. she taught me how to cook chicken!  I have NEVER been able to figure out how to cook chicken.  I mean I can cook it, but it doesn't usually taste that great.  I always just want Kenny to make it on the grill because it tastes so much better.
That was until this Cast Iron Grill Griddle came into my life!
So here's how to make perfect chicken!  Either be an amazing cook (not in the cards for me) OR use the griddle and Santa Maria Style Seasoning.  I'm telling you.. the secret is in the griddle and the seasoning!  You can get this seasoning at most health food stores.  Look in the meat section!  It's so good.  The only other things you need are chicken breast tenders and olive oil.
Put your chicken tenders in a bowl and pour in some Extra Virgin Olive Oil and then sprinkle on the seasoning.  Be generous with the seasoning making sure there is plenty on each piece of chicken.  You really can't mess this part up (which is what I love and why I can make it.. ha) so just put in enough to really cover the chicken.
Mix it all together with your hands.  Wash you hand first.  And after.
See.. some cooking rules actually stick with me. ;)
Then you set the griddle on your two front burners and turn them on medium heat.  Lay the chicken tenders across the griddle.
Cook them for a few minutes and then flip them all on the other side.  Keep cooking and flipping the chicken until you can tell it's done!  (I can never tell so I always cut inside and just make sure it isn't still pink.)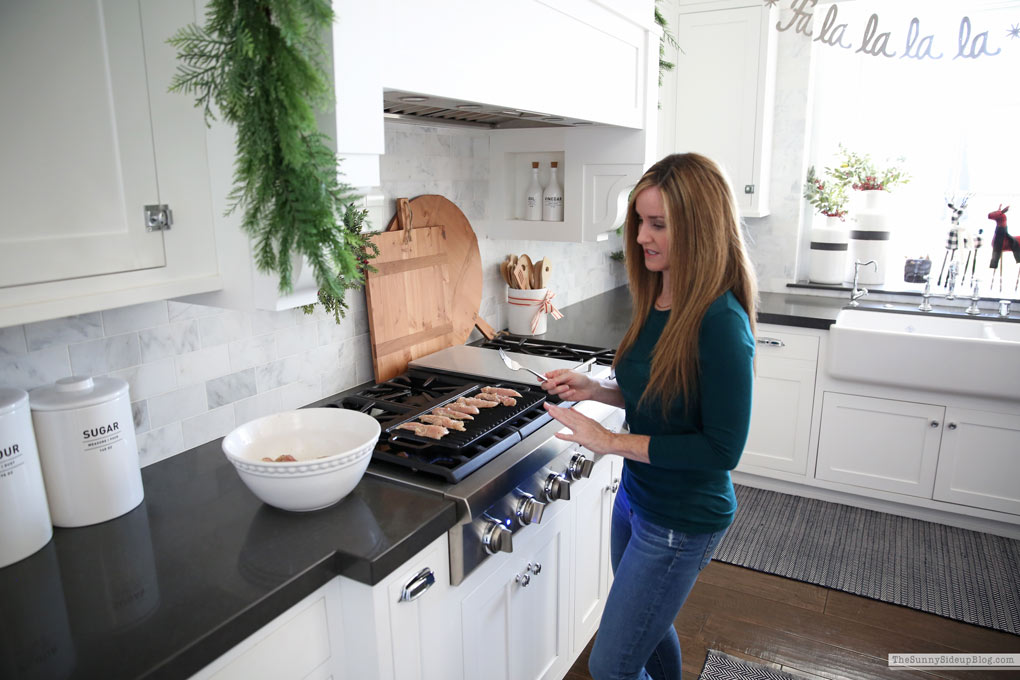 This outtake made me laugh.  It's how I really look and feel when I'm cooking.. a mix of total stress and anxiety with an inner dialogue going on in my head saying "it's ok.. you can do this.  Sort of."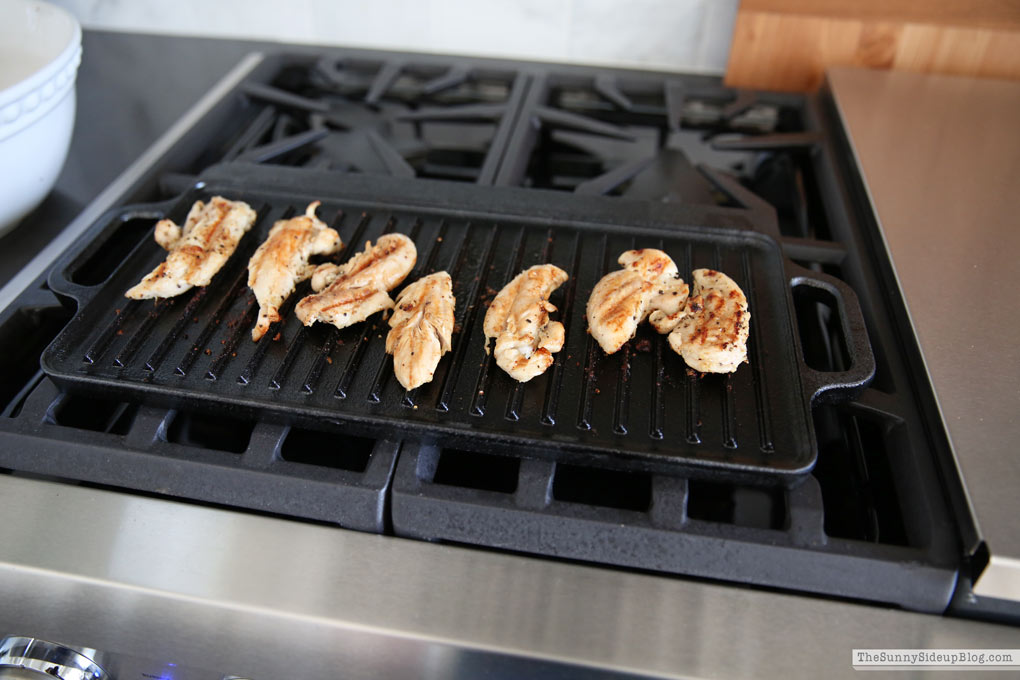 But cooking the chicken on this griddle pretty much guarantees success!  Look at that!  perfectly grilled chicken by yours truly.
This picture shows how my burners were on medium heat the whole time.  The best part is that the chicken tastes even better than it looks!  My family is so impressed and proud. :)  The only down side is that you have to clean the griddle, but I'd rather do that than scrub my stove (I make a massive mess cooking chicken in a pan) so I'll take it!
Stress and anxiety gone.  Inner dialogue saying "it's ok.. you really CAN do this.  Sort of." :)
Overall I'm feeling pretty chef like with the help of these small but mighty kitchen appliances.  If I keep finding helpful eBay finds like these you all better watch out!  You'll wake up one day and this blog will have morphed into all things cooking.
Crazier things have happened!
Or have they?
;)
*Huge thank you to eBay for sponsoring this post!  And for offering so many affordable new products and appliances that make life in the kitchen less of a struggle.   
{POST SOURCES and OTHER EBAY FAVORITES}



xoxo, Erin