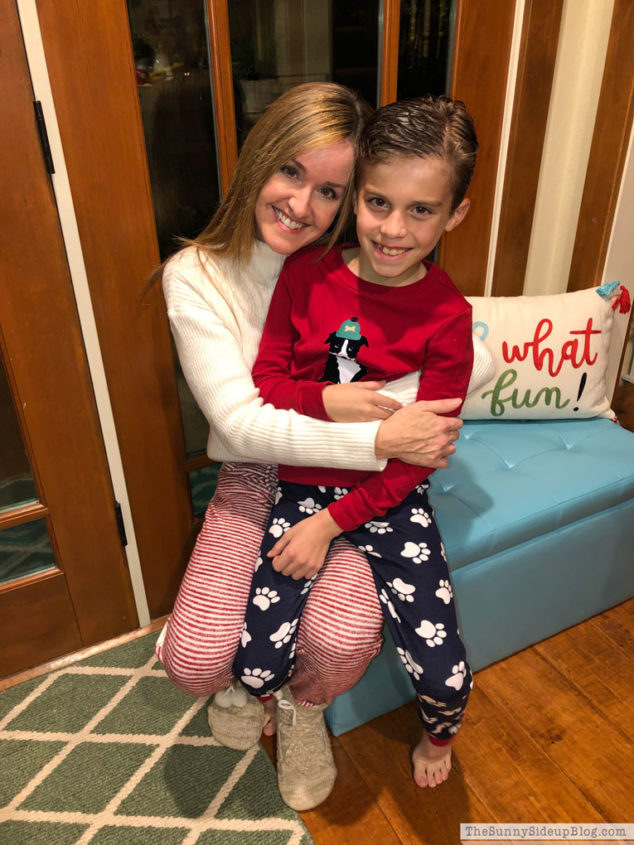 {Ribbed Funnel Neck Sweater/Cozy Joggers/Ugg Fleece Lined Socks/Kole's pjs – Gymboree last year}
*affiliate links used
Happy Thanksgiving friends!  My mom just snapped this pic of me with my little buddy tonight.  We made it over the river and through the woods to grandma's house!  Which means it's officially time for cousin chaos, Hallmark Christmas movies, late nights talking and laughing with siblings and of course.. stretchy pants. :)  My mom and I spent the evening getting food prepped and browsing early Cyber Week deals on-line.  Well.. let me clarify.  My mom spent the evening getting food prepped while I spent the evening browsing early Cyber week deals on-line.  I know.  She's lucky to have me.  Ha. :)  In my defense, I did help dice some celery and I found an awesome gift for her so I think she'll ultimately forgive me.  She always does.  (Love you mom.. and I'm all over that stuffing prep tomorrow morning.)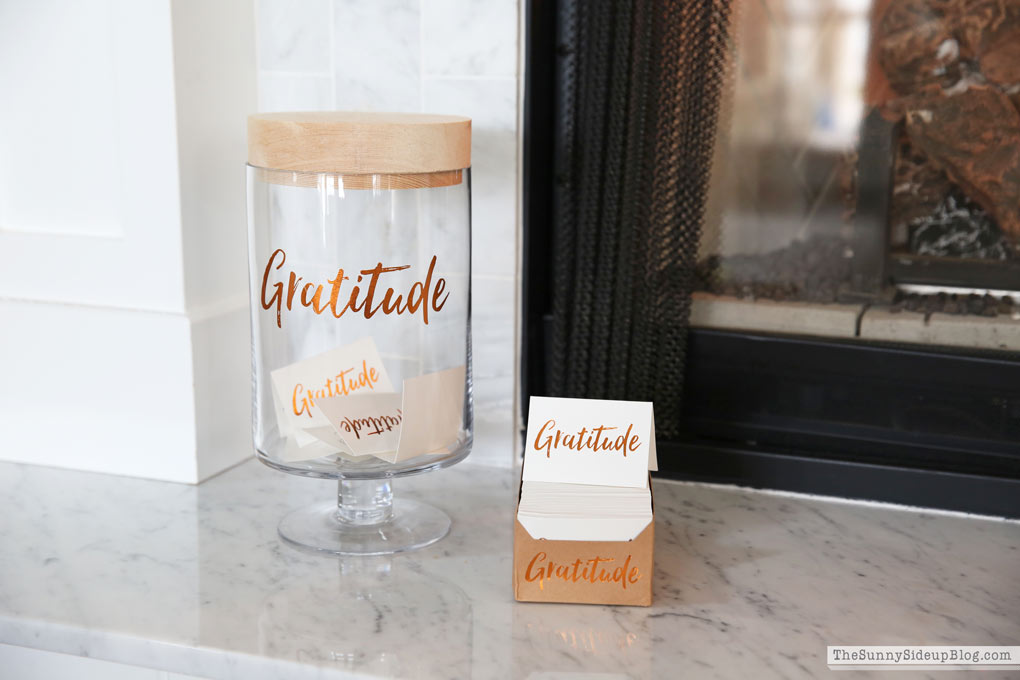 {Gratitude Glass Jar and Gratitude Cards}
Last week I was looking through some of the Gratitude cards I wrote on during this past year and it made me feel especially grateful for family, friends and for all of you.  All of the little things that make me so happy on a daily basis usually involve someone I love or the kindness of others.  Several of my cards included gratitude I was feeling for sweet comments/e-mails/DM's from many of you!  Your kind words of love and support for me and my family and this blog brighten my day more than you'll ever know.  I'm so grateful for this space on-line where we've been able to connect and grow close.  So thank you!  For reading, for commenting, for encouraging, for sharing my ideas with others.  I'm so thankful for all of you this Thanksgiving!
Ok.. sap is over.  I can just hear Kenny singing "A Whole New World" in the background.  His favorite go-to song when I start waxing poetic. ;)
I remember past Thanksgivings after the meal and dishes were done and the boys were all watching football, my mom and sister and I would wish we could start our on-sale Christmas shopping early.  But from the comfort of our own couch in our pjs.  Now that's exactly what we plan to do!  Black Friday/Cyber Monday has kind of turned into a full week of great deals and shopping on-line has never been easier.  To be honest I'm planning on avoiding stores all together this weekend!  The crowds stress me out and I'd much rather spend time with my family and just do everything on-line.  I actually knocked a lot of my Christmas gift shopping out on-line today and found so many cute things that are already marked down!  These are a lot of my favorite sale items below.  I hope this post is helpful if you are looking for gifts and plan on shopping from your couch in your pjs this week too!  In-between the celery dicing of course. ;)
Happy Thanksgiving friends!  I hope it's a good one.
:)

xoxo, Erin