Happy Thursday friends!  I've been decorating up a storm and am finally starting to see the light at the end of the tunnel!  I have to keep my eye on the prize (a clean and cozy decorated home ready for the holidays) because the last two weeks have been nothing but boxes and messes.  I'd love to have a day to just knock it out and be done with it, but instead I'm working with 20 minutes here and 15 minutes there and 45 minutes after everyone else is asleep and I've caught up on e-mails and cleaned the kitchen for the 18th time in a day.  I know many of you are doing the same kind of decorating (or will be soon!) at your house. Good times. :)
I am decorating four Christmas trees again this year and am so excited to have them up and almost done!  Three of them I just slightly tweaked from how they were last year and one I kept the same.
Here is the final outcome of our family room tree!  A bit reindeer themed and slightly different than last year's tree.
Some of the ornaments are the same, but last year's tree had large shiny red ball ornaments, white leaf picks and our candy and candy cane ornaments.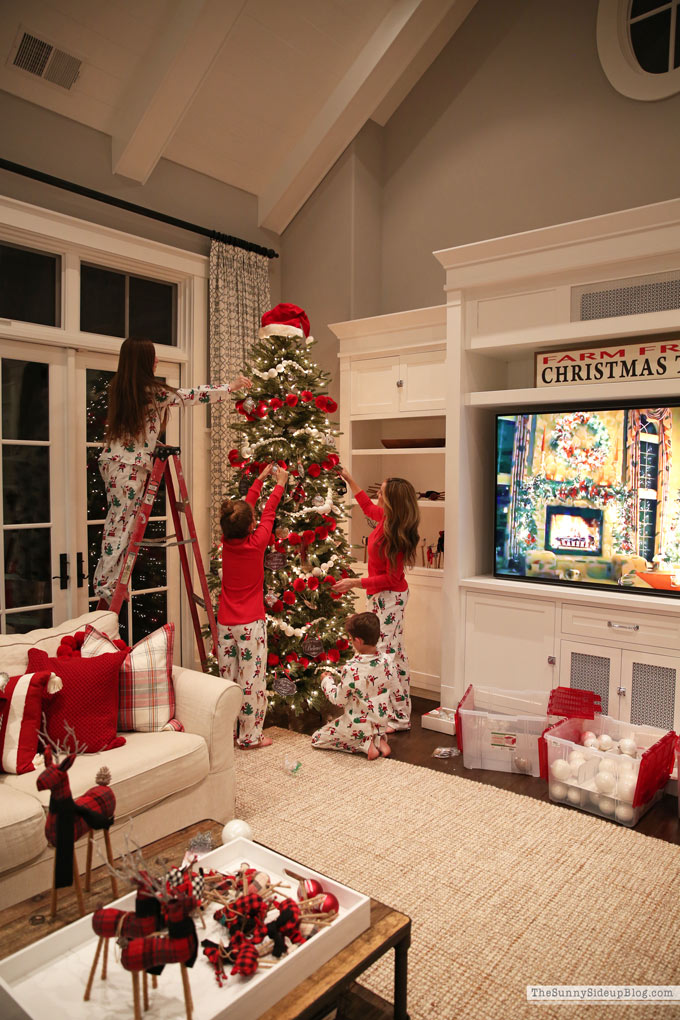 So you all know that this family room tree is the tree my kids help with (I recently shared pics of our tree decorating party.. a favorite tradition at our house!).  Last year I made the mistake of moving a few of the ornaments around the day after we decorated together.  The blogger/perfectionist side of my personality got the best of me (the struggle is real.. ha) and I sort of straightened things up a bit.  Well.  My kids came home from school the next day and noticed right away.  I could tell it hurt their feelings and I felt AWFUL.  #momfail  So I vowed that I would never do that again.  It was a good lesson for me to not lose sight of what matters most during the holidays.
This year I'm happy to say that our family room tree is 100% decorated by me and my kids and I haven't touched one ornament since we finished!  Although the style of this tree is very kid friendly and still looks put together.  If your kids are helping but you'd still like your tree to look like it has some sort of plan (I know some of you moms are thinking yes please!) one tip is to choose 5 or 6 ornament styles and some garland and stick to just using those items on the tree.  Repeat the same ornaments throughout and it will give your tree a cohesive look even if the kids clump things together.  I also had most of the garland up before we started.  My kids like that because they just want to hang all of the ornaments. :)
We also have this smaller tree we keep in our stair landing that my kids decorate with all of their special homemade/school ornaments.  A few options for including your kids in the decorating this year!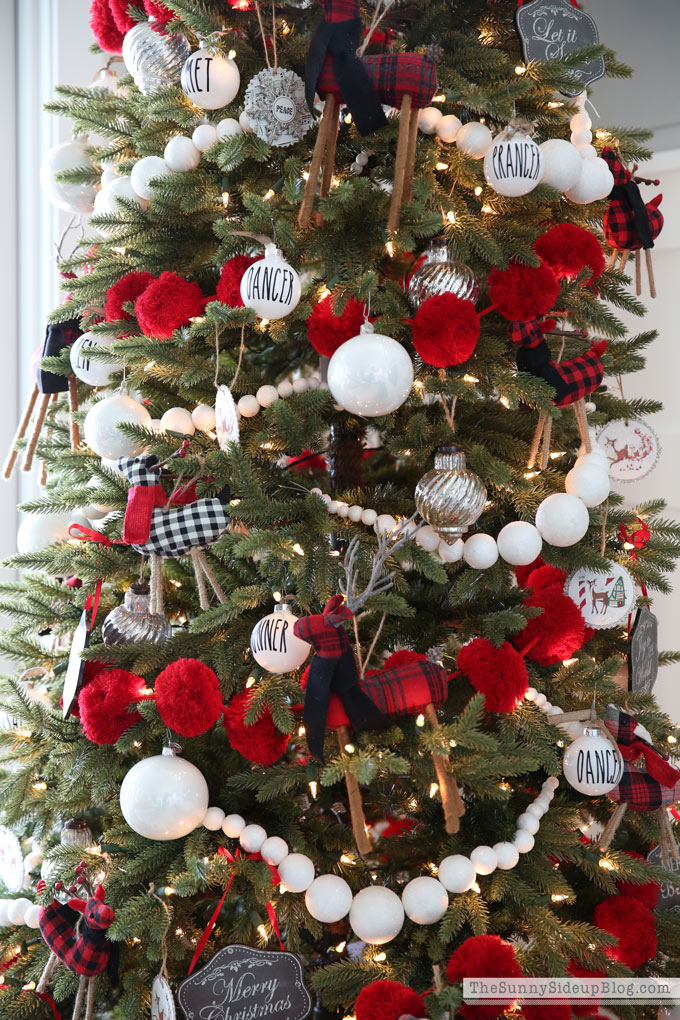 It's so funny.. without even planning it my whole house is reindeer themed this year.  I'm subconsciously drawn to them!  I knew I wanted to add some of these fun reindeer to my family room tree so when I found this large red pom pom garland at Michaels craft store I had to have it!  Hello Rudolph. :)  (This tree is 9 feet tall and I used 7 of the red pom garlands.)  My white garland sold out but I'll link to similar options below that will give you the same look.  My long time favorite wooden chalkboard plaque ornaments are back in stock!
*affiliate links used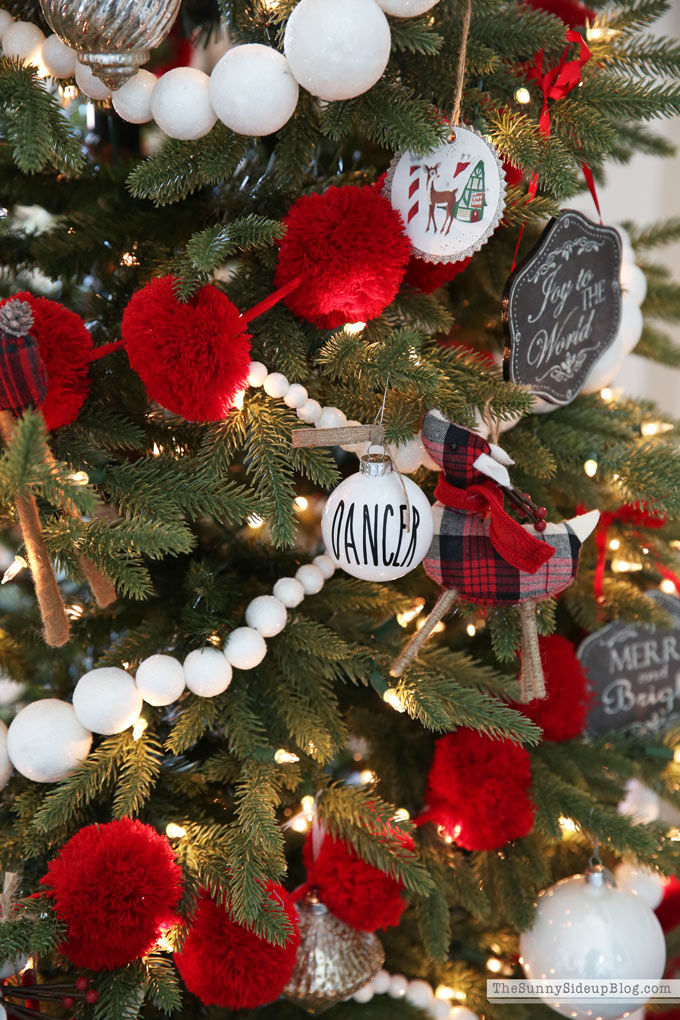 I also added these darling white ornaments from Etsy with reindeer names on them!  So much fun.  I have the red Rudolph ornaments displayed in this bowl in my kitchen. :)
More reindeer and favorite past Christmas pictures in these frames on my shelves.  Tradition.
There's nothing like a tree lit up at night is there?  The best.  For the tree skirt I layered this faux fur tree skirt with this pom pom knit throw on top of it.  Another tip is to use chunky throws for trees skirts.  I love the look!
I love buying large tree ornaments.  I think they look great on a tree mixed in with the small ornaments.  They cost a bit more, but on smaller trees you only need 3-4 large ornaments to make a statement (5- on larger trees).  Another bonus is that you can also use larger ornaments for decor throughout your home.
When I want to display my larger reindeer in places other than the tree I just tape the ornament ribbon to the back side. :)
Speaking of reindeer and my over the top obsession with them this year.. are these not the CUTEST yet!?  Sherpa Reindeer! So soft!  And that fuzzy white with the red scarf and pine cone tail!  I can't even.  Just like PB's other reindeer they come in larger sizes or these small sizes for the tree.
I also wanted to share sources for these fun wool trees and this Church Birdhouse that are new this year.  I shared a peek of how I was decorating with them in IG stories and got lots of questions.  The little house has lights inside and looks so cute lit up when it's dark!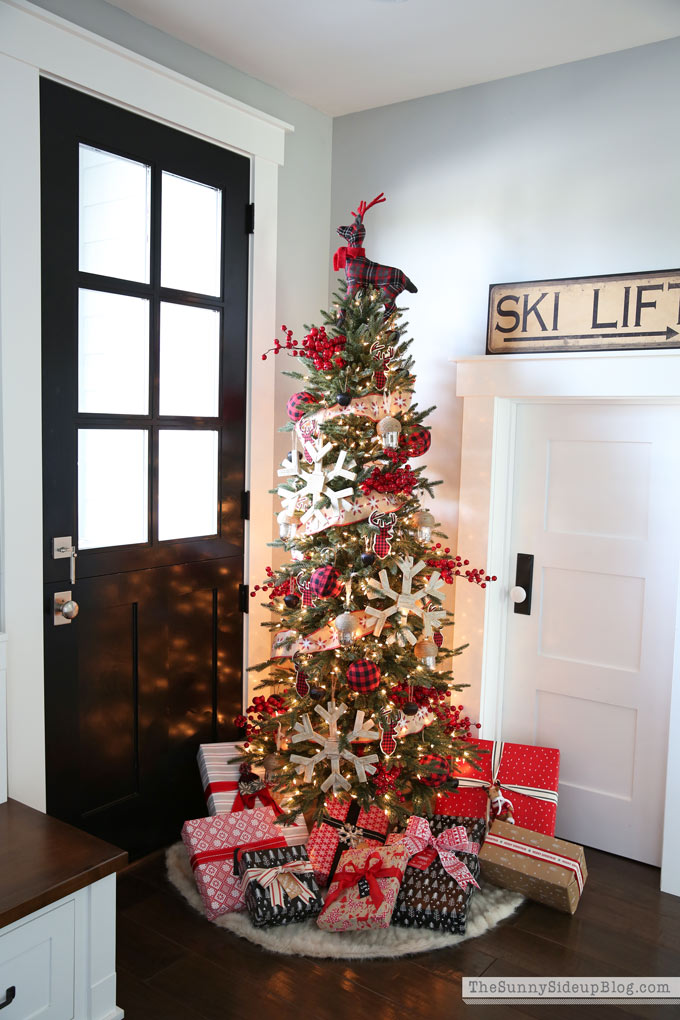 I also got lots of questions about sources for my little mudroom tree that I decorate every year.  This is the one tree I kept decorated the same (not ready to change this one up yet.. I love it!).  But I did move it to a different room!  I'm excited to show you where it is soon. :)  I'll be back with another post tomorrow.. so much to share!  All of the sources (and lots of similar options) for these two trees are below!
{Family Room/Reindeer Tree Sources}



{Mudroom/Snowflake Tree Sources}




{Extra Post Sources}


xoxo, Erin