So excited about today's post!  But before we get started talking gifts I wanted to let you all know that my 2018 Holiday Planner is on sale for just $8!  It's not too late to get organized for the holidays!  If you are feeling scattered with everything that needs to be done next month and need some direction or just a place to write down ALL the things – this will help!  Lots of organized pages to help you plan who you're buying for, what your budget is, plans for December or just cute to-do pages and calendars for major brain dumps.  I've had lots of those lately. :)  You can see exactly what's included in my Holiday Planner HERE, details on how I'm using mine (and how I plan in general) HERE, and you can purchase it at a discounted price HERE.  I hope you love it!
Ok.. I'm seriously so excited you guys.  Did I already mention that?  Remember my friend Ann's annual Favorite Things party?  After a two year break she's hosting it again this year!  Also another close friend of mine is hosting a Favorite Things party!  So I'm going to two Favorite Things parties that will be loaded with fun gift ideas.  I promise I'll take good notes!  Also I've been doing my Christmas shopping (following the weekly guide in my Holiday Planner!) and I've found so many fun things.  I'm going to try to get a gift guide up every weekend for the next month to help you all with your holiday shopping.  There are just so many fun options this year!  My problem hasn't been figuring out what to get family and friends this year.. it has been having too many great options and not being able to narrow it down and make a decision.  Not a bad problem to have. :)  So without further rambling, here is my first gift guide of the season… Gifts for Neighbors, Teachers and Friends!  
*affiliate links used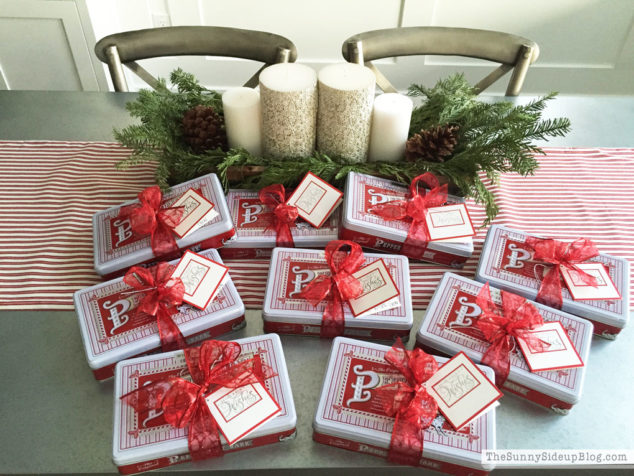 1 – The Original Peppermint Bark – A long time favorite gift.  SO delicious and better than the peppermint stuff you find in the grocery store or anywhere else.  I've given this to neighbors and teachers in years past and it's always a hit!  Addison and I were just talking about how we need to go pick up a tin for us this December!
2 – Initial Pendant Necklace – These Kate Spade lowercase letter necklaces are so dainty and beautiful!  Giving away several of them this year and now I want one for me!  (Kenny.. El.. Ad..mom.. who's reading?  Hint hint..)
3 – Brass Inlay Marble Cutting Board – Gah!  Is this marble cutting board not the most gorgeous thing!?  I LOVE that brass inlay!  Perfect for the friend who loves to decorate or entertain!  Wait.. that's me.  Who's going to mail me one? ;)
4 – Popcornopolis – If you haven't tried this popcorn that is your homework this season!  So delicious!  We gave this set out to friends and neighbors a few years ago and it was a hit!  (Zebra is my all time favorite flavor!)
5 – Cable Knit Beanie – I was in Nordstrom last week (it's their Fall sale right now btw and so many fun things are 40% off!) and I saw these Treasure and Bond beanies in person and they are darling!  And so soft!  If I lived somewhere cold I would be sporting one 6 out of 7 days a week.  I could go even longer without washing my hair!  If that's even possible.  Ha.
6 – White Wash Bowl – The picture of this bowl does not do it justice!  I just bought it!  So beautiful.  You'll see it in my Christmas decor posts!  It's holding shiny glass ornaments at the moment.  Really pretty to display on a coffee table or end table, etc.
7 – Library of Flowers Bubble Bath – Ok.. I'm dying to try this!  Have you all seen Oprah's 2018 Favorite Things List yet!?  She has so many great gift ideas and loves this bubble bath!  I absolutely love taking a hot bath at the end of the week (it has become a ritual for me!) and I can't wait to try this.  (So Kenny you're going to need to buy it for me.  I make Christmas SO easy for you.  You're welcome.)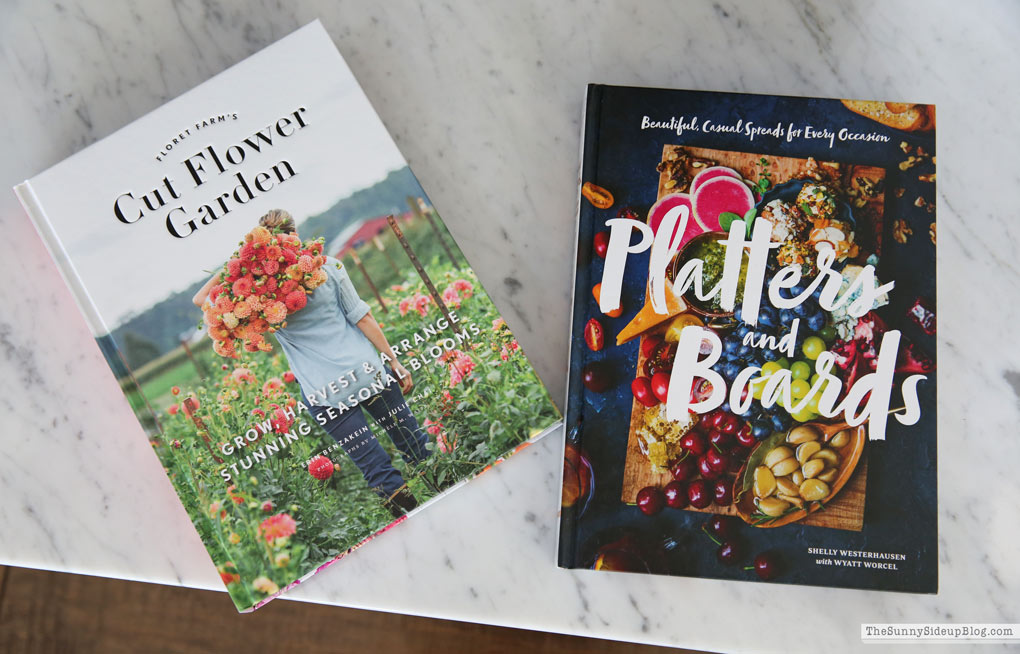 8 – Platters and Boards – I have two favorite coffee table books and this is one of them!  Platters and Boards has a gorgeous cover/side binding to display on a table or shelf and gorgeous images on every page.  It is full of so many fun ideas for creating platters of food/snacks for entertaining.  My friend and I are using some of the pictures for inspiration for my Christmas party coming up!  Perfect gift for someone who loves entertaining.  My other favorite coffee table book is Cut Flower Garden and is perfect for the flower lover.  Coffee table books can make fun gifts when you personalize them.  Buy someone a book full of whatever they are interested in and they are sure to love it.
So don't buy me a cook book.
In case you were thinking about it, let me save you some money.
;)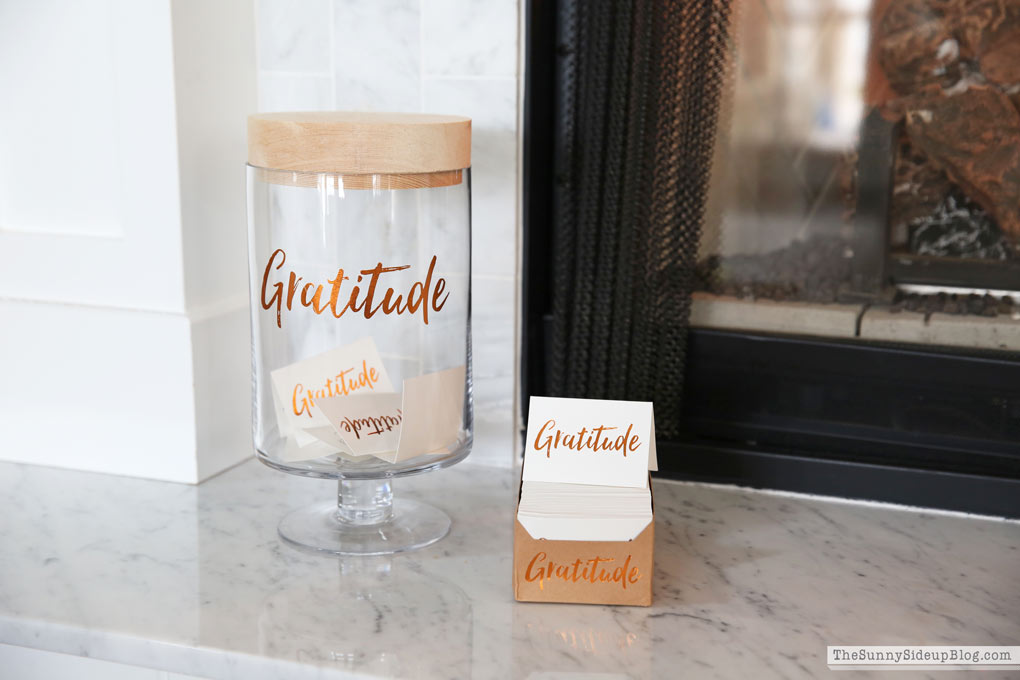 9 – Gratitude Glass Jar – You guys!  My Gratitude Jar is back in stock!  My mom gave these to me, my sister and brother and our families for Christmas last year and we have all absolutely loved them!  This jar costs a bit more than a regular glass jar, but it's so beautiful that it looks like decor so you want to leave it out displayed in your home.  It comes with lots of pretty cards so that you and your family can each write down one thing you are grateful for each day.  Or you can do it once a week or however it works best for you!  We didn't remember every single day this year, but we did all write on a lot of cards and are going to read them together as a family this year on New Years Eve.  That's how Kenny and I like to party ;)  I also loved having this jar when a certain 8 year old would complain more than usual.  Instead of being frustrated or upset with him I would just say "I know that's rough and some days don't always go our way.. but let's think of one or two things we are grateful for today and write them down and focus on that."  I maybe got an eye roll or two, but he always did it and I could tell it shifted his focus.  Sometimes we all need a reminder to focus on the positive and this gift is such an easy, special way to help us do just that.  (Thanks mom!  Best gift.) :)
10 – Clinique Moisture Surge Overnight Mask – I've been using this for years and love it!  I have dry skin and this makes my skin so feel/look so hydrated!  I just put it on like lotion every few nights.  A perfect friend gift!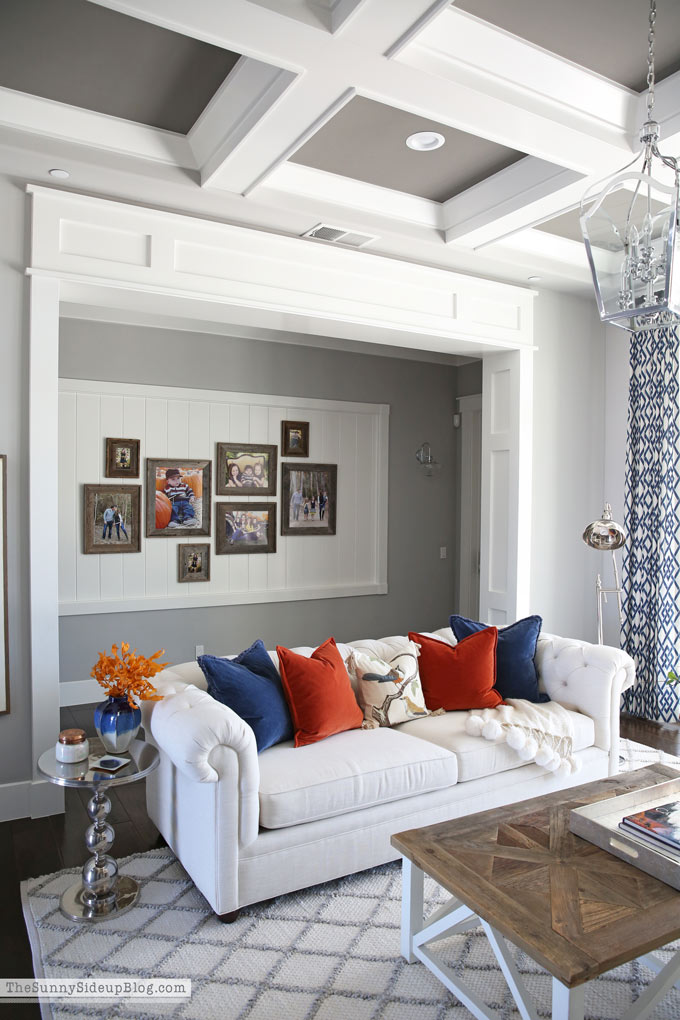 11 – Faux Fur Throw –  I LOVE this pom pom throw!  I have it in a few colors and you can see it in this picture of my Fall living room.  The cream looks even better on a darker couch.  It's not thick so I don't recommend it for cuddling with on the couch.. it's perfect for decor.  Drapes beautifully over chairs and couches and the pom poms are perfection!  SIDENOTE:  If you are looking for an inexpensive cozy throw to wrap up in I recently ordered and LOVE this fleece blanket.  TOO good and comes in so many colors!  Not cute for decor (ha) but perfect for cozy movie nights on the couch.  My girls keep taking it up to their rooms and I keep bringing it back downstairs.  Clearly I'm going to have to get everyone their own!
12 – Weekly Spiral Desk Pad –  So cute to set out on your desk!  And the inside pages are perfect for people who just like to jot down a few daily to-do's for the week.
13 – Faux Fur Slippers – These are so soft and a great price!  I gave them to my mother-in-law a few years ago and she loved them!
14 – Harper Crossbody –  Giving a few of these out this year (and I bought one for me!).  They were also on Oprah's gift list and are perfect for when you just want to take your phone and credit cards and a few small things with you!  So great for travel too.  I'm excited about them!
15 – Anthropologie Capri Blue Candle –  So as you can see from the picture above.. I'm clearly a fan of this candle.. ha. :)  They smell SO good and are so beautiful to display in your home as part of the decor.  Perfect teacher, friend, neighbor gift! (And two styles are 20% off right now!)
16 – Harrison Serving Bowl – I just ordered this and can't wait to get it!  Such a beautiful bowl.  I'll share a pic when it comes in!
17 – Bindle Bottle – Ok.. where have these been all of my life!?  You guys have to check these out!  A water bottle that not only keeps things cold or hot but also holds your keys, cash, change.  If you exercise at a gym this is perfection!  I'm also thinking of how great it will be to take to the beach (or a pool) in the summer.  It can hold your chapstick, mini sunscreen, earbuds.. so many odds and ends.  GENIUS!
18 – BP Faux Leather Tote – My Madewell leather tote is one of my all time favorite staple bags but it's a little pricey.  If you don't want to spend that much this PB faux leather tote is a beautiful option for less that gives you the same look!
19 – LittBag Organizer – Another genius idea!  It's a purse organizer that goes inside of your purse!  That lights up so you can always find things even in the dark!  Why don't I think of things like this!?  Because I'm too busy hunting for them on-line instead. ;)  I want one of these because I switch up my purses so often.  This would make changing handbags a breeze having all essentials organized inside and just popping the whole thing in and out of new bags.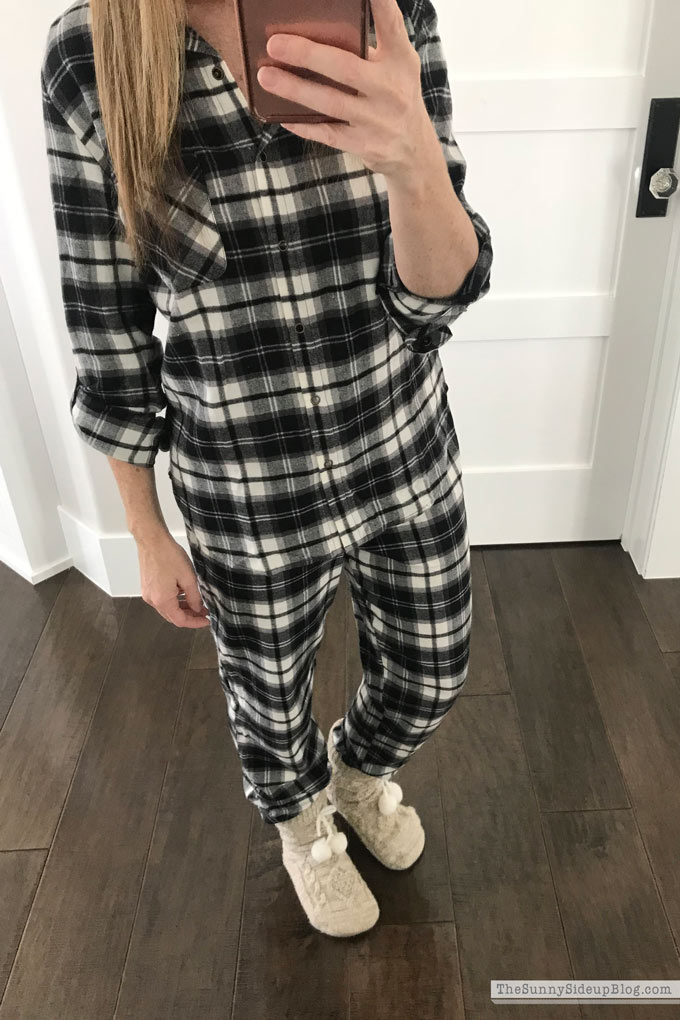 20 – Ugg Fleece Lined Socks – Last but not least.. the coziest slipper socks in all the land!  These have sold out so fast the past two years!  And for good reason.  I LOVE them!  The best to wear throughout the winter.  I'm giving several for gifts this year.. AGAIN!
Alright you guys.. let me know.  What is your favorite gift idea I shared!?  Are these guides helpful?  I know it can seem daunting each year to come up with creative and useful gifts for the people we love and appreciate so I hope these guides make that easier!  I'm off to bed.. got a little excited about this post and stayed up way too late.  I just love favorite things posts!
Favorites are my favorite. :)
Enjoy your weekend!
xoxo, Erin