*affiliate links used
Isn't Fall decor cozy!?  I finally finished decorating my house for the season and now I don't want to leave it!  I just want to be home nesting with my candle burning all day long.  If only. :)
I'm sharing my Fall kitchen decor with you today!  Kenny was out of town last week and Addison was gone on a school trip so I found myself home with just Ellie and Kole for a few days.  Crazy how much easier it is to keep the house clean with 3 people living in it instead of 5!  I've never understood the philosophy of "once you've had 3 kids it's crazy and doesn't matter how many more you add.."  In my experience each individual person definitely adds to the load!  Just taking Addison's activities out of the driving mix and not having Kenny's running gear and work stuff all over the house made the week feel so much calmer and cleaner.  But even though the house was clean and my schedule was easier, it just wasn't the same around here.  We missed them!
Sort of.  ;)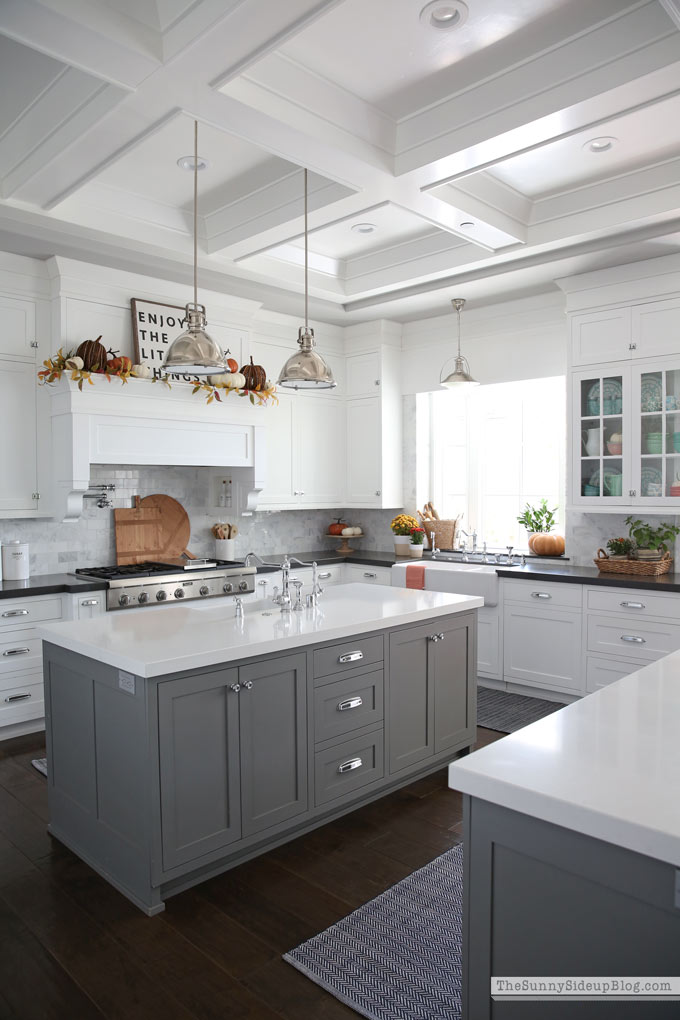 Anyway.. that was a long way of saying that my house stayed really clean for a week and it was easy to photograph all of my Fall decor.  So here it is. :)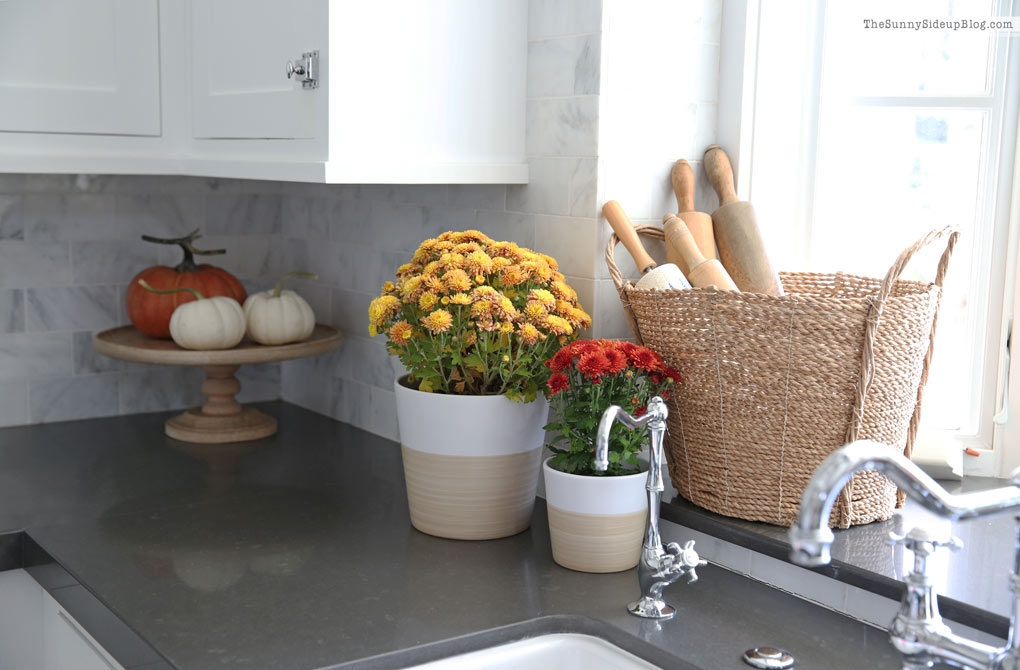 I mostly just added traditional pumpkins and mums.  These pumpkins paired with real mini white pumpkins are my favorite combo.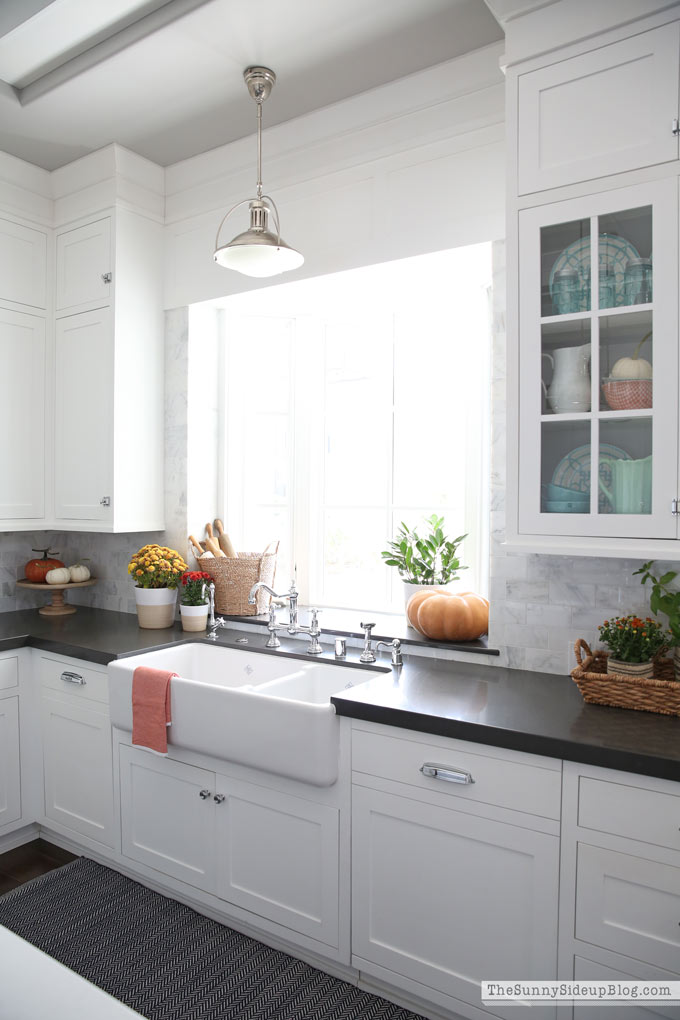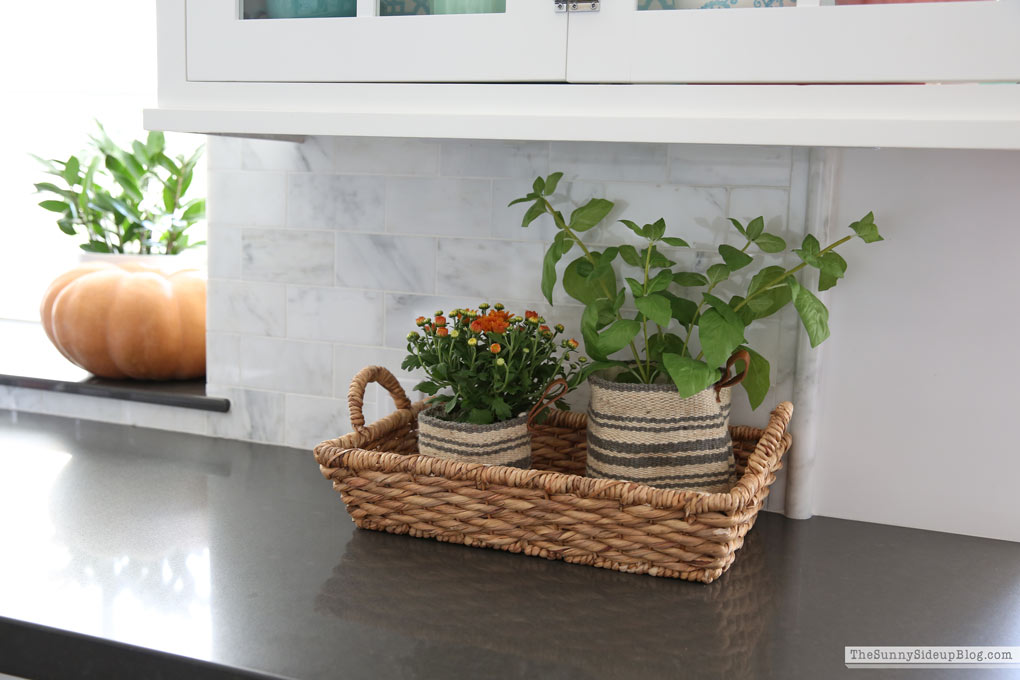 Woven baskets always feel like Fall to me so I love to pull even more than I usually use out during this time of year.  Can you tell that this plant on the right is fake?  One of my favorites because it looks so real!  I always use a mix of real and faux when I decorate.  I think if you're a regular here you've heard me mention that a time or two. ;)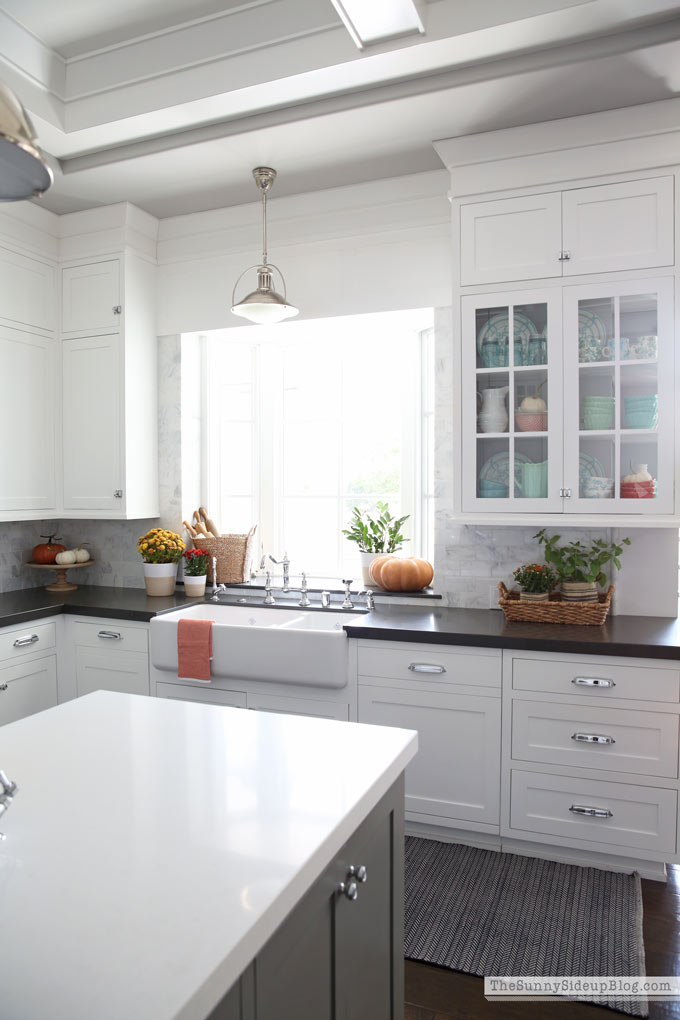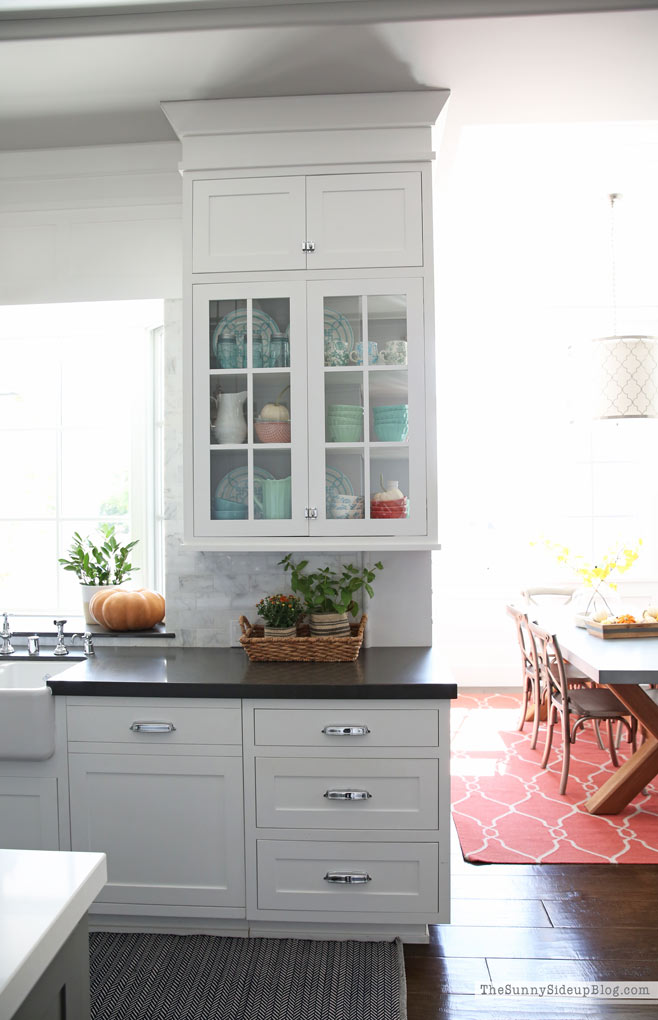 White pumpkins peeking out of my bowls in the glass cabinet are always a happy sight.
I snapped this picture on my phone right after I decorated this table.  The lighting always looks darker on my phone but it makes it easier to see what's out these windows!
My dining nook is SO sunny.. it's always hard for me to photograph!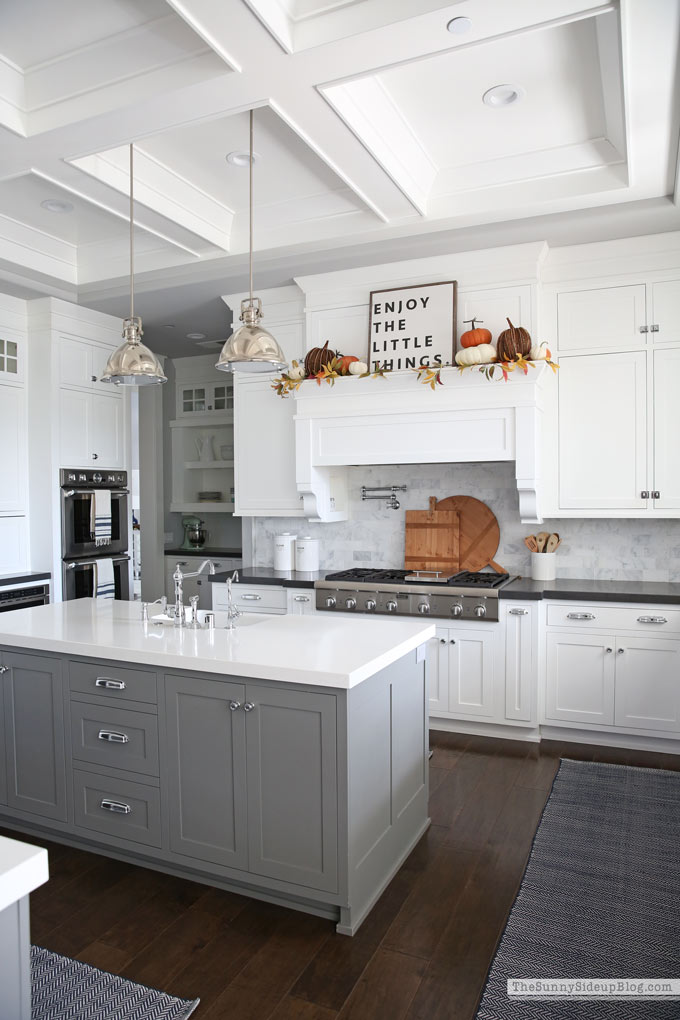 Simple pumpkins and faux leaves above my oven.  And have you noticed my favorite new kitchen accessory?  So excited about my new rugs!
These are Indigo/Navy Dash and Albert rugs in a Herringbone pattern.  Aren't they gorgeous!?  I still love my black and white striped rugs and I'm sure I'll pull them out again at some point, but I was ready for a change.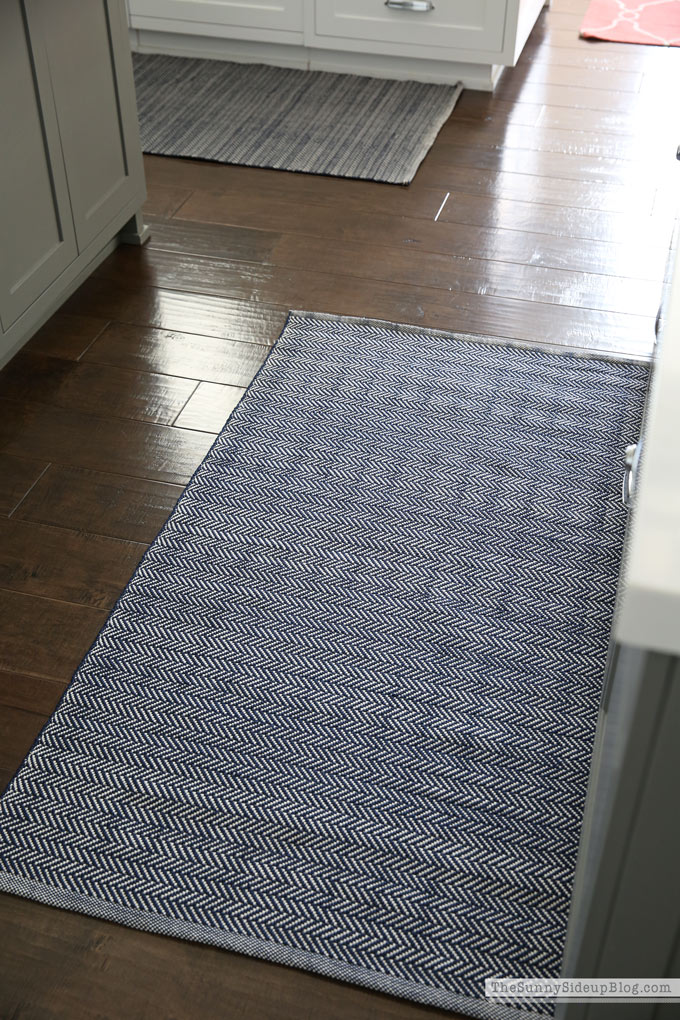 Here's a closer look at the pattern.  They are so durable and I can already tell they are going to be a lot easier for me to keep clean!  They are a lot like my favorite family room rug in that both rugs hide dirt/crumbs really well.  Even when they are filthy you can't tell because of the pattern.  Perfect rugs for busy families with kids.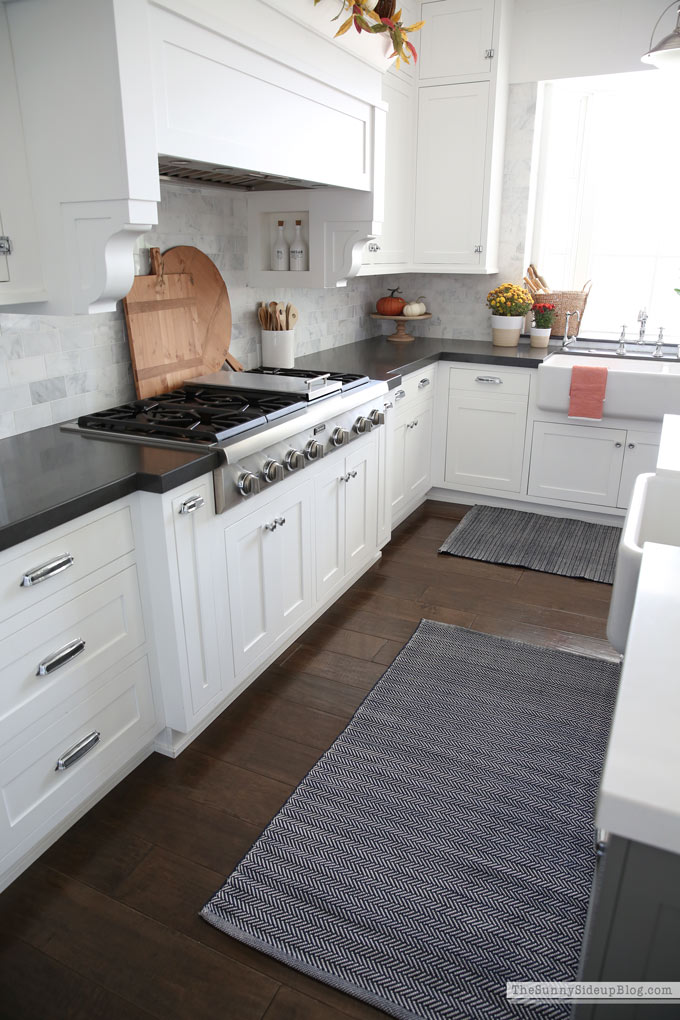 I'm loving navy this Fall!  Such a pretty deep blue that goes great with all of the orange pumpkins.  I ordered 2 of the 4×6 rugs for in front of my islands..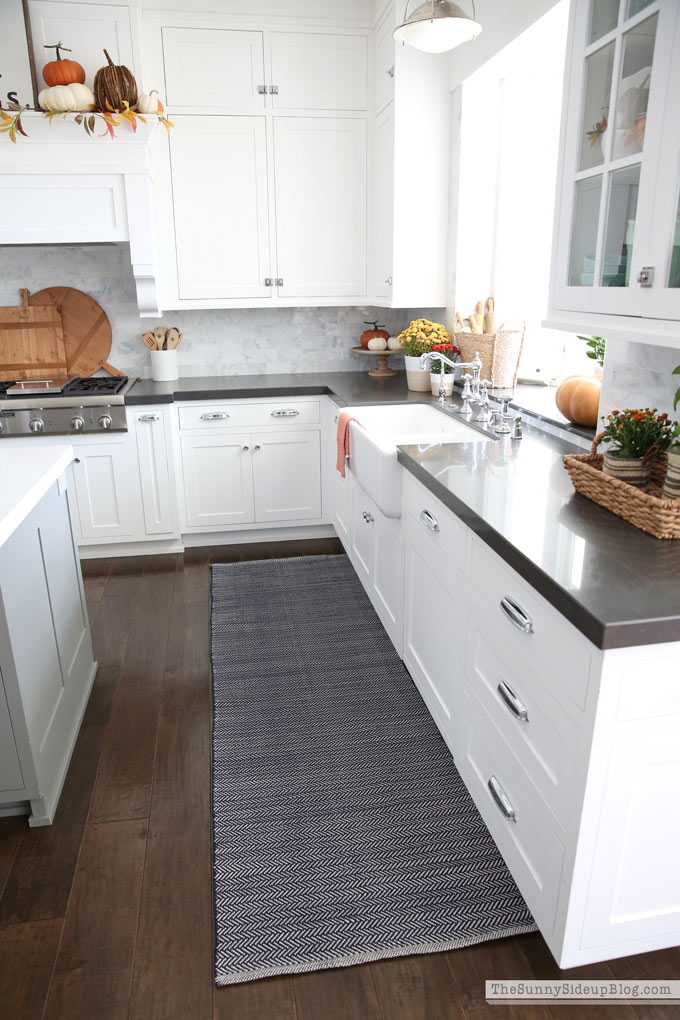 and one of the 2'6″x12′  runner for in front of my sink by the window.  You can order these rug pads to go under them (and I would definitely recommend rug pads!).  I just used the same pads I had under my previous rugs.  These rugs are so nice and I love the way they warmed up my kitchen.  I'm excited about them!  (I'll add a few links below to other rugs I considered for this space.)  I know the style is to keep your rugs out away from the cabinets centered on the floor but I'm too practical for that.  The designer in me wants to move them, but the busy mom of 3 in me knows they need to stay up against the sink to catch any water/food spills.  The busy mom of 3 in me usually wins.  Ha. :)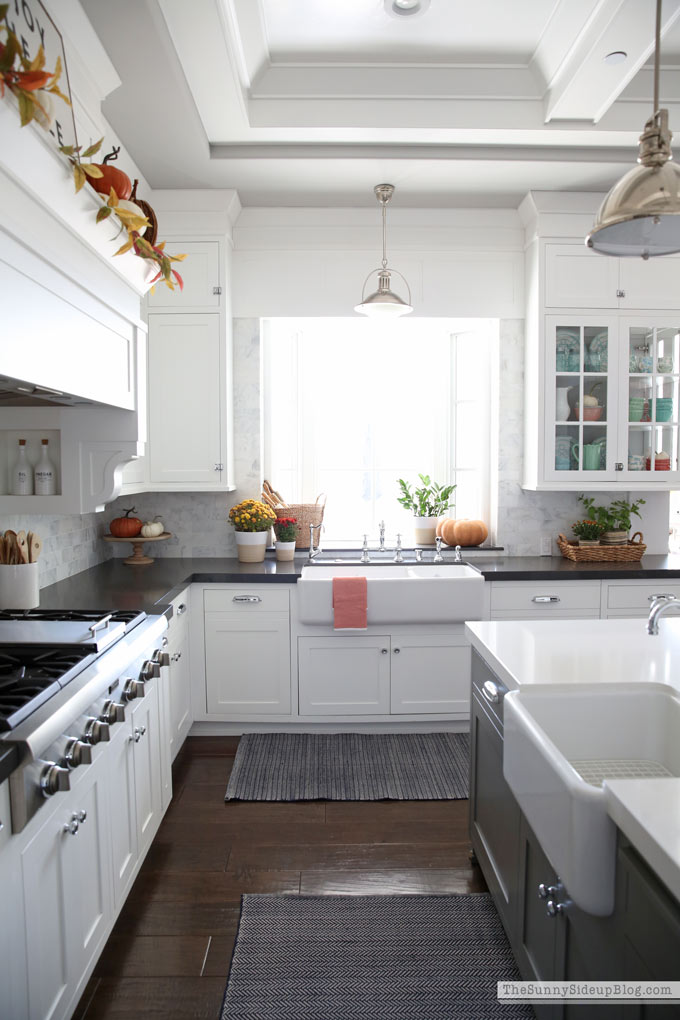 The only thing missing is something cooking in the crockpot!  Luckily Ad and I came up with a simple solution for that over the weekend. ;)
ENJOY THE LITTLE THINGS this month!  We plan to do the same.
:)
p.s.  For my fashion loving friends I just saw that my one of my favorite graphic tees (GOOD VIBES) is re-stocked and another favorite (SUNDAY) is 40% off!  I wear one of these pretty much every weekend running around with kids (they are soft and a great fit!) so I wanted to let you all know. :)
{POST SOURCES}






xoxo, Erin