The Thursday before Christmas!  Coming so fast.  I can't wait to get my kids out of school Friday so we can really start the party. :)  I'm excited to be joining some blog friends today for a Christmas Homes at Night Tour!  I'm sharing lots of night pictures of my home ready for Christmas and at the bottom of the post you can visit my friends' beautiful homes as well!  If you are new to Sunny Side Up hello and welcome!  Pull up a chair.  Or maybe a couch.  We have fun here and I always take way too many pictures so you might want to grab a snack while you're at it too.  (Popcorn and hot chocolate sound amazing right now!)  I can wait while you put on pajamas too.  Big fan of pajamas.  Go ahead and get comfy. :)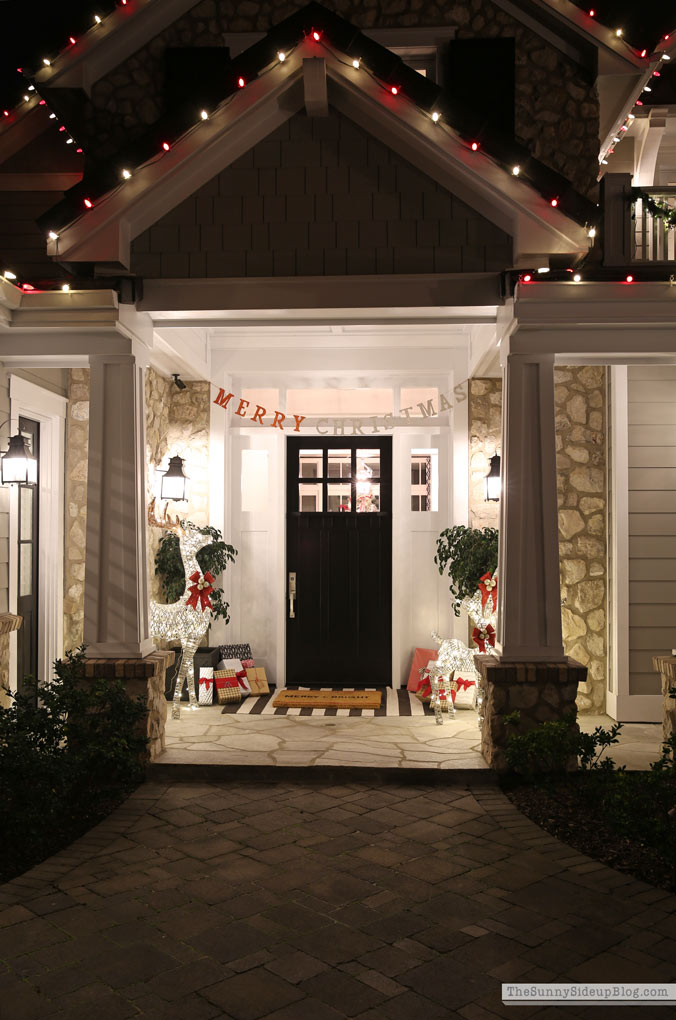 Ready?  Come in come in!  So happy to have you over!  I'm going to keep the chit chat to a minimum because I might break the internet with all of these pictures so enjoy the tour and if you have source questions or want to see more pictures of specific rooms (with normal lighting!) click on the links below each room.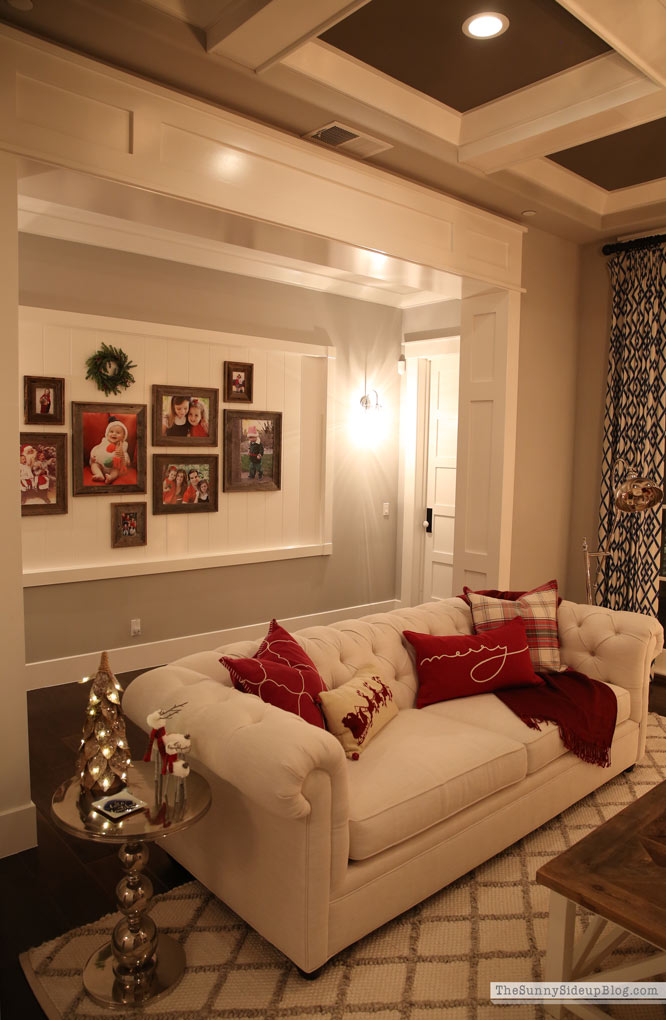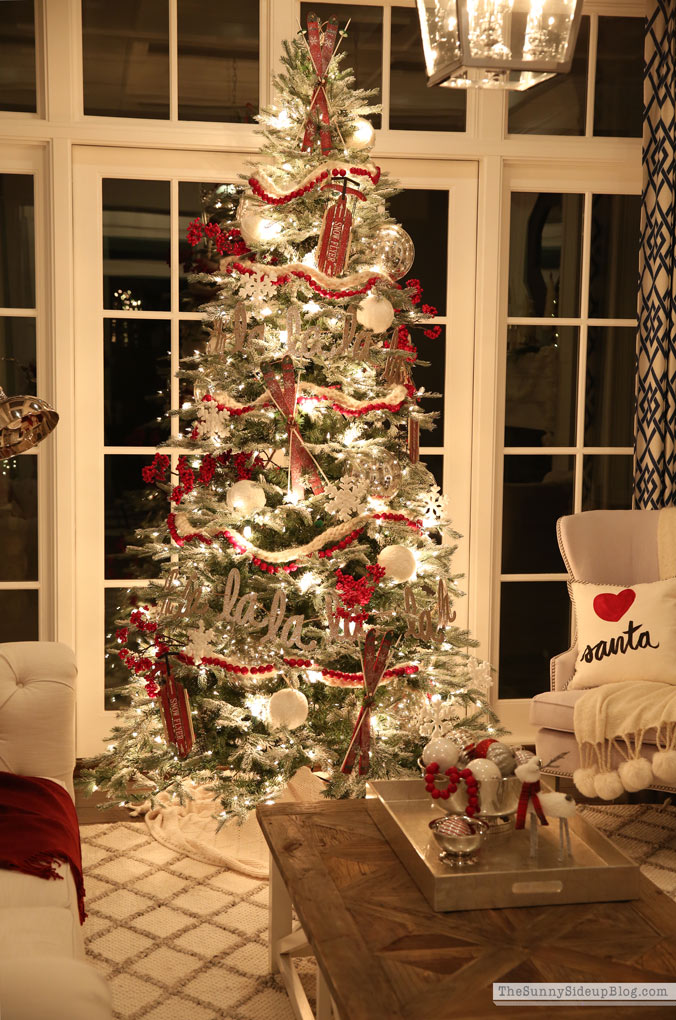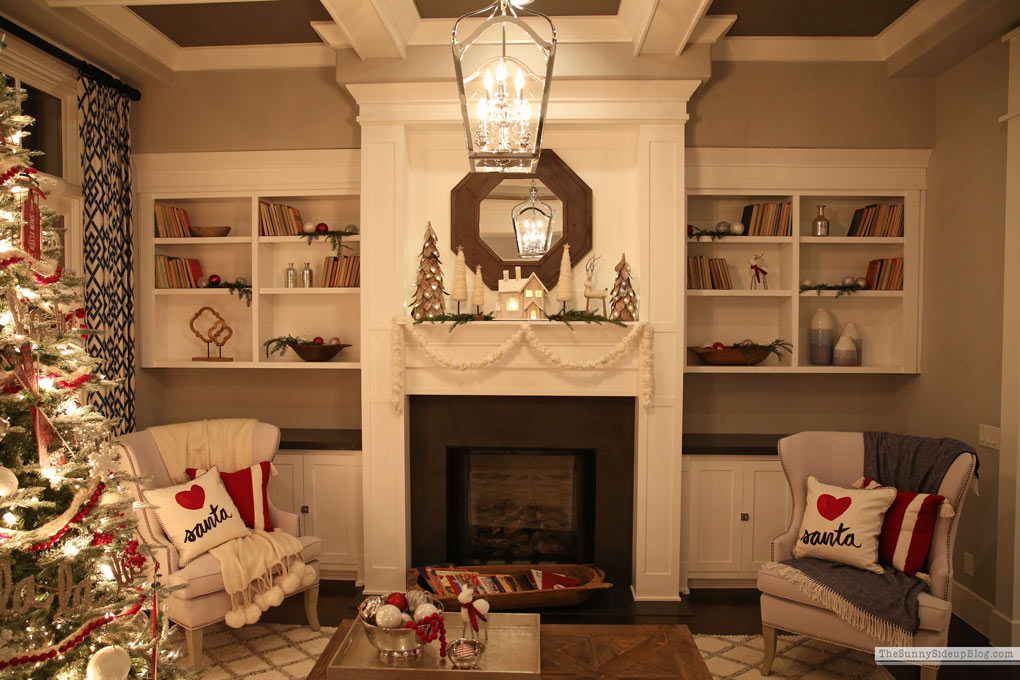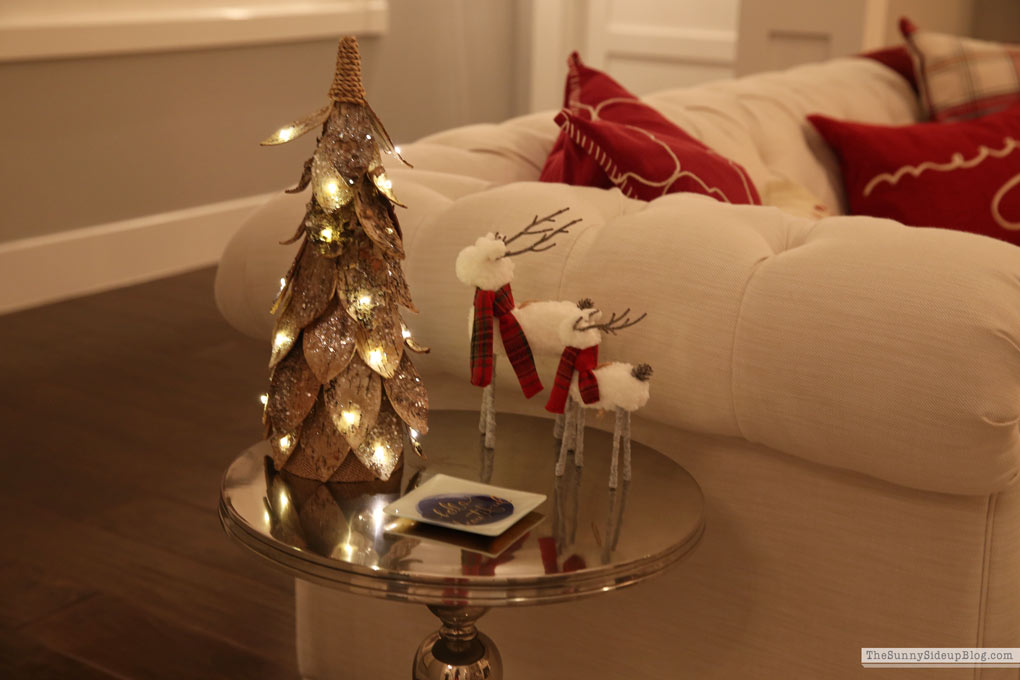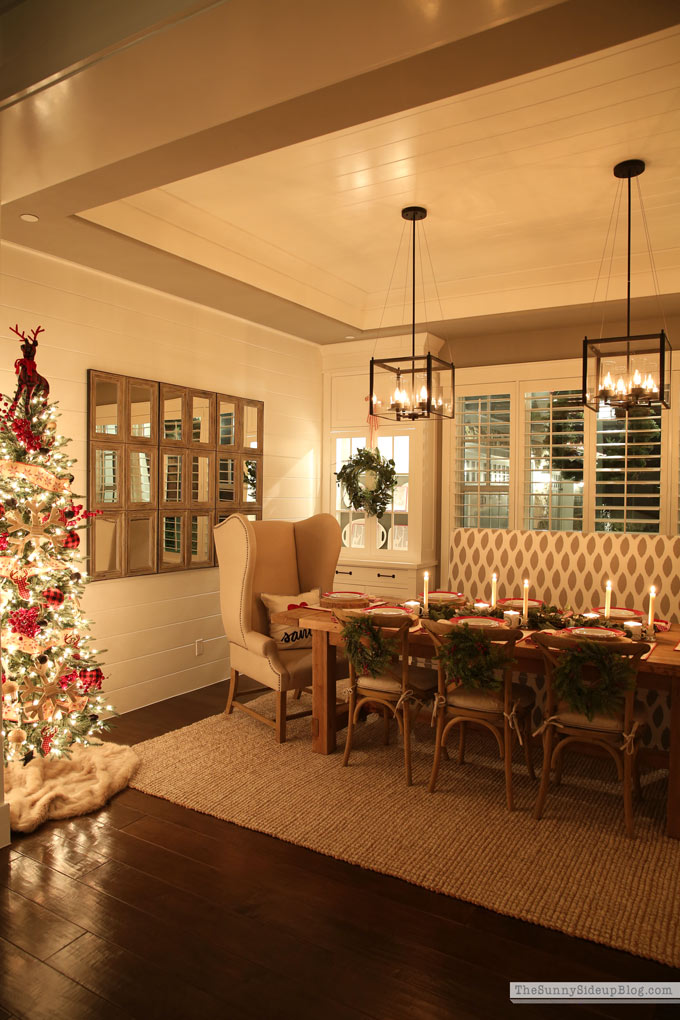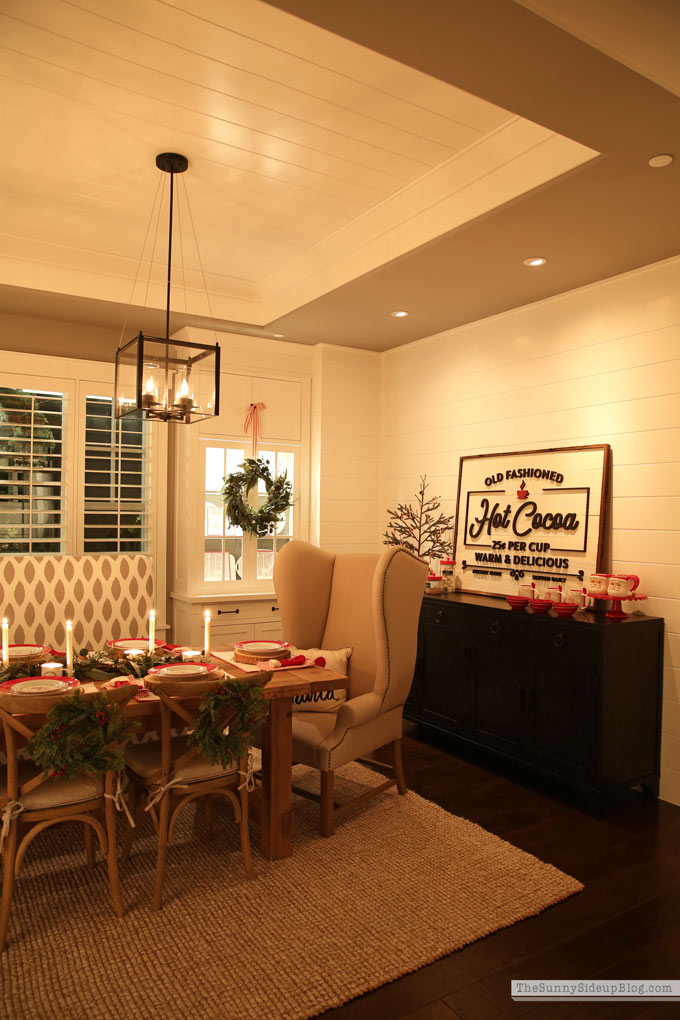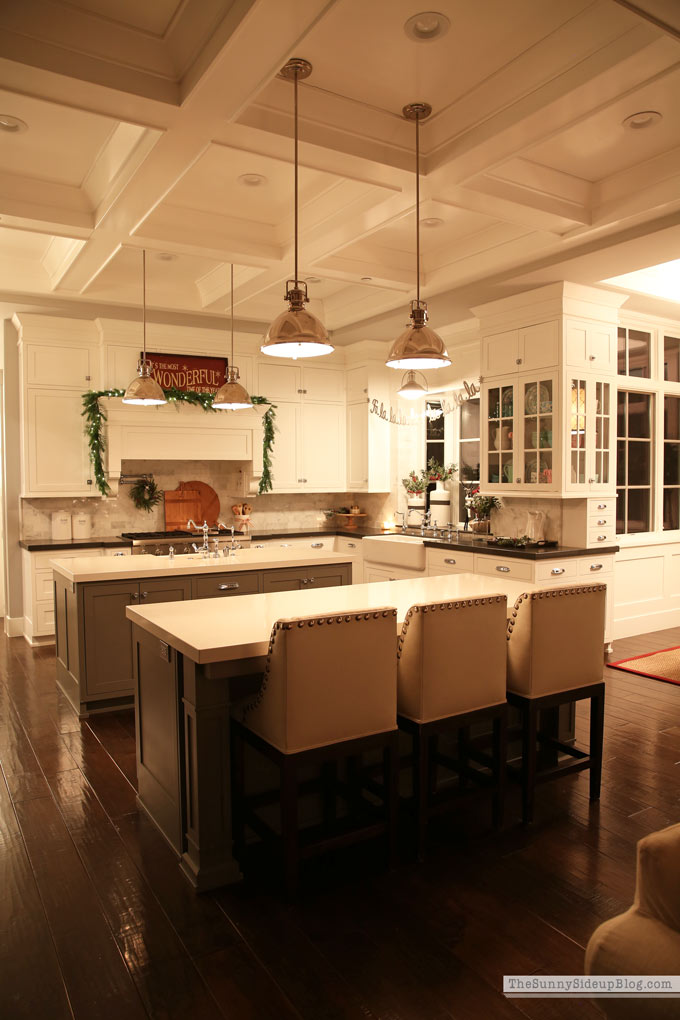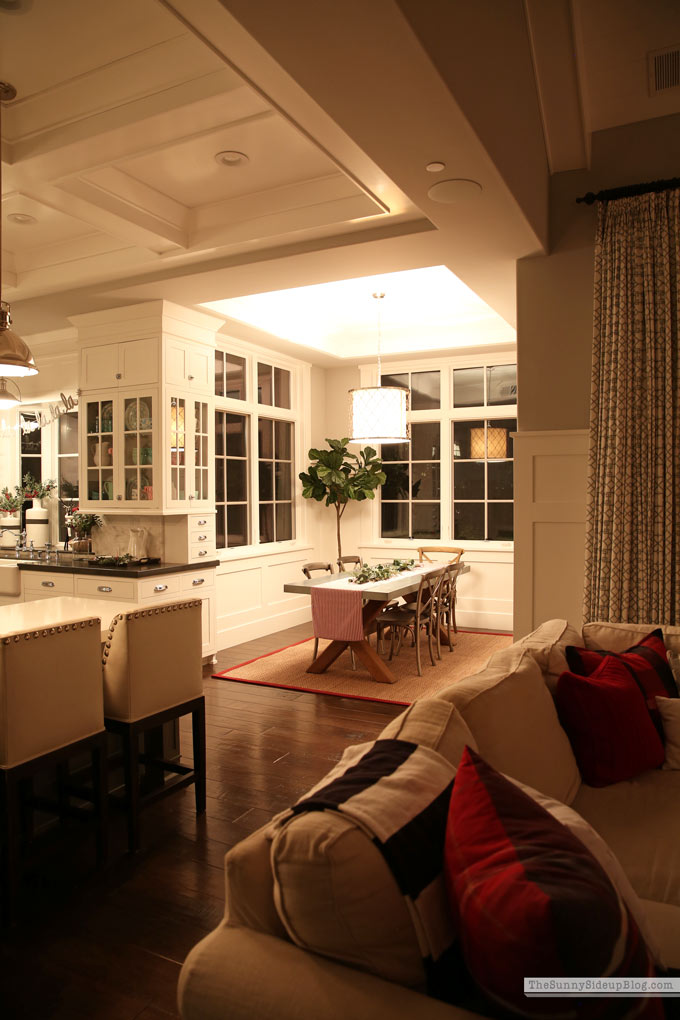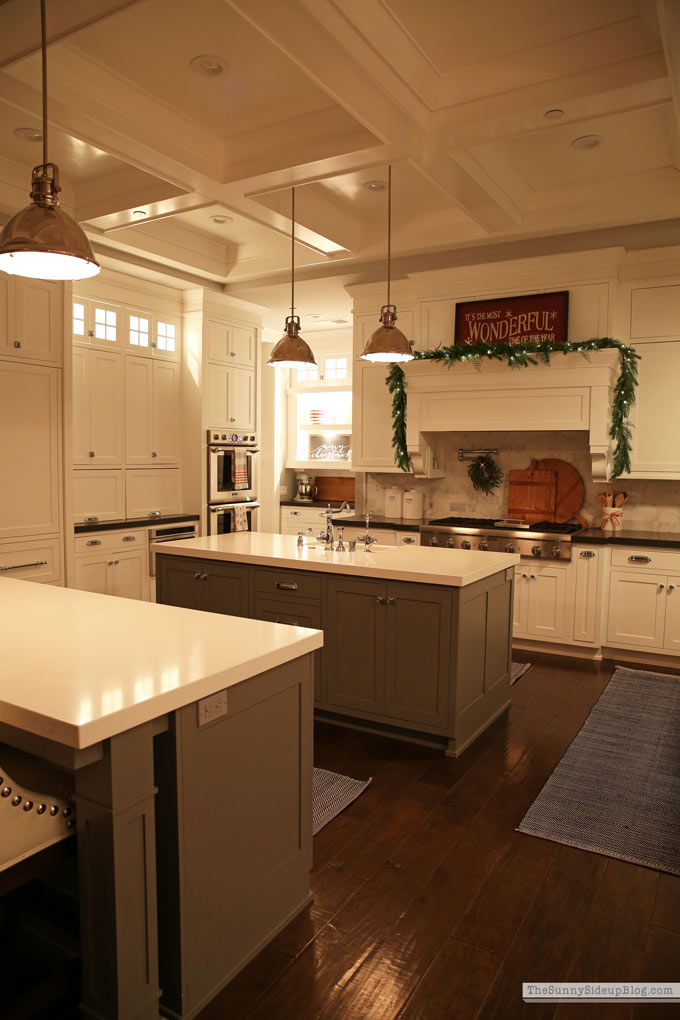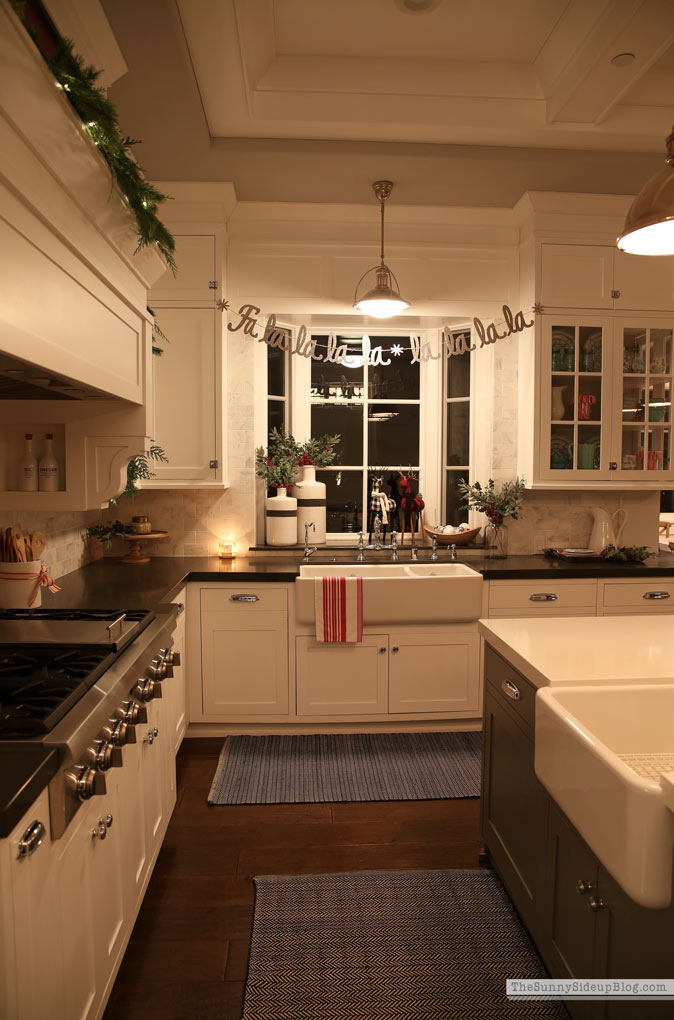 (Black Stripe Vases/Reindeer/Wooden Bowl/Fa-la-la Banner/Ornaments/Similar Glass Jar/Similar greenery)
(Kitchen Sources/Favorite Christmas Decor)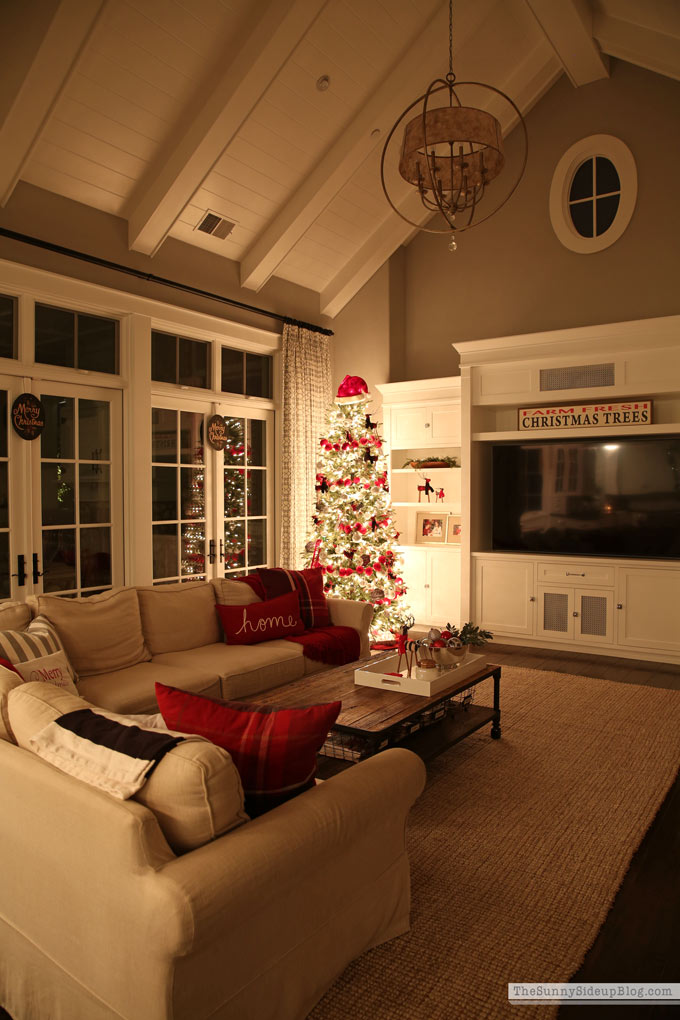 (Family Room Sources/Reindeer Tree Sources)
A recent favorite picture. :)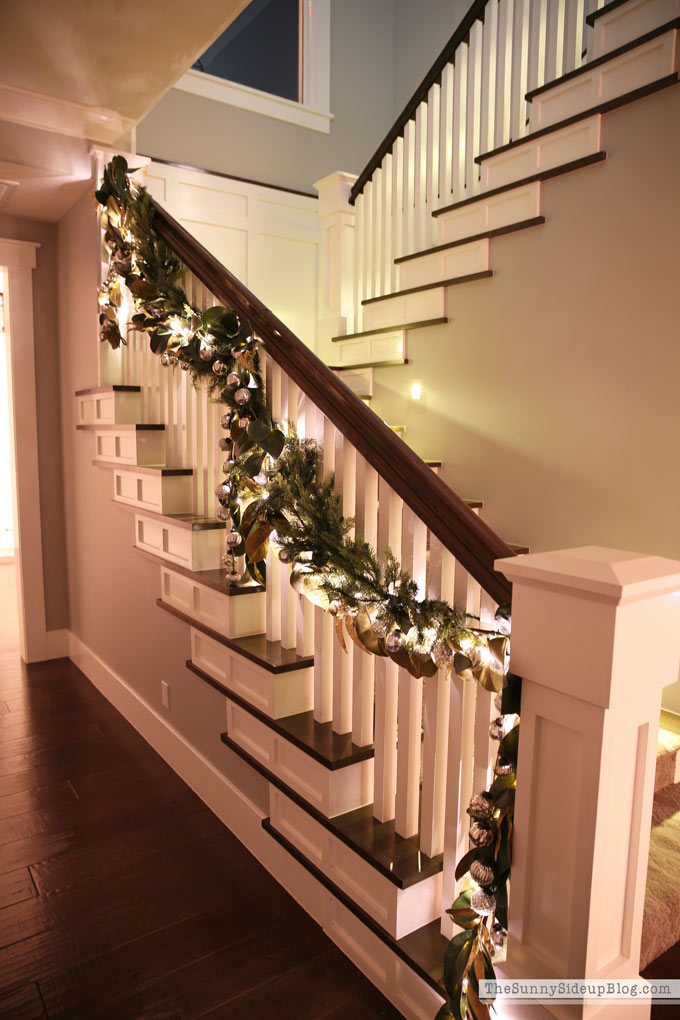 I haven't shared my stair garland yet!  I decorated the bottom half of my stairs and then wore out before I could do the top half.. ha. :)  I used a couple different garlands and then added the mercury ornament garland I used on my mudroom tree.  I love the way it looks at night!  This picture doesn't really do it justice.. night photography is still a work in progress over here. :)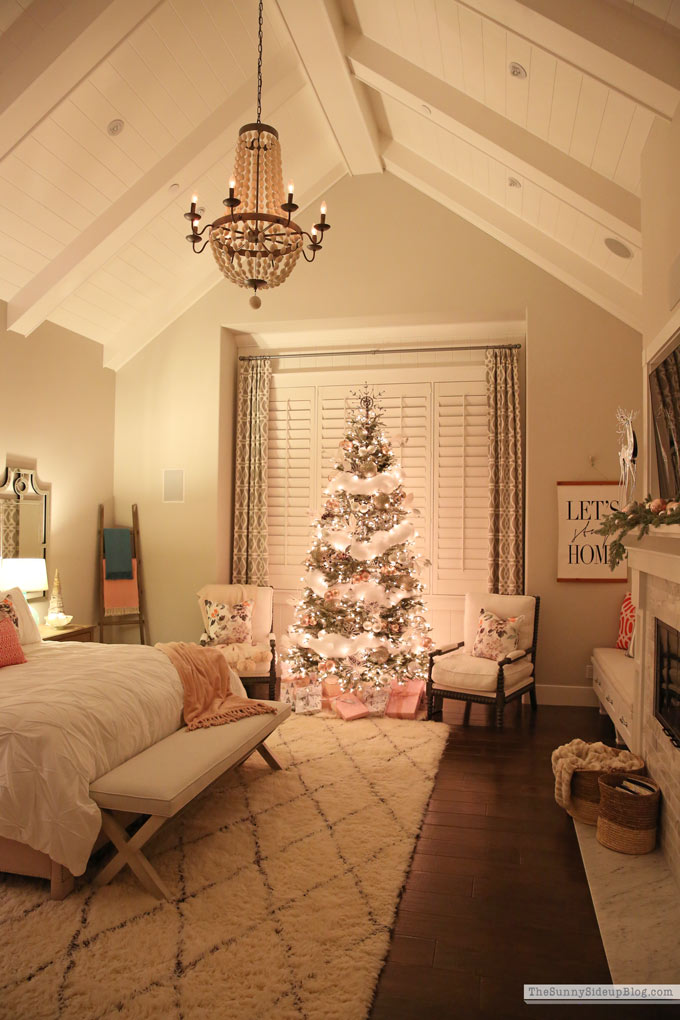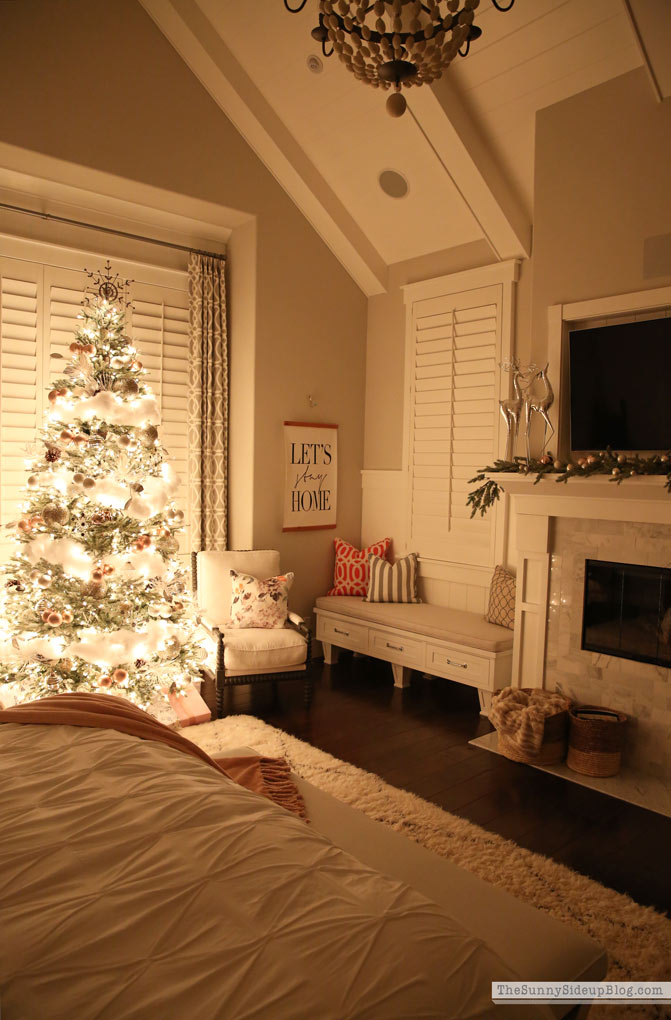 It's hard to believe that we finished designing/building our home 5 years ago!  When we came back from a trip over Thanksgiving break we all walked in the door and my son said "sometimes it feels like coming home is the vacation."  It made me smile.  That right there is the reason we all put so much time and love into our homes.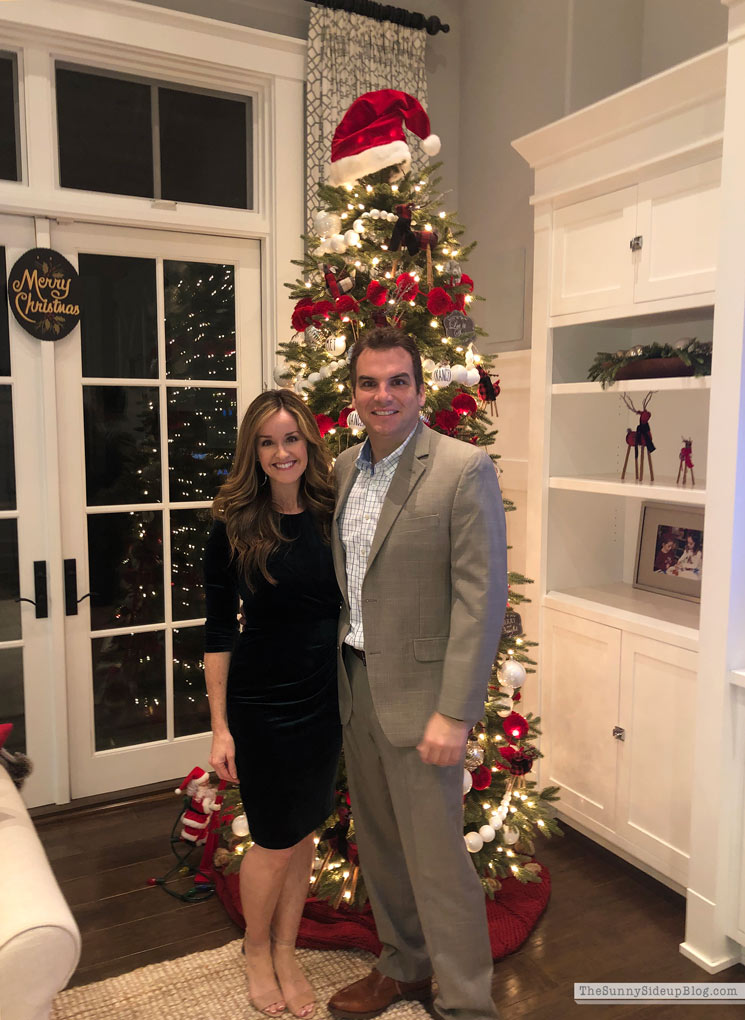 Because our homes are often where the best of life happens.  They are safe havens from the world that we share with our favorite people.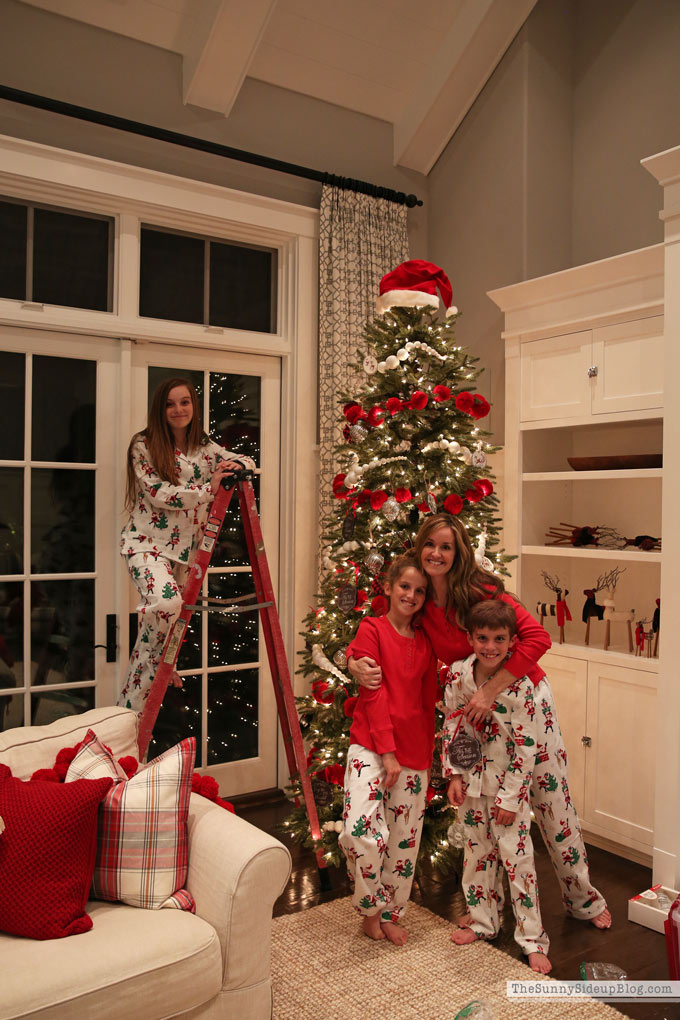 Where the best memories are made. :)
Wishing you all a wonderful holiday season in your beautiful homes!
p.s.  I have one more Christmas room to share with you tomorrow so check back in!  Also feel free to sign up here for my e-mail list if you haven't already so you don't miss a post!  (When you subscribe you will have access to a printable with all of my paint colors along with other fun organizing/time management printables.)  Lots of fun is coming in January.. time to organize!  Makes me giddy just thinking about it! :)  
Enjoy visiting my friends' homes decked for Christmas below!
Ella Claire | French Country Cottage | Cherished Bliss | Julie Blanner | Happy Happy Nester
Kelly Elko | Rooms for Rent | Love Grows Wild | Boxwood Avenue | Decor Gold Designs
Maison de Cinq | Craftberry Bush | Zevy Joy | Making Home Base | Inspired by Charm
The Lilypad Cottage | Shabby Fufu | Finding Silver Pennies | Blesser House | Sunny Side Up
xoxo, Erin