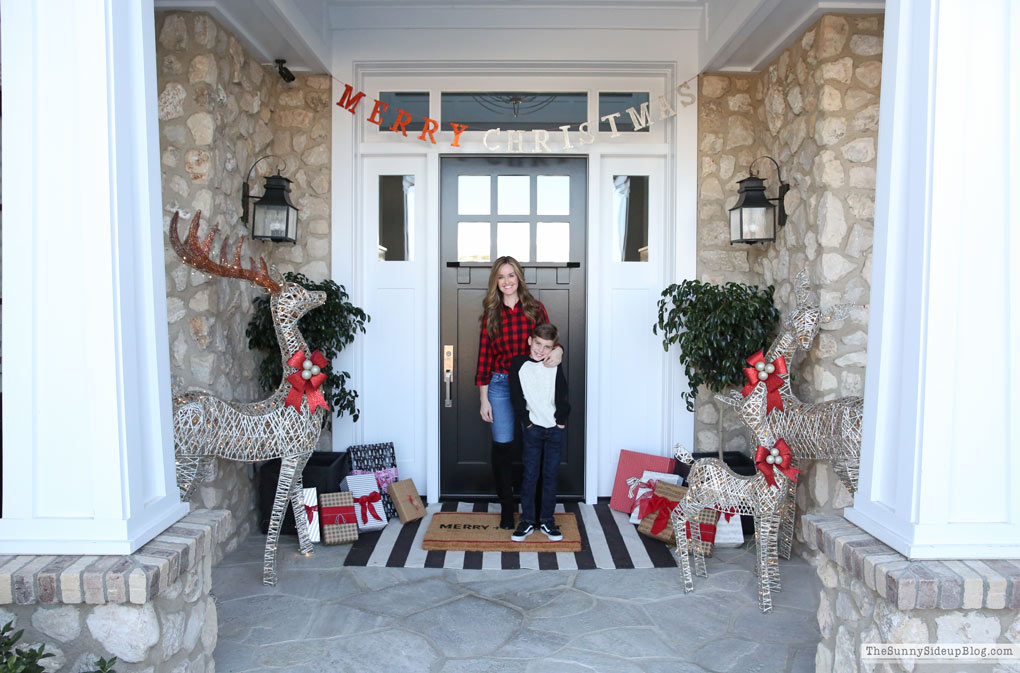 (Buffalo Check Tie Shirt/Over the knee boots/Kole's Sweater/Kole's Shoes/Merry and Bright Doormat/Striped Rug) *affiliate links used 
Sharing a few fun things I've been wearing this month.  And my Christmas porch!  I kept it so simple this year because I was doing more inside (I still haven't shown you some of my decorated rooms.. coming next!).  I found these cute sparkly deer at Costco that look amazing at night and they were so cute I just put them on the porch!  Added a few presents, a new doormat and our Merry Christmas banner.. done!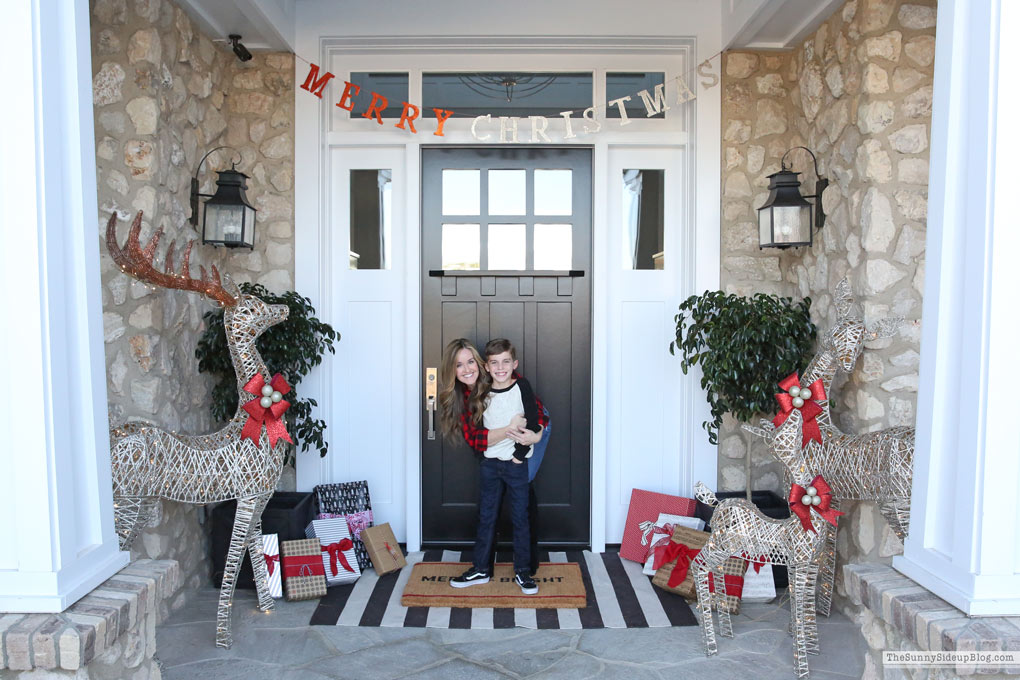 Like I said it looks best at night!  I'll share a night picture soon.  My little buddy turns on the lights for us and we watch the deer all sparkle. :)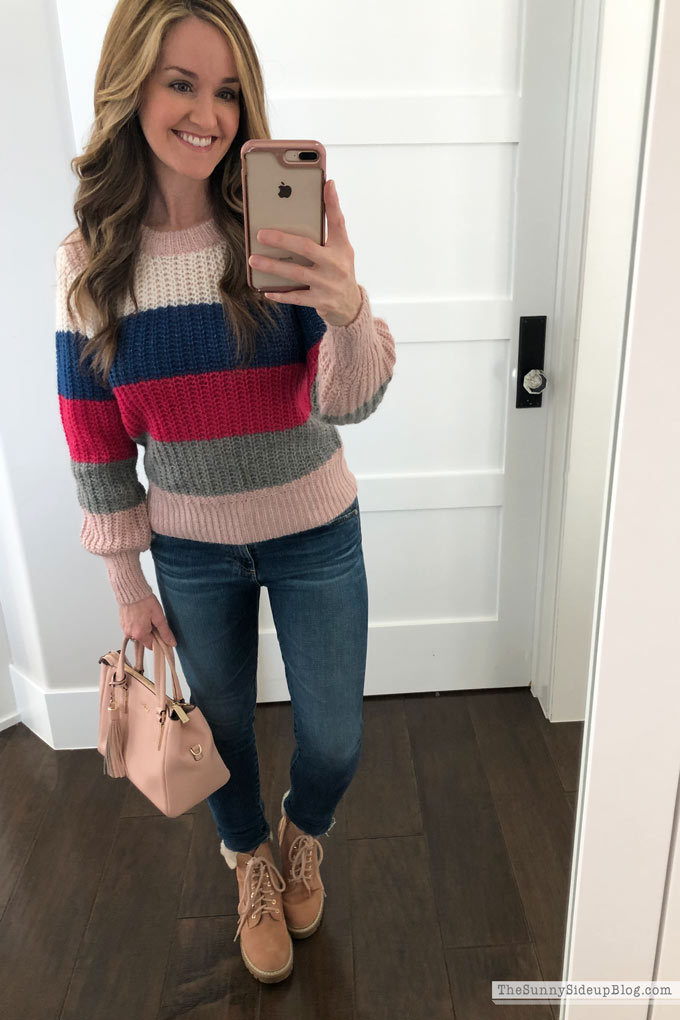 (Puff Sleeve Crew Sweater/AG Jeans/Purse/Lace up Booties)
Ok.. I have so many fun things I've been wearing this month to all of the December activities, parties and events and a lot of them are on sale!  Like this cute puff sleeve crew sweater.  I love the colors and that it has a bit of a sparkle!  But my latest obsession are these pink lace up booties.  Hands down my favorite thing I've bought this season.  So comfy and they are a great price for such a cute, comfortable shoe.  I get questions about them every time I wear them!  They come in black too.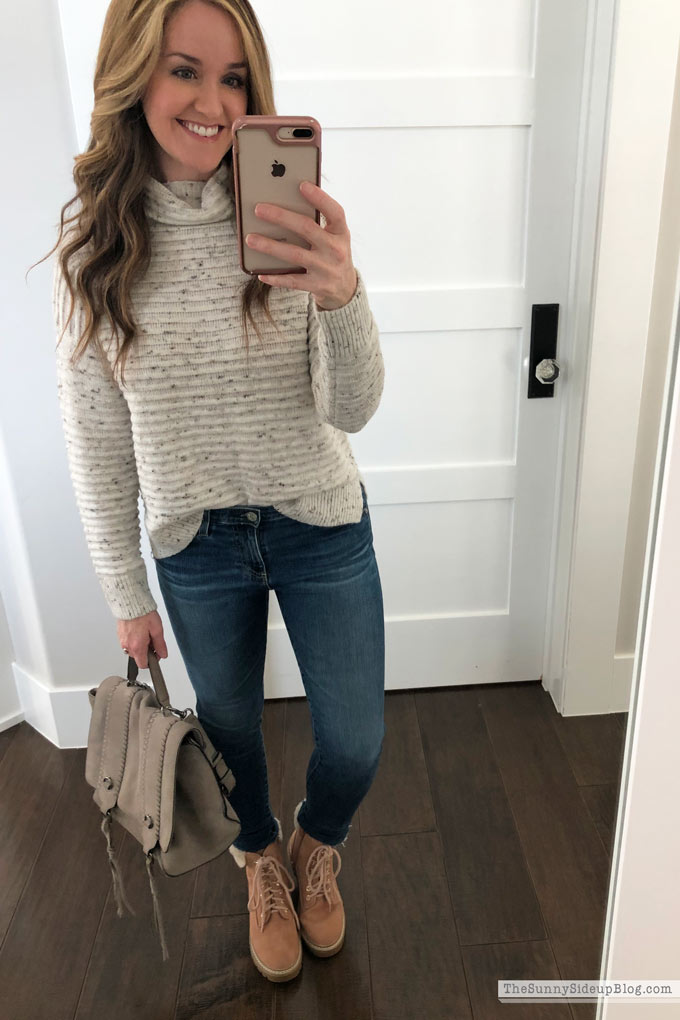 This Madewell mock neck sweater is well.. Madewell.  That's all I have to say. :)  And it's on sale!  Kenny asked for Christmas gift ideas for me about a month ago and I told him anything Madewell will be a hit.  Love their clothes too much!  (And all Rebecca Minkoff handbags..)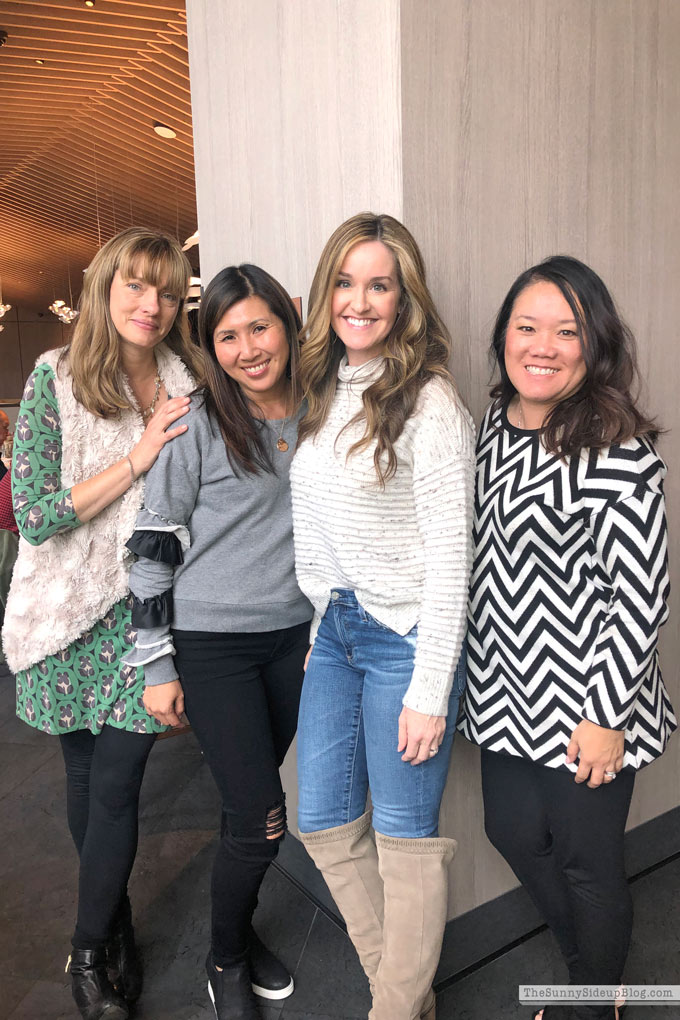 I wore this sweater last week to lunch with these cute girls (love them!) and look how tall I am!  That never happens.  Heeled boots are my friend. :)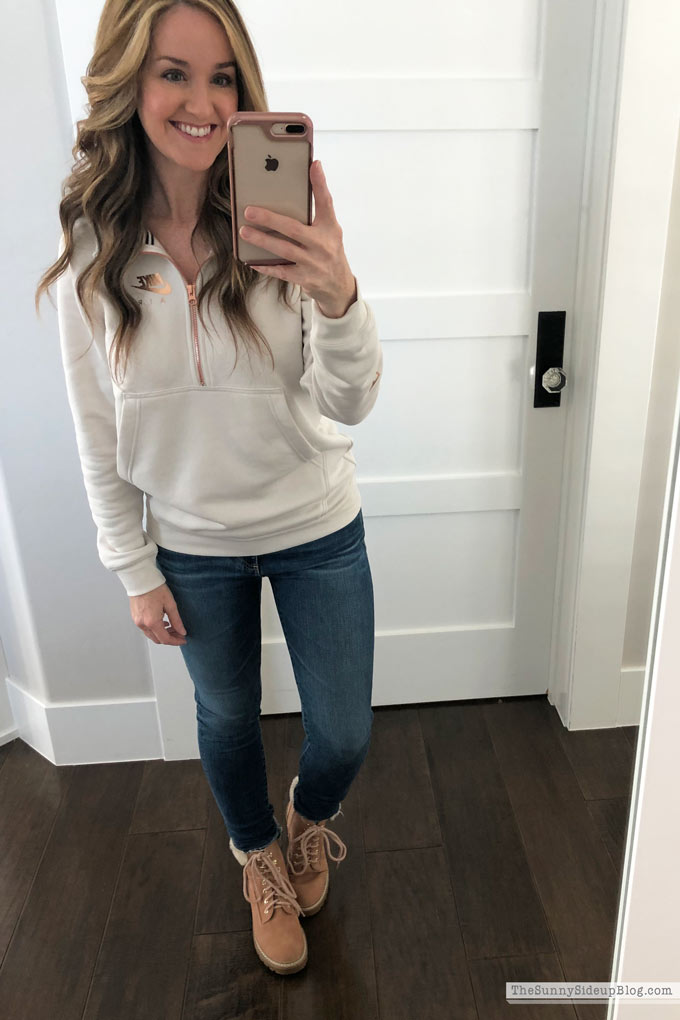 This Nike Air Zip Fleece top is another favorite.  It's cute casual with jeans.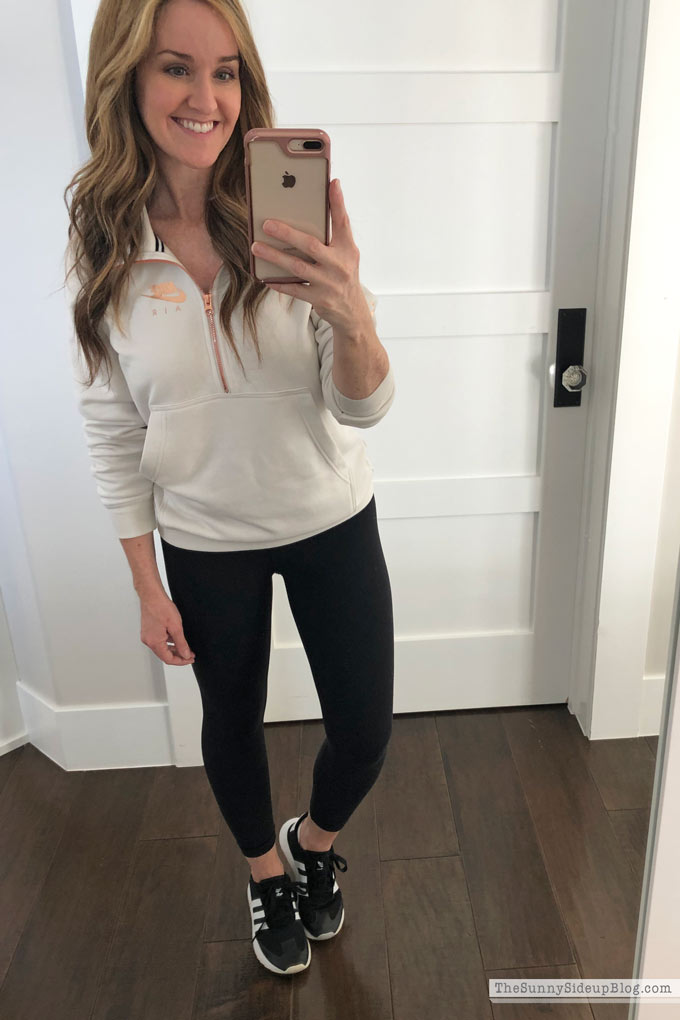 Or even more casual with very little make-up, leggings and sneakers. :)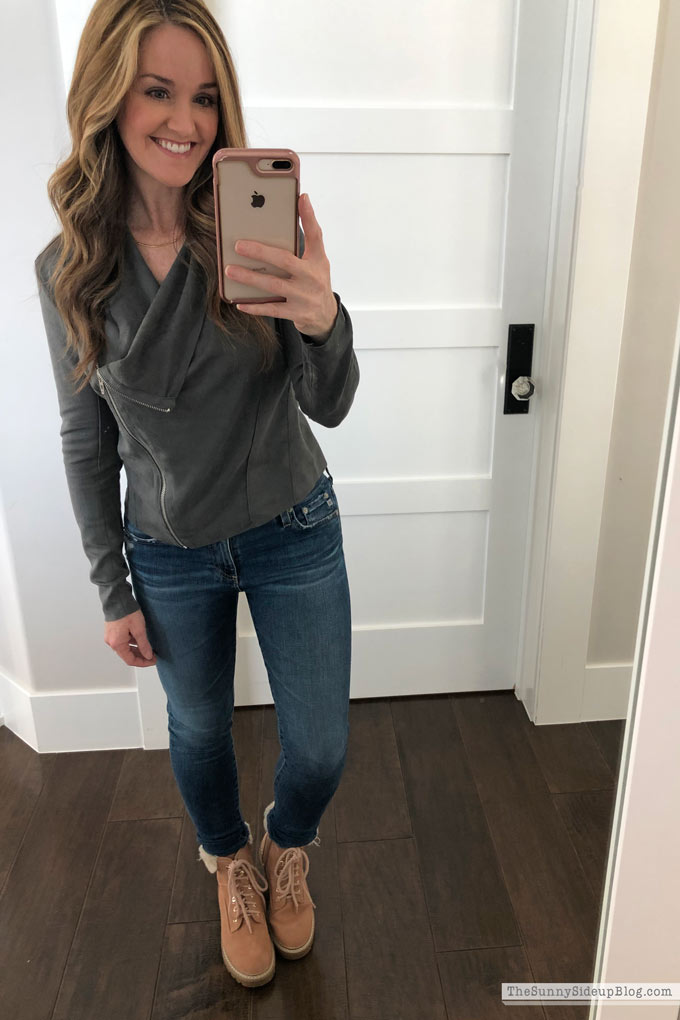 This Drape Front Faux Suede Jacket was an early Christmas gift!  I've wanted it for so long and finally caved.  It's even more beautiful in person!  Comes in lots of colors and I had a hard time choosing between this grey and the olive (pink would be so cute in the Spring!).  I like it zipped but you can wear it open too.  I've worn it casual during the day..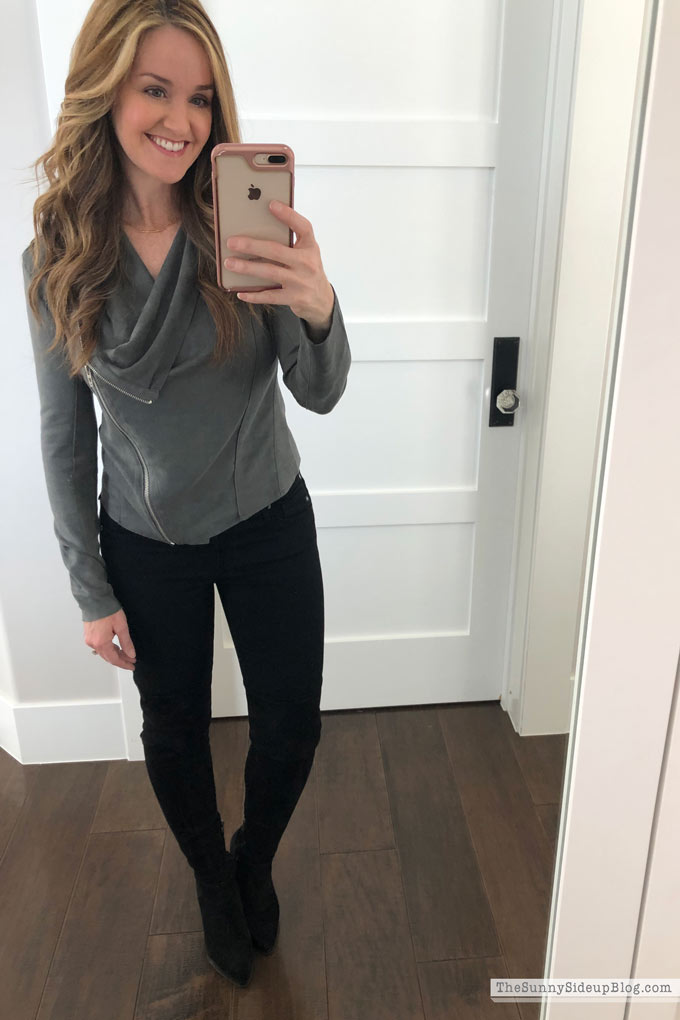 and dressed up with black jeans and over the knee boots for a night out.  My favorite tanner bar necklace I mentioned in yesterday's gift guide looks great with this!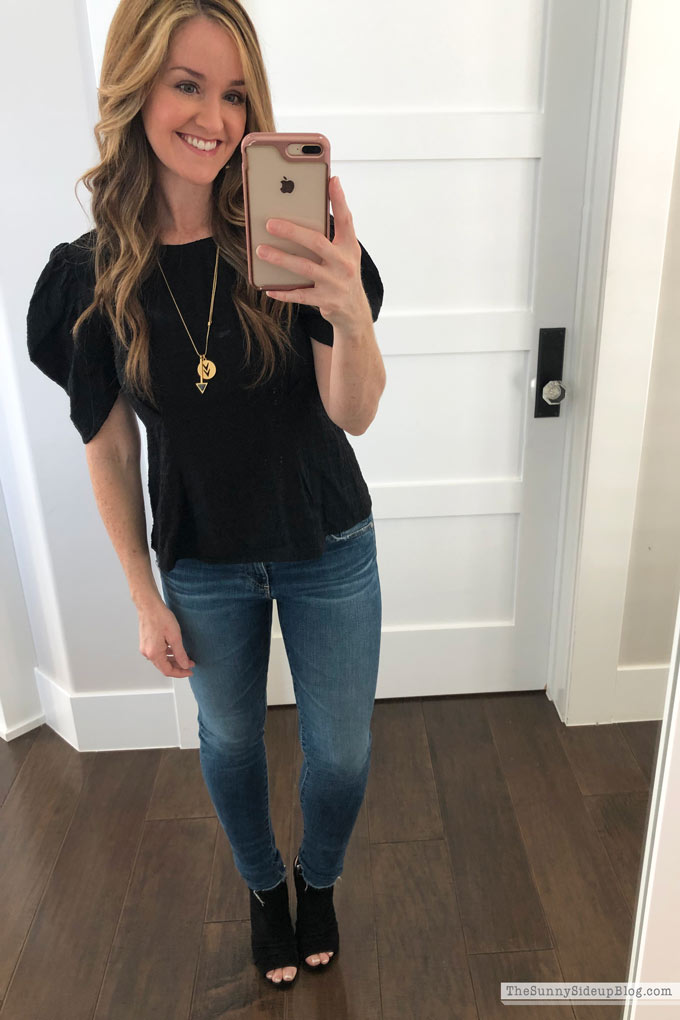 K.. this embroidered puff sleeve top is adorable!  Comes in an Ivory too that is so pretty.  I know it's not warm enough for a lot of you to wear this right now, but it's 40% off so one to consider buying for the Spring!  I love puff sleeves.  So feminine and they just add something extra.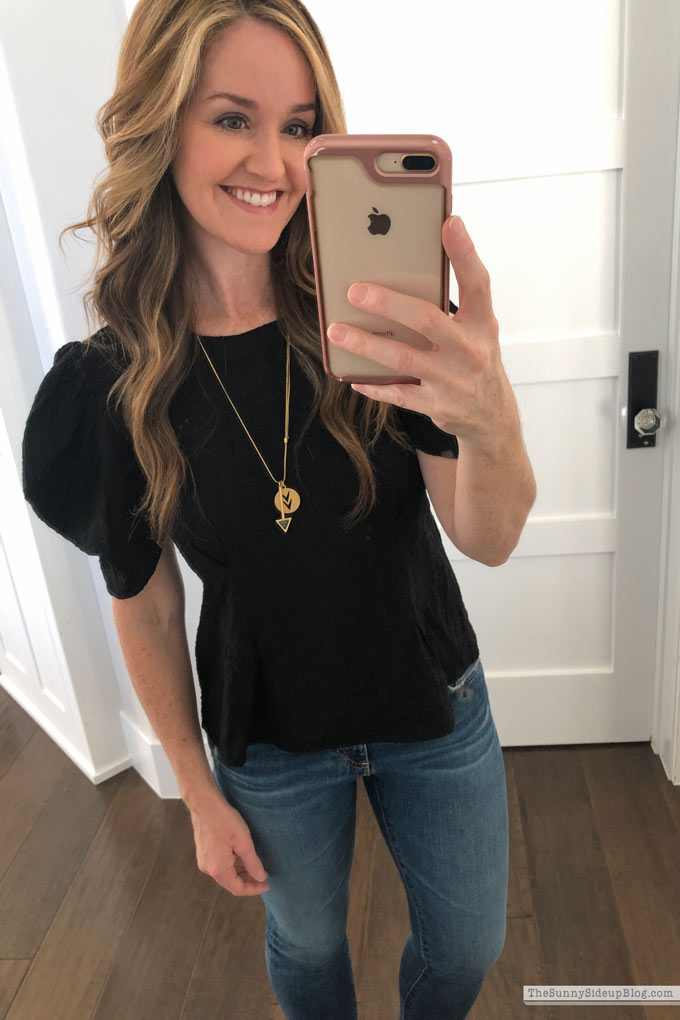 My necklace is Madewell.. of course. :)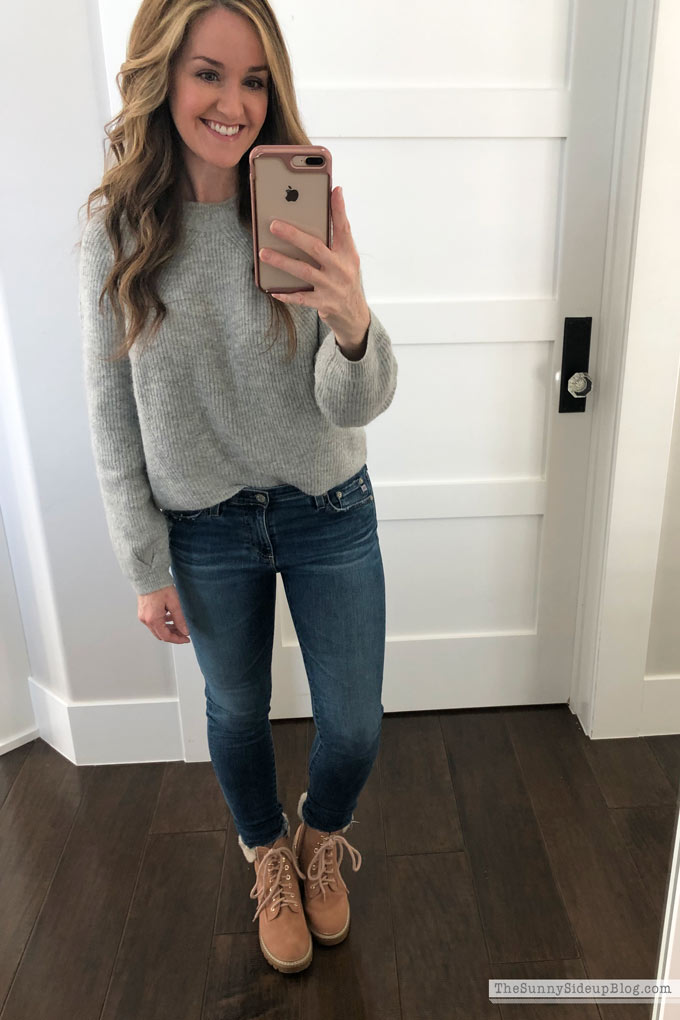 One last cute ribbed crewneck sweater!  A soft and cozy staple. :)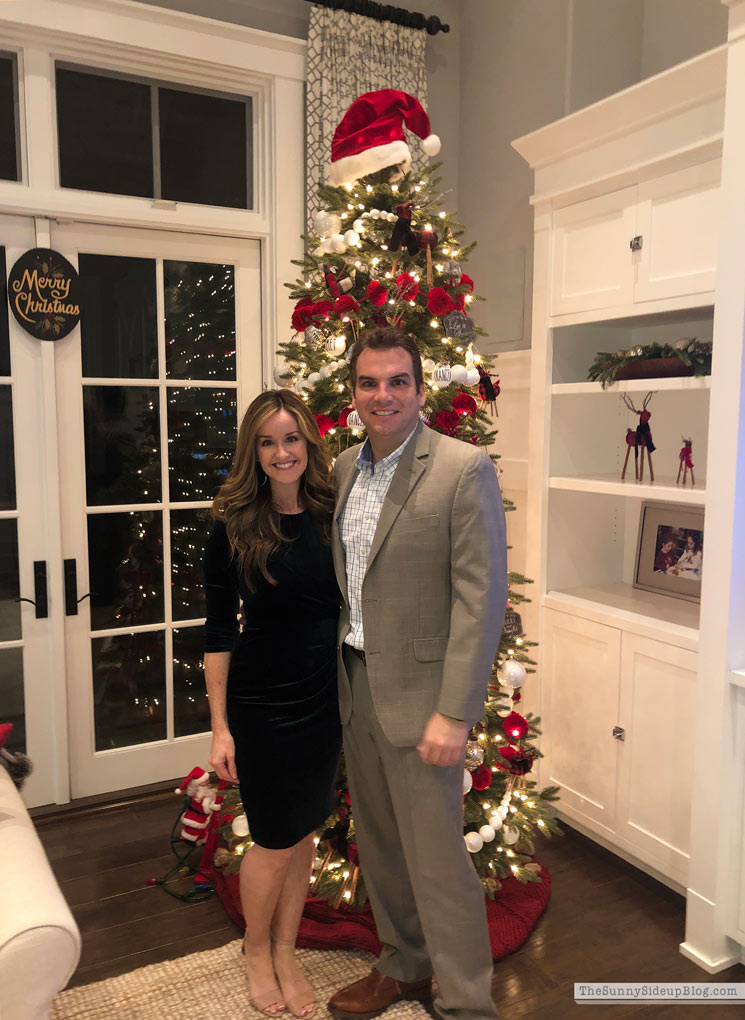 We've had so many events this month I needed to dress up for so I ordered several dresses weeks ago to try and chose my top two!  This Velvet Sheath Dress is gorgeous!  It comes in lots of colors.  I love this pretty green that you can't really see in this cell pic with bad lighting Ellie snapped for us on our way out.  This dress is SO flattering (hugs you just the right way!).  Plus it's comfortable and warm.  I just can't wear short sleeved dresses in the winter!  So many girls do and look gorgeous, but I freeze and I don't want to have to wear a jacket or shrug all night so I look for sleeves this time of year!  I was nice and warm in this all night long.  Score. :)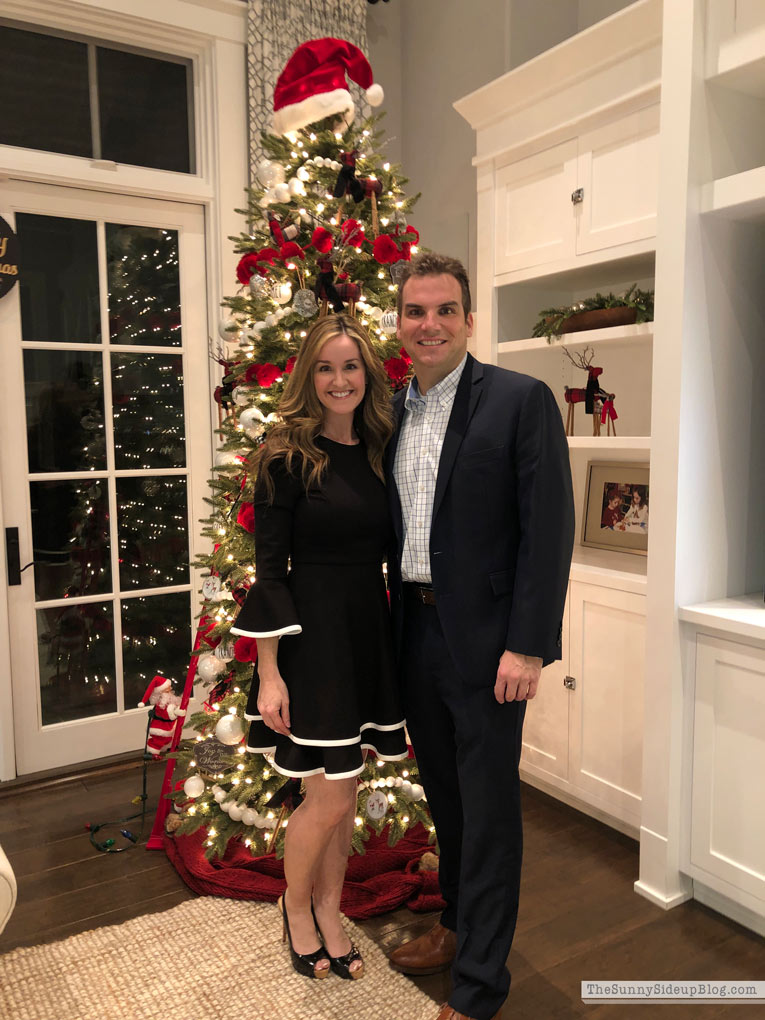 Different weekend.  Different dress.  Same Christmas tree. ;)  This Bell Sleeve Fit and Flare dress is adorable!  Also flattering, also comfortable and also warm.  I'm a fan!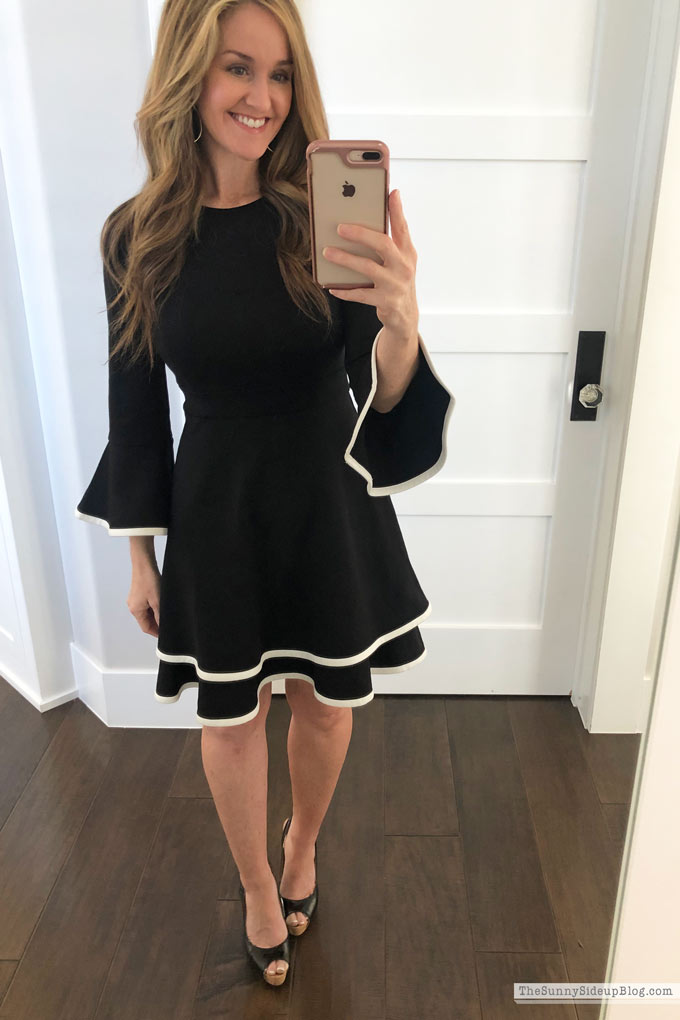 I wore this again last week to church and snapped a pic on my way out the door.  Aren't the flare sleeves and skirt fun!?  Would be so cute for a New Years Eve party too!  You might have noticed that both of my favorite dresses are Eliza J. dresses.  They have quickly become my favorite brand for dresses because they always have such a flattering fit!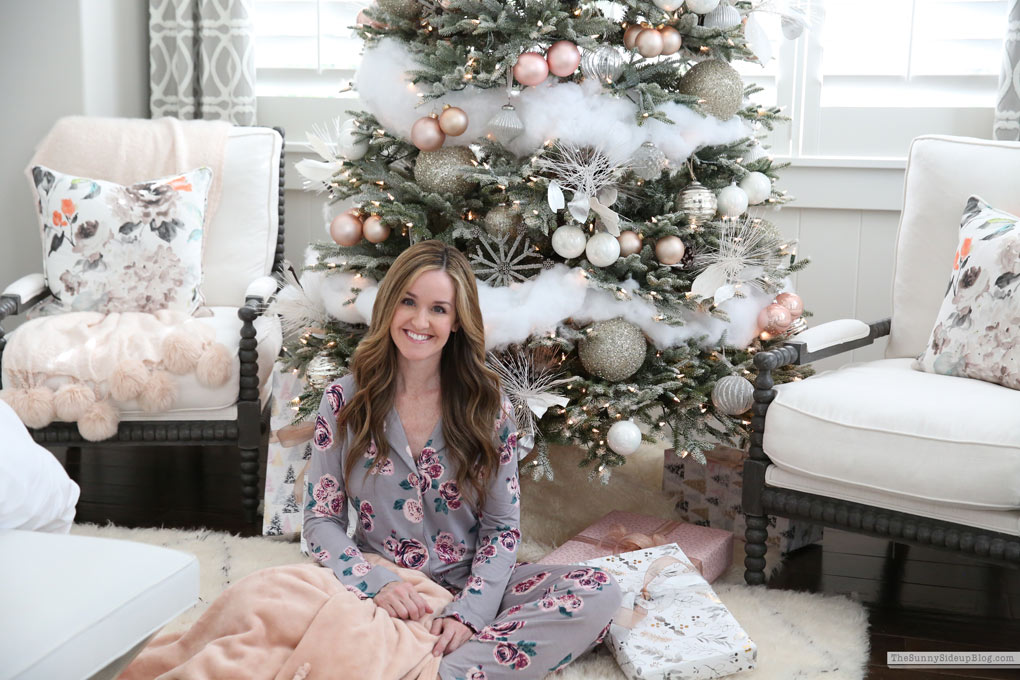 Of course after a night out in a dress and heels I can't wait to come home and put on pjs.  I shared these favorite moonlight pajamas in yesterday's post.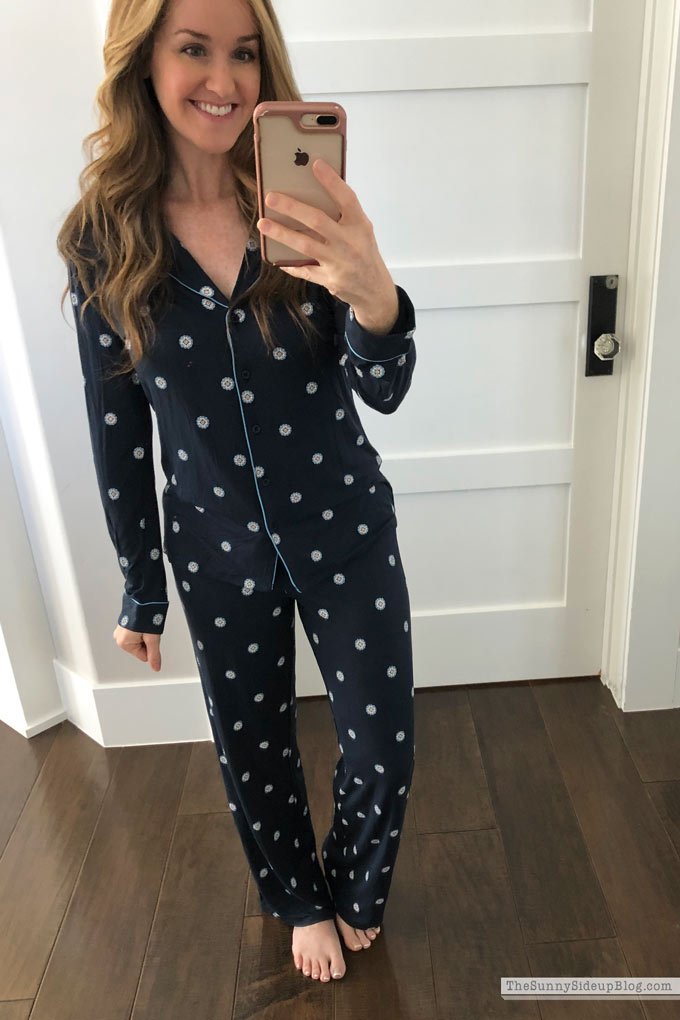 This is the cute navy sapphire pair and what they look like on.  As fun as it is to dress up, nothing beats a good pair of pajamas. :)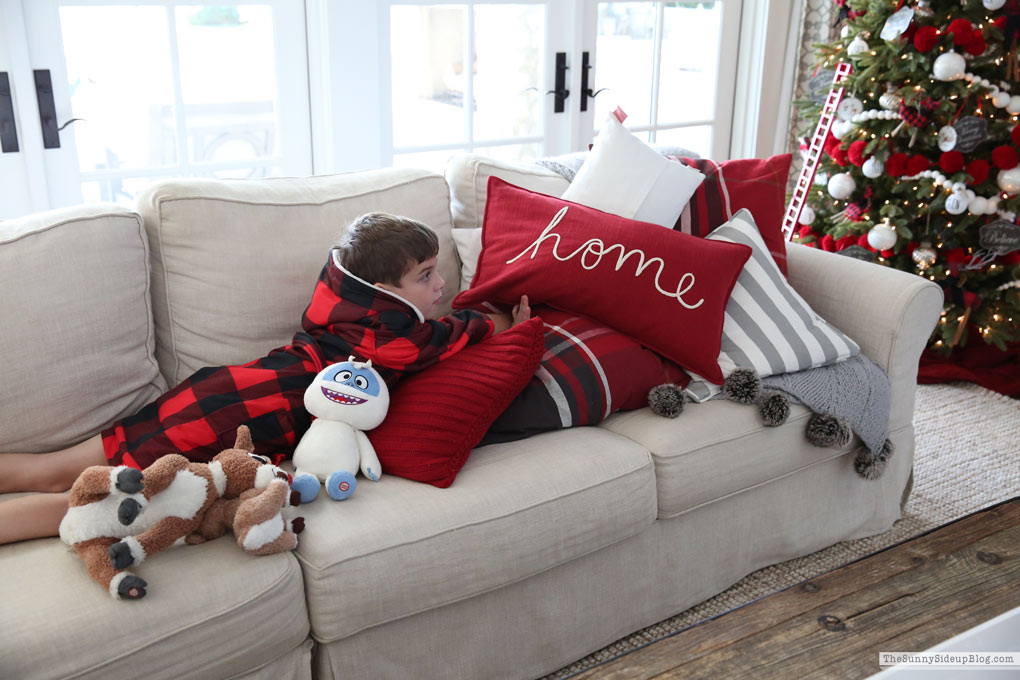 Kole would have to agree!  I gave him two Christmas gifts early this year because I knew they would be fun for December.  The climbing Santa and this crazy soft fleece lined hooded robe!  Kole is funny about sleeping in pjs.  He'll wear them in the evening but likes to sleep in shorts and a t-shirt.  Quirky.. I know.  It doesn't stop there. ;)  But he's always cold in the morning so when I saw this robe I knew he would love it!  He wakes up and puts it on, takes it off for school and then comes home from school and puts it back on over his clothes until bedtime.  He has been living in it!  It makes me happy he loves it so much. :)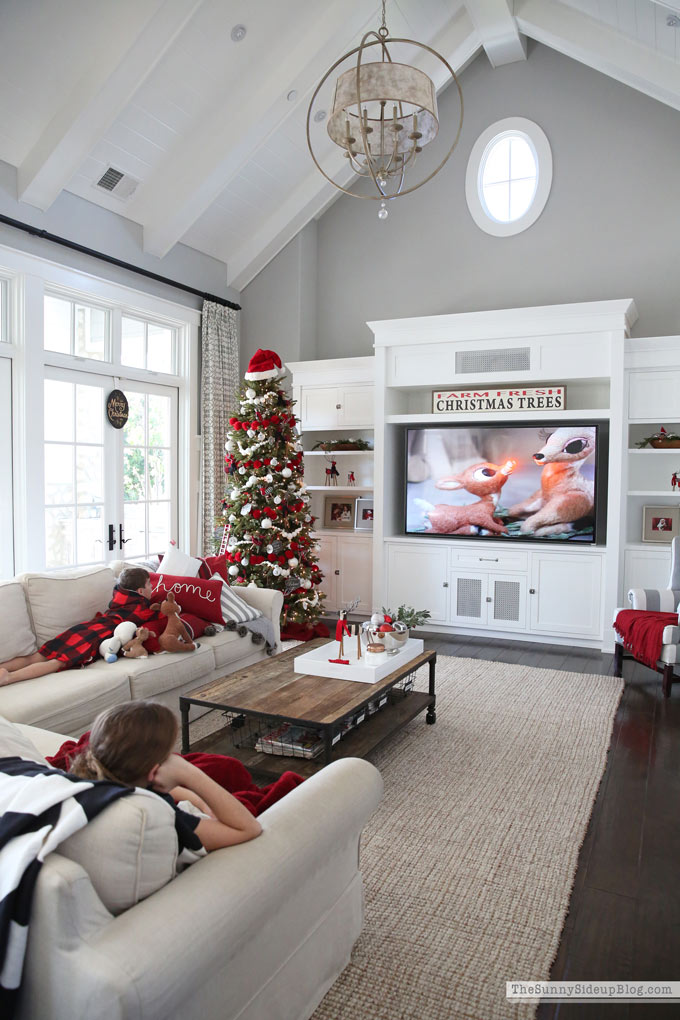 Perfect attire for all of the Rudolph watching we've been doing around here!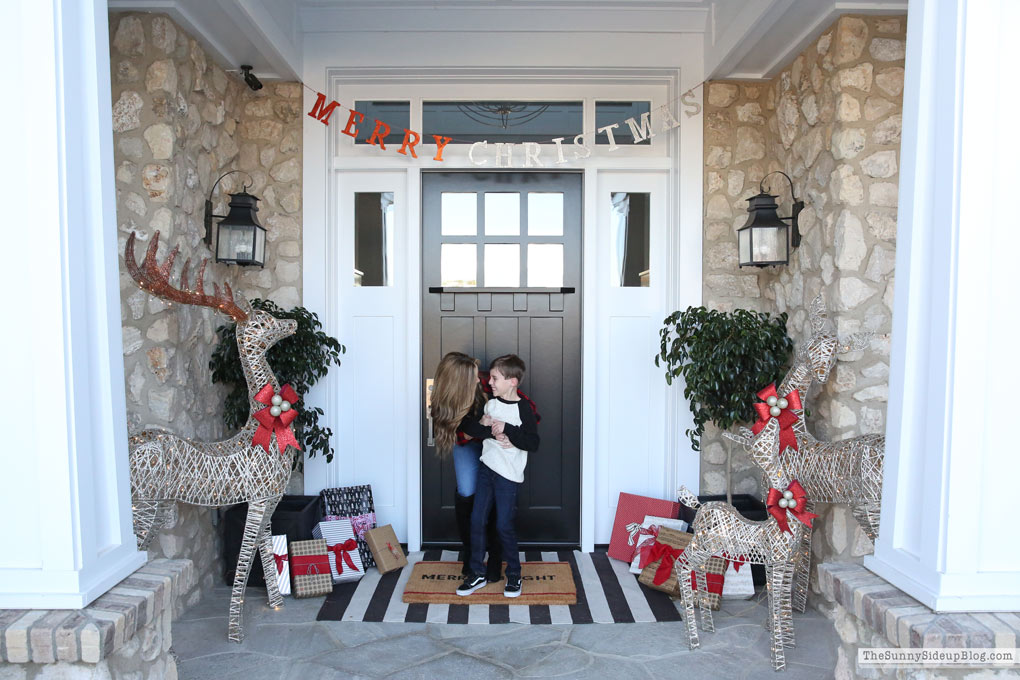 Love him. :)
That wraps up my December fashion!  Fall/December fashion is my favorite.  I love it when it's finally cool enough to wear sweaters and boots!  I'd love to hear.. what was your favorite item I shared today?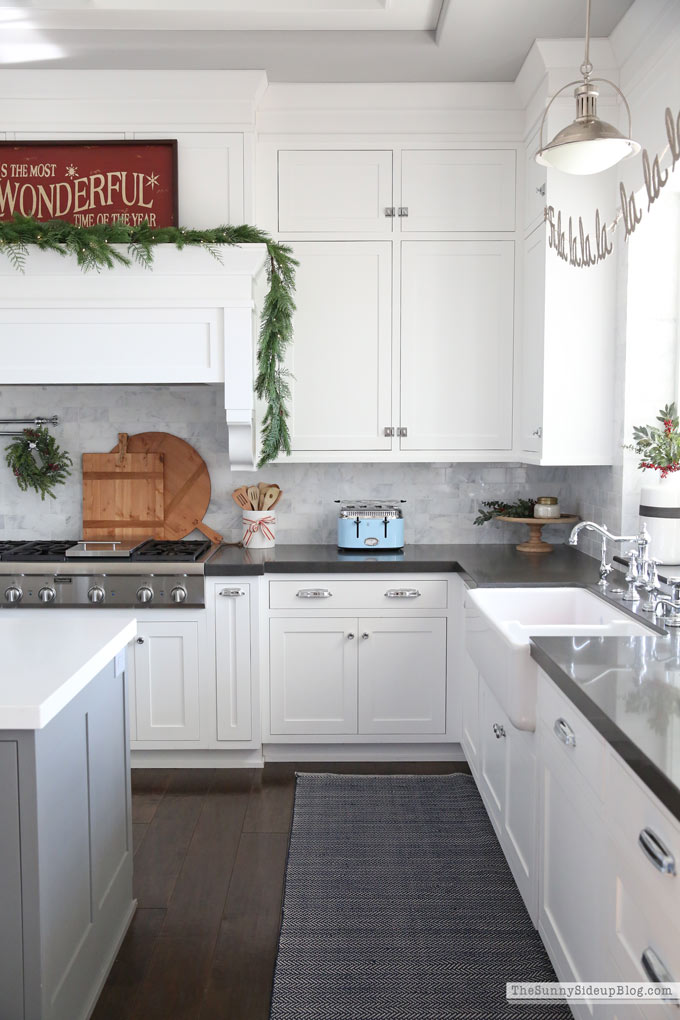 Quick p.s.  I got so many e-mails after yesterday's post asking about this faux lit garland!  I shared it early in the season but for those of you who missed it and were wondering you can find it here and it's half off!  I have two of them hanging over my stove.  It looks so close to real and I love the lights.  Ok.. signing off now but I'll be back soon with some fun Christmas decor!  Enjoy your day. :)
{POST SOURCES}





{SIMILAR DEER}

xoxo, Erin