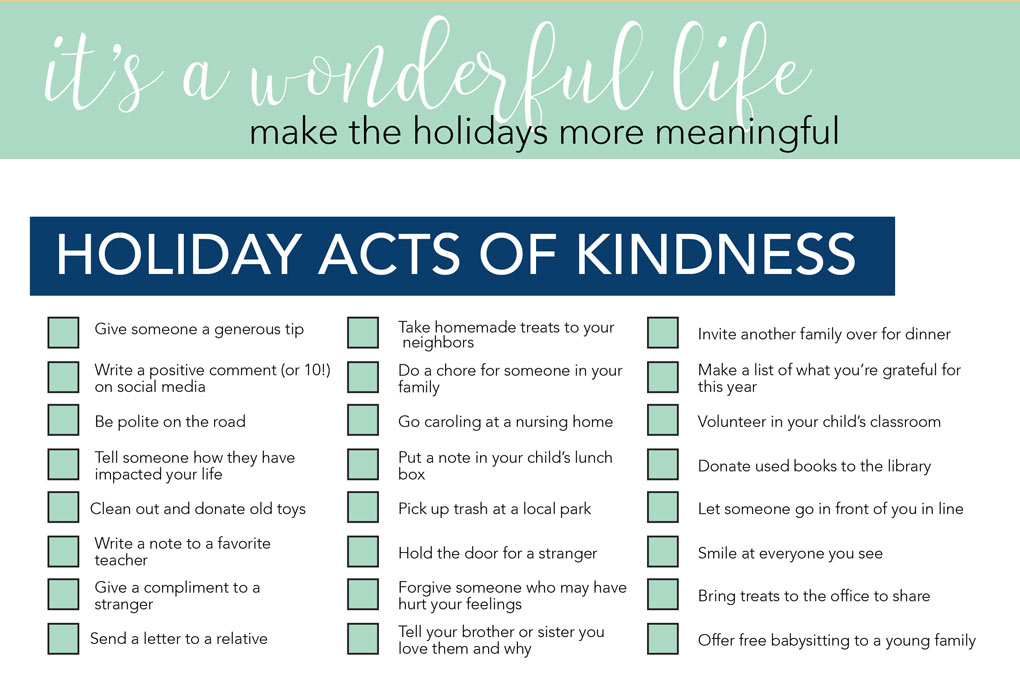 Christmas is in two weeks!  Can you believe that!?  In past years when I would hear that Christmas was right around the corner I would feel stressed about all that still needed to get done.. gifts left to buy/wrap, parties to attend, treats left to make, etc.  Now that my kids are getting older and the realization has really set in that Decembers with our little family all living at home together are numbered, I find myself worrying about different things.  Are we spending enough time together as a family?  Are we making memories together vs. just running around busy trying to do too much?  Am I setting a good example to my kids of what Christmas is all about and focusing on service?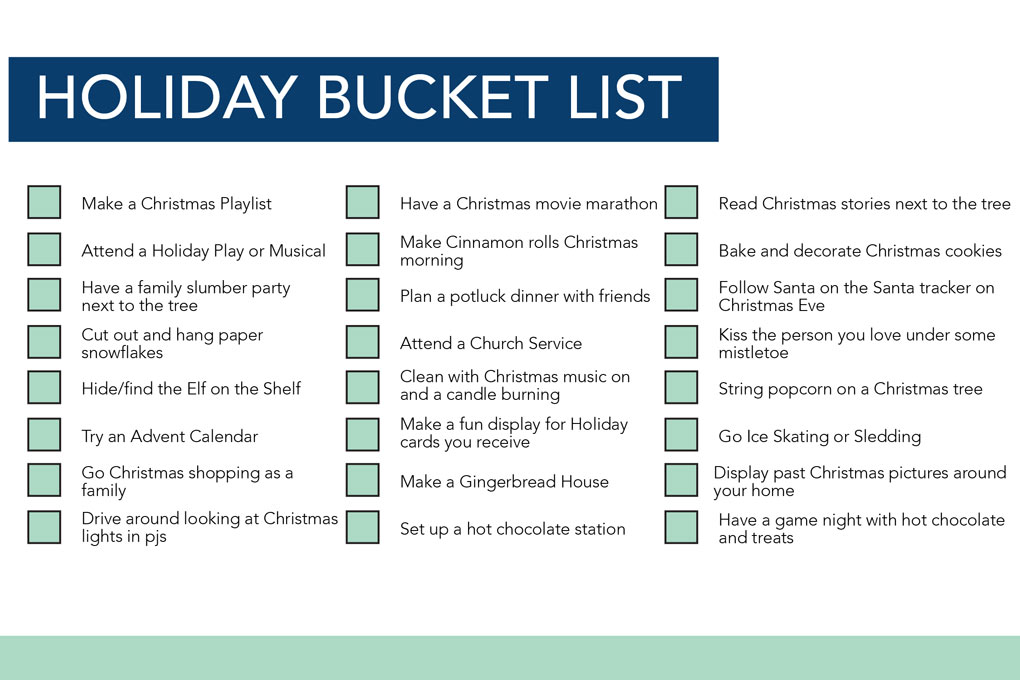 So we are sitting down as a family to plan the rest of 2018!  We are cutting things that aren't important and focusing on fun things we can do to spend time together.  We are also focusing on small acts of kindness.  Simple things we can do each day that don't take a lot of time, but show others that we care.  I created a Holiday Acts of Kindness/Holiday Bucket List page full of fun ideas that was an extra in my Holiday Planner this year and I want to share it with you all today!  I also added a December calendar page next to it in my printable library so that you can easily plan out the rest of the month if you want to make sure that you are intentional with your time too.  It goes by so quickly.  I want to make the most of the rest of this year!
(If you are already a Sunny Side Up subscriber just enter your info. again to get the printables.. it won't add you twice!  Also, if you sign up and don't get an e-mail soon after check your junk mail!  Once in a while it lands there first.)  
Ok.. moving on to my next gift guide!  Gifts for the guys!  Because regardless of how intentional we are being this month, we still need to get a little something for the men in our lives. ;)  I don't know about all of you but shopping for my husband, dad, brother, father-in-law etc. is always the hardest for me!  Women/girls are so easy.. I just buy things that I would want!  It's a little harder with men, isn't it!?  But I think I've rounded up some fun gifts that will make it easier on all of us this year.  These are all things Kenny has and loves or that I would love to get him!
1 – Patagonia Nano Puff Vest – You can't go wrong with this lightweight but super warm vest.  Looks great too!
2 – Wireless Charging Accessory Tray – This tray was on Oprah's favorite things list this year and looks amazing!  The perfect spot to drop a phone, keys, wallet and the best part.. no cords!
3 –  North Face Jester Backpack – Every man can use a good backpack!  This is a popular option because it's lightweight but still holds a lot.  Can be for the office every day or camping or traveling.. perfect for ALL the things!  My husband always has a backpack with him!
4 – Cotton and Cashmere Pullover – One of my husband's favorites!  He has it in two colors and I love it on him.
5 – Carhartt Work in Progress Watch Hat – We don't wear a lot of beanies in my neck of the woods but this is perfect for cooler temps!  I've been hearing really good things about these and think my husband would love it for our winter Utah trips!
6 – SpiceBomb Viktor&Rolf Cologne – My husband's favorite and I'm not complaining about it. :)  Smells SO good!
7 – Electric Egg Cooker – I shared more details on this in my eBay post but seriously one of Kenny's favorite things.  He uses it to make our eggs every morning!
8 – Ugg Slippers – The coziest!  You just can't go wrong with these!
9 – DJ1 Spark Remote Control Combo – My husband and son love to play with their Drone!  This one has great reviews and is sure to be a hit!
10 – Canon EOS Rebel SL1 – If you have a man in your life looking to up his photography game I have this SLR and love it! If he's really into photography and ready for the next step this is the camera I use now with this lens and can't say enough good things about them.
11 – Bindle – I shared this Bindle water bottle on my first neighbor/friend gift guide but it's so perfect for men too!  I know my husband would love taking this to the gym.  So handy to hold his keys, wallet, etc. while he works out.
12 – Digital Hanging Luggage Scale – I told my friend about this and she laughed that it's one of Kenny's favorite things but it seriously is!  He loves his luggage scale!  I'm such an over packer and he loves weighing my bag before the airport so we don't run into problems.  Ha!  I'm telling you it comes in handy!  Except when it means I have to take out one of my six pairs of shoes. (sigh)
13 – Crew Shampoo – This is my husband's favorite shampoo!  He loves and uses all Crew hair products and Fiber is his favorite for after he showers.
14 – Cole Haan Grandpro Tennis Sneaker – My husband's favorite shoes and this nice grey pair is on sale!  I bought them for my brother for Christmas last year and now he's a fan too. :)
15 – Soft-Wash Crew-Neck Shirt – One of Kenny's staples!
16 – Foot Massager with Air Compression and Heat – This was on Oprah's Favorite Things List this year and I want to get it for my husband!  So that I can use it for me.  :)
17 – Saddle Leather Toiletry Case & Fossil Leather Passport Case – I had to put both of these in because I love them equally!  My husband has a similar leather toiletry case and it has been his long time favorite travel companion.  I've tried buying him more elaborate travel cases with lots of pockets and he always goes back to his simple leather case that he can just toss everything in!  I also thought this leather passport case would make a great gift.  Both of these are perfect for men who travel often!
18 – Coleman Sundome Dome Tent – The perfect easy to set up tent!  Great for any man who enjoys the outdoors.  Backyard campouts count too. :)
19 – Ellison Tech Portfolio Collection – This is so nice to keep all things tech nice and tidy!  Unfortunately most of the collection is sold out (that happened fast!).  This portfolio binder is similar!  And this looks like a great cord organizer.
20 – ThermaSphere Max Hooded Running Jacket – The perfect running jacket!  Especially great for running in not so ideal weather.  Plus it has a good, athletic cut and is soft and warm.
So that's it!  20 fun gift ideas for the men in your life.  I hope they are helpful!  Happy shopping and intentional planning.  Two of my all time favorite things. ;)
xoxo, Erin