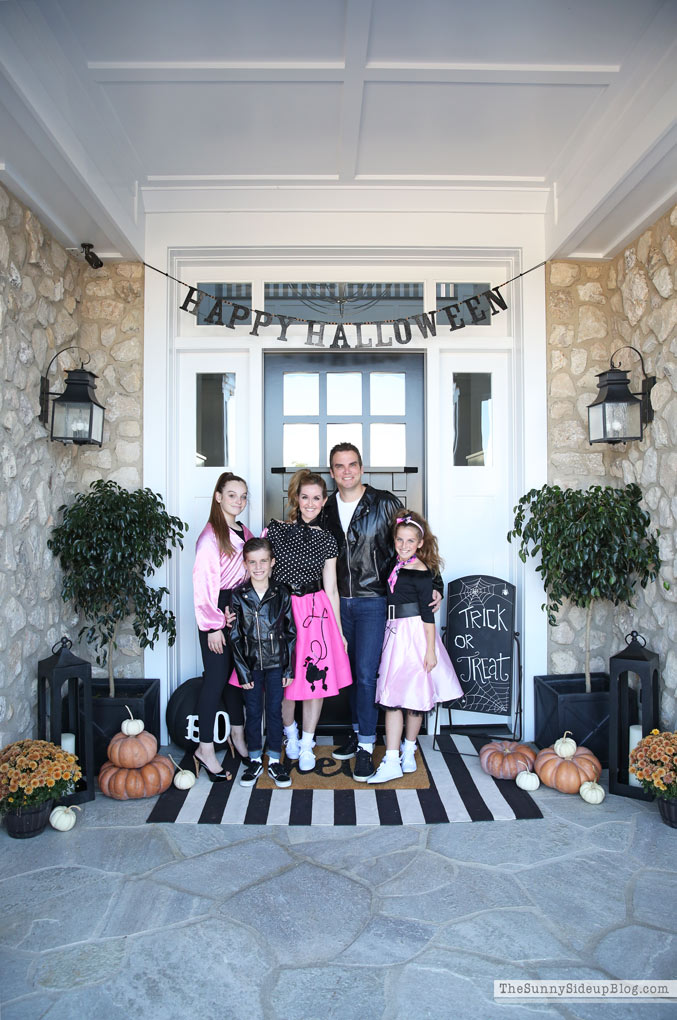 {Porch Decor Sources}  *affiliate links used
Well!  October is a blur.  But it must have happened because we have the pictures to prove it. :)  I hope you all had a great Halloween!  Having it land in the middle of the week definitely threw me for a loop.  We took Ad and Kole trick or treating with friends and then came home exhausted to party round 2 with El and her high school friends.  We were up so late it took us a few days to recover!  Anyone else?  I was texting my mom and dad that night that I was so tired but party round 2 was starting since I now have a teenager and instead of sympathy they laughed and told me to get ready.  #payback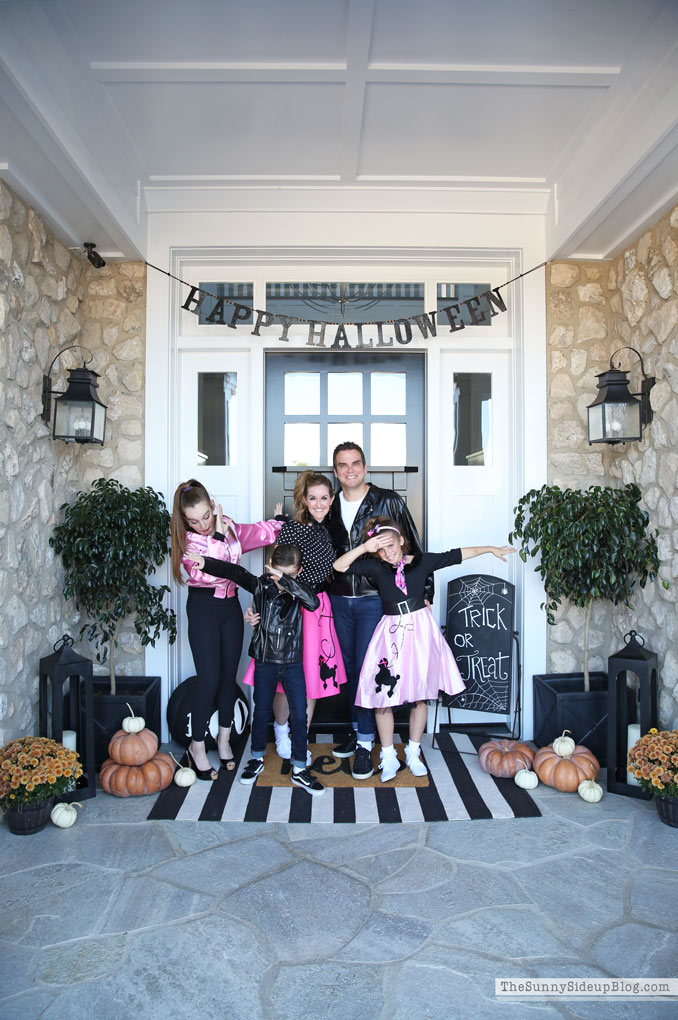 Addison really wanted us all to dress in a 50's theme so that we did!  With a bit of a modern twist. ;)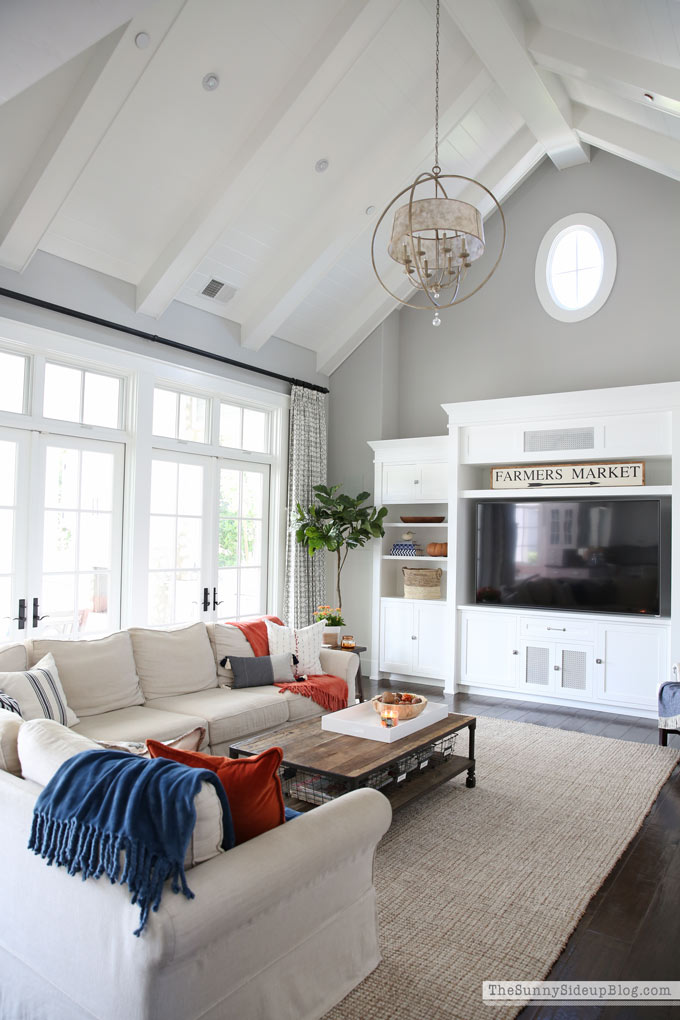 And just like that!  It's November.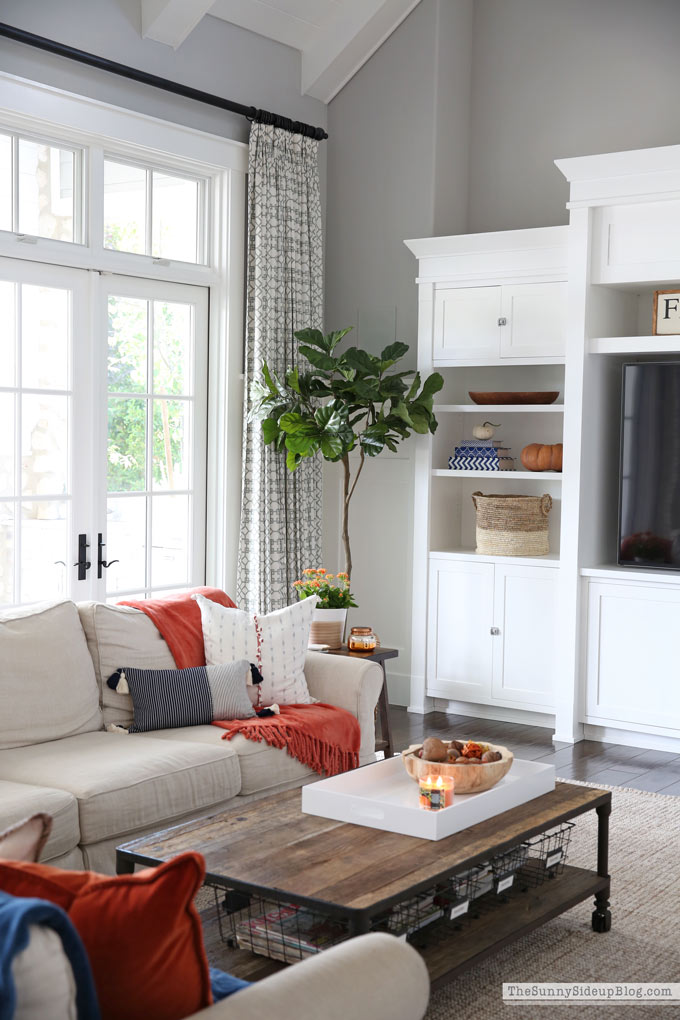 (My Faux Fiddle leaf fig is back in stock!)
I took 5 million pics of my family room one afternoon last month because it was feeling clean and cozy and the candle was burning and my fireplace was on (because I was in the mood for it.. not because it was all that cold) and then I never got around to posting them!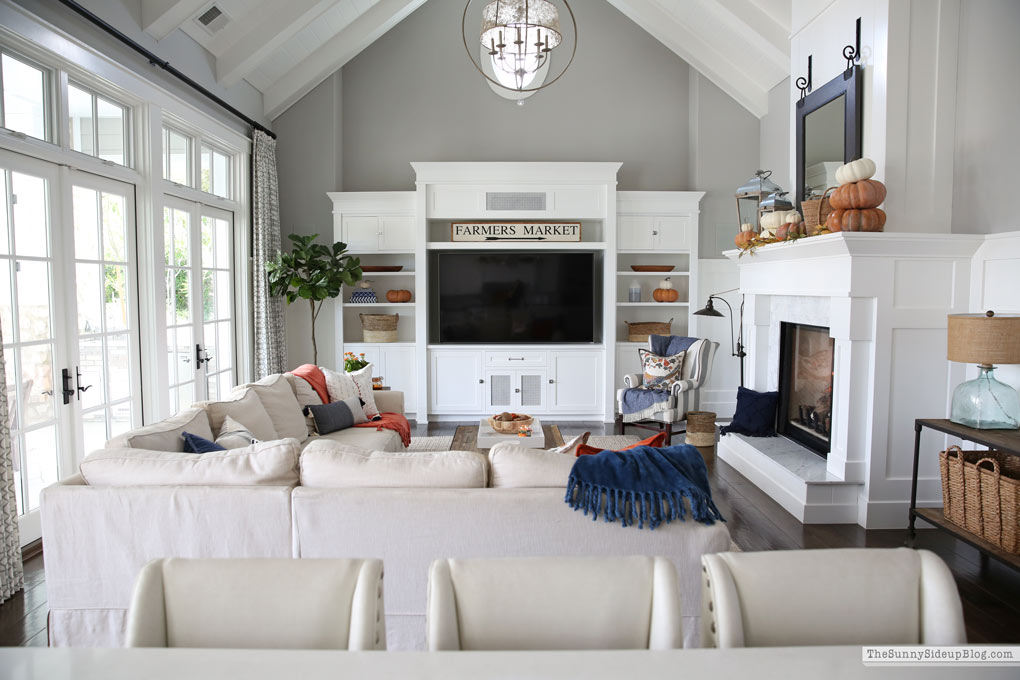 So here they are now.  Our family room Fall decor.  Thought I better share it quick since this room will be decked in RED by the end of the week.  Bring it on!  So excited. :)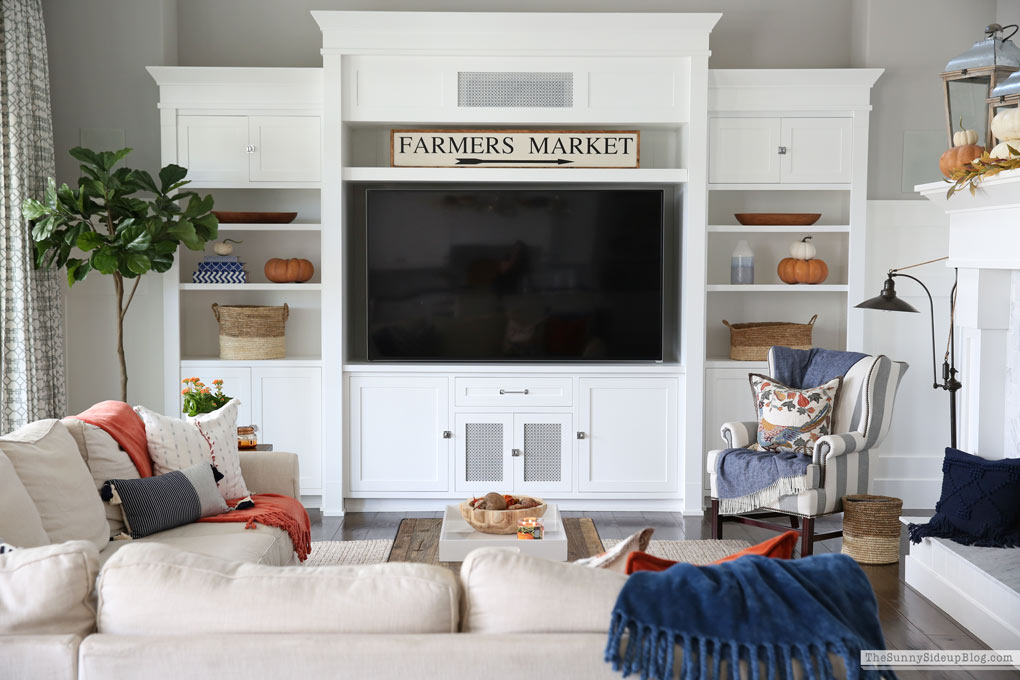 I kept my shelves (and decor overall) so simple.  Brought in lots of pumpkins and baskets and a few cozy throws.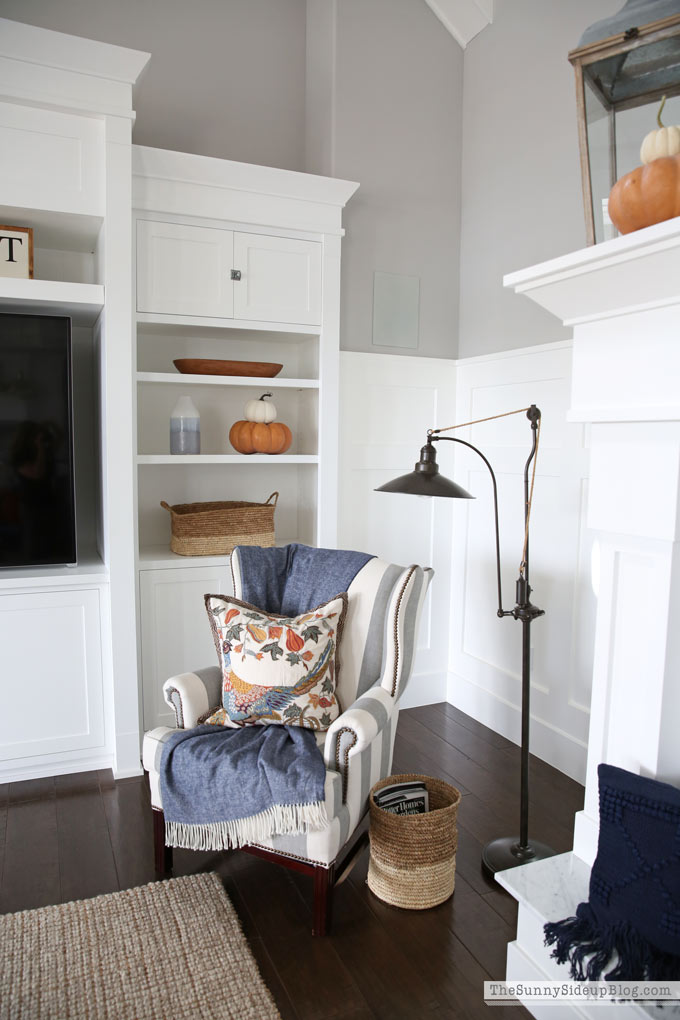 I'll link to all sources at the end of the post!  Sorry in advance for the picture overload..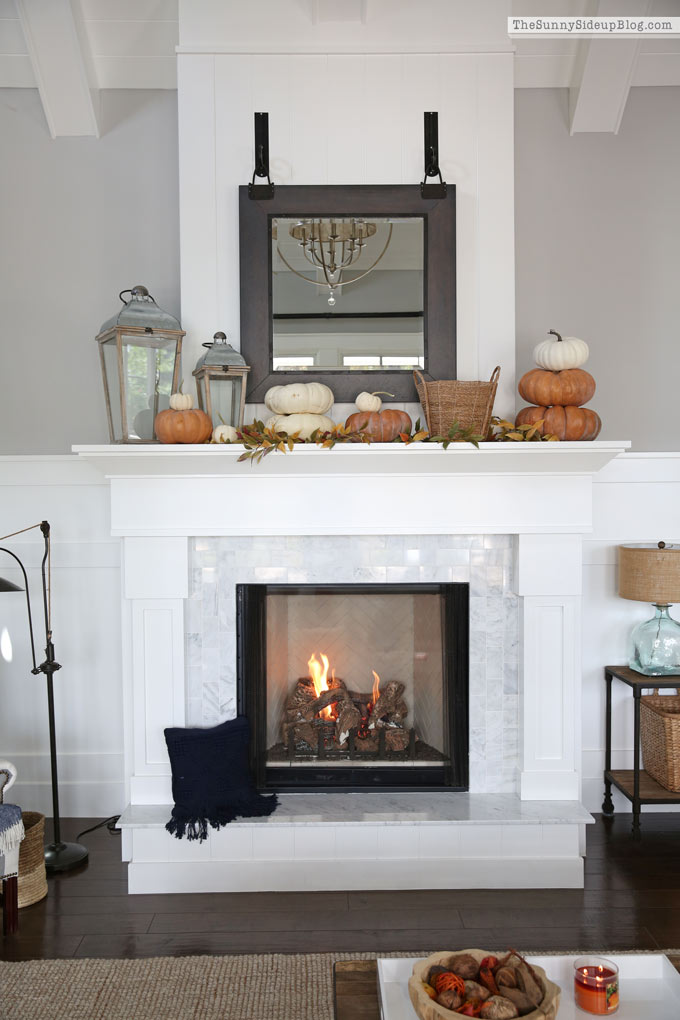 But not that sorry.  Fall decor is so inviting isn't it?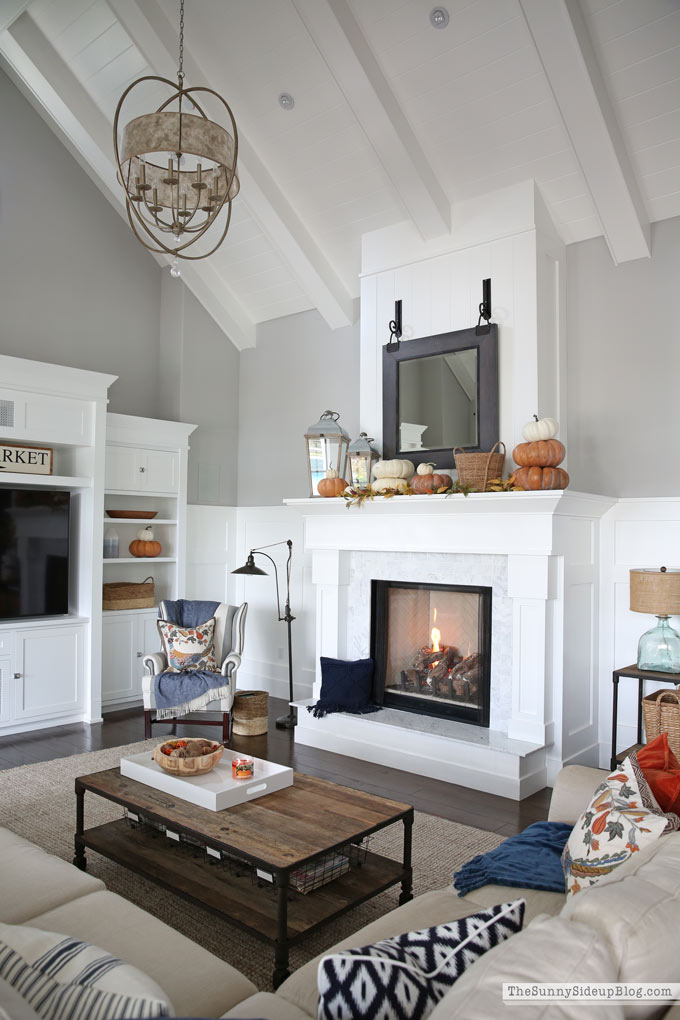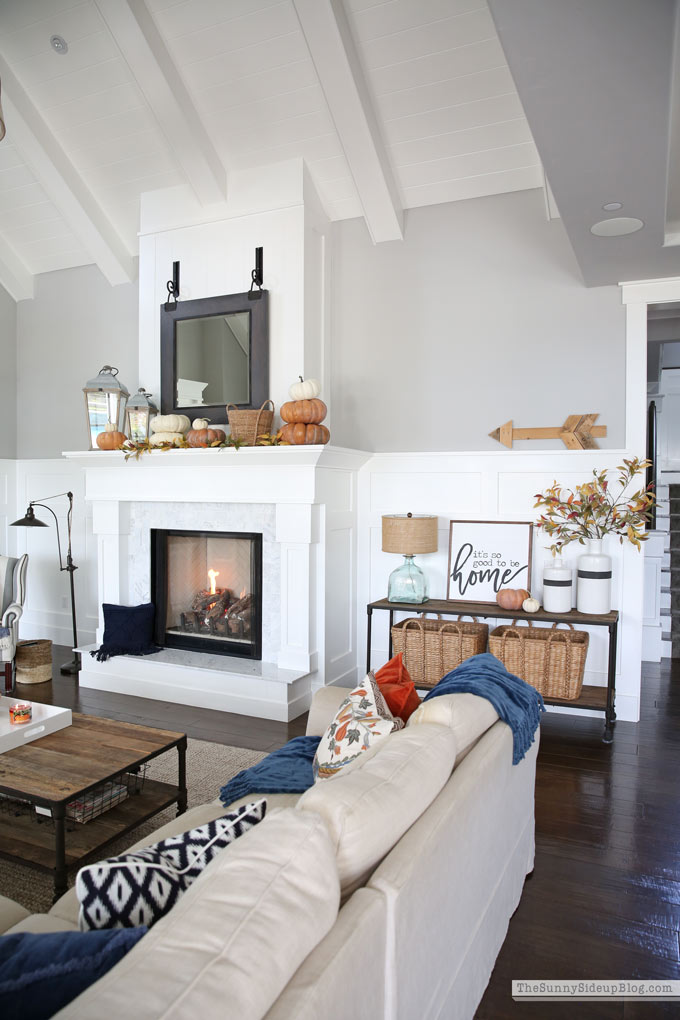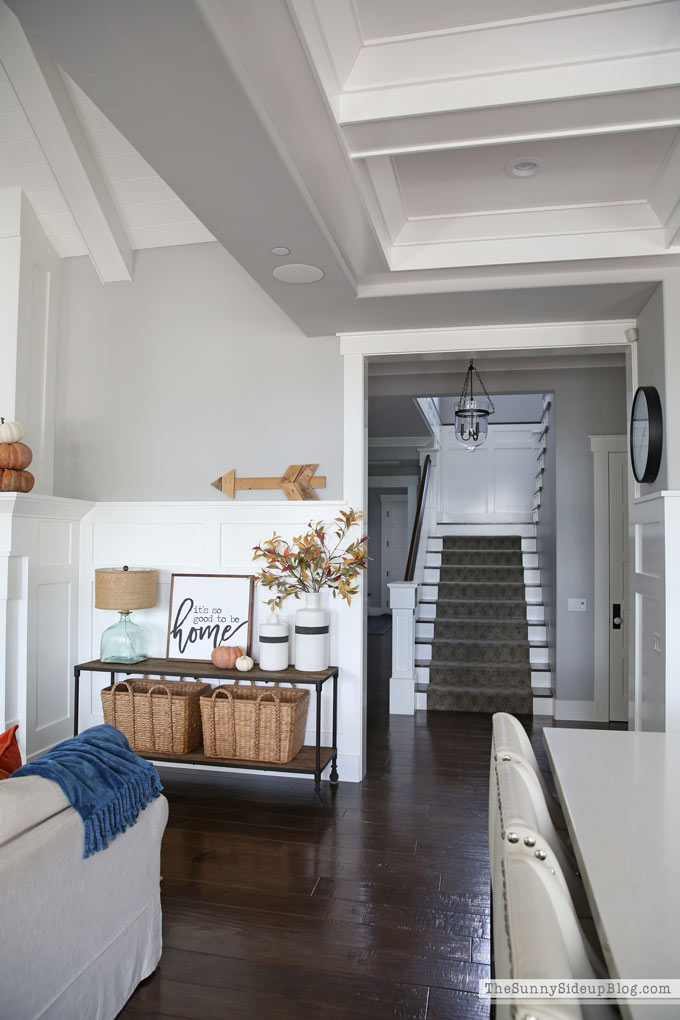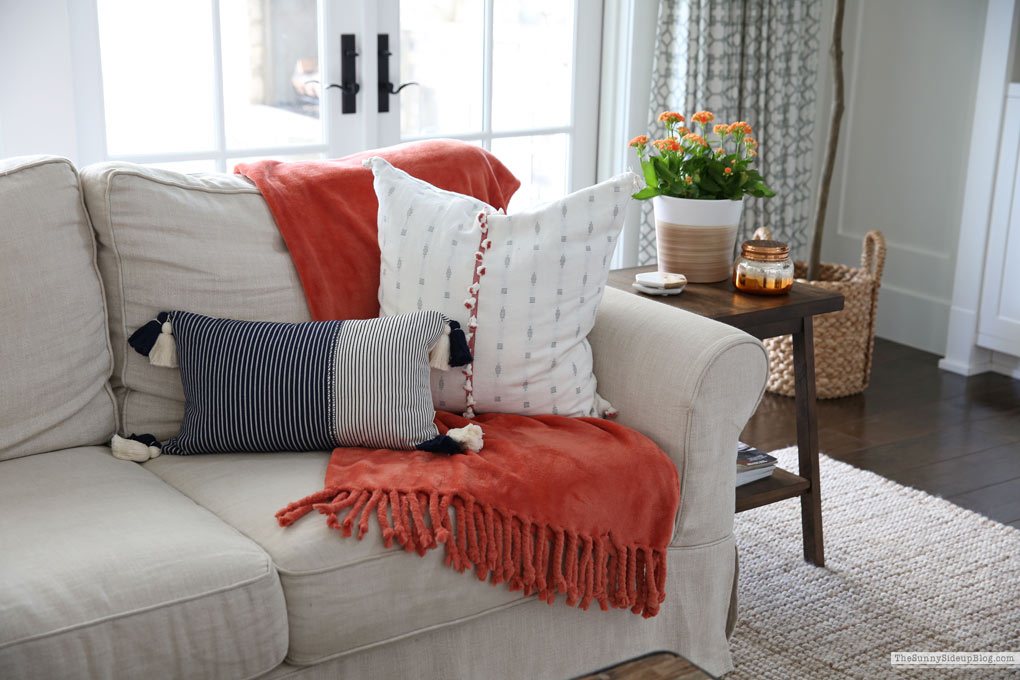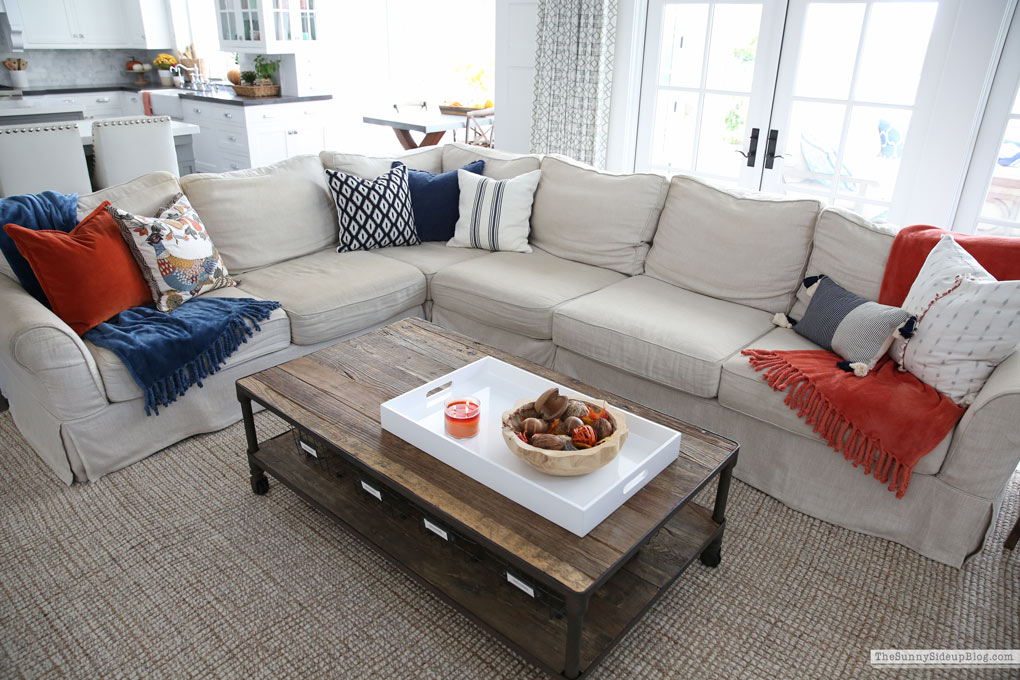 I brought in a lot of navy this year inspired by my new kitchen rugs!  Details on my couch are in this post and my family room rug is on sale.  (woot woot!)  You can read more about it here.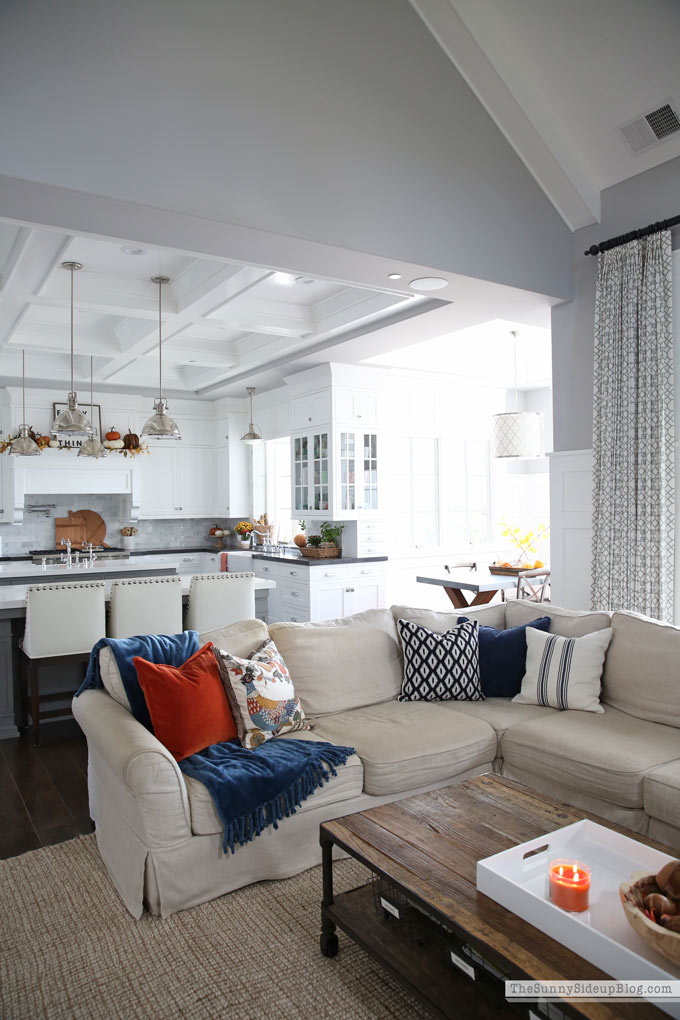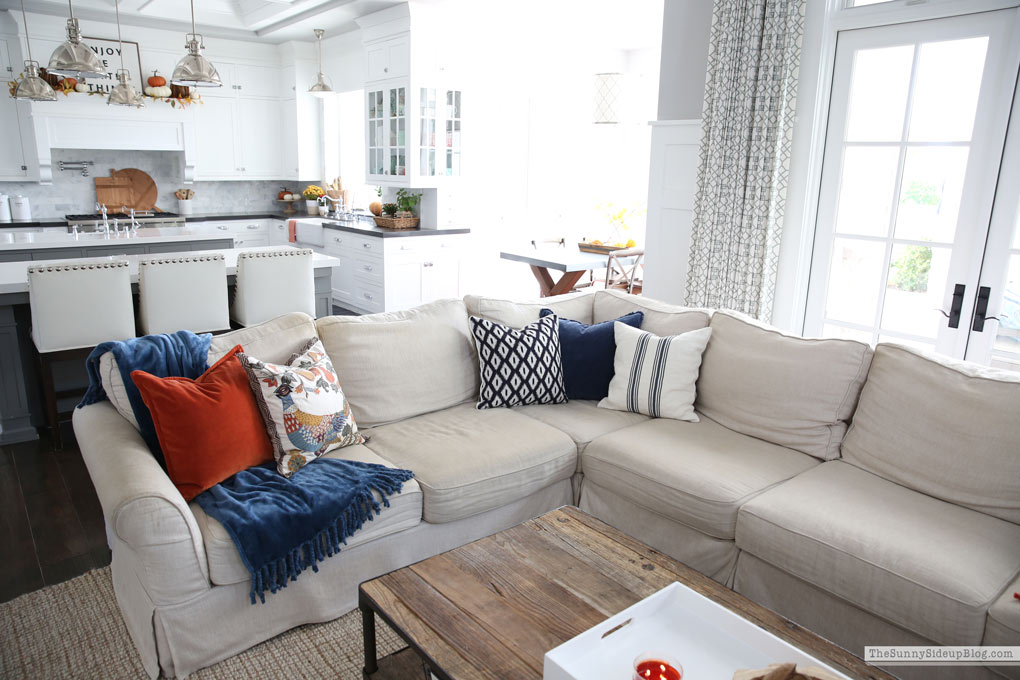 Bet you thought this was the last pic but nope.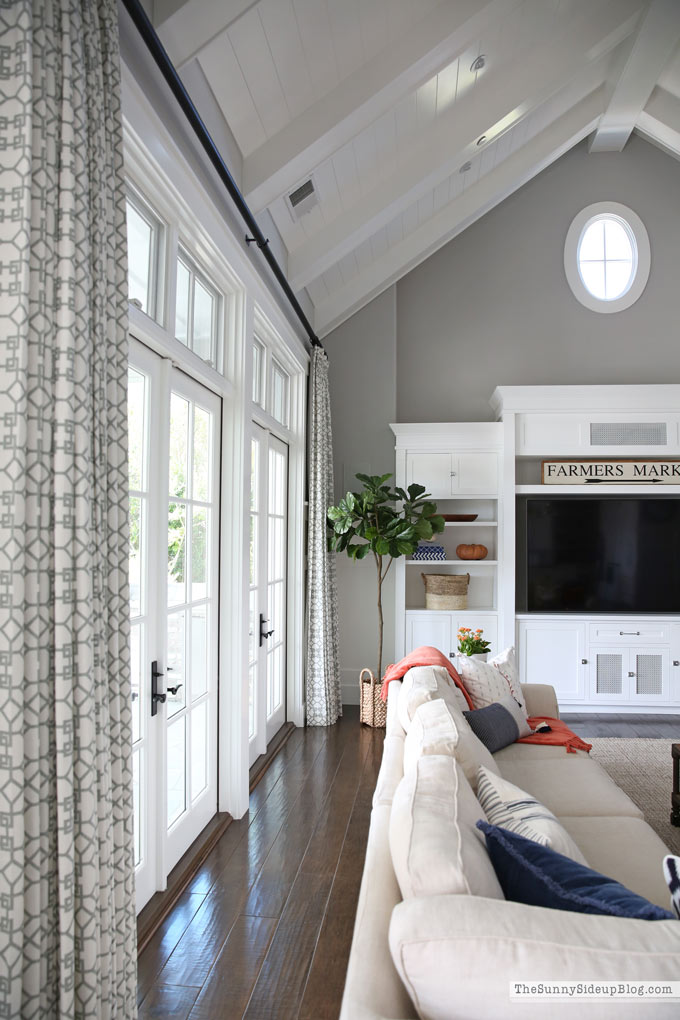 When I say 5 million pics are coming..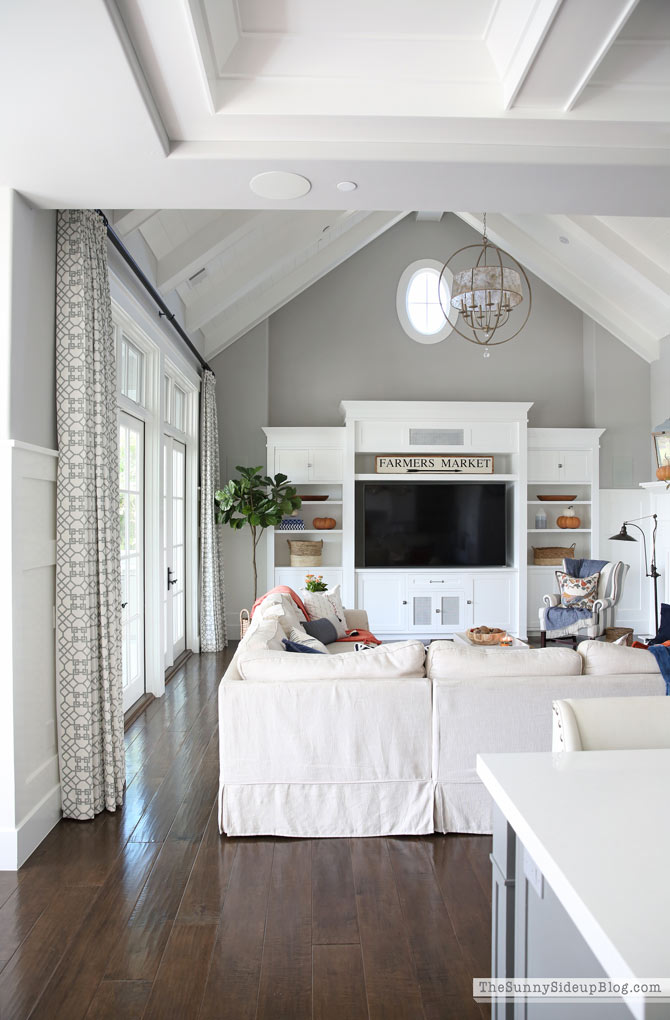 I mean it.
I'm a girl who keeps her word.  For the most part. :)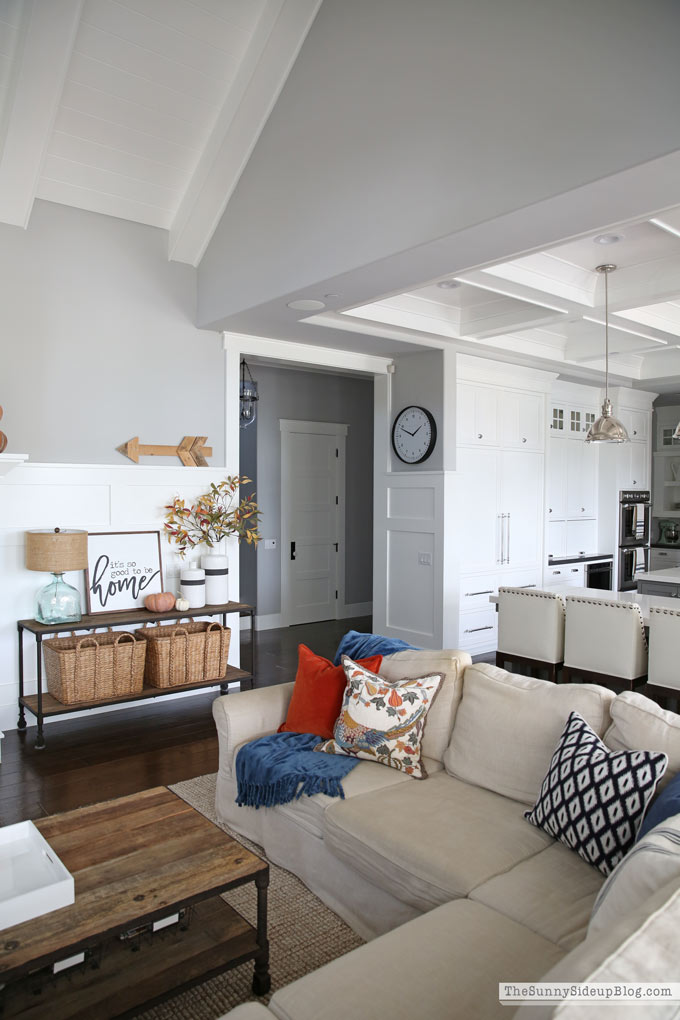 We have a new clock in the family room!  I made a horrible mistake of putting a small clock on our shelves by the TV when we first moved in and my husband got used to it being there and every time I try to re-style the shelves he demands I put his clock back.  So I bought him a new clock.  A BIG clock.  And I hung it on the wall where you can easily see it from every room.
And it didn't work.  He still asks where his clock is and makes me set it out on the family room shelves or on the coffee table right in front of him.  Drives me CRAZY.
Over 20 years of marriage though.  So I set out his clock and roll my eyes and move on with life.  Lucky him that he never has to do that sort of thing with me.
Lucky me that this is my blog and he can't dispute.
:)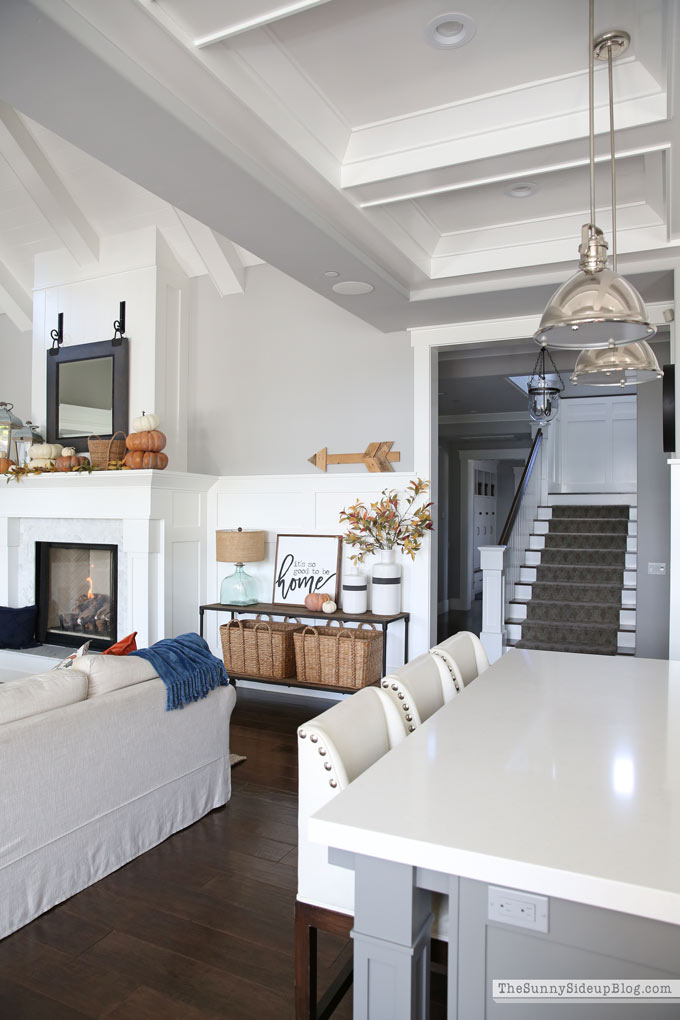 4 million and 22.. almost there!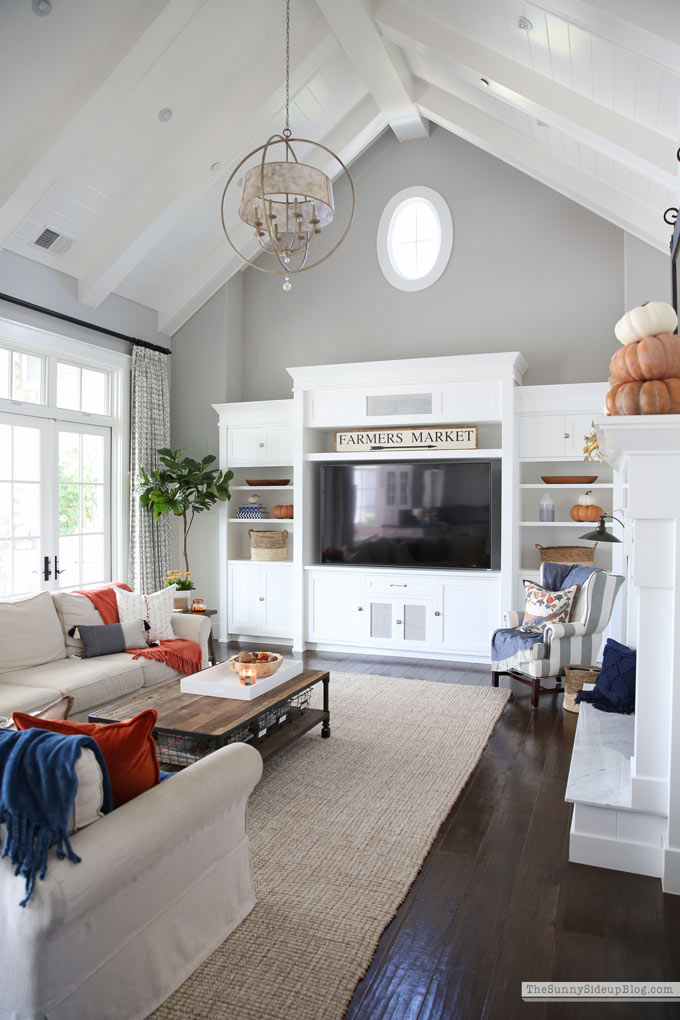 Happy Fall.  It has been a good one so far. :)
{POST SOURCES}







xoxo, Erin