Today I'm sharing 10 quick and easy recipes.  Wait what?  Where's Erin?  To be honest I don't know.  Having an identity crisis clearly!  Don't worry.  I'll be back sharing things I'm much more comfortable with very soon.  I'd much rather be writing a post about something I've decorated or organized.  Or a post about Spring fashion or time management.  Or a post about our recent vacation.  Or a post about butterflies or race cars or politics for that matter.  I hate politics.
I hate cooking more.
But I love all of you!  And if sharing some of my tried and true, quick and easy (emphasis on the easy) recipes helps someone who also struggles with what to fix for dinner.. well then.. the pain of writing this post was worth it. ;)
In a recent post I shared 3 time management tips to increase productivity and mentioned that I've been working on "batching" tasks.  Because cooking is so much fun for me (hugely exagerrated if you couldn't tell) I like to knock it all out once a week and get it over with.  My goal has been to cook at least two meals (sometimes three) at the beginning of each week.  Follow through with this goal has been hit and miss to be honest, but on the weeks I do pull it off it makes my life so much easier!  The recipes I'm sharing today are my tried and true recipes that we have cooked over and over for years.  I've shared some of them before but thought it would be good to have all of our favorites in one post.  The food isn't fancy and the photography is lousy, but my kids eat most of these things which to me equals success.  We are easy to please around here when it comes to meal time. :)
I took this pic during one of my "batch cooking sessions."  Starting to cook two favorites.. our Chicken Fajitas and Pepperoni Pasta.
CHICKEN FAJITAS:
For the Fajitas all you need is an assortment of peppers.  Aren't peppers pretty?  I love buying them and seeing the bright colors in my fridge.  I usually buy 3-4 green peppers and then one or two yellow, red and orange.
You also need an onion (not pictured) and then I buy the grilled and ready southwestern chicken strips.  (Pre-cooked chicken is my BEST friend.)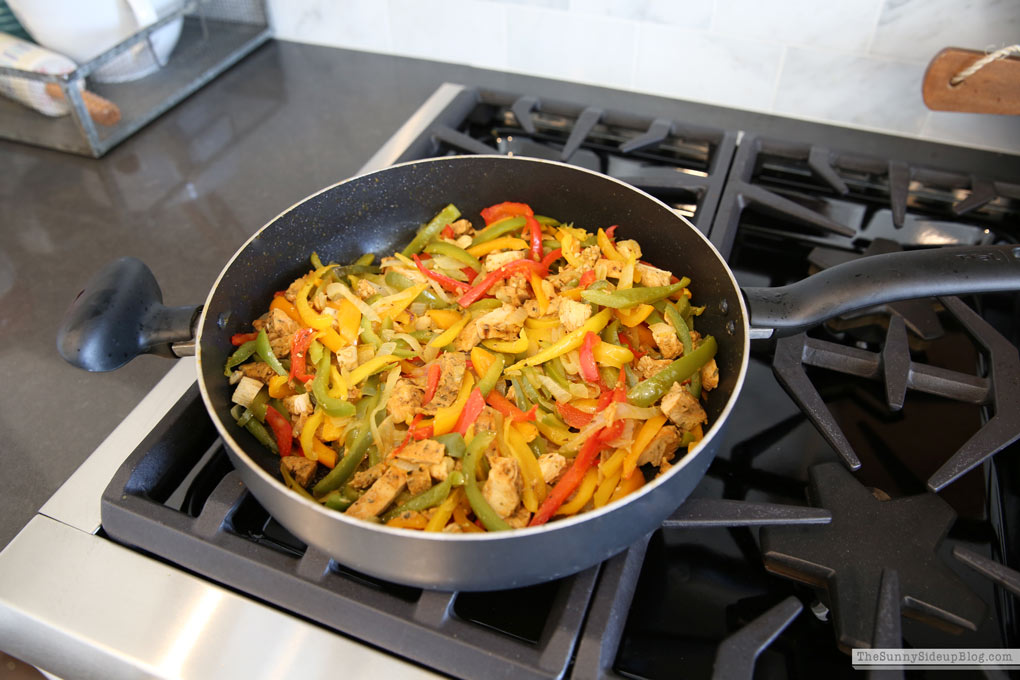 Just slice up an onion and the peppers into strips and stir fry them in a little olive oil.  When they are starting to get soft, toss in the chicken and stir fry everything for another 10 minutes and then done!  You can add other spices, but I've found the southwest chicken gives it enough flavor.  We eat them on wheat tortilla shells with or without cheese.  Depending on how tight my jeans are fitting that week. ;)
PEPPERONI PASTA: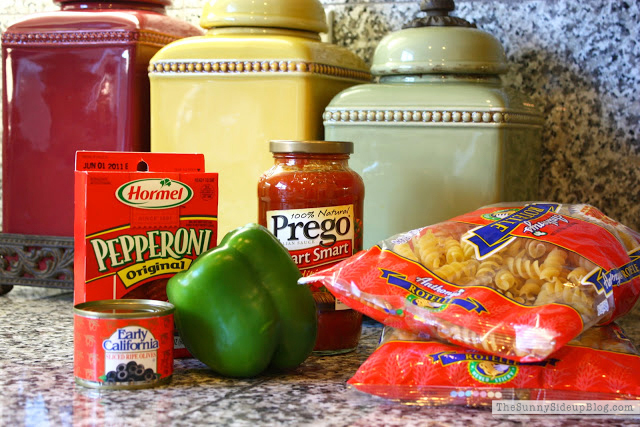 For this simple recipe you just need a green pepper or two, pepperoni, olives, spaghetti sauce, corkscrew pasta noodles and mozzarella cheese.
Cook the pepperoni and pepper in a skillet stirring it often until the pepper is tender-crisp.  Then add olives to the peppers and pepperoni if you like them (I love olives!).  In another pot, cook some corkscrew pasta.  Drain your pasta and add a jar of your favorite spaghetti sauce.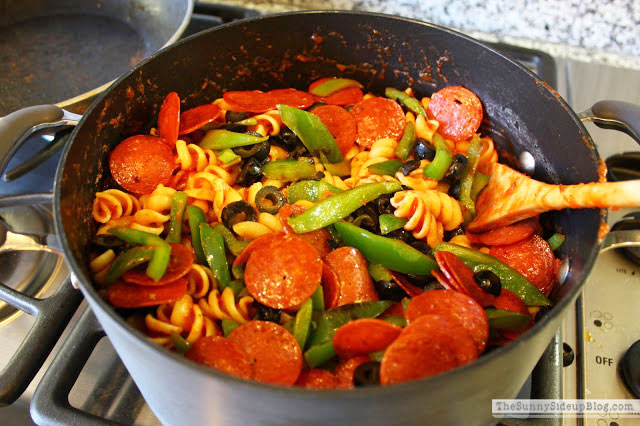 I feel the need (at the bottom of this particular picture) to remind you all that I take pics of interiors, not food. ;)
Then mix everything together in the pot that was holding your pasta and cook on low for about 10 minutes.  Then stir in some mozzarella and if you're feeling really chef like, add a bit of Parmesan.  Let the cheese melt a little and you're done!  Fast and easy and really hard to mess up – my three requirements for a meal. :)  Bonus: it tastes even better as leftovers.  My kids love this!
ZITI LASAGNA:
This Ziti Lasagna is so simple and delicious!  You can find the recipe HERE in a past post.
CASHEW CHICKEN:
Another long time family favorite!  You can find the recipe to our easy Cashew Chicken recipe HERE.
WHITE BEAN CHILI:
A family favorite that I make several times every Fall/Winter!  You can find our white bean chili recipe HERE.  (This is a great one to batch cook!)
TACO SOUP: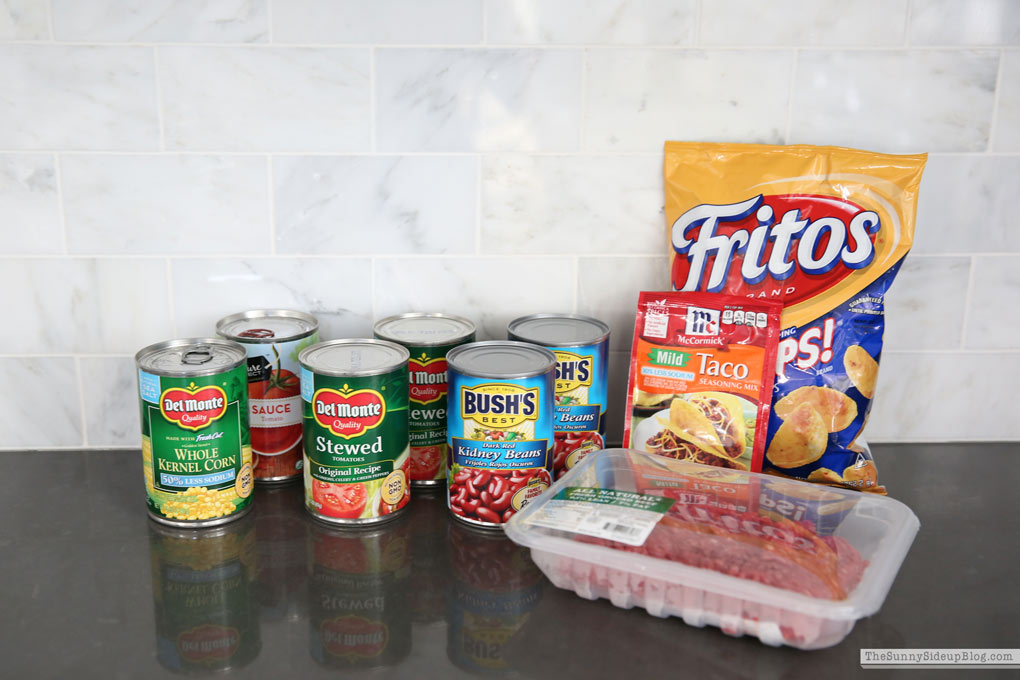 I shared a pic of this taco soup on IG stories a few weeks back and got a lot of recipe requests.  I'm sure most of you know this one (or a similar version!) but this is how we cook taco soup.  Brown some hamburger and then toss it in the crock pot with 2 cans of kidney beans, 2 cans of stewed tomatoes (already cut up or slice the larger tomatoes into bite sized pieces), one can of corn, one can of tomato sauce, and one pkg. of taco seasoning.  Cook it on low for a few hours and you're set!
I batch cook this taco soup all the time because my kids love it and it's SO easy to make.  I can get it going in the crock pot in the morning really quickly and then make something else that takes more time.  We love it with a little grated cheese and Fritos.  Except when I have to remind my kids to eat some taco soup with their Fritos..
CHOW MEIN CHICKEN STIR FRY: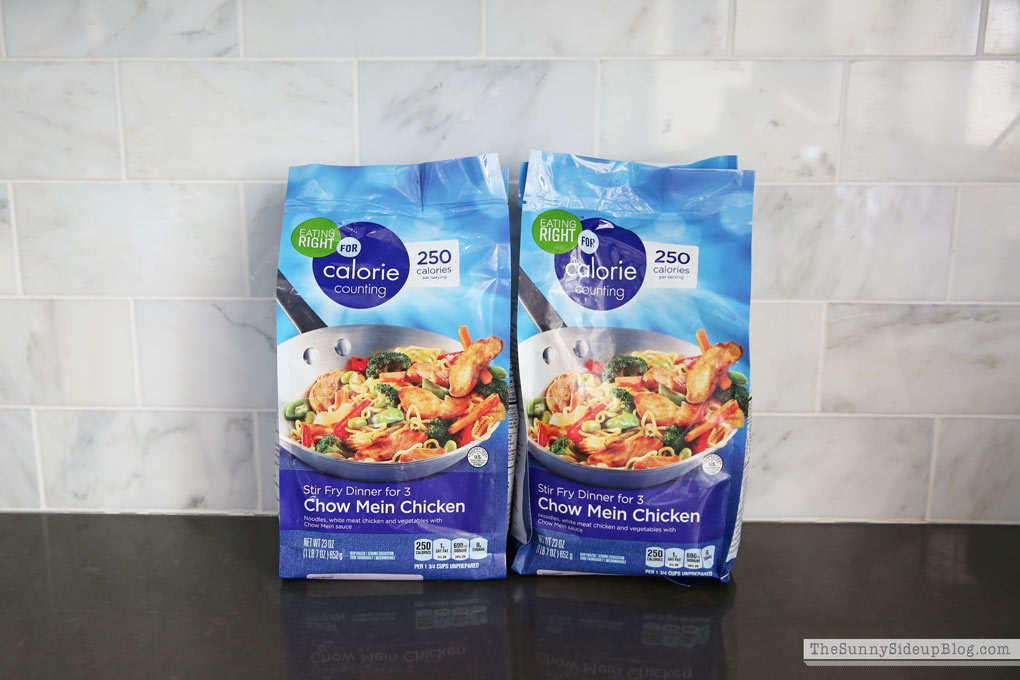 So this isn't exactly a recipe but I had to include it because my family loves this and I batch cook it all the time!  It's Chow Mein Chicken Stir Fry and I make two packages of it for my family of 5.
I always have this in my freezer!  Along with some other frozen food that is quick and easy and not so good for us.
Similar to my pantry.. at least the not so healthy food is lined up neatly.  #priorities ;)
CHICKEN ENCHILADAS: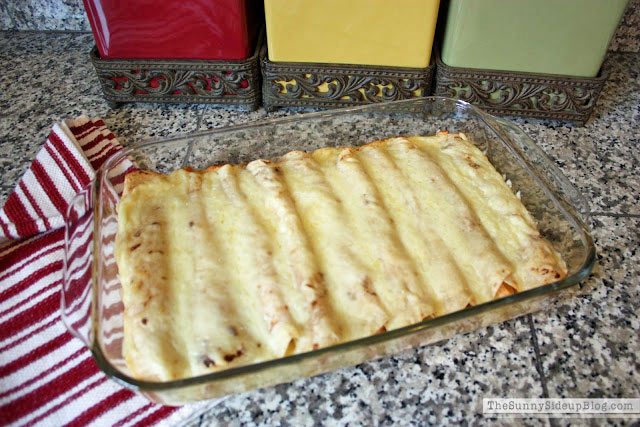 For these Chicken Enchiladas you need: 1 tbsp butter or margarine – 1 can Rotel tomatoes and green chilies (drained) – 1 (8 oz) pkg cream cheese (cut up and softened) – 2 cups chopped, cooked chicken breast – 2 cups shredded Monterey Jack cheese – 1 pint whipping cream – flour tortillas.
Directions: Preheat oven to 350.  Spray a 9×13 baking dish with Pam.  Melt the butter in a skillet over medium heat.  Add Rotel and stir one minute.. then stir in the cream cheese and chicken and cook (stirring) until the cream cheese melts.  Put 2-3 scoops of the chicken mixture down the center of each tortilla and roll them up.  Then place them side by side in your pan like I did in the picture above.  Sprinkle the Monterey Jack Cheese on top and then drizzle the whipping cream on top of the cheese.  Cover them in tin foil and bake at 350 degrees for 30 min.  Then cook for another 15 minutes w/o the foil (or until the top is golden brown and you're feeling extremely chef like). :)  So good!  My husband's favorite. :)
MEXICAN CHALUPAS:
This is another recipe I love to batch cook!  So easy and delicious!  You can find the recipe for our Mexican Chalupas HERE.
TACO SALAD: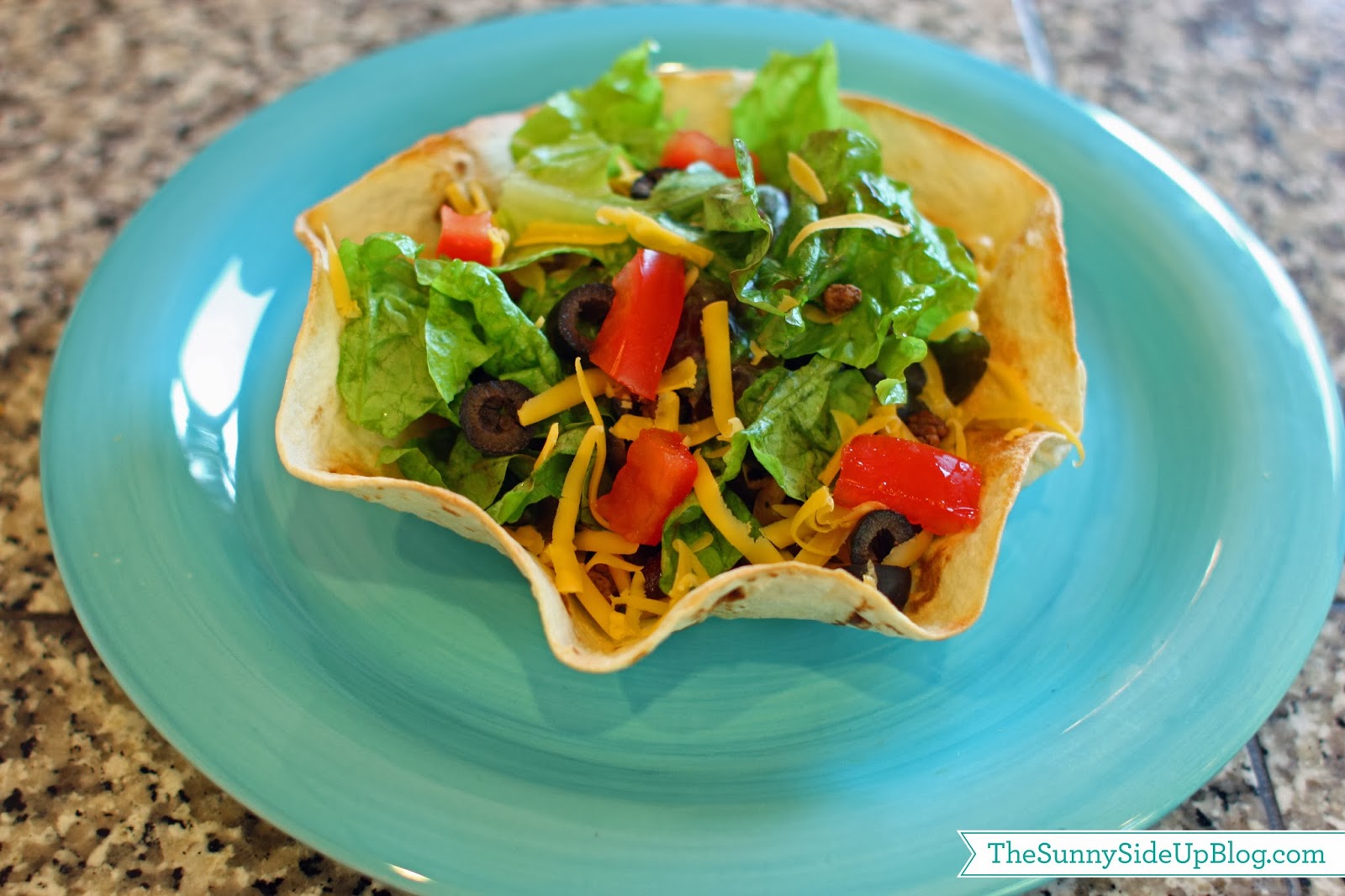 Another really easy recipe to batch cook!  You can make the hamburger mixture and get the toppings ready in the morning and then just get the tortilla shells ready at dinner time!  Recipe for our Taco Salad HERE.
Those are 10 recipes that are on heavy rotation around here!  And the things I batch cook the most often.  :)  Because we are talking all things cooking today (so that I can then avoid this subject for another year) ;)  here are a couple of other things we love to eat…
FETA AND TOMATO DIP: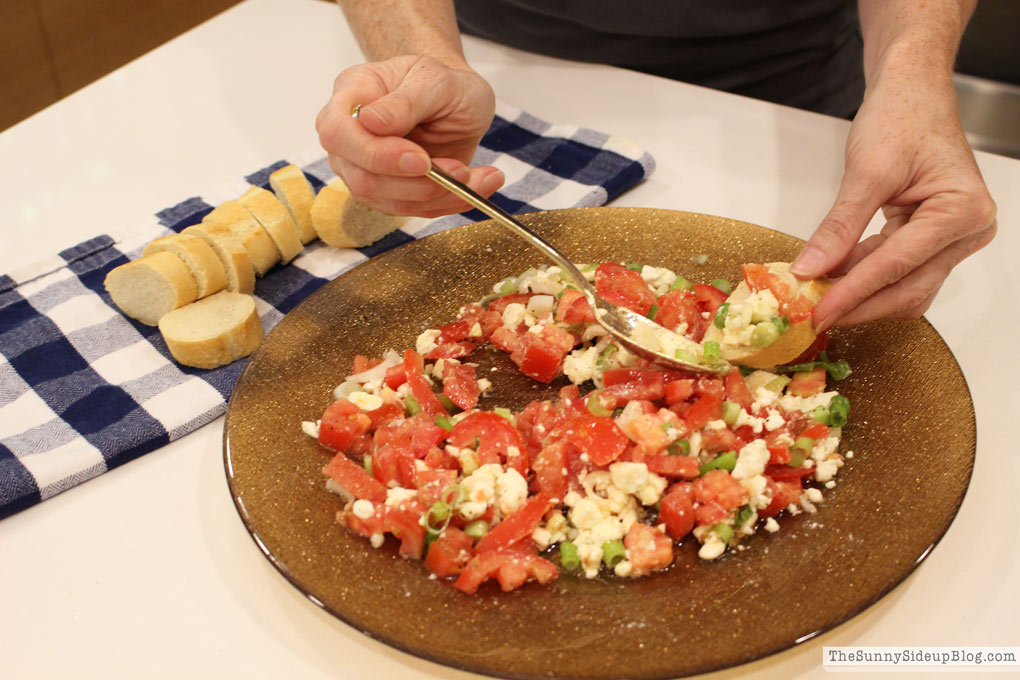 This is my favorite snack EVER!  Perfect to take or serve at a party.  You can find this Feta and Tomato Dip recipe HERE.
And because I'm rounding up ALL the food posts.. you know I have to share (yet again!) my favorite cookies and banana bread muffins.  Humor me.  I only cook a handful of things.. ;)
BANANA BREAD MUFFINS:
If you haven't come across this recipe you haven't spent much time on my blog!  These babies took me quite a while to figure out so yes – I'm proud of them and share them often.  On the blog and with anyone who will eat one. ;)  Recipe (and other failed attempts) for my Banana Bread Muffins HERE.
APPLESAUCE COOKIES: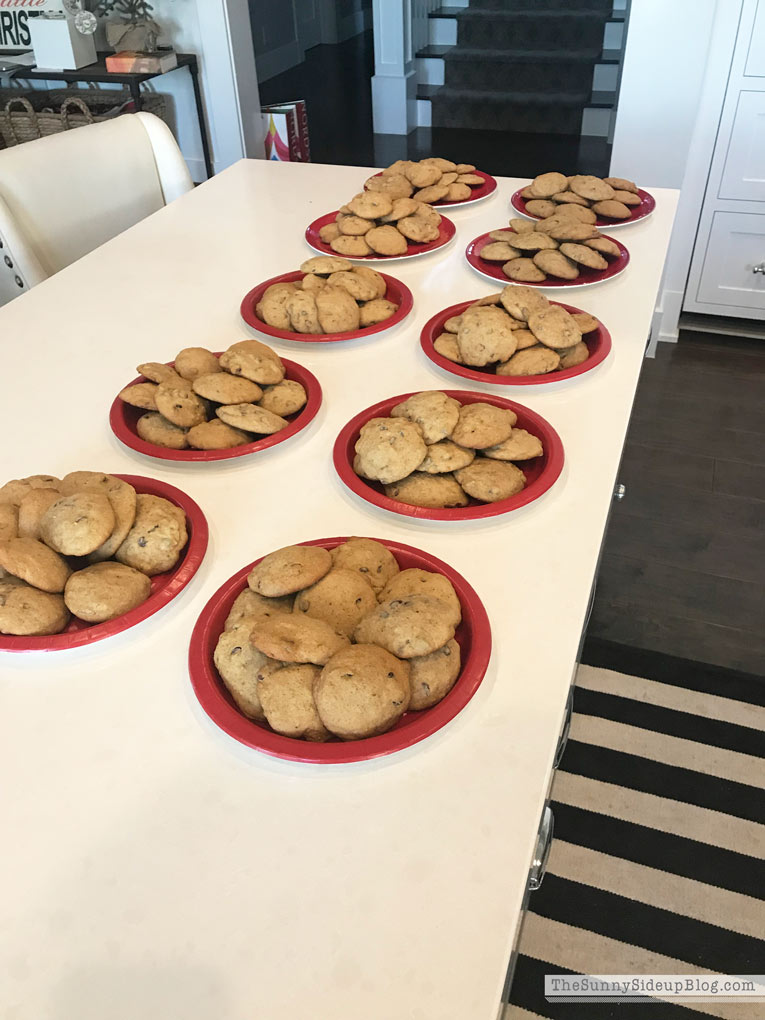 Another long time favorite that can't be left out of a food/recipe round-up on this blog!  Recipe for our Applesauce Cookies HERE.  I snapped this pic over Christmas break when we were making them to deliver to friends and neighbors.  Such a fun tradition.
These two are the true chefs in the family who love to cook and did all of the holiday baking.  Ad's pig pj's helped the whole process immensely. ;)  My job is always to clean the kitchen up after the mess and then wrap the cookies up and make them look pretty.  I'll take my job over the baking ANY day. :)
Since we're talking all things food and cooking (confession time!) I recently admitted on IG that I've hired a nutritionist.  Just to come over a few times next month to talk to my girls about overall nutrition (because their mom covers how to make their rooms clean and pretty but nutrition not so much) and to help teach me some more healthy snack/meal options to fix the kids (and hopefully batch cook!).  I feel like I need a few more healthy options in our regular rotation and I'm so excited to get some professional help!  What I wasn't prepared for was when she told me to write down everything we eat for three days before we meet.  I seriously wish you could have seen my face when I read her e-mail with attached food charts!  I about died.  Then I turned and said to Kenny "should I be honest and tell her how I skipped lunch because I was busy and forgot to eat and then had a Cadbury Egg and Coke Zero in the car for dinner last night?  
Or should I lie?"
Major panic.  I'm in SO much trouble with this!  Food and cooking just aren't my thing.  I'll keep you updated on how things go!  Hopefully the next time I do a recipe round-up I'll have more healthy options to share.  Although I can't make any promises about the Cadbury Eggs and Coke Zero..
(can't stop.. won't stop..)
Alright friends.. that's a wrap on my 10 quick and easy recipes along with other food rambling and nonsense.  I'll be back with more "fun for me" topics soon..
;)
xoxo, Erin