It is officially March and we have officially hit March madness at our house!  Spring is coming and along with the pretty flowers it also brings ALL the activities and due dates and sports and birthdays and competitions and events, etc. etc. etc.   My head seriously starts to spin just thinking about our calendar! Can anyone relate!? When things pick up like this with my kids' activities I've found that I have to be especially careful with the time I do have to work and get things done around my house. I've mentioned before that I'm a tad obsessed with the subject of time management. Kind of nerdy I know.. but it's my favorite thing to read and learn about! Partly because it involves organization (my true passion) but also because in the past I've struggled with managing my time. I'm constantly searching for ways to be less "busy" just putting out fires all day long and to be more deliberate and productive. I've learned SO much about this topic this past year and have found three time management tips that help me increase my productivity and manage my time better than anything else!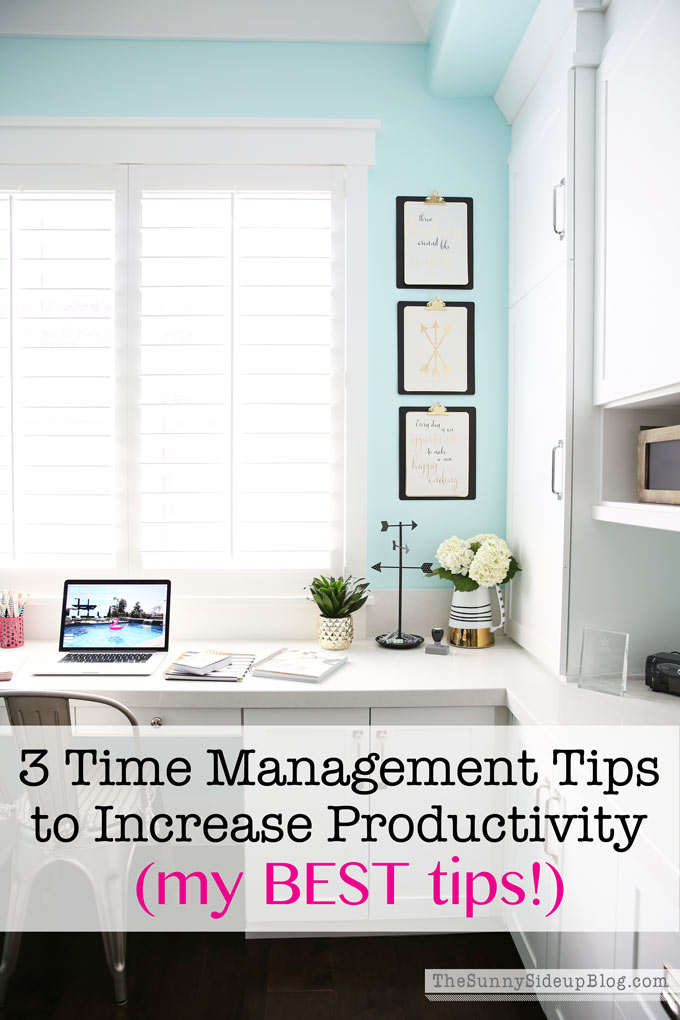 A few weeks ago I came home from dropping the kids off at school, went straight to my office and sat down and got to work. I was in the ZONE. Just checking things off my to-do list and having such a productive morning. (Love that feeling, don't you!?)  Around 11:00 am our home phone rang and it was my husband wondering where I'd been all morning. I told him I had been home and was having the BEST most efficient morning getting so much done. He told me that he had been trying to reach me on my cell all morning but I wasn't answering. I looked around for my iPhone and realized that I had left it in the car after I dropped my kids off at school.
And then it hit me. That was it.. right there. The reason I was having such a productive morning. I didn't have access to my cell phone! I don't think I was truly aware of what a huge distraction my cell phone was to me during the day until I spent a morning without it!  We are constantly being bombarded with e-mails and text messages and phone calls and social media and while it seems harmless to pop in and quickly check on those things, taking time to do that switches your mind set and then it's hard to get back in the zone focused on your work after. I was so productive that morning without my phone because I was able to really focus on what I needed to get done without any distractions!
I hung up with Kenny and went to my car and picked up my phone and had 23 text messages, over 60 new e-mails and 7 missed calls. I didn't even dare look at my IG comments and DM's!  I had to laugh.  That would have been my morning instead of checking things off of my to-do list that I really wanted and needed to get done. I spent the afternoon responding to messages and e-mails and calls and realized that every single bit of it was fine waiting until later in the day.  Ever since that day I drop my kids off at school, come home and then quickly set my phone in the other room away from me and get to work!  I'd leave it in the car except I'm worried about missing an emergency call about one of my kids so I just set it in a different room where I can hear it ring, but don't have it next to me with the temptation to check messages.  If you follow me on Instagram you might have noticed that I don't post in the morning.  I really try to spend the morning "eating my frogs" and getting the most important things done that need to be completed that day. (I wrote a whole post about that topic here.)  
TIP #1) When you are ready to focus and get work done, set your phone in a different room!  Also turn off pop up notifications on your computer so that you can get lost in your work and stay focused.
The next tip that has been a total game changer for my productivity is called "batching."  If you haven't heard of batching before it's simply grouping similar tasks together.  I've been working on getting better at this for a while now and feel like it is starting to really make a difference!  For example, instead of checking your e-mails all throughout the day, you would establish a set time to work on e-mails and only check/answer e-mails during that time.  By batching tasks you can set aside some time in the morning to knock out your top priorities and know you will have time to catch up on other things during other parts of your day.  There are SO many things that can be batched together to save time.  These are some of the things that I "batch" throughout my week:
E-mails:  I try to quickly go through my two inboxes once in the afternoon after I pick up my kids from school while they are doing homework (different time each day depending on their activities) and once again in the evening before I go to bed.  I don't always make it through all of my e-mails, but I knock out as many as I can during those two times.  If I answered e-mails as they came in I would be doing nothing but e-mails all day long.  It really helps me to set a time to work on e-mail and then to have a time to cut it off even if I don't get through them all.  I just do the best I can with the time I have!
Laundry/Cleaning:  I throw in a load of laundry here and there and pick up my house a little bit every day, but I have a main cleaning day each week when I do most of the cleaning and most of the laundry including towels and sheets.  I wrote more about my cleaning routine in this post on my 10 secrets to keeping your house clean and organized.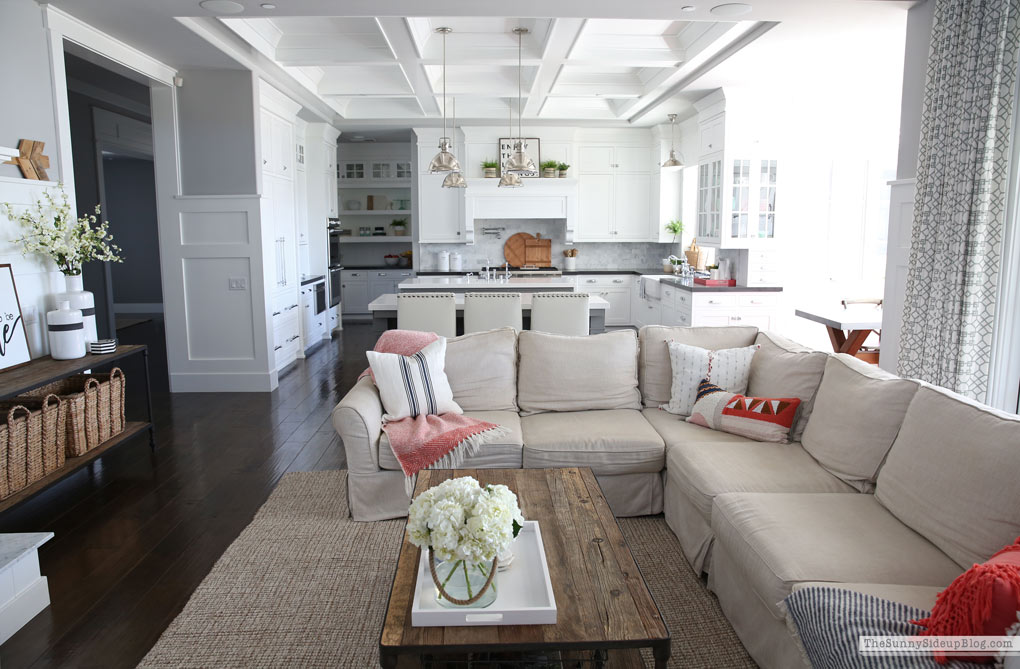 Errands:  I always have a running list of things I need to buy and try to just go shopping one afternoon or morning each week.  If I have an appointment (hair, dentist, doctor, etc.) I usually schedule my errands around that appointment so that I'm only away from my home one morning or afternoon a week and can work the other days.  This has been a huge time saver for me because I used to run one simple errand or have an appointment most days of the week and then it was so hard to block out time to really focus on my blog or other things that needed to get done.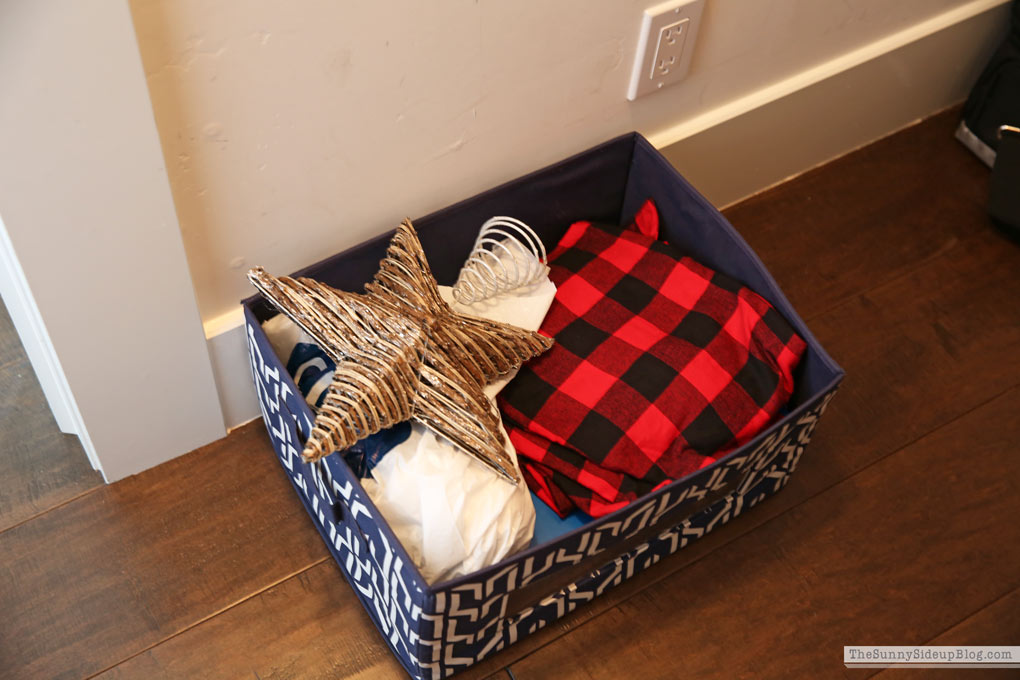 *Quick tip: Keep a basket in a closet close to your door to hold items you need to return.  That way when you are running errands you have them ready to grab and go!  
Meal prep: So you all know that meal prep isn't my thing and I'm not going to pretend that I have this one figured out because I don't!  But one thing I've been trying to do more often is to make two meals at the same time once a week.  I really don't enjoy cooking so I try to just knock out the dinner prep out all at once and then I don't have to think about it again!  I make two simple meals one morning and then put them in the fridge so that we have a couple of options for our busy evenings.  Two is usually enough for my family for the week because our schedule is so hectic and most evenings we are on the go or in different places at dinner time.  (We make a quick sandwich for dinner or grab something on the go.)  Over the weekend we usually take the kids out one night (or get them pizza if we're going out) and then my husband cooks one night.  I absolutely love weeks when I prepare two meals ahead of time!  I've been doing this on Monday mornings, but would love to find a way to make it happen on Sundays so that I can free my Monday for work.  I also want to get my girls involved more so that they learn to cook and do better than their mom does in that department. ;)  This one is a work in progress for me but I'm trying!  I'll share a few simple meals I batch soon.  EASY stuff.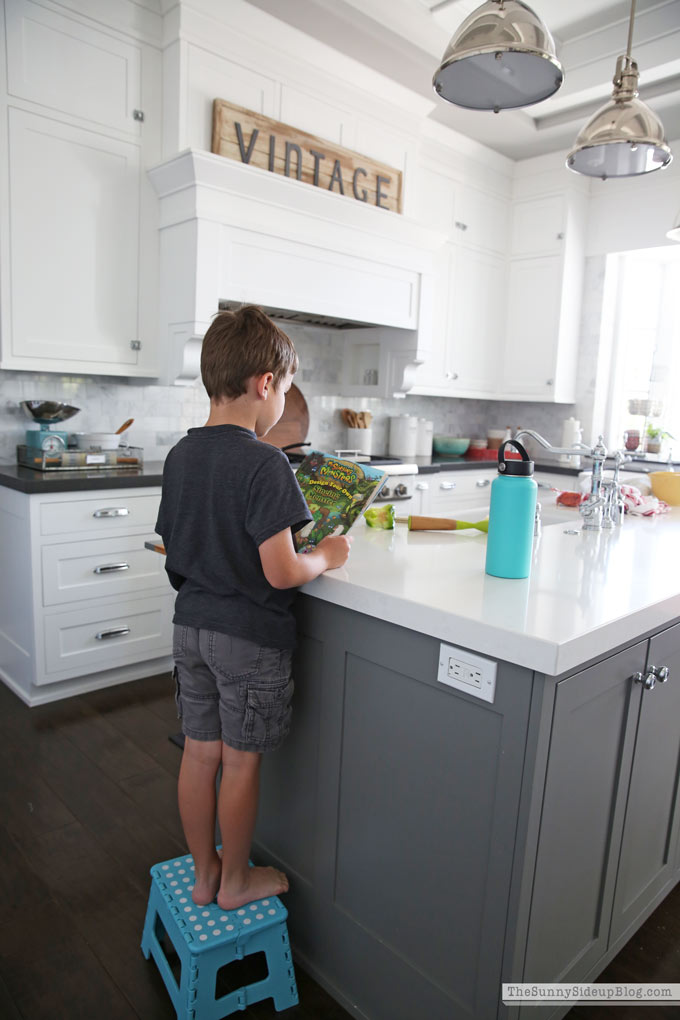 (Getting ready to help mom cook – you know he means business when the stool and his favorite monster book comes out) ;)
Organization:  I organize a lot.  As you know. :)  Because my mornings need to be spent on my computer writing and working I've found that my best time to organize my home is in the afternoon.  I work straight through lunch and just eat at my desk so usually by 1:30 pm I need a break from computer work and I have one hour before I have to start picking up kids from school.  This has become my organizing time.  Sometimes I pick up and clean the house during this time, but if I'm working on organizing a specific space or thing I try to do it around this time of day.  One day last week I spent an hour cleaning out our freezer.  Right now I'm tackling my kids' school work that has been piling up.  Hopefully I'll have some progress to share soon!
Phone calls:  I make a list of calls I need to make and then try to do them while I'm organizing or cleaning at the end of my work day.  I don't need to be as focused when I'm cleaning/organizing so it's a perfect time to also knock out some phone calls.
Blog to-do's:  I have also been trying to batch a lot of my blog tasks.  For example, if I'm taking pictures one morning I'll try to take pictures for more than just one post.  (Because Thursday is my main cleaning day this year I take a lot of pictures on Fridays when the house is clean!)  I have a lot of blog friends who schedule their social media posts and do it all at a set time so that it's done for the week.  I haven't found that this works for me because I like my social media posts to be a little more organic, but I'm sure that batching social media tasks would be a huge time saver!  If I have some quiet writing time I'll try to write more than one post and then I can add pictures later.  I also edit pictures and get them ready for posts all at the same time.  Usually after 9:00 in the evening when the kids are asleep or in their rooms and I'm watching TV with my husband.  Popcorn in hand of course. :)
Those are just a few tasks I try to batch to help me manage my time.  If this is something you think would be helpful for you, use a piece of paper to brainstorm all of the activities that fill your days.  See which activities can be batched together to help you save time!  It's such a simple idea, but once you figure out a way to make it work for you it can really increase productivity during the day!
Tip #2) "Batch" similar tasks together to save time.  Focus on your most important tasks first thing in the morning.
The last tip goes hand in hand with batching.  In order to really be able to batch your tasks together like I shared above, you have to be organized!  You have to have your week organized and planned out ahead of time so that you know which tasks you will be grouping together and when.  I have two planning sessions that I can't live without!  One at the end of each day when I re-write my to-do list and go over what I have going on the next day.  Then on Friday I have my "Week Ahead Prep" time.  I used to try to prep for the week ahead over the weekend but we are in a stage of life with our kids where the weekends are often just as busy as our weeks!  I couldn't find a good, quiet time on Saturday or Sunday to do it so I spend some time first thing every Friday morning going over the next week.  I write a list of everything I still need to get done before Monday and then a separate list of things that can wait until the following week.  I also spend some time thinking about how my schedule will be laid out and which tasks I can batch to save time.  That way when Monday morning hits I know exactly what I need to be working on.  These planning times are so engrained in my schedule that I don't even have to think about them!  They are a daily and weekly habit that makes my life run so much smoother and really helps with my productivity.
Tip #3) Establish set planning times in your schedule (one at the end of each day and a longer planning time once a week) to go over your goals and to-do's and to plan for the day/week ahead.
Moving my cell phone, batching tasks, and set planning times.  Those are the three time management tips that really help me manage my time and increase productivity!  Such simple changes I've implemented that have made a HUGE difference for me.  I hope something in this post helps you with time management too!  To the moms out there.. hang on tight for the next few months, right? :)
Is there anything you are doing that saves time and helps you increase your productivity?  I'd love to hear about it!
Because I'm nerdy like that.
:)
xoxo, Erin