Sharing a quick recipe today! Please try to contain your excitement. Really. Stop jumping up and down. And squealing. Well. You can squeal if you want to. I know we've all made taco salad before, but this is the way I make taco salad and it might be a little different than the way you make taco salad. And since this is one of the eight things I cook it only seemed natural that you should know about this recipe. Because you all don't know enough about me and my life. I'm way too secretive.
And sarcastic.
Moving on.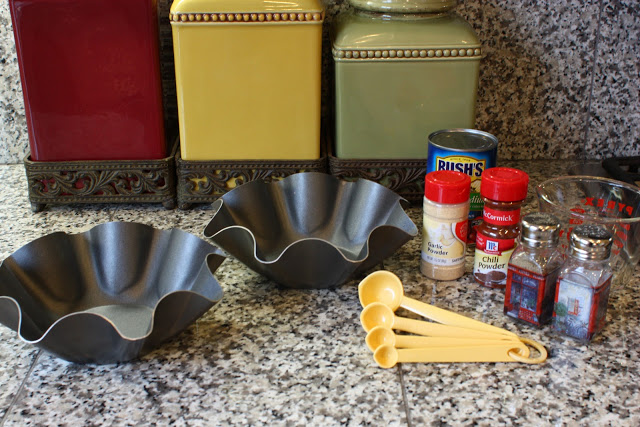 Here's what you need to get started. The tortilla shell molds I bought at Bed Bath and Beyond years ago but I'm sure you can find them in other places too. I forgot to take a picture of the tortillas that go in them. You need tortillas to go in the tortilla molds. (You'll notice I explain my recipes like I'm talking to a Kindergartner because that is how I like recipes explained to me. Addison and I are about on the same level when it comes to cooking so that actually makes sense.)
First steps:
Brown 1 lb ground beef
Drain ground beef (unless you splurge on the super healthy hamburger – not to be healthy but really just so you don't have to drain it. That may or may not be exactly what I do.)
Then add:
2/3 cup water
1 tbsp chili powder
1 tsp salt
1/4 tsp garlic powder
1/4 tsp pepper
1 can red kidney beans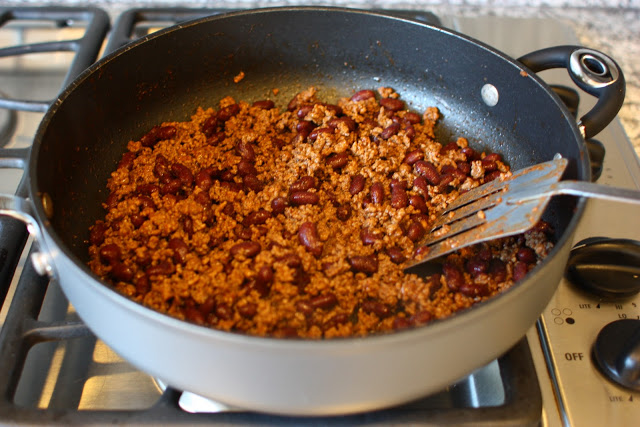 Heat to boiling; then reduce heat and simmer uncovered, stirring occasionally for 15 minutes.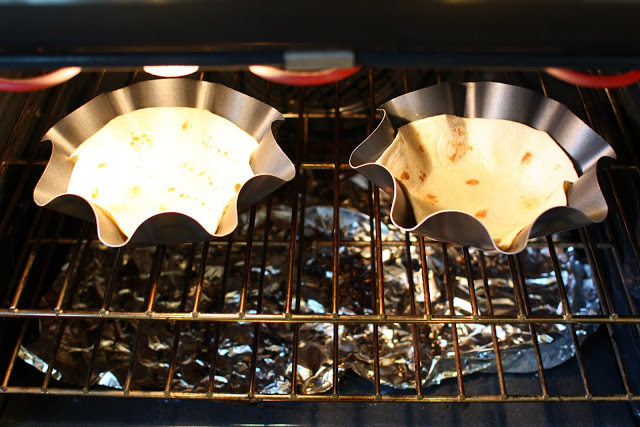 Put your tortilla shells in the molds and place them in the oven.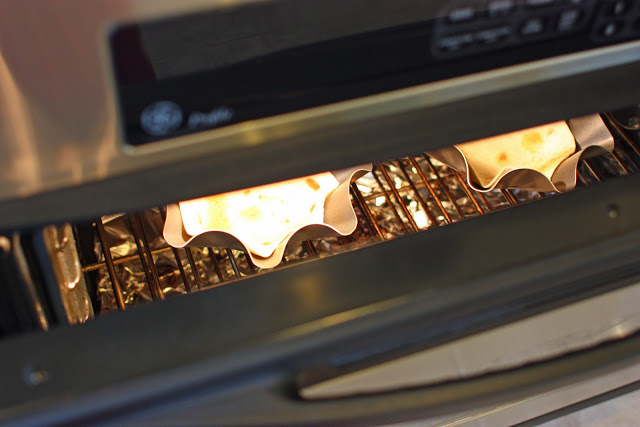 Then set your oven to "broil" (I put my oven on hi broil) and leave the oven door open just a crack. I obviously made this while Kole was occupied upstairs or I would have been spending my evening at the emergency room with a burned victim.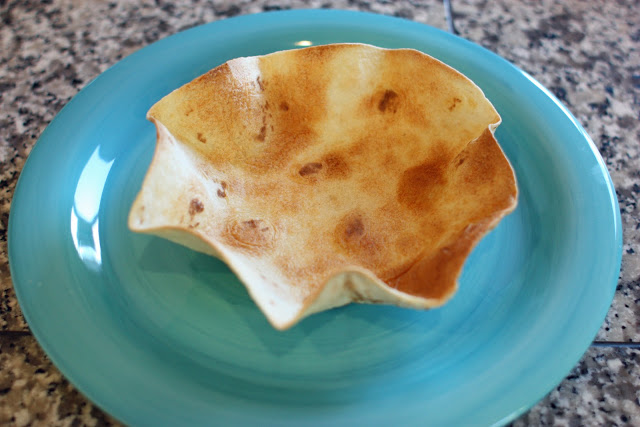 It only takes a few minutes for your tortilla shells to turn golden brown. Take them out before they turn too golden brown. If you only knew how many of these babies I've burned! I'm not going to tell you how many. That's the secretive part of me coming out again.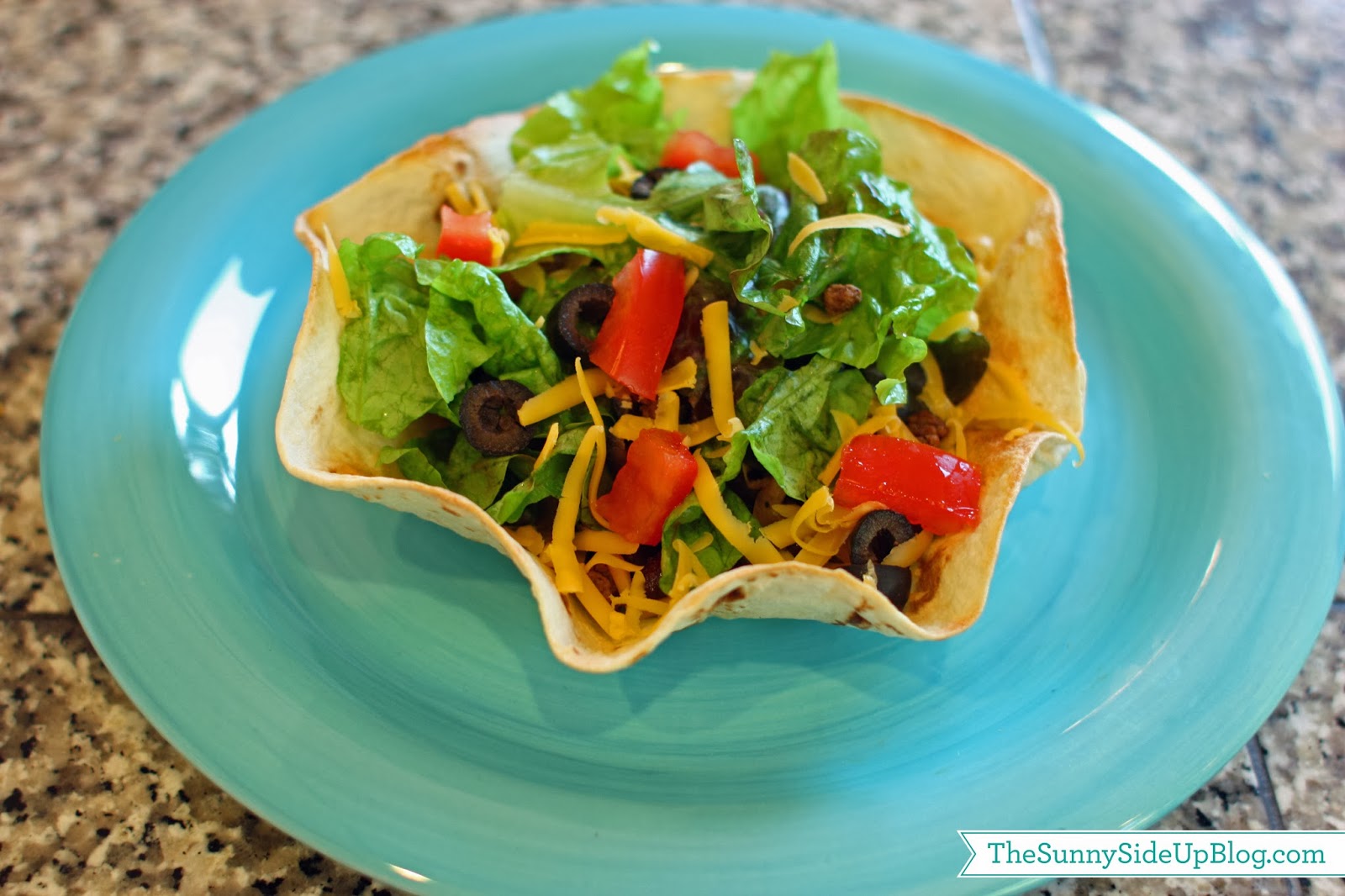 Put the hamburger mixture in the perfectly golden brown tortilla shell and then top with lettuce, olives, cheese, tomatoes, avocado, sour cream…whatever you like! Or whatever your kids will eat! Which in my case is the cheese. These also taste really good with a little ranch dressing. Not the healthiest recipe out there, but one we enjoy. And one that this mom and her Kindergartner can actually make.
Bon appetit!
xoxo, Erin