Hi everyone! The weekend is upon us. YEA. So you are all in for a real treat today. Another recipe by yours truly! (By this point I'm hoping you can tell when I'm being sarcastic.) I cooked one of my favorite easy recipes this week to take dinner to a friend and she loved the recipe! Said her kids loved it too! It made me so happy. And so mad because my kids don't love it. What's up with that. Then I remembered that the last time I made this was in December and I was going to blog the recipe and forgot. Or more likely I got sidetracked with my mass production of
pretzel hugs
. So here's a little Christmas decor in May! Along with a simple, tasty recipe that is pretty hard to mess up.
1 pork tenderloin
1 large can chopped green chilies (I always buy two little ones because I can't ever find a large can and I get impatient looking for ingredients in the grocery store)
1 large can salsa (that's always easy to find)
2 cans rinsed pinto beans
1 jar green salsa (optional – I've never added this)
1 tsp garlic powder
1 tsp chili powder
1 tsp cumin
1 fake poinsettia – not really but it does add a bit of flair, doesn't it?
Cook 1 pork tenderloin in crock-pot on high for 3-4 hours (optional – lightly season with salt and pepper – I've never done this either because I think pork is plenty salty on its own)
Remove tenderloin and shred into small pieces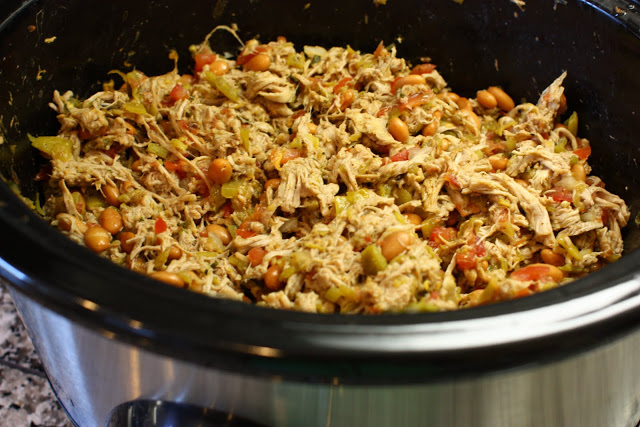 Rinse out crock-pot and put shredded pork back in
Add all of the above ingredients
Stir and heat everything until warm (this takes a while – at least another hour)
Serve in warm flour tortillas with cheese and sour cream
Delicious and easy. Here's hoping that you and your kids will love it too!
Have a great weekend everyone!
xoxo, Erin