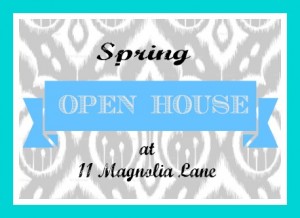 Happy Memorial weekend friends!  I was asked to join 11 Magnolia Lane's Spring House Tour!  So exciting!  I always love peeking into the beautiful homes they feature.  If you're new to my blog hello and welcome!  I'm Erin.  I live in sunny San Diego and I'm passionate about organizing, home design/decor and being mom to my three beautiful kiddos.  I'm also passionate about cherry ice chapstick but that's beside the point. :) My husband and I finished building our custom home about a year and a half ago.  Hard to believe it has been that long!  I have been slowly decorating the house one room at a time and love putting my stamp on the place.  Here is a tour of the rooms I have shared on my blog so far!  Some of them are ready for Spring.  Some of them are just ready for a chair.. or rug.. or anything.  Ha!  All in good time.  We are definitely a work in progress around here.  :)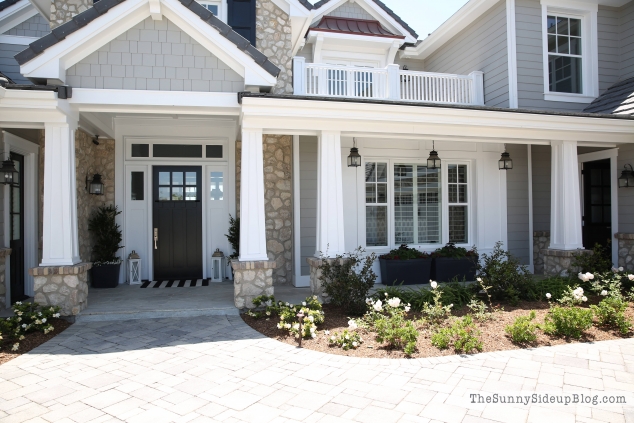 A peek of part of the front of our house.  I combined everything I loved when I designed our home and it turned out "Craftsman Coastal."  At least that's what my architect calls it.  :)  I just added plants and spruced up the front porch for Spring!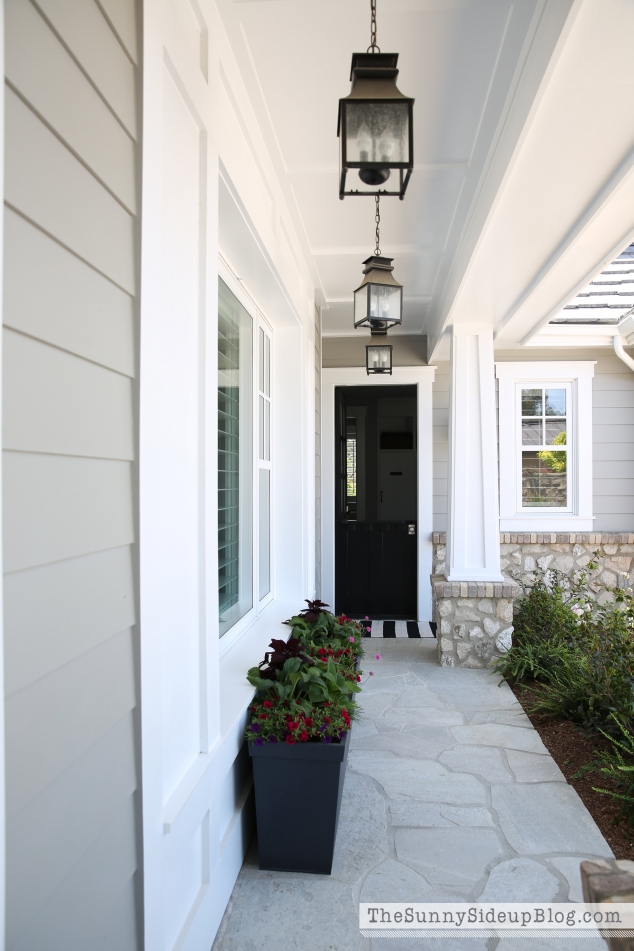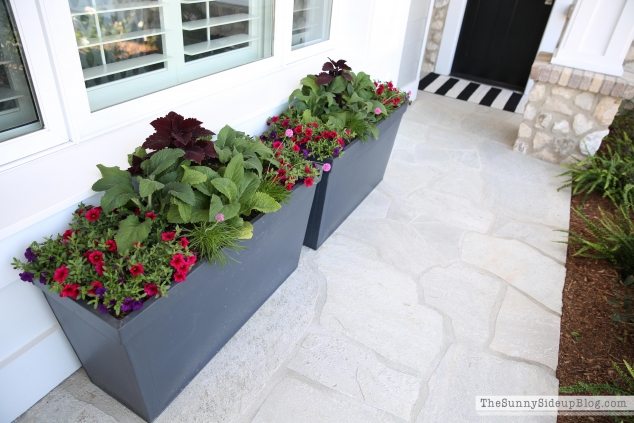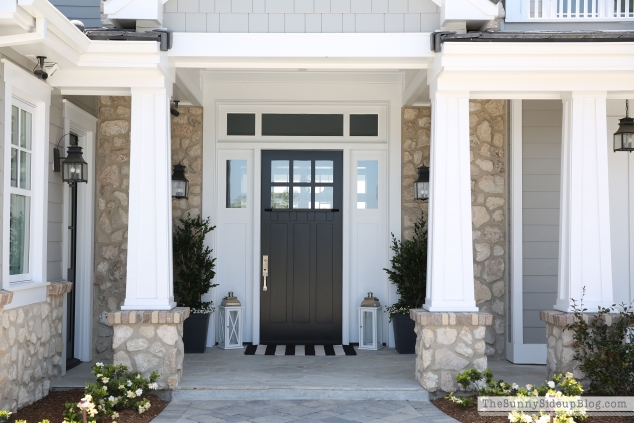 Come on in!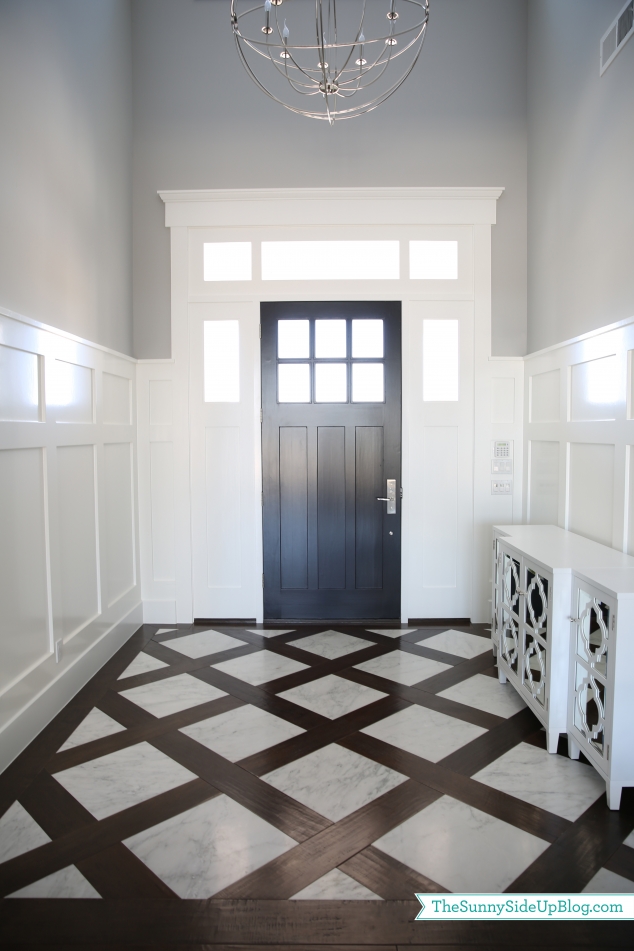 This is our entry on the other side of the front door.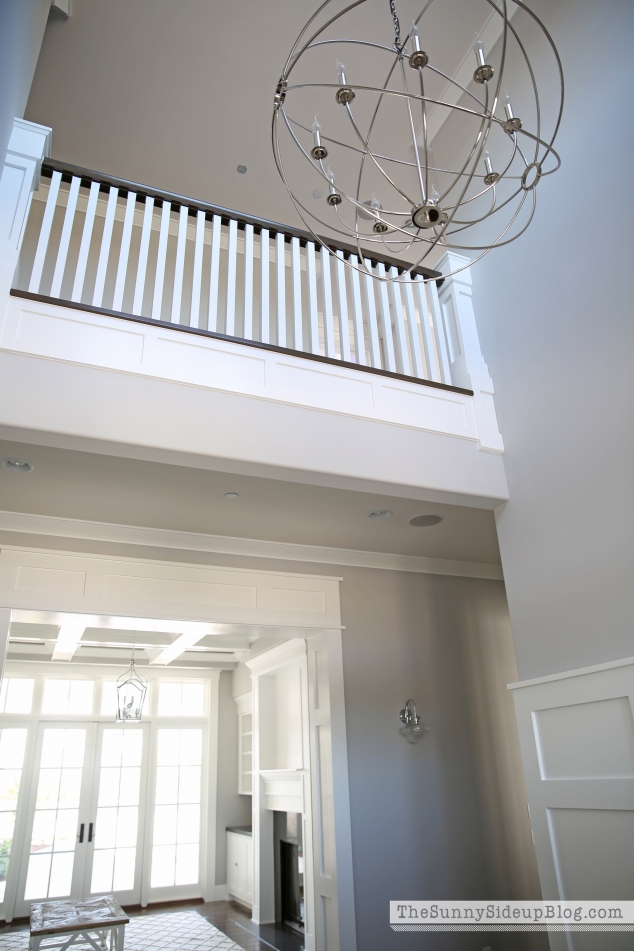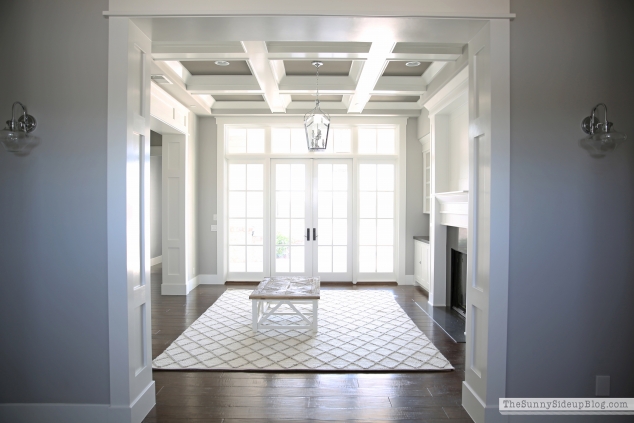 And a view of the formal living room you see when you walk in the house.  Which is funny because there isn't much "formal" about me.  But long story.. we ended up with a formal living room.  :)


In these most recent pictures we just have a rug and a table in this space.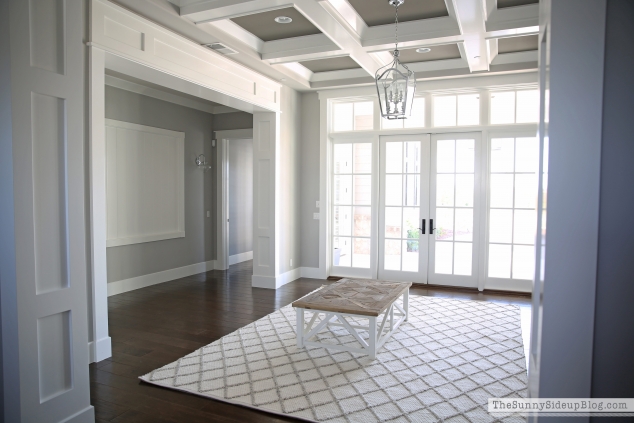 The couch just came and everything else is coming soon!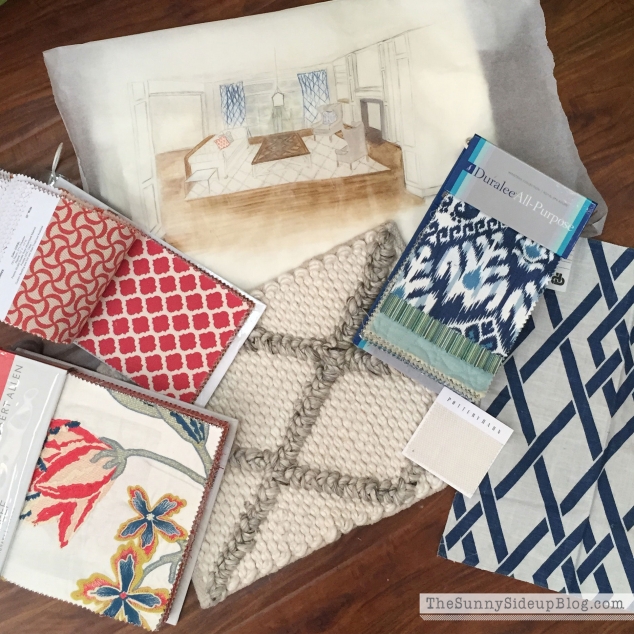 It's not very Springy yet but will be in a couple of months.  :)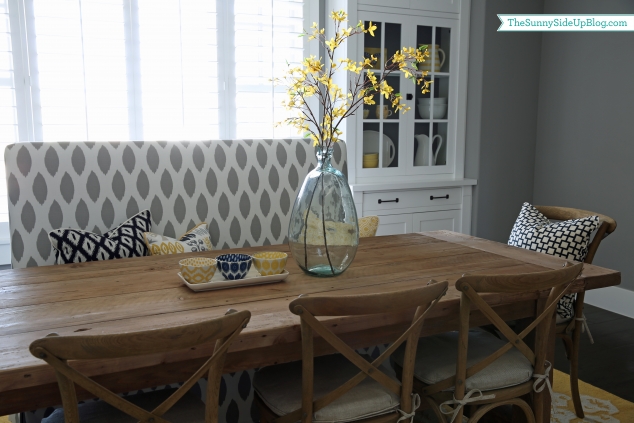 This is our formal dining room.  I have big plans for the walls in this room!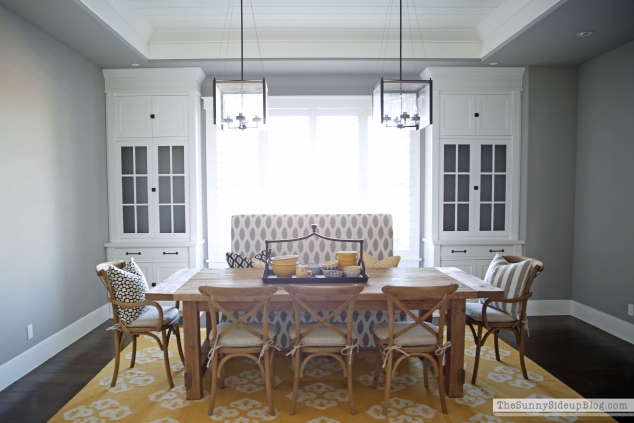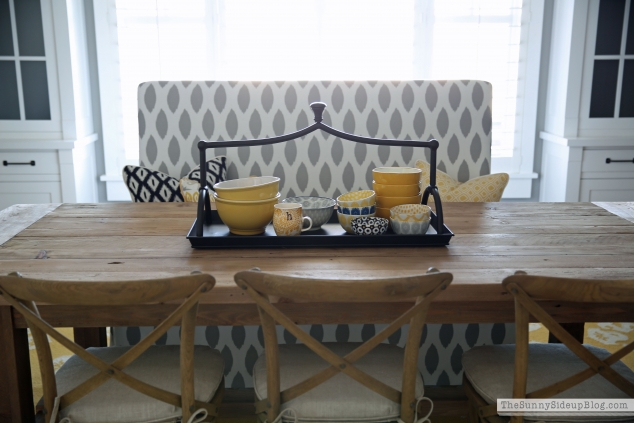 But for now while I'm working on other spaces, just the table top decor changes often.  :)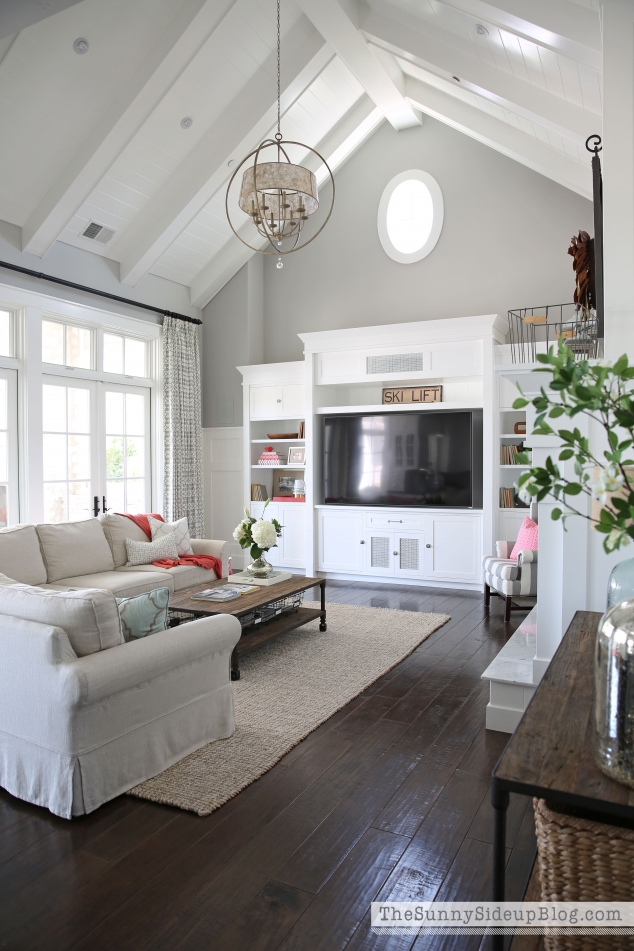 I decorated our family room first and it feels good to have one room close to done!  This is where we spend all of our time.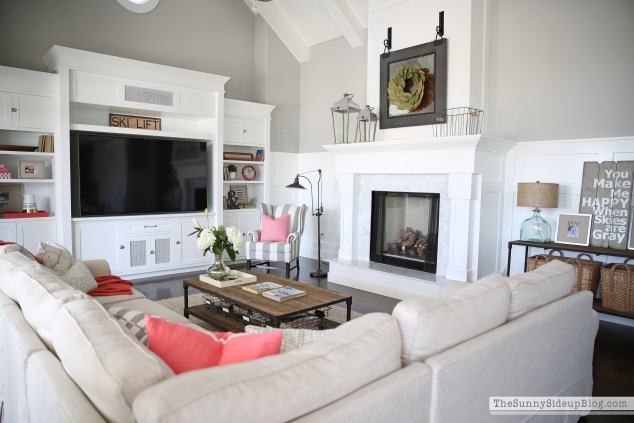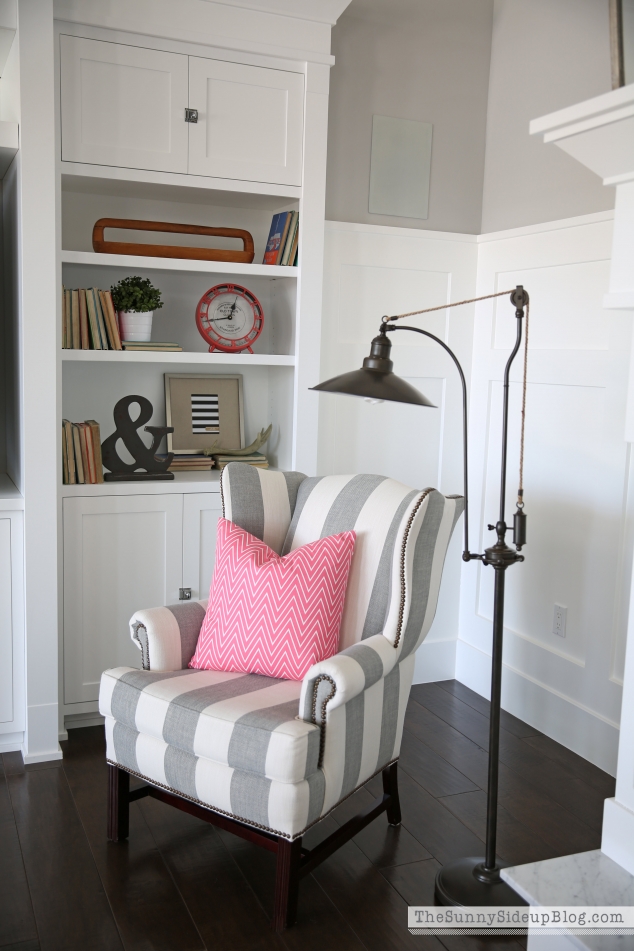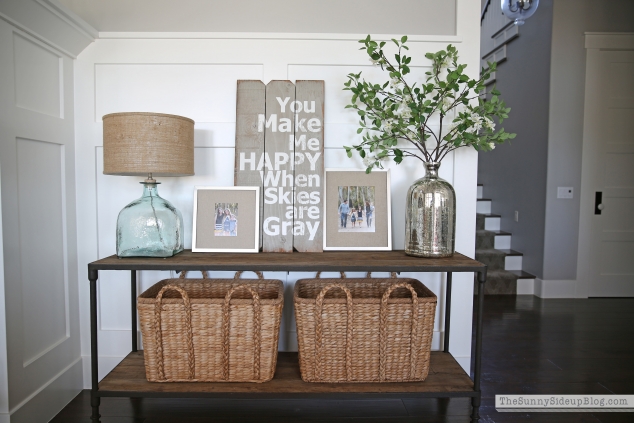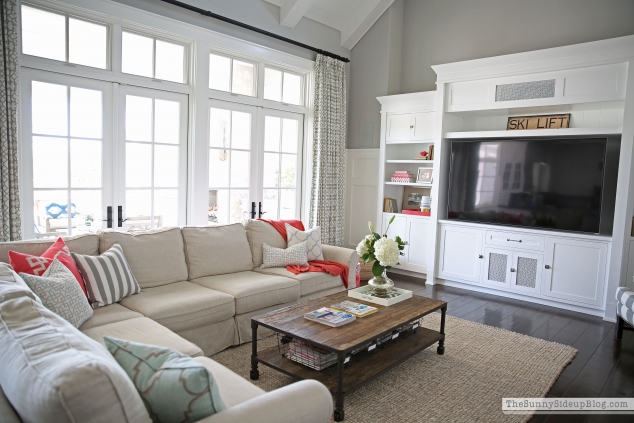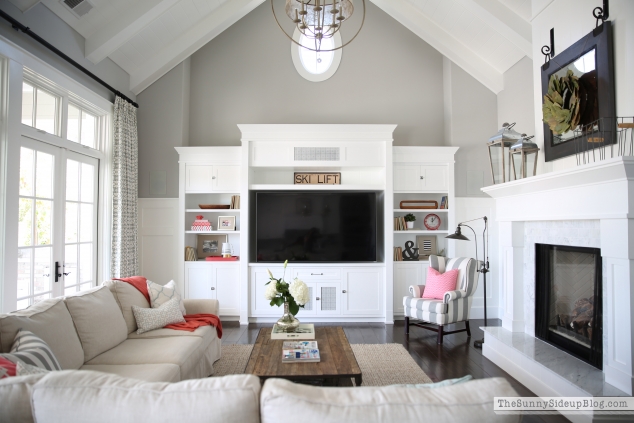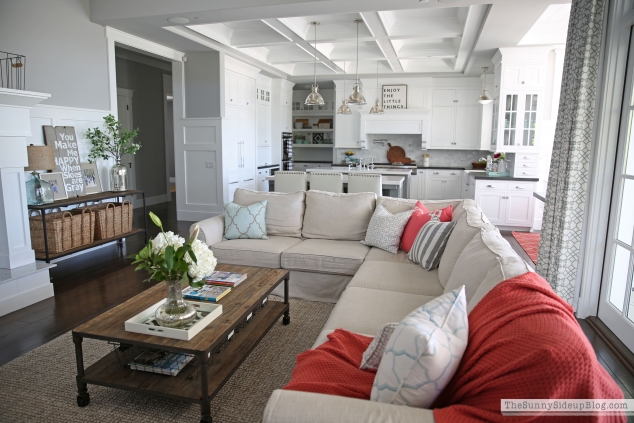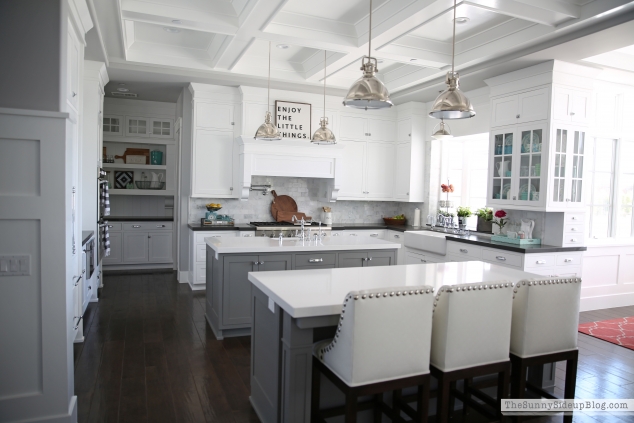 Our kitchen and family room are all open with a dining nook on the side.  I clearly love white and grey!  It's the perfect backdrop for any and all color and makes it easy to change decor on a whim.  Which was the goal because I tend to do that often.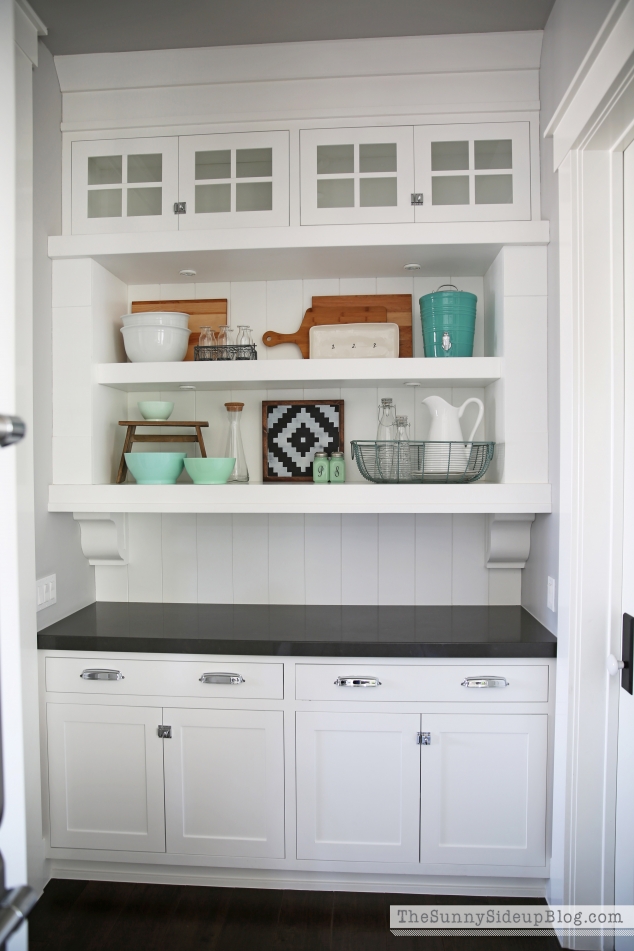 Butler's pantry – our food pantry is in the door on the right.  Organized pantry post coming soon!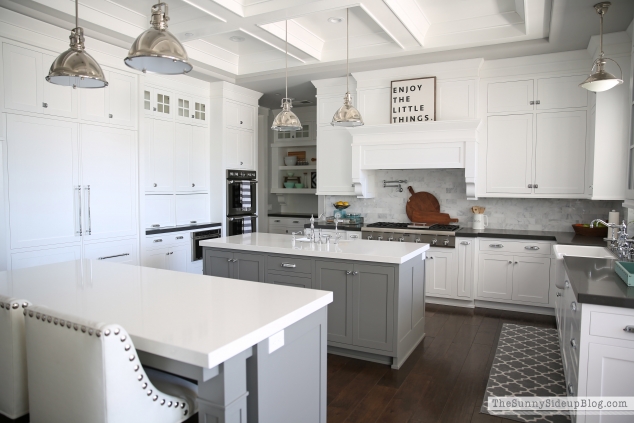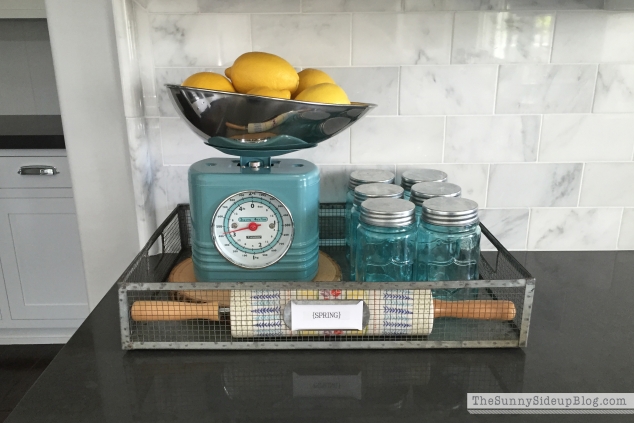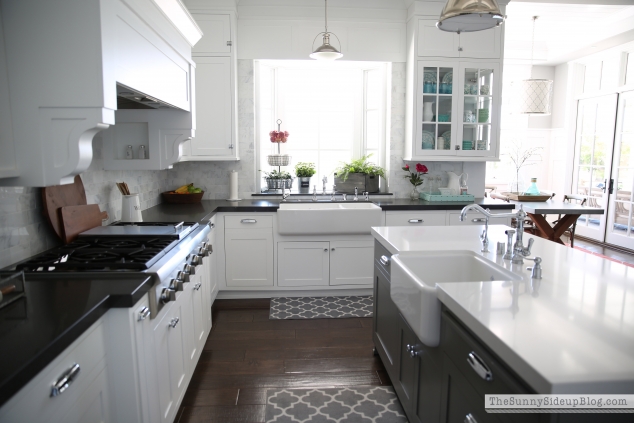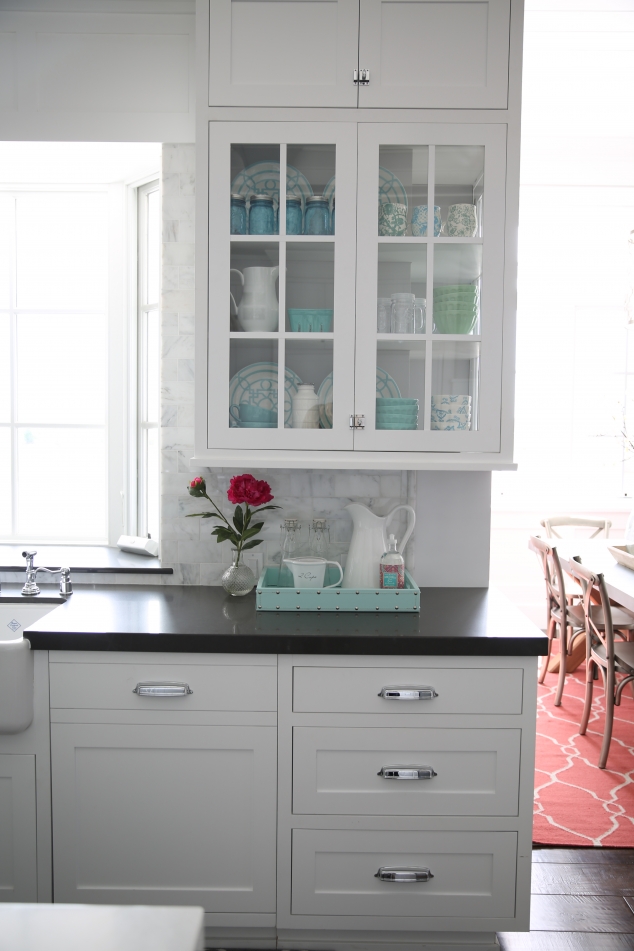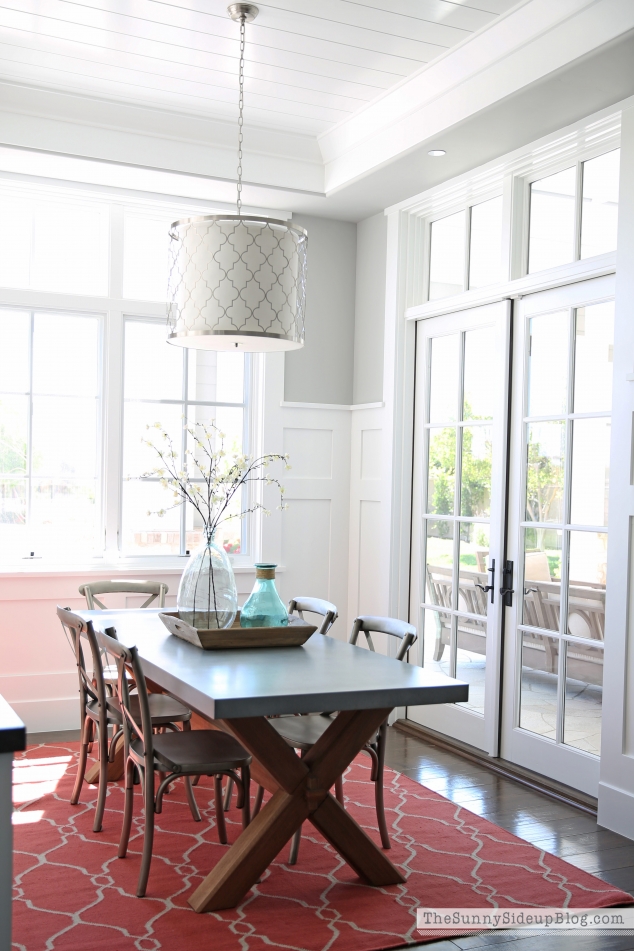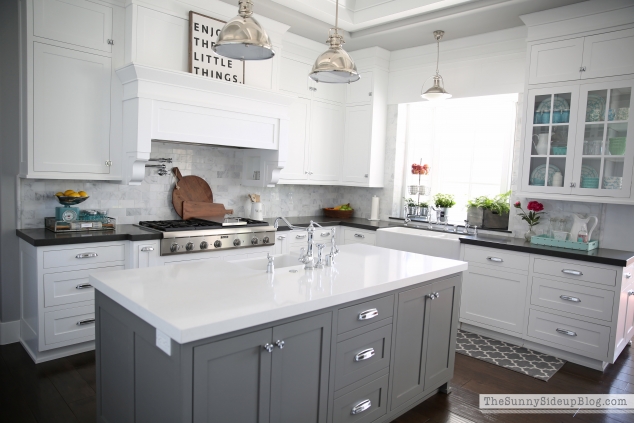 My blog friends all know that I'm a terrible cook and really not a fan of the process.  I try for my family, but if it were up to me that little chore would be banned and my kitchen would remain spotless forever.  :)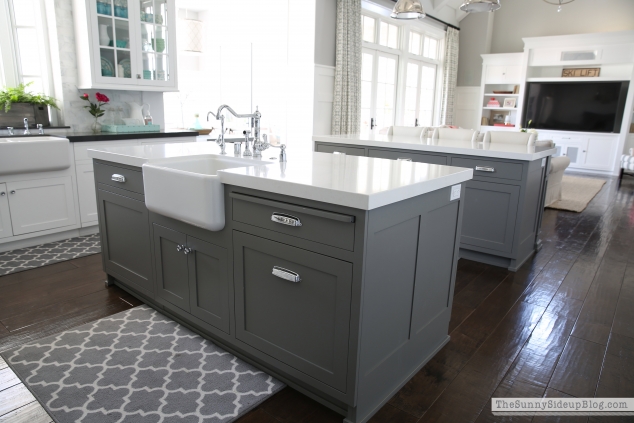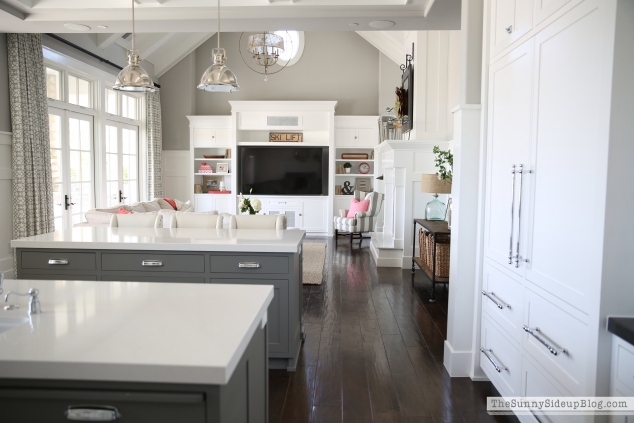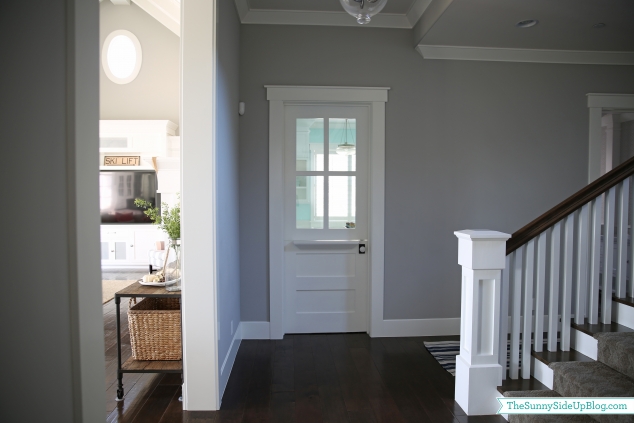 Just off of our family room/kitchen is a dutch door (right up there with cherry ice chapstick!) that leads to my office/kids' homework/craft room.  I knew we would spend a lot of our time in this room so I wanted it close to the main living spaces.  I also knew this room would always be a mess (and it is!) so I love having a door to close and hide everything.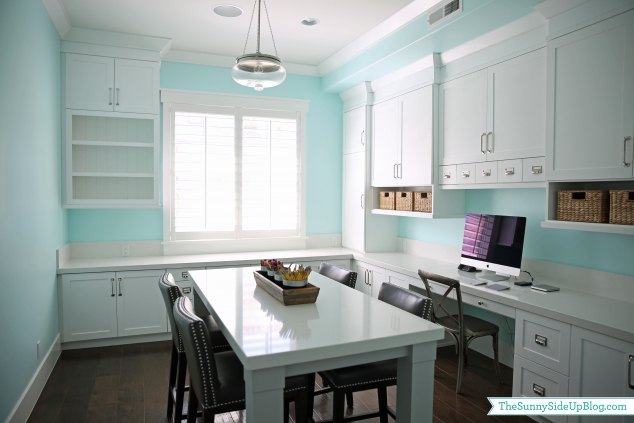 I took this picture soon after we moved in.  It hasn't looked this clean since.  :)  I have some fun plans for this room!  Coming soon to a blog near you.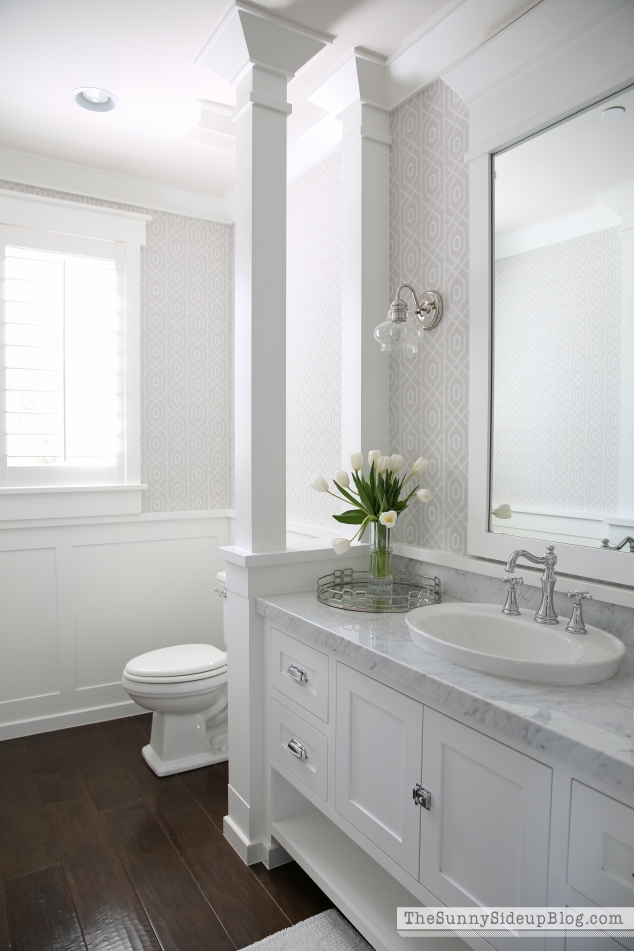 Our powder bathroom.  Clean and simple always appeals to me.  The wallpaper was love at first sight.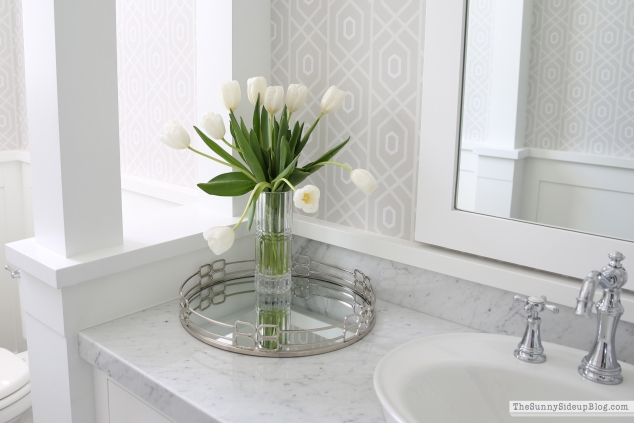 A new mirrored tray and tulips gave the room life!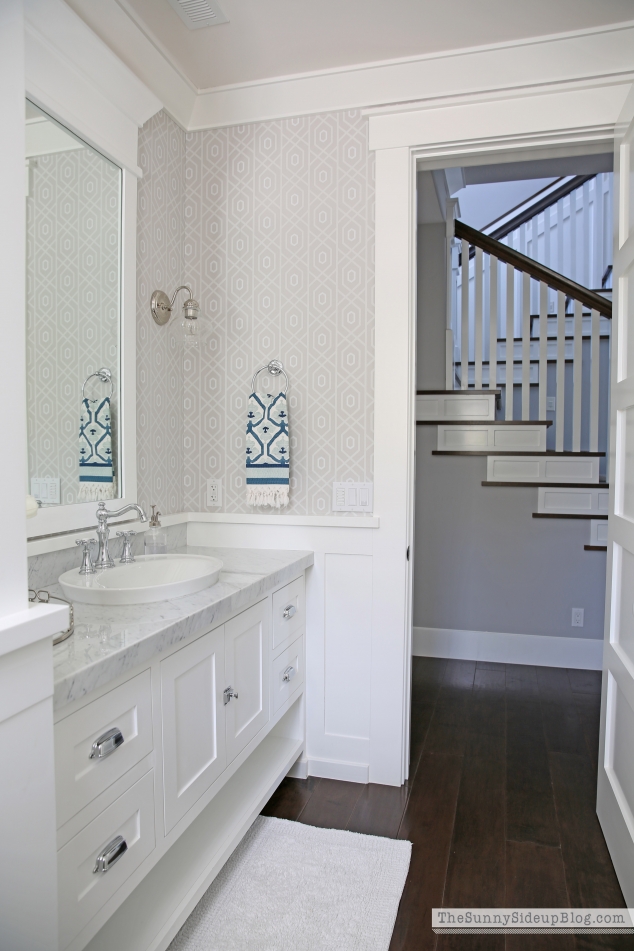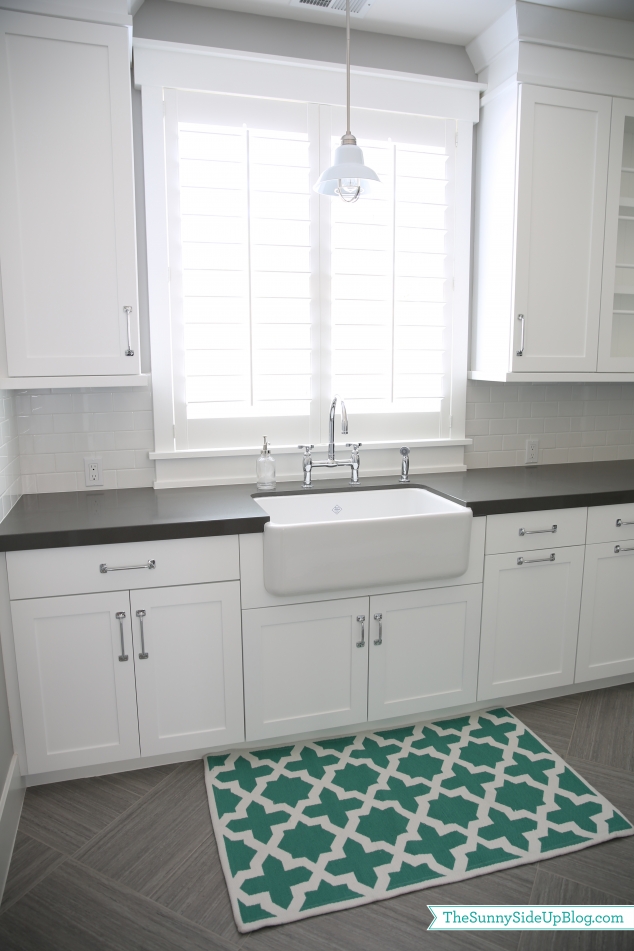 Main floor laundry room.  You can see more detailed pictures here.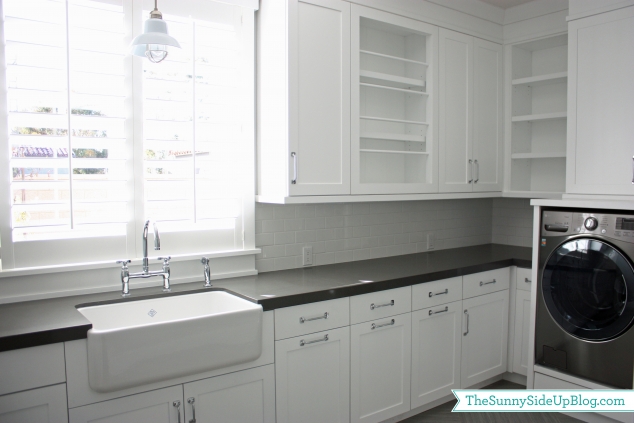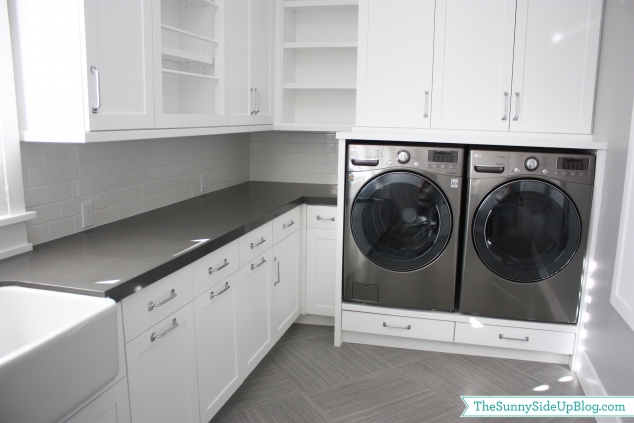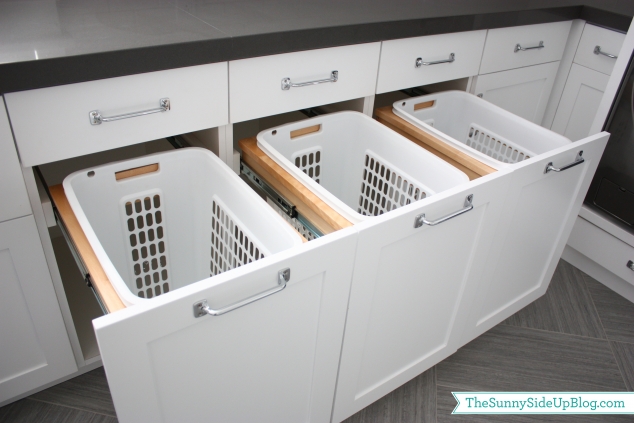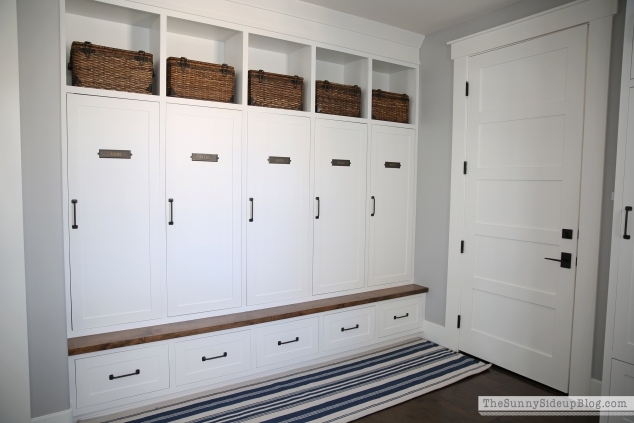 The laundry room is right next to our mudroom.  I went to my happy place designing this space!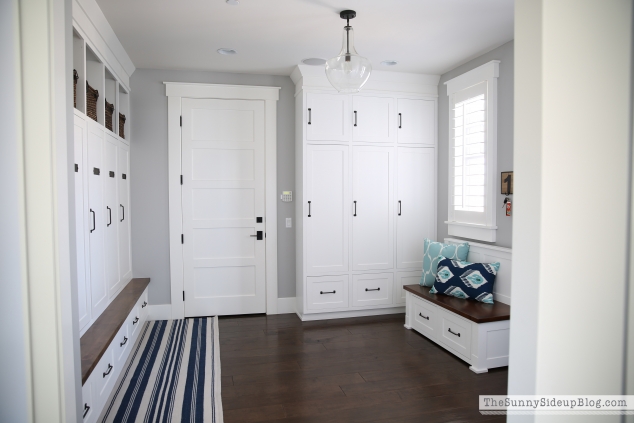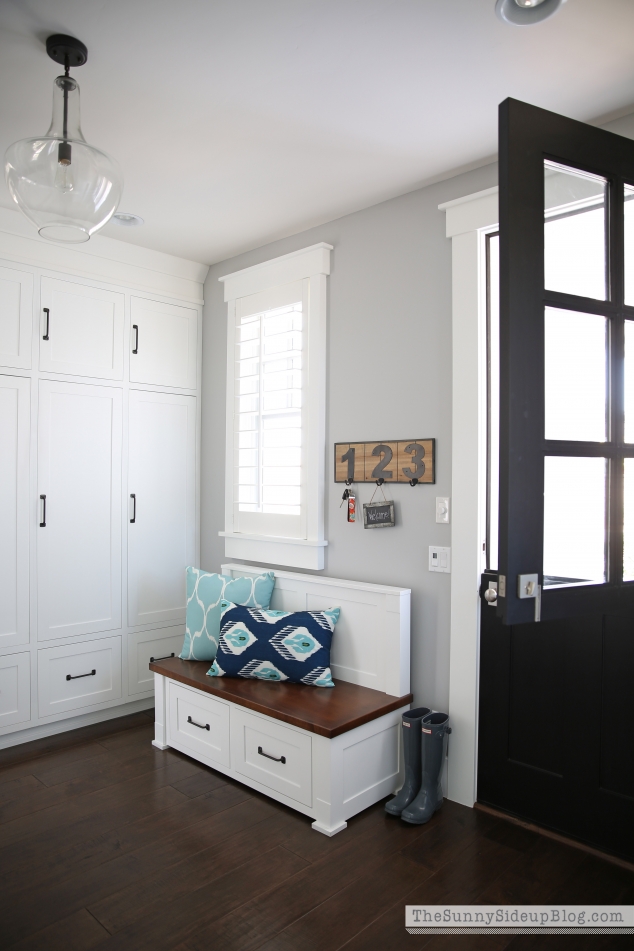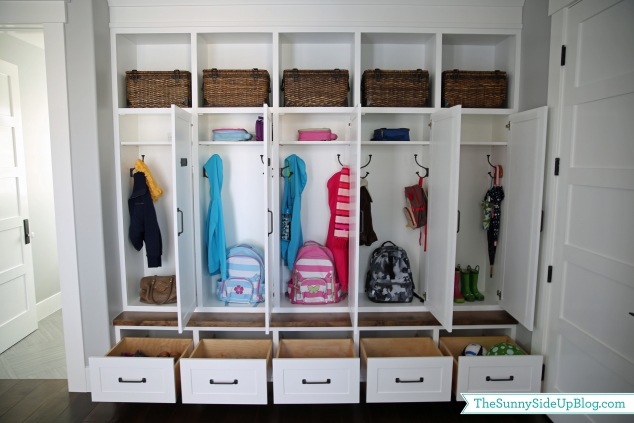 You can find more details on how I organize my mudroom here.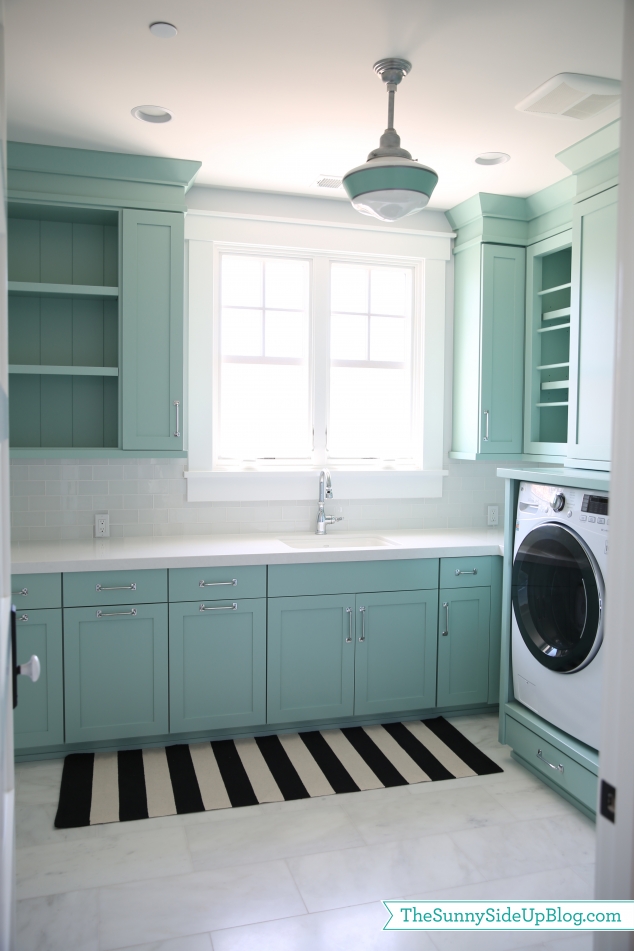 My kids' rooms are all upstairs so I wanted a laundry room close to their rooms.  My goal is to one day have them all doing their own laundry.  Just like the decorating, that is a work in progress.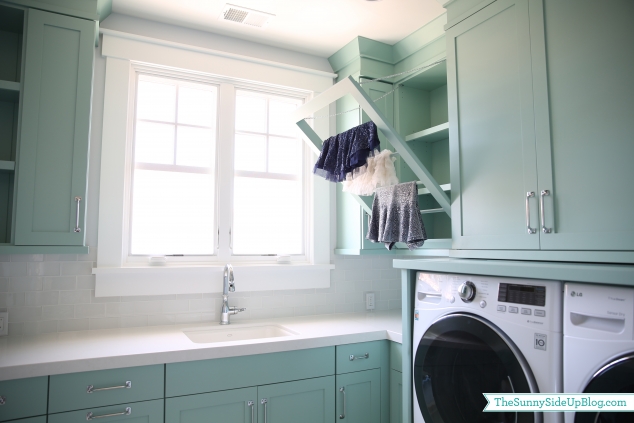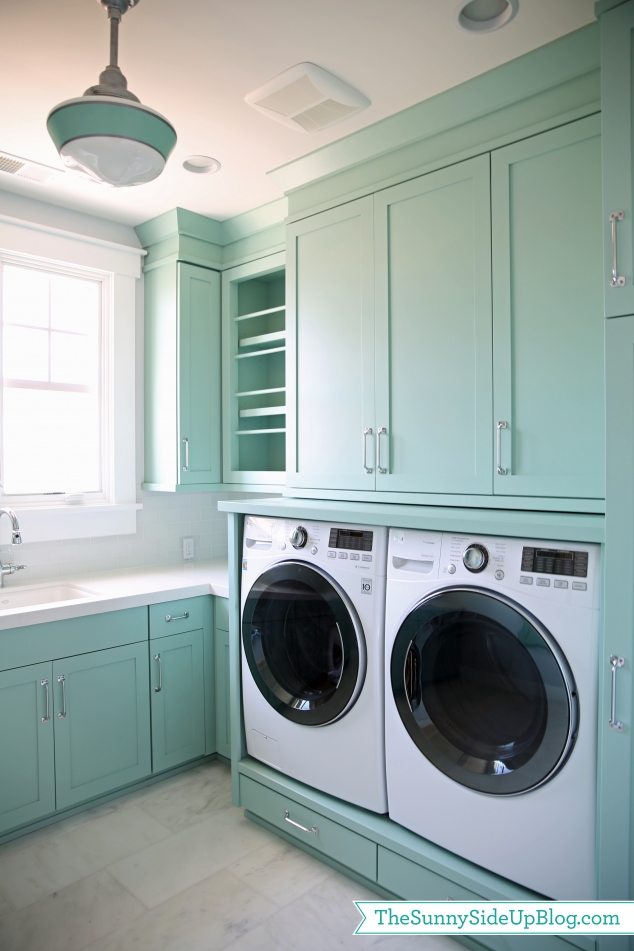 Detailed laundry room pics here.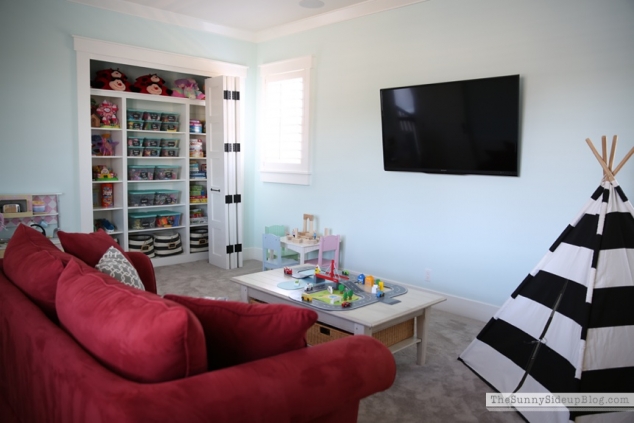 I have fun plans for my kids' playroom but for now I'm just thrilled to have this space organized.  One of my organizing goals for this year!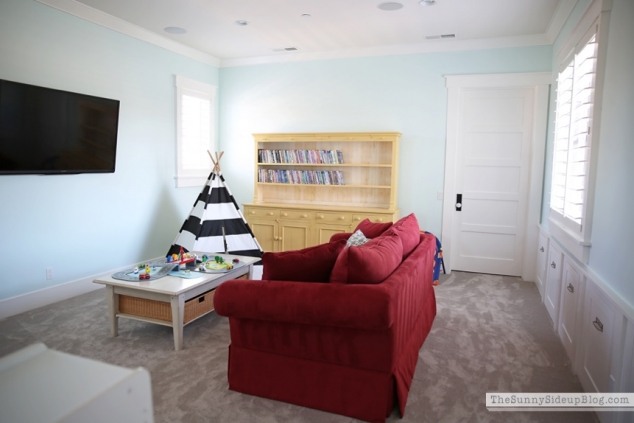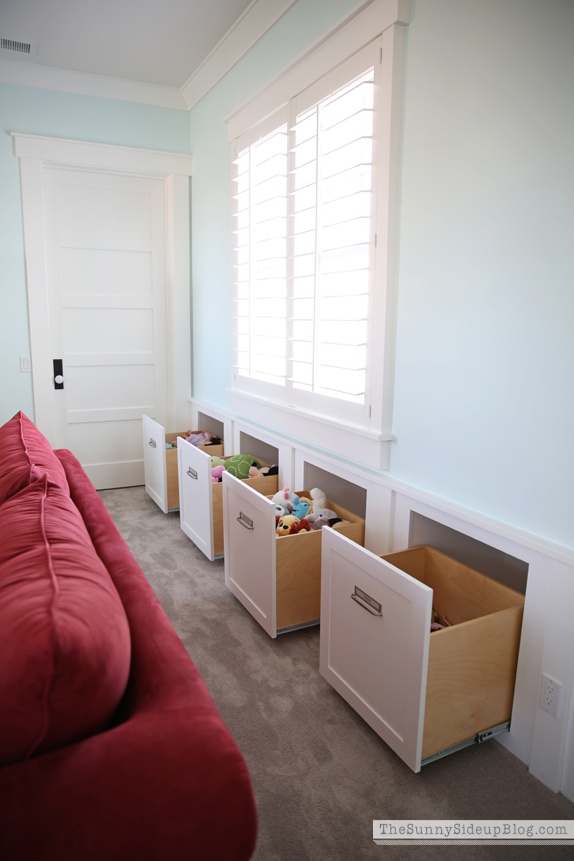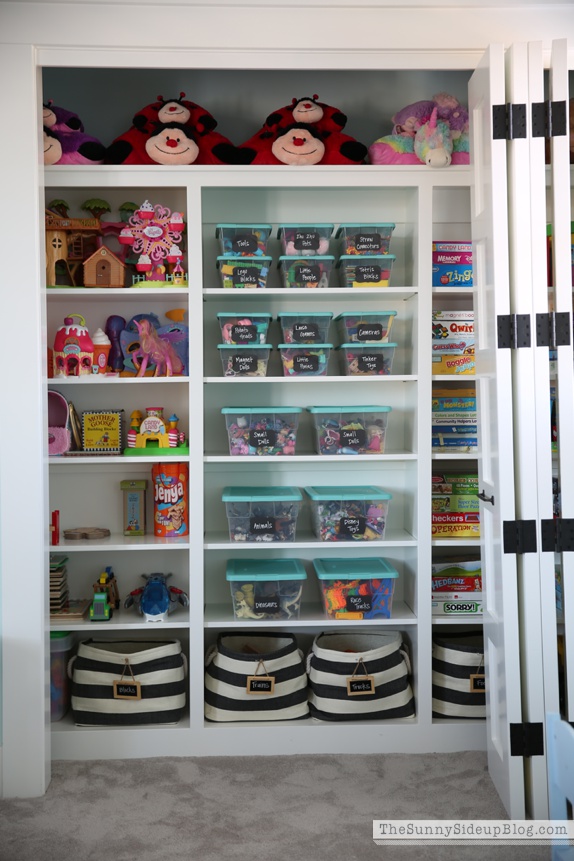 You can find more details on my playroom here.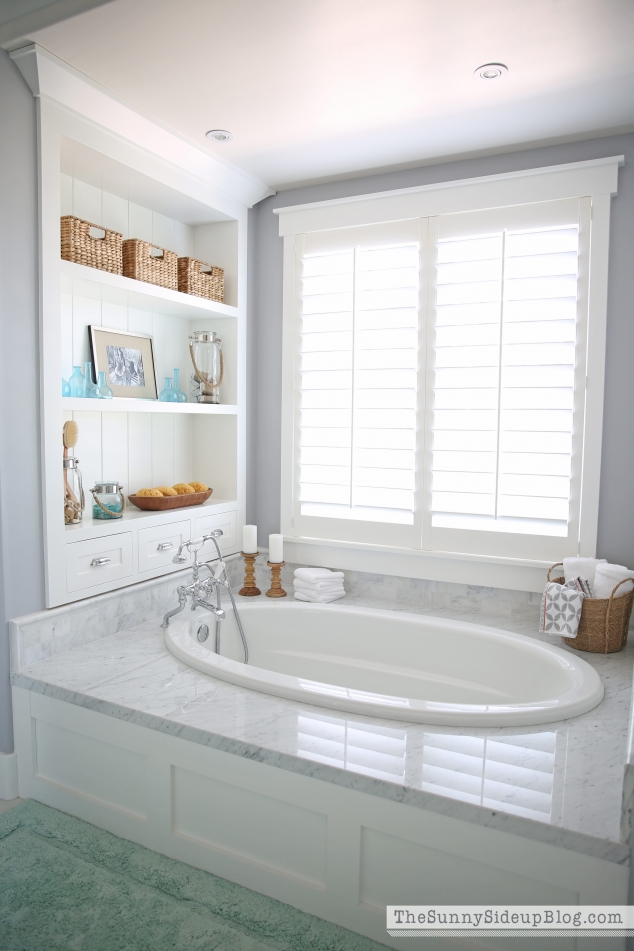 I haven't taken pictures of my master bedroom or bathroom yet, but here is a peek of my tub.  My favorite spot to hang in the evenings after the kids are in bed.  Calgon take me away!  (Dated myself there didn't I?)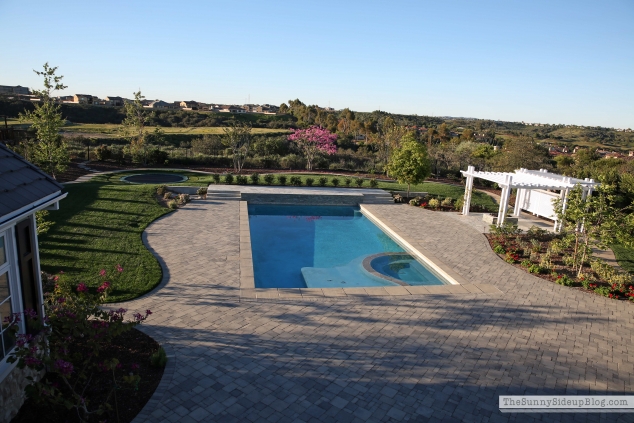 I took this picture of our back yard a few weeks ago.  This yard was the reason we bought our lot and decided to build.  It was our dream to have room for our kids to run and play and to give them a bit of the small town childhood we had growing up… but in a big city.  :)  We've been working on this space a lot lately and pics of our outdoor furniture are coming soon!
Thanks so much for sticking with me on my house tour!  I'll be sharing more of my home on the blog (lots more decorating and organizing in store!) so subscribe to my e-mail list (on my sidebar) if you don't want to miss a post.  I'd love to get to know you.  :)
Thanks Amy and Christy for having me today!   Such an honor.  xo
xoxo, Erin