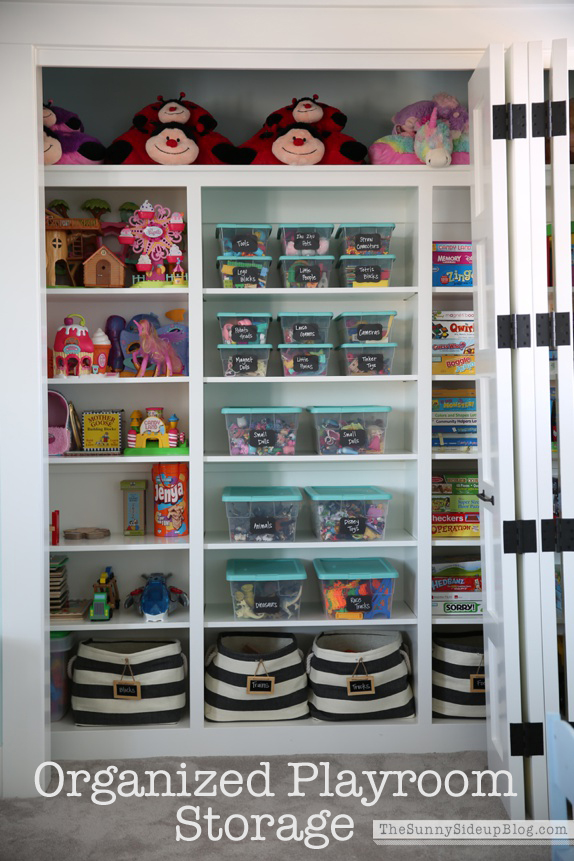 Oh my word.  Our playroom is organized.  Plus I finally got the place clean enough to take pictures.  Miracles DO happen!  ;)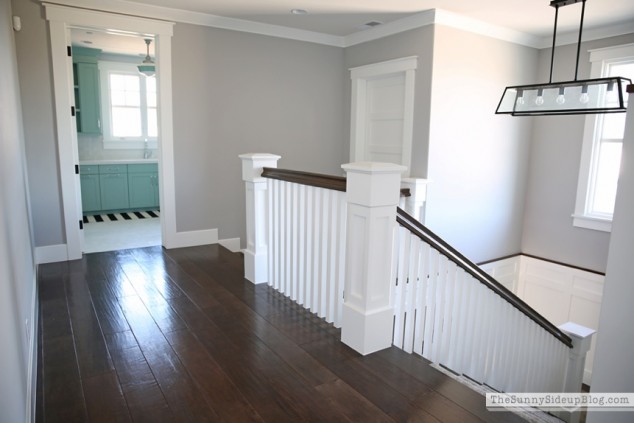 Taking you on a picture tour today!  When you get to the top of our stairs you turn right to head into the kids' laundry room…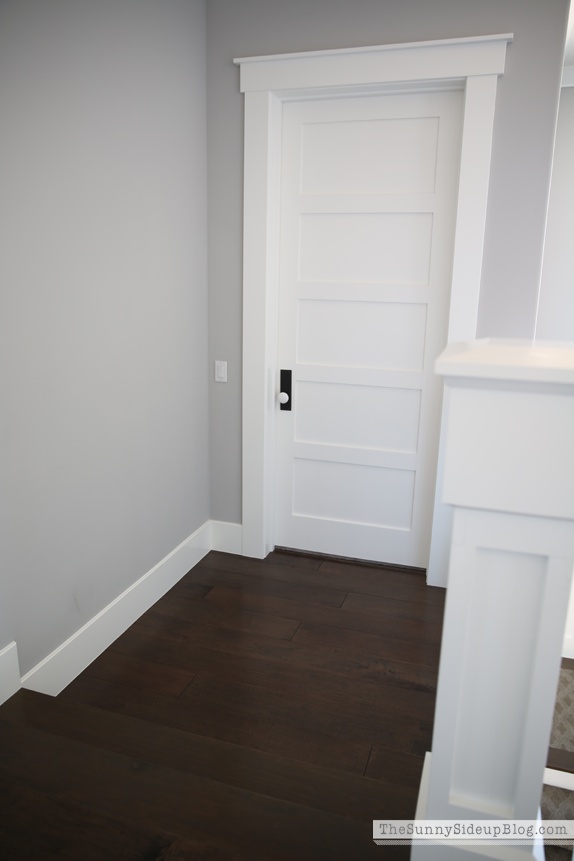 Then past the laundry room you walk down a few steps into the playroom.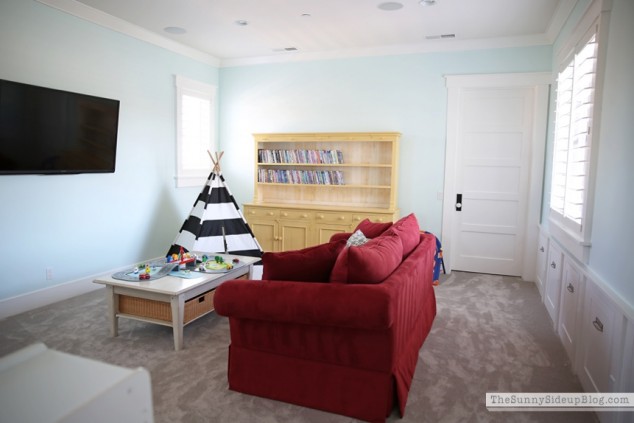 Now.  While I show you around the room remember that today's post is all about organization.  NOT decor.  I haven't done much of anything to decorate this space because we've obviously had bigger priorities.   The furniture in this room is all from our old house – stuff we've had for years.  That being said, I kind of like it for two reasons.  One – my kids can trash this stuff and I could care less!  It's already hammered so it's great furniture for a kids' space.  Two – my yellow hutch (still love it!) and red couch add some fun color to the room.  I'm not sure they are the colors I will eventually go with in this space, but for now, they are working great.  This room is a happy room to be in!  Which is good because the kids are in here a lot.  :)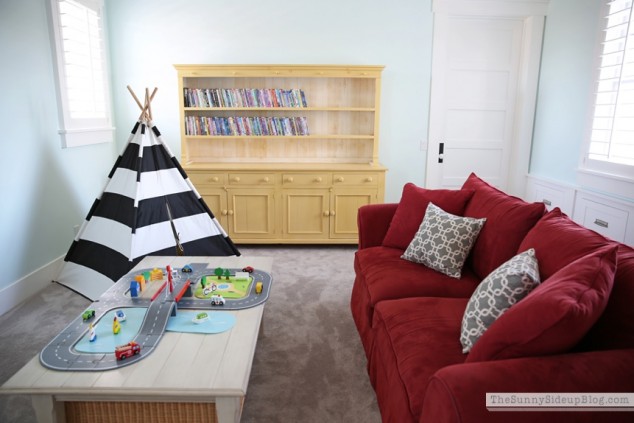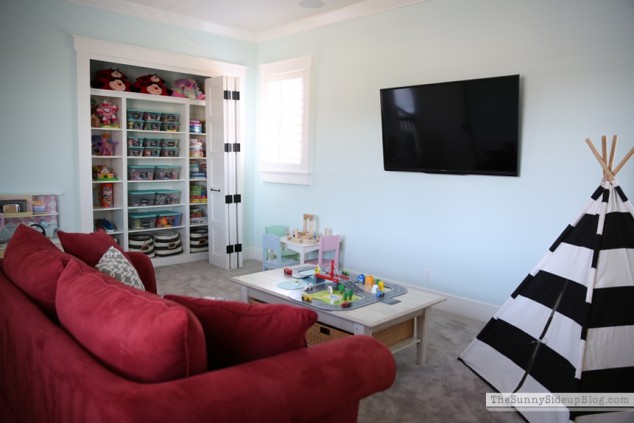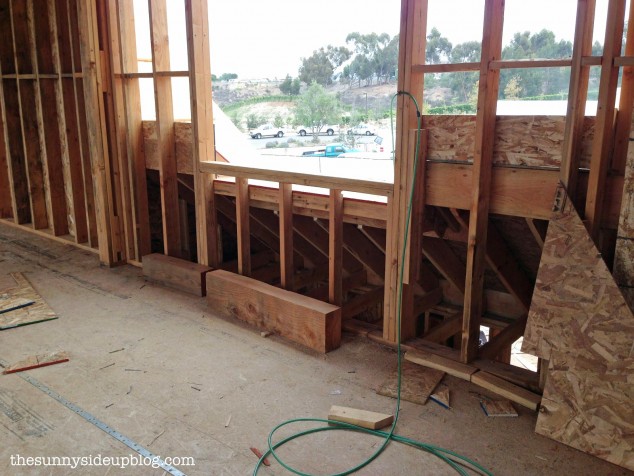 This playroom is over our garages.  Remember back when we were framing the house?  I was walking around this room and noticed that there was some empty space in the wall under the window because of our steep roofline.  I was trying to think of a way to tap into that space and use it and later that night I woke up at 2:00 in the morning with a vision of large, deep pull out drawers for toys!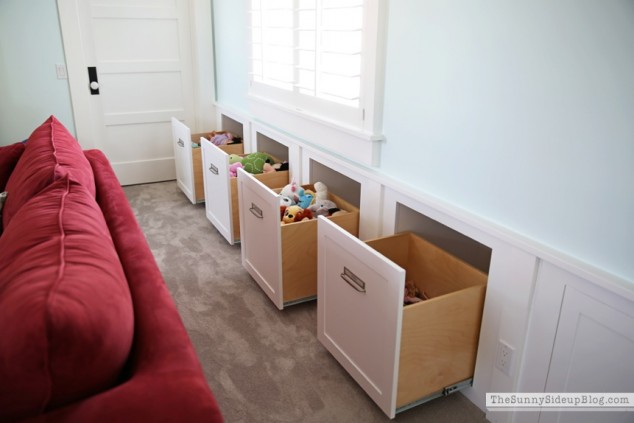 Here is what that vision currently looks like today.  Clearly I do my best thinking in the middle of the night.
That explains a few things.  :)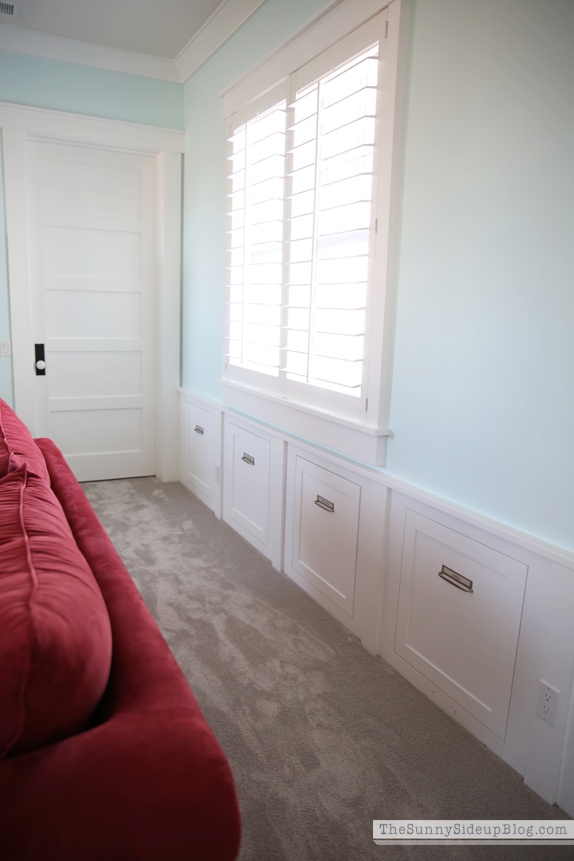 I asked my cabinet guy if he could build really deep pull out drawers that would look flush with the wall and tap into that extra space.  Then when my carpenter was doing our wood work and trim I had him make them look like part of the wainscot.  Here they are closed.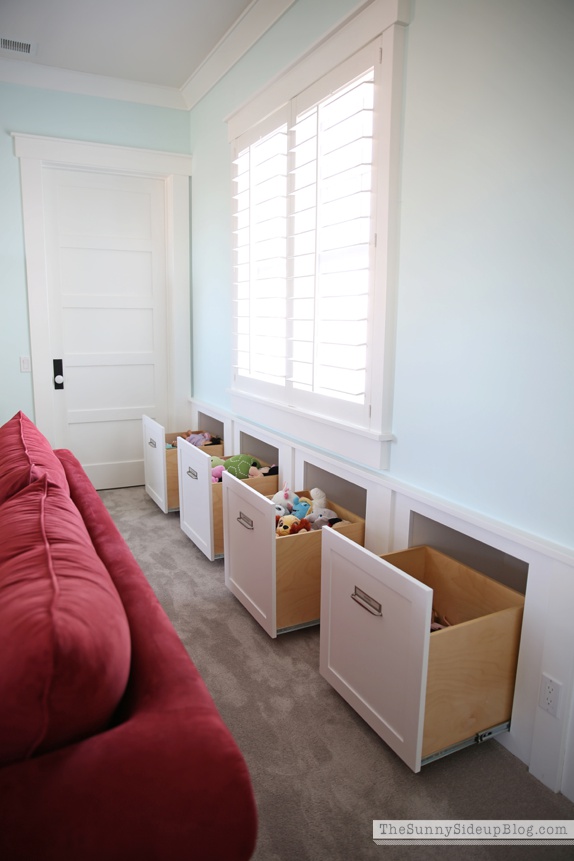 And open.  Are angels singing?
Funny.  I thought I heard them…  :)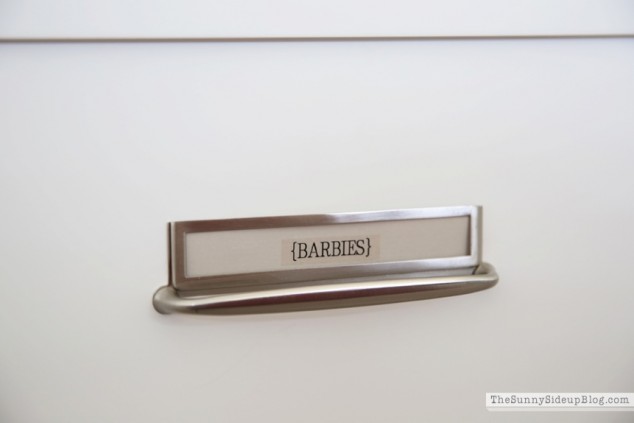 I was on a hunt to find the perfect hardware for these drawers.  I knew I wanted something that included a handle and a label.  I finally found these on a random website and it said they were from Pottery Barn.  I checked, but Pottery Barn's website said they were sold out and out of stock.  I was bummed and kept searching.  Then a month later I was in a Pottery Barn in another area of town and they had fifteen left in their store!  I was so excited and bought them all.  We used them in Kole's room too.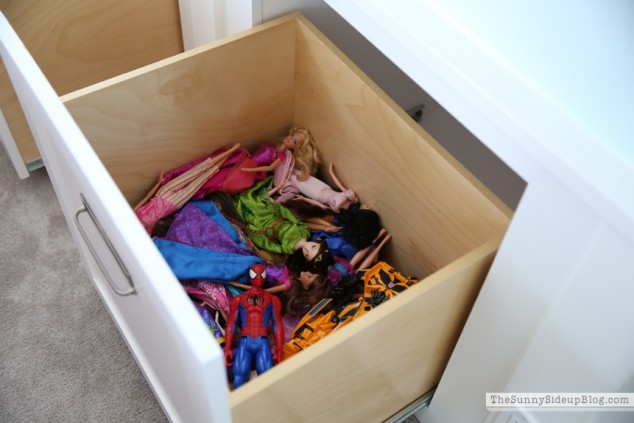 First drawer is for Barbies.  And of course the occasional Spider man and Transformer.  (I still smile when I see boy toys – we thought for sure Kole would be a girl and I feel so lucky every day to have that little guy as the caboose of our family!)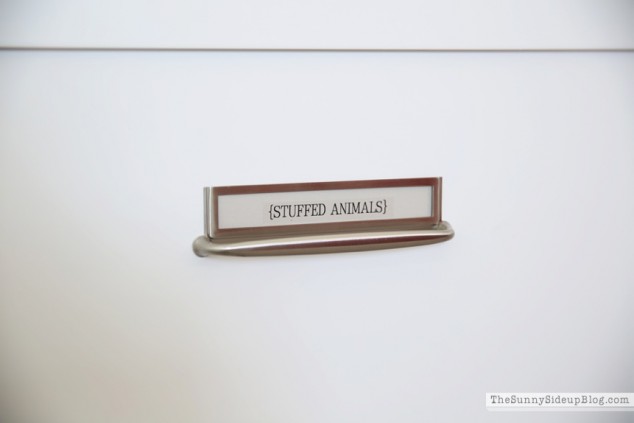 The next two drawers hold all of our stuffed animals…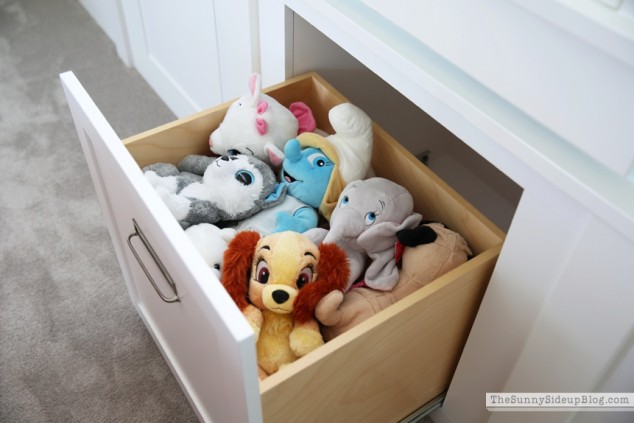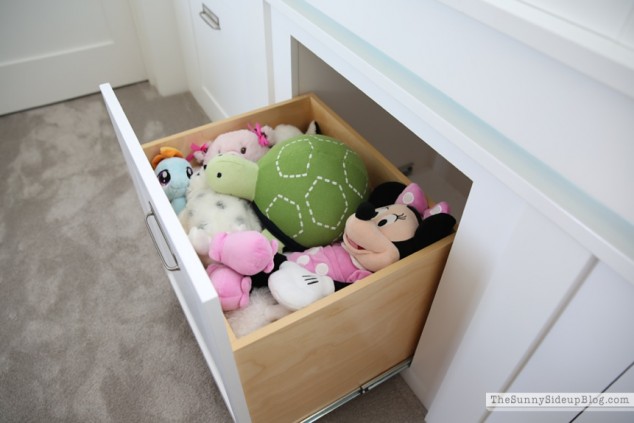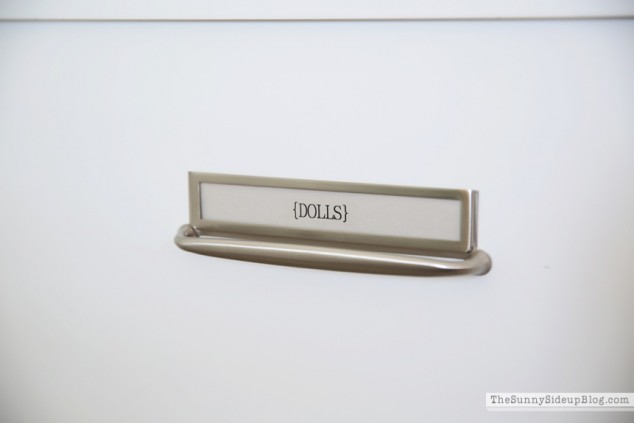 The last drawer holds all of the girls' dolls.  Which I'm sad to say they are playing with less and less these days.  At some point we need to clean them out and give some away, but I don't know if mom is quite ready for that yet.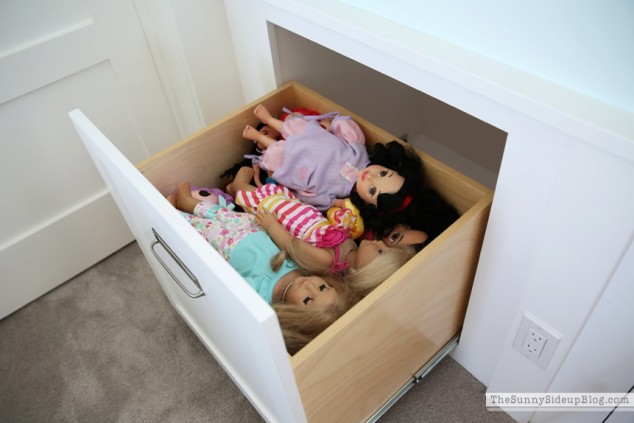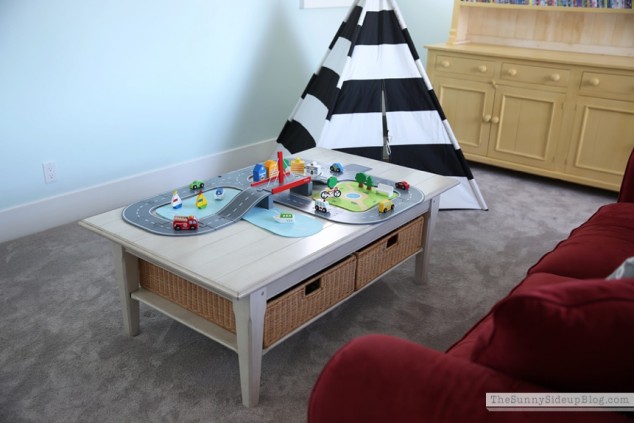 What is getting played with these days?  Pretty much everything else.  Racetracks..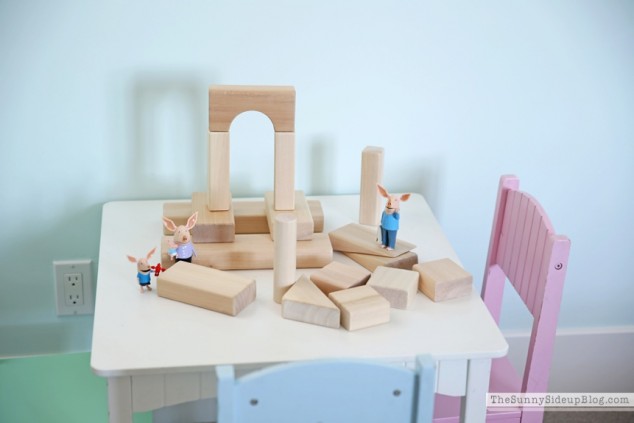 and blocks..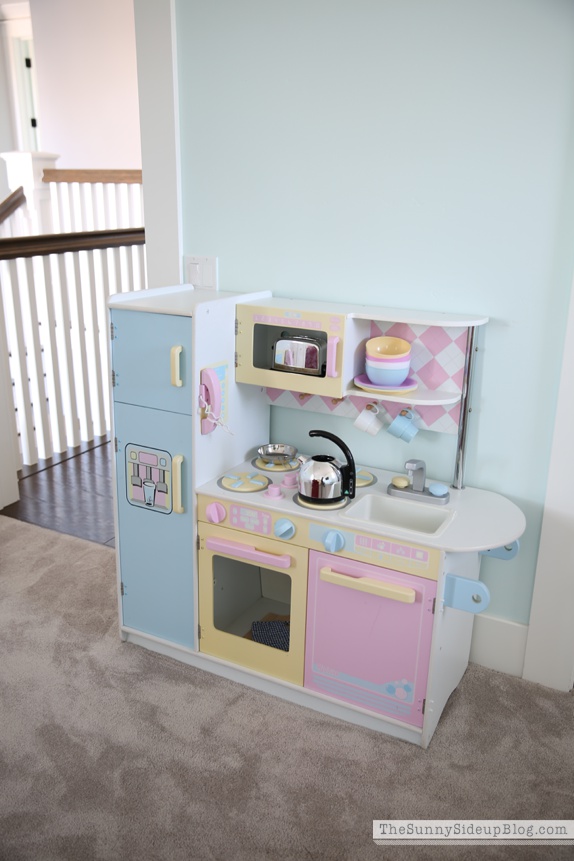 and the fact that the kitchen is pink doesn't seem to stop Kole from using it to mix up a mean plate of cookies.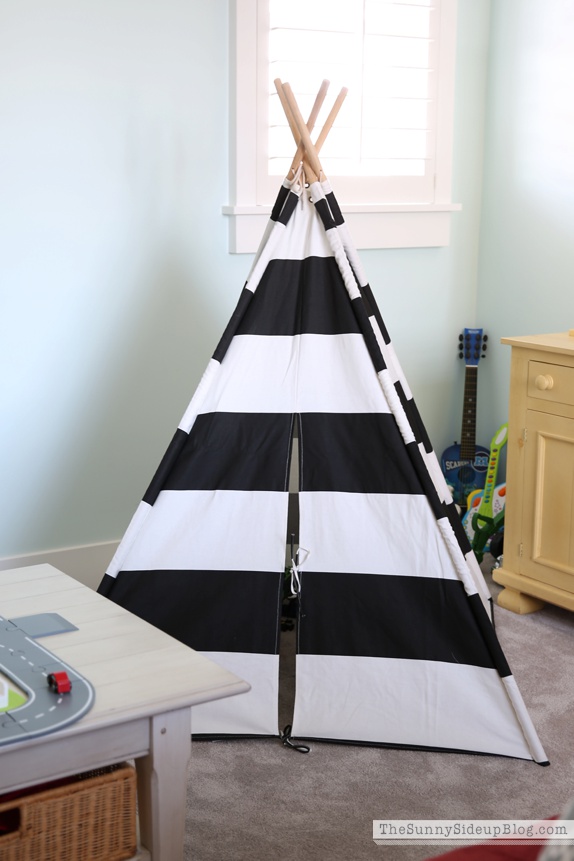 This fun tepee was what Santa brought Kole for Christmas this year.  I can't be sure, but I think he might have found it at Land of Nod.  Or had the elves make one just like theirs.  :)  I adore the black and white stripes.  I think I have something with stripes in every room of this house!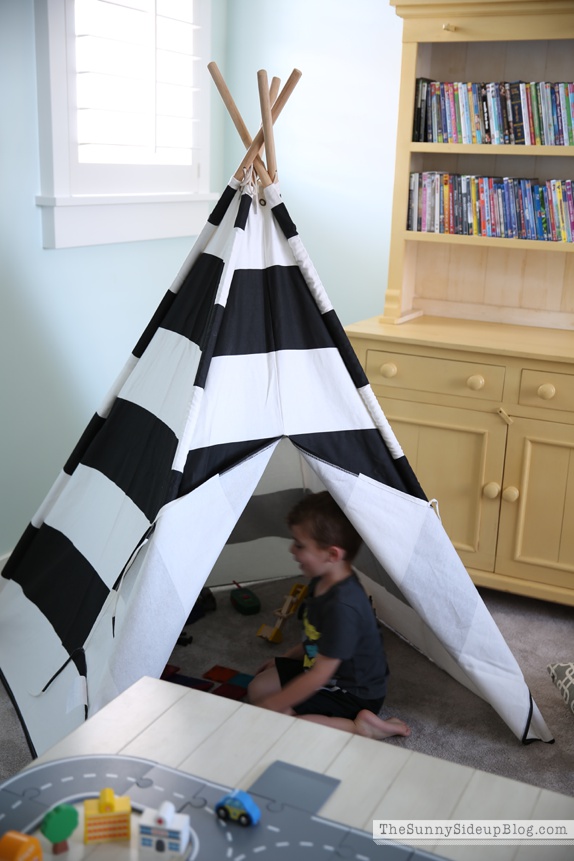 My little buddy loves to play in this thing.  Plus it's such a safe place to hide from "bad guys" of course.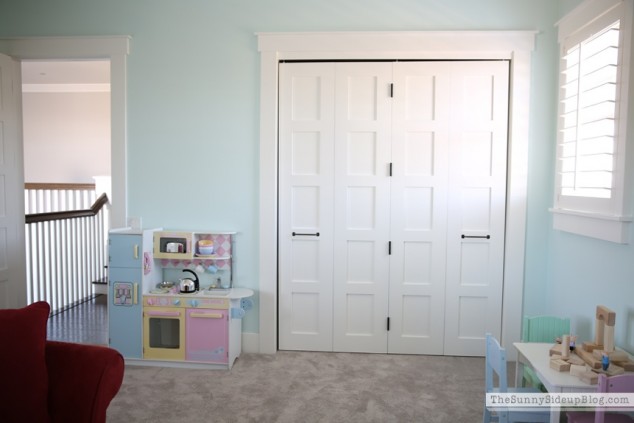 Ready for more organization?  Let's open these fabulous folding doors!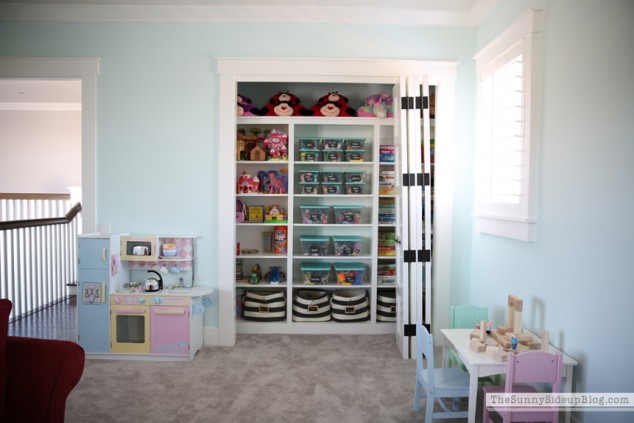 What?  Angels again!?  ;)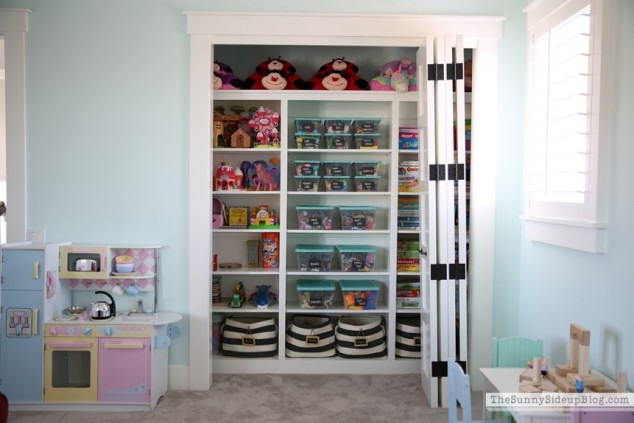 With three kids (who love their toys and truly play with all of them) I knew I needed a place in this room to store everything.  I try to clean out our toys often and aside from the dolls (that I just can't part with yet!) I'm pretty good at donating toys the kids' have outgrown.  But if you're a mom you know that year after year with Christmas and birthdays and special events the toys add up quick!  Keeping them organized is not only sanity for moms, but also the best way to make them accessible and easy for the kids to play with.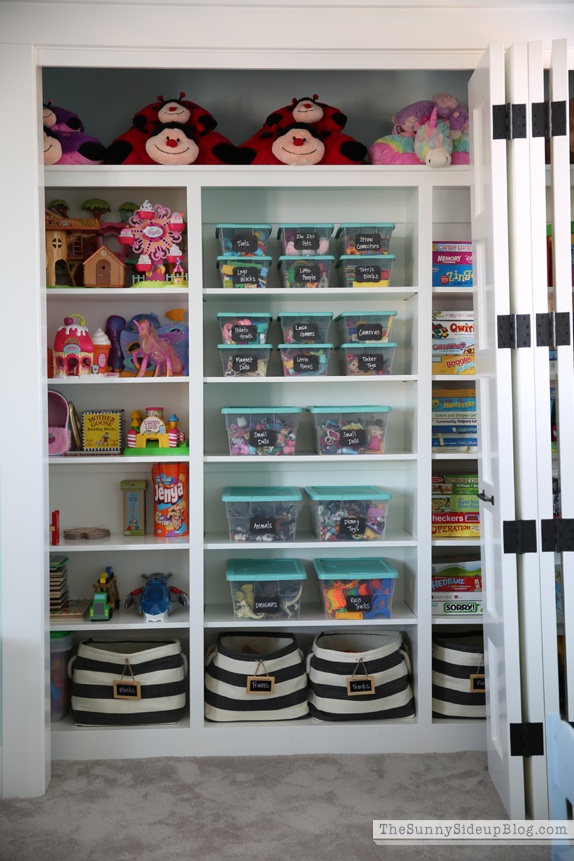 A closet with open shelves seemed like the best solution to me.  The kids have easy access to everything and I can close the door to hide it all if needed.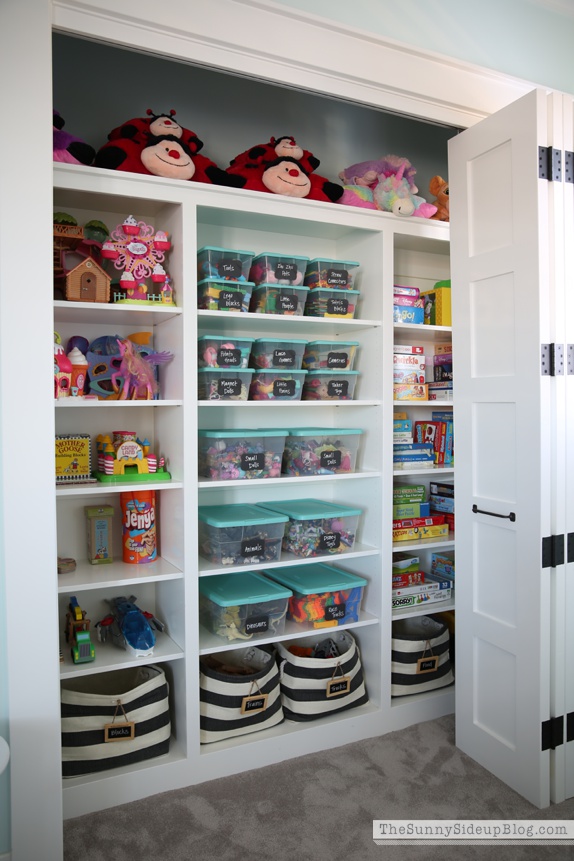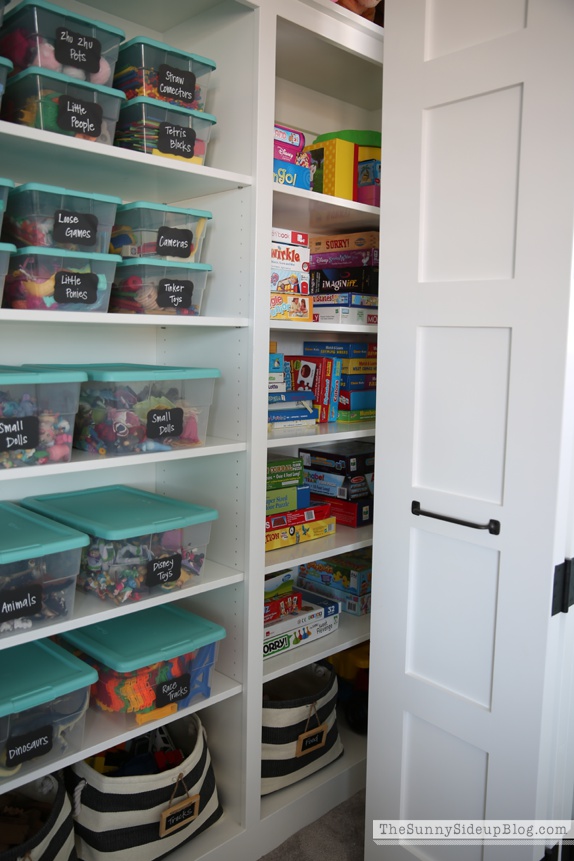 I keep all of our board games on the right.  This door actually slides open a bit closer to the wall to access them.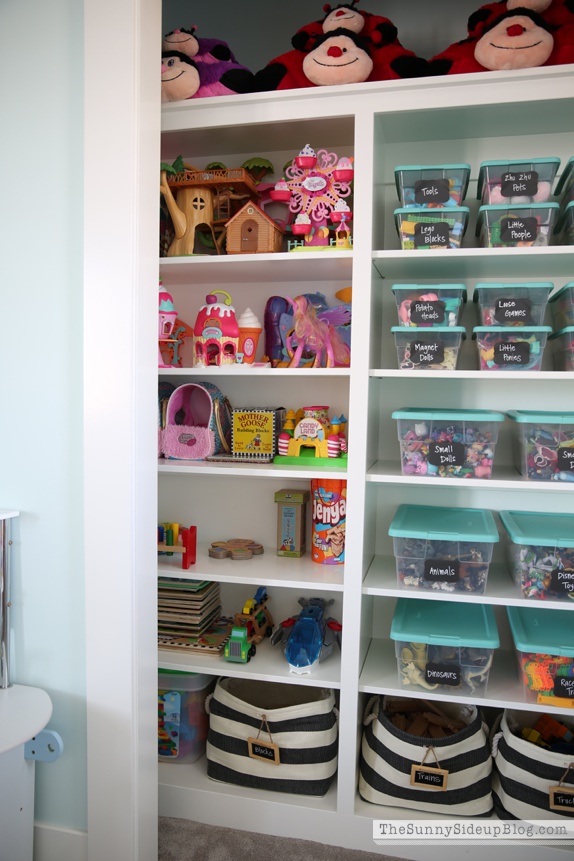 The left is for puzzles, the girls' little doll houses and other random toys that Kole plays with daily.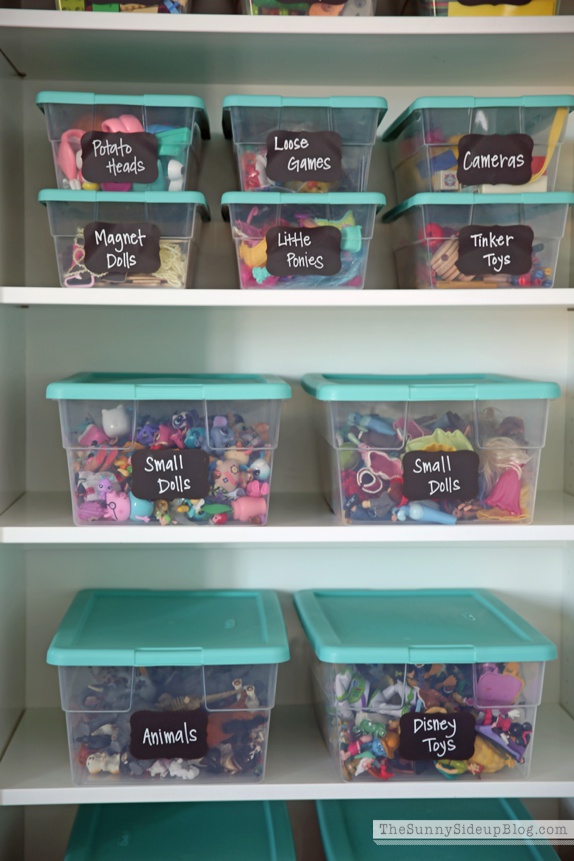 The bins in the middle were inexpensive bins from Target.  I think these are the best for organizing toys!  I organize them by categories that will be easy for the kids during clean-up.  Chalkboard labels are the Martha Stewart line at Staples and I just wrote on them with a chalk pen.  Easy to erase and change if we mix things up in the future!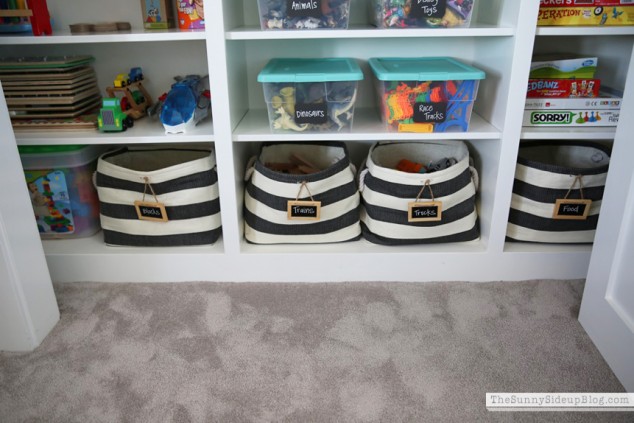 Kole has a lot of bigger toys, so I hunted for some bins that were large and would be easy for him to hold.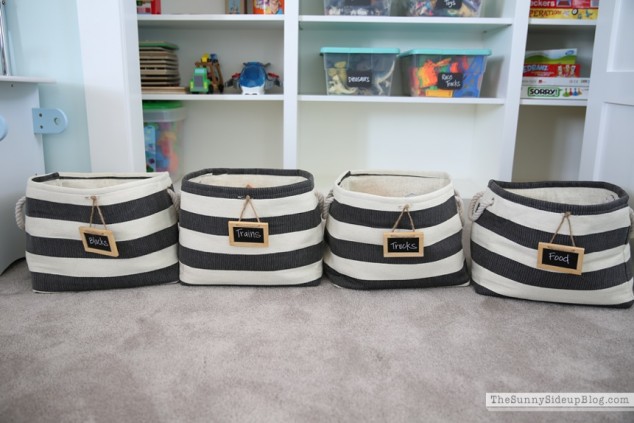 These Rugby Stripe bins from The Container Store were perfect!  Love how big they are, love the nice handles on the sides of them (easy to pick up and move to other rooms) and hello!  More stripes.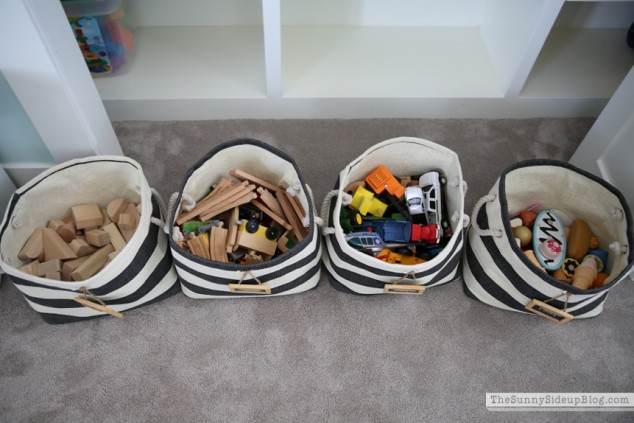 Container Store?  Stripes?  Perfectly organized toys?  Angels are harmonizing like no one's business!
K.  Sorry.  I'll stop now.
The angels won't.  But I will.  :)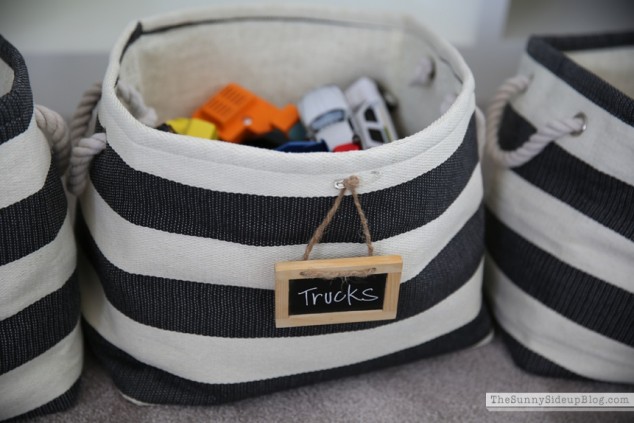 These chalkboard labels are some I've had for a few years.  From World Market maybe?  I just attached them with a safety pin.  Wouldn't recommend that if you have really little ones, but my kids don't play with them.  Aside from keep things organized, labels are great for working on pre-reading skills.  Kole finds his toys by sounding out the first letter of the word.  Added bonus.  :)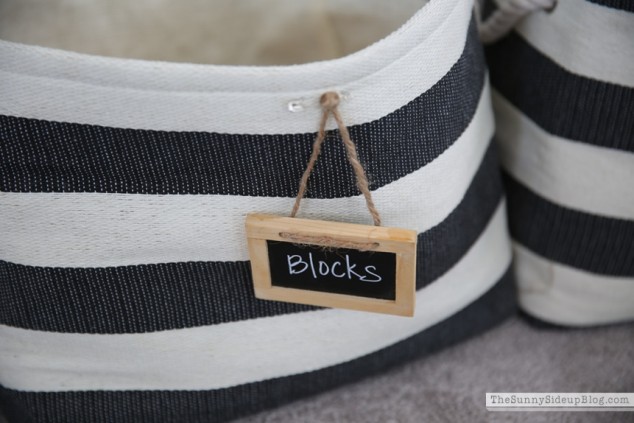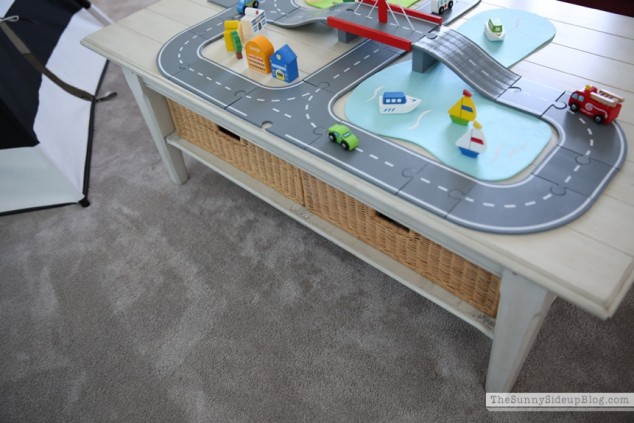 Here are a few other ways we are keeping the toys organized.  The baskets in this old coffee table pull out.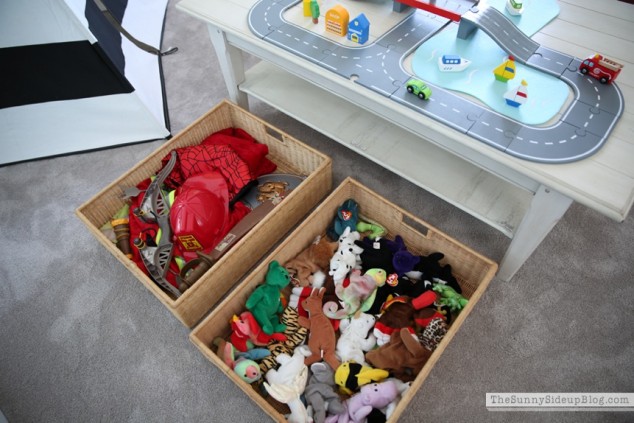 Beanie's on the right (all from my husband's mom – she loves to give them a new one each time she visits).  The other basket is used to hold Kole's pretend stuff.  Superhero capes, swords and shields, fireman hat, etc.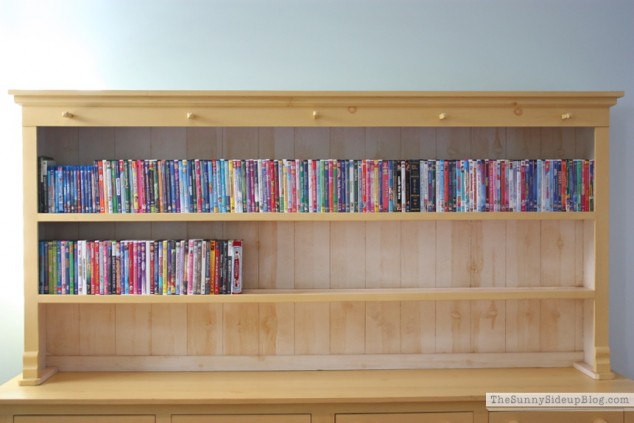 My hutch is currently holding our DVD's which makes me laugh.  I stuck them all here when we moved in thinking I'd find a better place for them and there they have stayed!  For over a year!  I'm actually organizing them soon though.  I found a system I'm excited to try!  Coming soon to a blog near you.  :)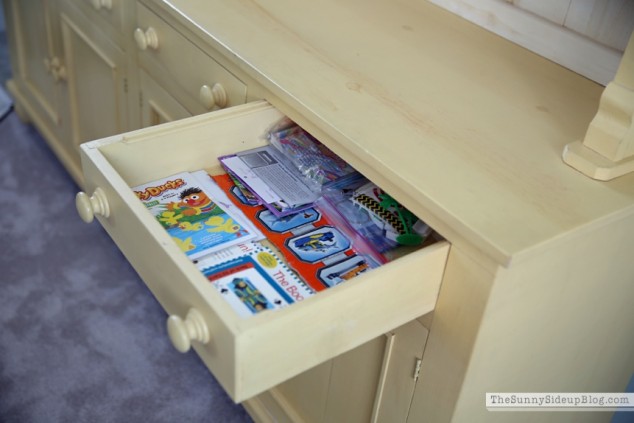 The drawers hold extra things like game instructions and the cupboards below hold a few future birthday presents for friends.   (I pick fun toys up for birthdays when they are on sale.)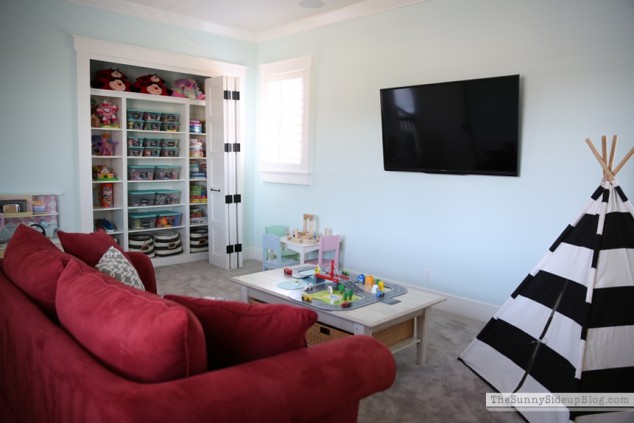 So that's it!  Our organized playroom.  It NEVER looks this clean.  There are usually toys all over the floor.  But that's what a playroom is for.  A place to mess up and enjoy.  The nice part for me is that after the messing up and enjoying is over, everything has a home and clean up is simple.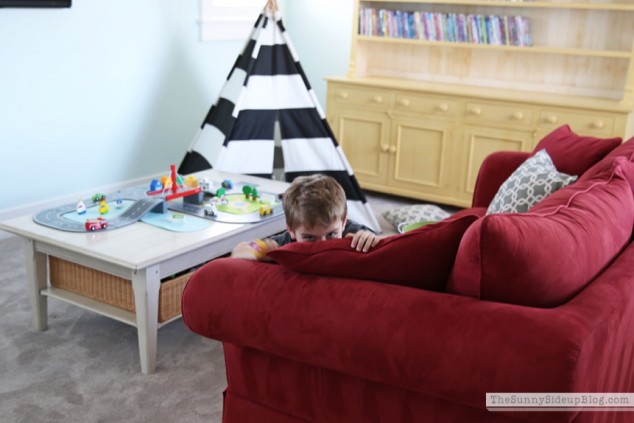 Even for this little trouble maker.  :)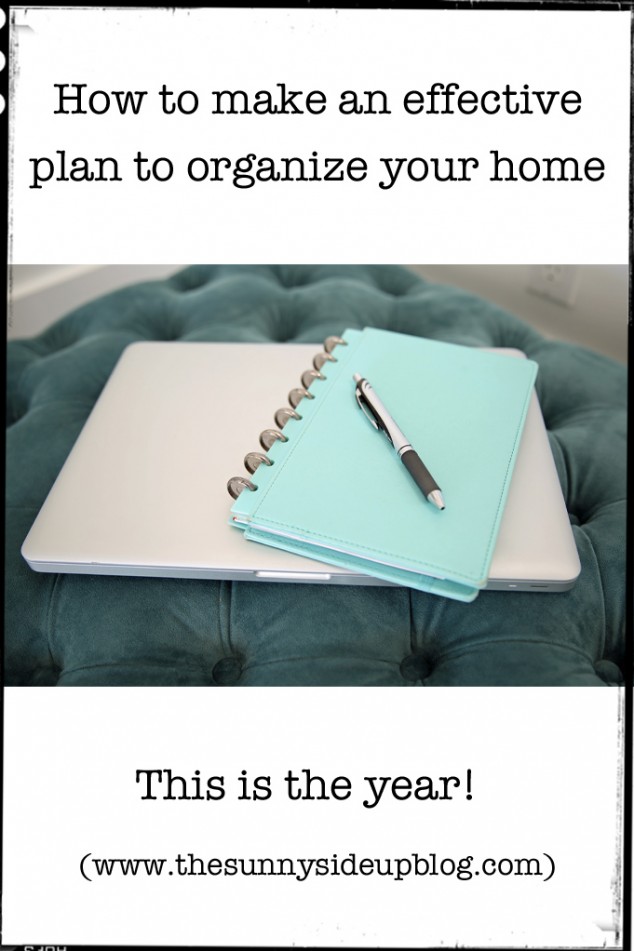 Now that I've tackled the attic, holiday decor and bonus room, the playroom wraps up my January spaces!  February spaces are almost done too!  Have you made your list for the year?  You can see mine here.  So happy to have this year plan to keep me on track!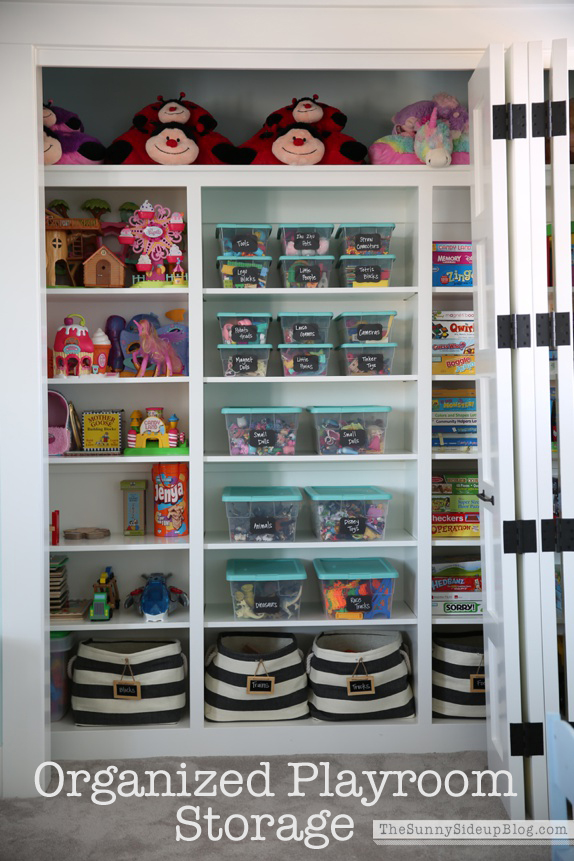 Also beyond happy to have the toys organized!
The angels can rest.  And so can I.
:)
(affiliate links used)
**If you are new to my blog, click below each picture to see full posts and sources for other spaces in my home!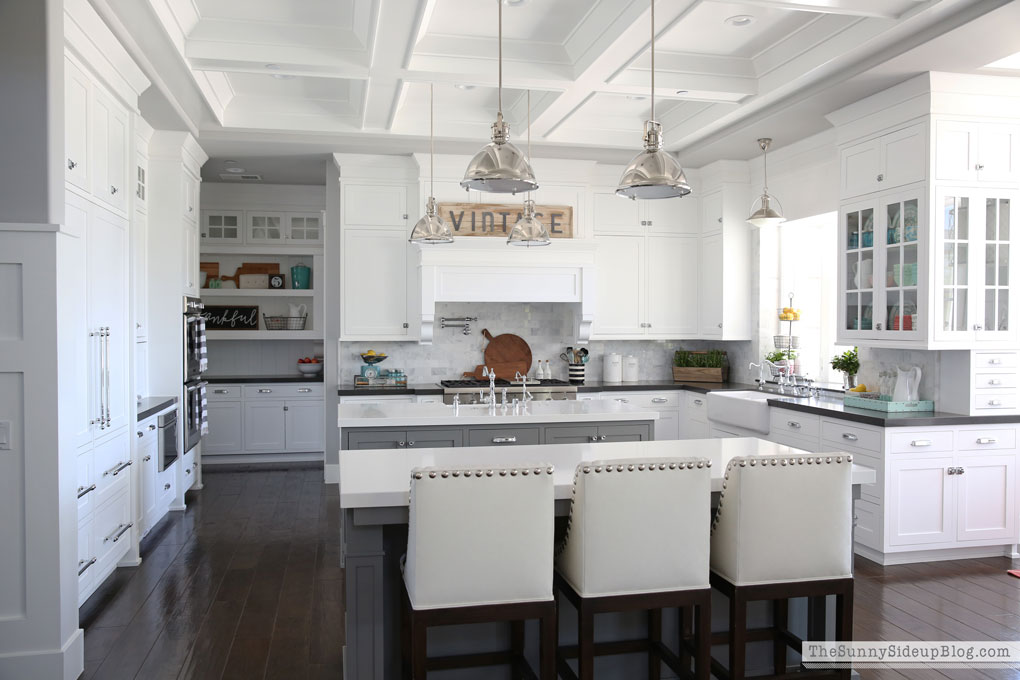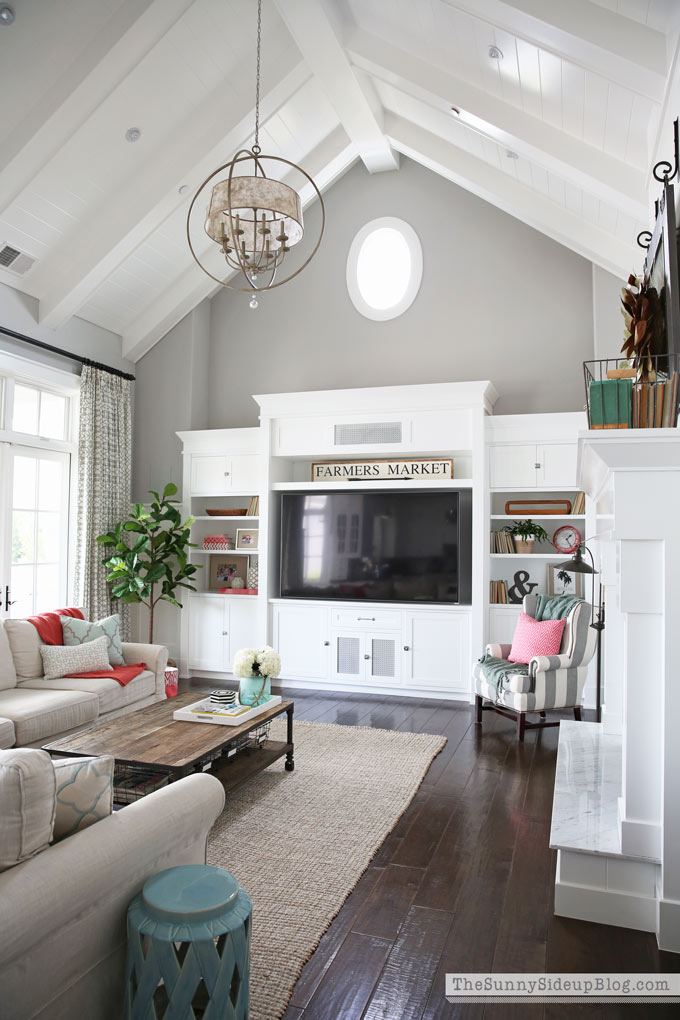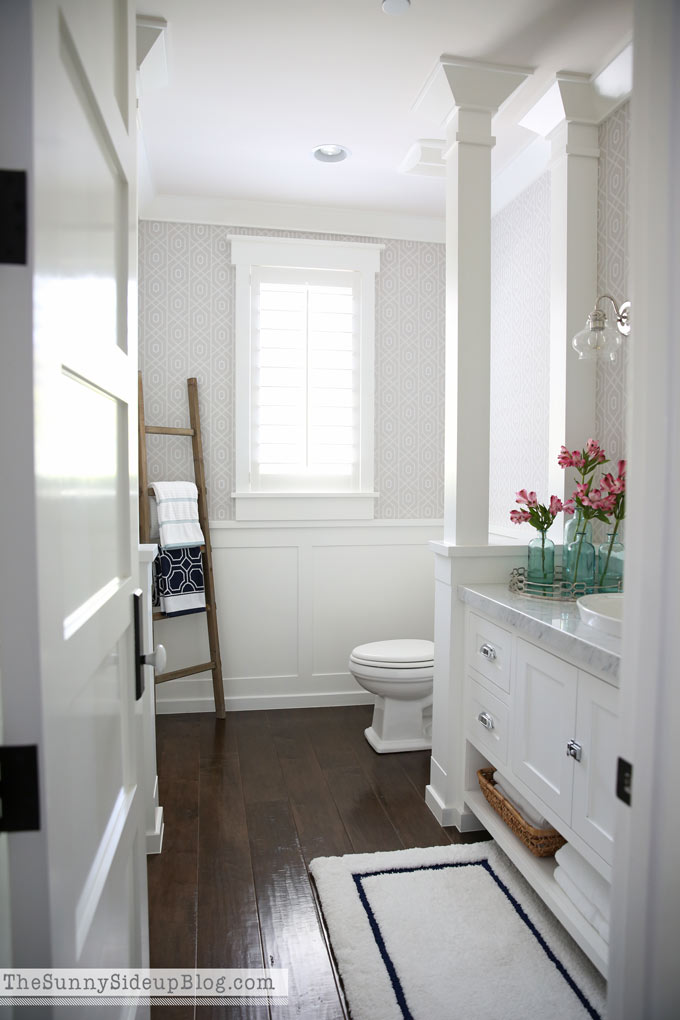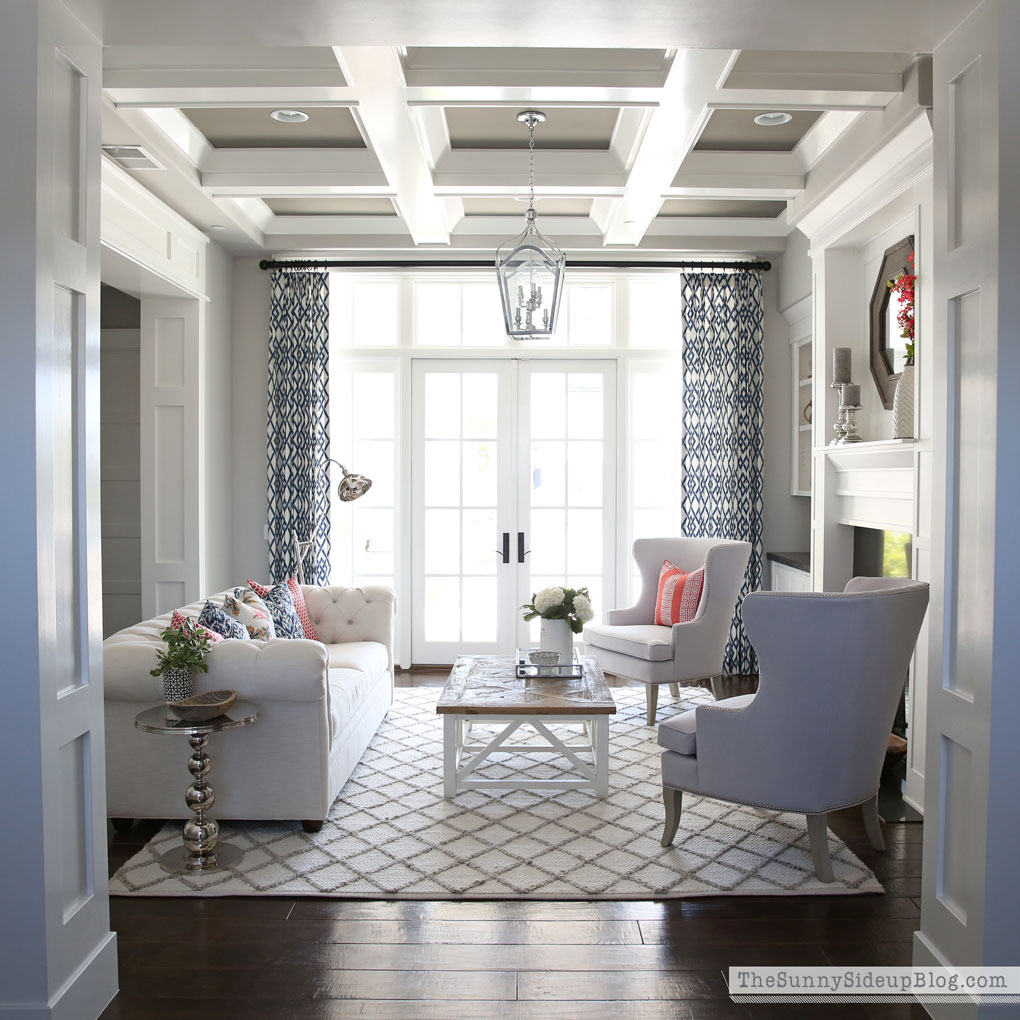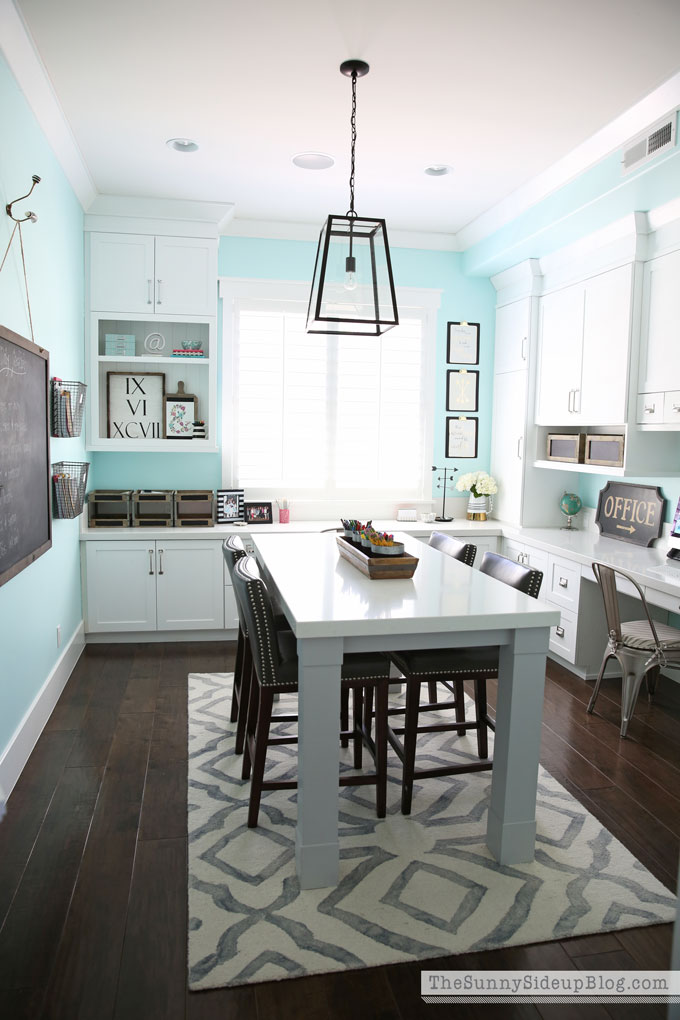 xoxo, Erin