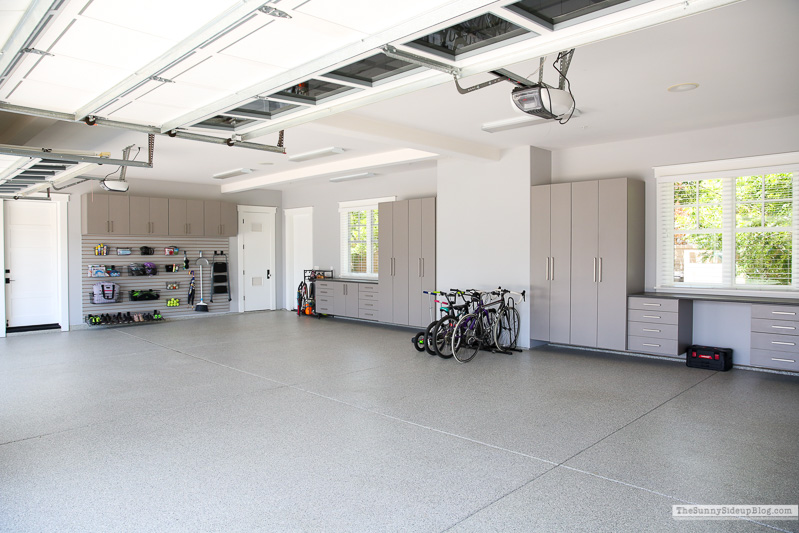 Alright friends.  My organized garage tour is almost finished!  I shared the inside of some of my organized drawers the last time we talked garage and today I'm sharing the inside of my organized cabinets!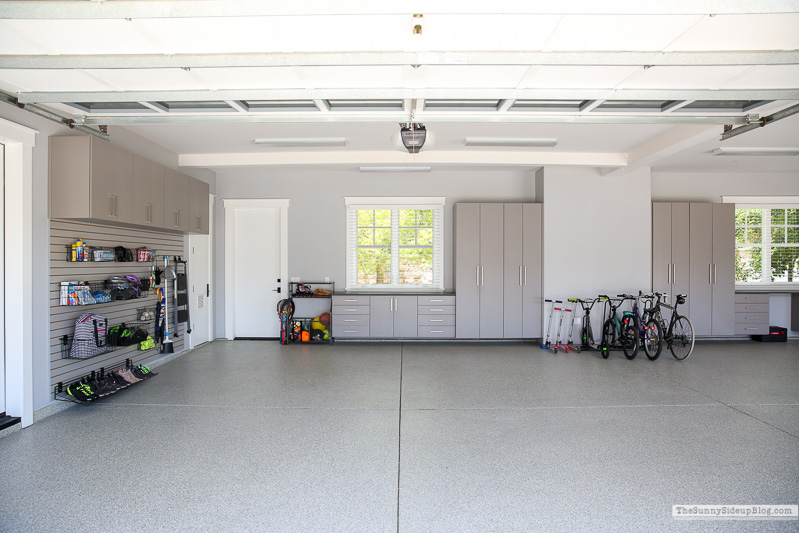 I'm so annoyed at myself for not taking "before" cabinet pics!  Often when I get on an organizing roll I just start puling items and sorting quickly and I forget to take pics of the madness that was there to begin with.  So you'll have to trust me on this one.. they were a mess!  Just random items stuffed inside each cabinet with no rhyme or reason.  I pulled every single thing out of our cabinets and spent an hour just cleaning them.  I got a ladder and some soapy water and just started on the top shelf – scrubbing, rinsing and drying.  Once they were clean I made piles of like items and decided how I wanted to organize everything.  Below is what I ended up with starting with the tall cabinets to the right of that first window.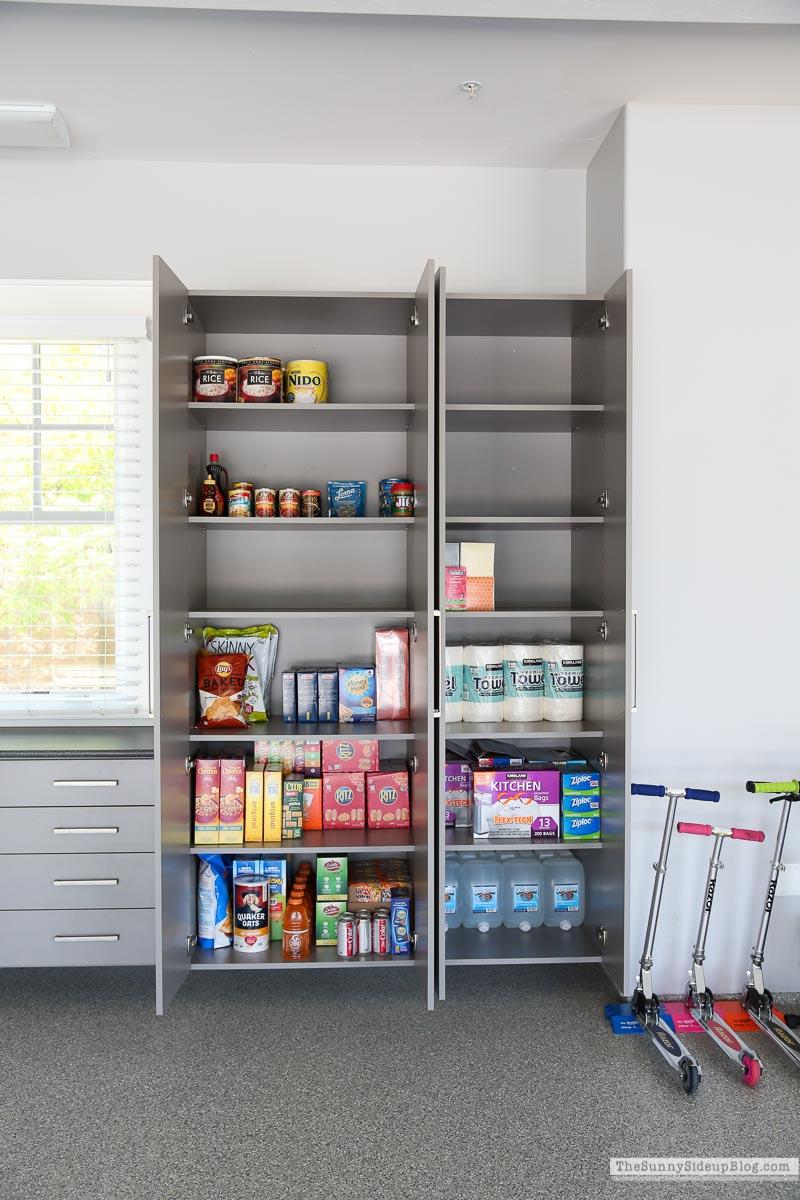 These cabinets are where I'm keeping food storage and extra household items.  This is the Costco run spot!  I know this goes without saying because most of you know me well by now, but I'll say it for the people who maybe don't.  I am in no way an expert on food storage or planning or cooking or really anything food related!  So don't judge the contents!  Just sharing for the sake of organization. ;)  I've always tried to just buy extras of the items my kids naturally eat.  While this isn't the most glamorous food storage (and there is much room for improvement), it has definitely come in handy!  I'm always grabbing food from the garage when we run out and I don't have time to go to the store.  While we were all stocking up on food before everything shut down because of Covid I took the time to plan out meals for 3 weeks (really simple things I make often) and I bought what I needed for those meals.  A lot of that is gone now because we ate it so I'm going to do that again!  It felt so good knowing I could feed my family for a few weeks without going to the store if I needed to.
I'm using the right side of these cabinets for other household items I buy in bulk – garbage bags, paper towels, Ad's extra allergy medicine, etc.  We are lucky that with San Diego's mild climate we can store anything in this garage and it never gets too hot or too cold.  I keep some water on the bottom of these shelves and then we have other water storage in this corner of the garage..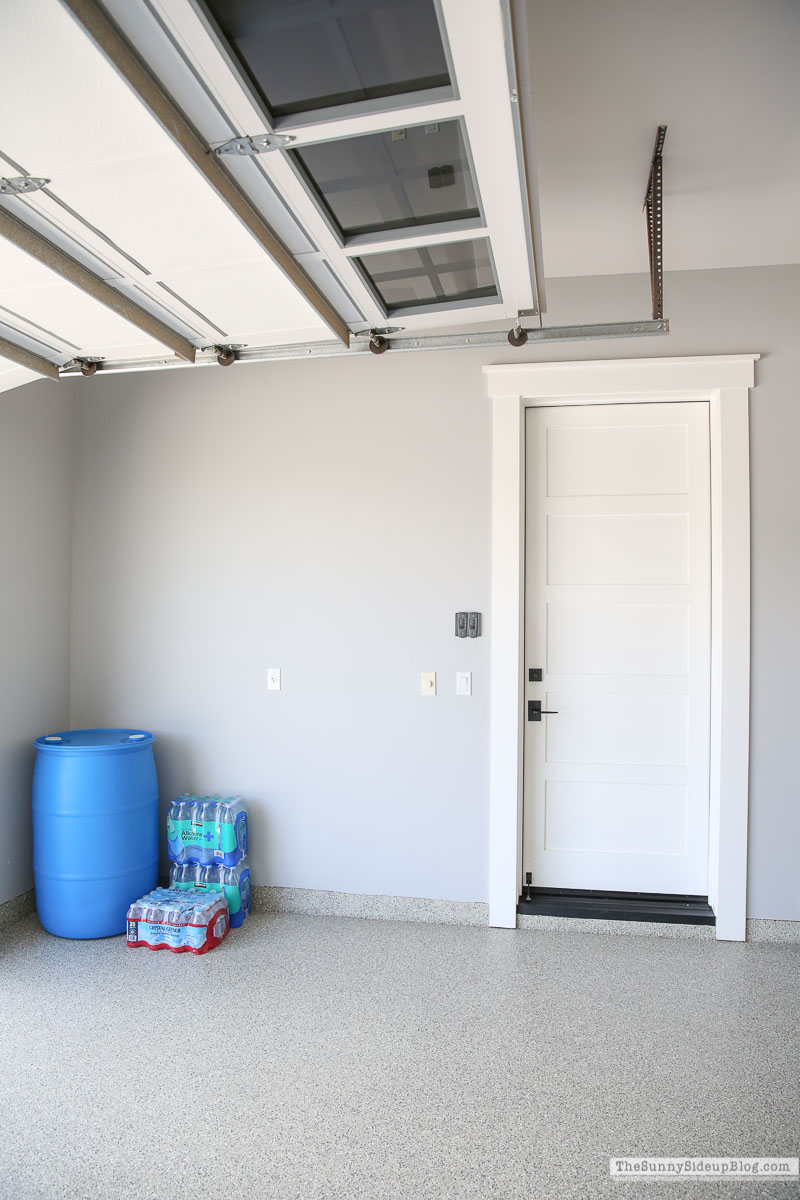 Aside from water I also use this spot by the door for boxes that come in the mail – packages that come in before I can deal with them and returns I need to make.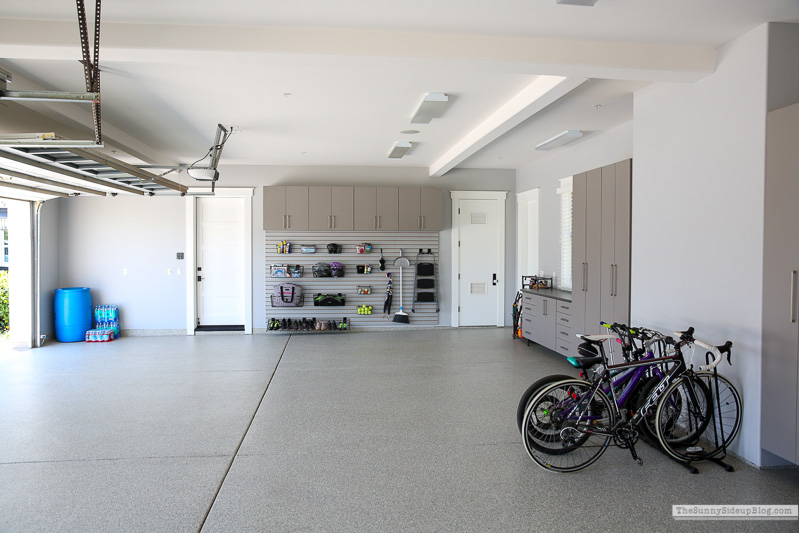 When the cars are all parked we don't have a lot of space so I had to keep a small opening for that type of stuff!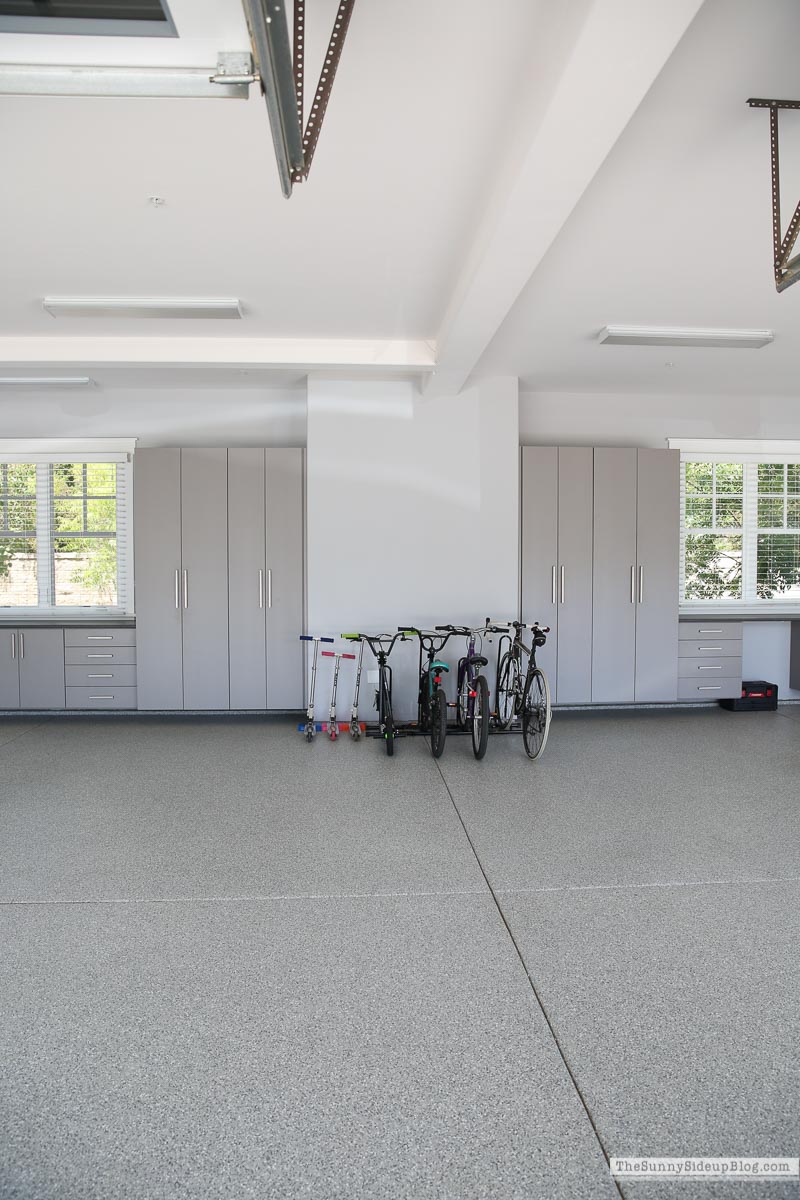 Moving on to the cabinets on the right side of the bikes!  (Details on our bike/scooter system here.)
When we had a local company install our cabinets the first thing I told them I wanted was adjustable shelves!  I love being able to customize the inside of cabinets to our needs by moving the shelves around.  I removed a lot of shelves during this little makeover so that I would have bigger spaces on the bottom for tall items.  On the left I'm storing our small vacuum and pressure washer (since I took this pic we've replaced our old pressure washer with this one and we love it!).  Then random things like jumper cables, extension cords, etc. are above them.  The top right shelves hold Kenny's motorcycle gear and helmets and below that is all of our paint!
I can't believe how much we've used our original paint since we moved in to touch things up or for new projects.  I had some plastic liners from a paint store leftover that I placed under the paint cans so they don't ruin the shelves.  Then I just added simple labels to most of the cans to remind me what paint goes where!  If I forget I have my paint printable to help me. :)  (You can download my paint colors and get access to all of  my printables HERE.)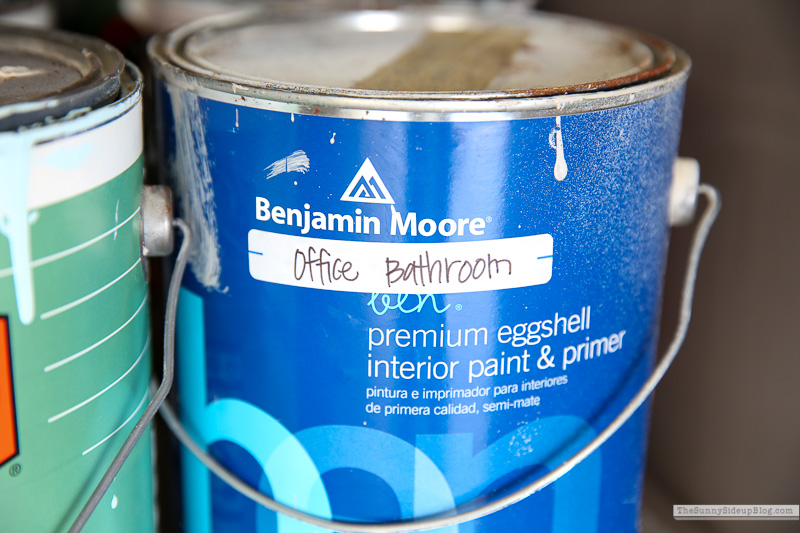 Organized paint!  I love it. :)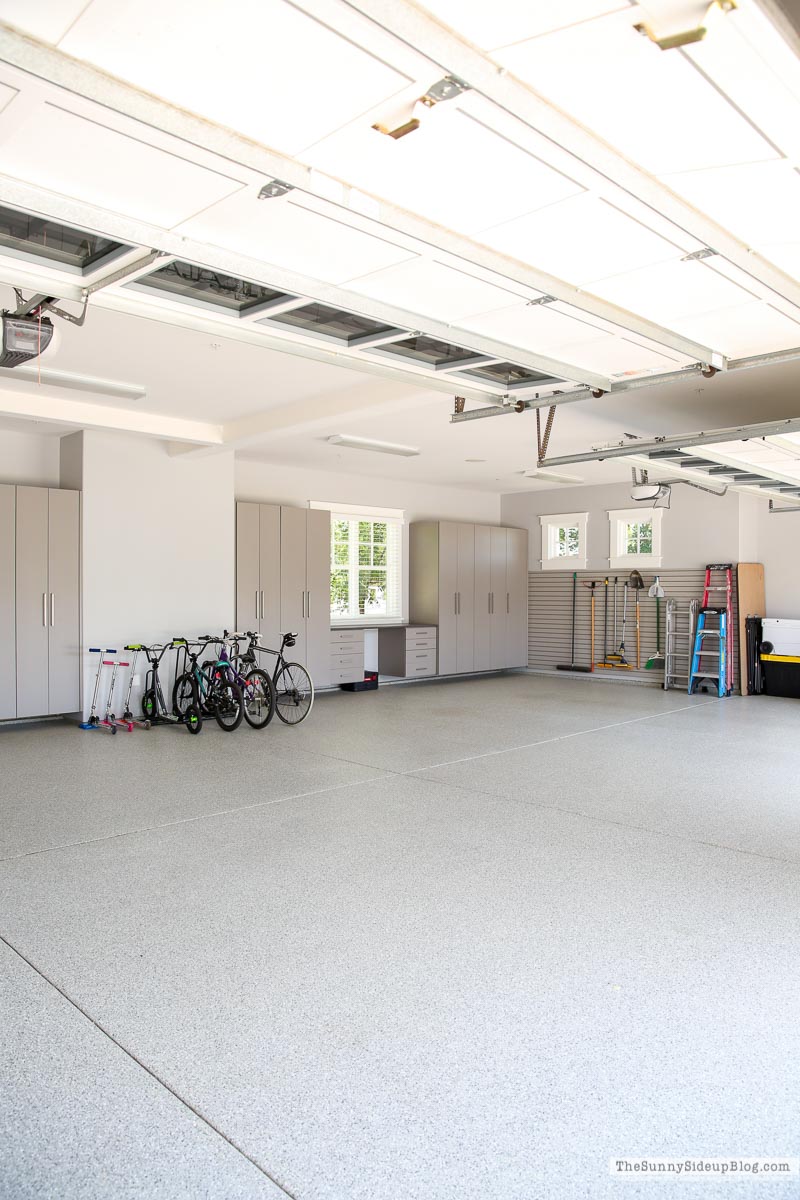 Moving on to the last section of cabinets on the far right!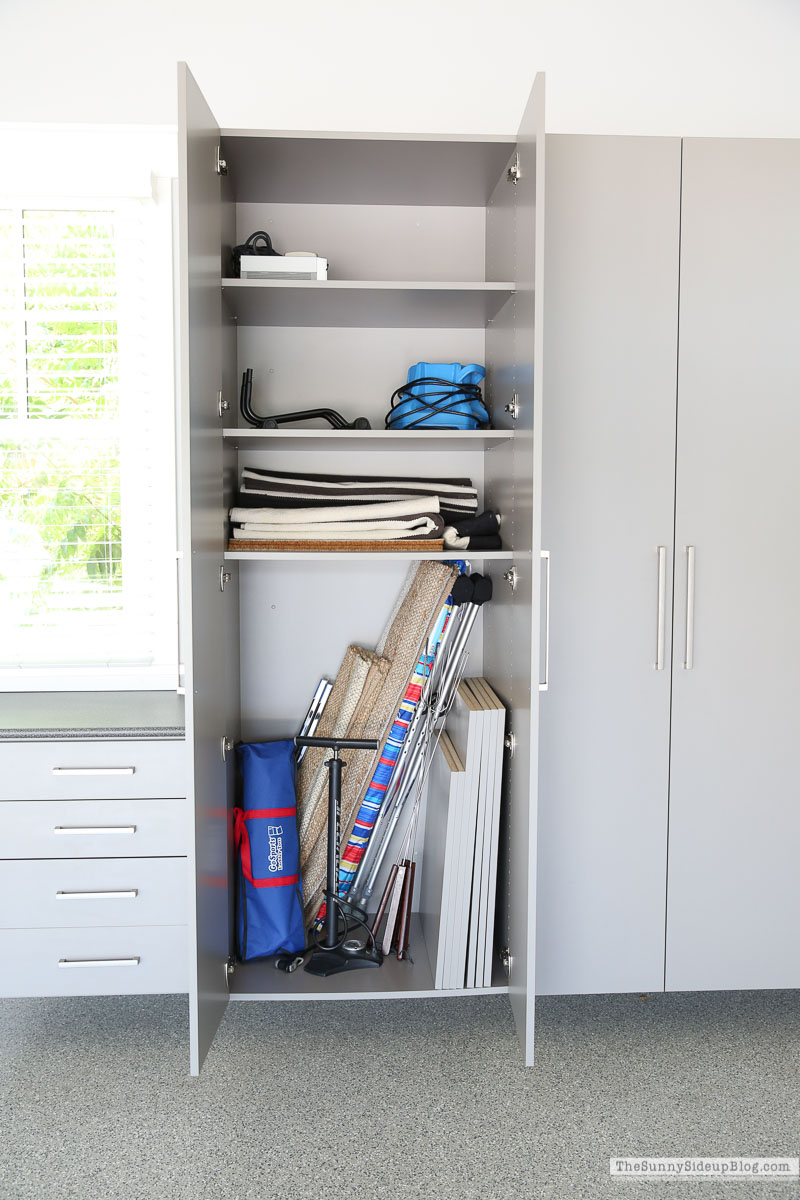 This cabinet is a bit of an extra and I'm grateful to have some room in it for anything else that comes along I need to store!  For now it's holding some of my outdoor rugs, our bike pump, crutches from my knee surgery (I have to save them for surgery on the other knee at some point – SOB!), and then all of the extra cabinet shelves I'm not using.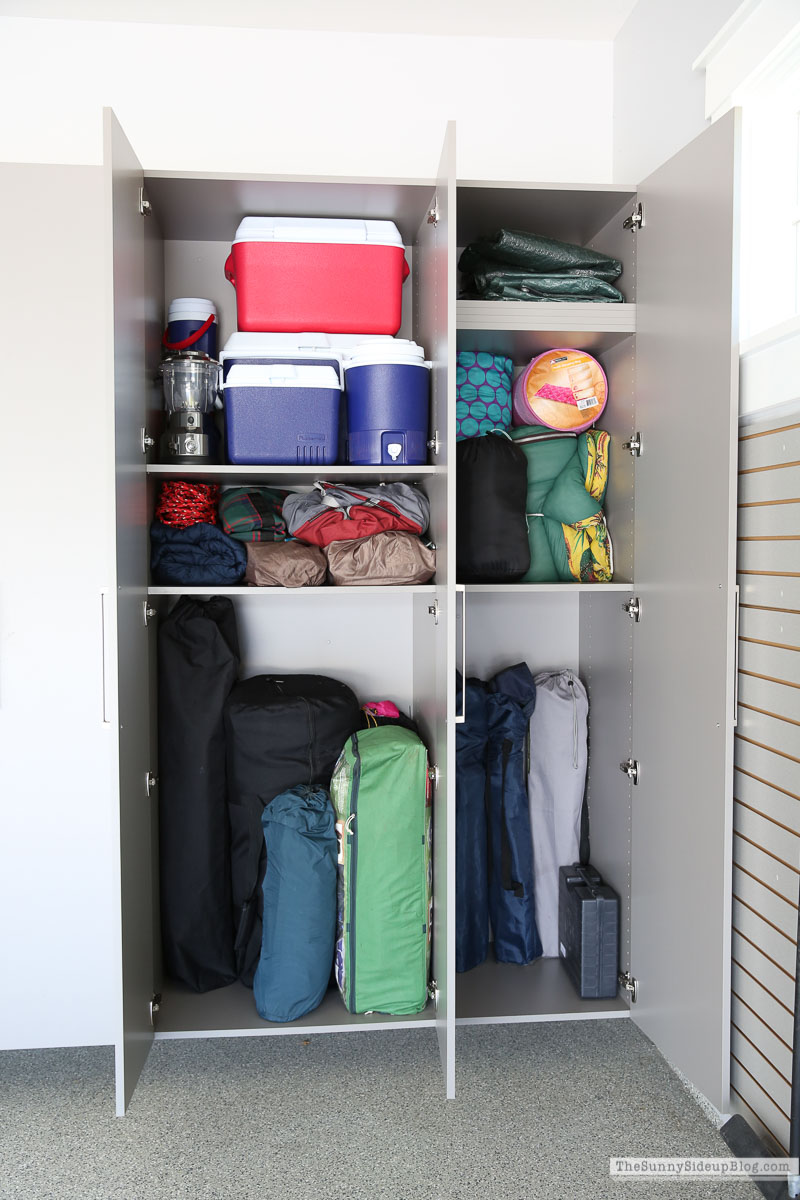 The last cabinet on the far right is all of our camping gear.  Tents and coolers and sleeping bags and lanterns and tarps and chairs.  ALL the camping things.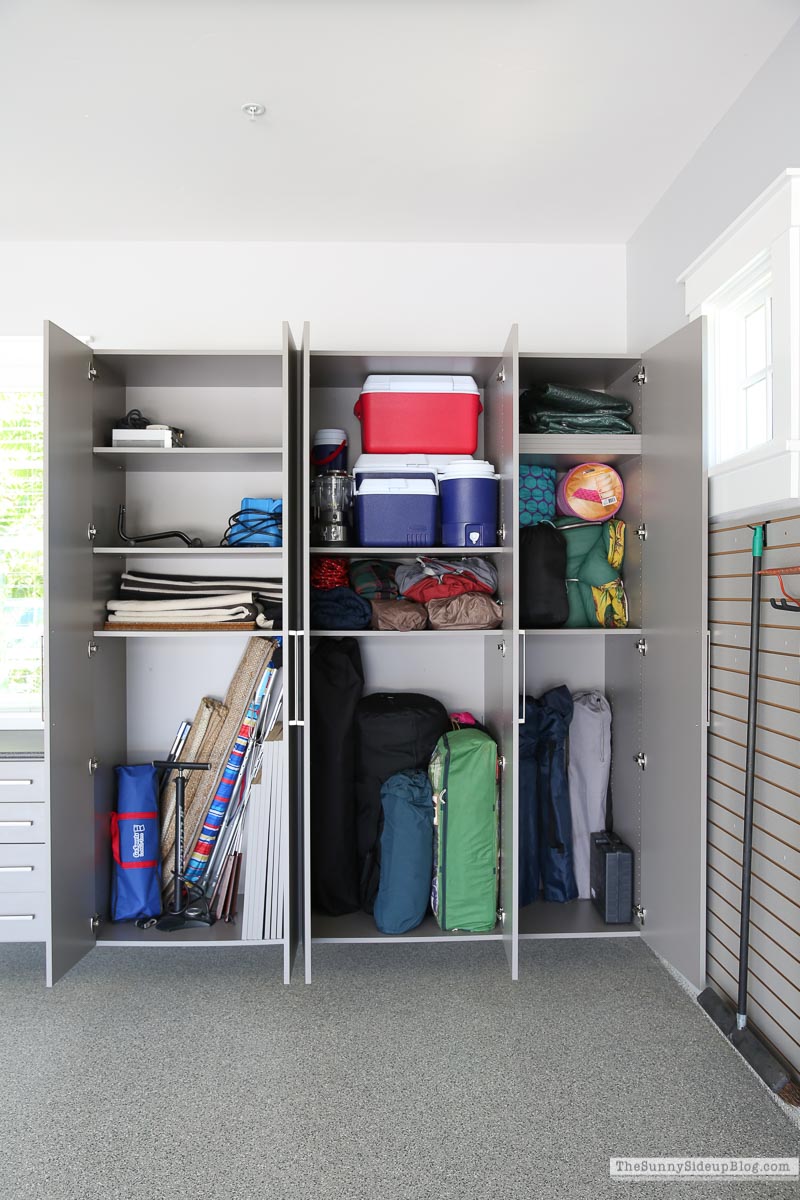 Last section of the cabinets – organized and done!  Angles sang at this point of the makeover.
I sing off key and have a terrible voice (just ask my family) but I sang with them anyway. ;)
I keep our large Yeti Cooler next to this slat wall with Kenny's trailer and an old dirt bike I'm ready for him to sell/donate.  He keeps his main motorcycle parked behind our bike rack (in-between the cars) and one motorcycle is more than enough for me. ;)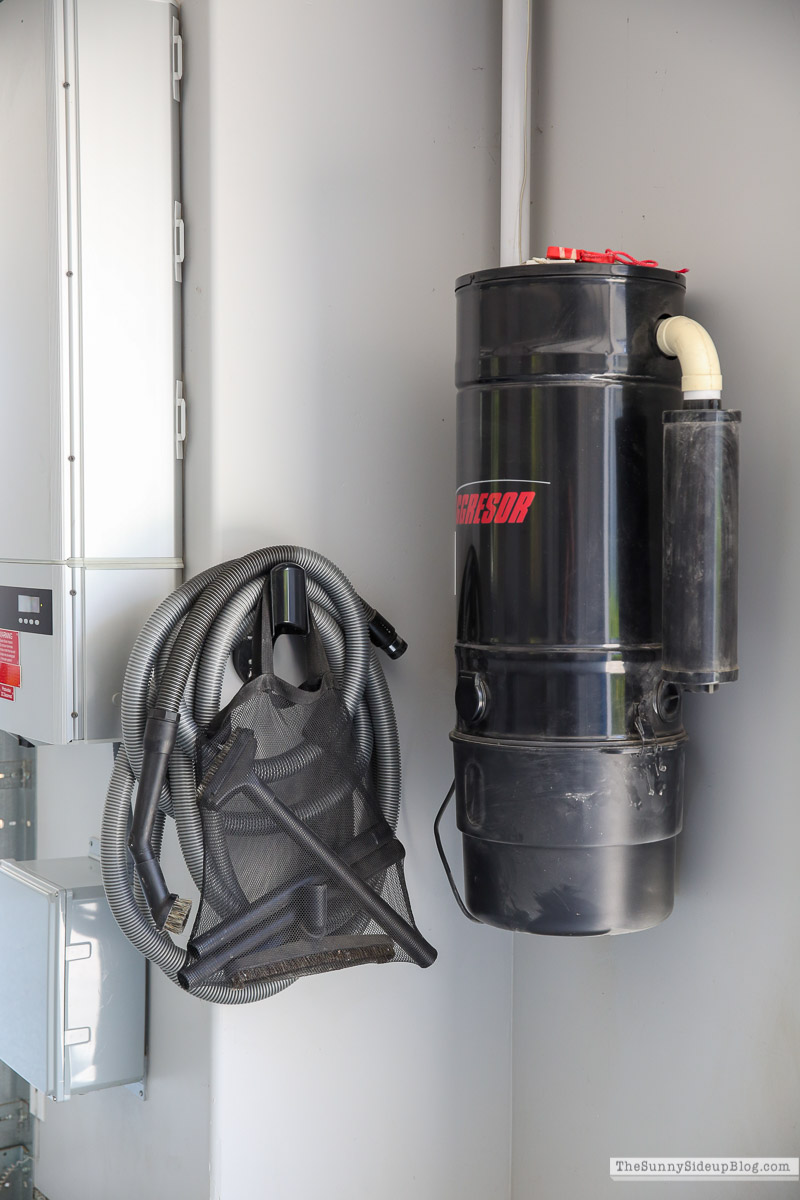 We have our main central vac unit in-between the two garage doors with a vacuum I use to clean out our cars.
I vacuum my car often because.. 3 kids.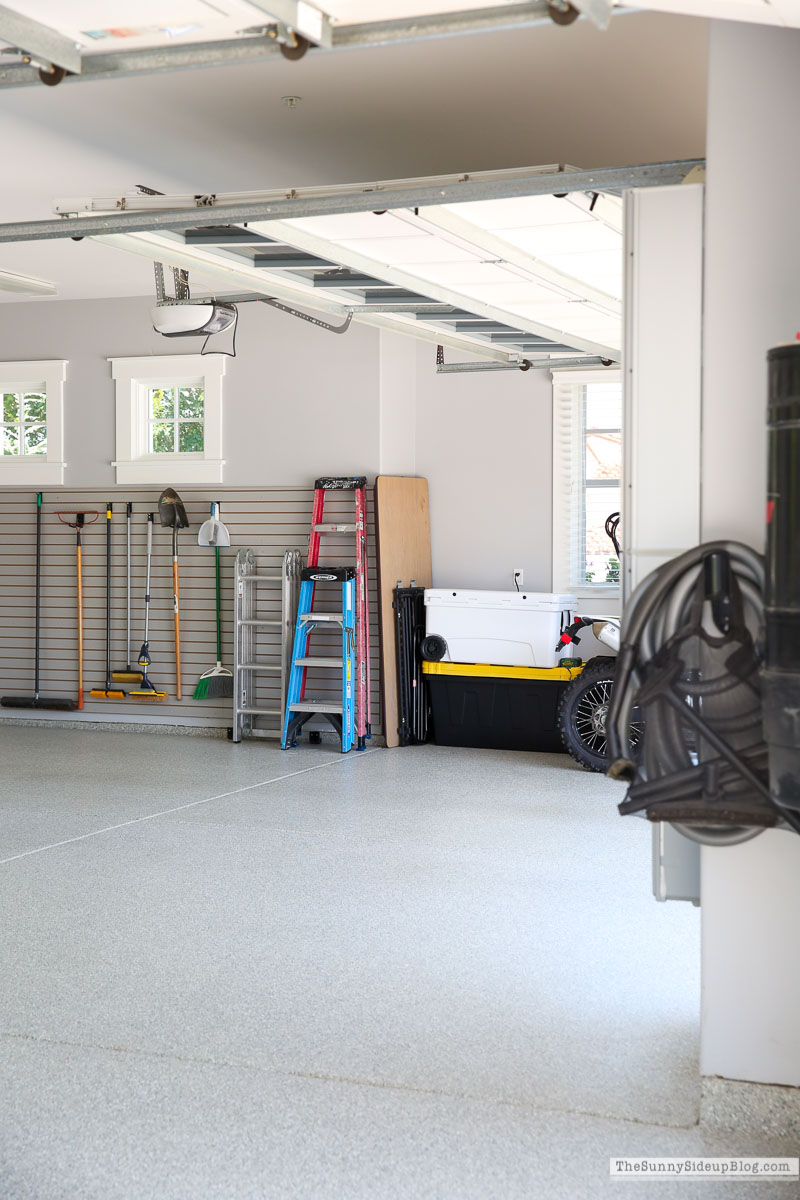 This pic shows the vacuum location better.
We also put in this cool hidden garage storage when we built our house because we had empty space in the gable above our garage.  We use it for all of our extra building materials (extra tile, wood floor slats, etc.), outdoor Christmas lights and some of my seasonal porch decor.  You can see more details on this added space in this post.  I wrote that post 4 years ago in 2016 and one of my first sentences is about how I was determined to get my garage organized that year.  Ha!  Only took me FOUR more years.  Kole looks so little too.  Feels like 4 weeks ago!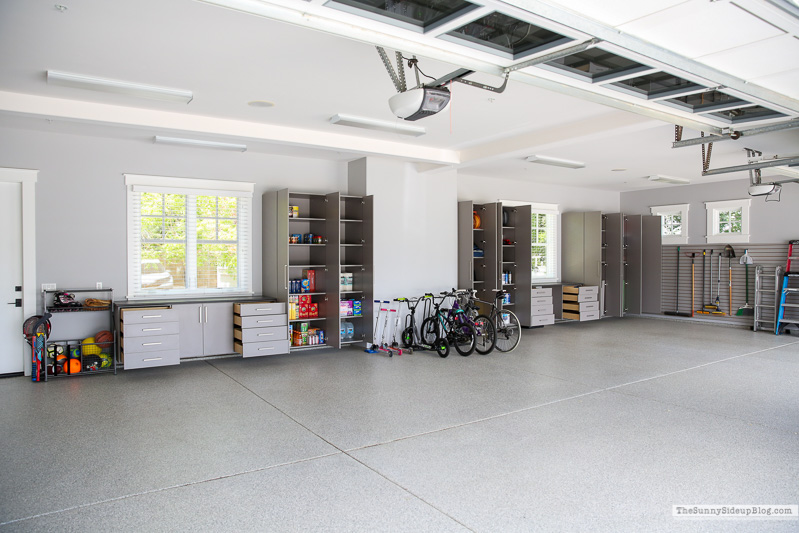 Now that my garage drawers and cabinets are clean and organized I have no shame leaving them wide open all day long!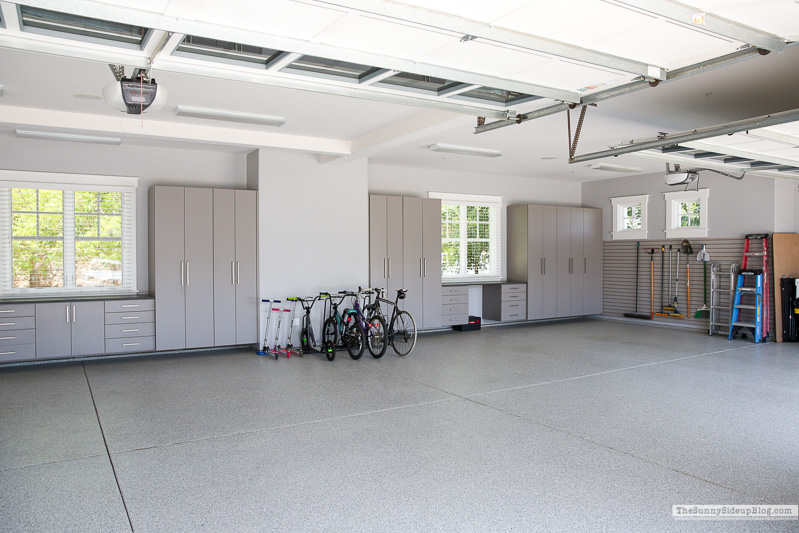 But that would be weird.  So I don't. :)
It makes my day every time I open one of them!
And that's enough for me.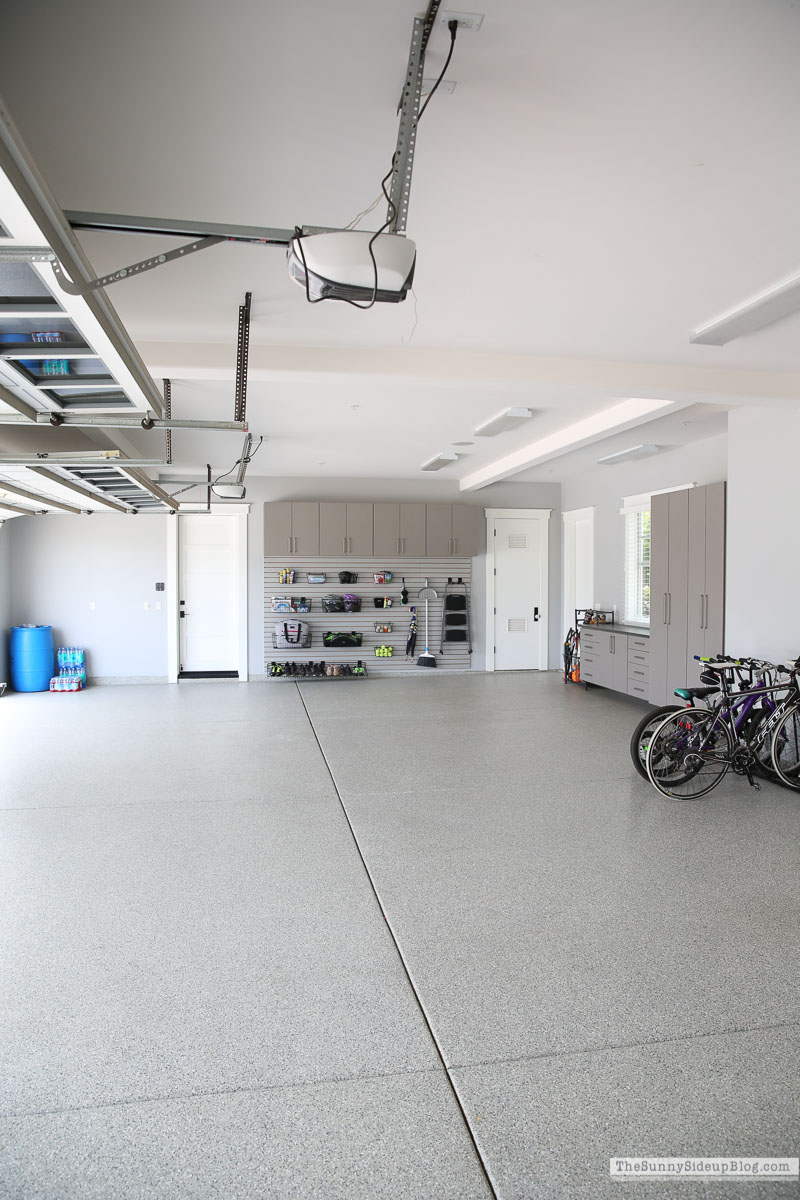 If you've been with me a while you know that getting my garage organized has been an ongoing project on my to-do list for YEARS!  I slowly chipped away at it for so long before it looked like this so please don't feel discouraged if your garage is a hot mess.  We have so been there.  I'll try to write a post sometime this Fall on garage organization tips I picked up along the way that really helped.  I learned a lot with this massive project!  If you have specific questions or things you want me to cover let me know in the comments.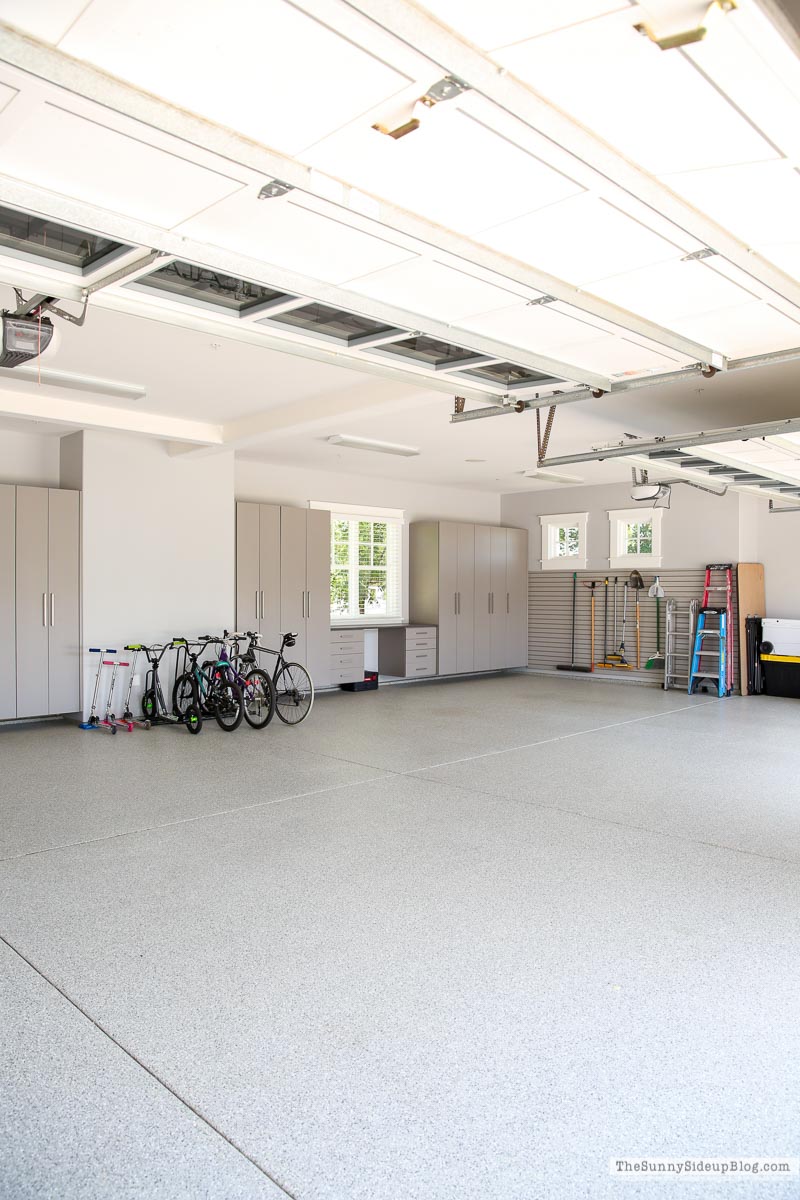 Now.  Let's see if I can keep it this clean!
Challenge accepted.
:)
{ORGANIZED GARAGE POSTS}
{POST SOURCES}






xoxo, Erin