Hello hello!  I hope you're enjoying the end of summer or start of the school year (or wherever you're at with life at the moment!).  I know some of you are shopping the N sale (open to everyone today – woot woot!).  I've got all of my favorites that are still in stock linked HERE if it's helpful!  I'll also link my N sale posts at the end of this one.  A few of my favorites that I'm surprised aren't sold out are the Zella high waist leggings and crop leggings, these Ugg slippers (crazy soft!), and this Natori bra (hands down the best and I've tried many!). :)
*affiliate links used
Today we're taking a peek into my garage drawers today and then next I'll share how I've organized our cabinets.  Organized drawers make me so happy!  You too!?  It's honestly such a little lift every time you open one of them.  Not to mention the true benefit of organized drawers – being able to always find what you need when you need it and then keeping those items cleaned up and put away when you aren't using them!
I won't bore you with all of our garage drawers but thought I'd share this section just to give you some ideas for organizing tools and random garage "stuff."
I assure you that this garage was a hot mess for years!  I snapped a couple of pics with my phone when I was working on these drawers.  They were stuffed full of so much junk with zero organization.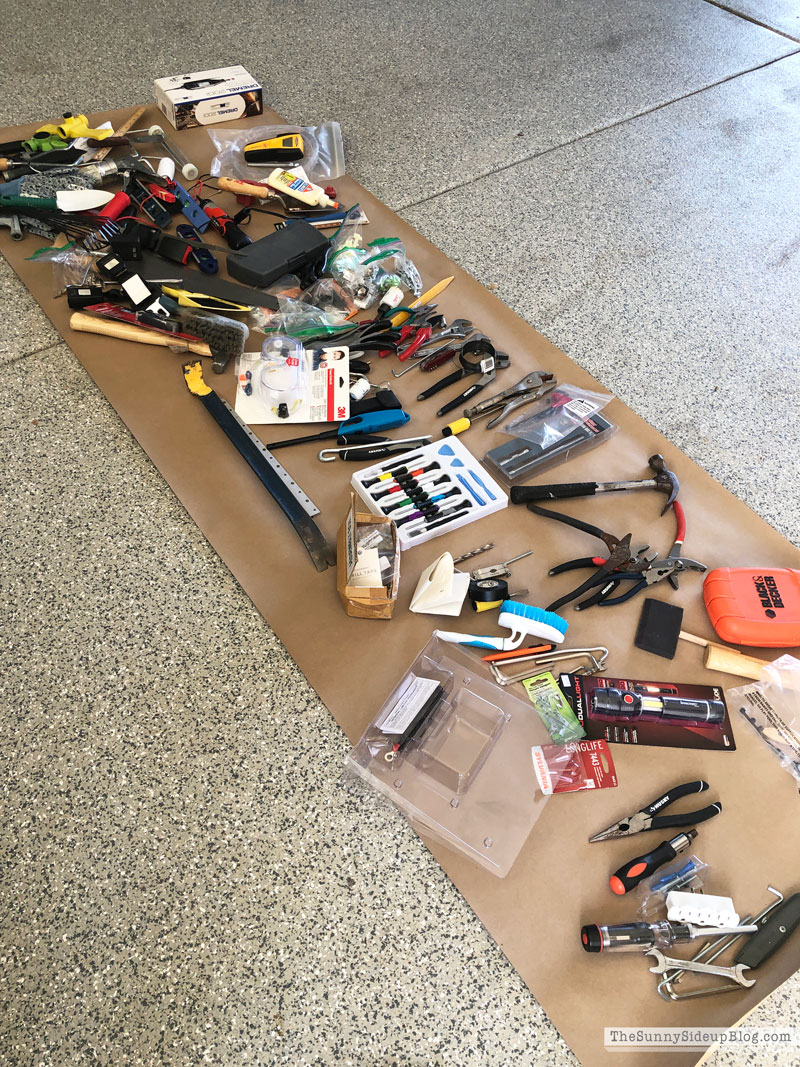 I had some leftover craft paper from when my painter's finished our hallway so I just laid it down and pulled everything out of the drawers.  I scrubbed the inside of all of the drawers with hot soapy water (they were so dusty and dirty) and then I started sorting!  I got rid of what I knew I could and then had Kenny come and tell me what he wanted to keep.  I hear from a lot that women that they feel like they can't get the garage organized because it's their husband's zone.  I get that!  If you have time to work on it together that's ideal.  But if not, my advice is to just take charge and start!  I did whatever I could do on my own (working for about 30 min to an hour a day) and then I would pull Kenny in for 15-20 minutes here and there just to tell me what I could get rid of or where he wanted me to put things that were his.
This is how this section of my garage is looking now..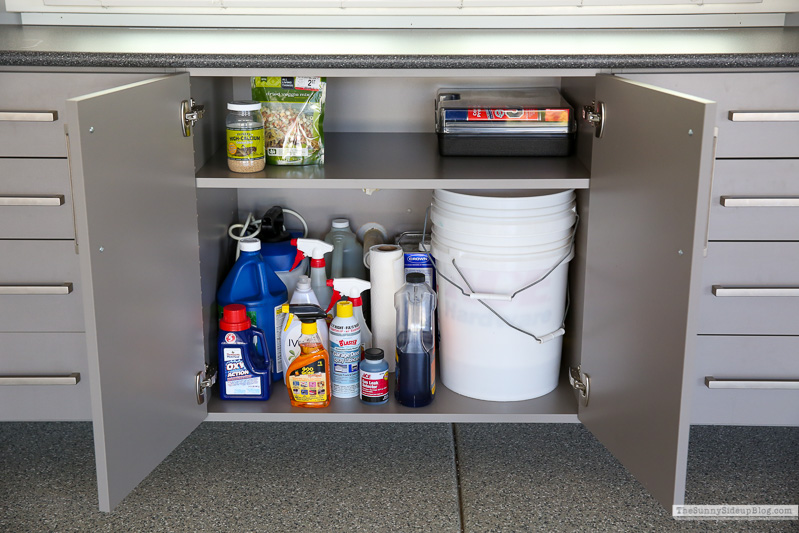 In this large cupboard I'm storing cleaning supplies that we keep outside and our large buckets on the bottom.  Some of Addison's bearded dragon supplies are on top.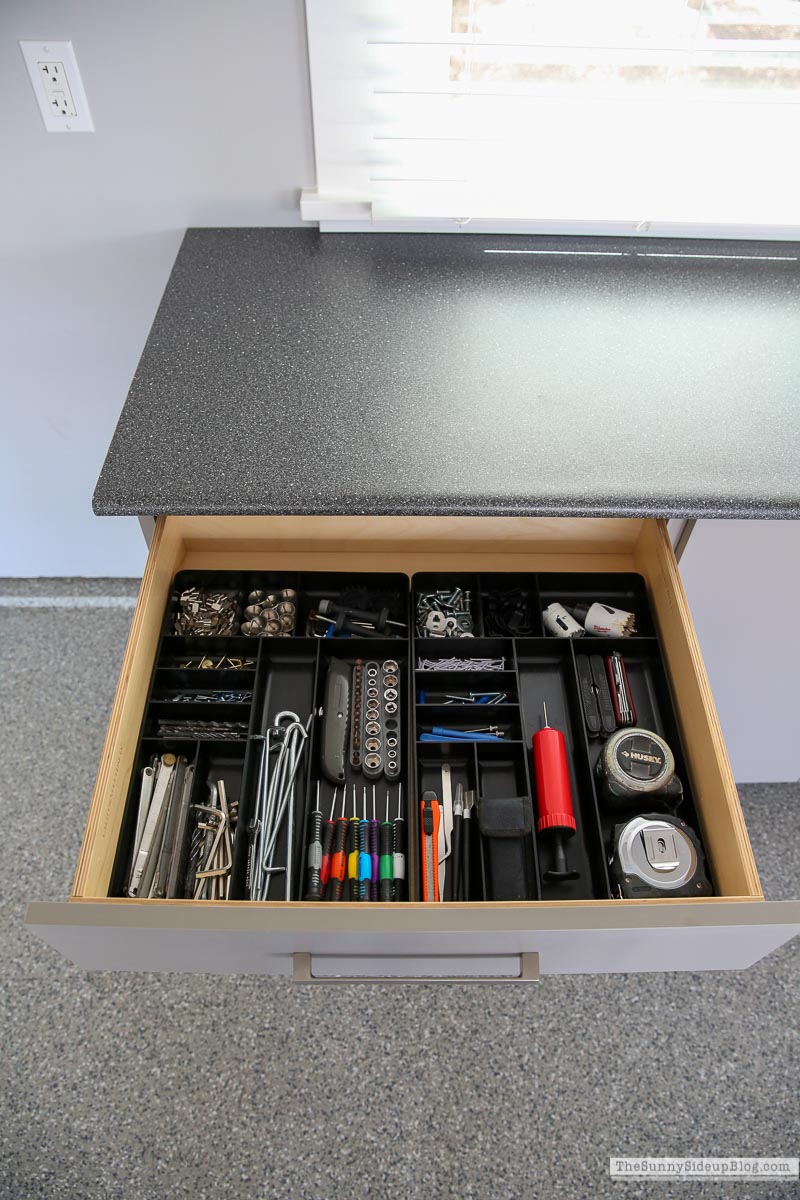 I ordered some inexpensive organizers to try and found 3 that I liked the best for tools and other garage items.  This tray with 10 compartments isn't as deep so it's perfect for small, miscellaneous tools (nails, screws, drill bits, etc.)  Two of the trays fit perfectly in this drawer and I love having everything so easy to view and find!
This tray with 3 compartments is perfect for larger tools.  I'm using it told hold tools like screw drivers and pliers.  We have a couple of hammers that I lay in the back of this drawer too (I had them upstairs when I took this picture).
This black tray is deeper so it's perfect for larger items!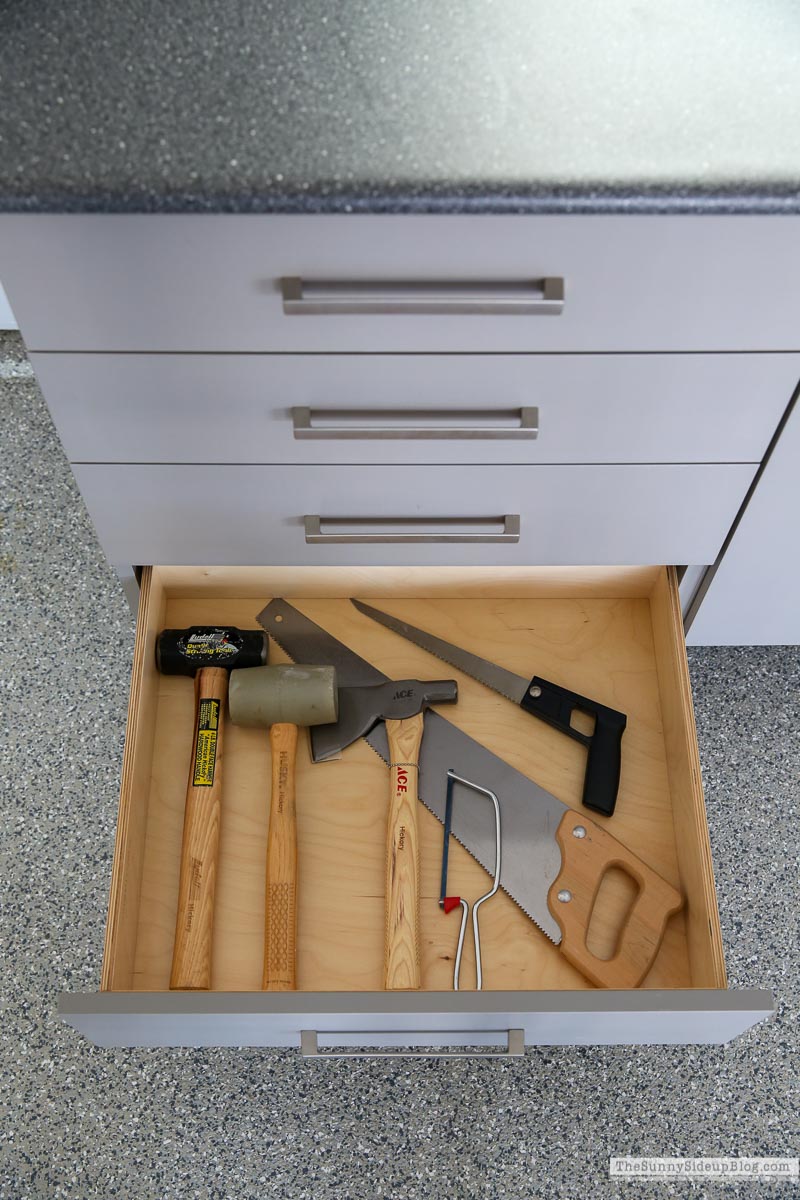 I wouldn't recommend keeping items like this low if you have younger kids!  For obvious reasons. :)
The drawers on the right just hold a few other random items.  Honestly I got rid of SO many tools and things we didn't need and weren't using.  It's crazy how quickly junk piles up in the garage!  These drawers were all stuffed to the brim before and now I have room to spare!
Miscellaneous garden/paint supplies in this drawer.  Some drawers just worked better without organizers in them.  As long as similar items are grouped together they are easy to find and that was my goal!  Before this makeover it would take us way too long to find something we needed.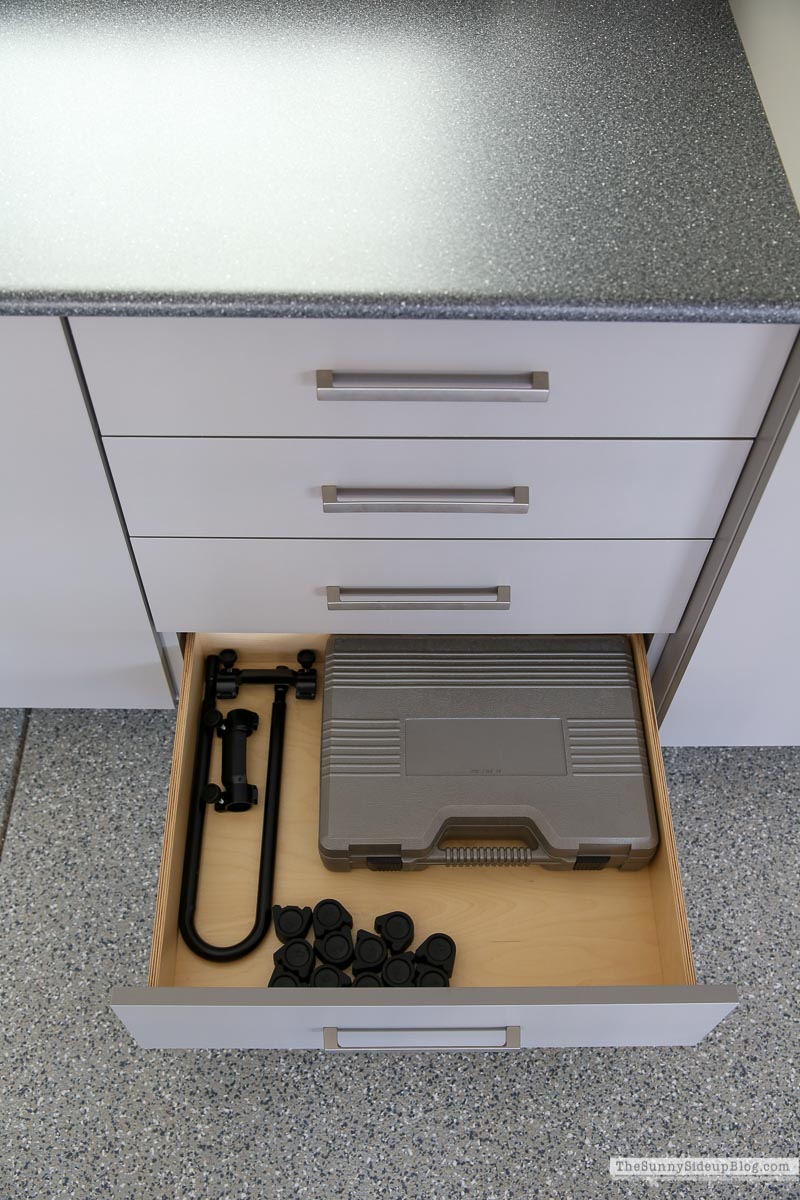 This is the extra rack that goes with our bike system!  Along with other tools in the grey case.
I honestly used to dread getting in these drawers.  It took me so long to find what I needed and they were filthy!  Now everything is nice and clean and has a place and we know right where things are.  The best part is that we aren't hanging on to so many items that we were never going to use.  A simple makeover with a huge impact!
I hope that gave you a few ideas on how to organize garage drawers!  If you are short on garage space, tools and similar items can also be stored in drawers in your house (laundry room, kitchen, etc.).  That's how I organized these items in previous homes we've lived in that were short on space.
I'll link the rest of my garage organization posts I've shared so far along with N sale links for anyone interested!  Enjoy your day! :)
{POST SOURCES}

{N SALE POSTS}
Fashion Friday N Sale Round-up #2
Fashion Friday N Sale Round-up #1
Collage round-up of favorites in ALL CATEGORIES
{ORGANIZED GARAGE POSTS}
xoxo, Erin