Happy Monday!  I hope you all had a good weekend!  If you're shopping the N sale here are my recent posts for easy access:
Fashion Friday N Sale Round-up #1
Collage round-up of favorites in ALL CATEGORIES

*If you're interested in just seeing my favorite items quickly you can click on the header at the top of my blog titled NORDSTROM SALE where I have the items linked that I've bought and love!  I'm updating it daily as things come in that I've ordered.  I'll share a few more favorites soon.  Happy shopping! :)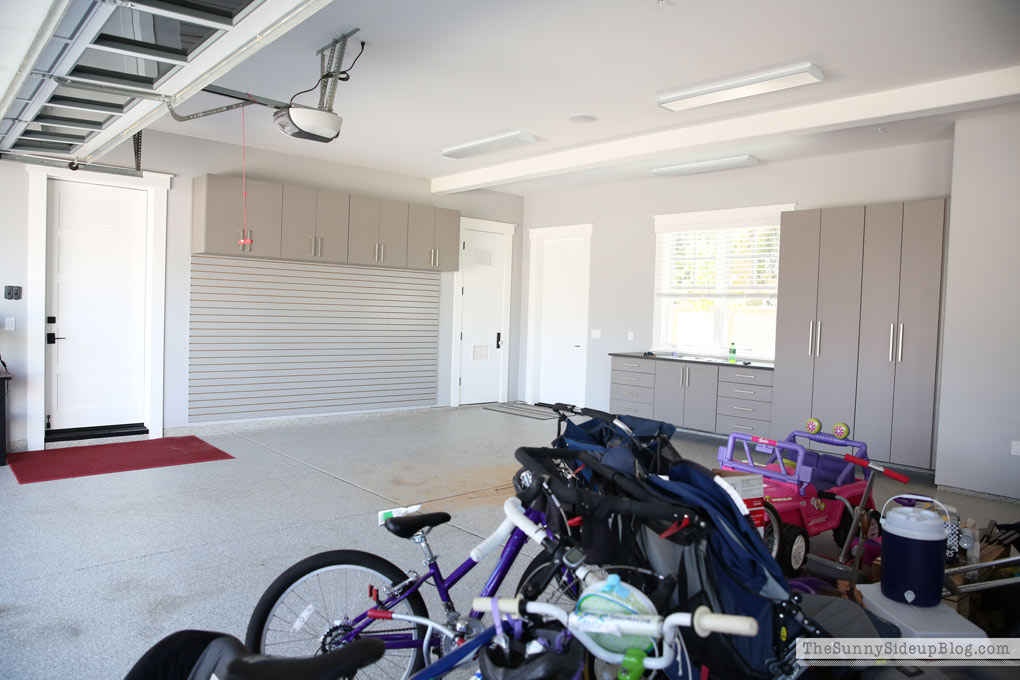 Now it's time to talk garage organization!  It has been a while!  I first shared my attempt to begin organizing my garage in the Spring of 2016.  Then later that Fall after LOTS of purging and categorizing I came up with a plan for how I wanted to organize everything and we had a local company install cabinets, drawers and two slat walls.
These pics were taken right after the cabinets were installed.  Kole was so little!  I had every intention of getting right to work organizing ALL the things in our garage but life got in the way!  I semi stuffed things in our new cupboards and around the perimeter of our garage and there it all sat.  It sat unorganized and messy for FOUR years!  With more random piles forming every month.  Fast forward to 2020 and a little thing called quarantine when life/kids' activities finally slowed down long enough for me to prioritize this space again.  It took a world wide pandemic. ;)  So happy to report that our garage is FINALLY organized.  I'm excited to share details with you all and today we're starting with the slat wall!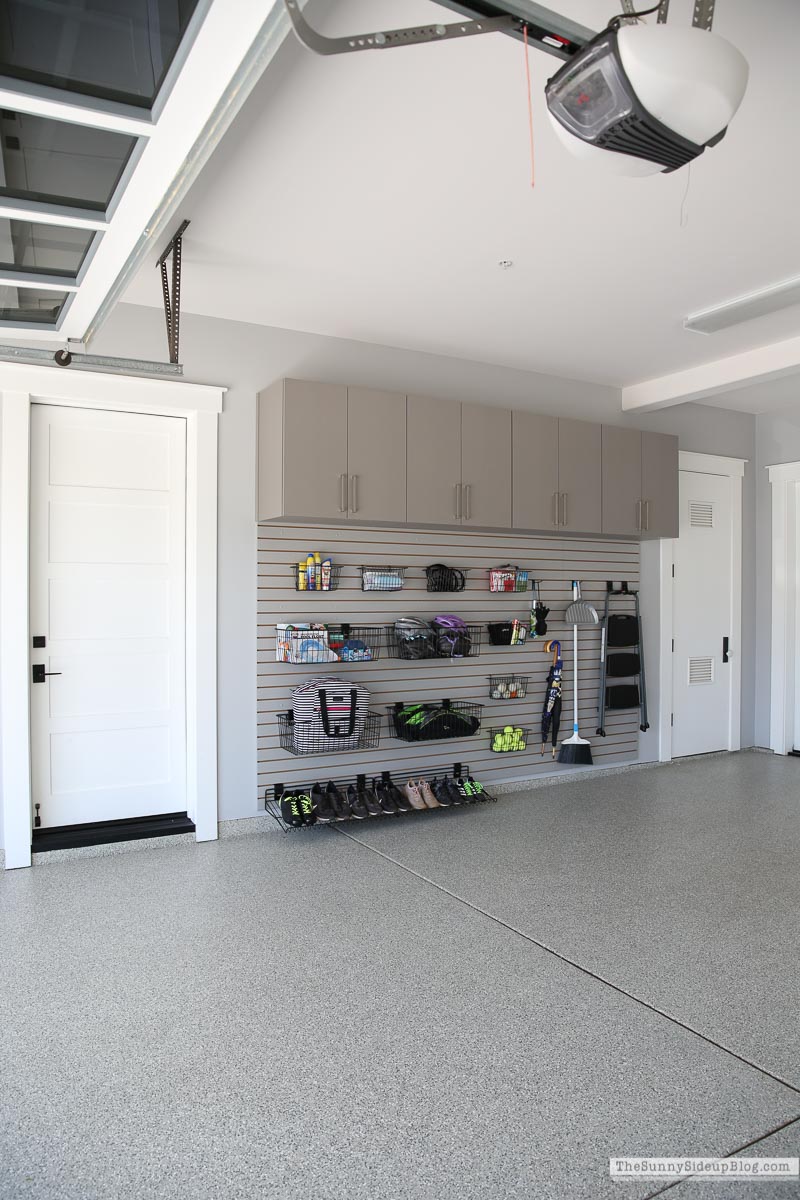 This is what it looks like today!
Finally being put to good use. :)
The actual slat wall was put up by the company who installed our cabinets but you can find similar options to install yourself here and here.  I didn't order any organizers at the time to use for the wall so the time consuming part for me was figuring out what items I wanted on this wall and then searching for the right baskets, hooks, etc. to make it happen.  I knew it would take some planning and searching and honestly I think that's part of the reason I kept putting it off!
But once I just STARTED everything came together pretty quickly.  I wanted this wall to be a spot for items that we use often and need quick access to.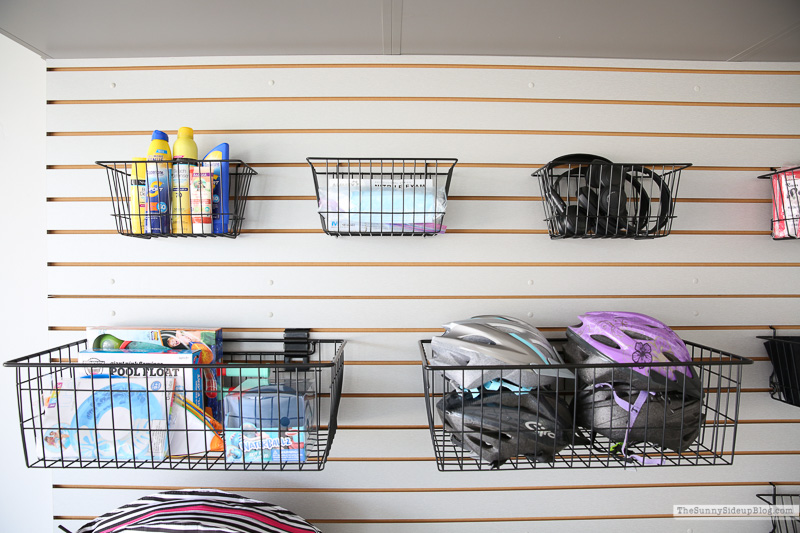 The first three small wire baskets on the top hold sunscreen, disposable face masks and gloves (hello 2020) and the headphones my kids use in our car when we travel.  I've especially loved having sunscreen in this location this summer!  It has been so handy to grab it quickly on our way out the door when we're heading out on a hike or bike ride.  I bought 4 larger baskets and the top two hold new pool toys we haven't opened (I've never had a good spot for these!) and our bike helmets.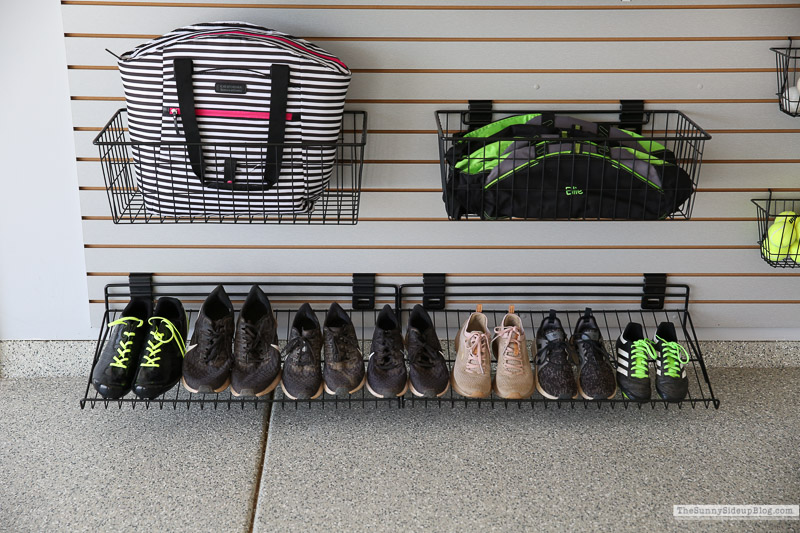 The bottom 2 large baskets hold my reusable shopping bags (smaller bags are inside the large striped bag) and duffle bags my kids use for sports stuff, going to a friend's house, etc.  We love having our mudroom for shoe storage but because we've been doing so much hiking and biking lately we constantly have muddy shoes sitting by the mudroom door.  I was so excited when I found this slat wall shoe rack!  I put two of them together and it has worked so well!  Perfect spot for our dirty shoes so I can keep the mess out of the house and off of our front porch. :)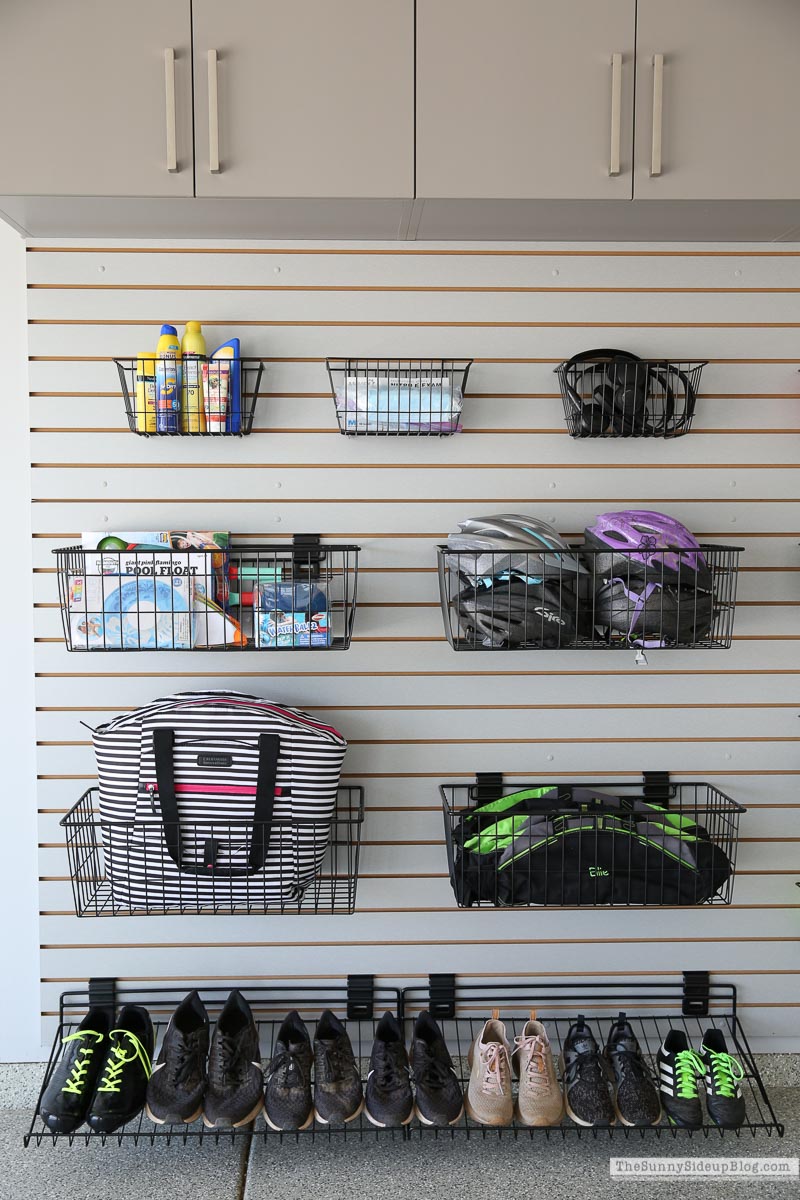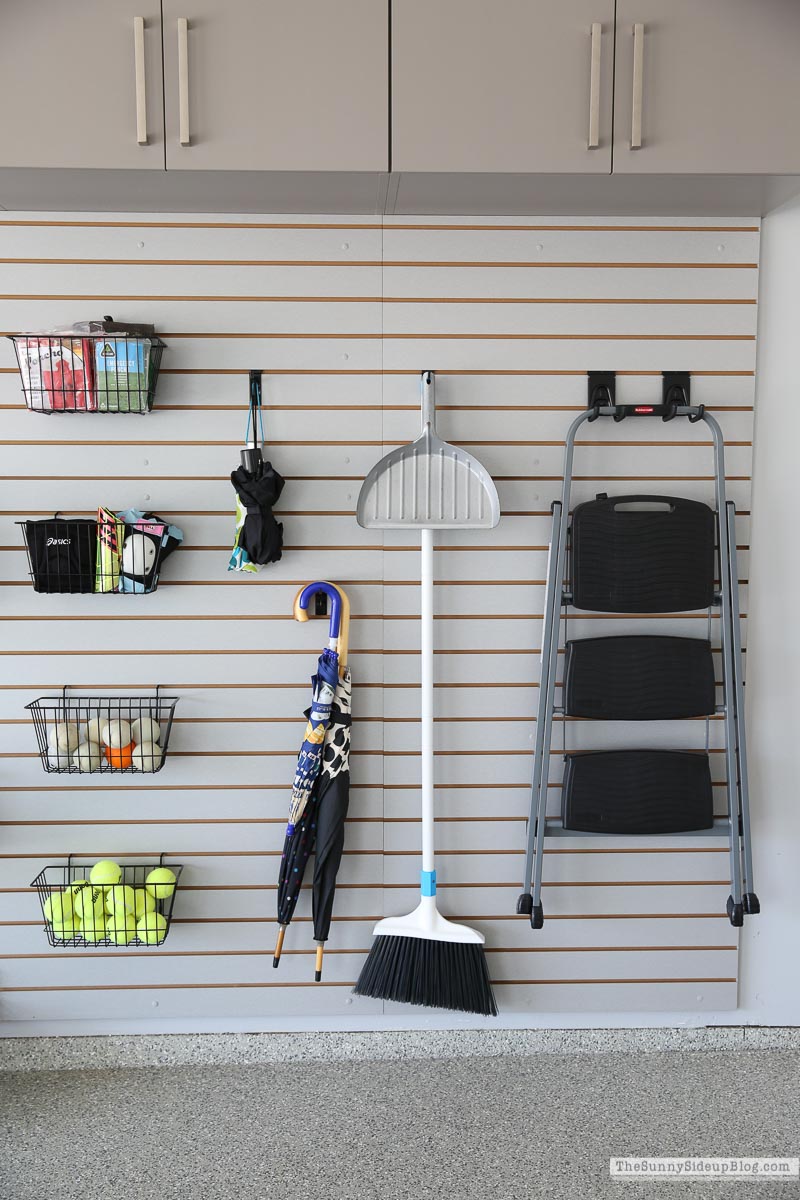 The small wire baskets going down the wall in the middle hold ponchos, knee pads/shin guards, and tennis balls.  My youngest two are on a tennis kick this summer. :)  I knew I wanted my outside broom on this wall because I sweep our garage and front porch often.  I decided I deserved a new broom after my hard work on the garage so I did some research and ordered this broom.  I loved it so much I ordered another one for inside my house.  I think my previous brooms I had used for over 10 years!  I also ordered this step ladder and told my entire family that it is for INSIDE USE ONLY!  I always use a step ladder for cleaning and decorating – short people problems ;) – but the one I was using before we also use outside and I wanted my own that would stay clean for just inside use.
After doing more searching and research I decided these simple hooks would work best for smaller items on this wall.  They came in a pack with all different sizes which was perfect!  I ordered and tried a few different hook options for my ladder and items on the other slat wall and liked these heavy duty storage hooks the best!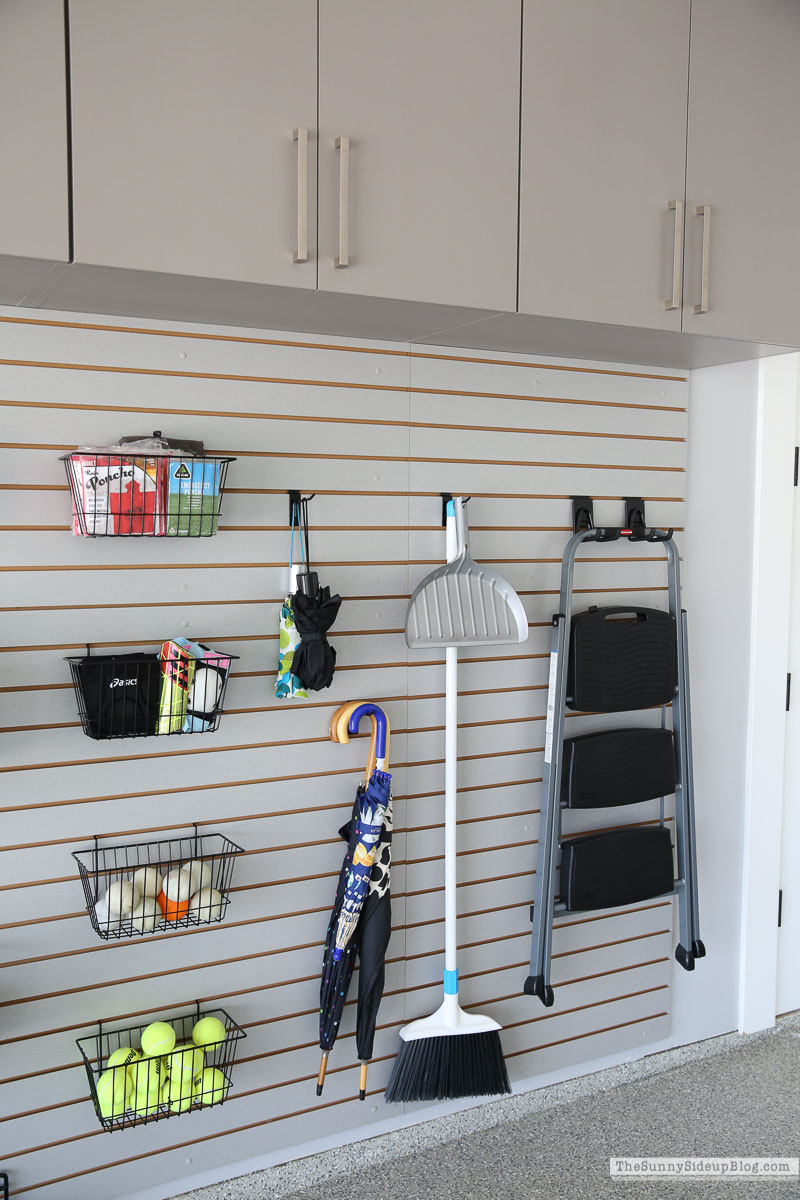 They are perfect for larger, heavy items.  I had extra room between the baskets and my broom/ladder so I put our umbrellas out here too.  So nice because it freed up space in our mudroom lockers.
Most items on this wall we are using daily or weekly and this set up has been SO handy!  I love having quick access to everything with it all up off of the garage floor.  I'm sure over time the contents on this wall will change, but we'll always love having a spot like this for random items we use often.
We have another slat wall on the opposite side of our garage so I used that side for tools and our outside ladders.  We honestly don't have much on this wall because I took a HUGE pile to Goodwill.  We weren't using most of our old tools and why did we need 3 shovels and 4 rakes!?  I did keep the old broom on this side because I'm determined to keep this garage clean now that it's so organized!  I need to be able to sweep any section at a moments notice.. ha.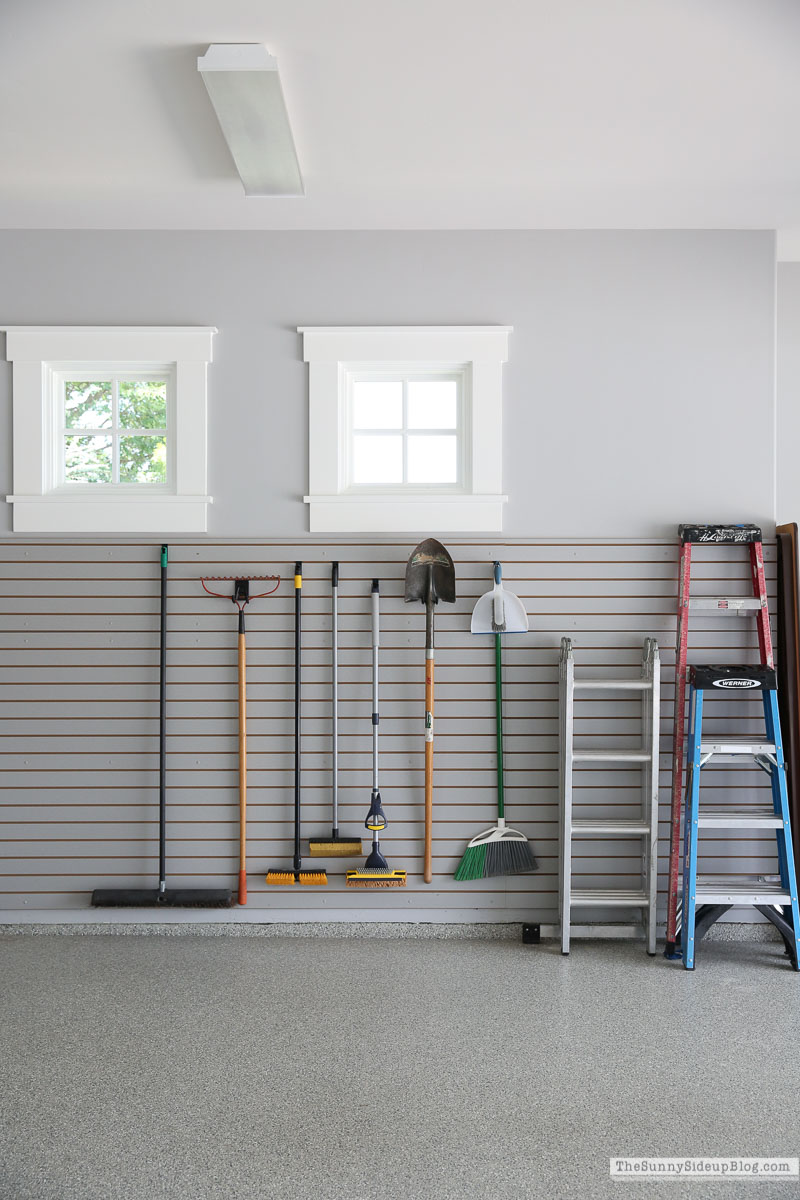 I was going to hang our larger outdoor ladders but decided to just slide them up against the wall instead.  Simple and done!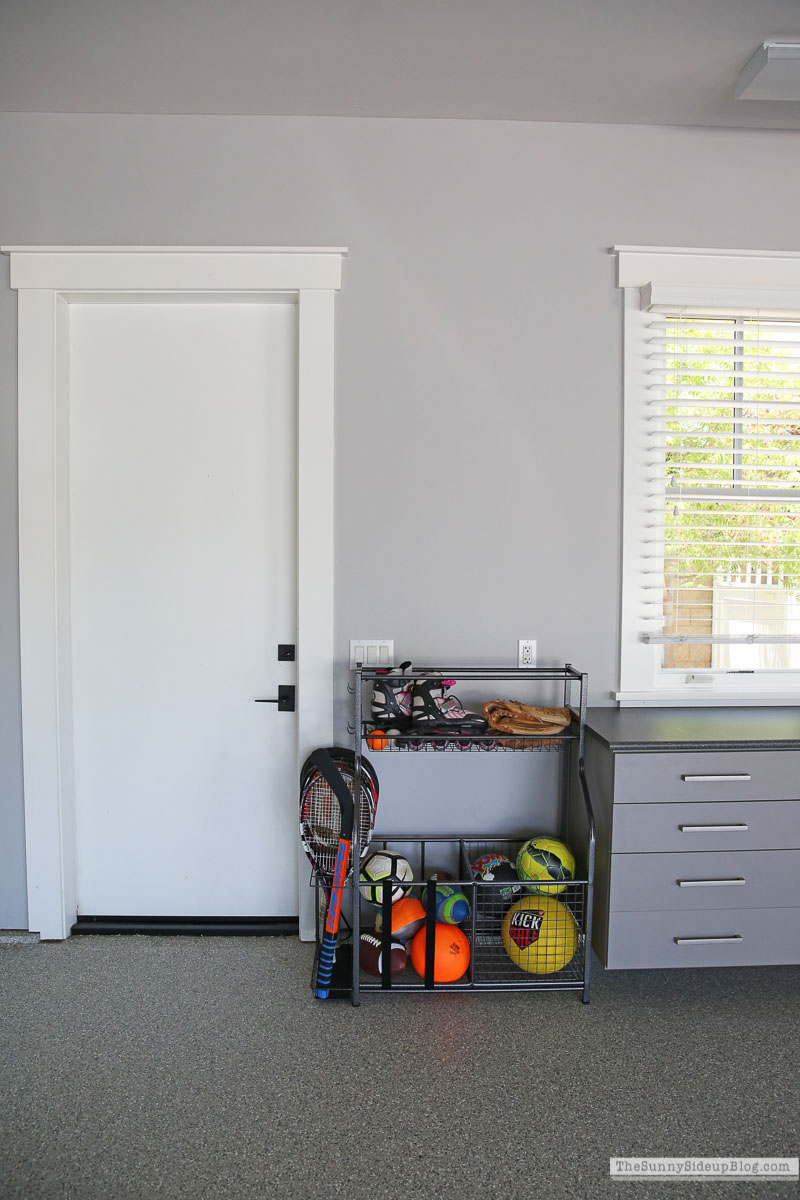 We are still LOVING this sports equipment organizer and it's back in stock!
I can't even begin to tell you how happy I am to have our slat walls and our sports equipment organized.  Our floor is completely open and empty for cars (no more piles!) and I feel like I can breathe in this space!
We have lived with an unorganized garage for so long and honestly this makeover has made such a huge difference!  My kids and Kenny have been RAVING about this.  Which is saying a lot because they are used to me organizing things and aren't usually all that phased by my "afters".. ha.  They all love how clean it is, that they can easily find what they need and how spacious the garage feels now.  We are in and out of our garage so many times during the day (like most of you I'm sure!).  Pulling in and out of this space feels like a breath of fresh air now that it's clean and organized.  WHY did I not finish it sooner!?
I know why.  Because garages are a lot of work to clean and organize!  They require time and energy.  This project was so much work but I can tell you that now that it's done it was 100% worth it.  I'll share the inside of my cupboards and drawers and how we are storing everything else soon!
Are any of you tackling your garage right now?  Here's hoping you come out smiling!
And that it takes less than 5 years. ;)
{POST SOURCES}




xoxo, Erin