It's time for Friday 5!  But on a Saturday.  I really should just start calling these posts "Weekend 5" because I always struggle to get this post done by Friday, but that just doesn't have the same ring to it now does it?  So Friday 5 on a Saturday it is.  :)
*affiliate links used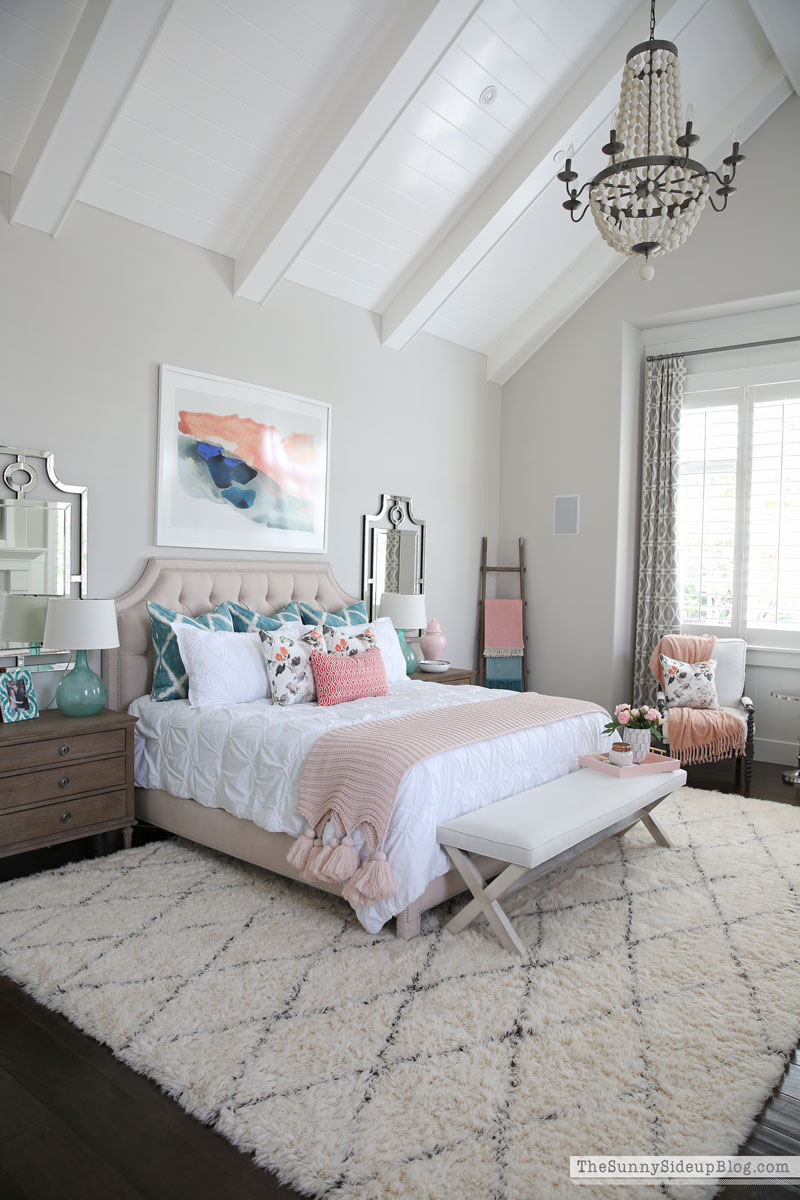 Mara Texture Comforter/Moroccan Trellis Wool Shag Rug/Similar Spindle Chair/Eva Colored Glass Lamp/Bliss Throw/Pagoda Wall Mirror/"Morning River" Art/ Knit Ribbed Blanket with Tassels
1 – I got a new comforter!  That looks almost identical to my old comforter!  Ha.  This is the duvet cover we've had on our bed for years and I still LOVE the look, but it was starting to look a little worn.  I was going to just buy a new identical duvet cover, but to be honest sometimes duvet covers drive me crazy!  Even with the corners tied I still feel like it's hard to keep them straight and even.  Our down comforter inside the duvet cover always bulks up on one side so every night I end up shaking it straight before we go to sleep.  (Anyone else struggle with duvets!?)
When I saw this Mara Texture Comforter was part of the N sale I was so excited!  It looks just like my duvet cover but it's a comforter so no bulking up on one side.. YEA.  We've had it on our bed for a week now and I love it!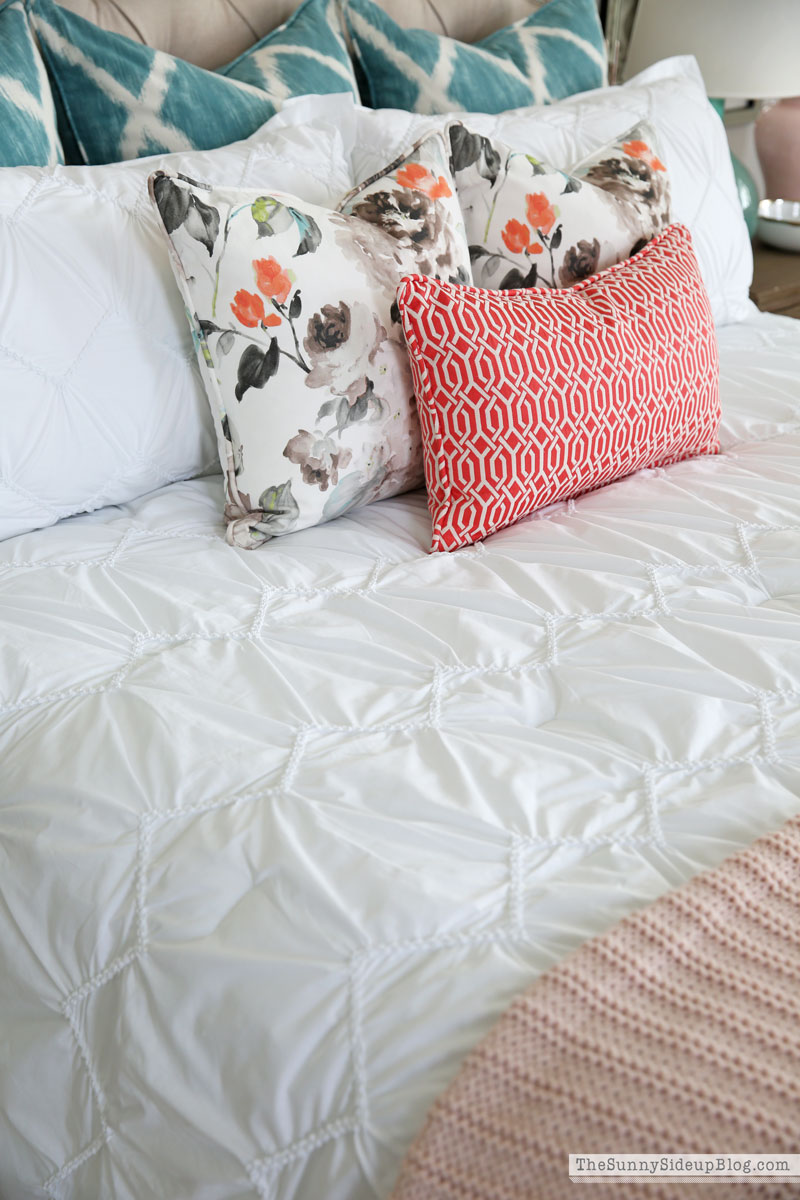 It's medium to lightweight so it has been perfect for this time of year (really for all year here in SD).  You could definitely layer it with a blanket if you needed more warmth in the winter.
Another recent N sale favorite!  Bobbi Brown is my favorite make-up and this Bellini lip gloss has been my go-to for years so I was excited to see it in a set as part of the sale this year!  The eye shadow and blush colors are beautiful (all the colors I usually wear) plus you get mascara and this cute pink case for travel.  Such a good deal!  My favorite beauty purchase this year.  (Second only to the T3 hair tools I already own.) :)
Here are a few other favorites for HOME that are still in stock!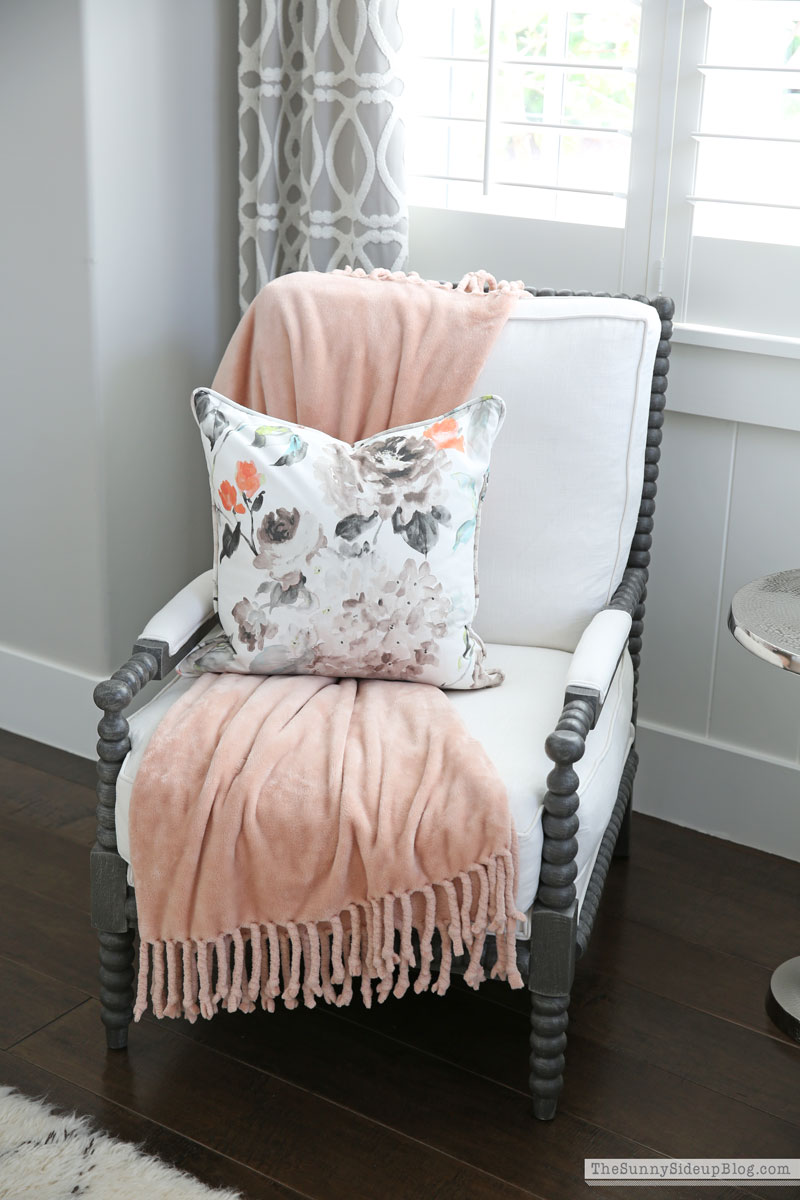 2 – I won't go on about my love for Bliss throws again because I know I sound like a broken record, but I did want to share a little tip with them!  Really this tip works with most throws but I've found it especially works well with thick throws like the Bliss.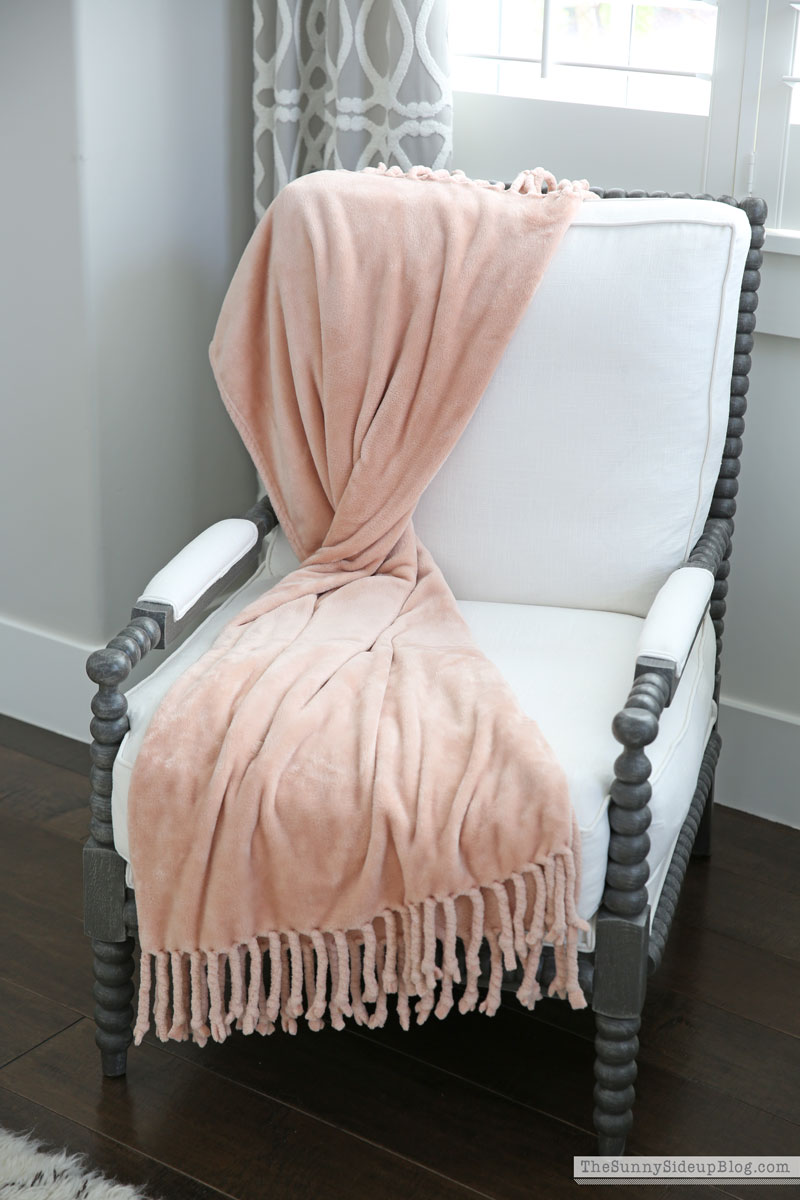 When I'm laying it over the back of a chair like this (or in the corner of the couch) I always twist it in the middle.  Then I tuck it into the chair/couch corner.  It makes a perfect little spot for your pillow and helps create the look you want!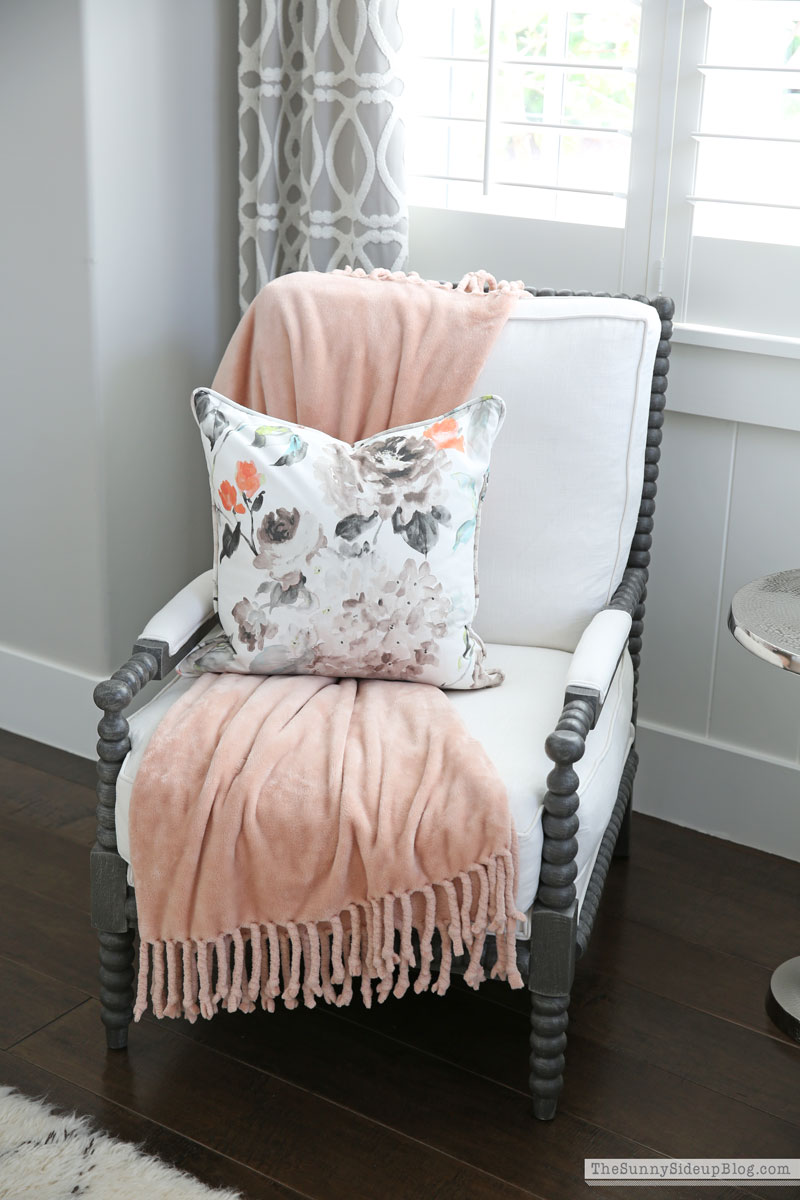 You know.. like it's casually draped over the chair with no effort on your part whatsoever. ;)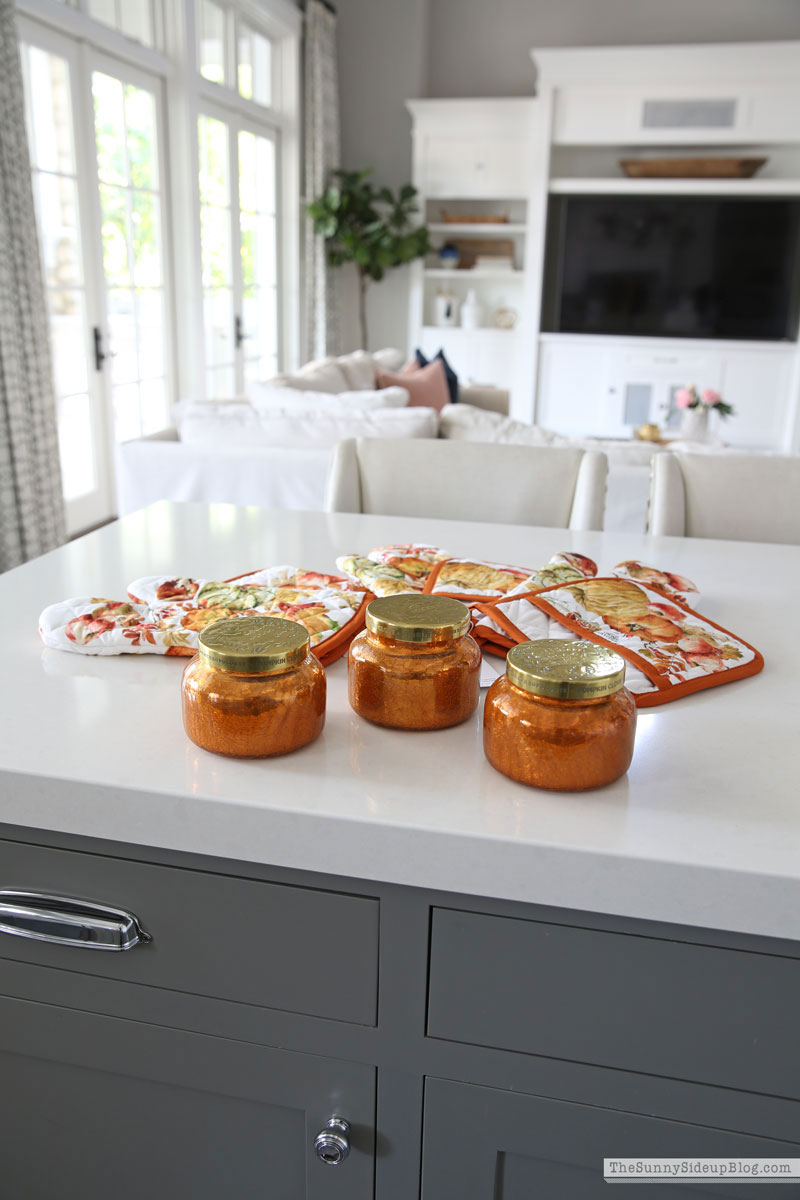 3 – I was getting some fun gifts ready this week for a few close friends and had to share because FALL!  Isn't this Pumpkin Oven Mitt & Potholder Set adorable!?  All of my friends love to cook so I knew these would be perfect.  I mean even I would want to cook if I had a cute pumpkin oven mitt.  At least for one night. ;)  I paired it with this Pumpkin Clove candle because it smells so heavenly!  Fall candles are the best aren't they!?  I'm so excited to pull them out!  It's honestly one of my favorite things about the upcoming season.  I love cleaning my kitchen and then lighting a Fall candle.  Nothing like it. :)
This weekend all Anthro candles are 20% off!  I can't resist an Anthro candle sale.  I had to order a pumpkin clove candle for me too (another long time favorite is the Spiced Cider!).  Here are a few other cute things popping up that made me even more excited for Fall.  TOO FUN!


Happy deliveries. :)  Speaking of happy mail I'm sending out this month, there is still time to enter my August giveaway!  Details are at the bottom of this post if you missed it.
4 – I've had a few people message me on IG asking how we are storing/organizing our masks so I thought I'd share!  A pretty simple solution, but it's working well for us. :)
The kids keep some of their maks on the hooks in their mudroom lockers too, but our little 1 2 3 sign has come in so handy.  Kenny and I recently ordered two packs of these masks and they are our new favorites because we can tie them around our necks!  So perfect for our evening hikes because we can just wear them around our neck and then put our masks on when we pass people on the trail.  Then we can slip them off and we don't have to carry them.  A new stylish necklace. ;)   (They come in these patterns too.)
Zella Soft Pocket Lounge Leggings/All Day Tee/Delicate Monogram Necklace
5 – Last I'm sharing a few more simple N sale favs that are still in stock!  These are another pair of Zella leggings that I absolutely LOVE.  So comfy and flattering just like most Zella leggings/joggers are.  I'm wearing them with the all day tee.  I tried lots of tees from the sale and had 3 favorites!  This BP tee is one of them.  Great for lounging or layering under cardigans.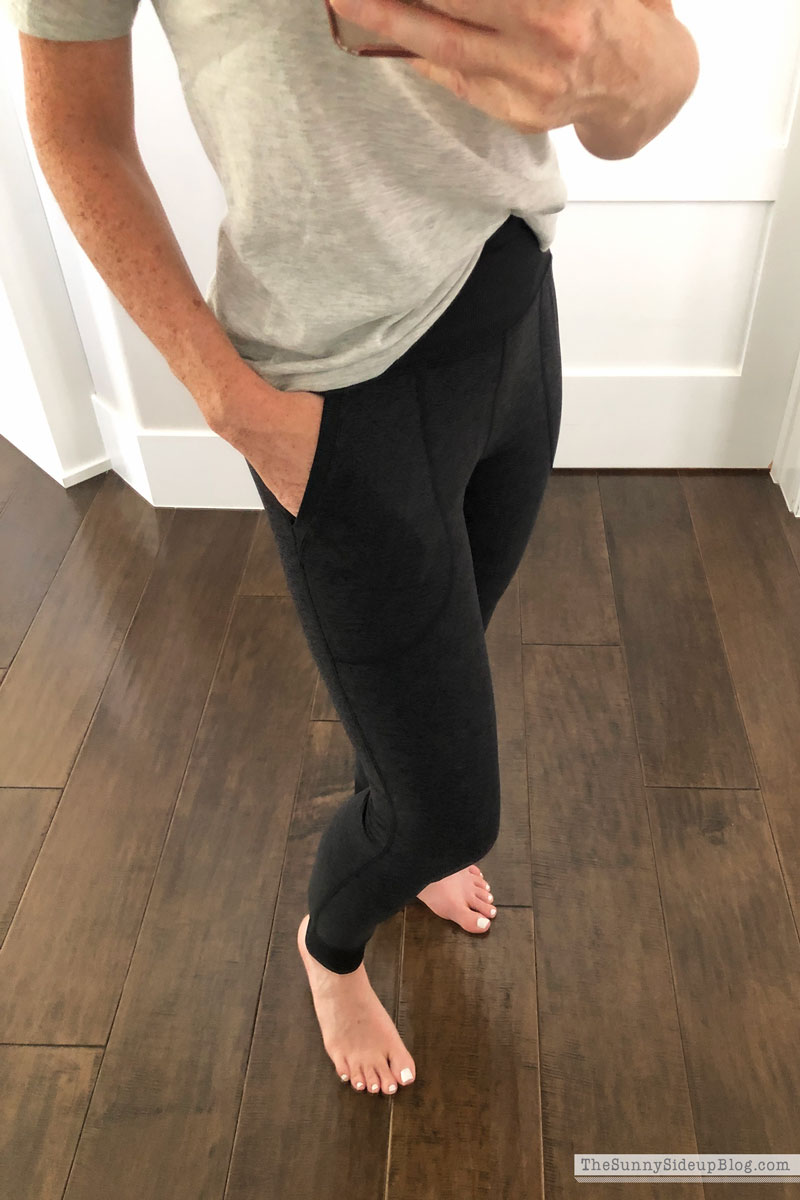 The leggings have a thick high waist band (sucking everything in!) and then cute pockets on the side.  I would go down one size (I'm wearing xs in these).
I've honestly had these leggings on ALL week.  I just want to wear them every day!  Wearing them here with a long time favorite INDOORSY top.  So me.  And so 2020!
Zella Soft Pocket Lounge Leggings/V-neck Tee/Delicate Monogram Necklace/Ugg Slippers
This is another great tee for lounging or layering.  Going fast!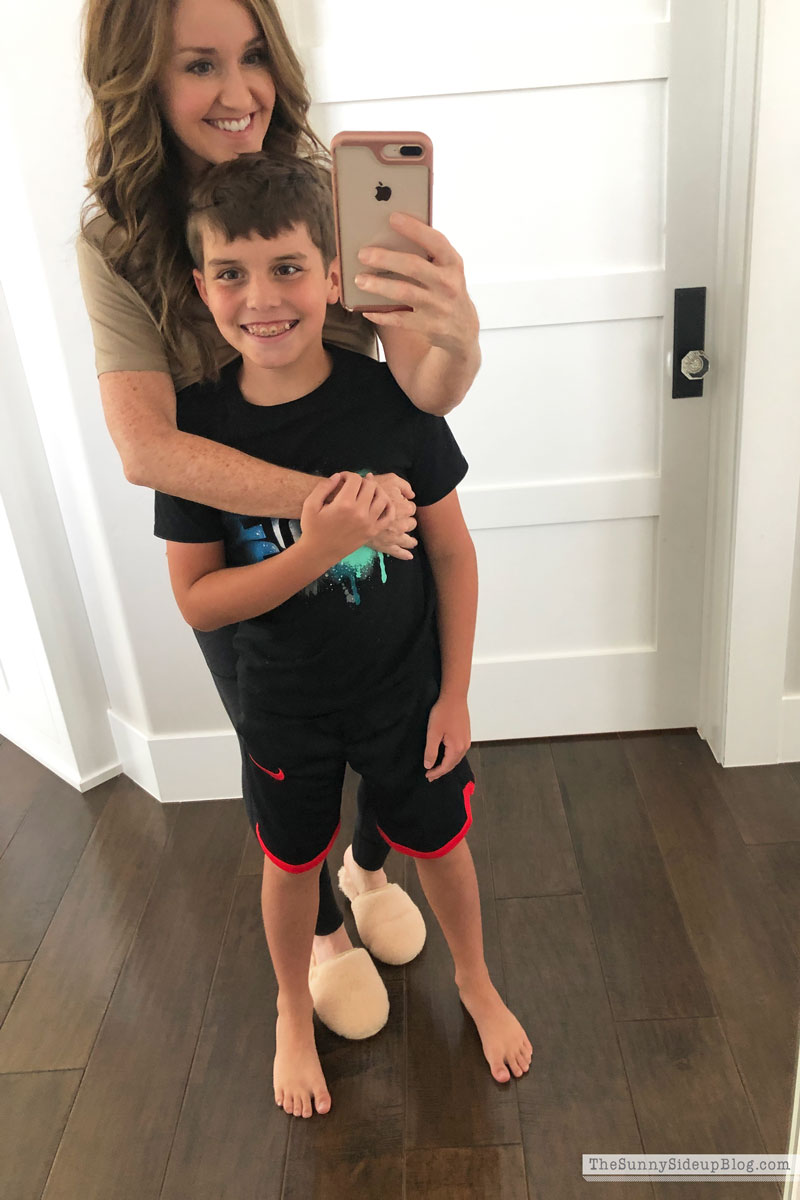 Time out to make someone a peanut butter sandwich. ;)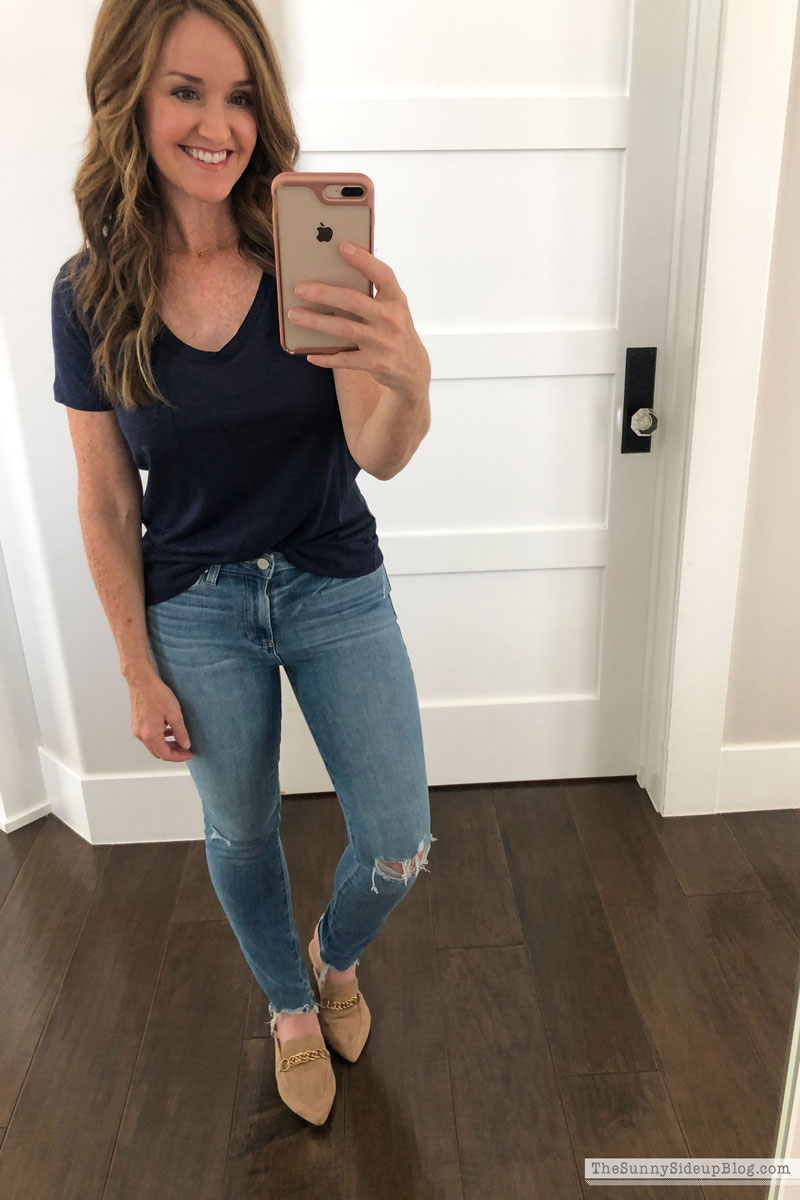 Caslon Rounded V Neck Tee/Delicate Monogram Necklace/Similar Paige Jeans/Chain Pointed Toe Mule/(Similar Mules)
This Caslon Rounded V Neck Tee is another fav!  So comfy and just $12!
Tory Burch Crossbody/Similar Paige Jeans/Curved Hem Tee/Delicate Monogram Necklace
I'm shocked that my TB crossbody bag is still in stock!  I love how I can wear it long or short.  There are still a few curved hem tees left too.  This is the top I've shared many times before in other colors.  I'm a tad obsessed with it!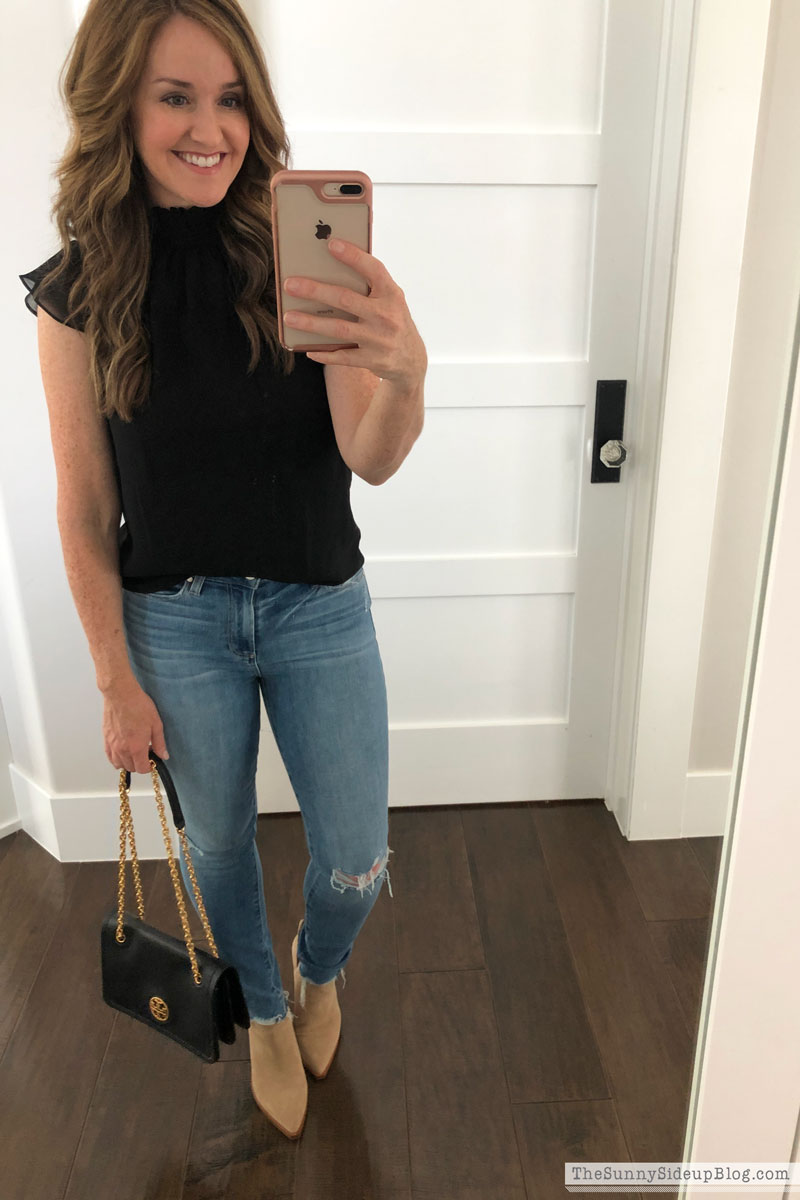 Tory Burch Crossbody/Similar Paige Jeans/Flutter Sleeve Blouse/Delicate Monogram Necklace
Here's a pretty blouse on sale that we can start wearing soon!  I love the flutter sleeves and feminine look of this blouse.  It comes in several colors including a fun leopard print!
Alright friends.  That's it for Friday 5 on a Saturday!  I hope you enjoy your weekend!  My girls start school Tuesday so we are living it up during our last few days of summer.  I'm sure the weekend will include some pool time (it's still so hot!), a family bike ride and (since I bought myself the candle, not the cute pumpkin oven mit) takeout.
;)
{POST SOURCES}







xoxo, Erin