*affiliate links used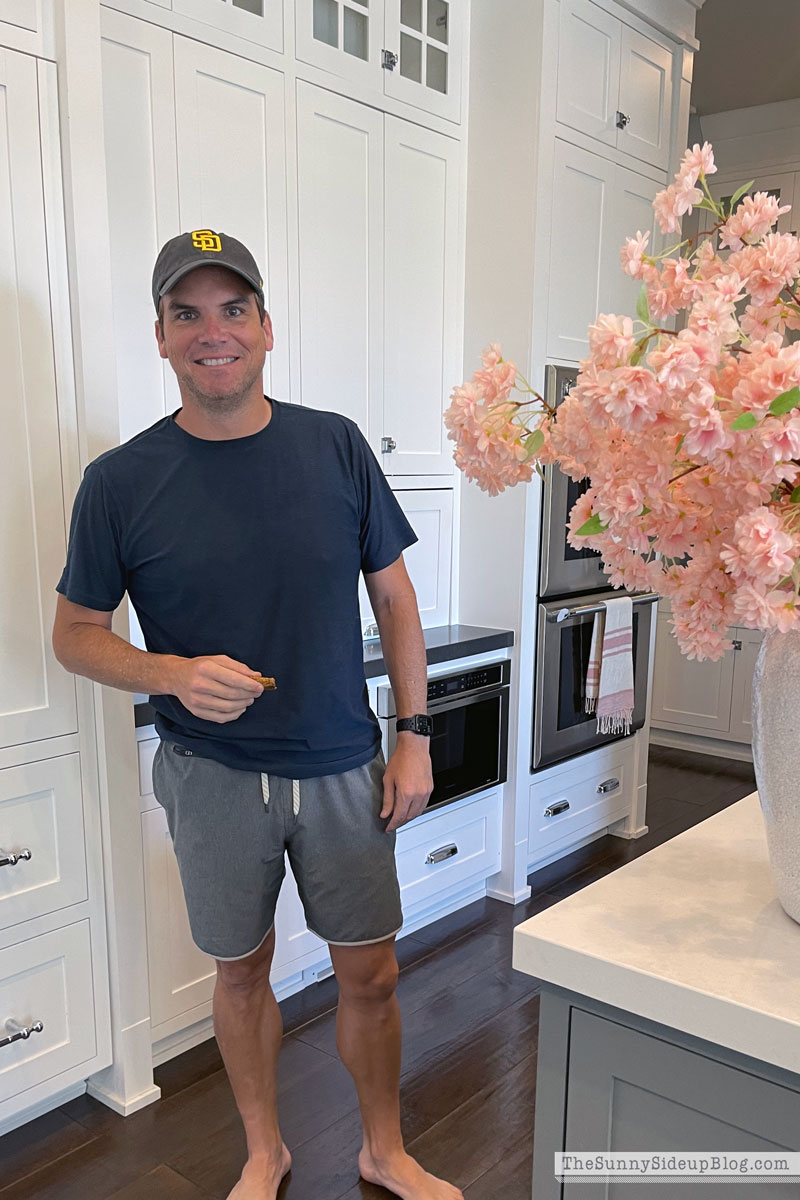 I have so much to share with you all!  But I'm really short on time with all of the last week of school activities so I'm popping in with a quick post full of my favorite gift ideas for Father's Day.  Quick but important because we love spoiling our dads. :)  I asked Kenny what his #1 favorite thing/gift idea/recommendation is and he spat out Vuori without even taking a breath!  After my obsession with Vuori joggers and workout clothes I started buying him a top here and some shorts there for different holidays and occasions and now he is so hooked he hardly wears anything else.  Honestly the SOFTEST most comfortable clothes!  I snapped this yesterday quick when he came in the kitchen for a snack.  He is still working from home and this is his every day look.  Not hard to see why he prefers working from home now.. ha.  He loves all of the tops and shorts (really you can't go wrong with this brand) but his absolute favorites are the Strato Tech tees and the Banks shorts.  He also loves his Vuori jackets.
1- performance hoodie   2- outdoor trainer shell 
3- long sleeve tee    4- strato tech tee   5- banks short
Below are some other favorites and ideas I rounded up!  Kenny loves movies so I ordered the top 100 movie poster for him for a fun gift.  We'll have to see if we can make our way through all of them although I'm sure we've seen most!  He has been loving the Jack Black products I got him for Christmas ever since I cleaned out his bathroom drawers and he remembered he had them.  Ha.  He loves the Jack Black shampoo and has used it for a few years now.  It's a little pricey but that big bottle lasts him FOREVER.  Vans are my husband's casual shoe of choice and I'm slightly embarrassed about how many different colors he has because I usually pair them with a Vuori item for a gift every time a holiday rolls around!  Always a hit. :)  Swimsuits and flip flops make great gifts this time of year.  I also included other things Kenny loves like good running shoes and socks, a Yeti cooler (we've loved ours.. a gift from my dad!), spike ball (so popular), and a sentimental book you fill in about why he is loved.
1- movie scratch off poster   2- waterproof phone pouch 
3- vans   4- board shorts   5- zella hoodie  6- skin saviors set 
7- running socks   8- water resistant board shorts   9- I love you dad book
10- ugg scuff slipper   11- running shoe   12- yeti cooler 
13- travel toiletry bag   14- flip flop   15- spike ball 
Father's Day is quickly approaching so I hope this post gives you a few ideas!  If you want even more ideas here is my Father's Day Gift Guide from last year too!  I'll be back soon with my low key/low stress summer attitude and lots to share.  SO ready.
:)
xoxo, Erin