Father's Day is Sunday!  To be honest I wasn't going to do a Father's Day Gift Guide this year because I've been working on other projects and posts that I'm anxious to get done, but I was shopping on-line for my dad and Kenny today (totally had that on my to-do list 2 weeks ago and kept putting it off) and I found so many fun options!  Too many good ideas not to share them.  Most of these items ship quickly for last minute shoppers like me!  Now I just have to make sure Kenny and my dad don't read this post.  :)   So grateful for dads and all they do!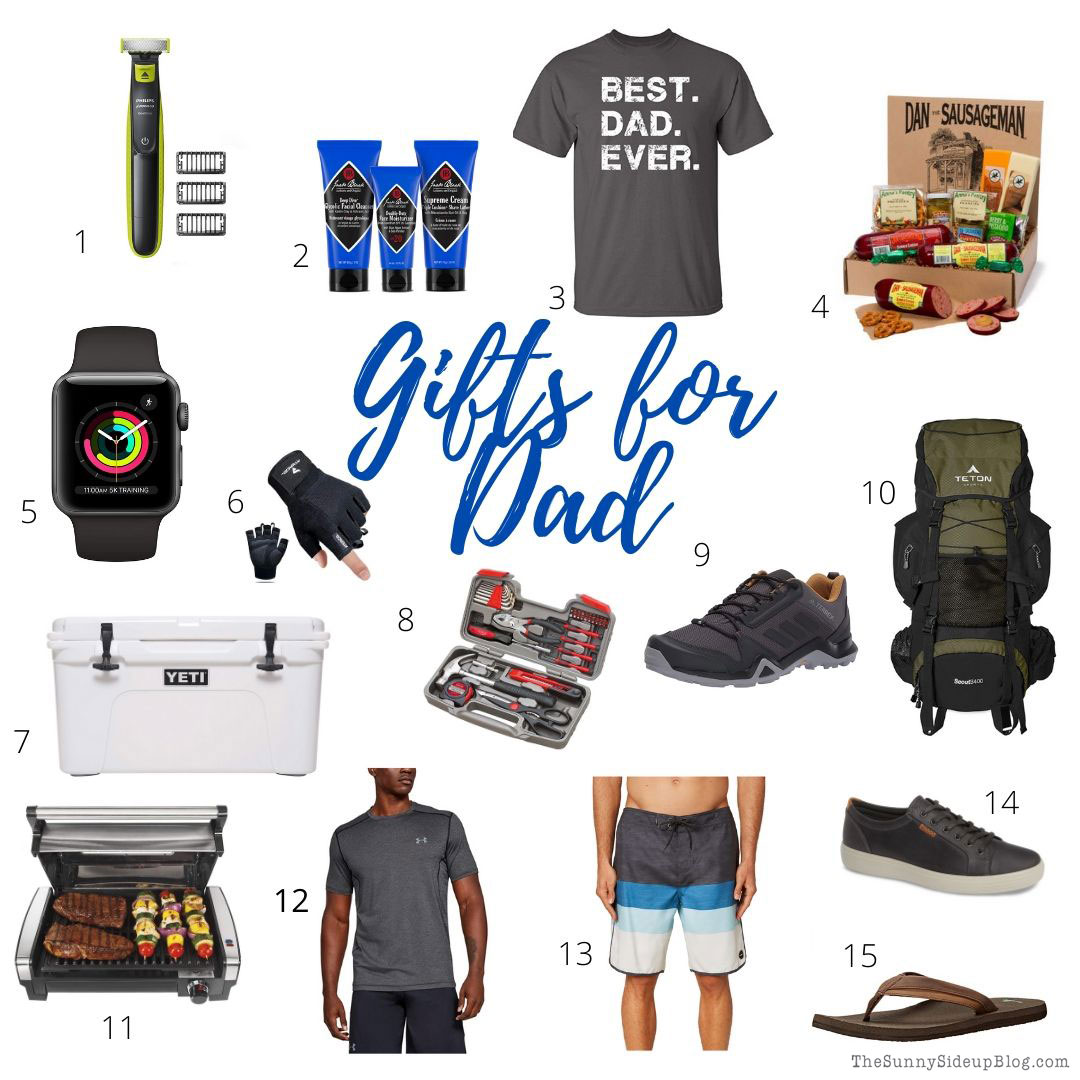 1 – Hybrid Electric Trimmer & Shaver – I've heard enough good things about this that I finally ordered it for Kenny.  Perfect for shaving or just trimming if our current situation is inspiring more facial hair than usual.  Ha. :)
2 –  Jack Black Shave Essentials Kit – Perfect gift to go with the electric trimmer and a great price!
3 – Best Dad Ever Tee – Point made!
4 – Sausage & Cheese Gourmet Gift Box –  What is it with men and sausage!?  Kenny loves it and so do my friends' husbands.  This is a perfect Father's Day snack plate!
5 – Apple Watch with Sports Band –  Kenny's number one favorite thing ever.  He never takes it off!
6 – Workout Gloves – Love these!  An especially great gift now since gyms are re-opening.
7 – Yeti Cooler –  My parents bought this for Kenny and I a few years ago for Christmas and we have LOVED it.  Perfect for camping!  We've also used to keep drinks cold for outdoor parties.
8  – General Repair Tool Set – Such a perfect set with all the essentials if it's time to replace old tools!  This would also be a great gift for new husbands/dads just starting their tool collection.
9 – Adidas Hiking Shoes – Kenny and I are obsessed with hiking lately so I wanted to find him a good pair of hiking shoes.  These have amazing reviews!
10 – High Performance Backpack for Hiking & Camping – Another perfect gift for the hiker/camper in your life.
11 – Indoor Searing Grill – Another item I've heard amazing things about.  I'm buying it for Kenny but secretly I want it for me!  Perfect for nights I want to grill something but don't want to deal with our big outdoor grill.
12 – Under Armour Tee –  The PERFECT workout tee!
13 – Board Shorts –  Kenny has these and I love them on him. :)  On sale!
14 – Lace up Sneakers – K I know that I share these beloved shoes on EVERY men's gift guide but they are Kenny's favorite shoes and they are the lowest price I've seen them!
15 – Cozy Flip Flops – A summer staple!
xoxo, Erin