*This post is sponsored by Walmart and affiliate links are used.  All product selections and opinions are my own!
Half way through the week and we are counting down over here!  My kids have this week and next before summer break and this is the week that all the projects are due, tests/finals are being taken, and the Open Houses, events and performances are happening.  We're on the go!  Next week is the chill "clean your desk, take home your stuff and party" week so things will definitely slow down once we make it to Friday.  Bring it on.. we are so ready for summer.  I can't wait to have my kids give their lockers a good clean out and call it a school year!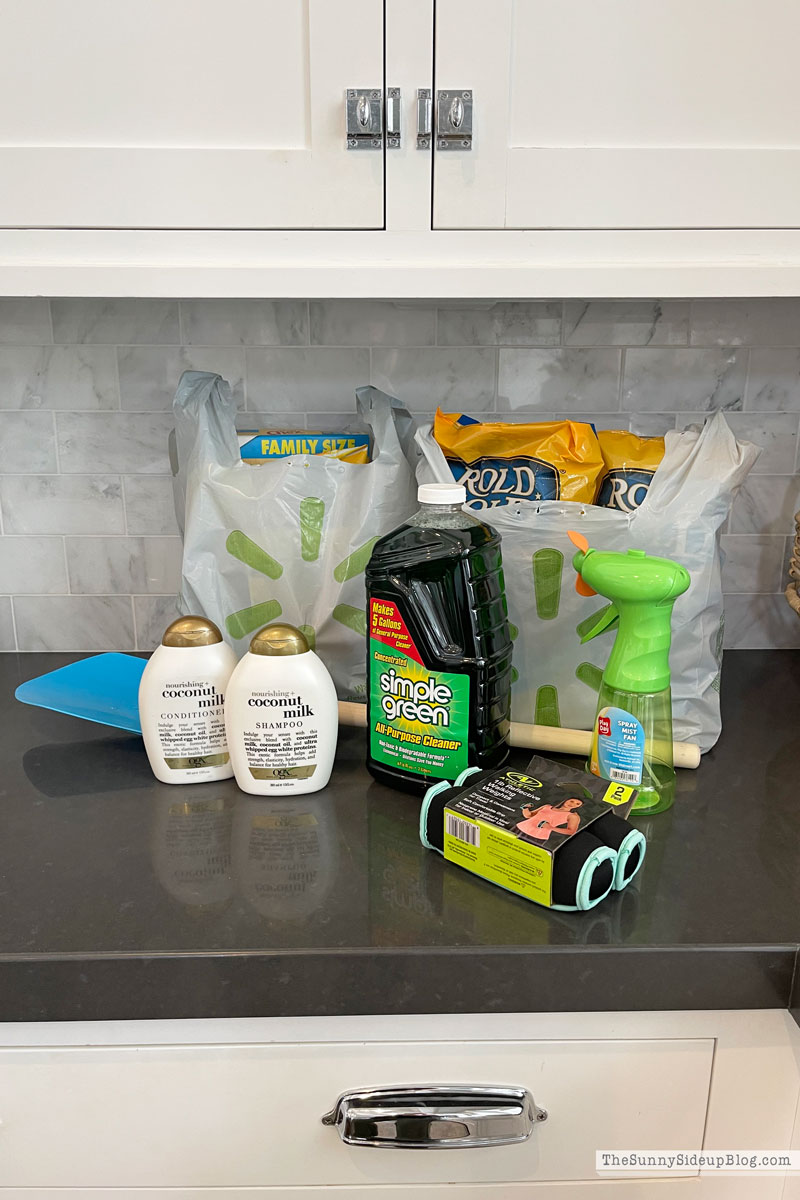 May is so busy for moms and honestly
Walmart's on-line pick up and delivery
has been a life saver for me this month.  We have always ordered some groceries on-line through Walmart to save money (groceries in San Diego are pricey!), but now with their easy pick up and delivery service I'm starting to get so many other items there too.. cleaning products, craft supplies for school projects, yard essentials, arm weights to step up my morning treadmill routine, Ellie's favorite shampoo/conditioner (she's obsessed with coconut everything at the moment), summer pool/beach toys for the kids.. they have it all!

I used to be nervous about having someone else pick out my fruit.. ha.  I'm picky and like to choose my own produce but they have a guarantee to pick the freshest items or you can contact customer care for a refund so I've been going for it and so far the fruit has been great!  I love that my favorite items (things I order again and again) are saved so that when I go to shop on-line it's quick and easy.  I just click what I need and done!  (Pick up is always free!  A $35 order minimum and small delivery fee apply for delivery. Pickup and Delivery are available in select markets.)
We had a lot going on last weekend with Addison's birthday so I ordered some food for the weekend and just swung by Walmart to pick it up.  Then Addison and I made the most delicious dessert for Memorial Day!  My sister made it last year when we all got together for the 4th of July and it was such a hit.  I thought I'd share the recipe because it's perfect for summer get togethers and of course for the 4th of July!
Isn't my sister cute!?  She always spoils us on the 4th and makes the most delicious food!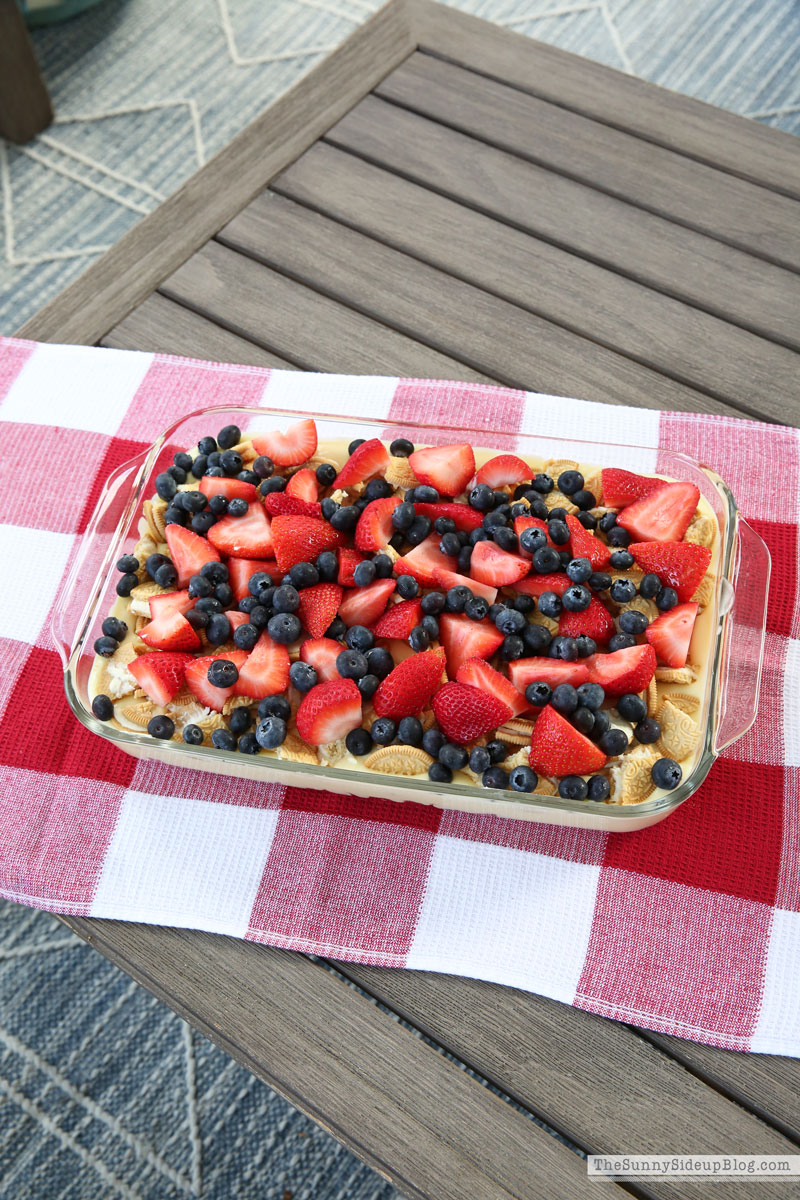 Golden Oreo Layered Pudding Dessert
Ingredients
1 family size package of Golden Oreos
2 (3.4 oz) boxes of instant french vanilla pudding mix (you could also use cheesecake!)
8 oz cream cheese (softened)
4 cups milk
1 1/2 cups heavy cream
3/4 cup powdered sugar
1 teaspoon vanilla
1 pound strawberries (hulled and quartered)
1 pint blueberries


Add about two rows of Golden Oreos to a ziplock bag and crush them with a rolling pin.
Layer the crushed Oreos on the bottom of a 9×13 inch pan.  Then make the vanilla layer.  (3 different mixtures!)  Beat 8 oz cream cheese in a large bowl until it's smooth and creamy.  In another large bowl combine 2 packages of instant pudding with 4 cups of milk and whisk for 2 minutes until it's thick.  Add the pudding and the cream cheese together and mix.  Then in a different bowl (or quickly clean one of the bowls you just used!) add 1 1/2 cups heavy cream, 3/4 cup powered sugar and 1 teaspoon Vanilla.  Beat with electric beaters for a couple of minutes until the cream forms soft peaks.  Then fold the whipped cream into the pudding mixture and stir it all together.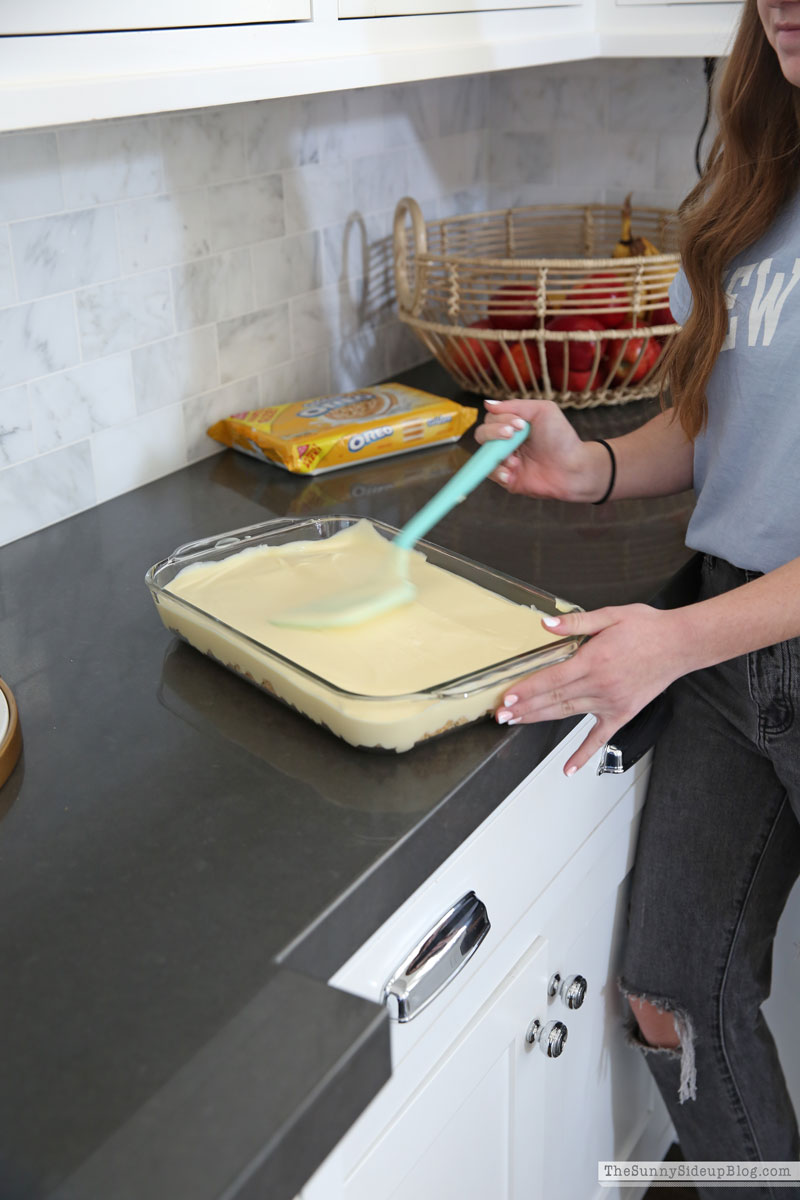 Spread the pudding mixture on top of the crust you made with Oreos.  Then cover this and refrigerate for at least 2 hours!  You can make this up to 12 hours in advance.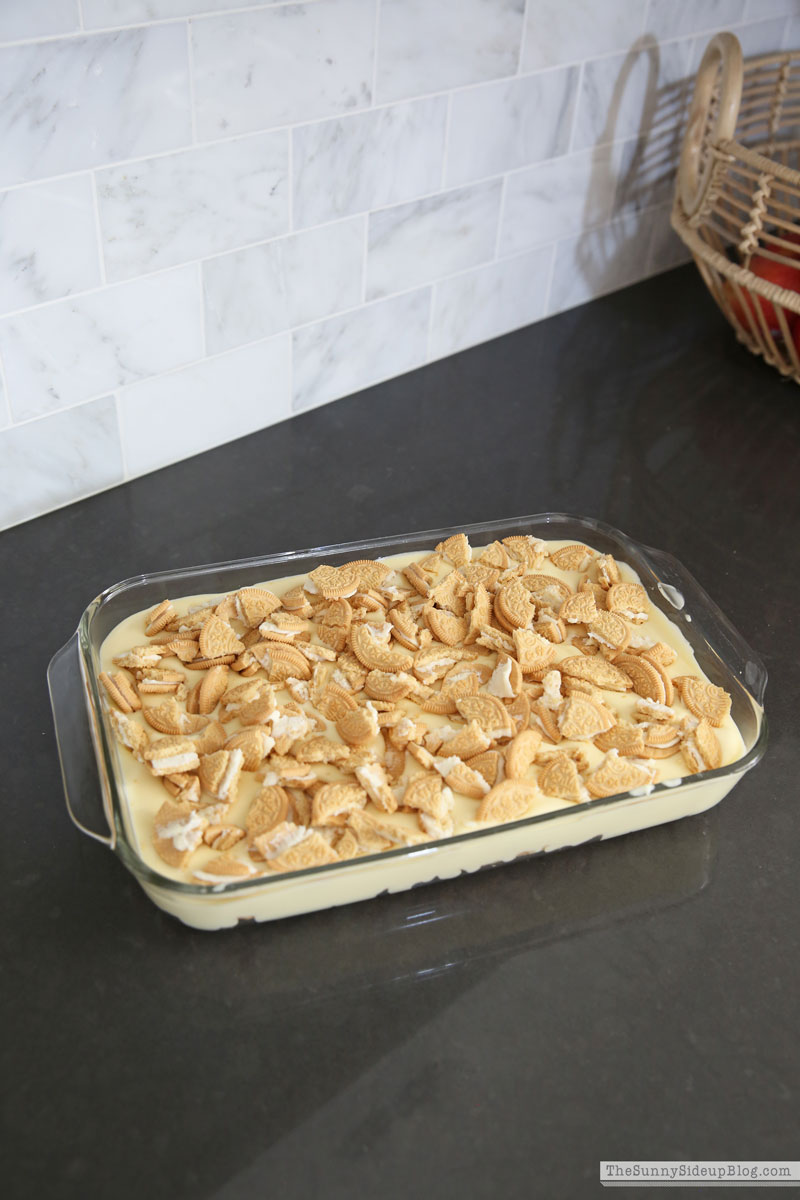 After some time in the fridge, add the top layer of Oreos.  (I just used a knife to chop them into quarters and I ended up using more oreos than one row.. just add as many as you want!)
Then top with sliced strawberries and blueberries!  (*Tip – have the Oreos cut in a bag and the fruit cut and washed and ready to go ahead of time so that when you are ready to serve it you can pull it out of the fridge and just sprinkle everything on quickly.)  It's so easy and delicious!  Feeds a large crowd and is sure to be a hit.  The only downside with this dessert is that the Oreos get soggy after a while so I don't love it as much for leftovers.  It's best to serve at a summer BBQ or get together with friends when it will be devoured in one night.. it never lasts long!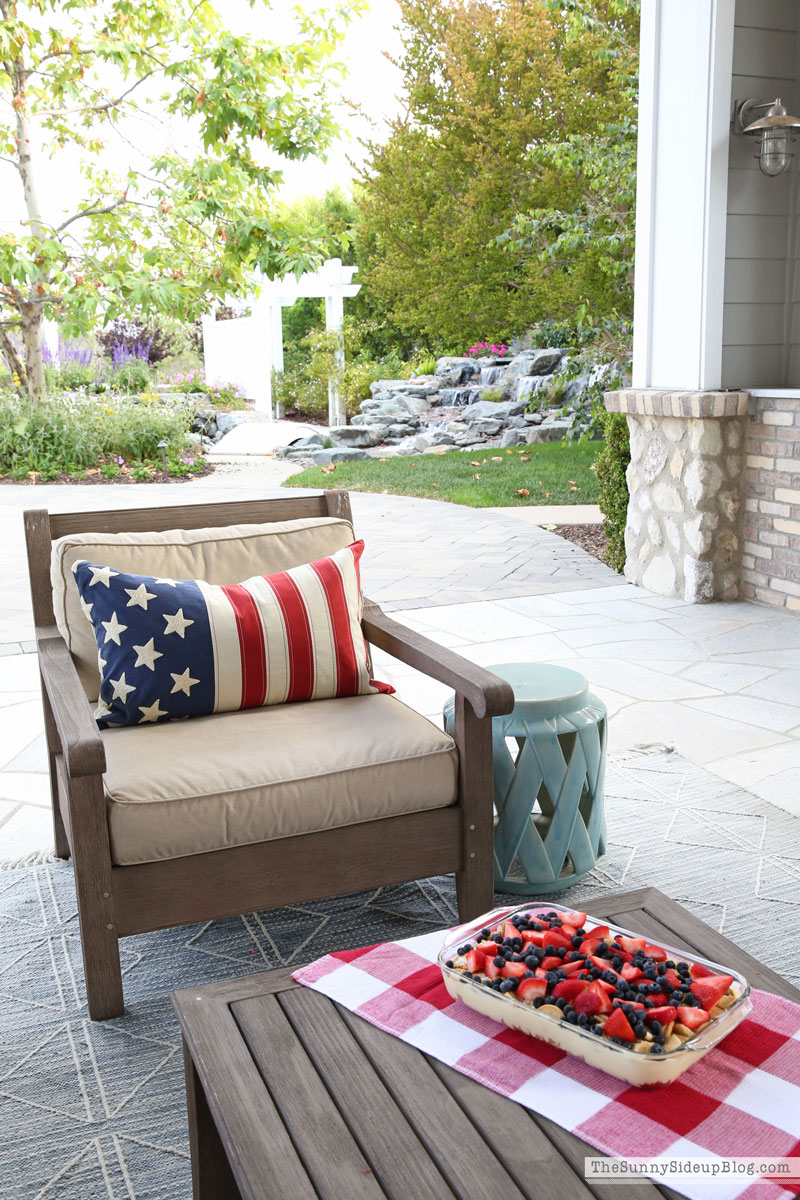 Have you ever made it before?  Or something similar?  It's so delicious.  If you try it and love it let me know!
I'm off to Kole's 5th grade Open House. :)  Enjoy your day!
xoxo, Erin