Happy Monday!  Can you believe that it's already December 14th!?  Just 11 days until Christmas.  That makes me sad!  I know we are all ready to wrap up 2020, but I am NOT ready to wrap up my Christmas trees.  Ha.  I'm also not quite ready for all things Santa!  I pulled gifts out yesterday and still have some shopping to do so the next few days I'll be busy!  If you're in the same boat today's post might help!  I'm sharing a few of my 2020 favorites and more fun gift ideas.  I can't believe the on-line sales this year and especially during the next few days while you can still get things delivered in time for Christmas!  Thank goodness for on-line shopping.  I can't remember life without it and quite frankly..  I don't want to. :)
*affiliate links used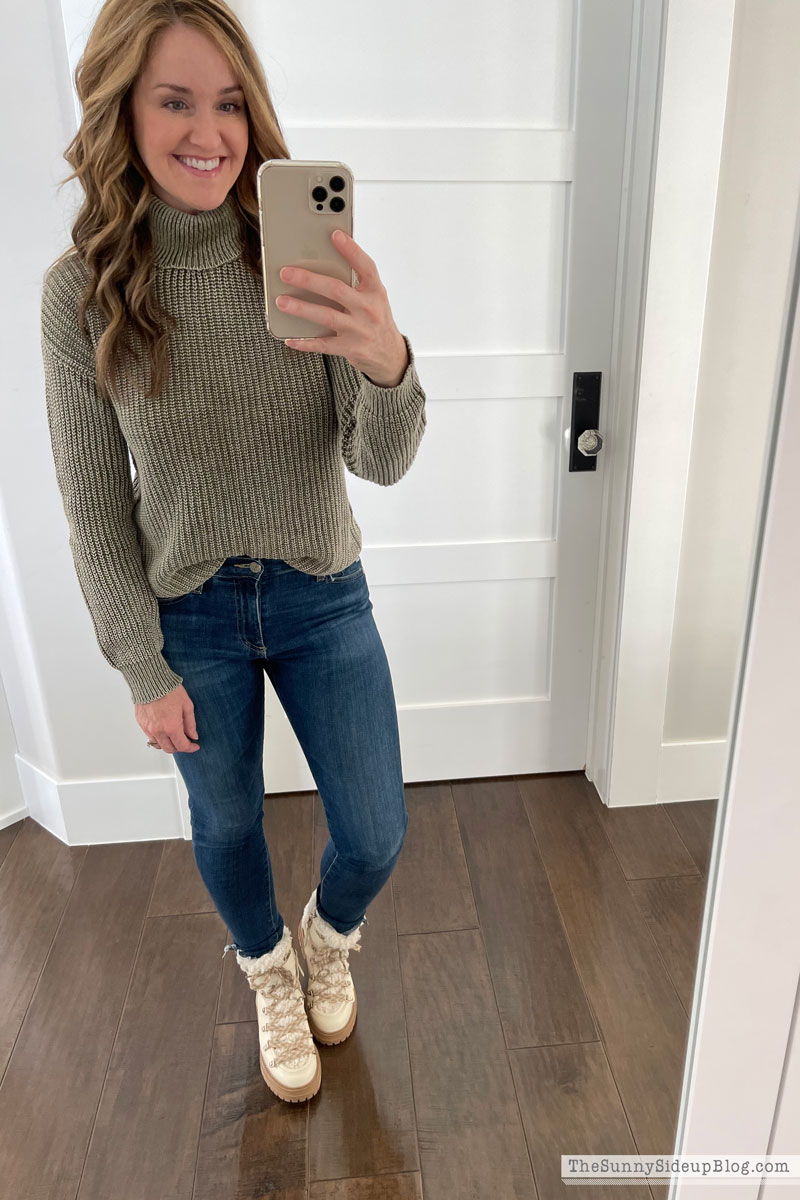 (mock neck sweater/boots here & here)
Cute newish sweater I wore last week the ONE day I wore jeans.  The reviews weren't great because it's cropped but I found it to be the perfect length!  Maybe that's because I'm short?  I don't know but definitely a keeper.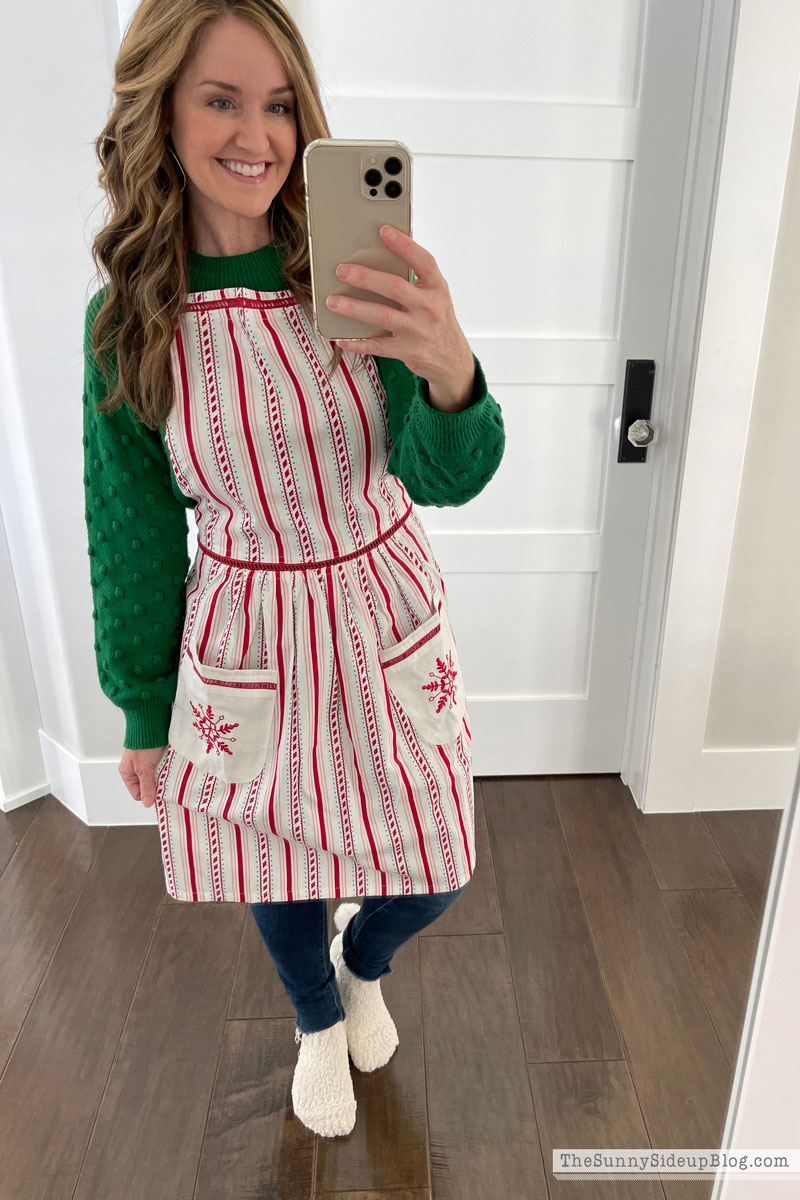 Happiest mail when this cute candy cane apron showed up!  I ordered two (one for Ad too- my cooking buddy) and they are darling!  Anything that makes cooking and prepping food more fun is huge win in my book.  (On sale!)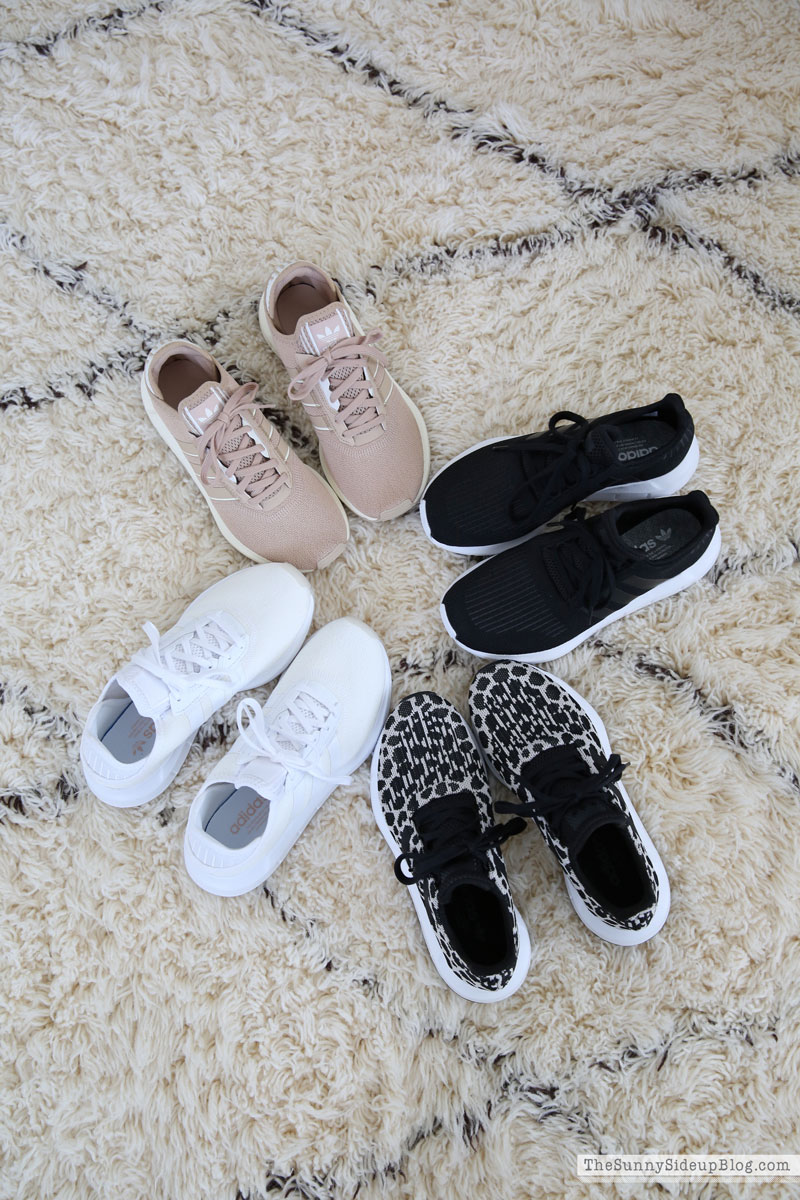 You all know how much I love my Adidas sneakers.  I've been running around in various styles of this shoe for years!  Right now the Swift Run X Sneaker is on major sale in multiple colors!  I love the pink!  And the white.  And of course black.  I also wouldn't mind having a pair in grey.  Really you can't go wrong. ;)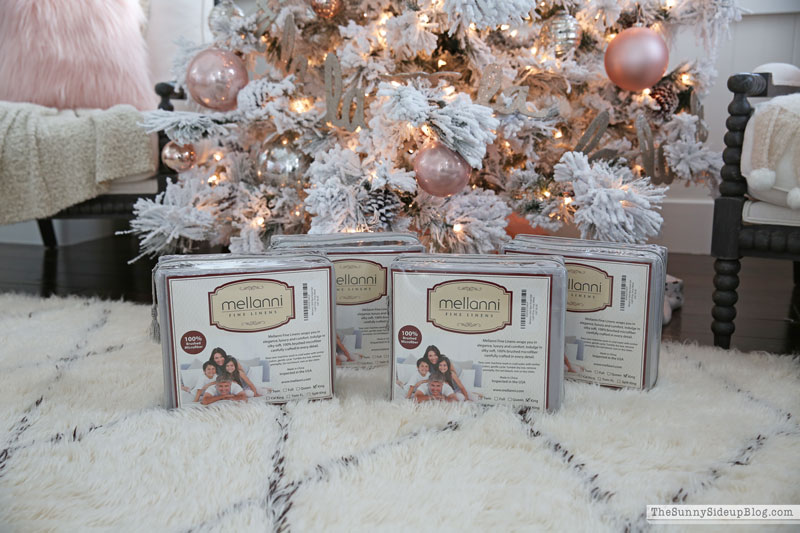 Ok.. these sheets are hands down one of my favorite things from 2020!  If I was going to a favorite things party this year I would be taking these sheets!  I ordered a set to try a few months ago because I heard they were amazing and I wanted to see for myself.  The first night I had them on our bed Kenny laid down and said "wow.. new sheets!  I love these.. major upgrade."  I started to laugh because they cost a fraction of the price of the sheets we usually have on our bed!  Plus he NEVER notices stuff like new sheets!  But I had to agree.  They are so soft and comfortable!  After we had them on our bed a few weeks I bought a set for all of my kids' beds.  Then an extra set for us (we have one white and one grey).  And now I'm buying them for everyone in our family for Christmas!  I was going on and on about them to the girls who help me clean my house and they wanted a link to them so I decided to buy them each a set too.  Sheets for everyone!  I seriously love them so much!  I still can't believe how inexpensive they are.  LOVE them.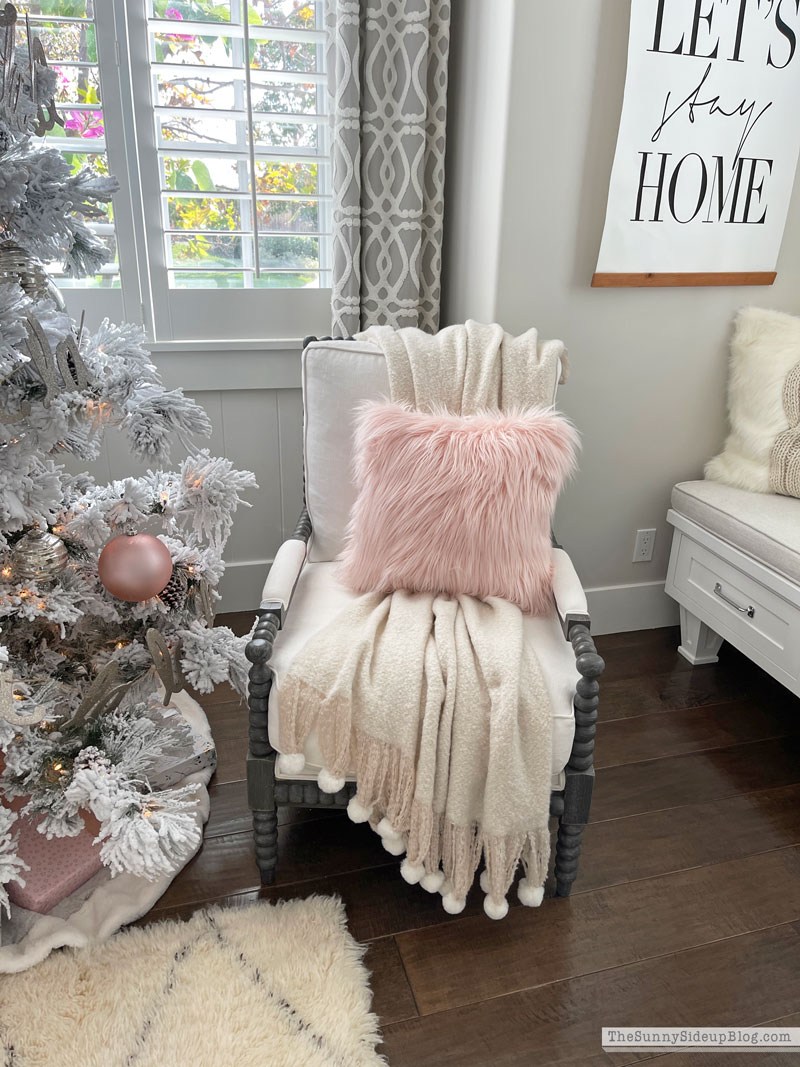 Another thing I can't believe.  HOW is this throw still in stock!?  It's so beautiful!  I'm obsessed with the look of it and with the cute little poms!  It comes wrapped so beautifully too.  (I shared it wrapped in this post.)  Would make a great gift!  I personally am not parting with it though. ;)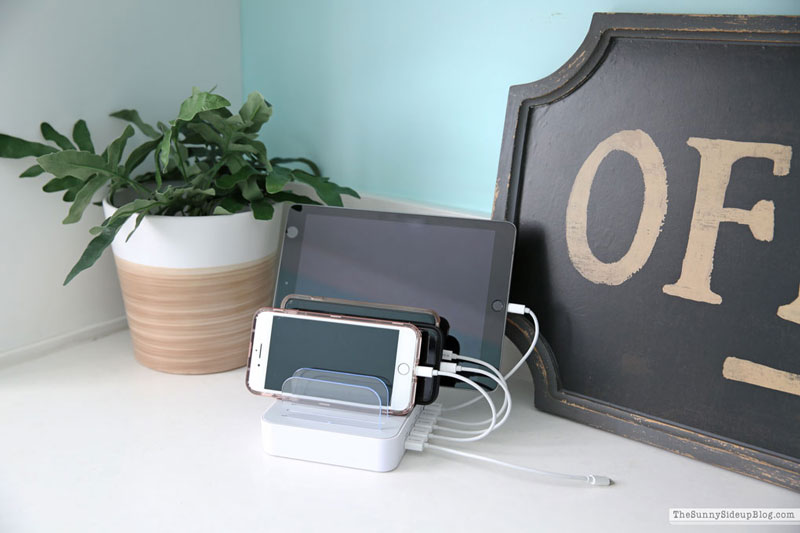 This was my favorite thing from 2019 but it's still such a family favorite I'm sharing it again!  We LOVE this little charging station and still use it every single day to charge our devices!  It's always out on our kitchen counter or on my office counter unless one of the kids steal it and take it to their bedroom.  Then everyone gets mad and it ends up back in the kitchen.  Ha.  The best!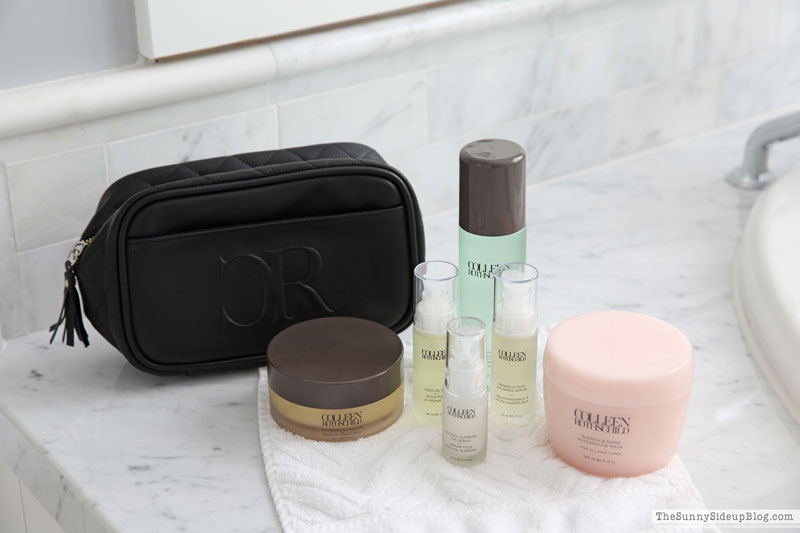 Colleen Rothschild products were another 2020 favorite for me.  I've been using several of her products for months and am loving them!  I shared details on what I've been trying in this post.  They are doing a huge Green Monday sale today so it's a great time to try a few of her bestsellers if you've been wanting to!  Skin products are pricey so I love big sales like this when it's time to re-order favorites or try new products.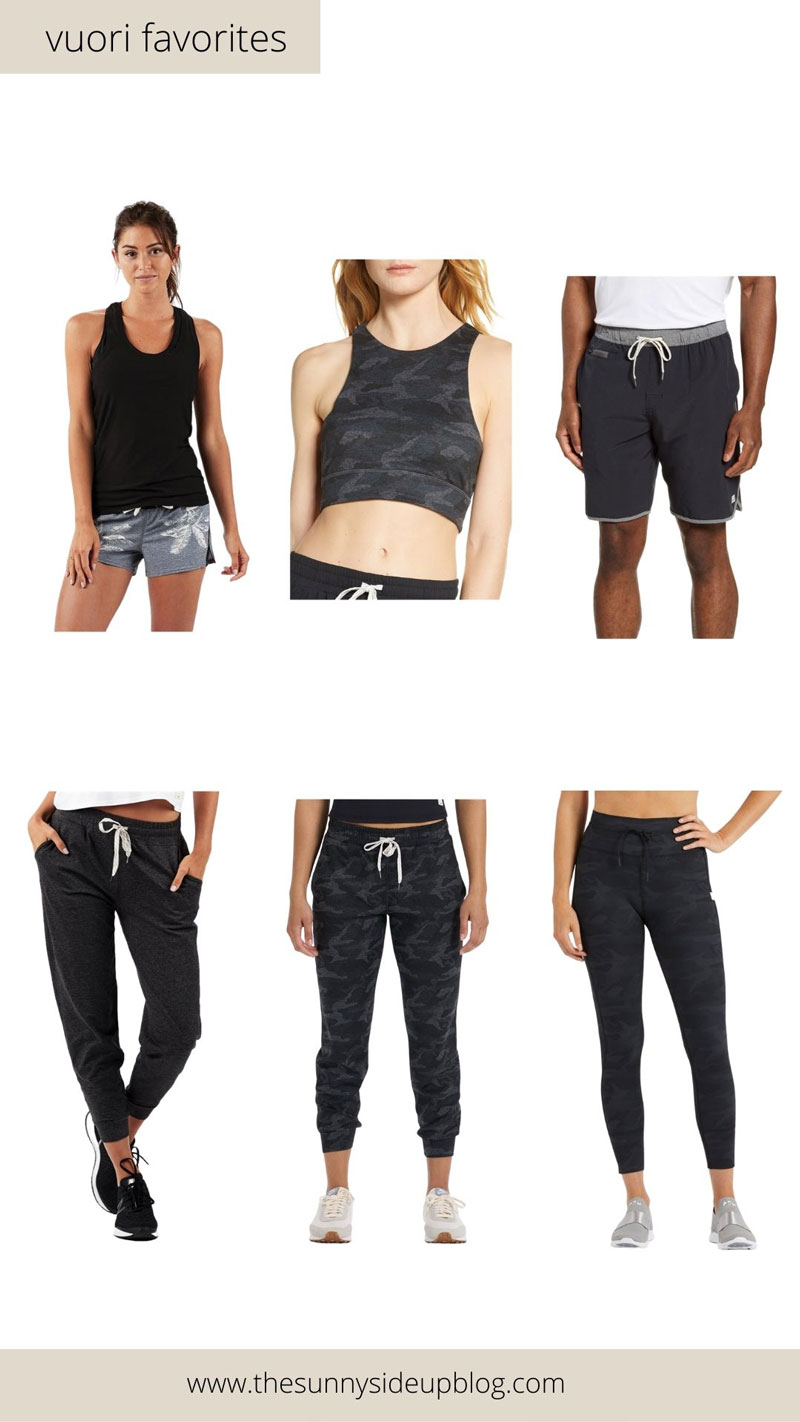 1 – lux performance tank  2 – elevation bra  3 – banks shorts
4 – performance joggers  5 – performance joggers  6 – daily legging
You all know by now what a huge fan I am of all things VUORI.  Honestly their joggers are GOLD!  I love all of their clothes for exercising and running around and I've turned Kenny into a huge fan too!  He lives in their banks shorts (#3 – he seriously wears them almost every day now that he's on zoom for work!).  You can see me wearing a lot of my favorites from Vuori in this post.  Anything Vuori would make a great gift!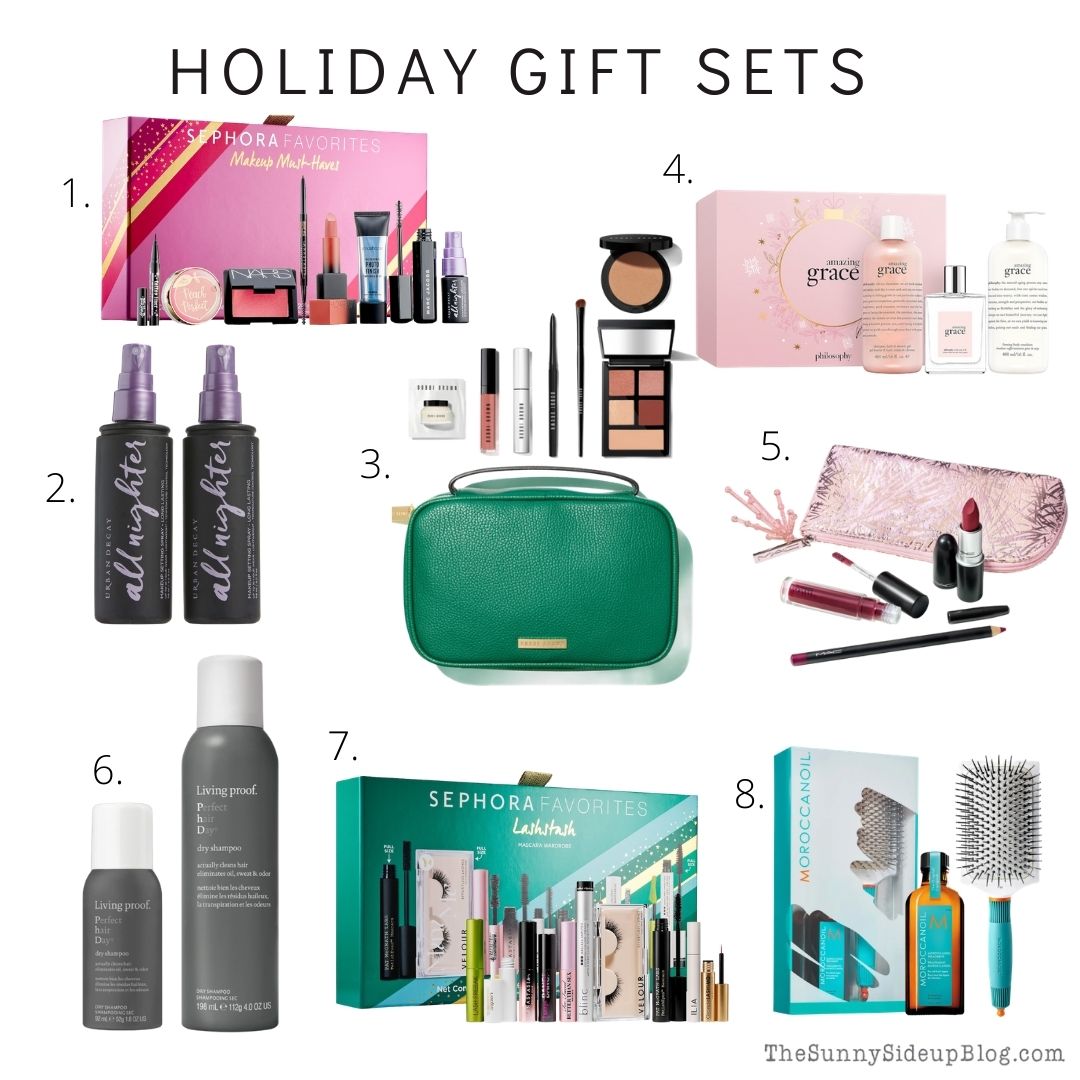 1 – makeup bestsellers set   2 – makeup setting spray   3 – bobbi brown deluxe holiday collection 
4 – amazing grace jumbo set   5 – mac firework lip kit  6 – dry shampoo set  
7 –  lashstash mascara set   8 – great hair day set 
Sometimes it's just easier to buy a gift set for someone special!  I searched through TONS of gift sets to find my favorites this year (above).  Then I ended up ordering a few of them for my girls!  And #2 for me. :)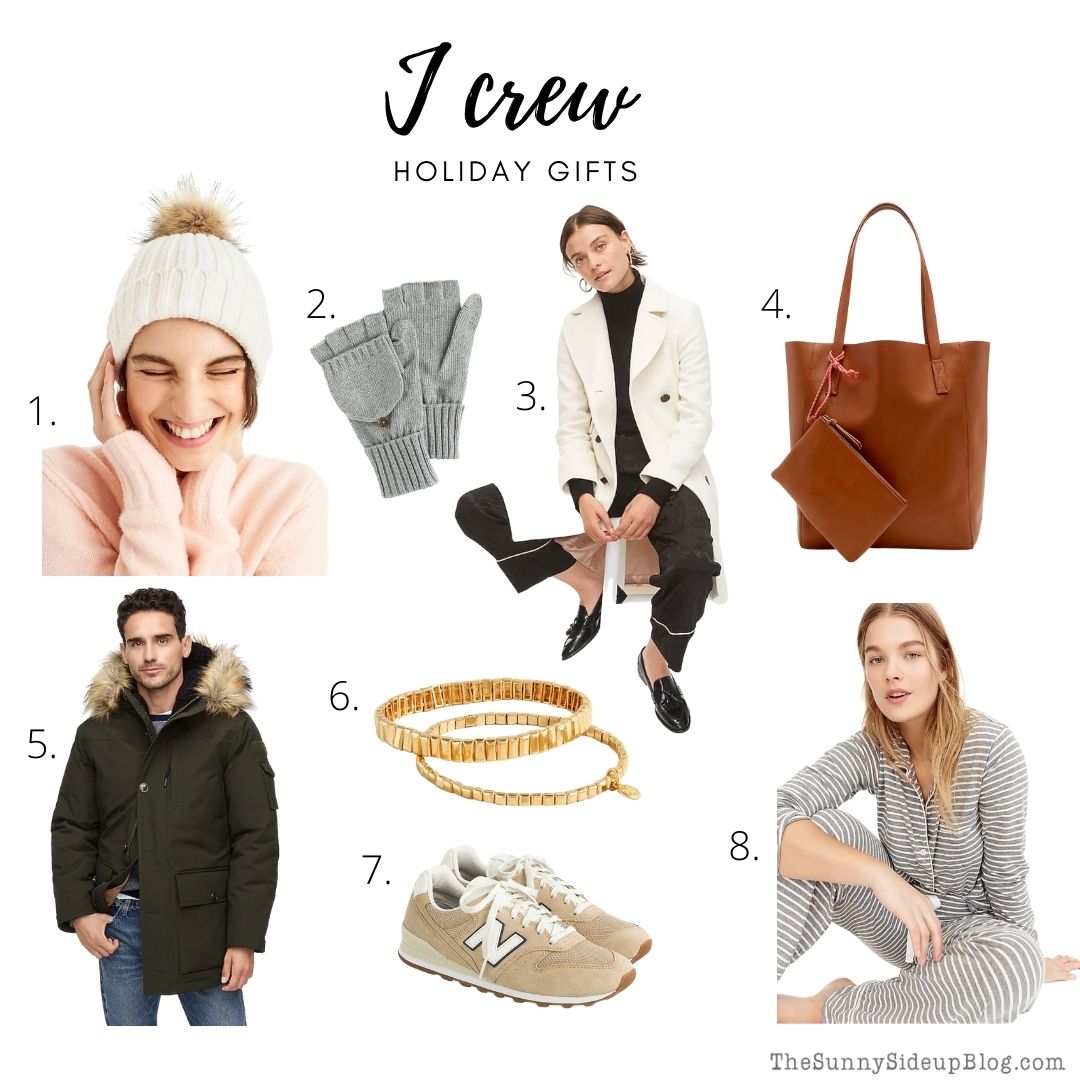 1 – ribbed beanie  2 – ribbed knit glitten  3 – double-breasted lady coat 
4 – the carryall tote  5 – nordic parka  6 – gold bracelet set 
7 – new balance sneakers  8 – pajama set in stripe
A few favorites from J Crew that would make perfect gifts!  Aren't those sneakers fun!?  They have been having the best sales lately!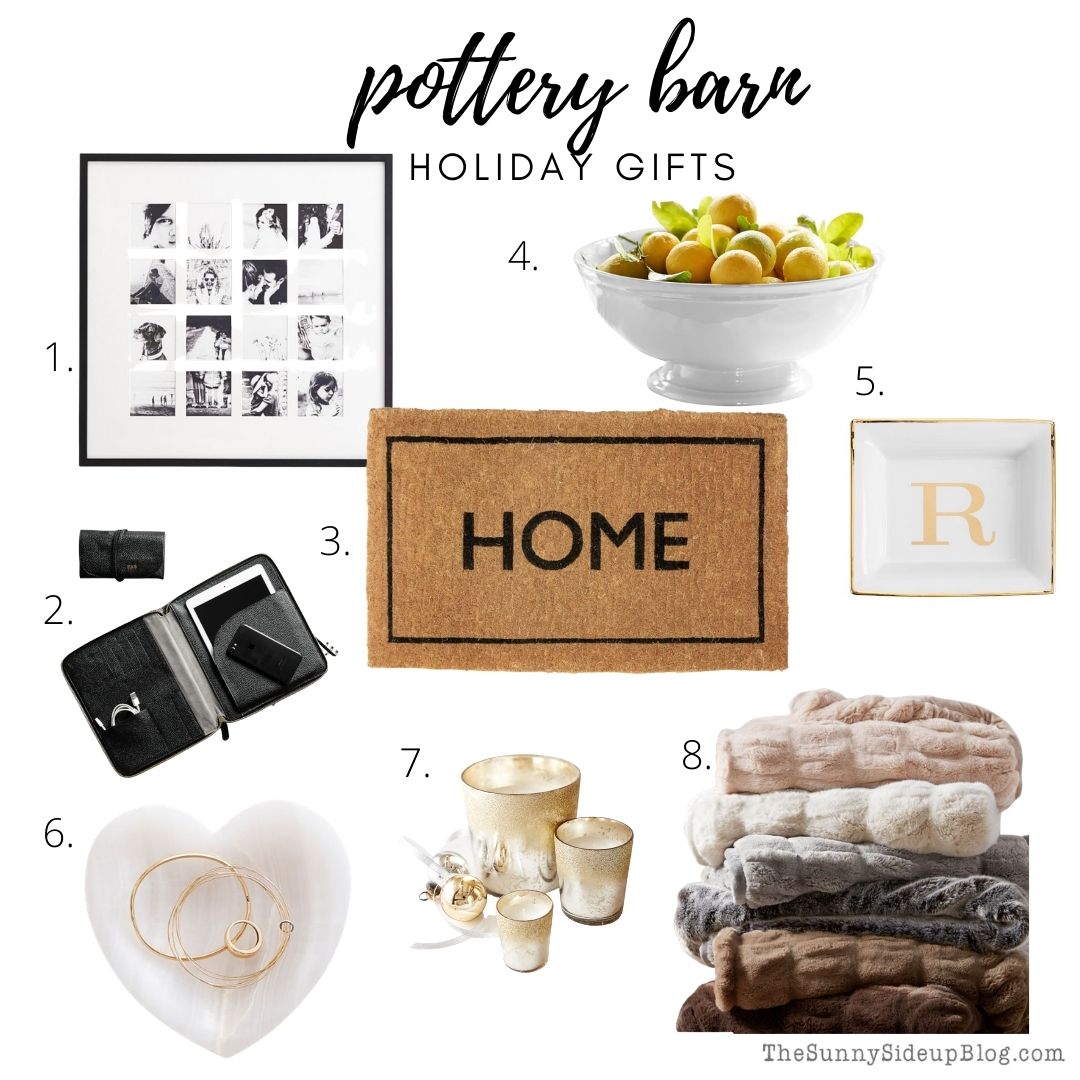 1 – wood gallery frame  2 – personalized portfolio collection  3 – home doormat 
4 – large footed serving bowl  5 – alphabet catchall 6 – rose quartz heart tray 
7 – mercury glass scented candles  8 – faux fur throws 
PB is always a favorite for home decor and gifts.  The items I rounded up above are all on major sale who wouldn't love any one of these?  I'll take one of each please!  (For #1 I meant to share this cute HO HO HO frame.  Wouldn't it be fun to round up favorite Christmas pics to give framed as a gift!?  LOVE that.)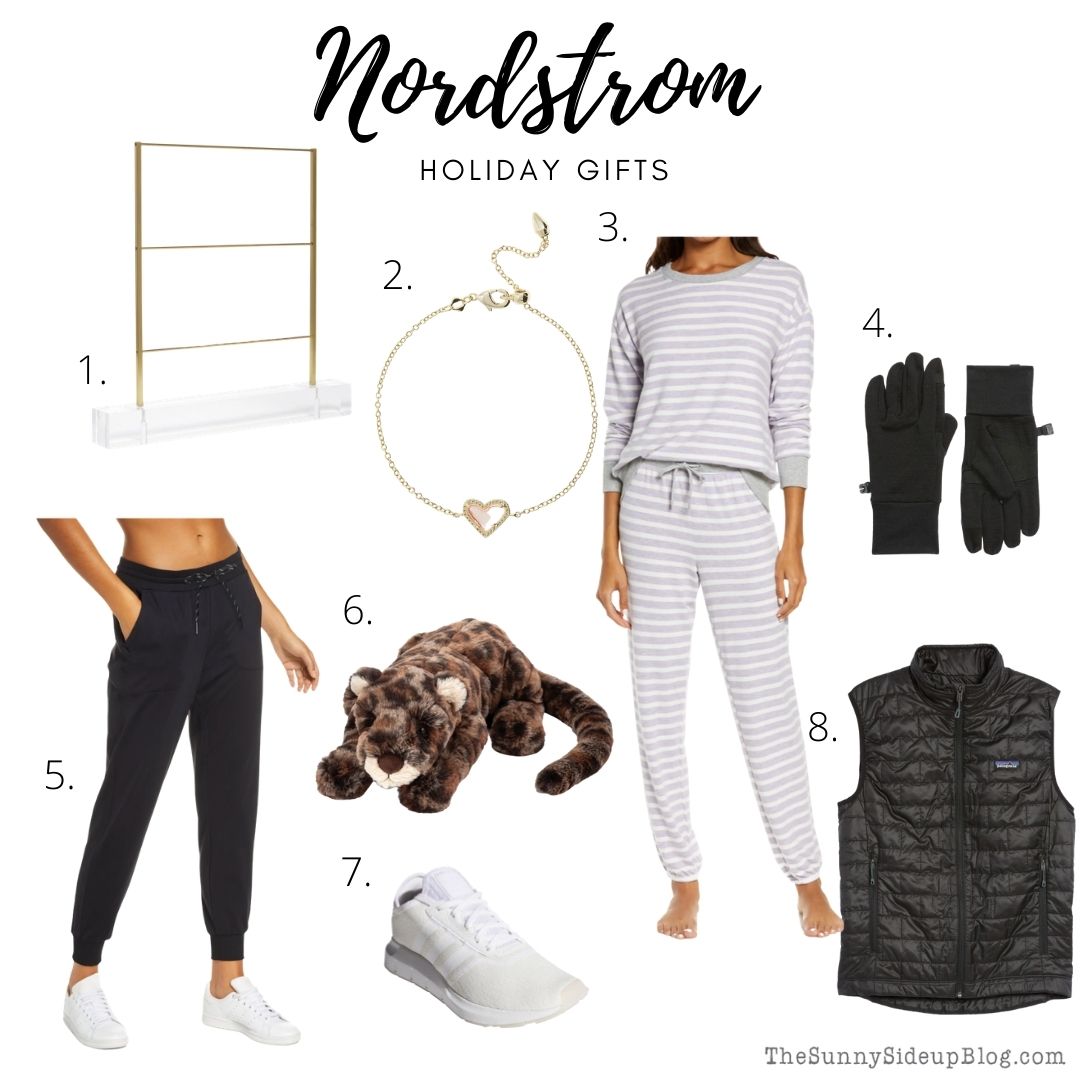 1 – kendra scott earring ladder   2 – heart pendant bracelet  3 – long sleeved pajamas 
4 – tech touchscreen fleece gloves  5 – live in pocket joggers
6 – jellycat leopard stuffed animal  7 – swift run x sneaker 8 – nano puff vest 
Some Nordstrom favorites that would make great gifts!  I'm asking for the earring holder and love the zella joggers!  Kole has the leopard stuffed animal and sleeps with it every night. :)  If you have a little one, JELLYCAT stuffed animals are my favorite!   SO soft!  My kids loved them growing up.  Kenny has several colors of the Patagonia vest (#8).  One of his all time favorite things!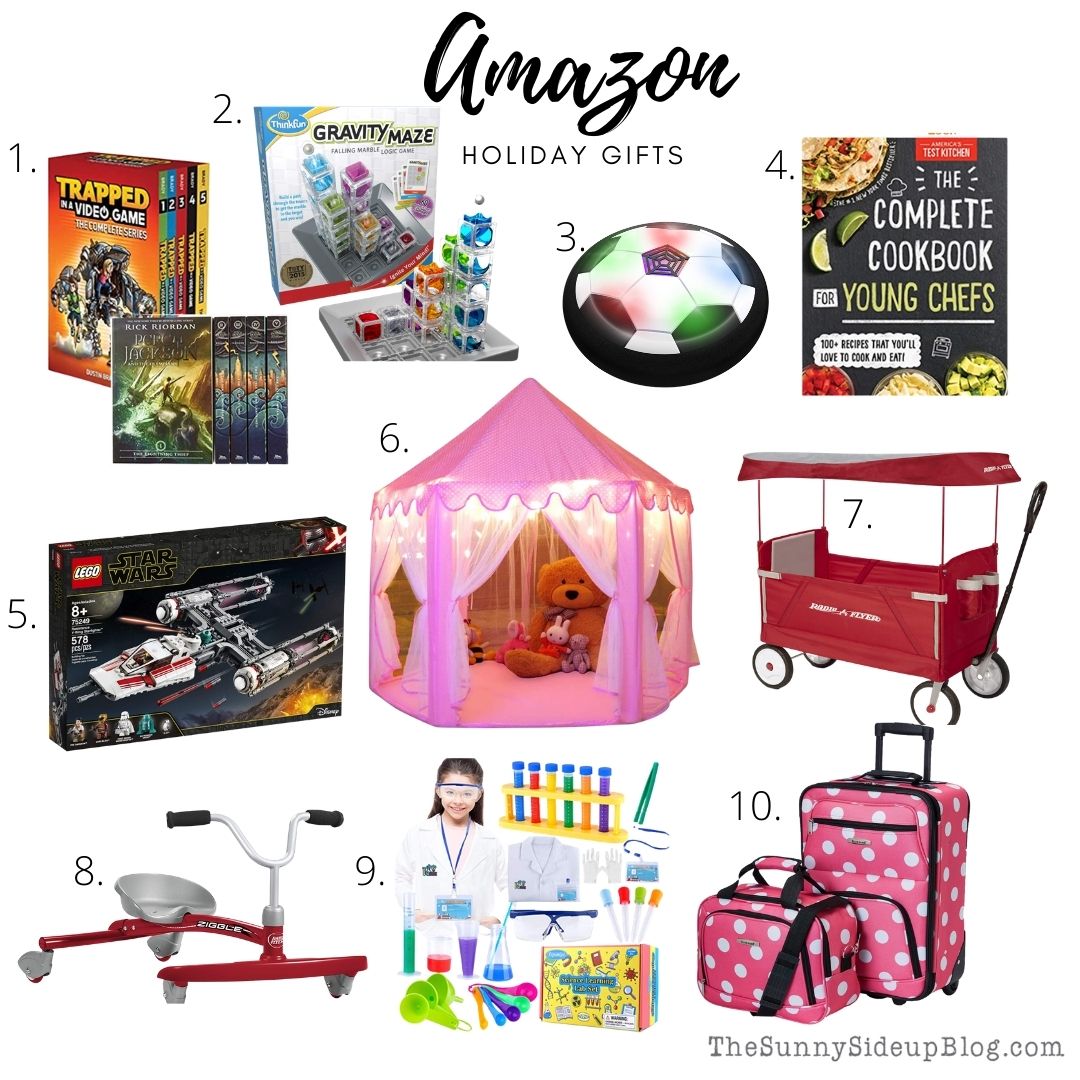 1 – trapped in a video game series/percy jackson 5 box set
2 – maze marble run brain game   3 – LED hover soccer ball
4 – the complete young chefs cookbook  5 – lego Star Wars
6 – girls princess tent  7 – radio flyer  8 – radio flyer ziggle
9 – kid science lab kit 10 – luggage set
Some of you asked what I'm getting Kole this year – #1, 2 and 3 still need to be wrapped. :)  The other ideas are things my kids loved when they were younger!  Kole rode his ziggle (#8) for years almost every day!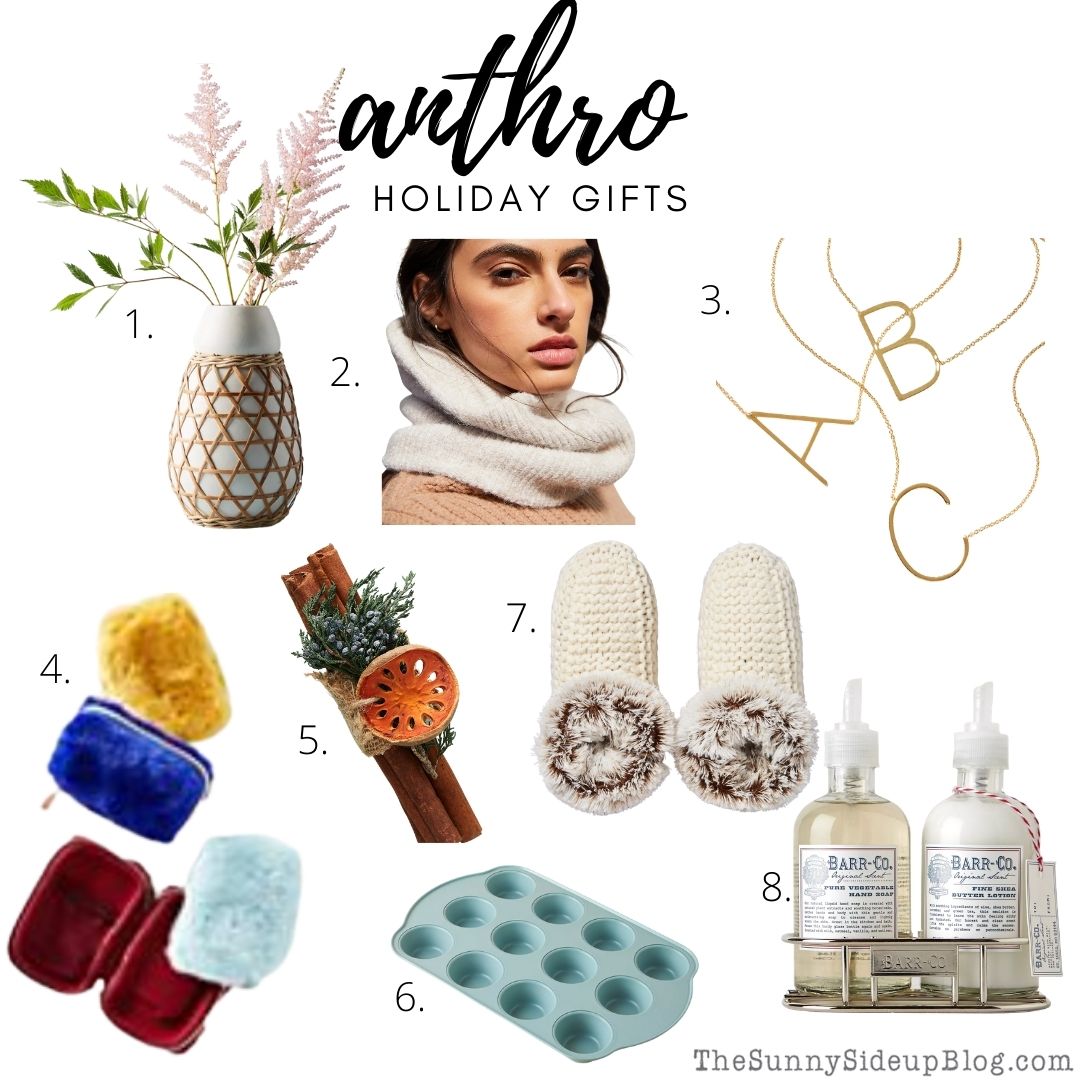 1 – woven grass vase   2 – bianca shimmer snood  3 – letter monogram necklace 
4 – faux fur earbud case  5 – cinnamon stick bundle 
6 – muffin pan  7 – faux fur slipper boots  8 – barr-co hand duo 
And last but not least, some cute gift ideas from Anthro!  Always a happy store. :)
I hope this post helps you wrap up your holiday shopping this year!  I'm so excited to have mine done and everything wrapped!  Feels far away at this point, but I'll get there.  Somehow it always comes together right!?  Luckily I work best under pressure. ;)  If you're done I'm so impressed!
And slightly jealous.
;)
xoxo, Erin