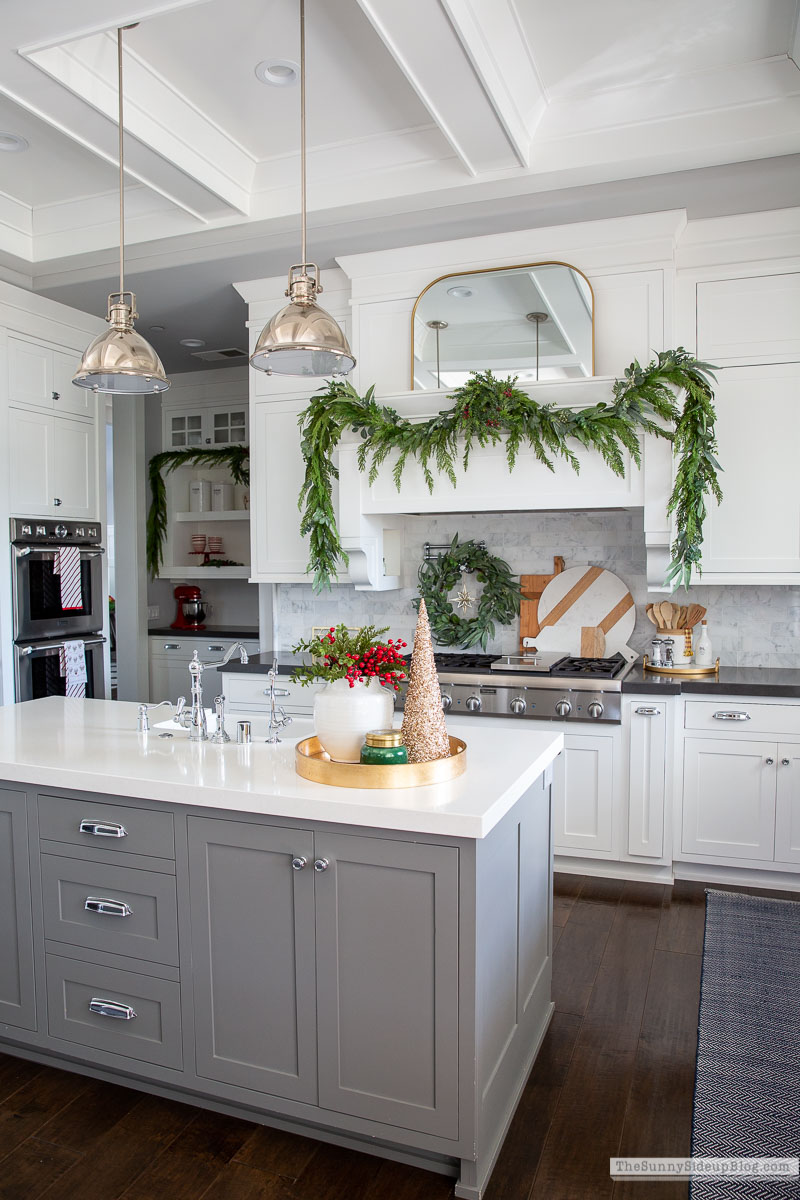 Happy Saturday!  Sharing some pics of my Christmas kitchen!  Simple but festive this year. :)
*all sources are at the end of my post – affiliate links used
I kept the same round gold tray I used for my Fall kitchen decor on my island.  Really loving pops of gold this holiday season!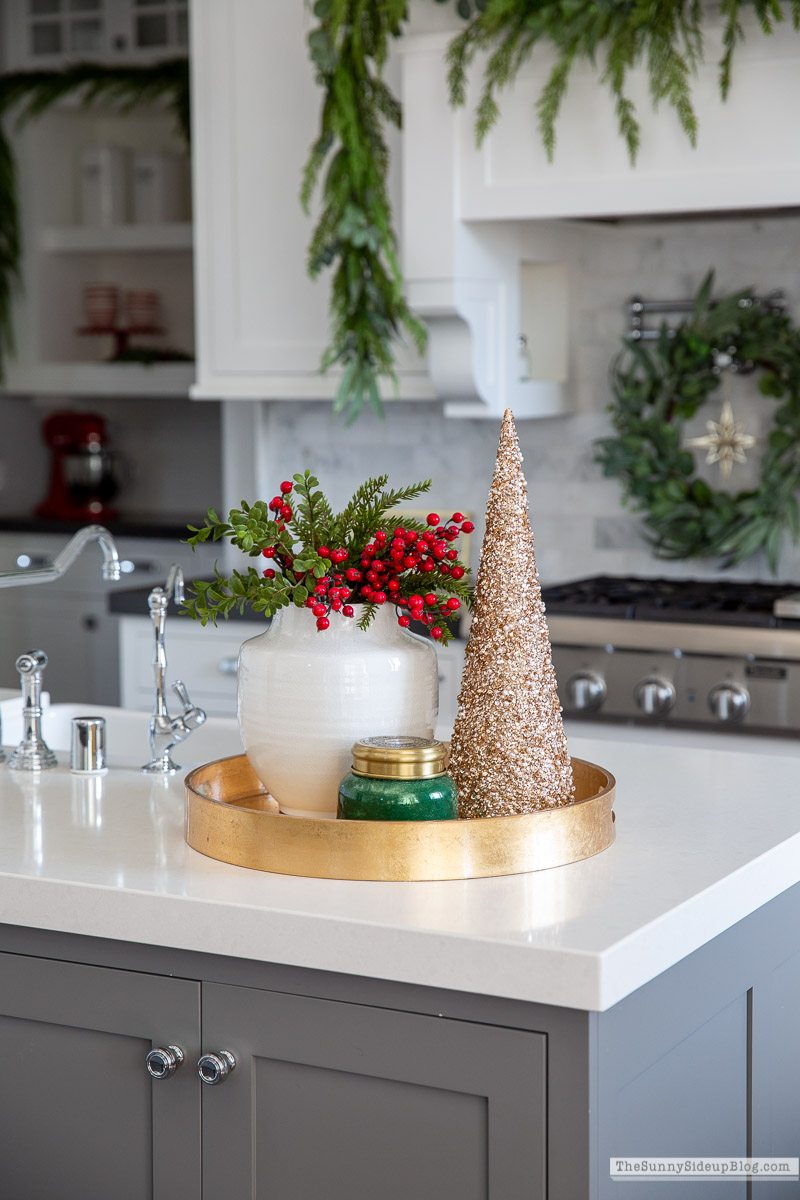 (gold tray/white terra-cotta jar/fir & firewood candle)
So easy to decorate with just berries in a jar, a gold glittery tree and a favorite Christmas candle.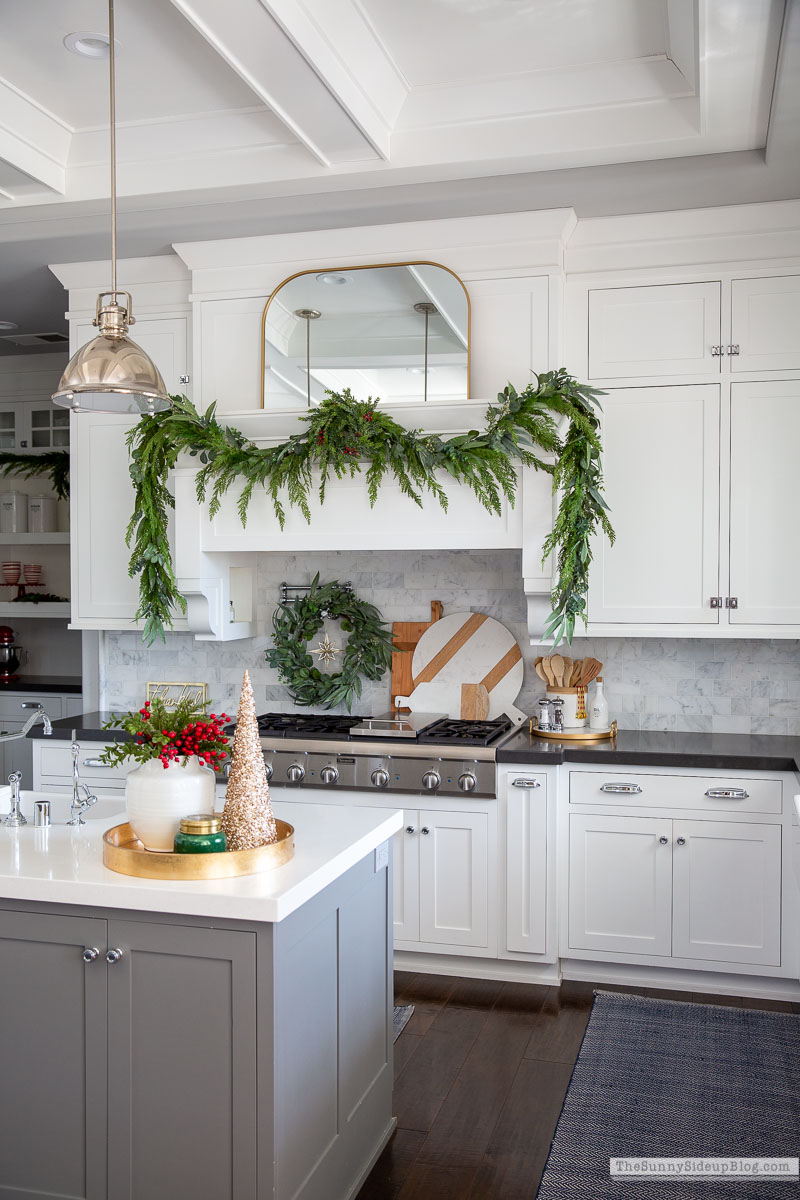 (white marble & wood round board/marble & wood small board/large rectangle board/wreath/marble & gold tray)
I added garland to the front of my mantel this year instead of just laying it across the top like I usually do.  It was so much easier to attach than I thought it would be!  I just used three command hooks on the two ends and one in the middle.  The middle felt like it needed something so I added a little wreath.  I planned on putting something with a pop of red on the left side of the shelf above my oven range and tried so many different items (more berries, reindeer, etc).  Nothing looked quite right!  So for now it's just my gold mirror.  I'll probably find the perfect thing right about when it's time to take it all down. :)
(navy kitchen rugs/pendant light)
My cozy snowy village window scene that I shared a couple of weeks ago is my favorite part of my Christmas decor this year.  It's a tricky spot to photograph during the day because so much light pours in this bay window!
While it's beautiful during the day, nothing beats the way it shines at night. :)  These pre-lit birch trees and jeweled snowflakes are on sale right now!  I linked similar light up houses in this post.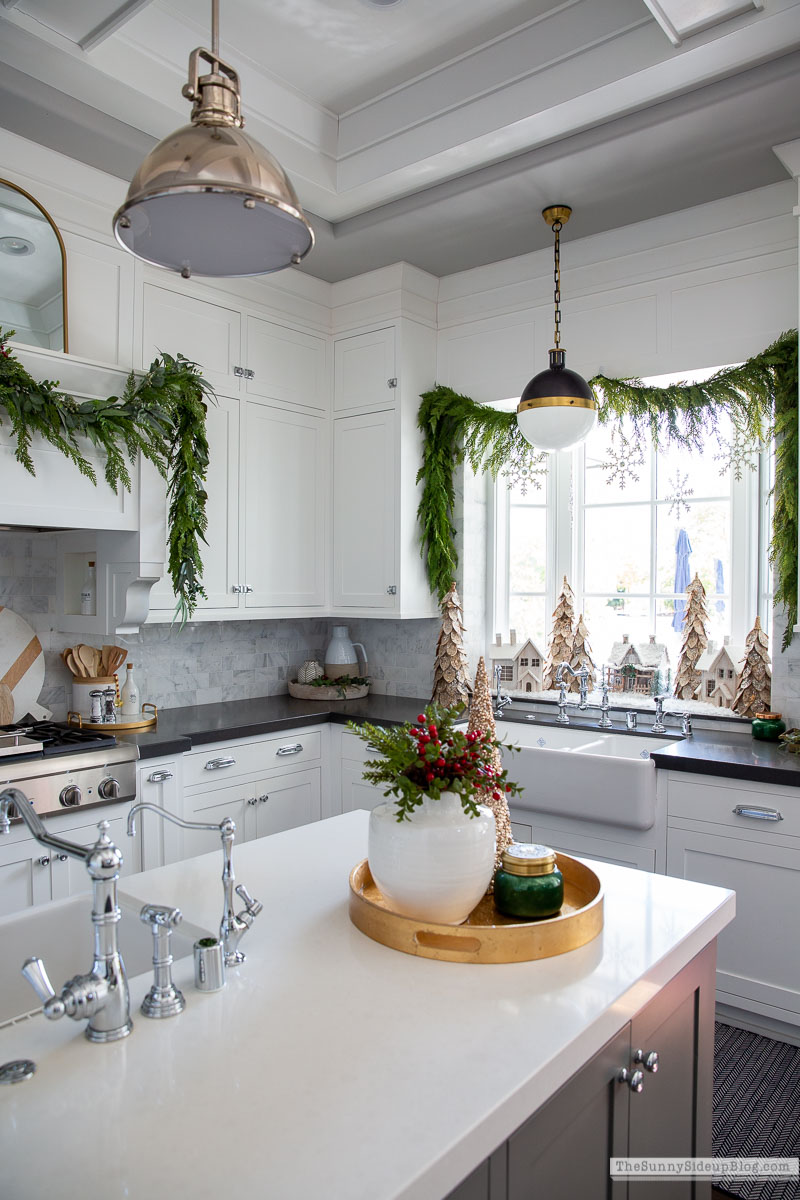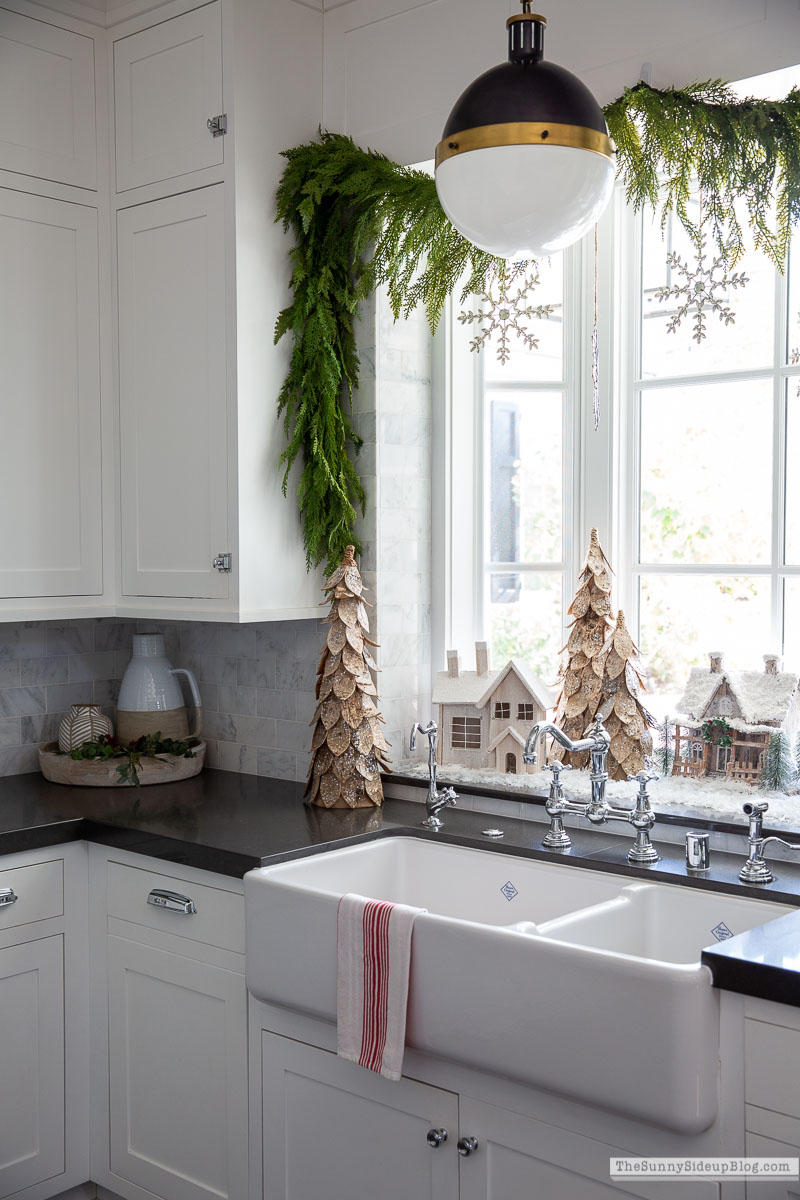 I added another birch tree on the left and some small trees to the right.  I need to take a new picture of it at night with everything lit.  I'm going to be so sad when it's time to take this down and might just leave it up through January!
(antiqued metal tray/faux snow/plaid plates/similar plaid plates)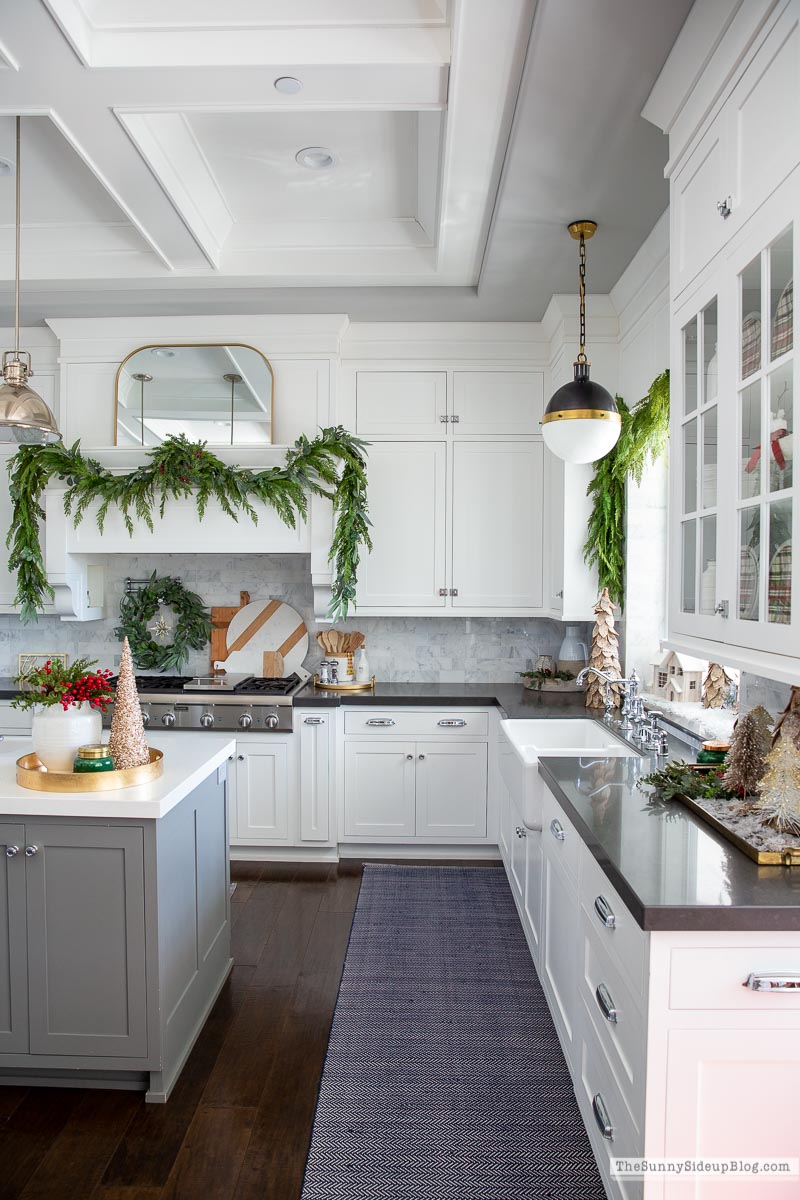 I switched out my cutting boards behind my cook top and added this beautiful white marble & wood round board.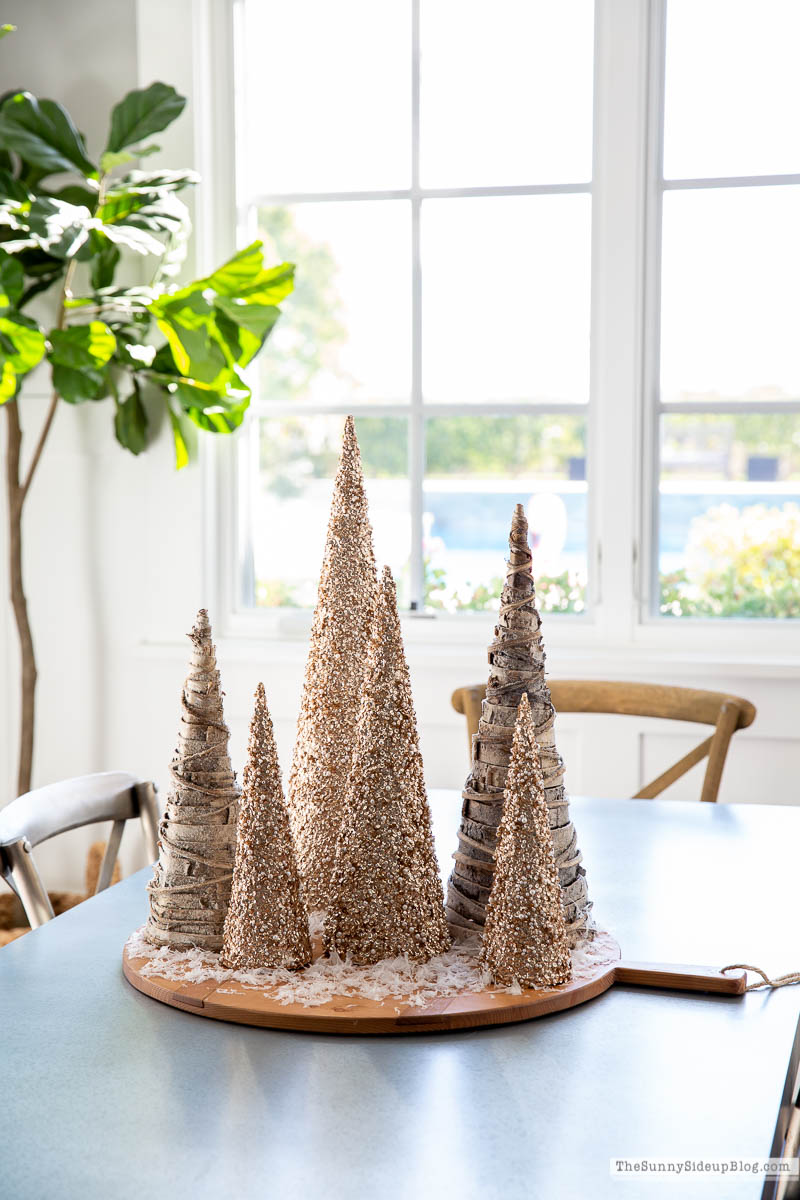 (similar glitter cone tree set)
Then I took the large round wooden board I used to have in that spot and put it on my kitchen nook table.  I added some trees and fake snow.. 5 minute decorating!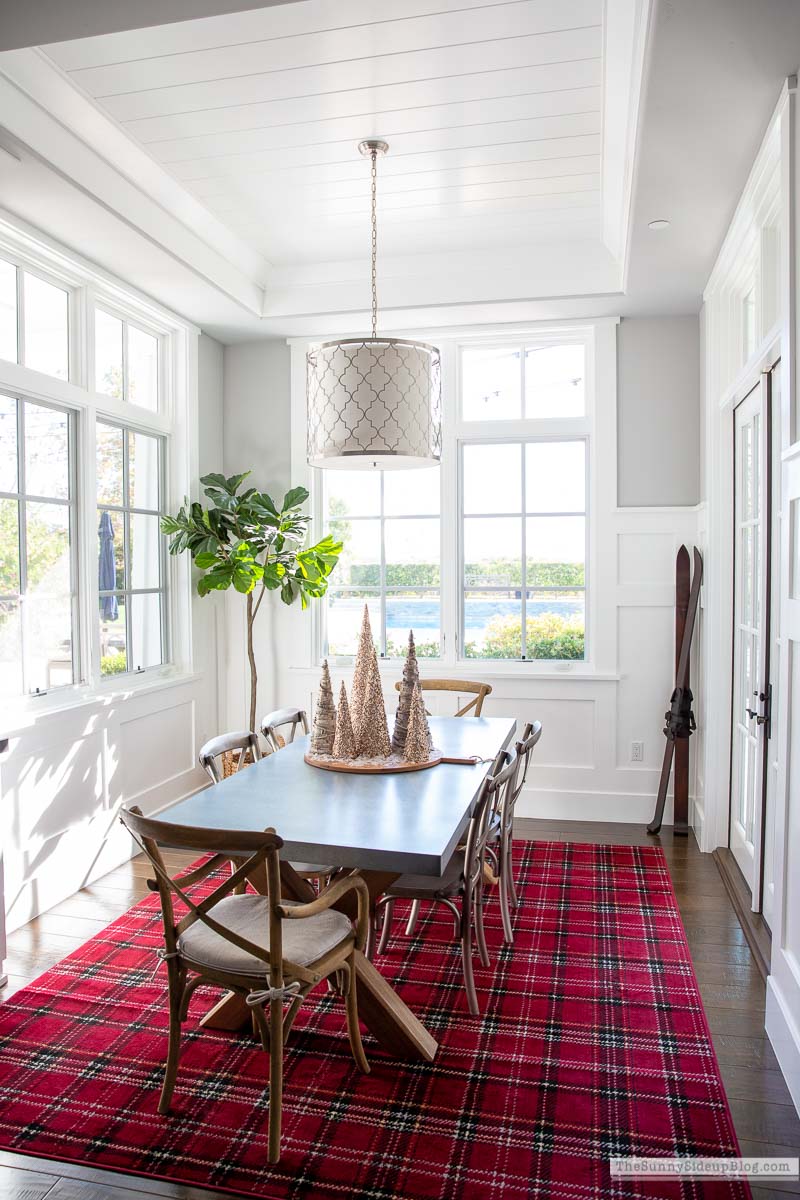 (faux fig tree/basket/table/similar chairs/similar skis)
I like to keep this table decor simple because we eat at this table most nights and it's a pain to always move the centerpiece around!  My plaid red rug made an appearance again this year and just like last year.. it makes me extremely happy. :)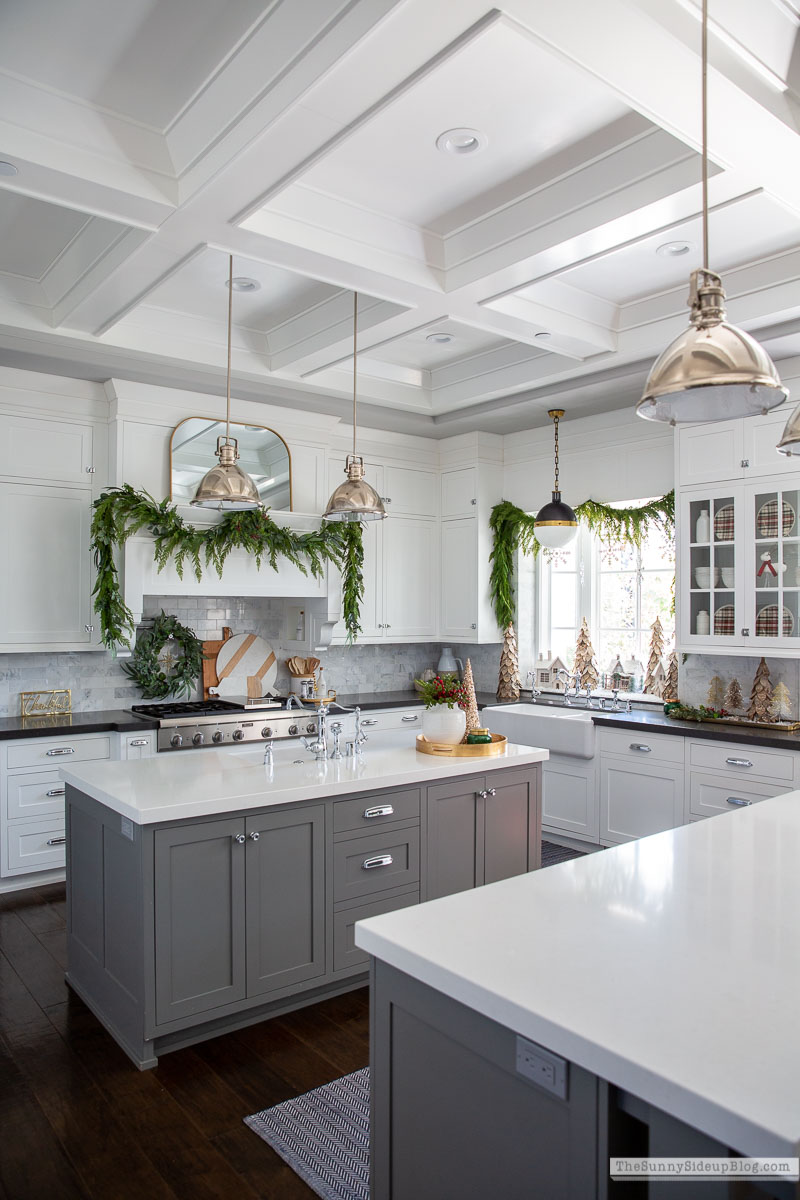 A few different angles..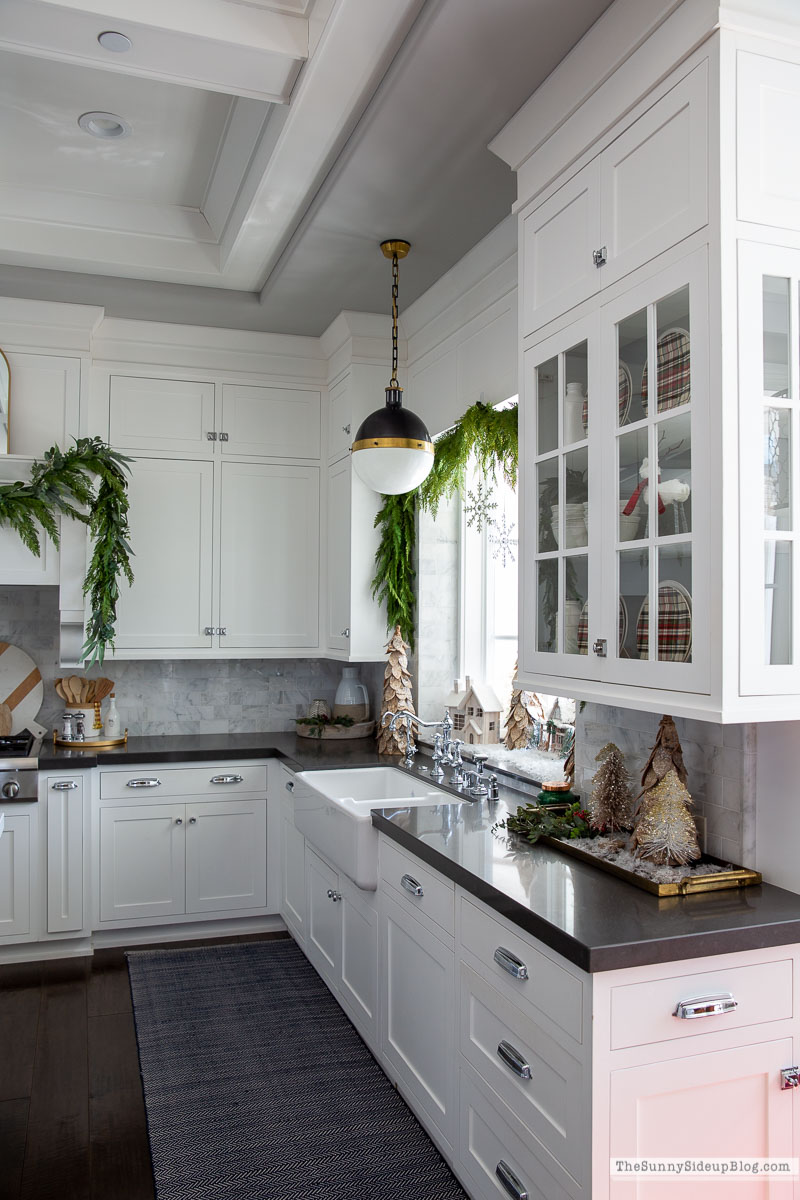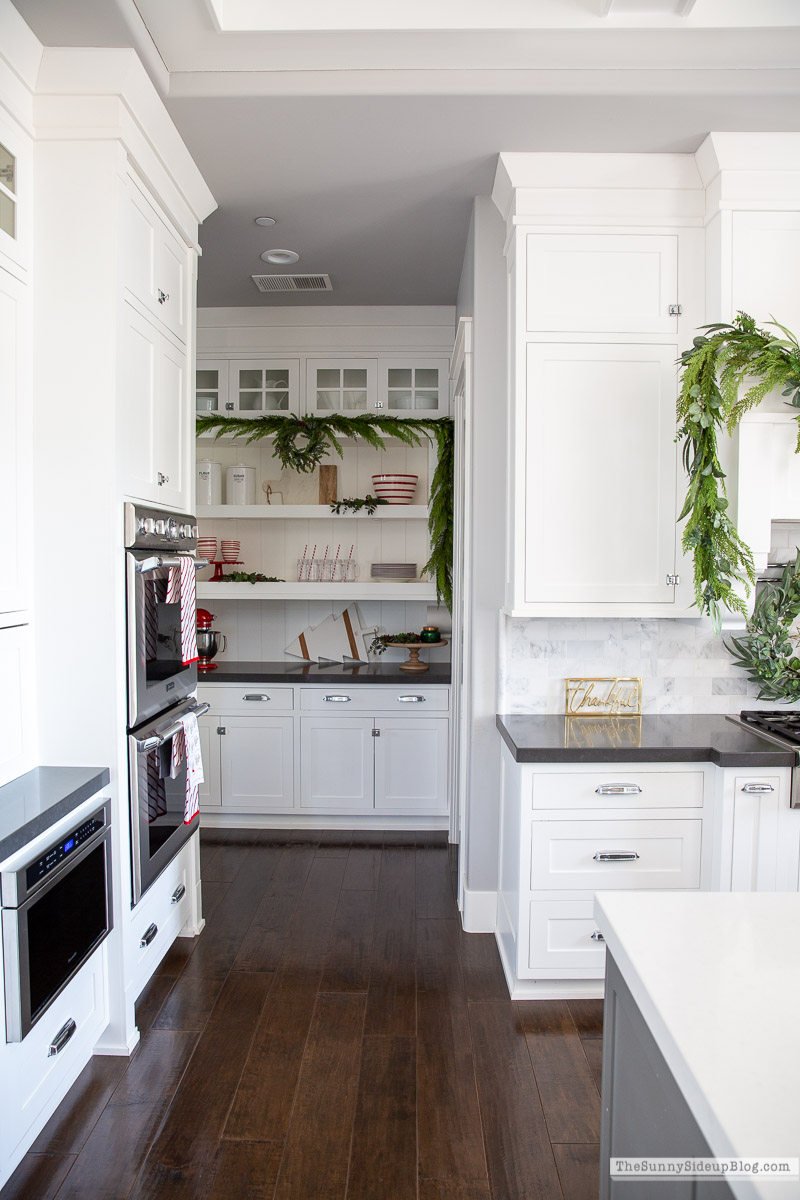 (canisters/similar striped bowl/red kitchen-aid/tree board (on sale!)/similar wooden cake stand)
My little butler's pantry is all sorts of festive too!  I didn't double the garland here (you can tell it's thinner than the garland over my cook top and window), but I love the feeling that just two simple stands of greenery added.
For a final touch I added the same small wreaths to the backs of my barstools. I just tied some jute string around them.  Such a simple way to add Christmas cheer to your kitchen!   (Christmas pjs and other fashion favorites are linked in this post.)
That's it!  My 2020 Christmas kitchen.  We have really been enjoying our festive kitchen decor this year and baking up a storm!  You would all be so proud of me.  My ovens have been used so much the past two month they are probably starting to wonder if a new family moved in.
Nope.  California is just on lockdown again. ;)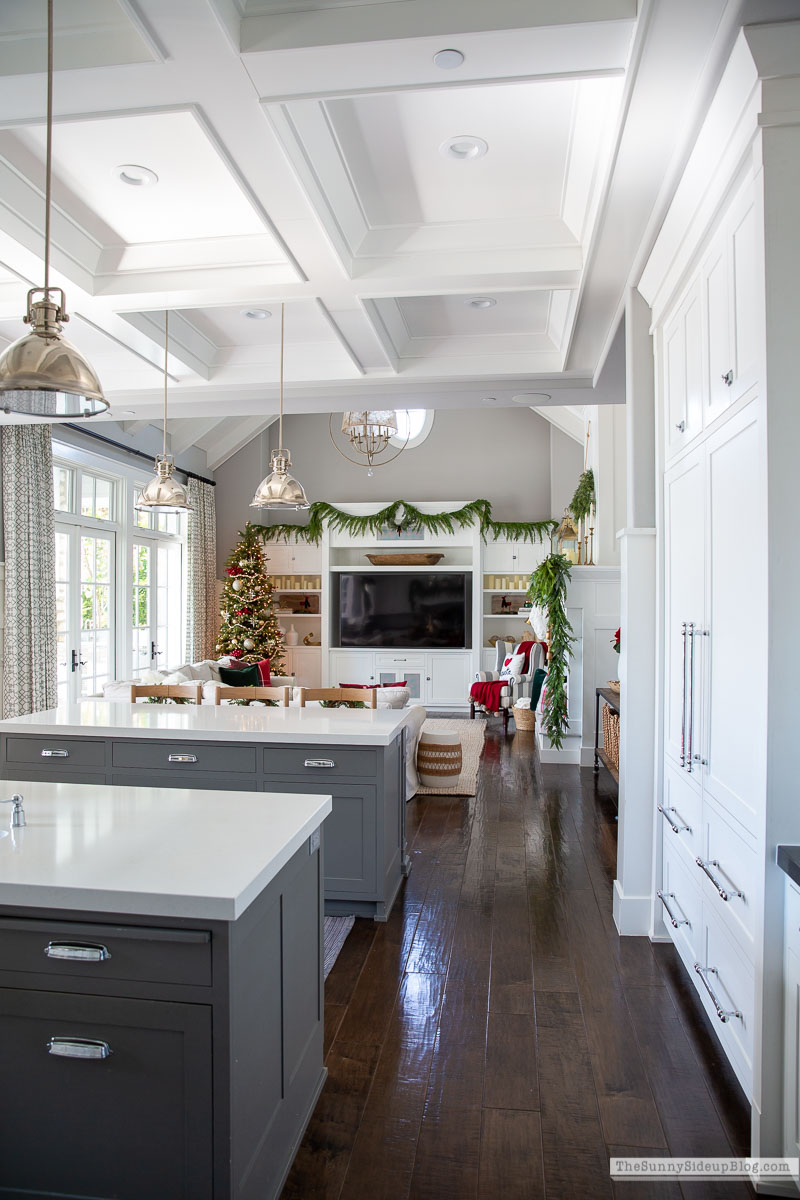 (Christmas family room tour/sources here)
We have tickets to a light show Saturday night so I'm excited!  I guess you stay in your car and the sound comes through the radio.  I'm so curious to see how it all works! I know I'll love it regardless because I'm all for activities that involve Christmas lights and staying in Christmas pjs. :)
I hope you have something fun to look forward to this weekend!  Other than the light show I'm going to attempt to finish my on-line Christmas shopping and maybe start wrapping a few things.
Or maybe I'll just bake instead.
This is the new me!  Still the same old me, but with more time for baking.
My jeans don't appreciate the new me but that's ok.
I don't plan on wearing them anytime soon anyway.
;)
{POST SOURCES}










xoxo, Erin