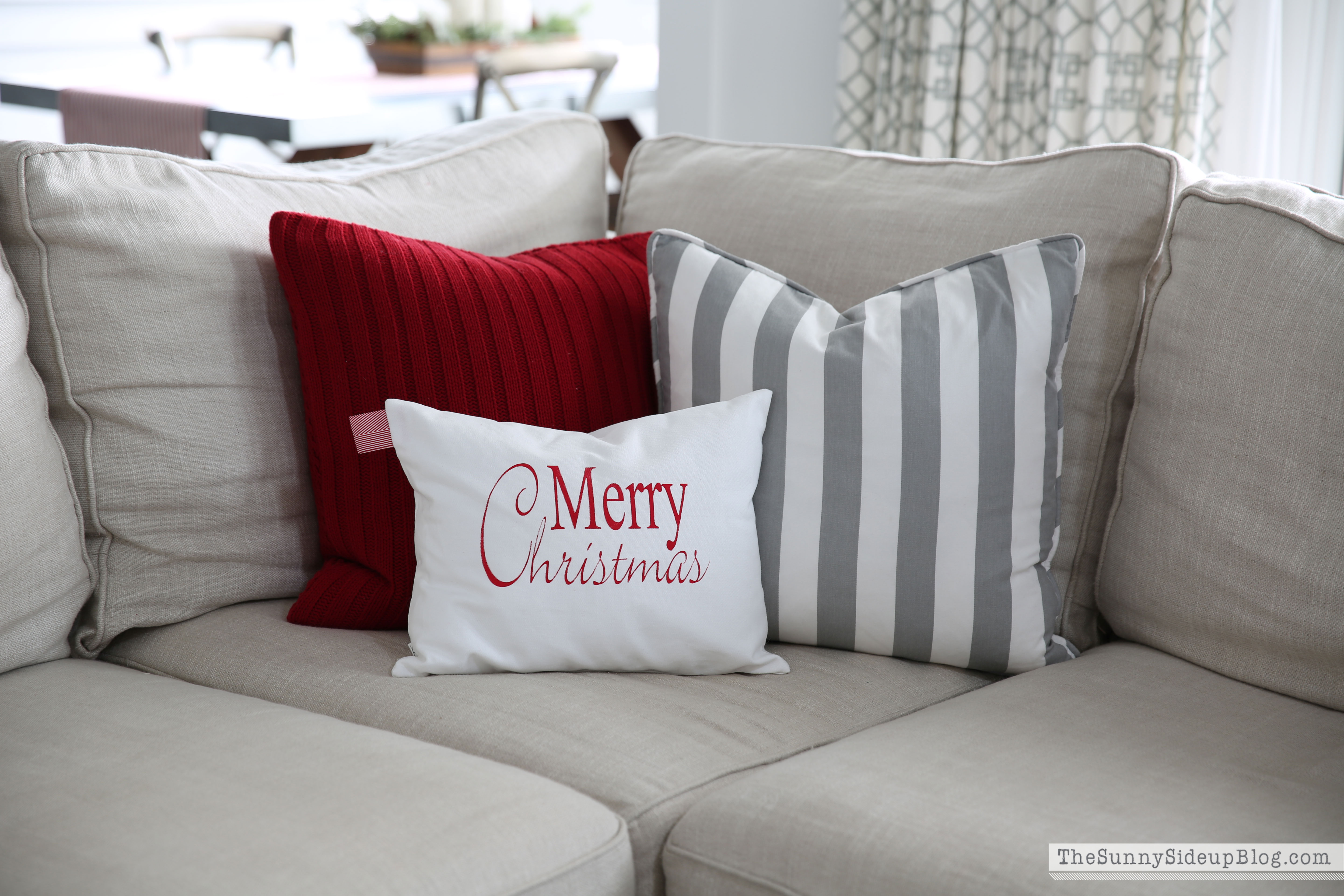 Hello friends!  I hope your week is off to a good start.  I have been so sad and in a bit of a funk after hearing about France.  Last Friday's events were beyond devastating and I'm so heartbroken for all of the people suffering right now.  They have been in my thoughts and prayers nonstop.  Today I decided I needed a little cheering up.  Aside from spending some quality time with my kids (they always bring out my best smile) I also spent some time on Pinterest getting lost in Christmas inspiration land!  Time with my kids, wasted minutes on Pinterest, home decor, Christmas.. my best cure for the blues. :)  I thought I'd share some of my fun finds in case you need a distraction and some cheering up too.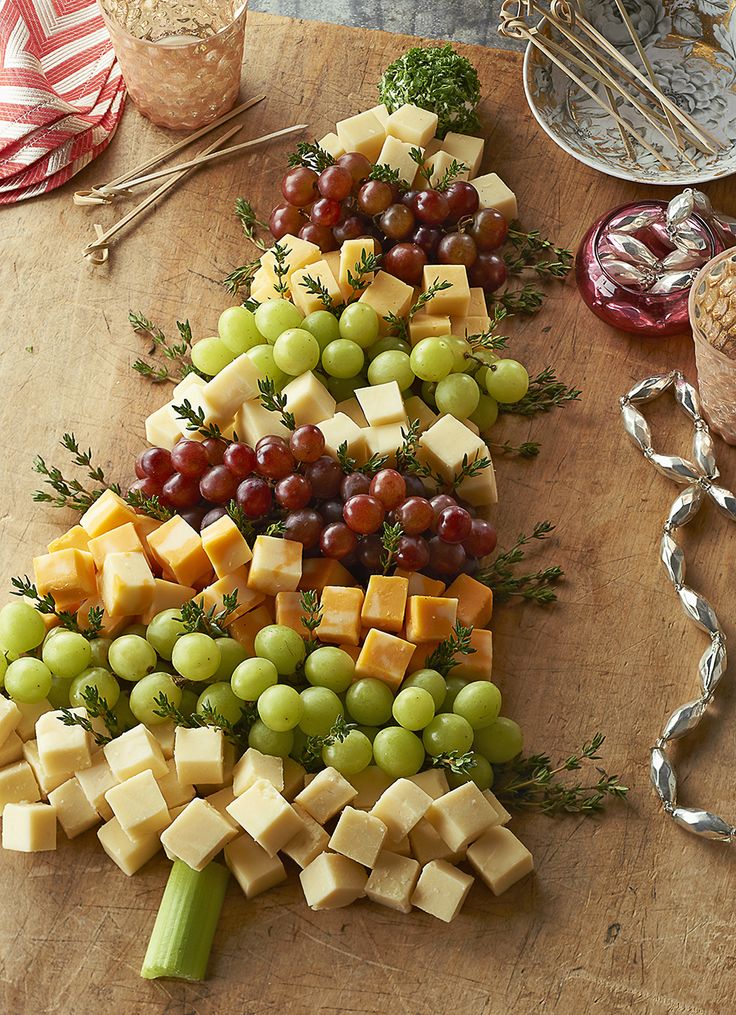 Loving this fun and easy Christmas tree cheese board.  I'm going to make something similar for Christmas Eve day.  Healthy and festive snack for the kids!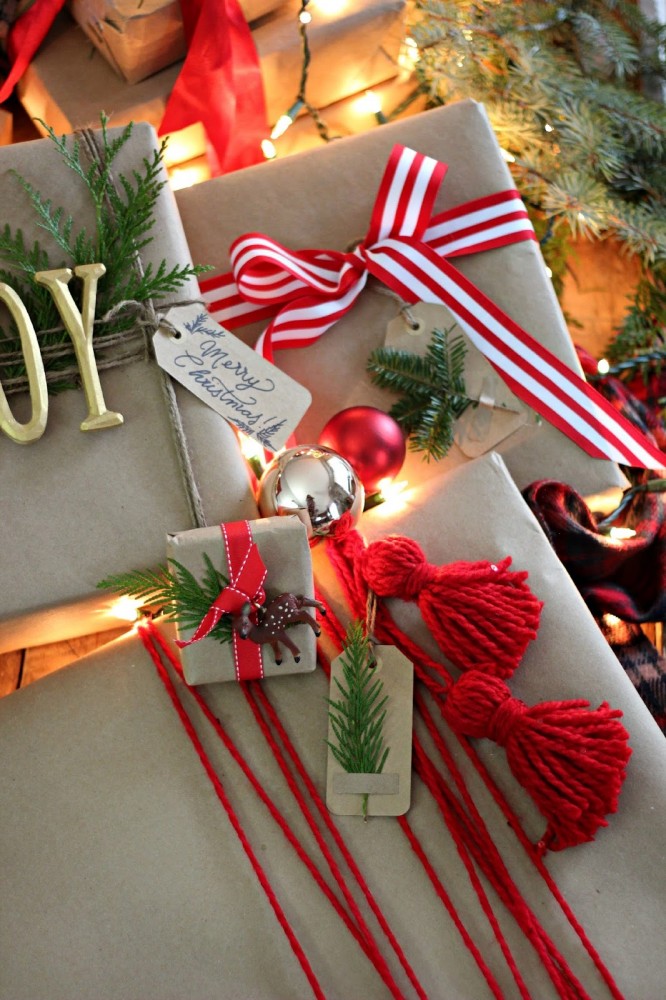 Wrapping isn't always my strong suit so I'm excited to try these easy ideas.  Red yarn!  Love it.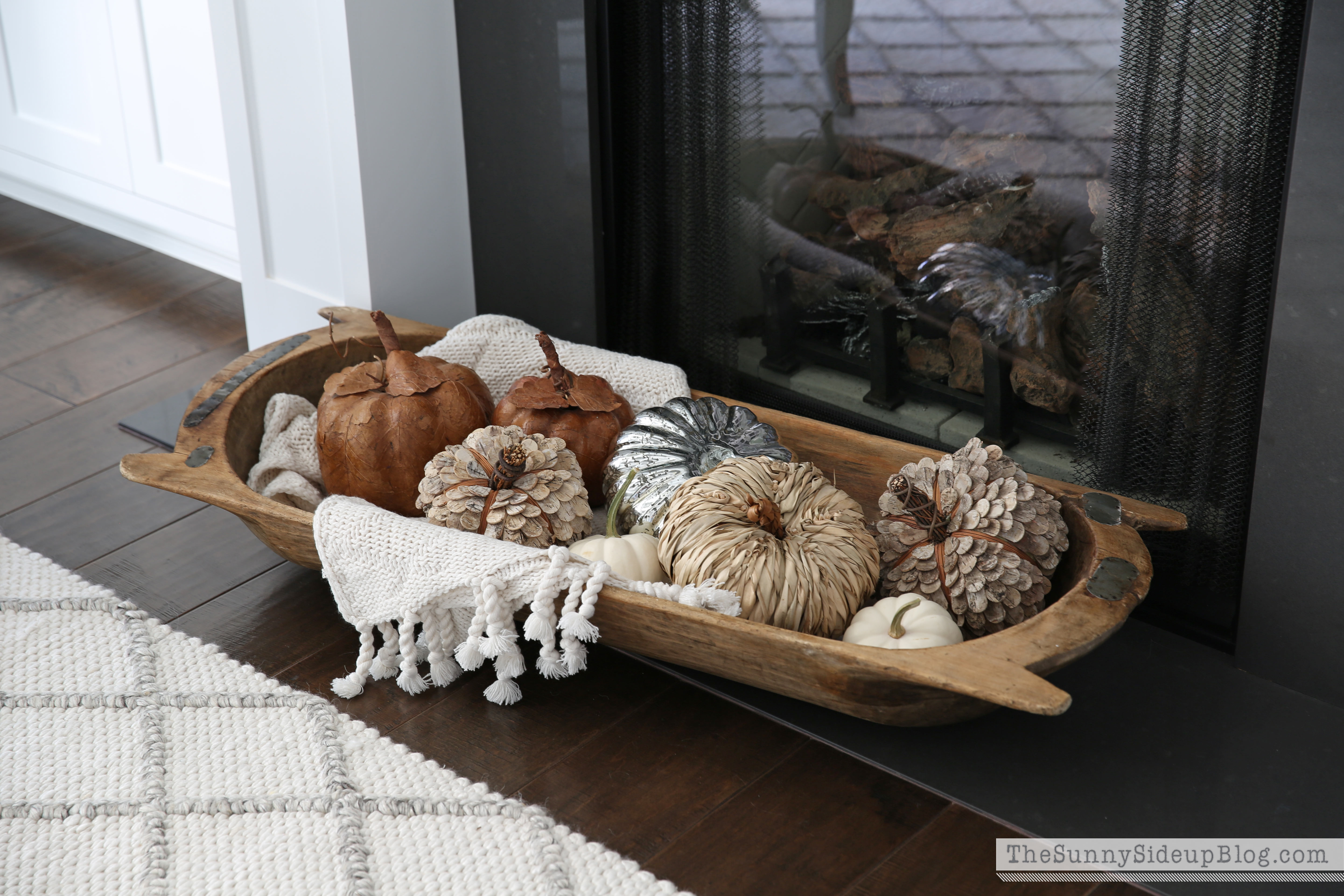 Remember my new dough bowl that I filled with pumpkins for fall?  I've been wondering what to do with it for Christmas and stumbled on this picture..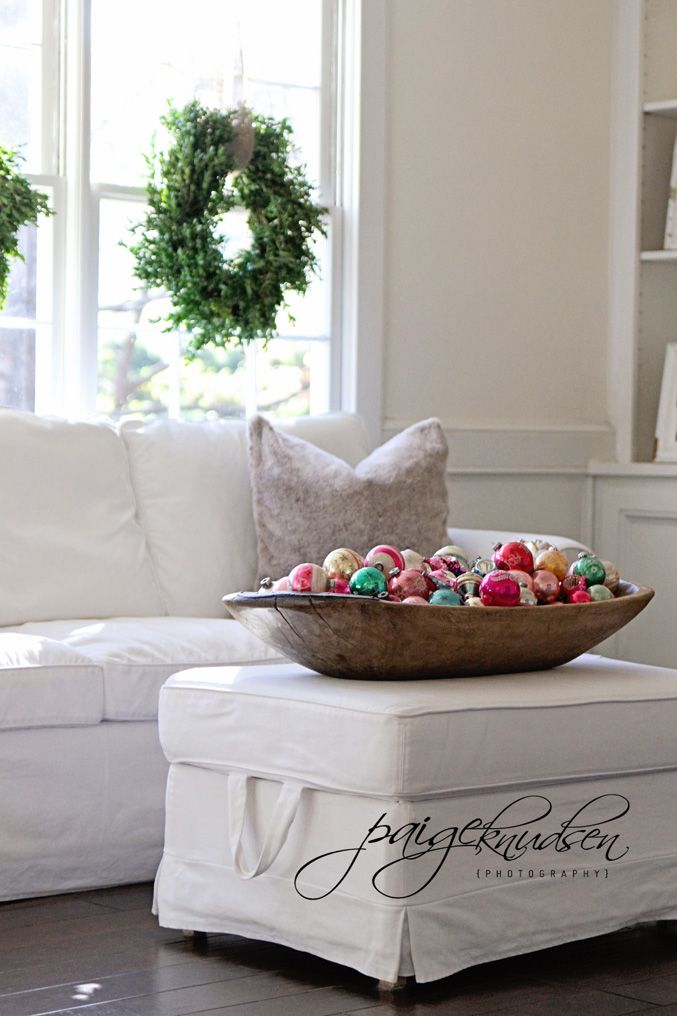 The texture of the rustic wood mixed with bright, shiny vintage ornaments… simply stunning!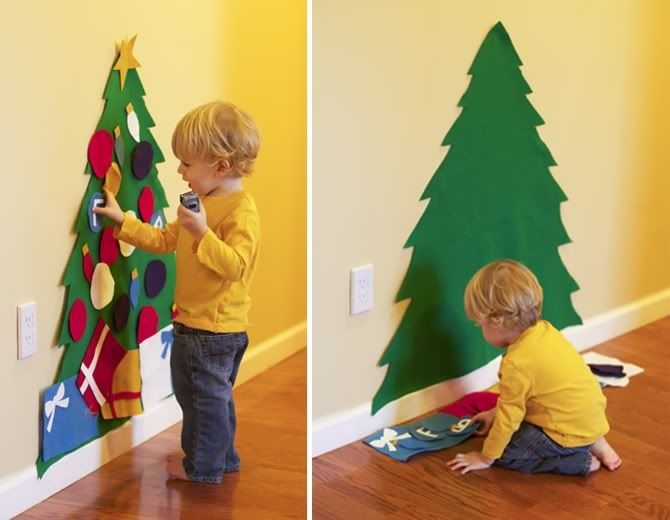 I couldn't resist sharing this fun Christmas idea for toddlers.  My kids would have been entertained by this felt tree for hours!  Decorating and re-decorating.  A great way to let your kids help with the tree decor without really helping with the tree decor.  :)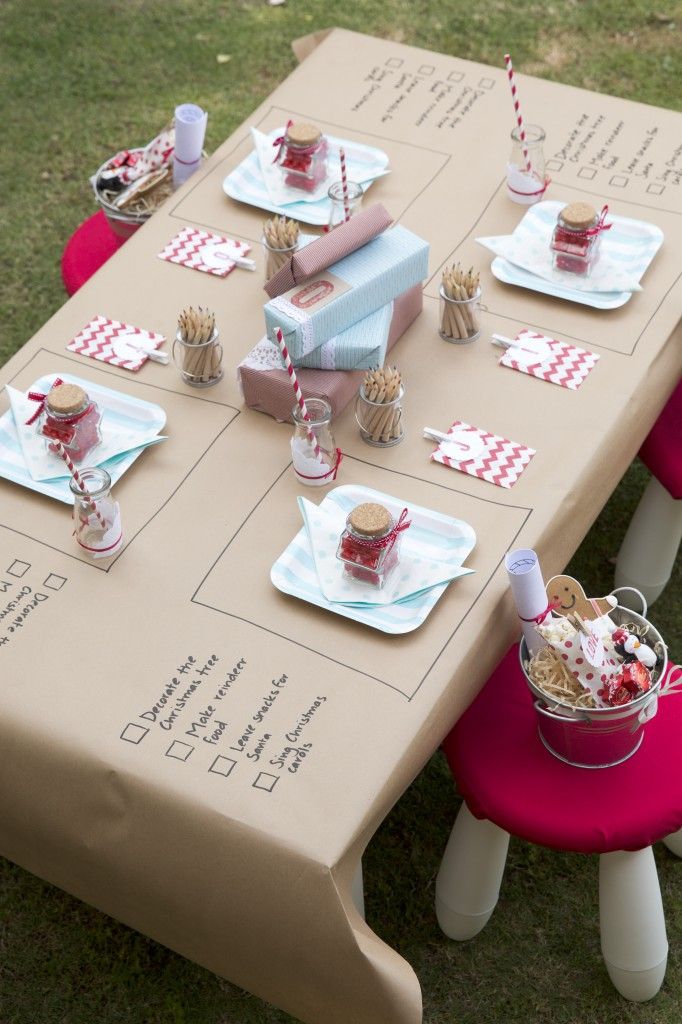 This fun and engaging Christmas party table is darling!  So many activities for kids and it looks easy to set up.  A unique idea for December birthday parties too!

Lucy always styles her home so beautifully for the holidays.  I especially love how she mixes up her shelf/hutch decor.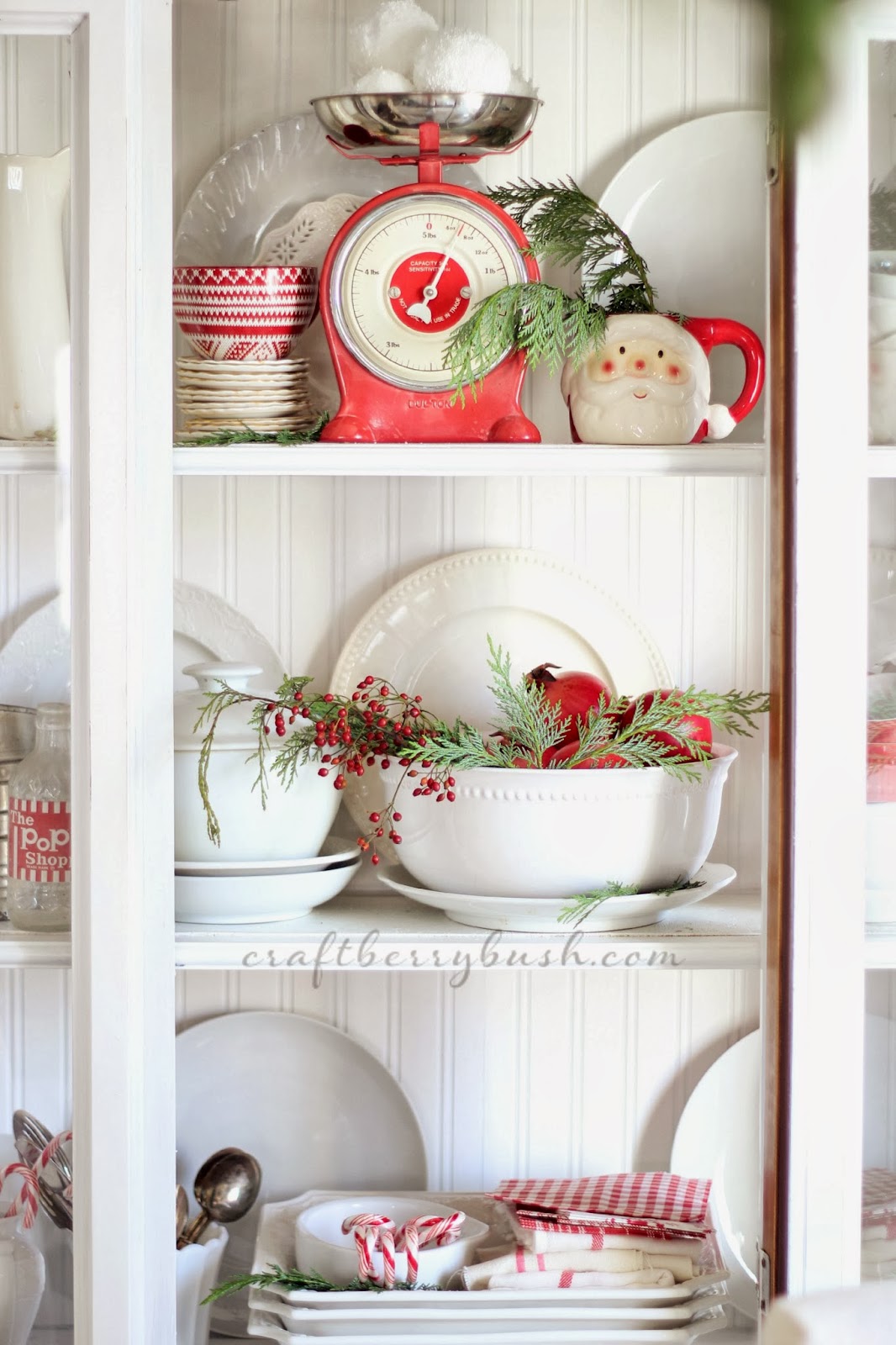 Another fun look.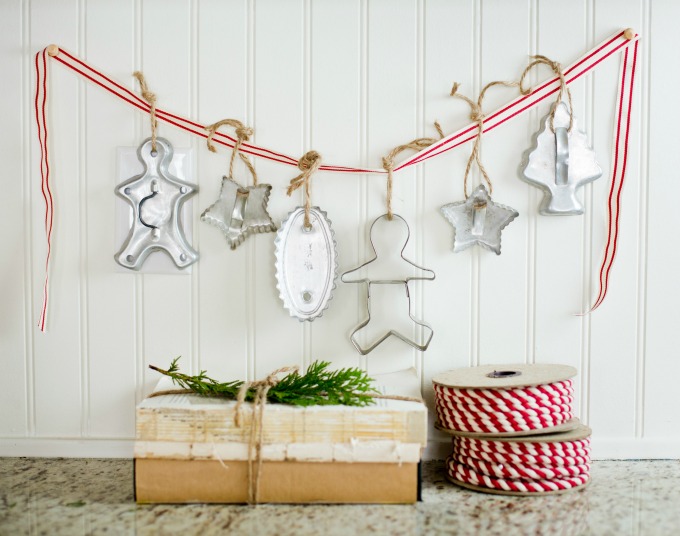 Sometimes it's the small details that make a home special during the holidays.  This simple ribbon holding cookie cutters is one of my favorite images!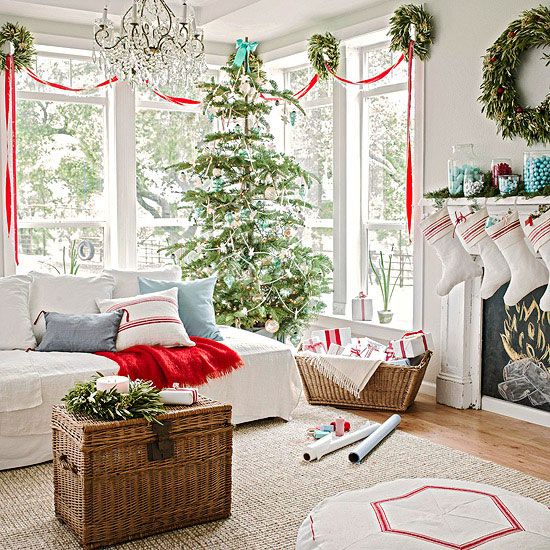 Isn't this room beautiful!?  I've always loved red and aqua together at Christmas.  So many fun decorating ideas in one picture!  Presents in a large basket by the tree, jars full of colorful ornaments and greenery on the mantel, ribbon and wreaths on the windows, a chalkboard fire.. I'll take it all!  The chalkboard fire instead of a real one would work especially well here in San Diego. ;)
As if that isn't enough fun inspiration I want to tell you about a fun Instagram challenge I've been doing with three friends of mine – Loi, Shannon and Kelly.  (I've met them all through blogging/IG and adore them!)  Are you all on Instagram?  It's too much fun.  You can follow me here and share any home decor image with the hashtag "RestyleAndRefresh" and the four of us will share a few of our favorites on IG and our blogs.  I've loved seeing all of the fun decor inspiration!  Here are my talented friends and co-hosts if you don't know them already…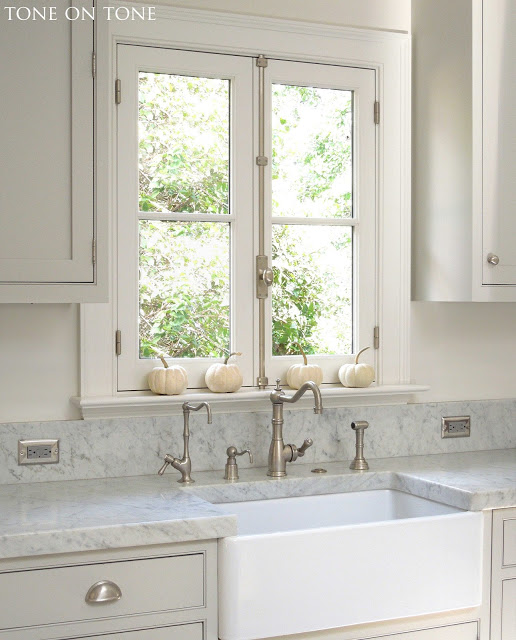 Loi at Tone on Tone owns an antique shop and aside from being incredibly kind, also has amazing taste and a beautiful home.  He is so talented and I've loved getting to know him.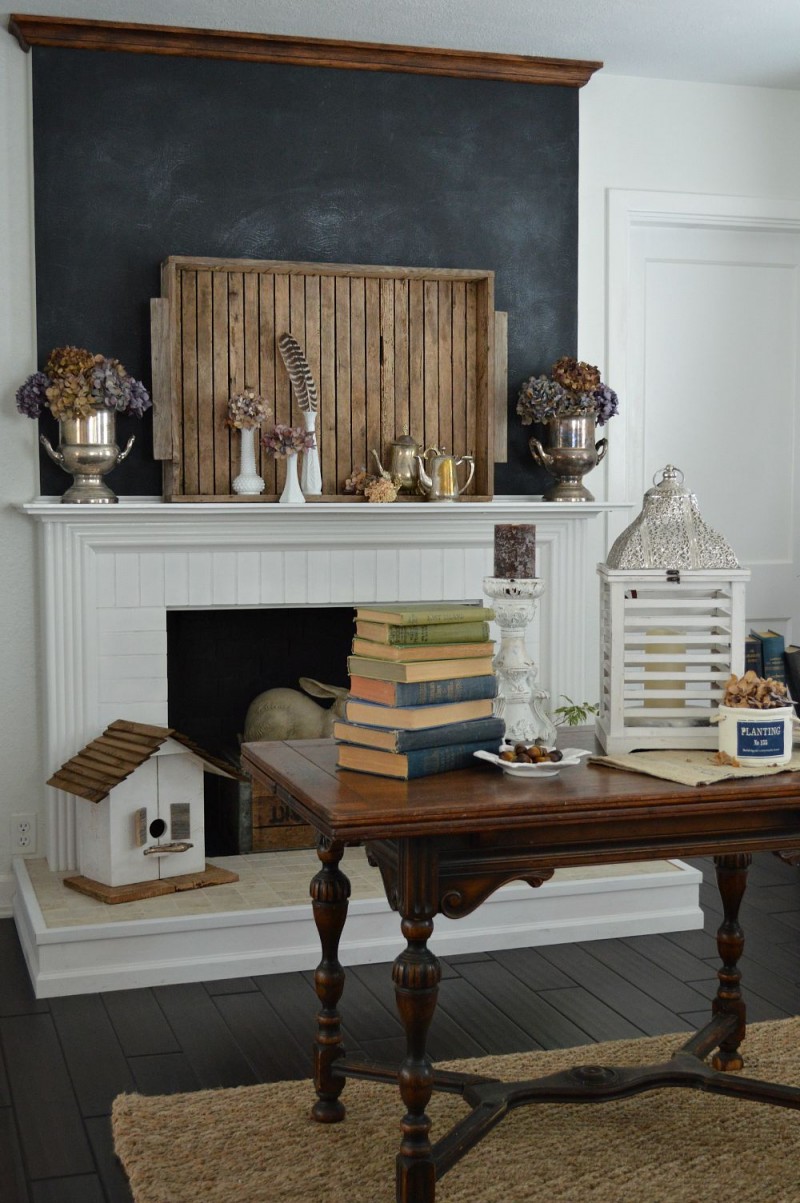 Shannon at Fox Hollow Cottage who's fun personality I adore!  She is the queen of styling and her cottage is incredibly charming.. much like she is.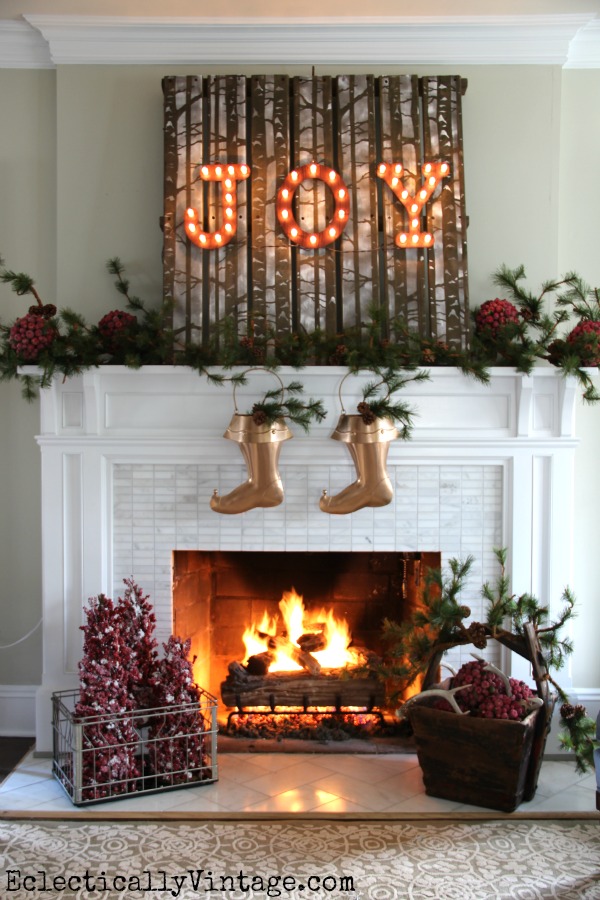 And Kelly at Eclectically Vintage who has mad styling skills and a fun eclectic style.  An eclectically vintage style as a matter of fact. :)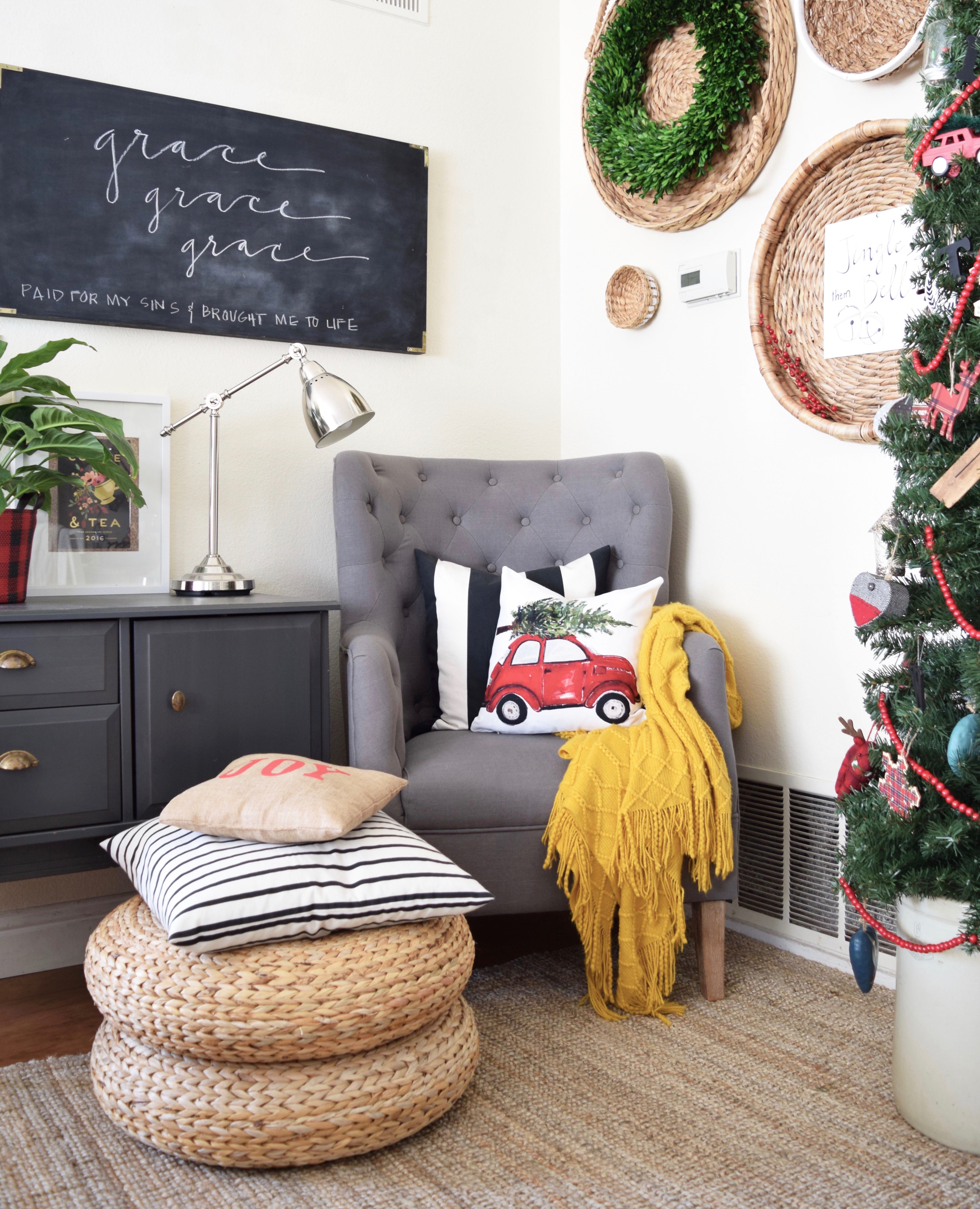 Here are the two images from our #RestyleAndRefresh hashtag we chose to share this week!  This first cozy Christmas corner is from Alma's beautiful home. (You can find her on IG here.)  I know Alma through Instagram and she is such a doll!  I love her feed and this picture is one of my all time favorites!  Where to start?  The black and white striped pillows, the chair and rug, the baskets and chalkboard..  And what about that fun unexpected pop of yellow?  I wouldn't change a thing!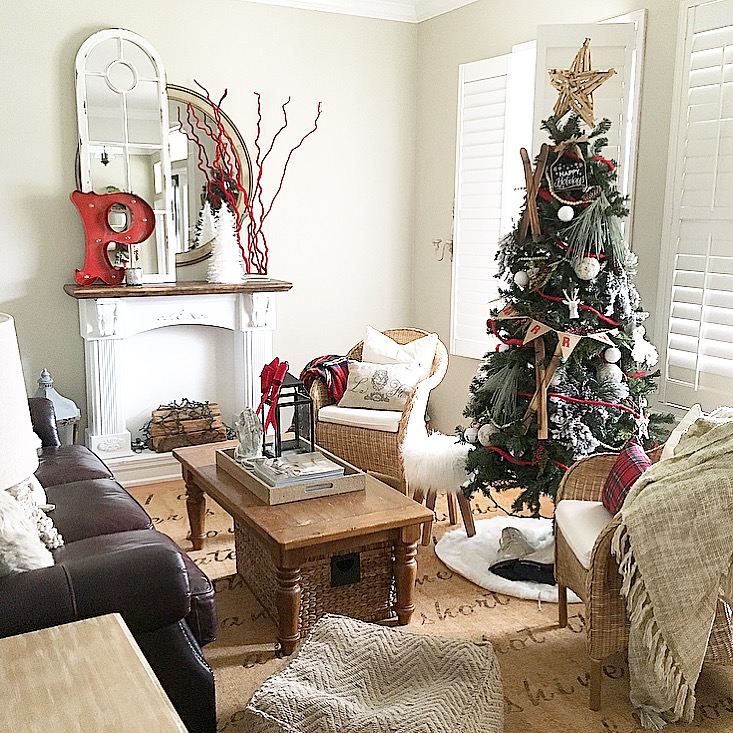 Bec's home and IG feed is new to me and I'm so happy I found her!  Isn't her family room cozy!?  I love all of the neutral colors and fun textures with just a dash of red.  Very similar to how I love to decorate for the holidays!  I also love the two unique mirrors over her mantel and her creative tree decor.
If you have a fun space you'd like to have featured share it on Instagram with the hashtag "RestyleAndRefresh!"  I'm teaming up with lots of friends this month and will be sharing more fun IG images here on the blog.  SO much inspiration for decor lovers.  A happy distraction for sure.  :)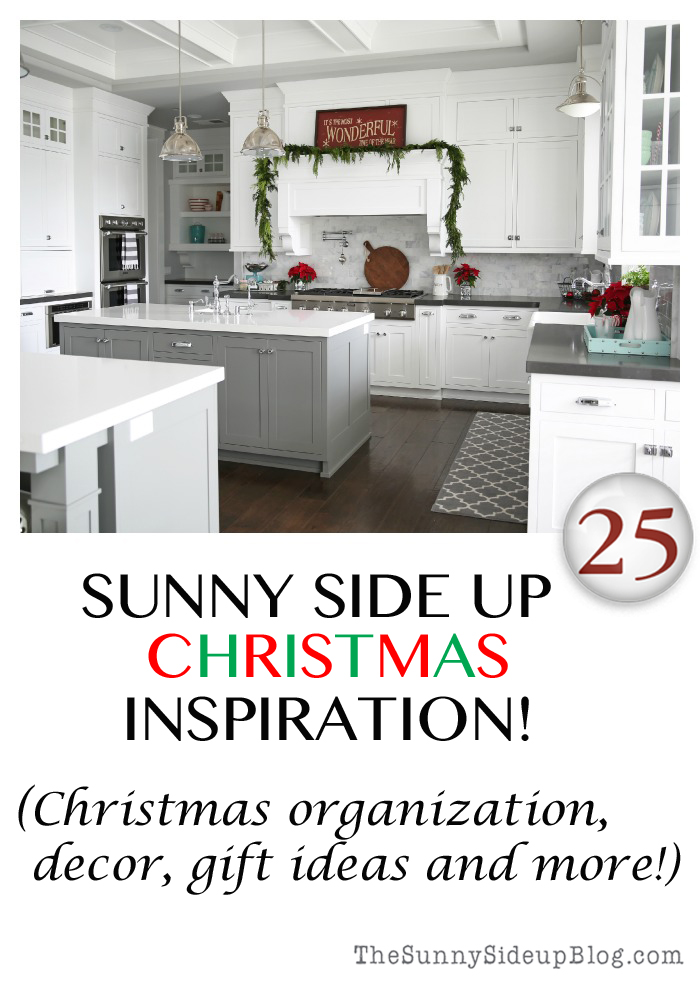 For even more Christmas inspiration I shared a round up of favorite past Christmas posts.  How to stay organized during the holidays, decor and more!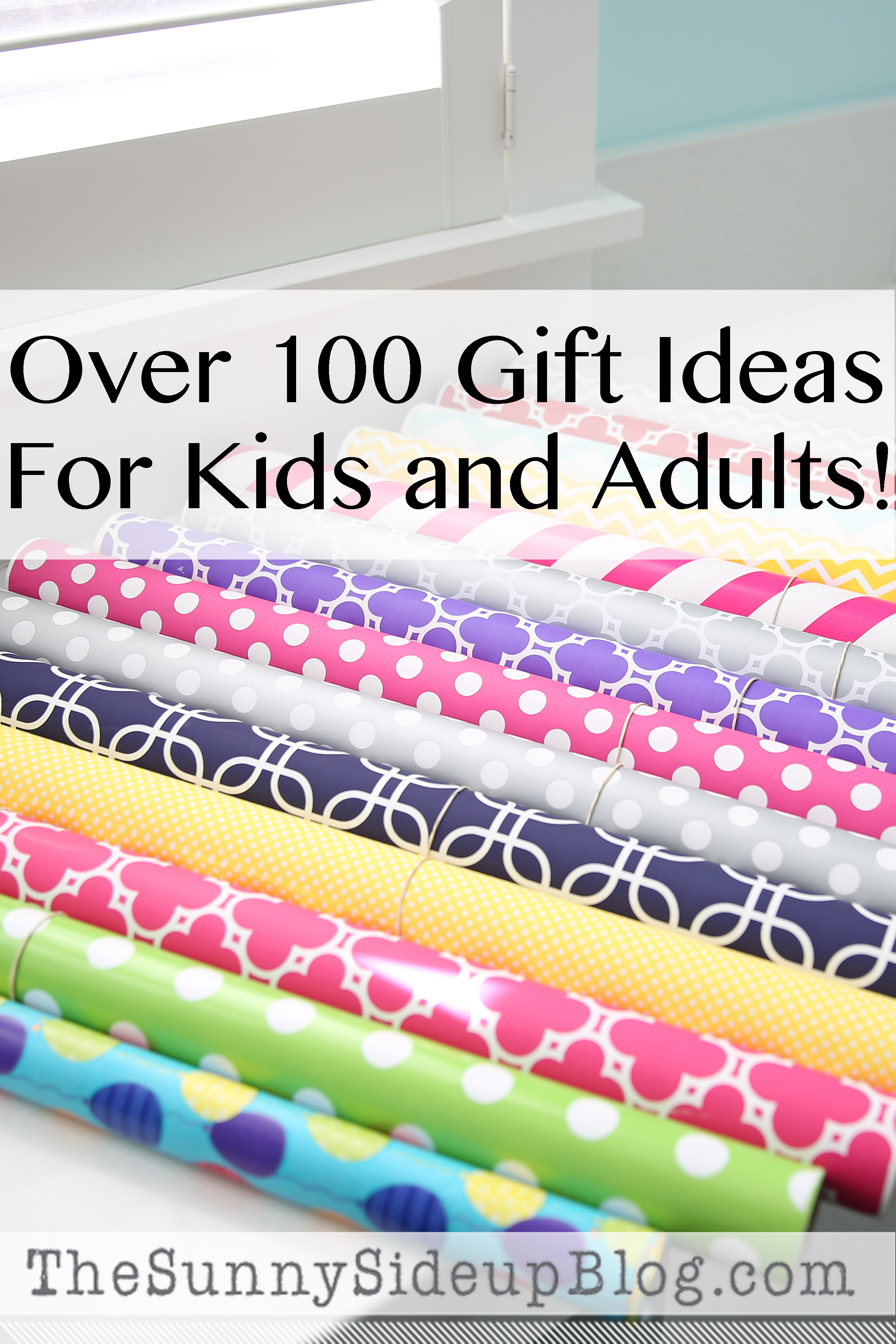 I also rounded up YEARS of favorite things posts if you are looking for fun gift ideas. Over 100 gift ideas for family and friends!  All Sunny Side Up approved. ;)  Our favorites.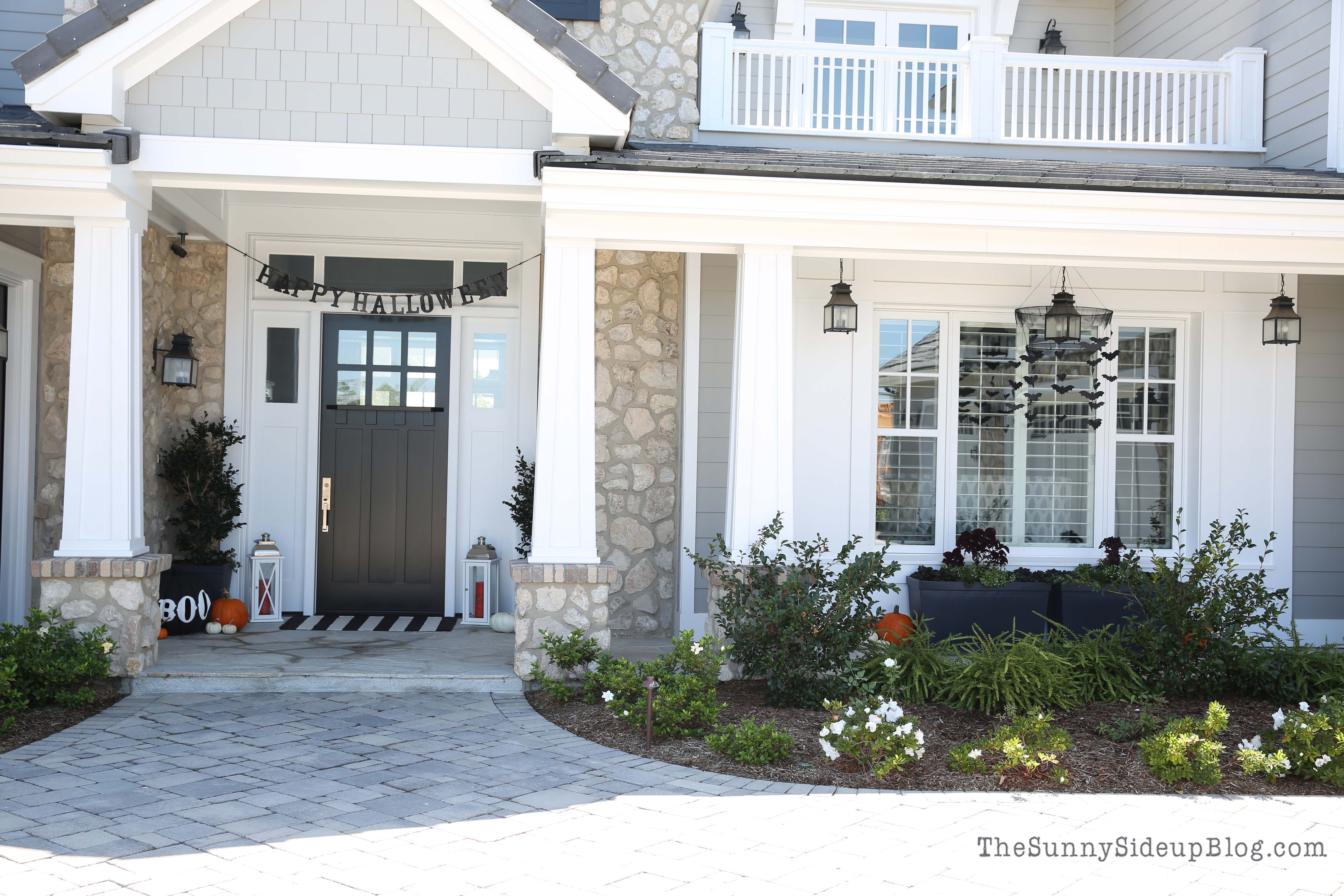 And if you're one of those people who doesn't like all of this Christmas talk before Thanksgiving.. I'm so sorry.  I just can't help it.  Check out my home decked for fall and remember that you do in fact sometimes like me. ;)  Are we still friends?  I sincerely hope so.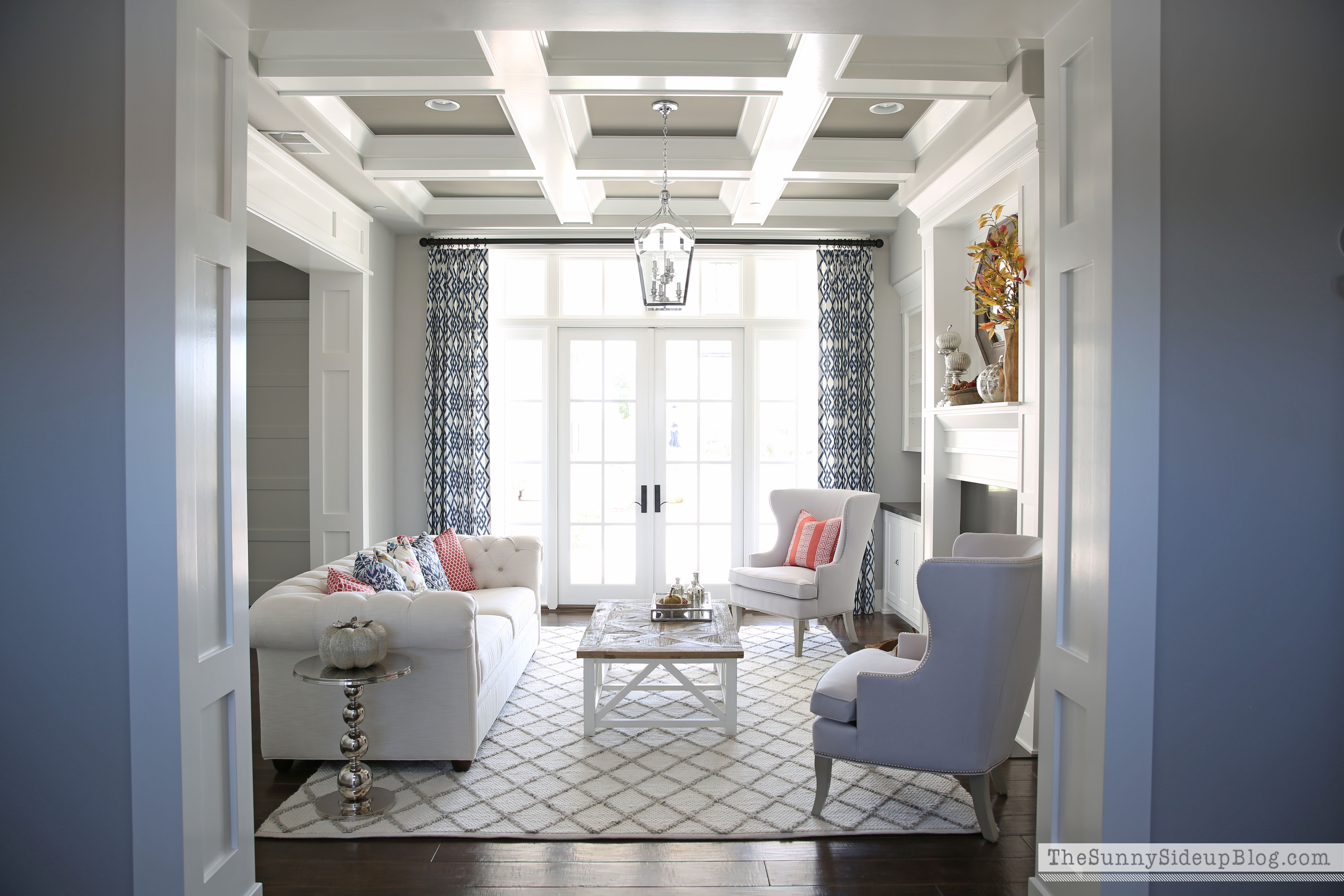 This post was a long one but I feel so much better.  Thanks for hanging in there with me!
And for bringing my smile back.
:)
xoxo, Erin